---
*Links in this article may be affiliate links, from which we may earn commission. See our
Privacy Policy
for full details.
---
Are you ready to embark on one of the most informative and historic tours that Boston (if not all of New England) has to offer? If so, then you're ready for the Boston Freedom Trail!
Offering 400 years of history in an easily walkable 2.5-mile stretch, the Boston Freedom Trail is often included in the best walking tours in Boston and features several of the most important historic sites in Massachusetts. Follow the red stripe that marks the Freedom Trail to 16 sites of incredible importance to the birth of American freedom and liberty. This guide to the Boston Freedom Trail will help!
Boston Common
The Freedom Trail begins in America's oldest park, Boston Common. Originally, Boston Common was a space for militia formations, animal grazing, and public hangings, but today is a lovely green space that has hosted such notable speakers as Martin Luther King, Jr and Pope John Paul II, and is a mainstay of the city with features like Frog Pond, the iconic splash pad in the summer turned ice-skating rink in the winter.
Boston Common is also home to the Robert Gould Shaw/54th Massachusetts Regiment Memorial commemorating the first all-Black Civil War volunteer regiment.
Massachusetts State House
Originally opened in 1798, the Massachusetts State House remains the seat of Massachusetts government to this day. Designed by Charles Bulfinch, the Massachusetts State House is known for its stately architecture and prominent golden dome.
Bulfinch also went on to contribute to the architectural plans for the Capitol in Washington, D.C. On the grounds, sculptures and memorials for notable Boston figures such as Anne Hutchinson, Horace Mann, Daniel Webster, and others can be seen in this stately building and on its well-manicured grounds.
Park Street Church
Founded in 1809, Park Street Church still has an active congregation to this day. For many years, its 217-foot steeple was the tallest point in Boston and could be seen from anywhere in the city. Park Street Church's congregation was one of the first to engage with social justice issues such as women's suffrage, prison reform, and slavery, and hosted such notable speakers as William Lloyd Garrison over the years. Park Street Church also created one of the nation's first Sunday School programs.
Granary Burying Ground
Established in 1660, the Granary Burying Ground is home to approximately 2,345 tombs and gravestones, but it is believed that there are actually more than 5,000 individuals buried on these grounds. Over the years, care has been taken to preserve the grounds and improve access with the installation of walkways, landscaping, and even rearranging gravestones into more modern rows to facilitate better groundskeeping.
Notable names such as John Adams, John Hancock, and Paul Revere can be found at Granary Burying Ground, and a 25-foot-tall obelisk monument marks the tomb of Benjamin Franklin's parents at this Boston Freedom Trail stop.

King's Chapel and King's Chapel Burying Ground
Containing the oldest American pulpit in continuous use, King's Chapel was established in 1686 as the first Anglican church in New England and continues to hold services to this day. The King's Chapel Burying Ground predates the church by more than half a century and is the city's oldest burying place.
Over the years, pedestrian footpaths, a cast-iron fence, and landscaping has been added to increase accessibility and aesthetics, including straightening the gravestones (but not the actual graves below!) King's Chapel Crypt beneath King's Chapel contains the remains of about 150 people and is one of the last remaining crypts in New England.
Boston Latin School Site/Benjamin Franklin Statue
The Boston Latin School was created in 1635, providing free education to boys of all classes; girls were expected to study at home. Several signers of the Declaration of Independence attended school at the Boston Latin School, and one of the school's most famous pupils is Benjamin Franklin, memorialized by a statue at the former spot of the schoolhouse. Boston Latin School is now located in the Fenway neighborhood of the city, but a beautiful mosaic remains along with the statue of Benjamin Franklin to commemorate this historic site on the Boston Freedom Trail.
Old Corner Bookstore
Old Corner Bookstore was originally built as an apothecary in 1718 and is now Boston's oldest commercial building. In the mid-1800s, big-name publisher Ticknor and Fields produced several of America's most revered classics at Old Corner Bookstore, including The Scarlet Letter, Walden, and many more.
It is still in use as a commercial space and is currently housing a Chipotle restaurant. While this may seem less than thrilling, it is through commercial leasing that many of the historic buildings in Boston, including the important sites on the Boston Freedom Trail, can be kept up properly.
Old South Meeting House
Originally constructed in 1729 as a Puritan meeting house, Old South Meeting House was home to religious sermons and public protests before becoming most famously known as the site of the impassioned debates that led to the Boston Tea Party. It also happens to be where a young Benjamin Franklin was baptized. This historic Boston Freedom Trail site lives on as a museum, historical park, and sanctuary for free speech still to this day.
Old State House
The Old State House was built in 1713 and is the oldest surviving public building in Boston. Home to many important political and social meetings, this is the spot where Bostonians came together to listen to the Declaration of Independence being read to the masses for the first time, so this site holds great historical significance for American independence.
Today the Old State House is home to historic exhibits featuring art and artifacts of Boston's history, like the vivid red velvet coat of John Hancock's that is currently on display.
Boston Massacre Site
The Boston Massacre Site is today marked by a circle of granite pavers in the road below the Old State House balcony, signifying the spot where the horrific events of March 5, 1770 took place. A result of escalating tensions between the British soldiers and the colonists, the skirmish began with angry colonists taunting and harassing one British soldier and ended with British backup arriving and firing into the crowd, killing 5 colonists.
This event is considered to be a pivotal point in the Patriot's fight for independence, as the imagery of this bloody battle was used to drum up colonists' support for the fight for independence from British rule.
Faneuil Hall
Built in 1741, Faneuil Hall originated as a commerce center and open forum meeting hall and has continued that legacy to this very day. Faneuil Hall is where colonists came together to protest taxation without representation and British occupation and is the location that George Washington chose to toast the nation's first birthday from.
Today it has expanded to encompass an entire marketplace and still hosts Bostonians as a meeting place for demonstrations and performance, continuing to live up to its nickname, "The cradle of liberty." Note the Golden Grasshopper weathervane perched on top of the building; it has resided over Faneuil Hall since 1742.
Paul Revere House
The only home on the Boston Freedom Trail, the Paul Revere House was built around 1680 and to this day, is downtown Boston's oldest building. Remarkably, 90% of the original structure of the home remains intact!
Paul Revere is famous for his role in Revolutionary War history using his midnight ride to warn colonists that the British were coming. Considered one of the best museums in Boston, tours of the home are self-guided, with several pieces remaining in the home that belonged to the Revere family.
Old North Church
Old North Church was built in 1723 and today is both the oldest church building in Boston and one of the Freedom Trail's most visited sites. Its name was popularized to the masses in Henry Wadsworth Longfellow's poem, "If the British march / By land or sea from the town to-night, / Hang a lantern aloft in the belfry arch / Of the North Church tower, as a signal light," describing Old North Church's role in alerting the colonists to the British troops' approach. Old North Church is also home to a historic crypt that houses over 1,000 bodies from Boston's early history.
Copp's Hill Burying Ground
Boston's largest colonial burying ground, Copp's Hill Burying Ground is dated back as far as 1659. This graveyard on a hill holds such notable names as Robert Newman, the Old North Church sexton who hung the lanterns to warn of British approach on the night of Paul Revere's midnight ride.
The tomb of Captain Daniel Malcolm is also located at Copp's Hill Burying Ground, riddled with bullet marks from British soldiers in retribution for his well-known work as a smuggler and opposer of British tax on the colonists.
USS Constitution
Nicknamed "Old Ironsides," the USS Constitution was initially launched in 1797 and is today the military's oldest commissioned warship to remain afloat. An active crew of sailors still work on the ship, keeping watch over one of the most famous ships in military history.
Public tours of the USS Constitution are available Tuesday through Sunday, and the USS Constitution Museum across the pier offers exhibits and programs that tell the story of the USS Constitution over the years, including how her seemingly impenetrable oak hull earned her the nickname, "Old Ironsides."
Bunker Hill Monument
The Bunker Hill Monument marks the site of the first major battle of the Revolutionary War in 1775 where the colonists proved themselves to be a formidable force against the British, despite technically losing the Battle of Bunker Hill. A 221-foot granite obelisk marks the space, and the Bunker Hill Museum is located across from the monument, featuring artifacts from the battle including a snare drum, a sword, and more. The Bunker Hill Monument is the last official stop on the Freedom Trail.
You'll find stops on the Freedom Trail that you can cross off of your ultimate Boston bucket list whether you're spending a weekend in Beantown or just squeezing it all into a day trip. There are so many great things to do in Boston—many of them free! In addition to the Freedom Trail, there are plenty of kid-friendly things to do, too, if it's a family vacation you're planning.
With great restaurants (including vegetarian ones), breweries, coffee shops, and amazing places to stay (including awesome vacation rentals), Boston is a lovely destination for your next Massachusetts trip. It's also an incredible setting for your next romantic getaway if that's more your speed. Fall in Boston is gorgeous, but winter has its charm too, with so many magical Christmas events happening around the city.
Whatever time of year you plan to visit, this guide to the Boston Freedom Trail will assist you as you see this early American history for yourself. Be sure to check out all the great North End restaurants while you're there, too.

Read these next:
---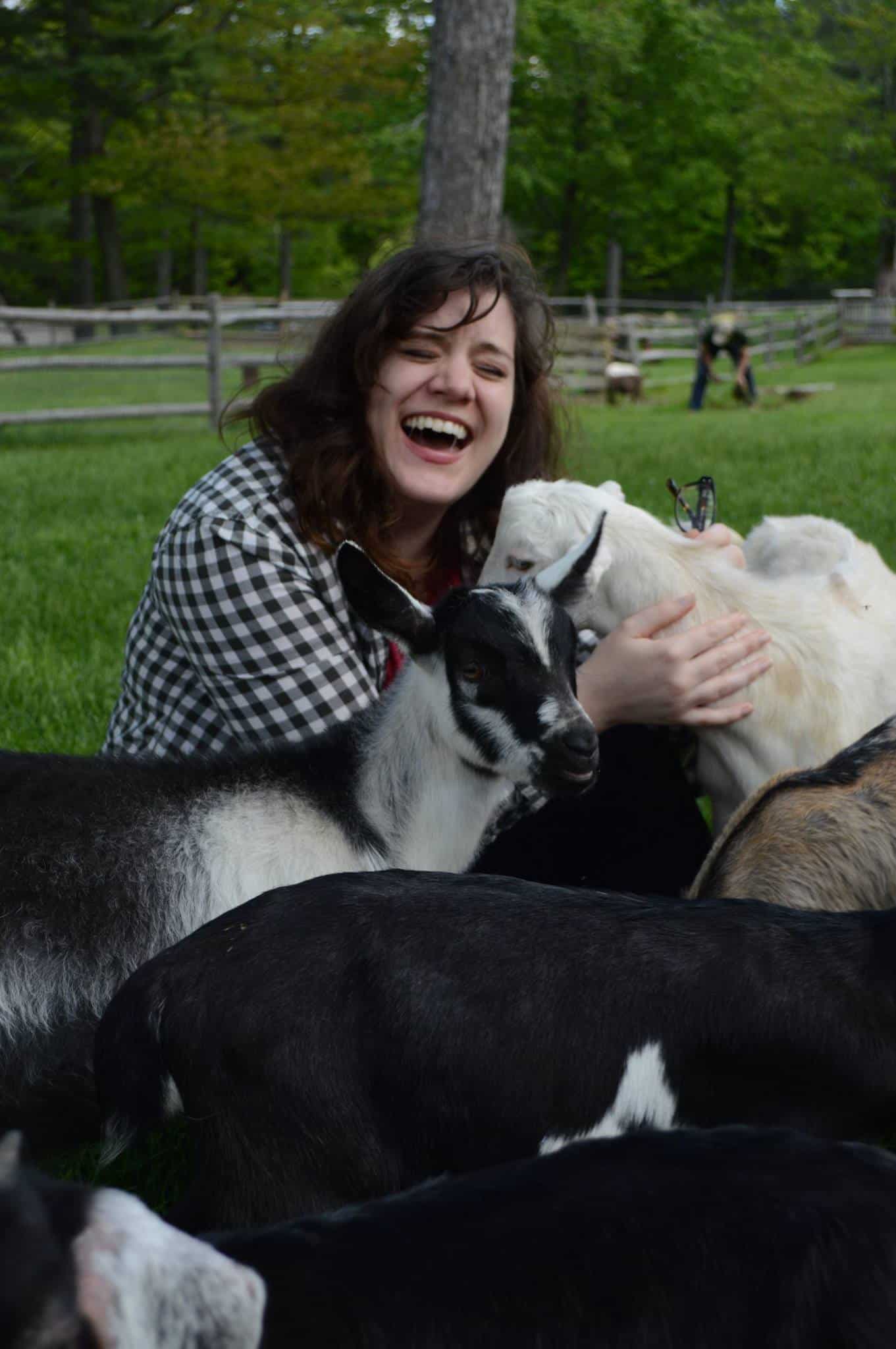 Amy Hartle is the owner and editor of New England With Love, a comprehensive resource for travel in the New England region. Amy lived in Vermont for 15 years, attended Plymouth State University in New Hampshire, and continues to travel regularly around the entire New England region. On this site, Amy aims to share her love of New England and help you to have the best possible adventures!
Amy has been a full time blogger since 2012, and is also the publisher of Two Drifters, where she writes about couples travel and relationships, as well as Let's Adventure Baby, a family travel site. When not traveling the world or creating epic blog content, Amy can be found cuddling with her husband, son, and cats, & drinking a maple latte.