---
*Links in this article may be affiliate links, from which we may earn commission. See our
Privacy Policy
for full details.
---
If you're planning a trip to Rhode Island, you can't miss out on at least one day in Providence. This city is filled with many must-visit spots, like Brown University, the RISD Museum, and more. Luckily, if you're visiting on a budget, there are also great free things to do in Providence RI.
This post will cover those free attractions and activities that you can easily add to your itinerary. Plus, there's a good portion of them that are outdoors so that you can enjoy the beautiful Rhode Island weather!
Keep reading to learn about the best free things to do in Providence RI.
Peruse Brown University
Because Providence is pretty well known for being home to Brown University, a trip there isn't complete without walking around the campus's green spaces. This historic university opened in the 1760s and has notable alumni, including John Krasinski and Emma Watson.
As an Ivy League university, there's tons of beauty and history throughout the campus. Either hop on a college campus tour or peruse the green spaces on your own. Be respectful of students, especially if you're visiting while school is in session. With just an 8% acceptance rate, the students at Brown University take pride in their education and take schoolwork exceptionally seriously.
Check out Hocus Pocus 2 Filming Locations
Did you know that several Hocus Pocus 2 scenes were filmed in Providence? It's true! You can scope them out free, too.
Tour The Stephen Hopkins House
The Stephen Hopkins House is a National Historic Landmark that is one of the underrated free things to do in Providence RI, so you won't want to miss out on it. It was once the home of none other than Stephen Hopkins, who signed the Declaration of Independence and served as governor of the state for a time.
The home features eight rooms, and there are free tours that are open to the public. Depending on the time of year, tours are sometimes available upon appointment only, so be sure to do some research if you plan on going there during your trip to Providence.
Bike the East Bay Bike Path
If getting outside is something you want to do because the weather is beautiful, then you'll want to consider biking (or walking, if you don't have a bike) the East Bay Bike Path. While it has the word "bike" in its name, many people also walk or jog on this path, so don't worry!
The path is pretty long, at just shy of 15 miles long, so you definitely don't have to do the entire path. Even just doing a small part of it is the perfect way to get some fresh air. The path used to be the Providence and Bristol Railroad and has since been paved into the bike path that it's known as today, so it has some historical significance.
Get Outdoors at Colt State Park
While most state parks in Rhode Island and the rest of New England do have a small entrance fee, Colt State Park does not have a fee to enter, though there may be a small parking fee associated depending on what time of year or even day that you visit.
There are so many fun things to do at Colt State Park, like biking, hiking, bird-watching, and even rollerblading! Plus, there's a fishing pier, so if you want to go fishing in Rhode Island, this is a great spot to go. In addition, there are tons of picnic spots throughout the park.
Relax in Roger Williams Park
Another of the top free things to do in Providence RI is to relax in Roger Williams Park. It's free to visitors during opening hours, which may change throughout the year depending on sunlight. The park has tons of green space and offers many different activities, events, and even celebrations.
You can take a self-guided tour in the park, go on the walking path, or even play on the playground. There are also many "little free libraries" where you can grab a book from a cute little structure if you want some reading material while relaxing in the park!
Take in the View at Misquamicut State Beach
This list had to include at least one beach because Providence is close to the coast! The best spot to head to the water is at Misquamicut State Beach. This beach is only partly free; it depends on the time of year that you go, so keep that in mind. Usually, parking and entrance can be free in the off-season.
This beach is one of the most popular beaches in Rhode Island. It's technically located in Westerly but is still in the Providence metropolitan area. Relax on the sand, walk along the seashore, and just take in the view while visiting there.
Walk Benefit Street
Benefit Street in Providence is known as one of the most historical spots to visit. It's near the downtown area and Brown University, so it's nearly impossible to miss. The RISD Museum (another of the best free things to do in Providence RI) is also located right at one of its ends!
Even just walking this street allows you to step back in time to Providence's past. It's best to go on a self-guided walking tour (which you can do completely free) just to check out some of the historically restored homes, museums, and more that line the street.
Attend a Program at the Providence Athenaeum
The Providence Athenaeum is a breathtaking library downtown located right near the RISD Museum. It's open to the public, but you can only rent books from the library as a member. However, even just going inside for free to check out the Athenaeum's beauty is worth it!
Many programs are offered at the Providence Athenaeum, most of which are free of charge. In addition, you can go on a self-guided tour of the interior as well. Three different tours are on offer, featuring Collections & Authors, Building & History, or Art & Sculpture. There's a PDF that you can use to walk around the interior on your own to make sure you visit all the essential spots.
Tour the Rhode Island State House
No trip to a state's capital is complete without visiting the statehouse! So, be sure to visit the Rhode Island State House. This historic building began construction in the early 1890s and was officially opened in 1901.
There are free self-guided audio tours that you can take to learn all about the statehouse. This can be a great way to go at your own pace. There are QR codes throughout the building, so when you visit a spot of importance, you can scan it with your phone to learn more about what you're looking at or standing near. You can also hop on a scheduled group tour if you want.
See the Art at RISD Museum
As you probably assumed, since it's been mentioned so many times in this article of free things to do in Providence RI, visiting the RISD Museum is an absolute must! This museum is run by the Rhode Island School of Design and is filled with beautiful art worth checking out.
During most hours, there is an admission fee to enter the museum. However, there is free admission on Sundays from 10 a.m. to 5 p.m. and Thursday and Friday evenings between 5 and 7 p.m. You still have to grab a free ticket online, though, as free tickets can and will sell out during peak times of the year.
Go Inside the Providence Public Library
The Providence Public Library is the main library to visit in the city, and it's definitely worth visiting if you want to see some free things in Providence. This central library dates back to the late 1800s, so it's one of the most historical libraries to visit in New England.
Guests are free to go inside the library and explore the library's interior and take a peek around. They also offer guided architectural tours because the library itself is truly a work of art featuring breathtaking Venetian Renaissance styles of architecture.
Have Fun in Waterplace Park
Last but not least is one more great green space in Providence called Waterplace Park. This is a relatively urban green space but is still worth visiting. It's right near the Riverwalk and is one of the best spots to relax or even just stroll in the middle of the city.
Today, the park is relatively well known for its historical significance, as it's located in the very spot that the Great Salt Cove was. If you want to stretch your legs, be sure to walk the Providence Riverwalk, which is only 2.5 miles long. It's relatively easy to walk and takes less than an hour, making it perfect for a walk on a warm day.
This post was about the best free things to do in Providence RI. No matter what free activities you do during your trip, you'll have such a fun time because Providence is one of the top spots to visit in New England. Don't forget to share this post and save it for later!
---
You might also like: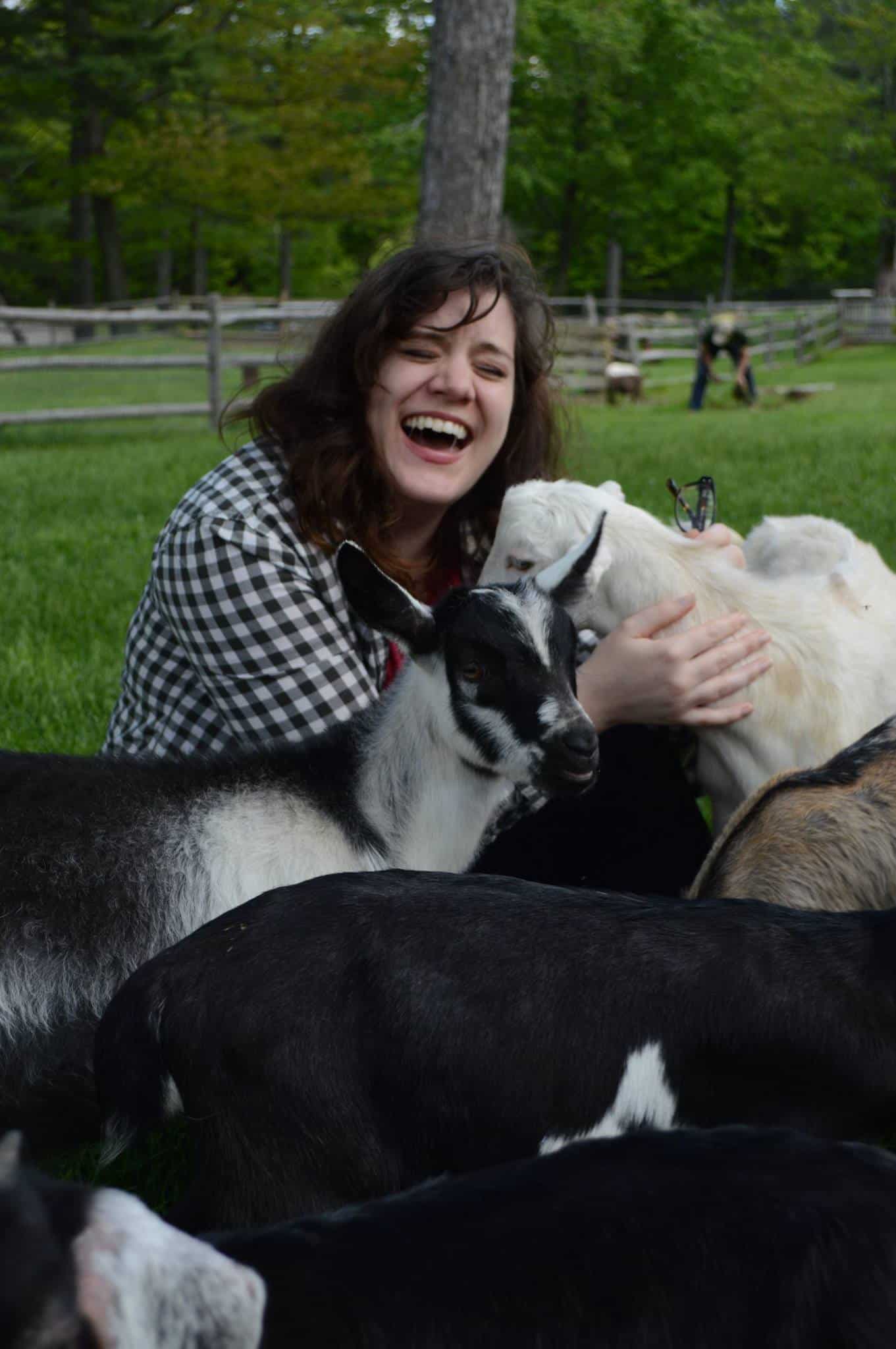 Amy Hartle is the owner and editor of New England With Love, a comprehensive resource for travel in the New England region. Amy lived in Vermont for 15 years, attended Plymouth State University in New Hampshire, and continues to travel regularly around the entire New England region. On this site, Amy aims to share her love of New England and help you to have the best possible adventures!
Amy has been a full time blogger since 2012, and is also the publisher of Two Drifters, where she writes about couples travel and relationships, as well as Let's Adventure Baby, a family travel site. When not traveling the world or creating epic blog content, Amy can be found cuddling with her husband, son, and cats, & drinking a maple latte.