There are certain things that spring to mind when most people think of New England, like fall foliage colors blazing across the landscape, Norman Rockwell-esque small towns covered with snow, and apple cider donuts.
Well, cider donuts for me, at least!
What is it that makes apple cider donuts such a distinctive New England treat?
Today, you can find cider donuts year round in most places, but traditionally, this was a harvest treat, and it's still a common staple at apple orchards, pumpkin patches, corn mazes, cider mills, and Christmas tree farms!
And of course, it's one of those sweet treats that it's kind of hard to go completely wrong with, so even when it's not absolutely perfect, it's still pretty great.
Today, we aren't here to talk about the pretty great cider donuts in New England. No, today we are rounding up the very best cider donuts in New England and where to find them!
I'm making myself hungry already but that's alright… let's talk about the best cider donuts in New England!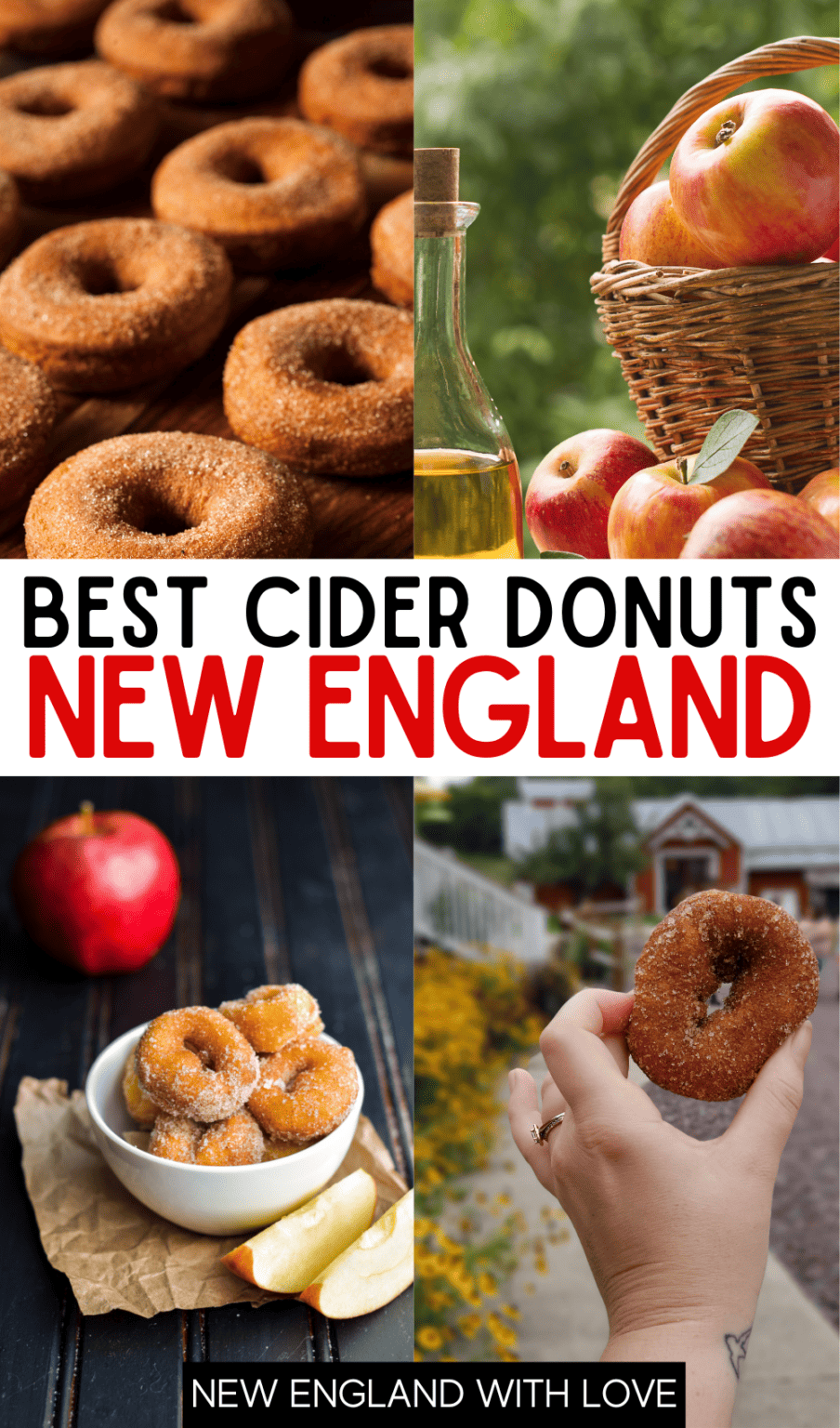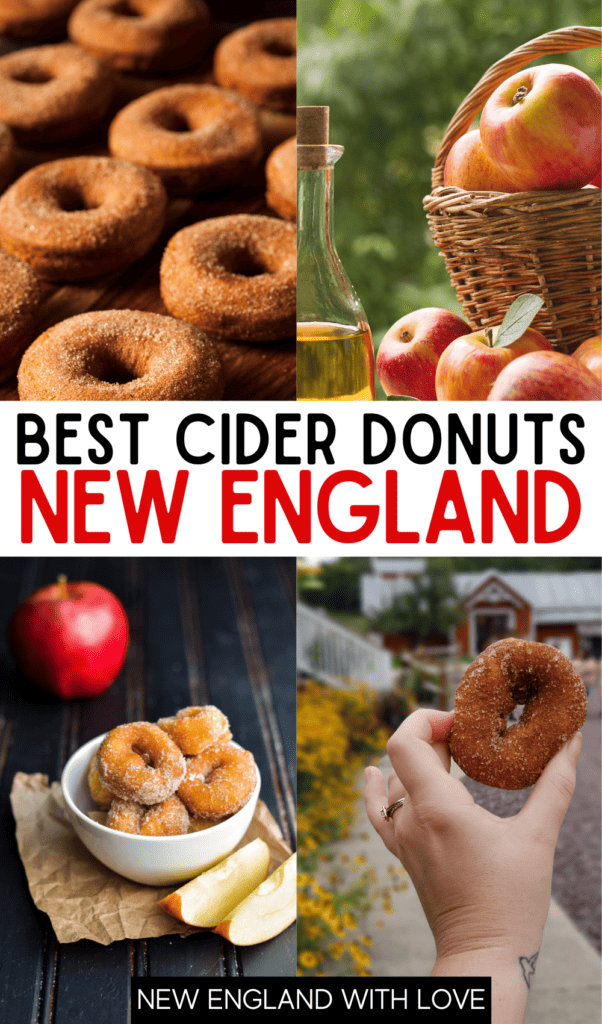 PS if you're looking for something a little harder than a donut, check out these hard cideries in New England, too.
Best Cider Donuts in New England
Best Cider Donuts in Maine
Rocky Ridge Orchard in Bowdoin, ME
As you enter the farm store at Rocky Ridge Orchard in Bowdoin, you'll be greeted by the tantalizing aroma of their freshly baked treats. Their cider donuts are made using their own pressed apple cider, bursting with freshness and flavor. It's no wonder they have become a local favorite!
Visit in the fall for apple picking and exploring the lovely pumpkin patch, both perfect fall accompaniments to a delicious New England apple cider donut!
McDougal Orchards, Springvale ME
McDougal Orchards is a 7th generation family apple farm that has been one of the best apple picking spots in Maine for years and years, and their cider donuts are nothing short of divine. You'll find them at Captain Jack's Donut Shack, and the delicate balance of cinnamon and apple flavors, coupled with a tender, melt-in-your-mouth texture, make these donuts a true indulgence for the senses.
Try the mini cider doughnuts, they are the perfect snack size treat!
Read Next: 50+ Best Things to Do in Maine: Ultimate Maine Bucket List
Wallingford's Orchard, Auburn ME
This is not some tiny New England apple orchard, Wallingford's Orchard is a whole experience, and a part of that experience is their delectable apple cider donuts!
Their cider donuts boast a perfectly crisp exterior that gives way to a moist and flavorful center. With each bite, you'll discover why these donuts have become legendary among cider enthusiasts.
There's also the petting zoo, corn maze, haunted hay rides, a playground, and more, so this is basically just the perfect fall day experience. Those delectable cider donuts are just the icing on the proverbial cake, or perhaps the cinnamon sugar dusting on the proverbial cider donut!
Best Cider Donuts in New Hampshire
The Common Man Donut Shop, Hookset NH
The Common Man is one of those IYKYK type of places, and if you live in or near New Hampshire, you already know!
The Common Man Donut Shop is located at the Hookset Rest Area in Hookset, NH. Don't let the unconventional location fool you; their cider donuts are exceptional and bring people from far and wide.
Freshly made and bursting with flavor, you can find freshly baked New England apple cider donuts year round at the Common Man Donut Shop, in a variety of flavors. There's chocolate, maple glazed pumpkin, cinnamon and sugar, and plain.
You don't have to choose just one, ya know. Why not try them all?
Read Next: 50+ Things to Do in New Hampshire: Your NH Bucket List
Moulton Farm Cider Bellies, Meredith NH
Moulton Farm Cider Bellies is another must-visit spot for cider donuts in New Hampshire! Their donuts are known for their light and airy texture, complemented by their variety of flavors.
You've got a maple drizzle, a lemon drizzle, a baker's chocolate drizzle, a cinnamon sugar donut, and of course the good, old-fashioned apple cider donut! Delicious.
Read Next: 15 Terrific Things to do in Meredith NH
Carter Hill Orchard, Concord NH
For a classic apple orchard experience where the apple cider donuts draw people in from far and wide, head to Carter Hill Orchard. With apple cider made onsite from their acres of apples, you know the apple cider donuts are fresh as can be!
In addition to their signature donuts, they also have plenty of other bakery offerings like whoopie pies, sweet breads, cookies, and more. This New England cider donut haven shouldn't be missed.
Read Next: 11 Fun Things to Do in Concord NH
Applecrest Farms, New Hampton NH
New Hampshire's oldest and largest apple orchard, Applecrest Farms offers cider donuts that are simply irresistible! Made from scratch using their own hand-pressed apple cider, these apple cider donuts seem to have the perfect texture. Don't forget to pick up a jug or two of their handmade freshly pressed apple cider.
Read Next: 10 Amazing Spots for Apple Picking in NH
Best Cider Donuts in Vermont
Cold Hollow Cider Mill, Waterbury VT
Walking into Cold Hollow Cider Mill is like a breath of fresh air… and it smells delicious! Renowned for its award-winning cider donuts, there's more happening at Cold Hollow Cider Mill than just pressing apples and making donuts, however.
Come hungry, because the onsite restaurant is the best way to get a little taste of Vermont. Then you can visit the live observation beehive, do a little shopping for cider goodies like cider jelly and hard cider, and of course, pick up those famous New England apple cider donuts.
15 Impeccable Things to do in Waterbury VT
Shelburne Orchards, Shelburne VT
For a quintessential Vermont apple orchard experience, you want Shelburne Orchards! This beautiful property on the shores of Lake Champlain gets bonus points for the gorgeous lake views, but really, their incredible apple goodies are the star of the show.
You can find fresh pressed apple and ginger apple cider, apple cider doughnuts, and even apple brandy at Shelburne Orchards. Fair warning, you're probably going to wish you'd bought more apple cider doughnuts than you do here, so just go ahead and double your order!
Read Next: 55 Best Things to Do in Vermont (+ Places to Visit!) ❤️
The Apple Barn, Bennington VT
The Apple Barn in Bennington is another Vermont gem where cider donuts New England-style reign supreme.
Made with generations of experience at their country bake shop, these donuts boast a wonderful balance of sweetness and spice. Treat yourself to one (or three) and immerse yourself in the cozy charm of small town Vermont!
Read Next: 13 Terrific Restaurants in Bennington VT
Best Cider Donuts in Massachusetts
Mann Orchards, Methuen MA
Dating all the way back to 1877, Mann Orchards is known for its great country store and powerhouse bakery that produces some of the best freshly baked cider donuts in New England.
One bite is all it will take to transport you to cider donut heaven at Mann Orchards.
Honey Pot Hill Orchards, Stow MA
One of the top apple picking spots in the region, Honey Pot Hill Orchards is a beloved destination that captures the essence of autumn. Their cider donuts have a light, fluffy texture that practically melts in your mouth.
Pair them with a day of apple picking and a hayride and you'll get the full New England experience!
C.N. Smith Farm, East Bridgewater MA
C.N. Smith Farm in East Bridgewater is another popular hotspot for cider donut aficionados! A visit to their donut shop is the perfect way to experience this popular New England treat as they offer the classic apple cider donut, perfectly executed every time.
Sink your teeth into one, and you'll understand why locals and visitors alike rave about them!
Read Next: 55+ Things to Do in Massachusetts: Your MA Travel Guide
Wilson Farm, Lexington MA
Hosting fun events like Yoga with Baby Goats and offering up a wide variety of fresh produce and carefully prepared foods in their country store, Wilson Farm is more than just a spot to indulge in cider donuts.
Handmade with love, their donuts are bursting with class apple cider goodness… and if you happen to be there at the same time baby goat yoga is happening, well, lucky you!
Russell Orchards, Ipswich MA
Russell Orchards is a picturesque farm and orchard that has been tantalizing local taste buds with their cider donuts for years. This is such a pretty spot, and there are a variety of you pick items available throughout the year, often with live music onsite. Pick up a few cider donuts and settle in for a scenic picnic on their beautiful grounds.
Smolak Farms, North Andover MA
If you're looking for a charming New England destination for cider donuts, you've found it at Smolak Farms in North Andover! Their cider donuts are a crowd favorite, with a tender texture and an irresistible apple cider flavor, but there's much more happening out at Smolak Farms.
You'll find seasonal events, festivals, and fun farm activities like hay rides happening throughout the year, and it's one of the most popular apple picking spots in Massachusetts.
Best Cider Donuts in Rhode Island
Appleland Orchards, Greenville RI
If you're looking for apple cider donut spots in Rhode Island, Appleland Orchards is always a great choice! Farmer Joe's Fresh Pressed Cider and Mary Lou's Old Fashion Apple Cider Donuts await to tickle your taste buds in all the best ways.
Pick up some apple wine while you're out there, too!
Read Next: 50+ Things To Do In Rhode Island: Your RI Bucket List
Jaswell's Farm, Smithville RI
Jaswell's Farm in Smithville does a little bit of everything: pick your own fruits and veggies, a country market with their own branded products, a cider mill, and a bakery that creates scrumptious magic like their apple cider donuts!
Pick up a specialty beverage while you're out there. Cooler weather might just call for a hot mulled cider to accompany your cider donuts!
Read Next: 10 Awesome Places to Go Apple Picking in RI
Best Cider Donuts in Connecticut
B.F. Clyde's Cider Mill, Mystic CT
The oldest steam-powered cider mill in the United States, B.F. Clyde's Cider Mill has just about perfected the art of cider making.
You can watch as they use their time-tested cider mill and taste the old-fashioned cider donuts that keep so many of us coming back for more! A visit to this historic cider mill is a must for any New England cider donut enthusiast.
Read Next: 30 Fabulous Things to Do in Mystic CT | 13 Best Hotels in Mystic, Connecticut
Roger's Orchards, Southington CT
With two Southington locations, you've got options for where to find apple cider donuts at Roger's Orchards! They are a beautiful Connecticut orchard with both original recipe apple cider donuts or cinnamon-dusted apple fritter donuts. You don't have to choose, ya know. Might as well try them both!
Read Next: 55+ Things to Do in Connecticut: The Perfect CT Bucket List
Holmberg Orchards, Gales Ferry CT
One of the most popular apple picking spots in CT, Holmberg Orchards is one of those places where you can find something for everyone. Not only is there plenty of pick your own apples and pumpkin patch fun, but there's also something aimed at the older crowd: hard cider and wine!
So whether you're looking to pair their scrumptious apple cider donuts with a classic sweet cider or a sparkling hard cider, you can find it at Holmberg Orchards. Oh, and did we mention they also have an interesting twist on a corn maze for the 21+ crowd? They do a wine maze!
Whether you are the type of person who eagerly awaits fall activities to get your fix or you are a bonafide cider donuteur all year round, we think these cider donut bakeries should be on your must try New England food bucket list!
Read Next: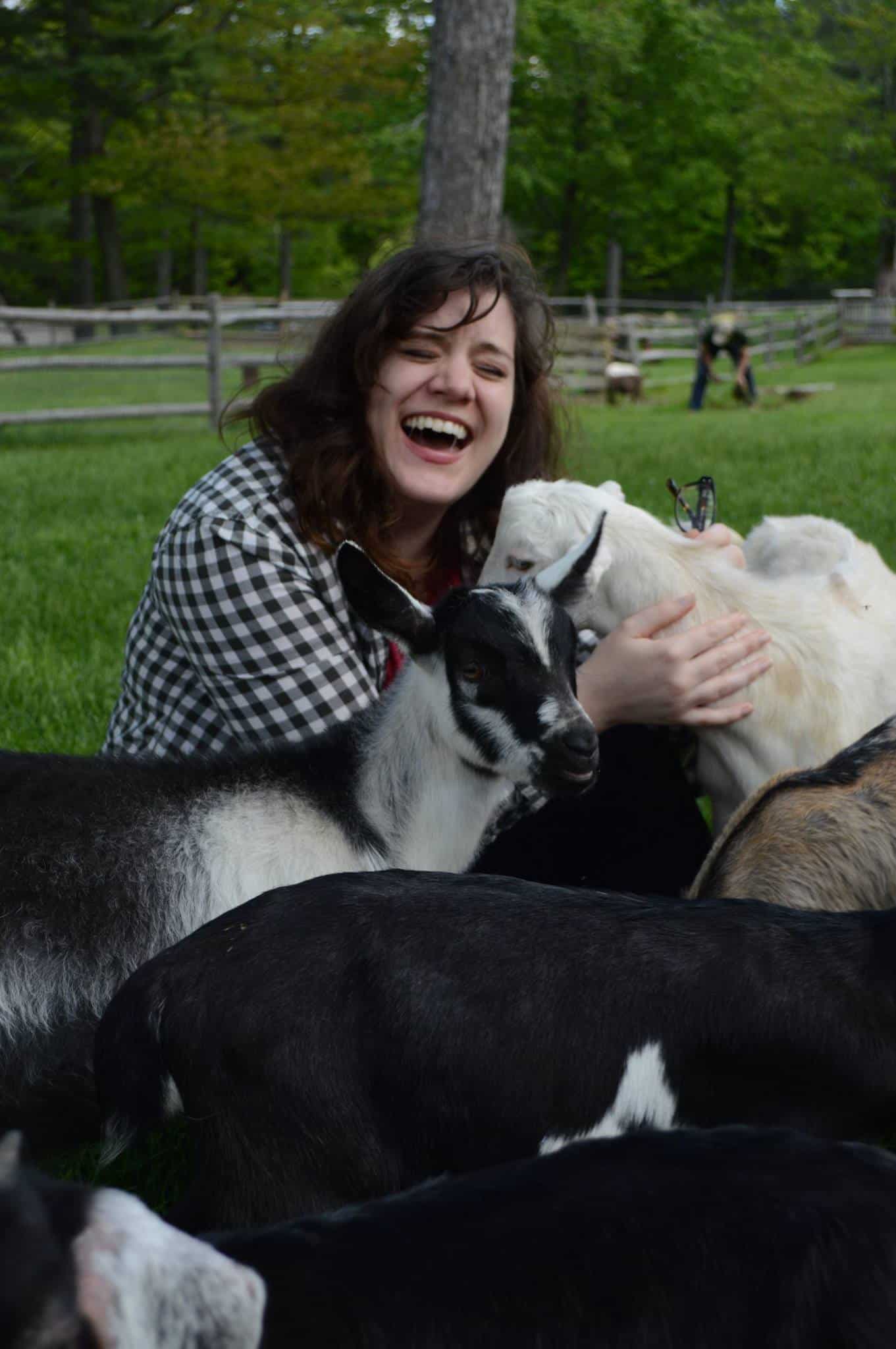 Amy Hartle is the founder and Editor-in-Chief of New England With Love, a comprehensive resource for travel in the New England region. Amy has been exploring New England since 2001. She lived in Vermont for many years and is a graduate of Plymouth State University in New Hampshire. Amy has been writing about travel for over a decade. On this site, Amy aims to share her love of New England and help you to have the best possible adventures!
Amy has been a full time blogger since 2012, and is also the publisher of Two Drifters, where she writes about couples travel and relationships, as well as Let's Adventure Baby, a family travel site. When not traveling the world or creating epic blog content, Amy can be found cuddling with her husband, son, and cats, & drinking a maple latte.