*This site uses affiliate links; if you make a purchase through these, I may receive a small commission at no cost to you.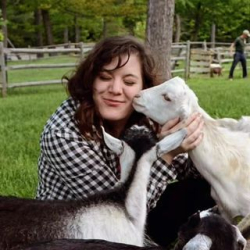 Latest posts by Amy Hartle
(see all)
Of all places on earth, fall in New England may be one of the prettiest. The region is totally MADE for the autumn season, and every fall activity you could dream of can be found here, with a backdrop of brilliant foliage and quaint little New England towns.
That picture-perfect autumn in New England, Can't you just see it? Picking apples on a crisp September day. Cozy nights in front of a crackling fire, sipping hot cider. Octobers bursting with ruby, gold, and amber. A spooky Halloween night where your breath shows in the chilly air.
I've enjoyed countless New England fall seasons, so I know just what you're looking for, and the best places to find it!
Let me introduce you to to the ultimate New England fall guide: featuring incredible foliage destinations, festive farms, exciting apple orchards, thriving pumpkin patches, adorable fall towns, fall road trip spots, festivals, activities, and so much more.
Get ready to experience the best of New England in the fall.
Already know where you wanna go? Check out these epic state guides next:

🍁Vermont in the Fall
🍁New Hampshire in the Fall
🍁Maine in the Fall
🍁Massachusetts in the Fall
🍁Rhode Island in the Fall
🍁Connecticut in the Fall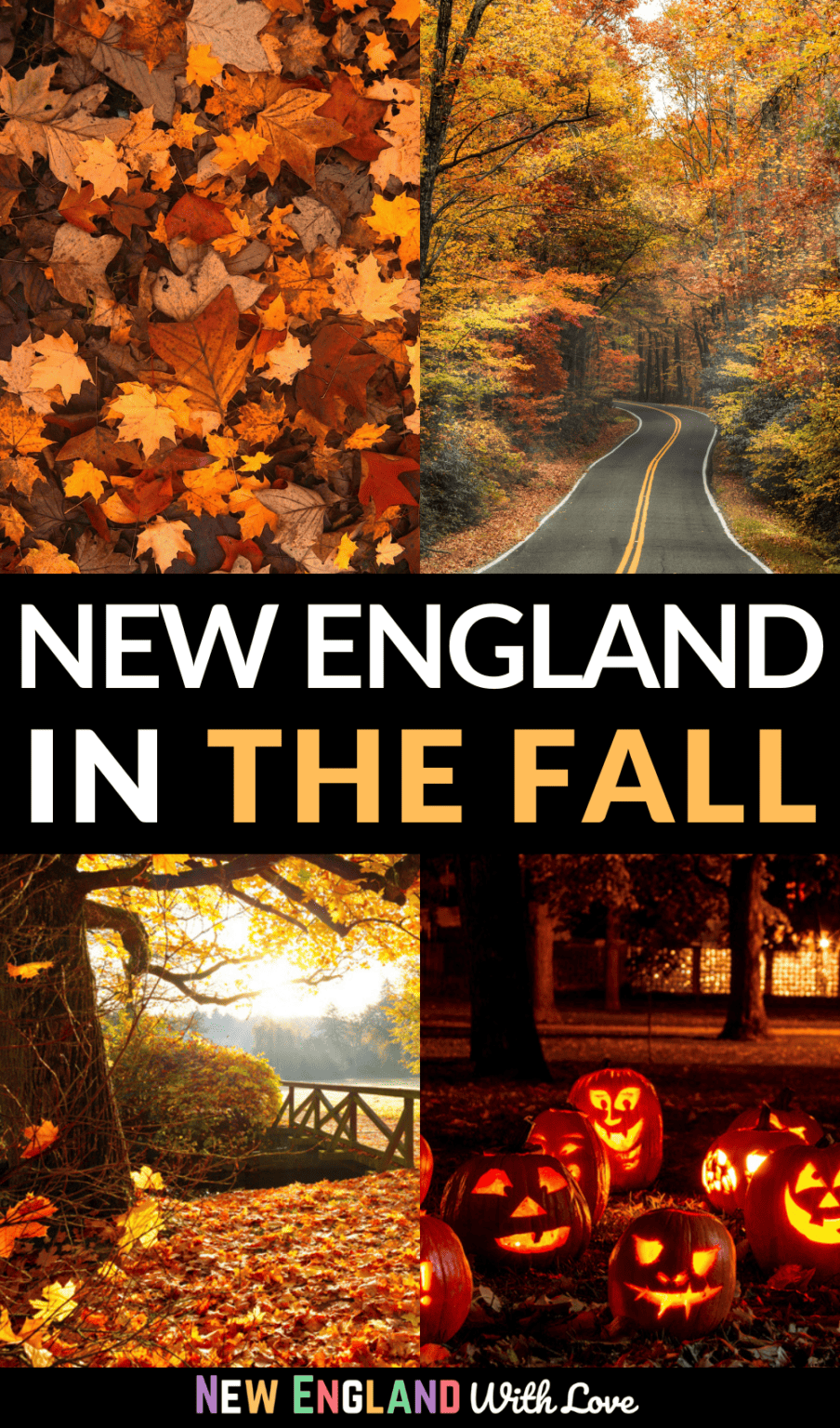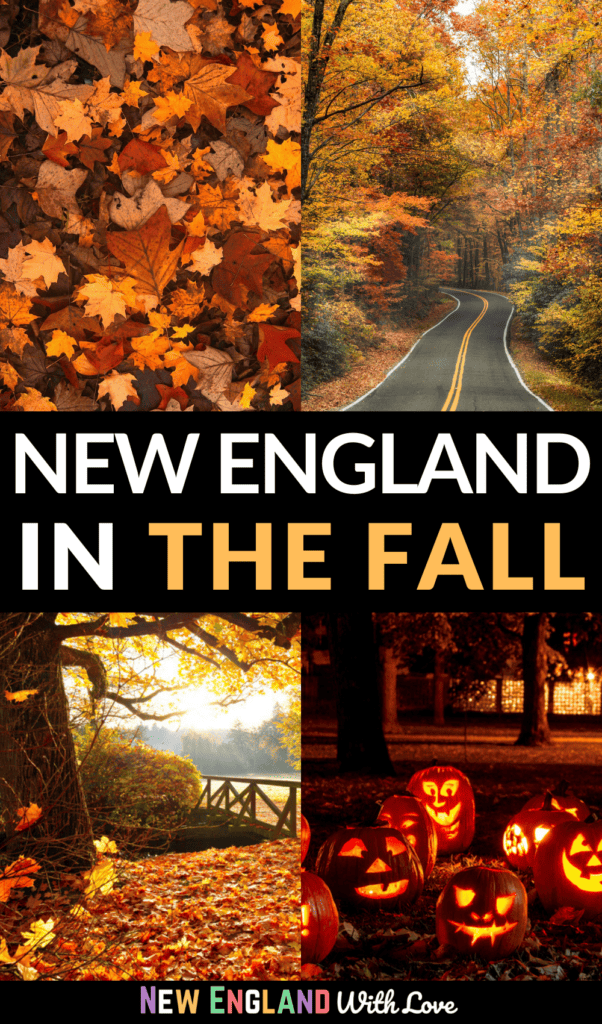 New England Fall Foliage Info
First, let's cover the basics of fall foliage in New England: when and where to see it.
PS: For a more detailed dive, check out our Ultimate Guide to New England Fall Foliage .
It's important to note that New England fall foliage conditions vary each year, due to that year's weather patterns and other factors.
However, in general, you can expect to see fall foliage throughout New England from early/mid-September through the end of October. Peak foliage, when the leaves are at their best and brightest of the season, typically hits in October.
The foliage develops from north to south, with northern spots like Vermont, Maine, and New Hampshire generally experiencing "peak" before Massachusetts, Rhode Island, and Connecticut.
Here is an excellent visual representation of how the foliage changes in New England in the autumn: Yankee Magazine Peak Foliage Map
So if you're planning to visit New England in the fall, keep this progression in mind and try to plan your fall travels accordingly.
The Best Places to Enjoy Fall in New England
The following destinations are beautiful spots to explore in New England in the fall. If you want to include a few of these on your itinerary, be sure to check out our list of New England fall foliage drives.
Stowe, Vermont
Stowe is a gorgeous village in a prime foliage spot. In a valley surrounded by Vermont's Green Mountains, it's a top destination to see vibrant fall colors (although you do have to plan your visit just right to catch peak foliage!)
The leaves tend to be brightest and boldest in early October, but this may change slightly according to conditions each year.
With its white-steepled church, the village of Stowe presents the perfect fall photo opportunity. While it is also a popular winter destination due to its nearby skiing and other winter activities, Stowe is resplendent in fall.
Many come here to hike or to enjoy cycling, shopping, and art; summer in Stowe is fun, too! It's also a good place for foodies, with delicious restaurants both in Stowe and nearby Waterbury.
Fall foliage hike options in Stowe include: Moss Glen Falls, Stowe Pinnacle Trail (great views!), and Sterling Pond. Check out some of the top Stowe hotels and vacation rentals for the perfect place to stay during your New England fall trip!
Stowe is also on my list of New England's top vacation spots; destinations worth visiting year-round!
The Cold Hollow Cider Mill – Waterbury, Vermont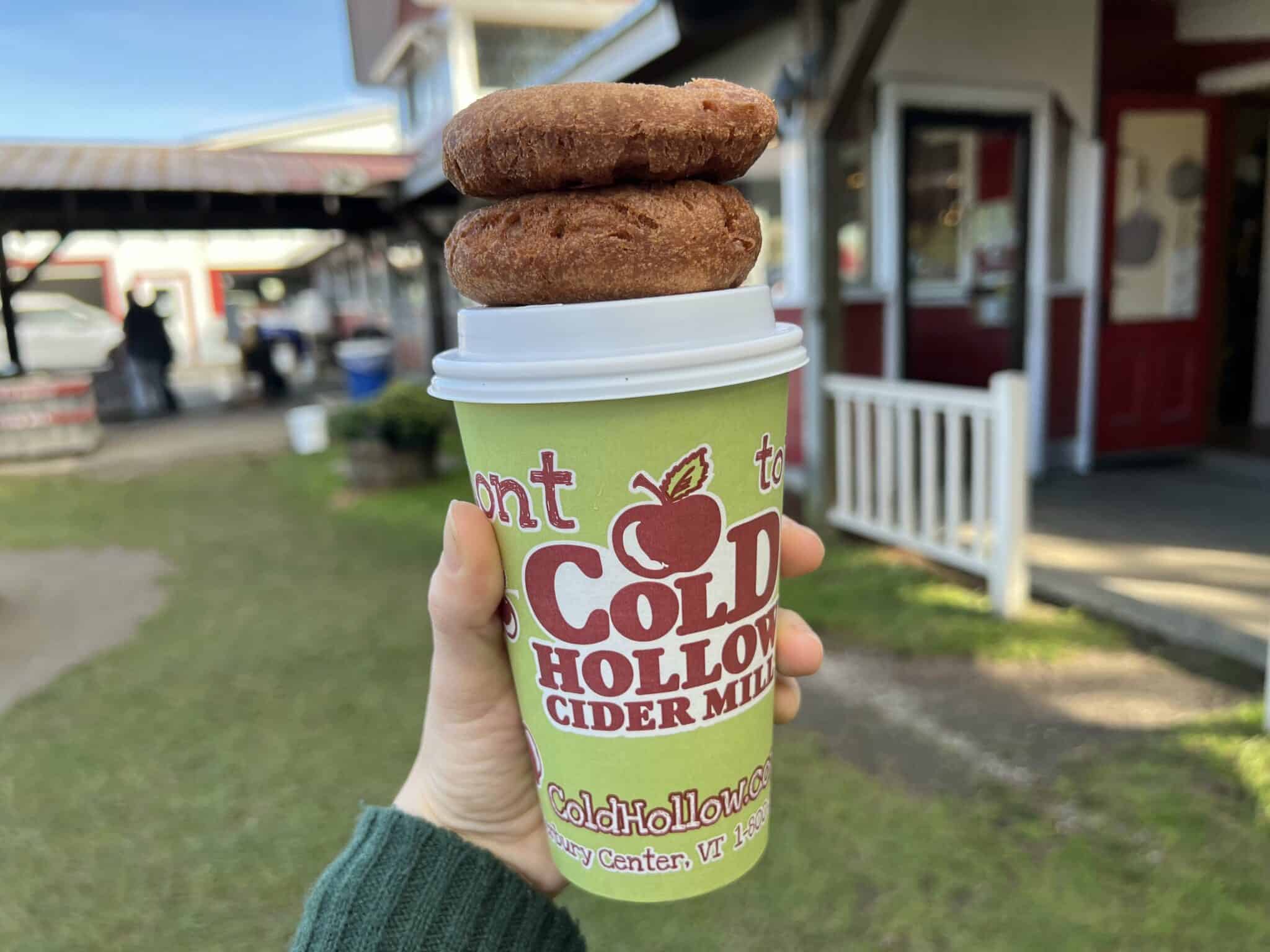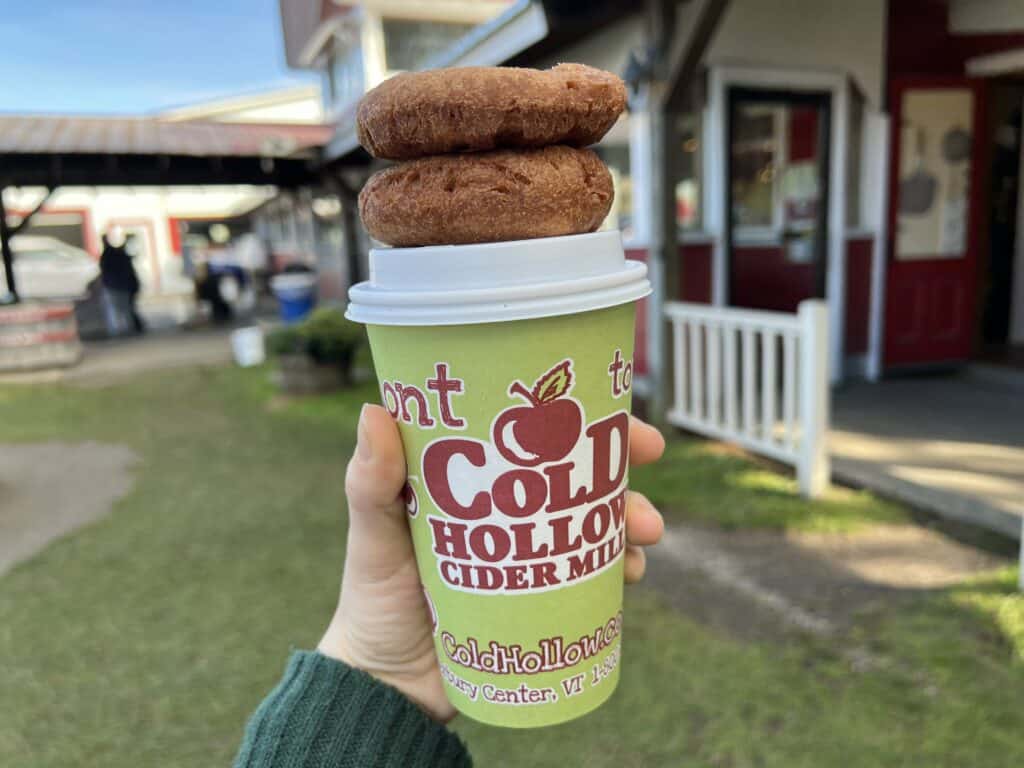 This is hands down one of the best fall New England trips you can take.
Head just south of Stowe along Route 100 and and stop at the Cold Hollow Cider Mill in Waterbury for fresh-pressed cider and what I'd consider some of the best apple cider doughnuts on the planet.
This place just SCREAMS fall, and the scent of cinnamon, apples, and happiness hits you as soon as you get out of your car.
Take time to wander the adorable store filled with every apple gift and food item you could imagine, and then head across the parking lot to their onsite restaurant and cidery. Come hungry!
Read Next: The Best New England Fall Foliage Tours Worth Your Money | 7 Vermont Fall Foliage Road Trip Itineraries for Autumn Magic 🍁
Burlington, Vermont
Not far from Stowe is the lovely lakeside town of Burlington, VT. This hip, artsy town is home to numerous galleries, coffee shops, restaurants, breweries, and shopping opportunities, as well as plenty of cool hotels and vacation rentals to stay in.
It all overlooks the beautiful Lake Champlain, an enormous body of water that stretches from north to south, separating the states of Vermont and New York. The vista of the lake, with the mountains of New York in the background, is especially scenic in the fall, and there are lots of great hikes near Burlington to get out and really immerse yourself in the fall foliage!
The activities centered around the lake–boating, scuba diving, ferry rides, etc.–are best enjoyed in the warmer months. However, the sheer number of shops and places to hang out, the beautiful hillside neighborhoods with their unique New England architecture, and the breathtaking views of Lake Champlain all make Burlington a great place to visit in New England in the fall.
Acadia National Park, Maine
Acadia National Park is a fall destination in New England that offers wilderness and adventure.
This 47,000-acre national park is set on the coast of Maine, nearly in Canada, and is a perfect spot for outdoor lovers to experience a New England autumn. There are countless options for hiking and camping. Many hikes offer incredible views of oceanside cliffs and inlets.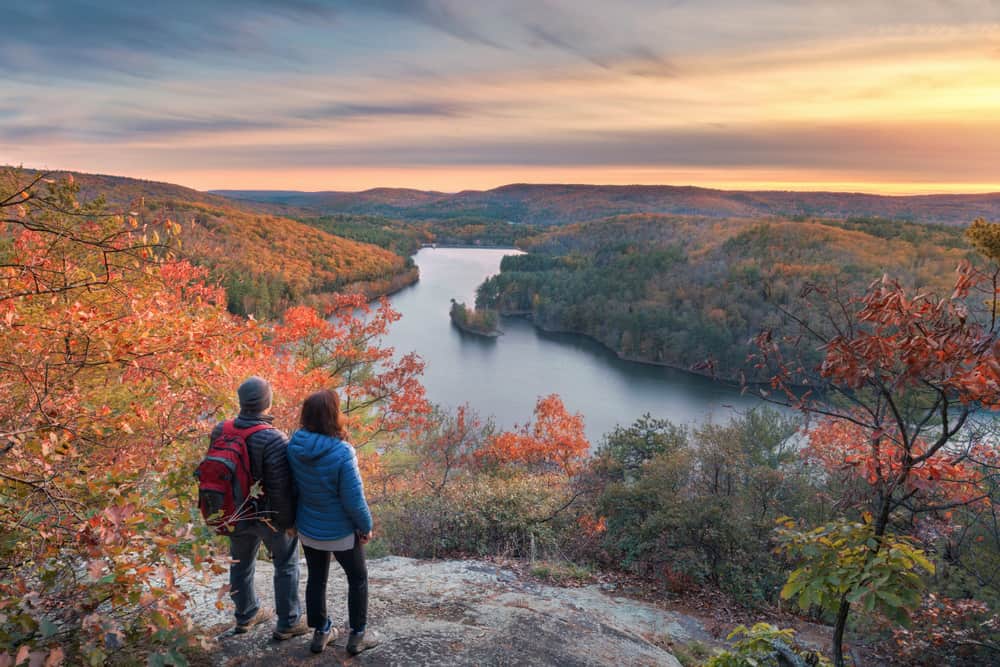 Breathtaking scenery isn't the only great thing about the area. The cozy town of Bar Harbor offers dining, shopping, and culture, so you can enjoy the best of both worlds.
After roughing it, spend the night in a warm Bar Harbor hotel, inn, or B&B. Bar Harbor has some great restaurants whose chefs love using local, seasonal flavors. A fall-inspired meal on coastal Maine sounds amazing.
You can also head out on the water for a scenic cruise, and of course, don't miss the lighthouse.
Acadia National Park and Bar Harbor are likely to be less crowded in September and October, after the busier summer season, so take advantage. It will start to grow quite chilly here by the end of September–a good thing to keep in mind if you hope to go camping.
Mid-October is generally forecast to be peak foliage, but follow local reports for the most accurate info.
Read Next: The Top Things to Do in Acadia National Park, Maine | Fall in Maine: Where to Go and What to Do for Autumn Magic
Mack's Apples – Londonderry, New Hampshire
If you're looking for the classic, old-timey New England fall experience, Mack's Apples will provide. This is practically an institution in NH, an 8th-generation, family-owned 400-acre farm. In early autumn, visitors can start picking apples, selecting fruit from 100 acres of trees.
Pumpkins can be picked, too. When you're done picking, stop by the farm stand which offers maple syrup, fresh-grown veggies, pies, pears, squash, and more.
See more of the best places for apple picking in New Hampshire!
Salem, Massachusetts
Speaking of things to do in New England in October, is there be a better Halloween destination than Salem, Massachusetts? Salem has become synonymous with Halloween celebrations. This is likely due to its infamy as the site of the 1692 witch trials, but Salem today is still a witchy, eclectic town; visit the most haunted places in Salem, if you dare. Thousands descend upon the area each October for Haunted Happenings, the town's annual Halloween celebration. The popular 90s film Hocus Pocus (which was filmed here) brought Salem to life for many young people, myself included!
Salem is rich with history, and you'll be kept busy by museums, exhibits, and notable sites. Real history buffs might want to read up on the witch trials before visiting, as this will help you better understand the dark events of the town's past.
You'll also find great restaurants, hotels, and vacation rentals in Salem too!
Want to be spooked? Check out these spooky Salem ghost tours. See also: 13 Haunted Places in New England That are Wicked Creepy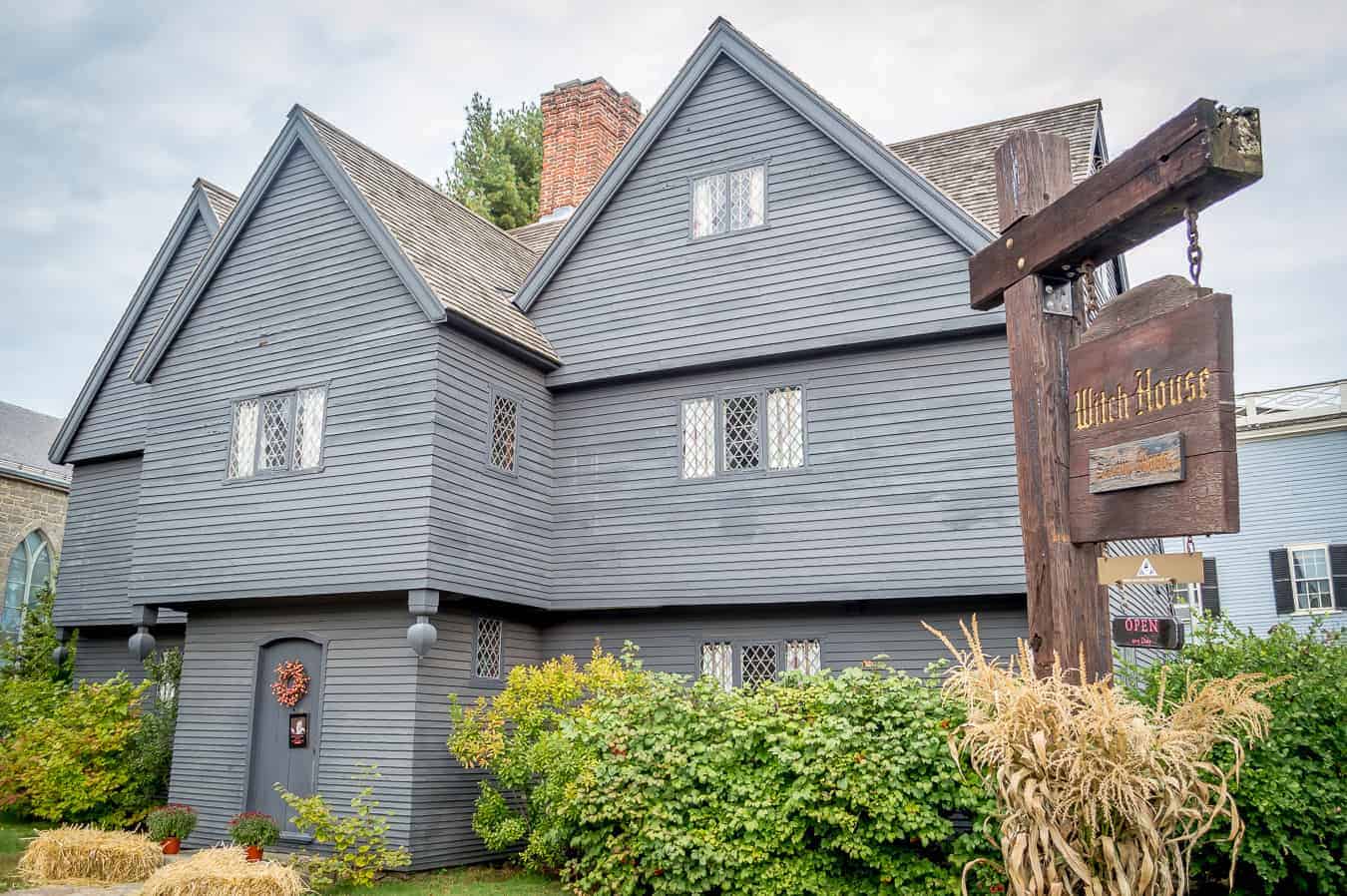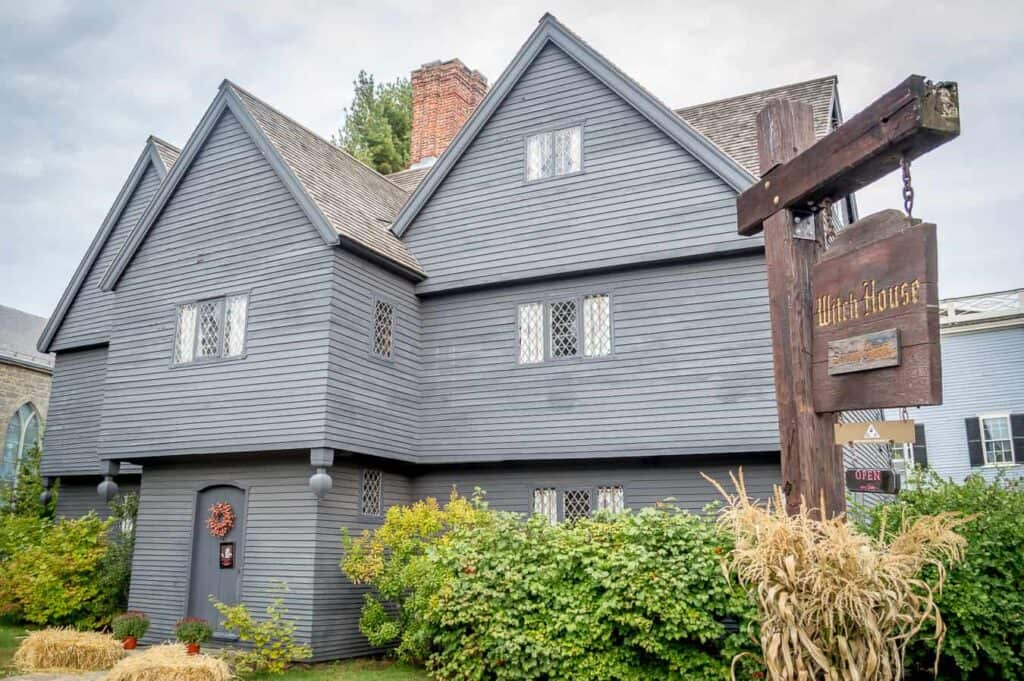 If the spiritual interests you, Salem is home to many modern-day witches and spiritualists. You can sign up for a palm reading, tarot session, or other experiences. Or simply browse the shops and peruse the magical goods.
In Salem, fall is definitely in the air. It's a beautiful and picturesque destination that is great for shopping, dining, and walking. Its proximity to Boston makes it an easy getaway, too.
With its position on the coast, Salem is likely to experience peak foliage in mid-to-late October.
The White Mountains, New Hampshire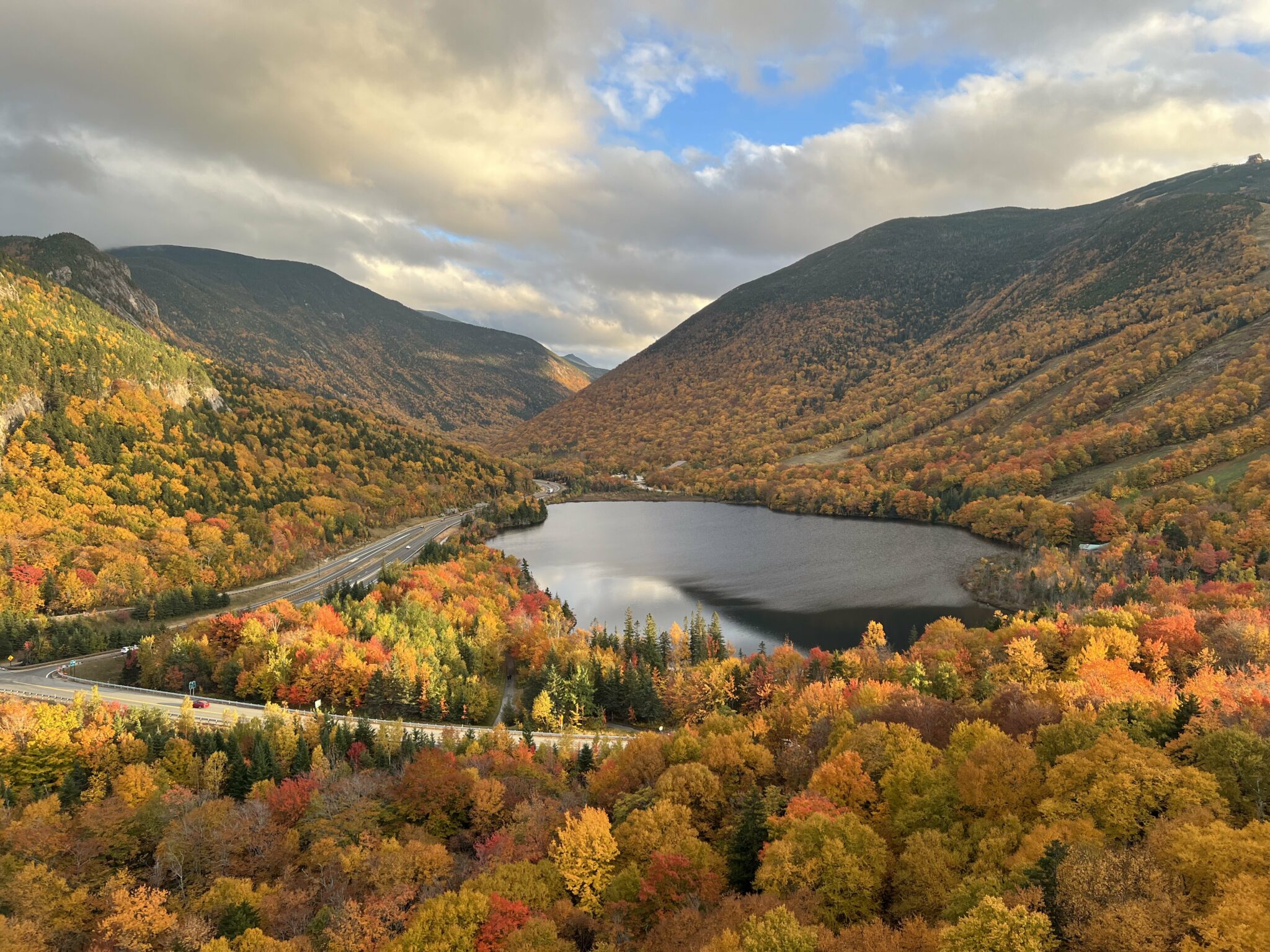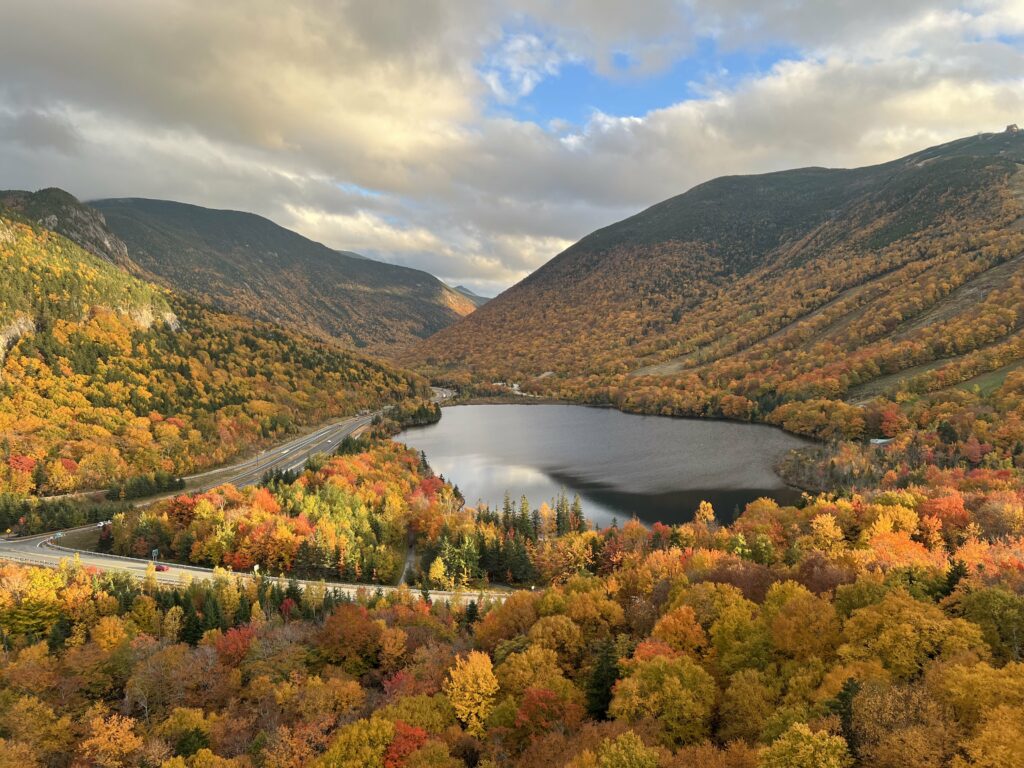 New Hampshire is another great state to visit in New England in the autumn. The rugged White Mountains will be aflame with color and make for spectacular hiking and leaf-peeping among all the other fun things to do in the White Mountains!
New Hampshire has many choice spots for foliage, including classic-looking towns such as Sugar Hill or Jackson as well as more tourist-centered places such as North Conway and Lincoln.
Early October is when this outdoor paradise tends to reach peak foliage, and it's definitely worth planning ahead to catch the mountains decked out in autumnal hues.
For an extra fun fall excursion, drive the famous Kancamagus Highway, a scenic stretch of road that runs 34 miles through the White Mountain National Forest. It is bookended by Lincoln and Conway, so you'll get the chance to stop in two top destinations during your drive. Consider booking one of these cozy White Mountains cabins for the perfect place to stay during your New England fall trip.
New Hampshire is also notably beautiful in wintertime!
Providence, Rhode Island
Providence is the biggest city on our list of New England fall getaways. There's a lot going on in this city year-round, with cool breweries, cute coffee shops, delicious restaurants, and awesome hotels to stay in.
Within a short drive from Providence, you'll be able to take in fall activities like corn mazes and pumpkin patches. You can plan for events like Oktoberfest and other fall festivals both in Providence and nearby Newport.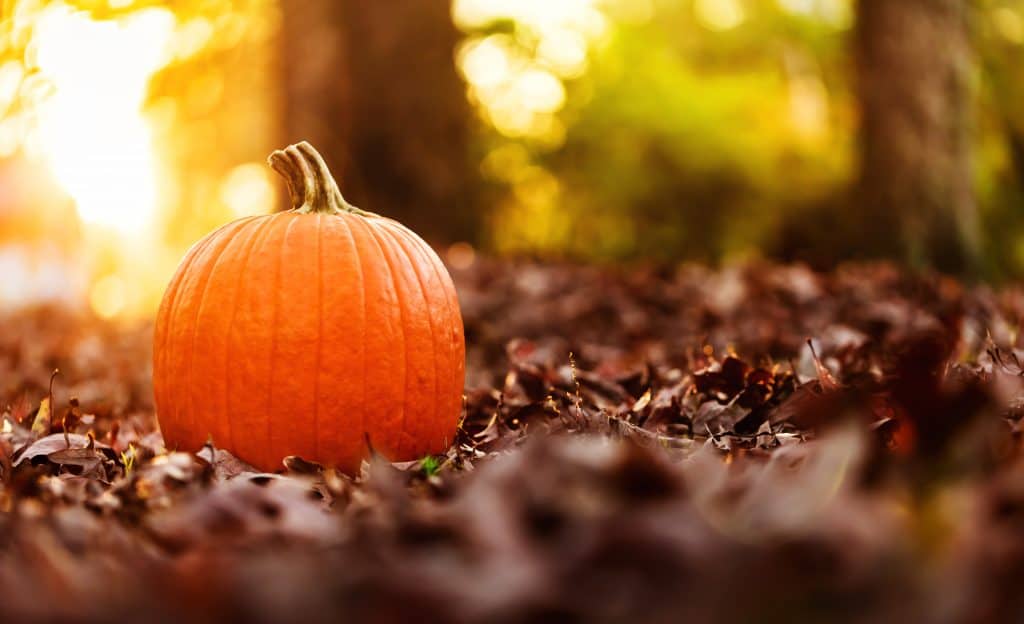 There's something very cozy and autumnal about a city. Providence boasts some interesting older architecture and impressive homes. With the addition of classic New England fall foliage, these take on an imposing look.
Horror fans may know that author H.P. Lovecraft lived most of his life in Providence, his hometown. You can explore significant Lovecraft sites, such as his home and his grave, as well as locations that figure into his works of horror fiction.
There's no better time than autumn for such things, so planning to spend a weekend in Providence in fall is always a good bet!
Freeport Fall Festival – Freeport, Maine
The first weekend in October in Freeport Maine is reserved for the Freeport Fall Festival, where Mainers come from near and far to celebrate the sights and tastes of fall in New England. Local art, live music, kid's activities, and some of the finest food artisans in Maine are present on the campus of L.L. Bean for all to enjoy.
Plus, Freeport is also home to Wolfe's Neck Center, where you can find one of the best pumpkin patches in Maine as well as several workshops and fall events, like their Harvest Dance. Freeport is one of the best places to visit in Maine, so there's plenty to see and do in Freeport, too!
Woodstock, Vermont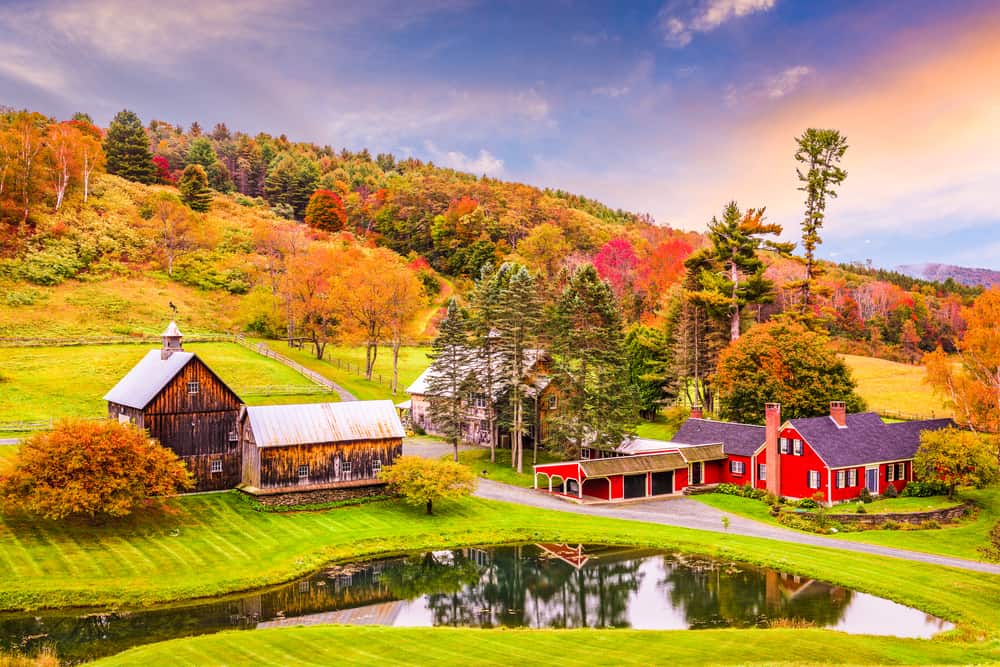 Woodstock is classic New England, with covered bridges, rolling farmland, and a tidy Main Street. This is a destination that is lovely in summer, picturesque in winter, and stunning in autumn. It's probably not too bad in spring, either!
If you're looking for a small village where you can hide away for a fall weekend in New England, Woodstock is an excellent choice. Your main activity is likely to be leaf-peeping, as the foliage will explode in late September and early October.
You can also dine on cheese, apples, and other Vermont fare, with lots of autumn specialties available at the many great local restaurants. Consider booking a farm stay at the beautiful Fat Sheep Farm.
Antiquing is also a great fall activity here, with many roadside shops stocked with eccentricities and treasures. Be sure to stop by the Quechee Gorge overlook, to have a look at the gorge in its autumn splendor.
PS: Check out Manchester, Vermont as another alternative slightly further south.
Mike's Maze – Sunderland, Massachusetts
Don't just visit the best corn maze in New England, visit the best in the US, according to Yahoo.
Mike's been creating insanely intricate mazes for nearly two decades. Check out the incredible past designs, as photographed from the sky, here. That's some amazing stuff.
There's way more here than just an elaborate corn maze, too. Farm animals, pedal carts, a cafe, and more make this a New England fall bucket list destination.
Litchfield Hills, Connecticut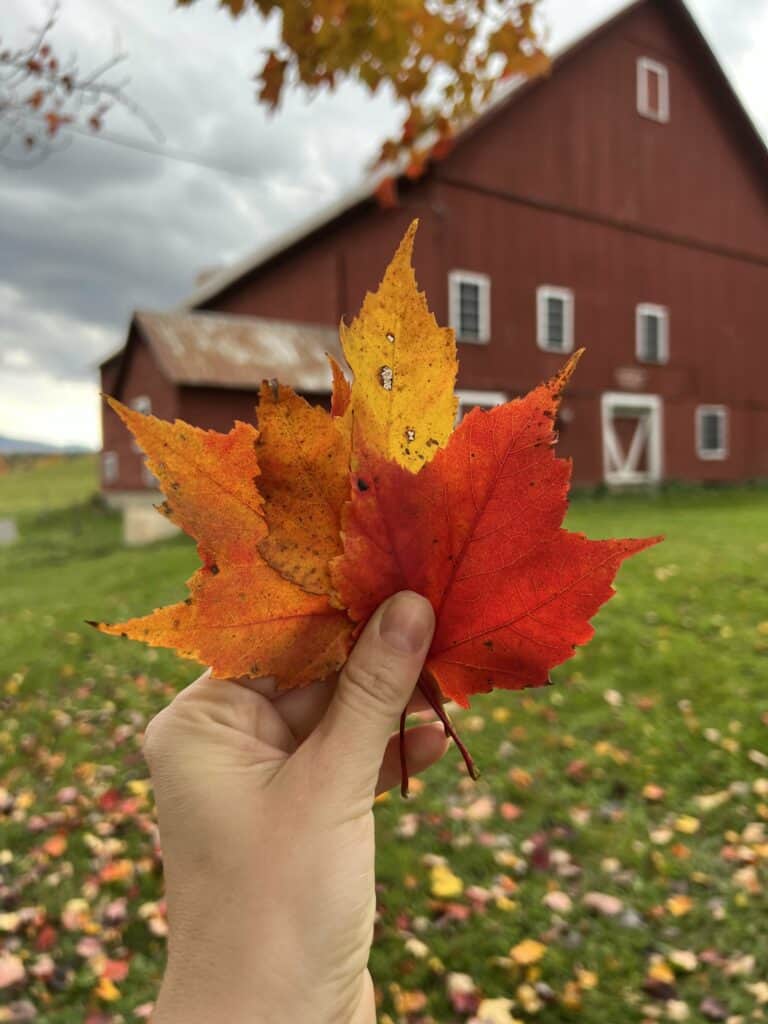 Connecticut is the most southerly of the New England states, but it, too, enjoys glorious fall foliage. In fact, CT claims to have the longest foliage season of all six states, giving you plenty of time to come for a visit.
The Litchfield Hills are a highly recommended spot to witness fall in Connecticut. Covered bridges, small villages, and sparkling lakes await you in this region of New England.
Many choose to drive the Litchfield Hills Ramble, a route that circles 100 miles from Torrington through Litchfield and brings passengers past lush foliage.
Here, classic farms are bordered by stone walls, covered with fallen golden leaves. Hidden waterfalls are to be found within the woods, trimmed in color.
It is best to do this road trip in late September and early October. Don't miss the town of Kent, called one of the finest towns for foliage in all of New England.
Hiking, kayaking, fishing, and antiquing are popular activities in the hills, but it has also recently become something of a foodie destination, so bring your appetite.
The Berkshires, Massachusetts
In Western Massachusetts, you'll find the Berkshires, an area that bears some similarities to the Litchfield Hills and abounds in art and culture. There are opportunities for picking fresh apples, plus a wide array of harvest festivals and fall celebrations.
Fall seems to be beloved by Berkshires residents and visitors alike.
Hiking is popular here. The mountains never seem too high, and you can capture breathtaking scenes with only a short walk. The foliage routes are also home to antique stores and other small shops where you can stop and search for trinkets.
Gorgeous homes are also a lovely sight in fall; a particularly good spot to see them is the stately town of Lenox. Why not climb aboard for a horse-drawn carriage ride? Relics of amazing history abound throughout the Berkshire region in every season, but they are especially beautiful in fall.
Consider booking one of these cool Berkshires Airbnbs or cozy cabins for the perfect fall place to stay in New England!
---
You might also like:
---