---
*Links in this article may be affiliate links, from which we may earn commission. See our
Privacy Policy
for full details.
---
Looking for things to do in Salem MA in October 2021? Considering a Salem Massachusetts Halloween experience? You couldn't have chosen a better destination.
New England is an excellent region to visit in the autumn months. Known for its over-the-top fall foliage, its pumpkin patches, and it's old American history, it's a great place to celebrate the fall season. But none of New England's destinations may be quite so suited to this season as Salem, Massachusetts. And visiting here in October (especially near Halloween) is an item that belongs on your New England bucket list.
Surely you have heard of Salem. Most well known for its witch trials and witchcraft hysteria of the 1690s, it remains ingrained in the American psyche and is infamously known throughout the world as well. Salem attracts hundreds of thousands of visitors each year, and a vast majority of them arrive in October, a month when things are busy and mysterious. From dark history to modern-day witches, Salem is a fascinating city.
Boasting perfect fall weather plus the addition of Salem's "Haunted Happenings" events, October is the must-visit time of year for Salem. Below, we've included what we think are the absolute 13 best things to do in Salem, Massachusetts—-in October or at any time of year.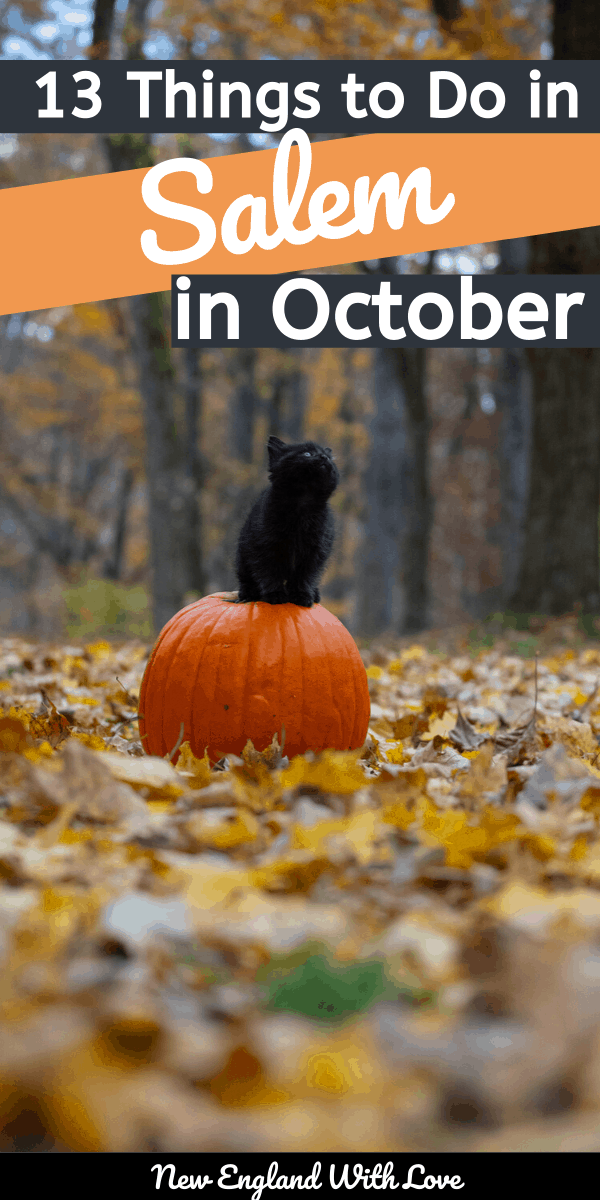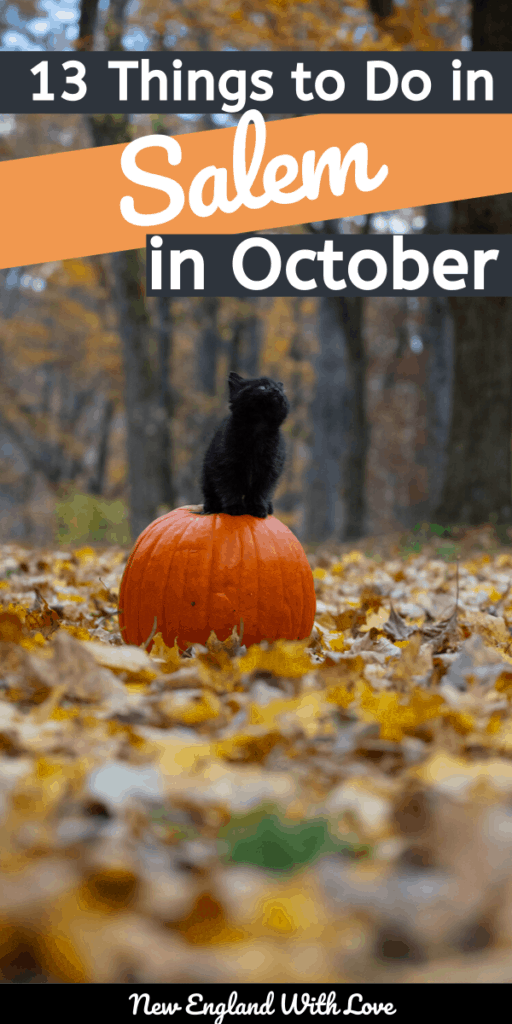 13 Spooky Things to Do in Salem MA in October
Take a Walking Tour
Salem has such a rich and complex history. To make the most of your experience, it's important that you get a good overview of the town's past. The best way to do that is through a walking tour of Salem, Massachusetts. There are plenty to choose from! The best ones will offer history connected to the Witch Trials, but will also cover other elements of Salem's story.
This 2-Hour Salem History Walking Tour is one of the highest-rated in the area. Lead by a local guide, the tour takes you to all the iconic sites of Salem, including landmarks like the Salem Witch Trials Memorial, the Burying Point, the McIntire Historic District, Hamilton Hall, and Pickering House. You'll hear about the Salem Witch Trials as well as the city's past as a Native American settlement and its role in the American Revolution.
The Salem: History & Witchcraft Day Tour is more focused on the trials themselves. You'll visit important sites like the Old Burial Ground Cemetery and Witch Trials Memorial, and you'll hear the stories of the accused witches from your local guide.
Spend Time at the Witch House
The Salem Witch House is definitely one of the top Salem attractions. This is a great place to get a historic overview of the witch trials that is factual and straightforward. This house was once home to Jonathan Corwin, who served as a judge in the witchcraft trials of 1692. This house was the site of family tragedy and Judge Corwin himself was known as being pretty harsh and unyielding, so it may come as no surprise that this is one of several possible haunted places in New England.
The Witch House is absolutely worth a visit. Though Salem is full of history, this building is unique in that it is the only still-standing structure with direct ties to the witch trials—plus it just looks incredibly spooky and Salem-esque!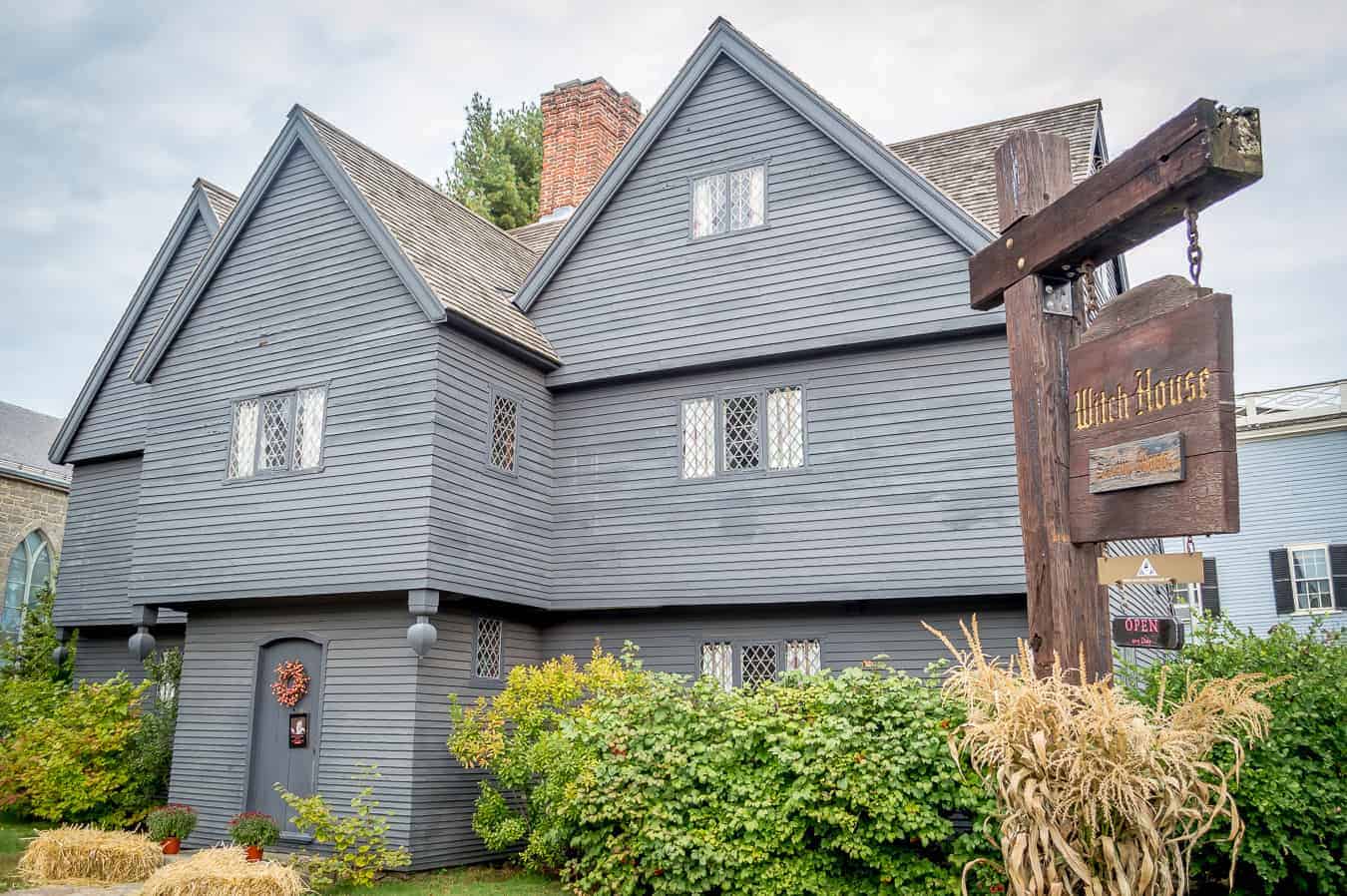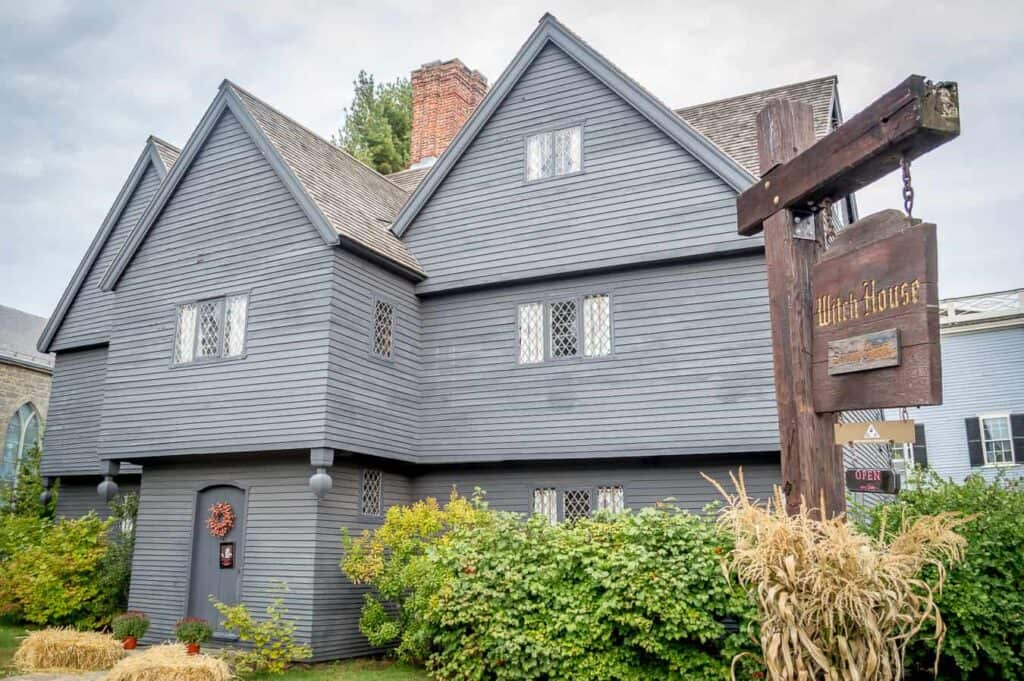 Inside the house, you can take a self-guided tour. There is plenty to see and study and information lining the walls shares the history of both the witch trials and the time period in general.
There's so much detail about daily living in those times, and you can really imagine what it was like to live in a home such as Judge Corwin's.
There are a few guides within the house who are extremely knowledgeable and readily answer any of your questions. We recommend arriving early in the morning to avoid any crowds and have this fascinating house almost completely to yourself.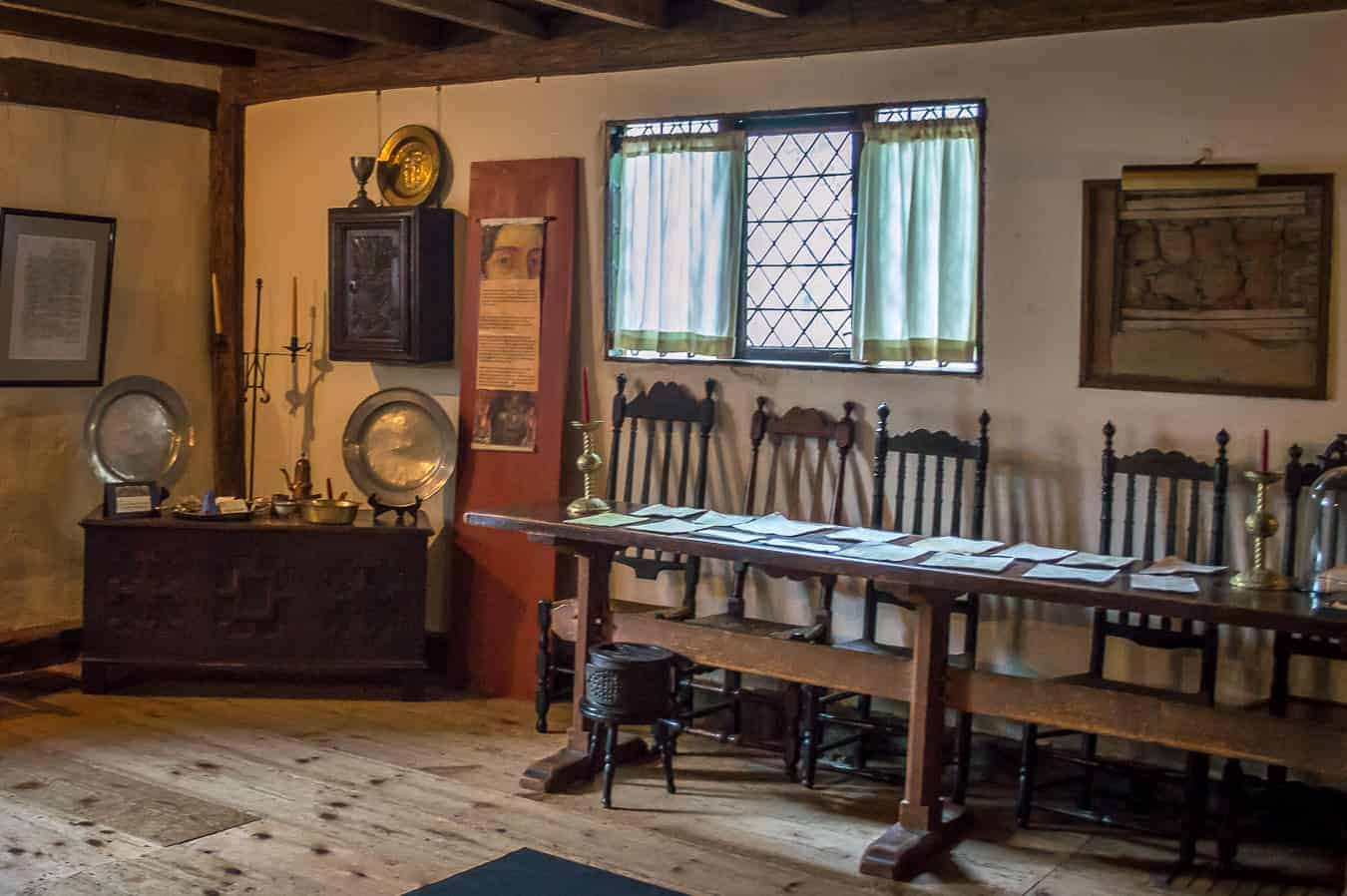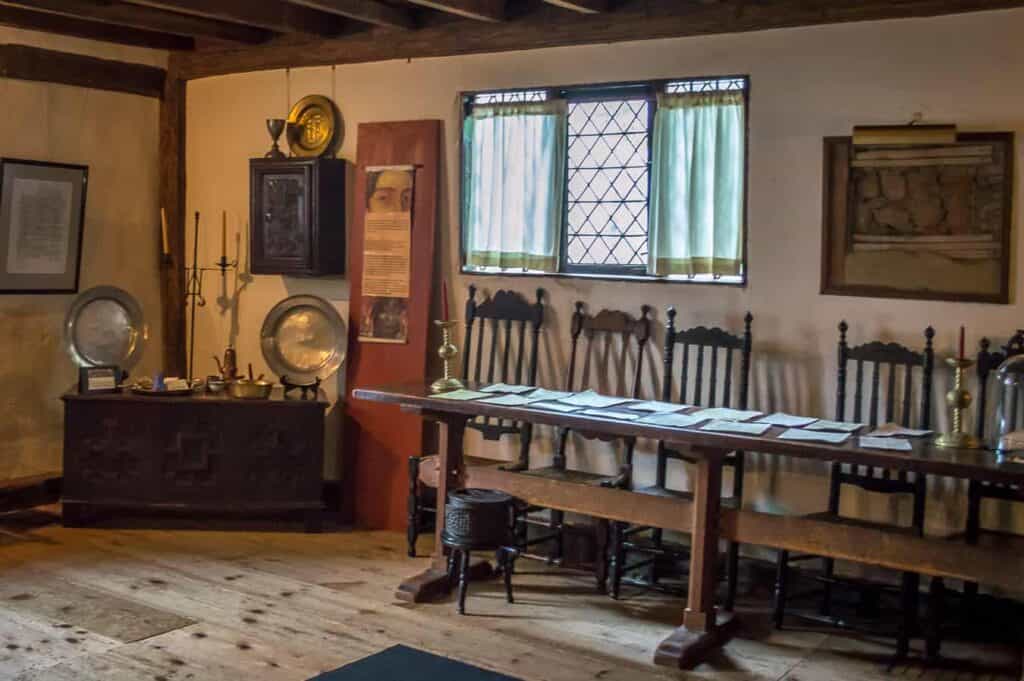 Take a Candlelit Ghost Tour
Visiting Salem in October? Going on a ghost tour is a must!
With its dark past, it's no surprise that Salem has a ghostly history. New England as a whole seems to be filled with haunted sites and hair-raising stories.
To learn more about the local haunts, join in on one of many walking tours that are available in Salem. There are many different options to choose from, but we went with this Candlelit Ghostly Walking Tour.
Armed with tiny lanterns, we followed our tour guide to notable sites around the town of Salem and learned a bit of the "hidden" history. It was just the right level of spooky!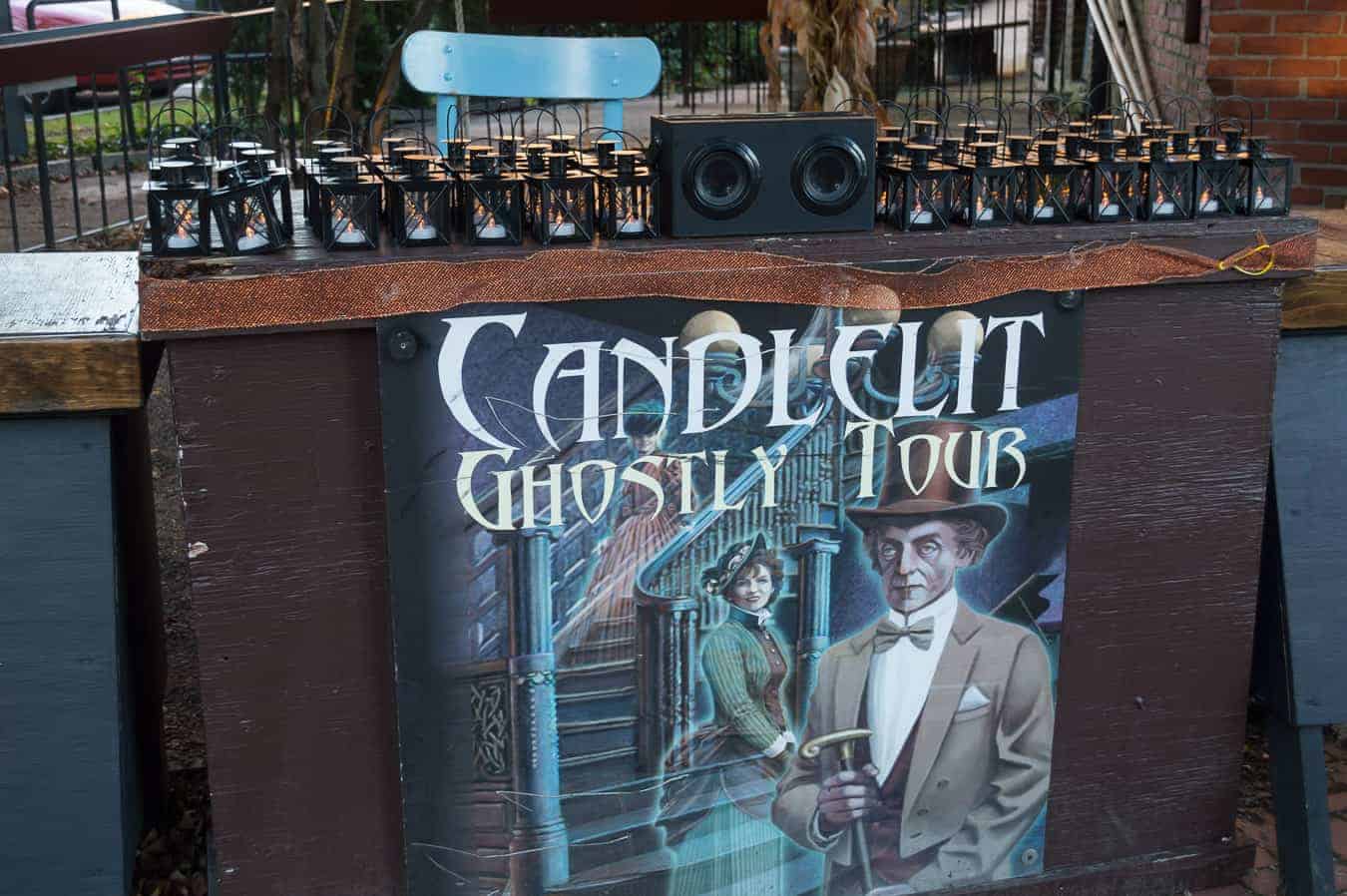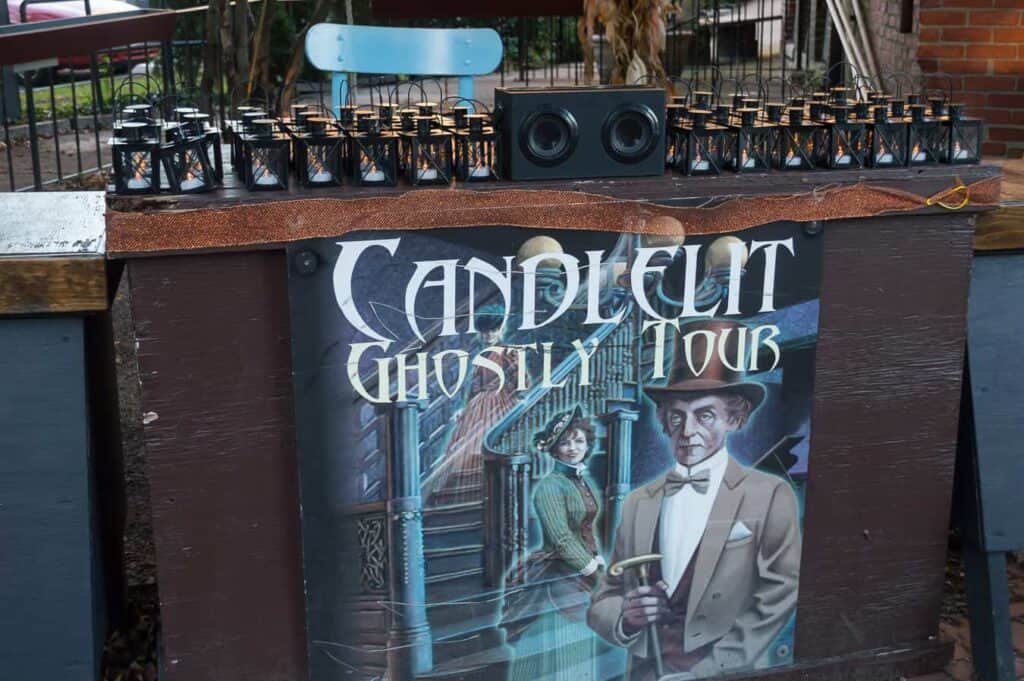 You can buy tickets for this walking tour at the Salem Wax Museum. You'll visit sights including the most "haunted building in Salem," the site of the old Salem prison, and more.
Want to go on another ghost tour? The city is bursting with them! Check out this list of 9 recommended ghost tours in Salem for more detailed information. Some of the favorites include the Salem Voodoo Vampires and Ghosts Tour, the adults only (16+) Mysteries and Murders Walking Tour, and the highly-rated Haunted Footsteps Ghost Tour.
Visit the Salem Witch Museum
The Salem Witch Museum is an essential activity for Salem, Massachusetts in October. This is known as the most visited attraction in the area, and with good reason.
The first part of the museum tour is truly bewitching, pun intended. You are shown into a large theatrical-type space and seated in the center with many other guests. Once everyone is seated, you are shown a presentation that lasts approximately 20 minutes. This is a masterful (and a bit frightening) storytelling operation that shares a dramatization of the 1692 witch trials through a combination of tableaus, dramatic lighting, and spine-tingling narration.
While there are no physical actors, the tremulous narrator, alongside voice actors and sound effects, brings these mannequined tableaus into vivid life. We found it riveting and intense; in fact, it is much more emotional than a regular museum. Connecting you with the characters of the witch trials, it makes you acutely aware of the horrible things which happened here.
Following the presentation, you enter the modern witch museum, which examines the way witches have been viewed throughout history. With knowledgeable and entertaining guides, it's a good way to cap off your visit.
** Click here to buy your ticket to the Salem Witch Museum in advance and avoid the line!**
A great way to get around Salem, stopping at spots like the Witch Museum, is on the Salem Trolley. Our friend Janine shares a post about her experience seeing Salem while riding the trolley.
Explore the Witchy Shops
Part of the fun of traveling to Salem, Massachusetts is simply wandering around the town and enjoying its many unusual shops and businesses.
There are campy souvenir stores, of course, but there are also small magical shops that have a much more authentic feel. These are truly worth a visit due to their enchanting interiors and the unique array of goods inside. If you're interested in a palm reading, tarot, or other services, there are plenty of options to be found throughout Salem.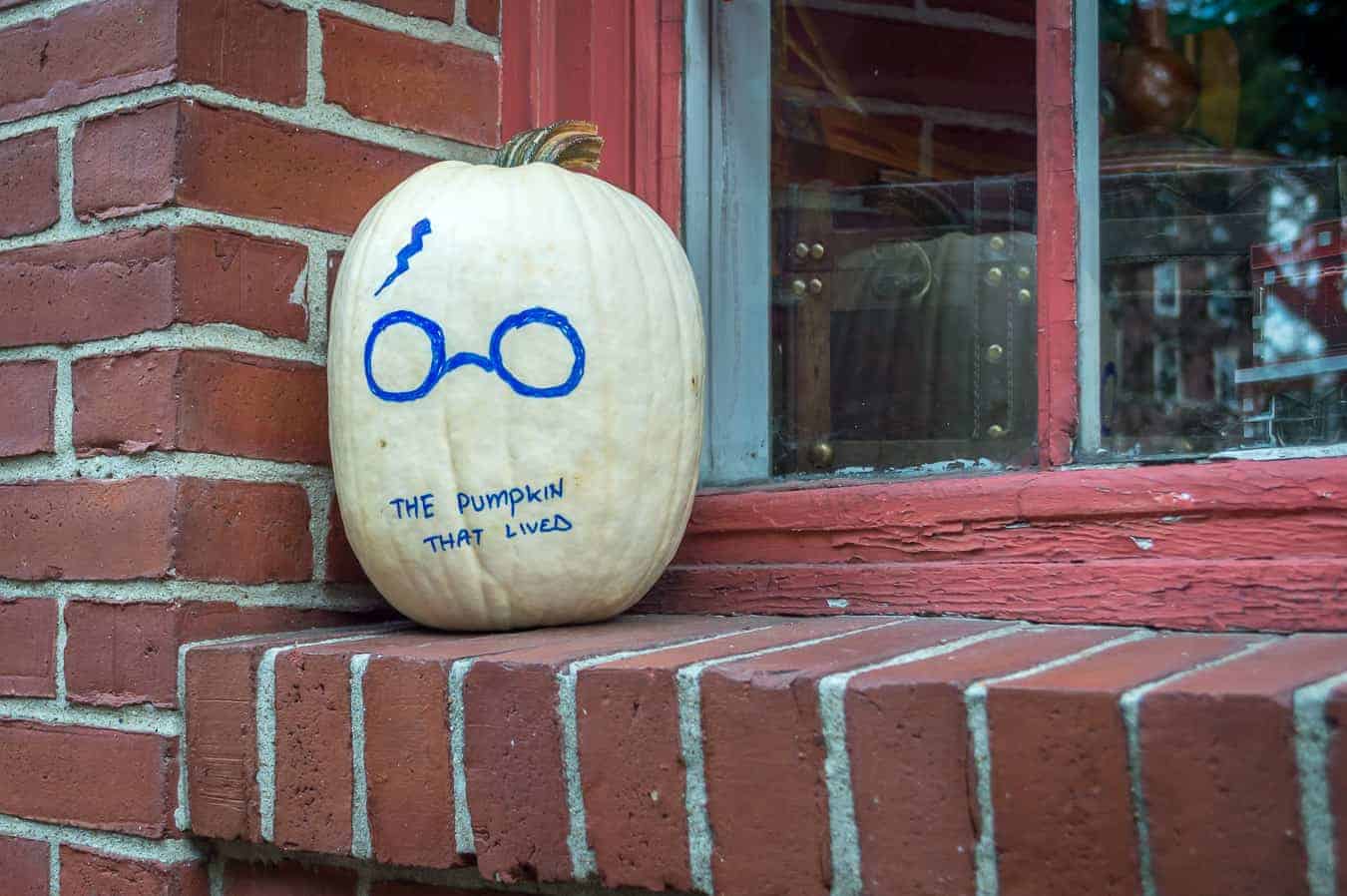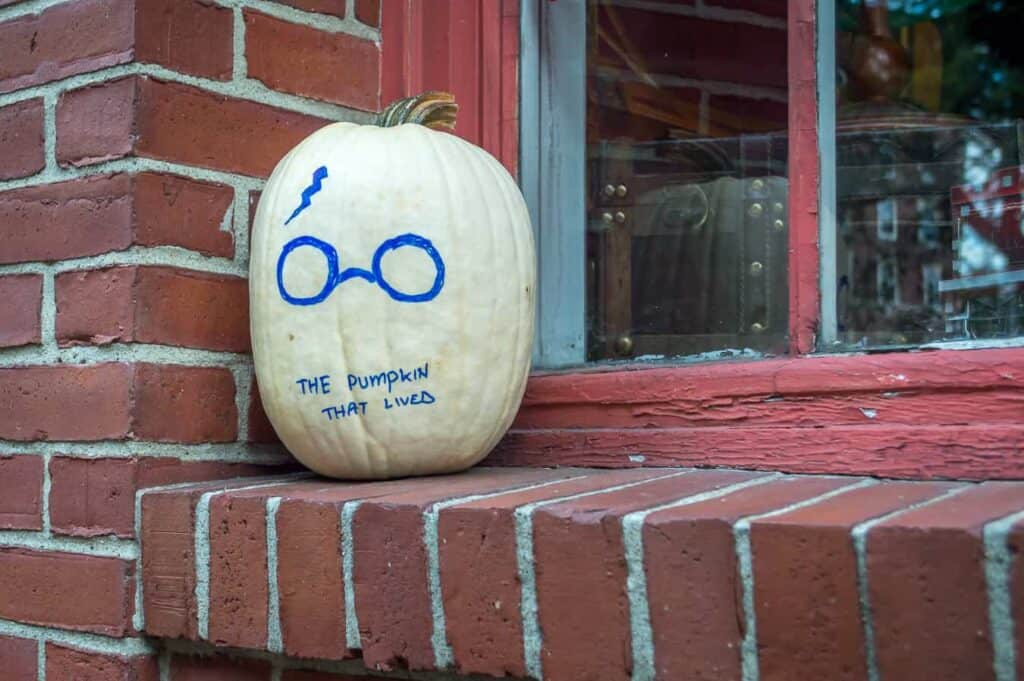 There are also stores that celebrate local arts and crafts or culinary goods. And many, many delicious restaurants. We recommend: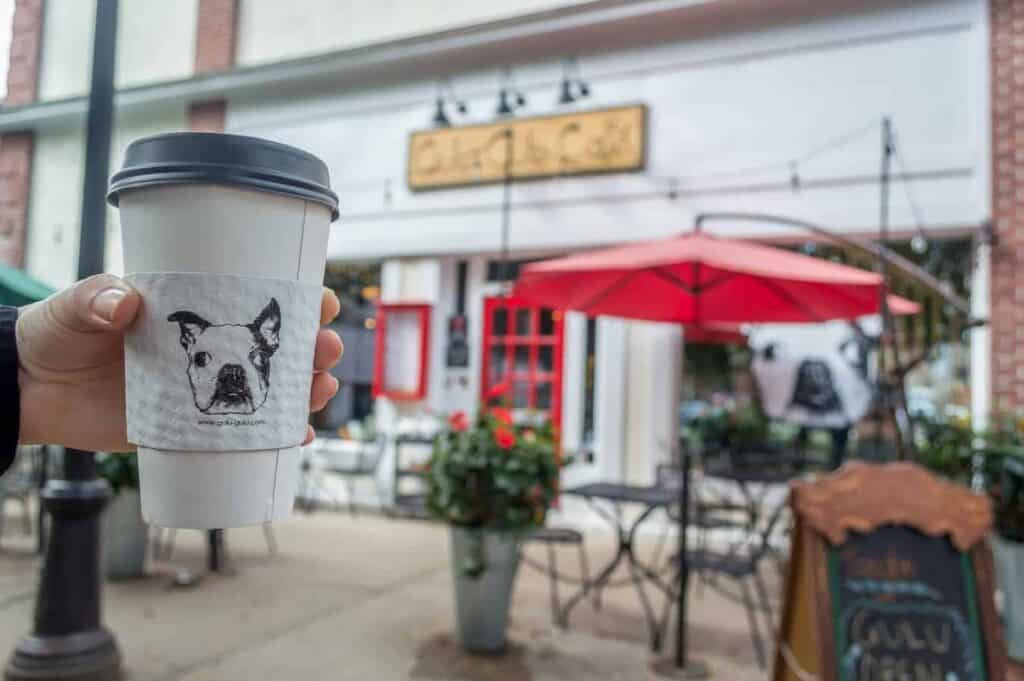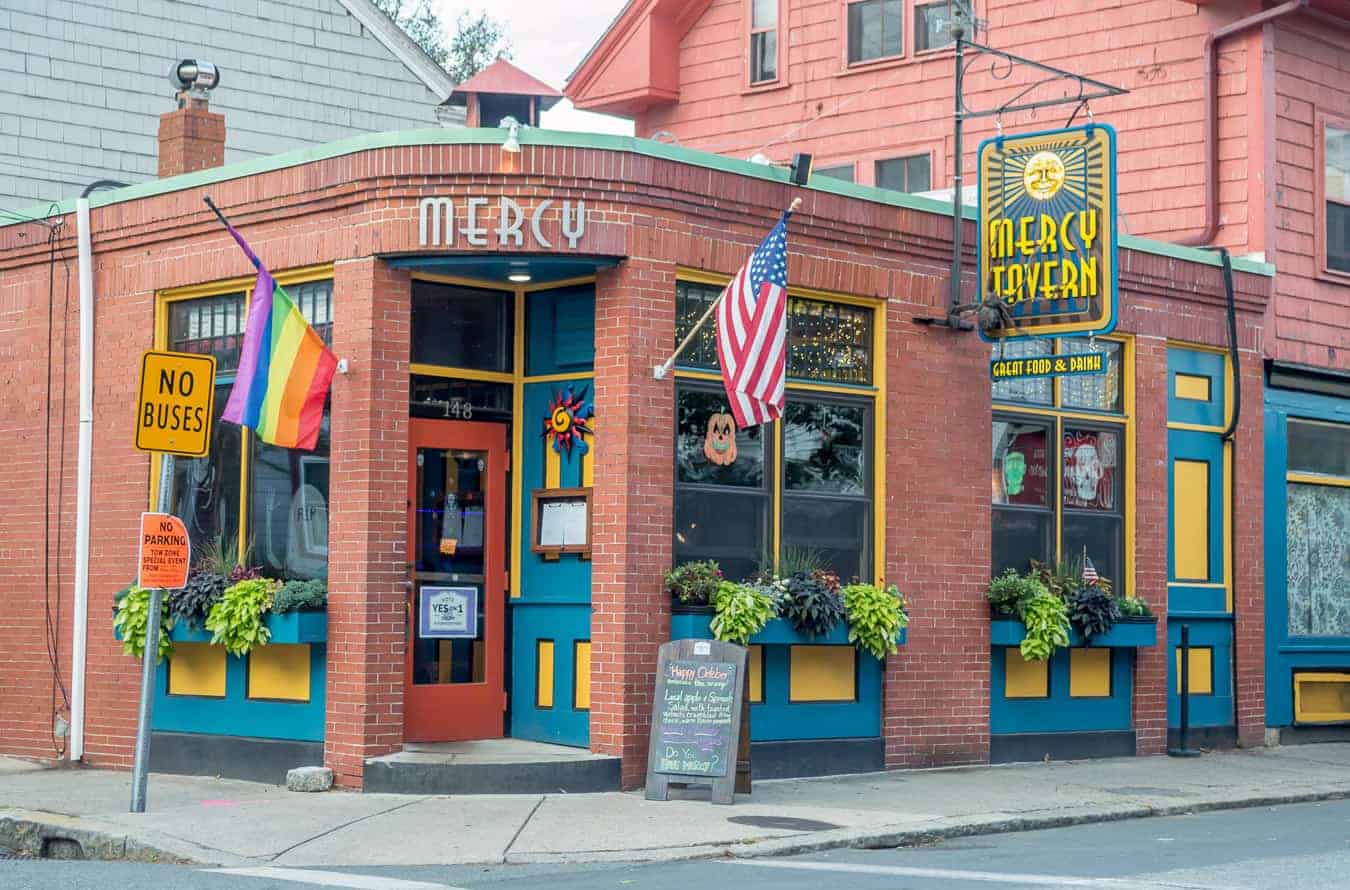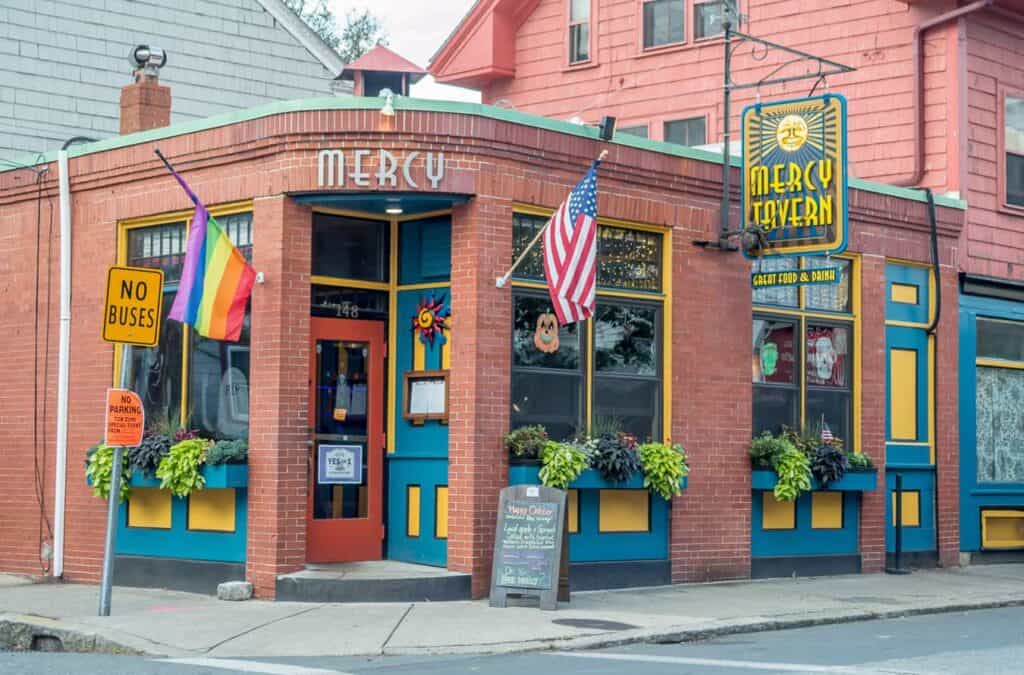 Do Some People-Watching & Enjoy the Haunted Happenings
Salem attracts some fun characters! You can have a great time just watching all the unique folks moving by. The whole city of Salem gets into the spirit of the season.
October is busy with the Haunted Happenings, tons of events and celebrations are on every day. And everywhere you look are festive Halloween decorations.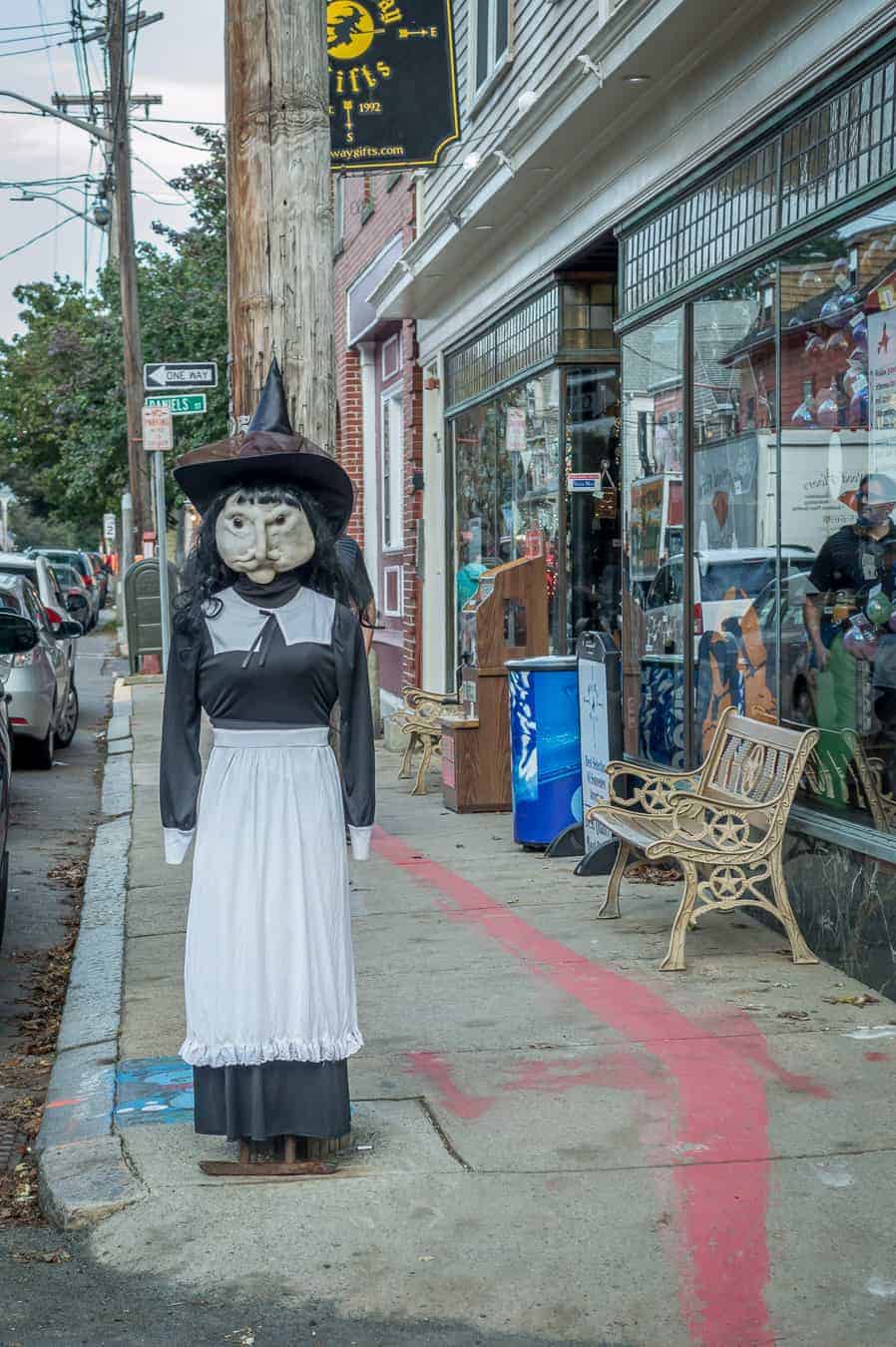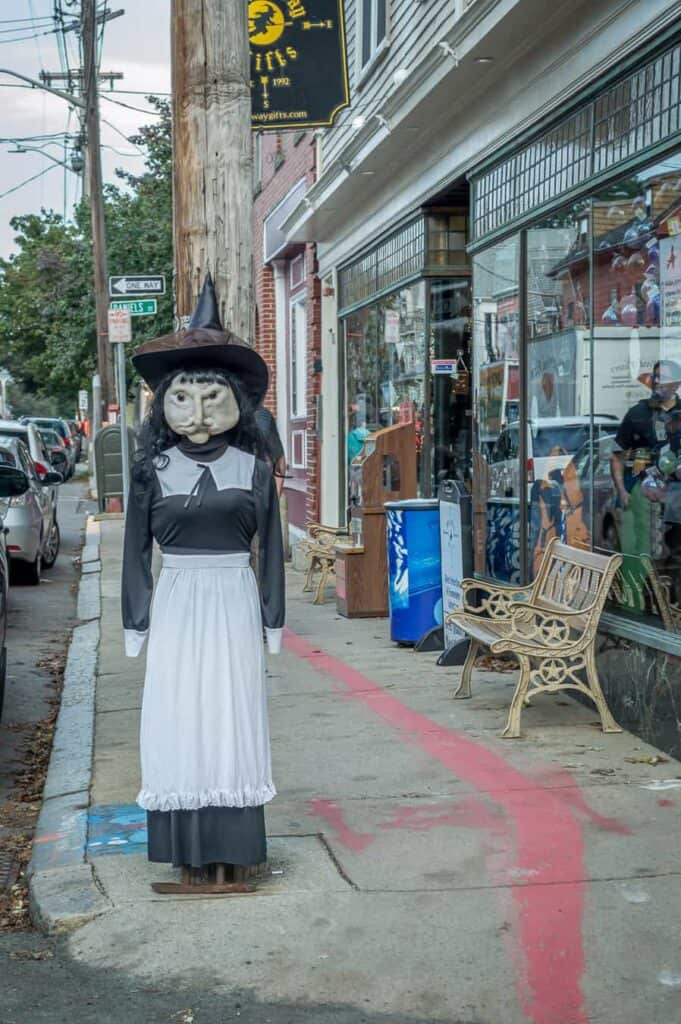 Wander through the Old Burying Point Cemetery
There are many Salem points of interest you will come across during your stay. The town of Salem is not huge, and as you explore, you're bound to find dozens of spots that intrigue you.
One such place is the Old Burying Point Cemetery. With some notable figures buried here (including accused witch Martha Corey), it is worth it to spend some time exploring the very, very old graves here.
Witchcraft judge John Hathorne is also buried here. Hathorne was known for being harsh and perhaps not always entirely impartial. Though Hathorne never expressed regret later in life for the outcome of the trials, his descendants seemed to have distanced themselves from the family name, including his famous literary great-grandson, who added one letter to his surname to become Nathaniel Hawthorne.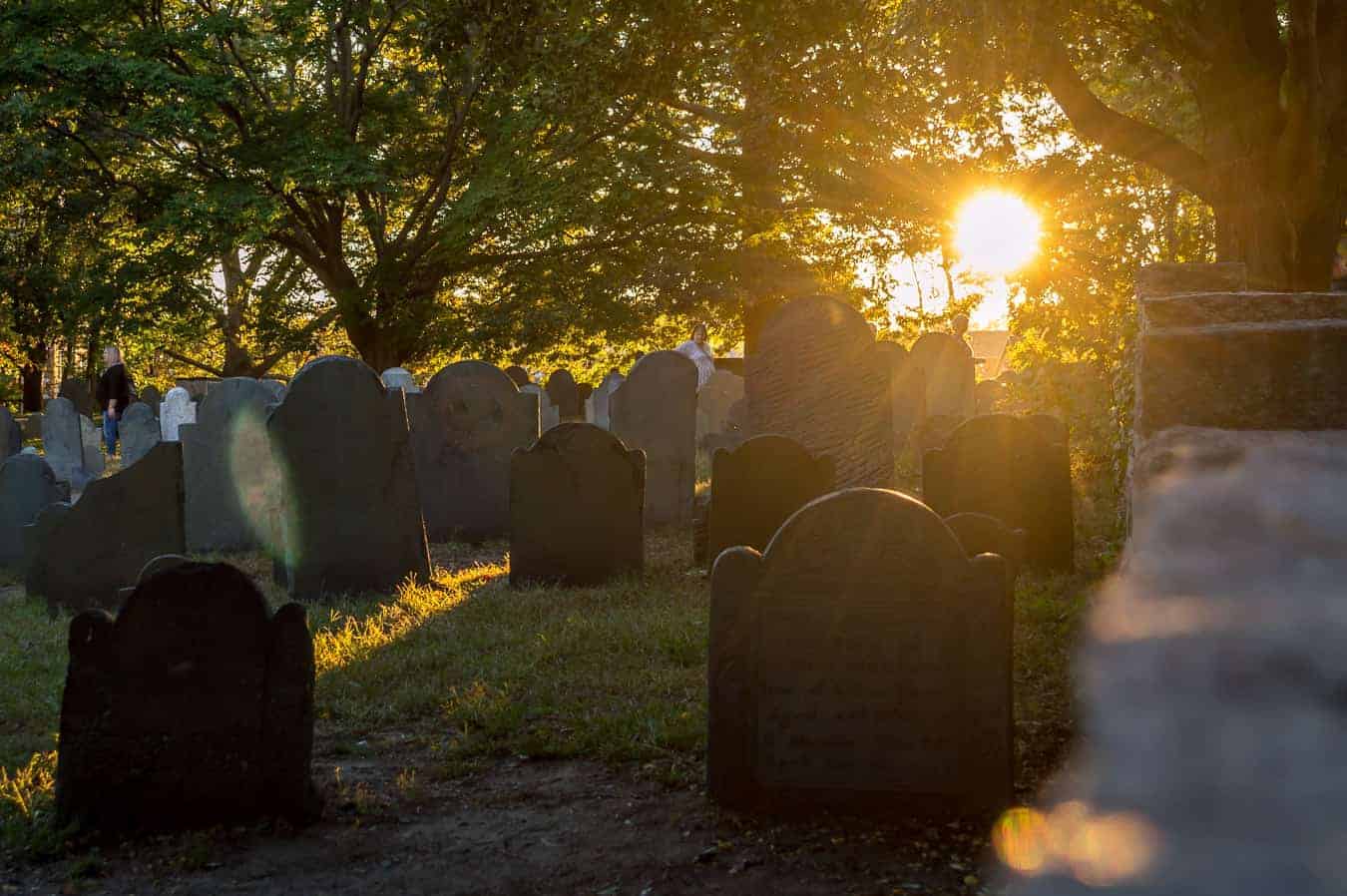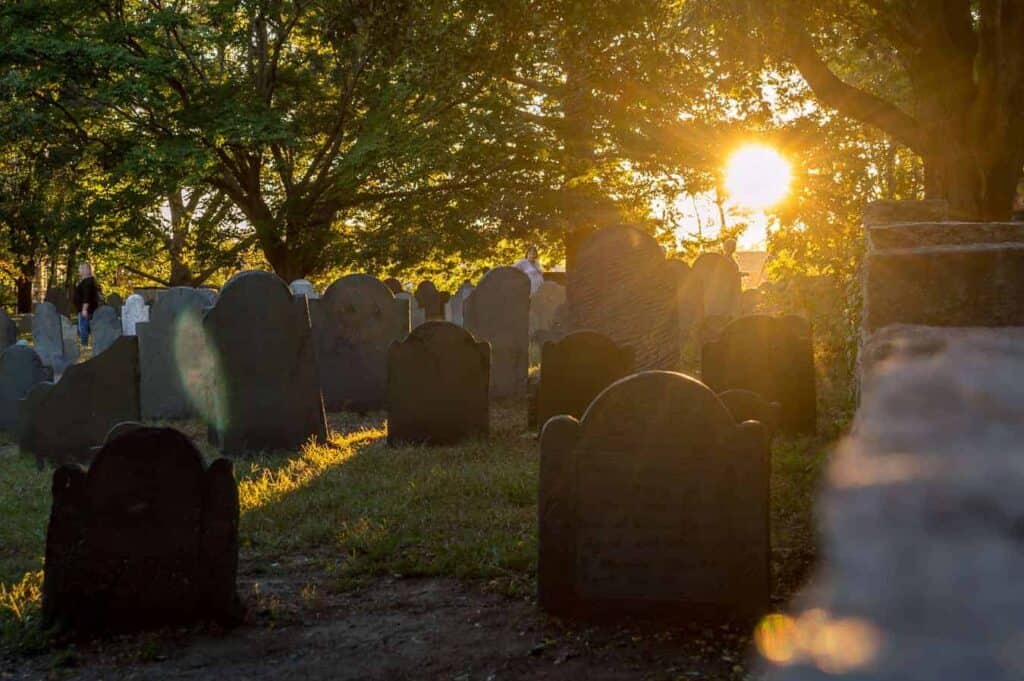 Pay Your Respects at the Salem Witch Trials Memorial
Just next to the Burial Point you will find the Salem Witch Trials Memorial. This is a simple stone memorial that was created in 1992 to memorialize the victims of the trials.
The witch hysteria saw 20 people executed. Here, they can be remembered, with stone benches carved with each victim's name. There are often flowers and other items set upon the stones. It's a somber and quiet spot.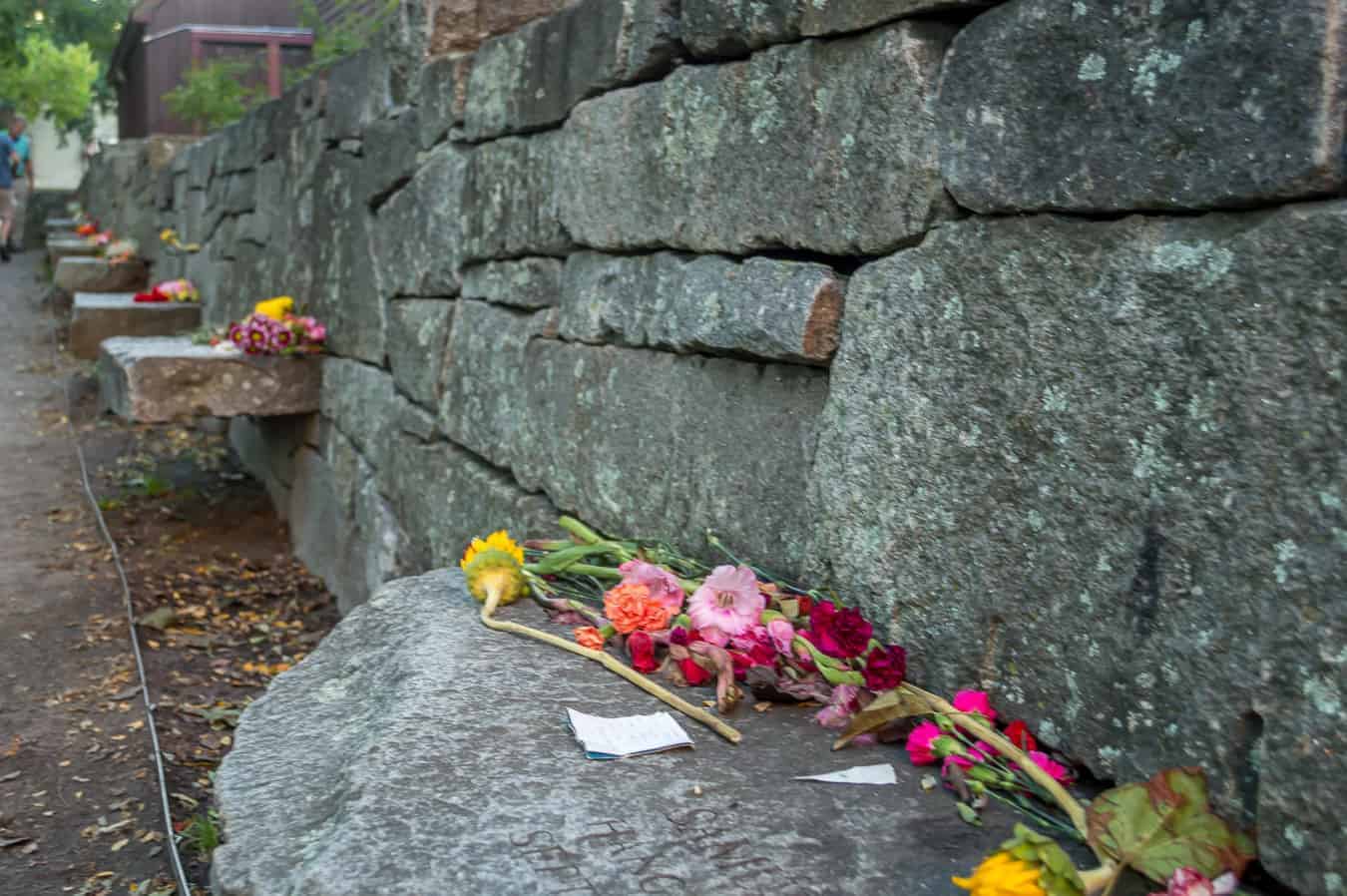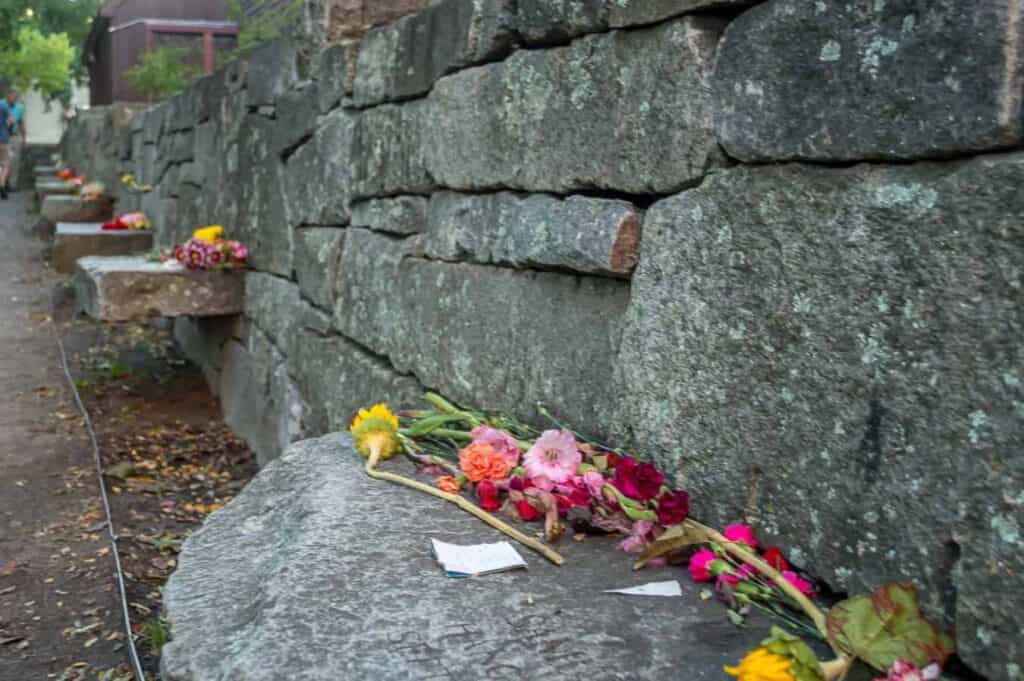 Pop Into the Peabody Essex Museum
Though not necessarily "witch-related," the Peabody Essex Museum is a great stop during any visit to Salem. During our visit a couple of years ago, we were able to catch the fantastic "It's Alive!" exhibit that was on display. This was a vintage sci-fi and horror film poster exhibit of the collection of Kirk Hammett, guitarist for Metallica. My husband Nathan, being a sci-fi fan, was especially excited for this exhibit, but I ended up loving it too!

It was really thought-provoking to see the evolution of sci-fi and horror film posters and marketing approaches over the years.
Even if you visit the Peabody Essex at a different time of year, there will certainly be something to captivate you. There are rotating exhibits here as well as more permanent collections. The museum building is also quite lovely all its own.
This year, opening in late September 2020, is an exciting new exhibit at the Peabody Essex Museum.
The Salem Witch Trials 1692 will run from September 26-April 4, 2021. In this exciting exhibit, guests will be able to "explore rarely-exhibited original witch trial documents from PEM's Phillips Library collection and learn the true story of this tragedy as told through the voices and with the possessions of those directly involved."
I can't wait to experience this show when it arrives!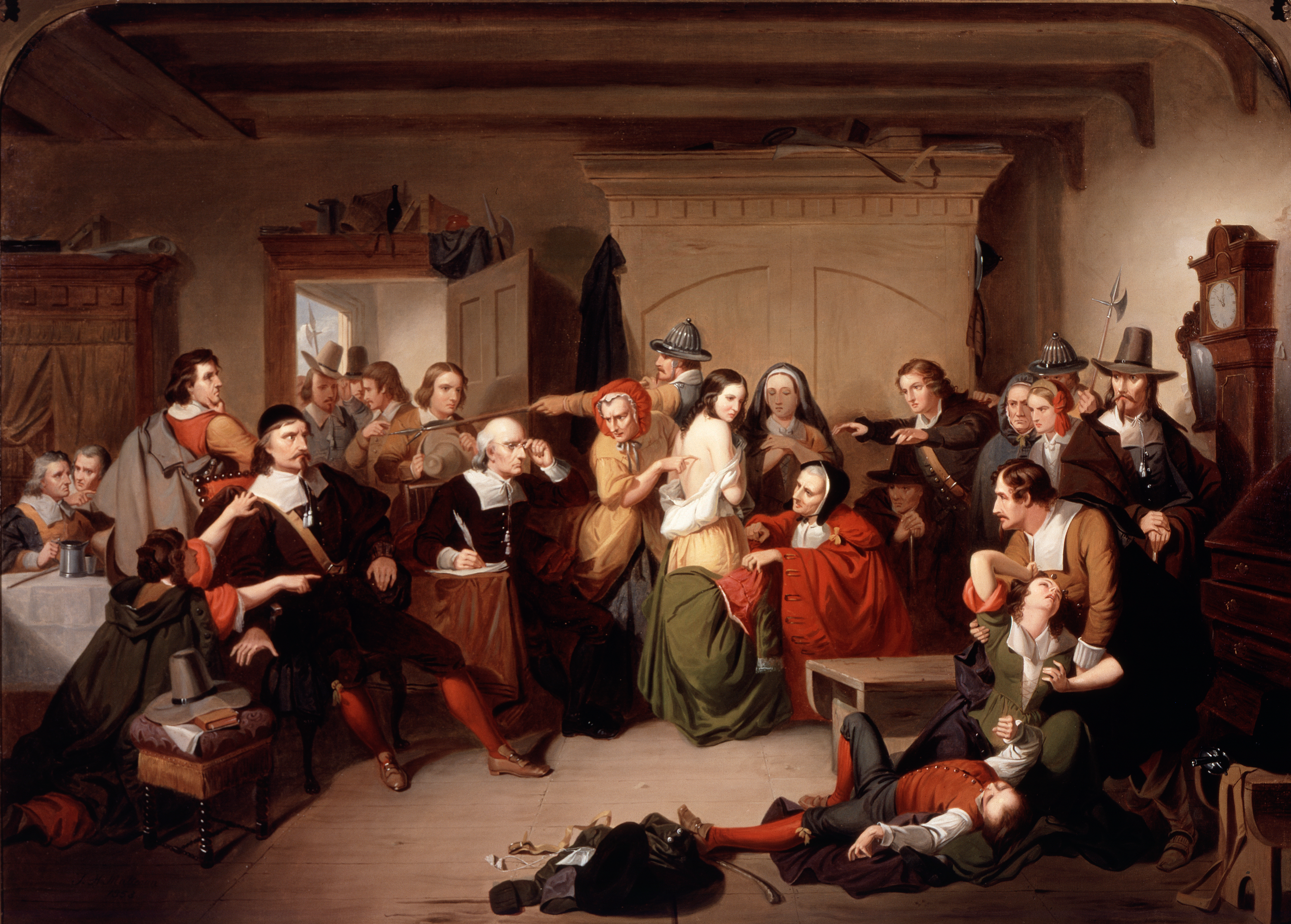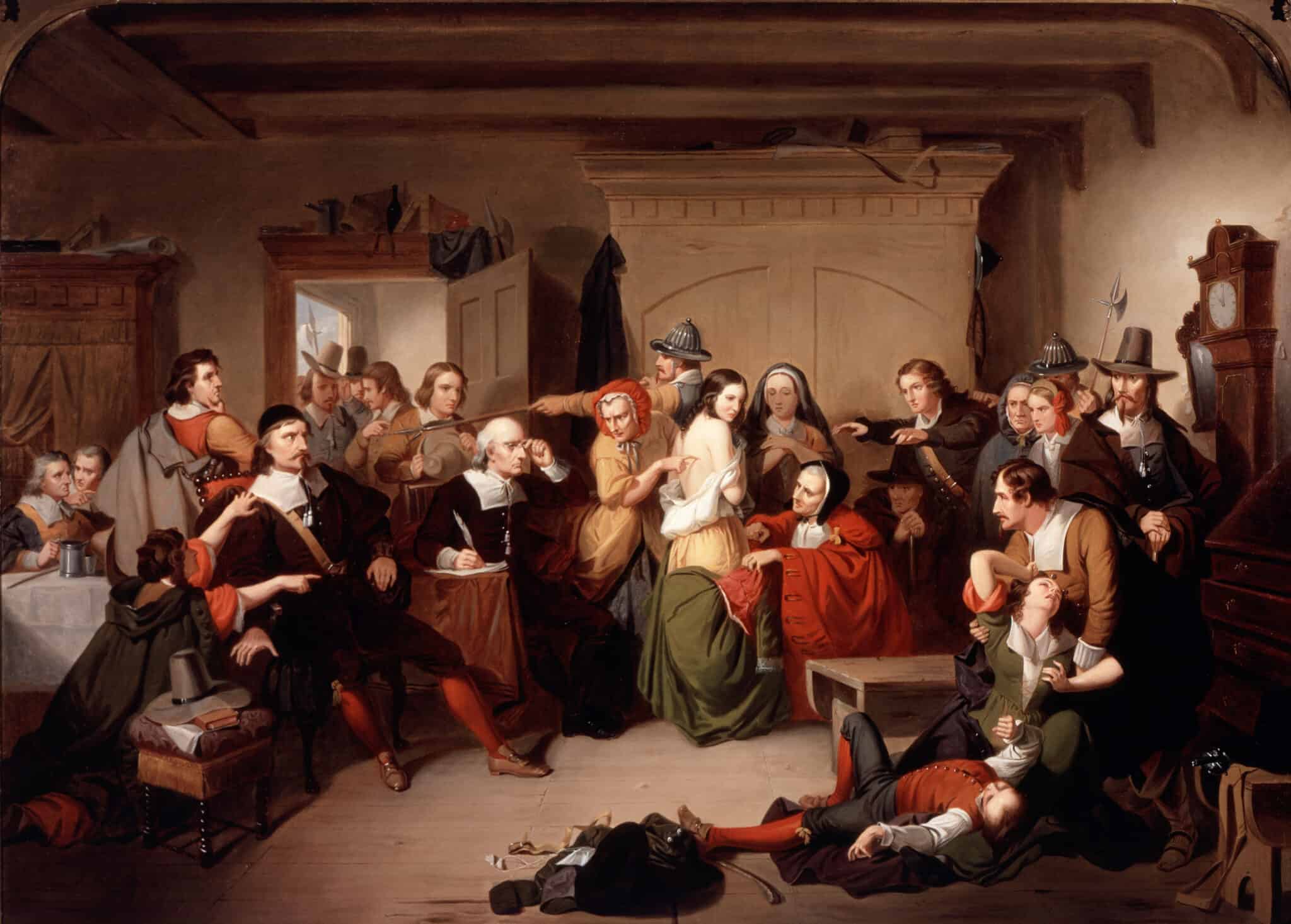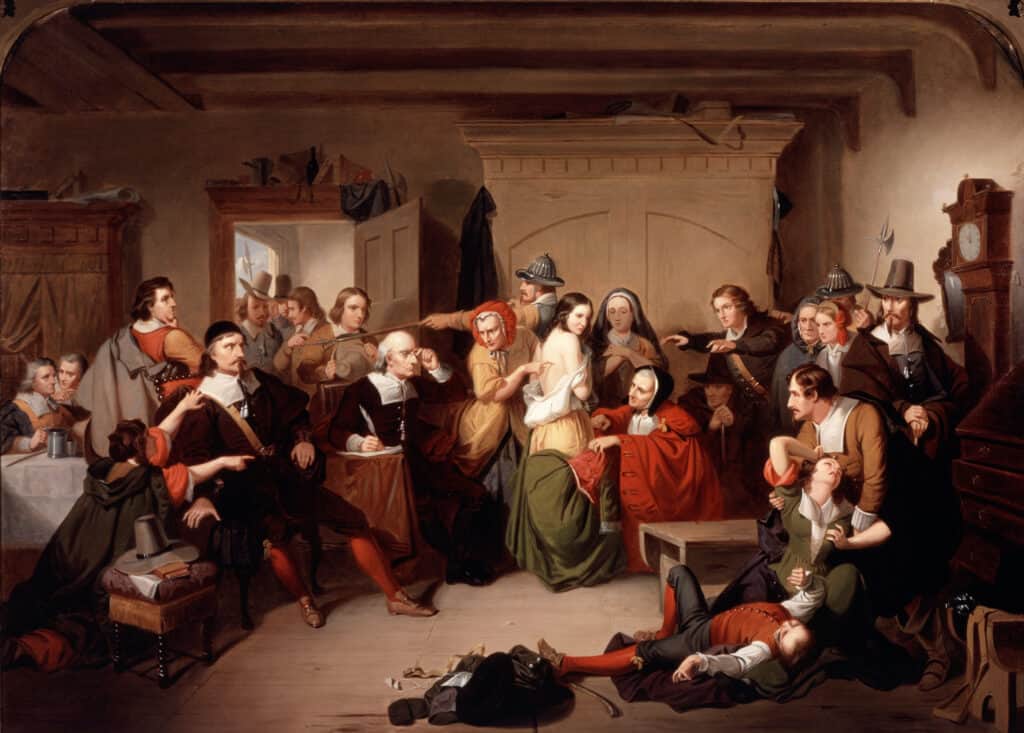 Step Into the House of the Seven Gables
Are you a literary fan? If so, you may be interested in seeing the House of the Seven Gables, a structure intimately connected with one Nathaniel Hawthorne. But even without this particular interest, the house is absolutely worth a visit.
A guided tour is lead by a remarkably knowledgeable guide, and you'll learn more about the history of the house (including how it architecturally evolved over the years).
The best part of all? You get to climb up a secret passageway, a hidden staircase in the walls.
Psst: You'll also find out just what the heck a 'gable' is, if you don't already know!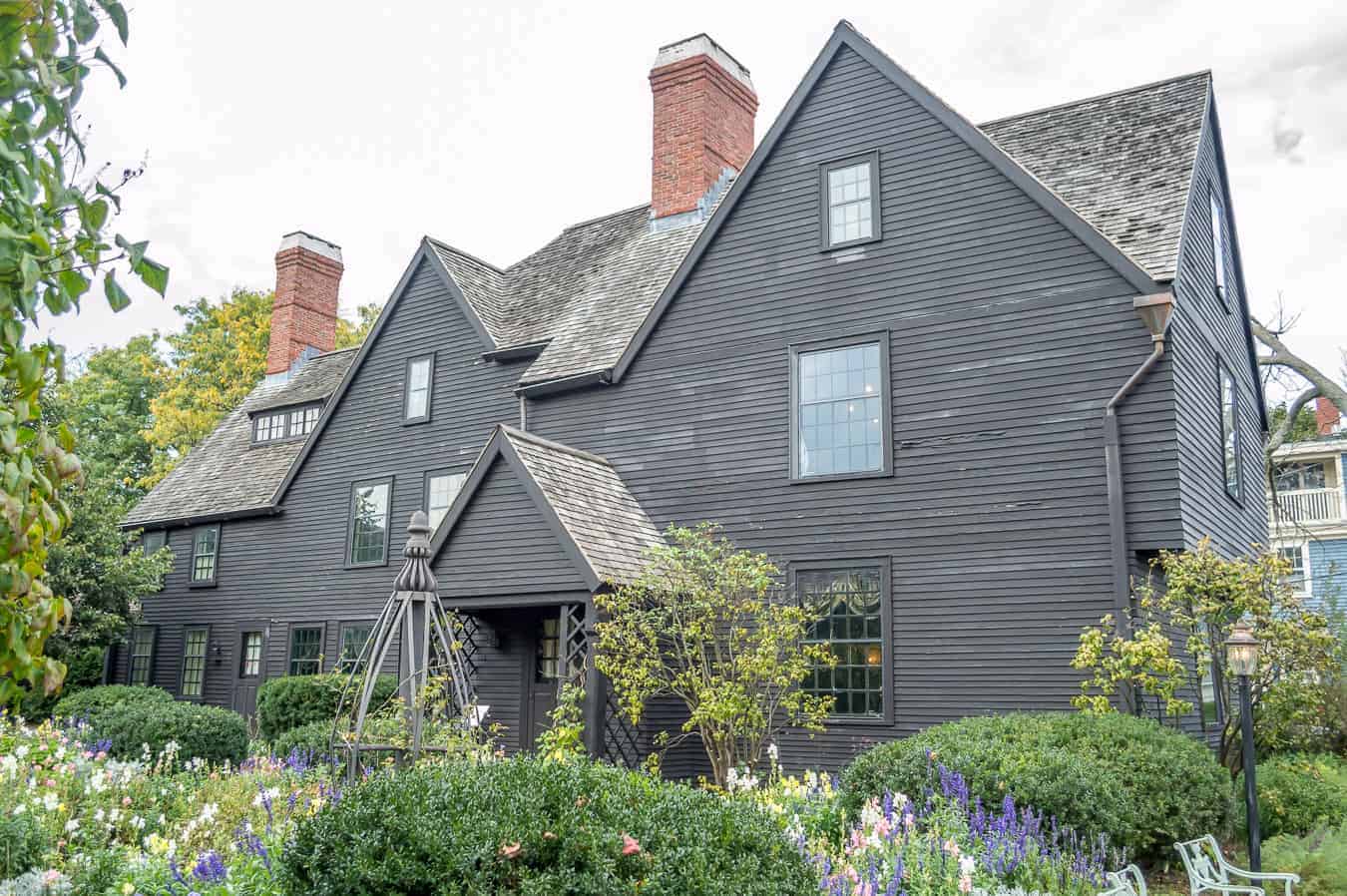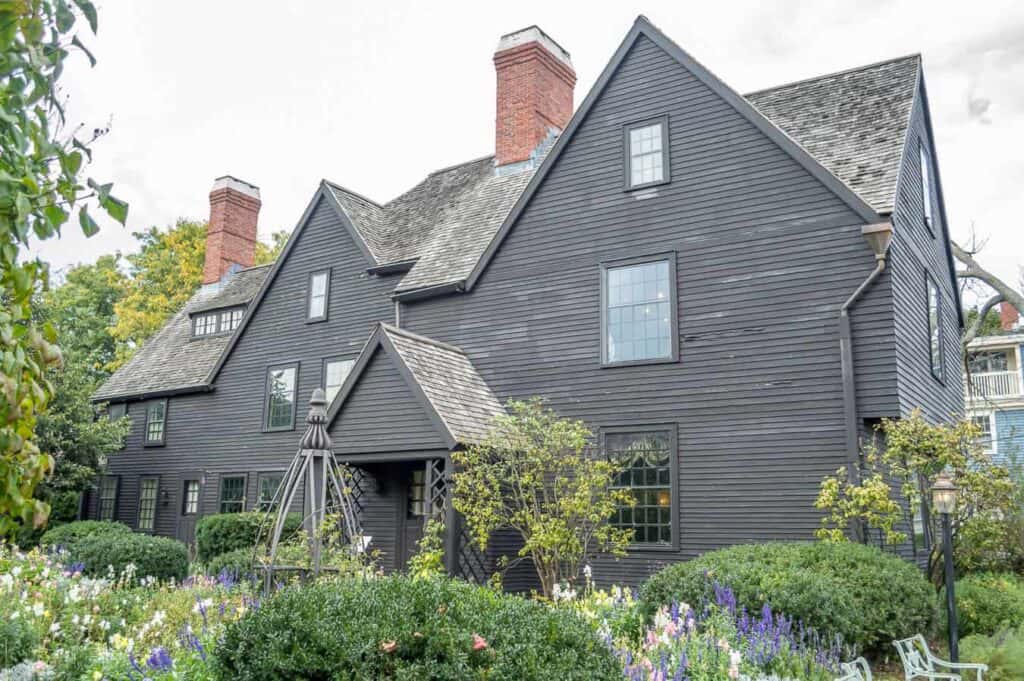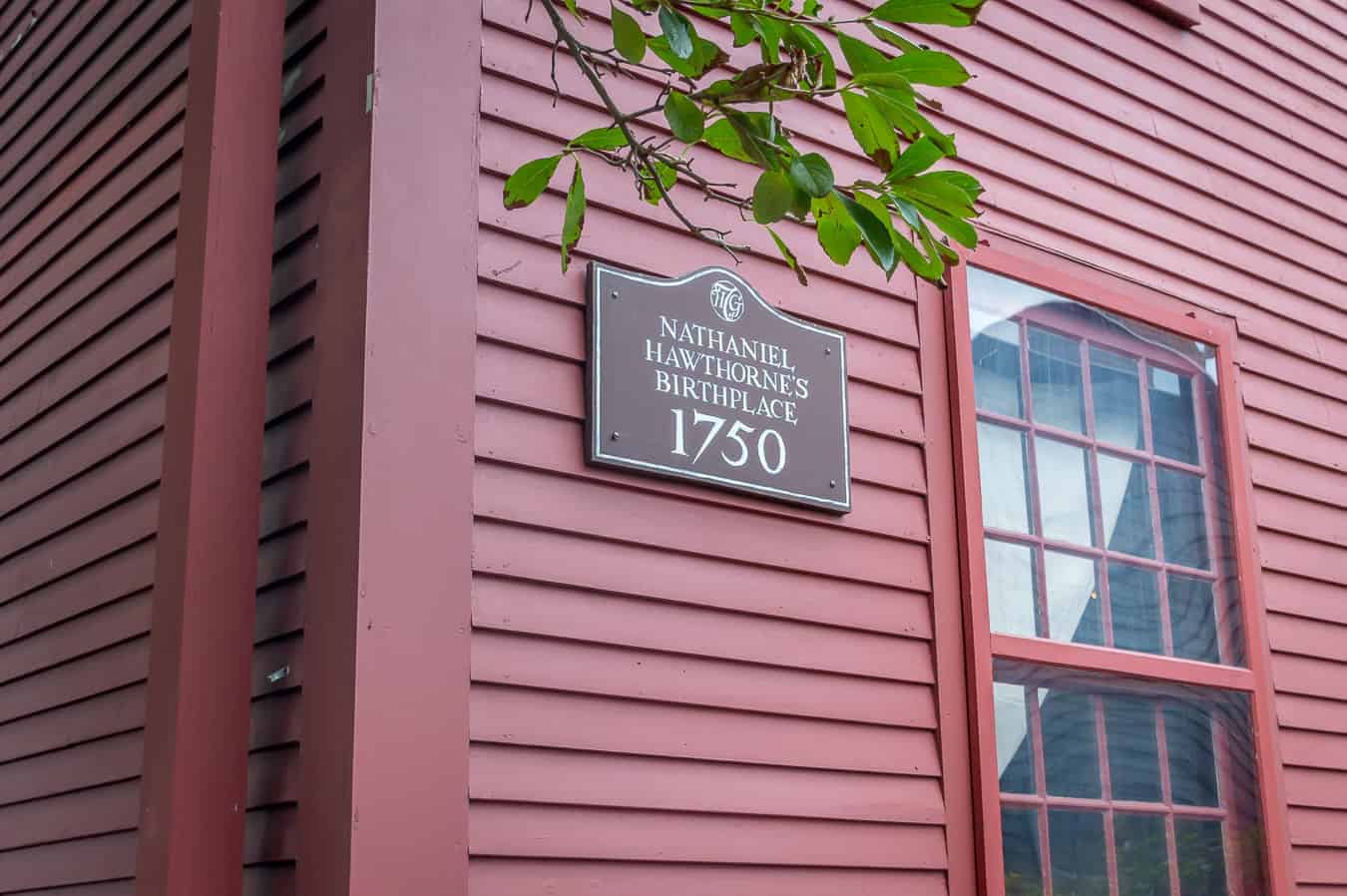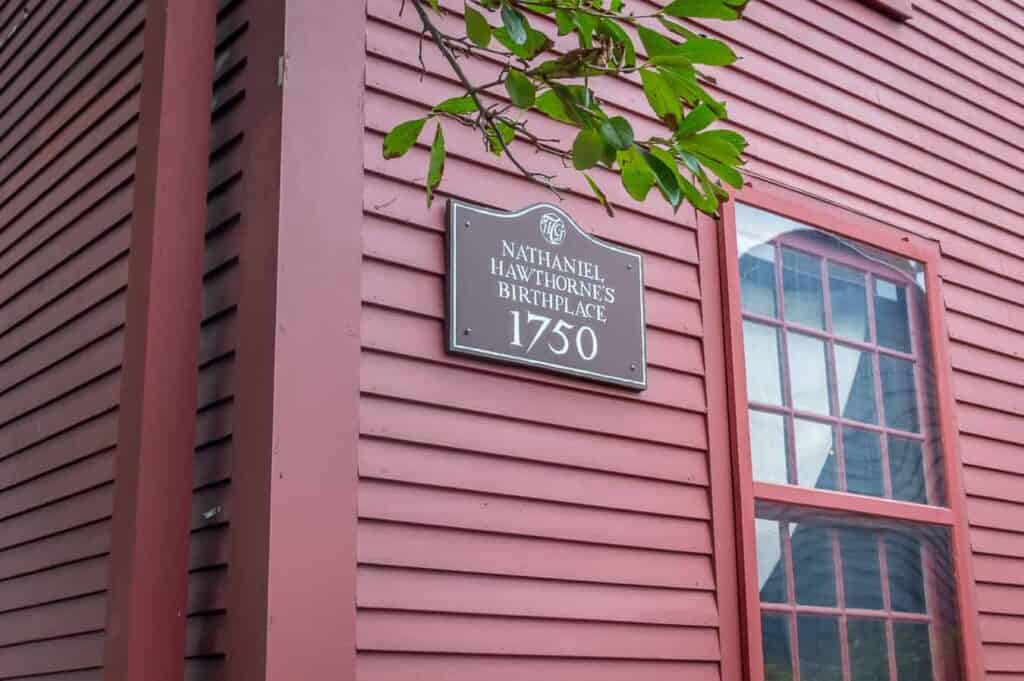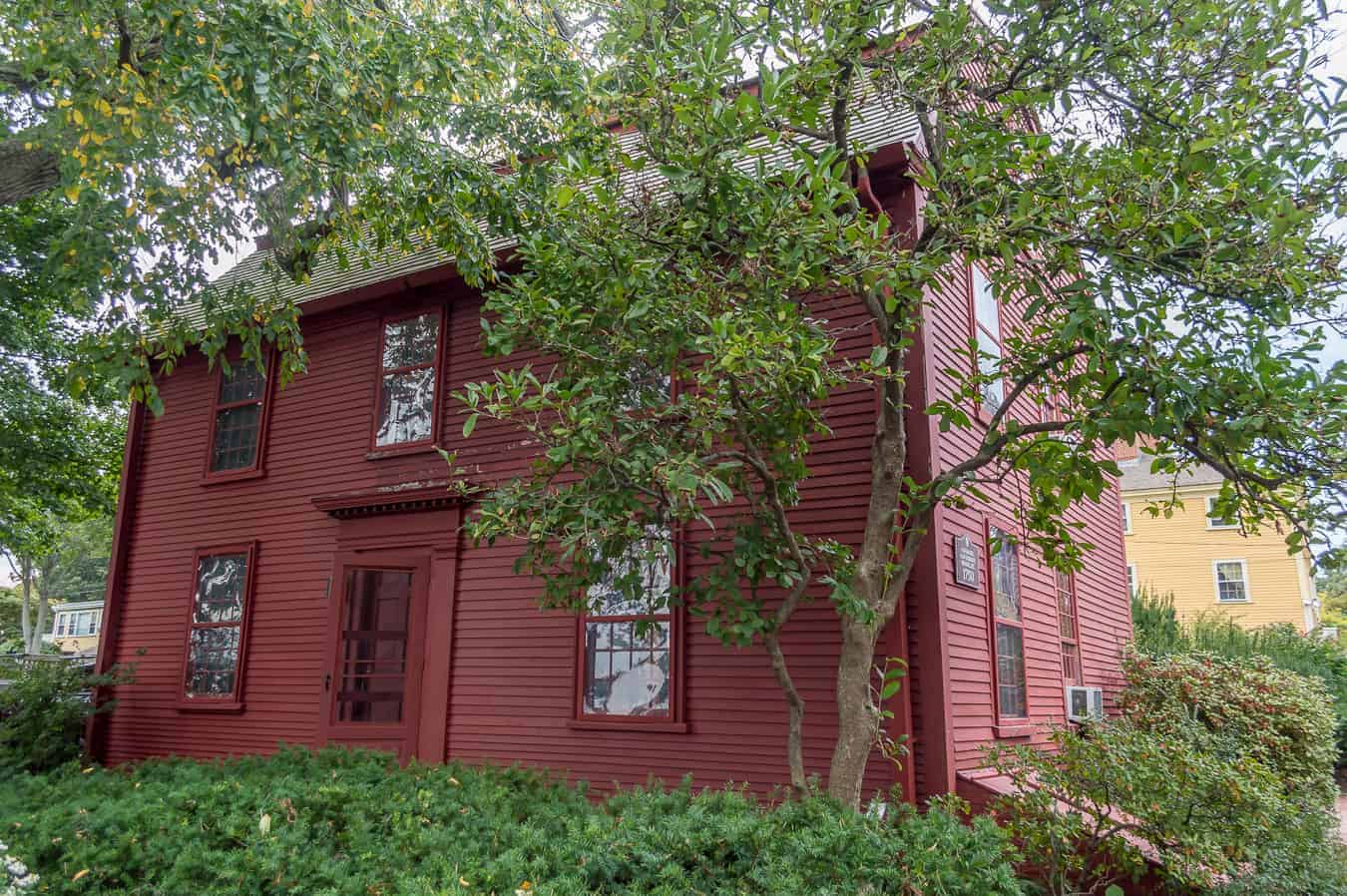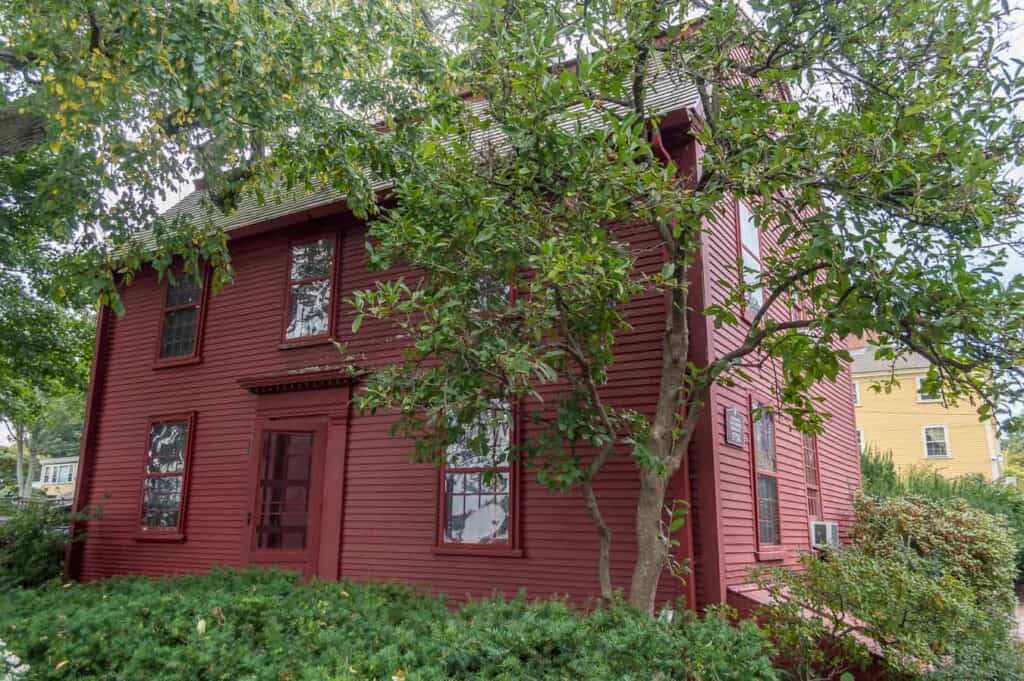 Stay in a Haunted Inn
Now, many might believe if you want the true Salem experience, you need to stay in an inn or hotel with a history of paranormal activity. The choice is yours!
Though The Salem Inn, where we stayed, does have some stories of ghostly experiences in the main inn, I was quite relieved that our stay was spirit-free! As a matter of fact, our stay was really lovely. We stayed in the beautiful old Currwen House, once belonging to a maritime family.
Our room was perfectly decorated in an old-fashioned style, and it was very comfortable. We especially loved our whirlpool tub.
In the mornings, we enjoyed a fabulous continental breakfast, complete with the most delicious mini cinnamon rolls.
If you're looking for quality lodging in Salem that has a vintage touch, The Salem Inn is a perfect choice. Want some more options? Check out our post on Where to Stay in Salem MA.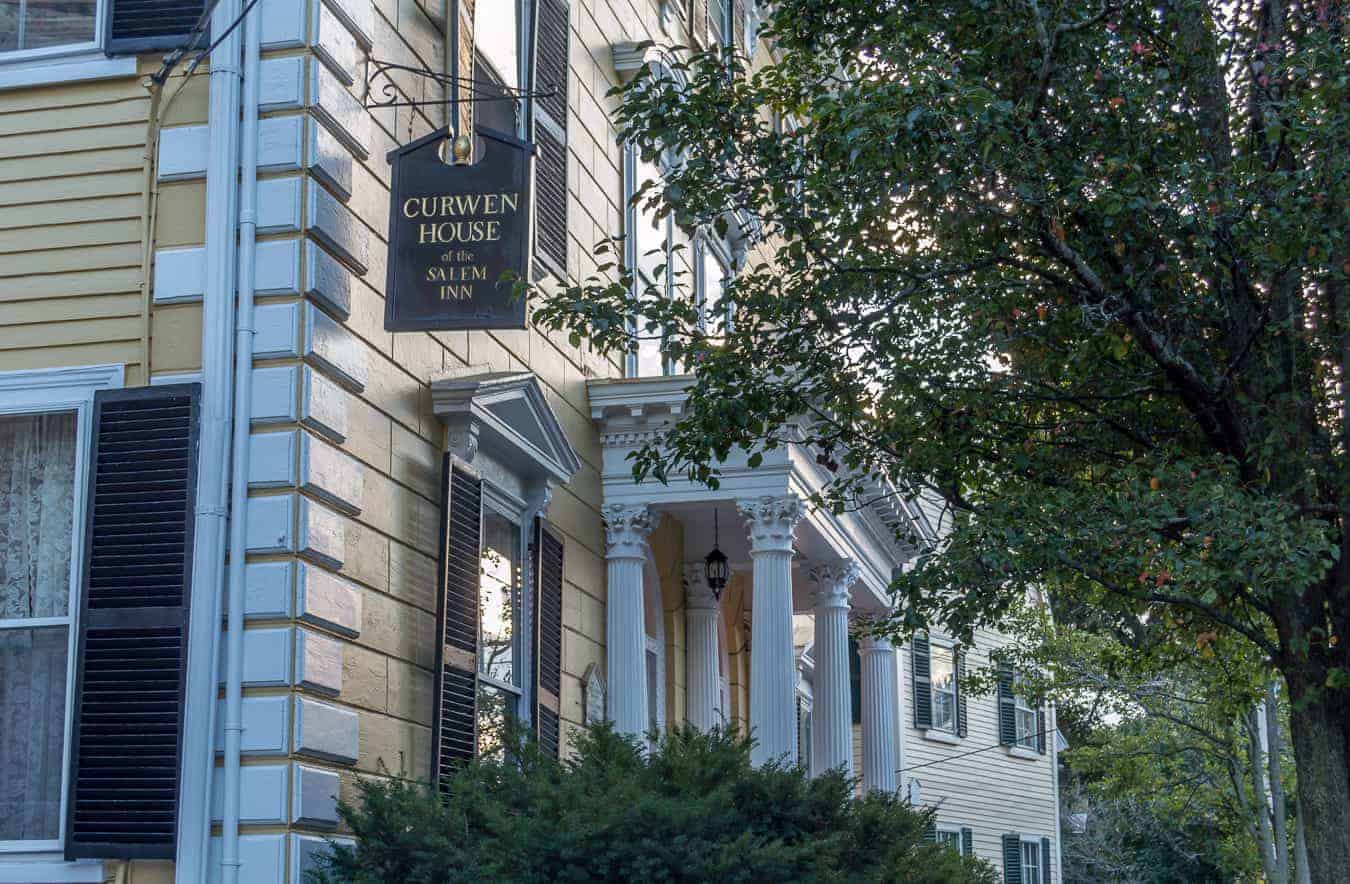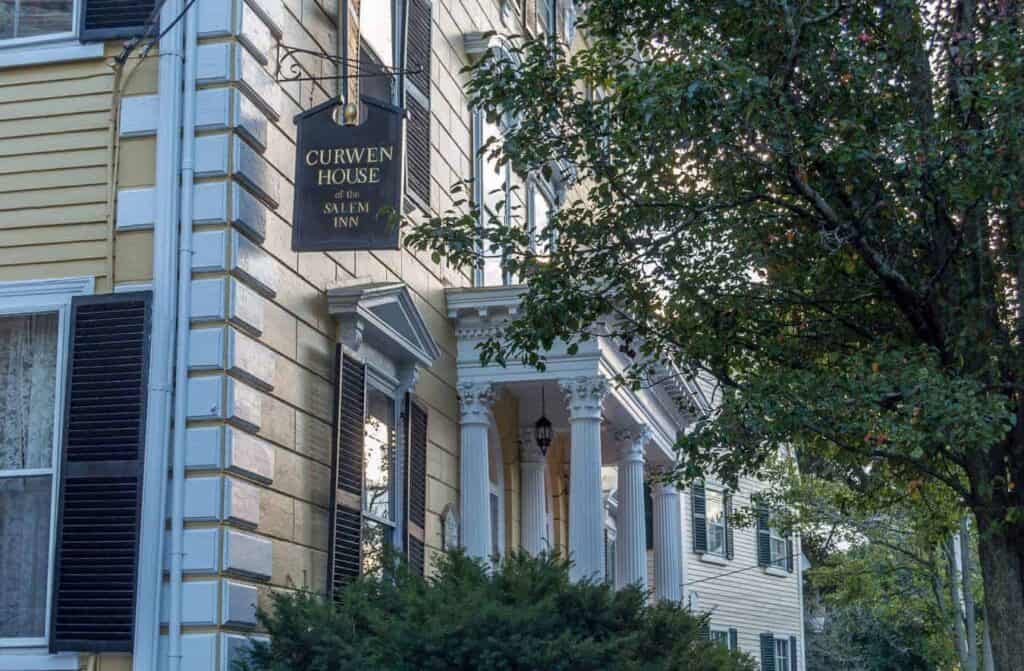 Check out Famous Hocus Pocus Movie Sites
Are you a child of the late 80's or early 90's? Chances are you grew up watching Hocus Pocus, a classic Halloween film set in Salem starring Bette Midler. I loved this movie growing up—and truthfully I still do—so when we visited Salem I had to see the local spots where the movie was filmed.
If you're visiting Salem, MA in October, the season is just perfect to reminisce about your favorite Halloween movie.
There are many film sites in the region and you can see them on your own with no tour. We wrote an entire guide to the Hocus Pocus sites in Salem so you can follow along and check them all out!
Take a Sunset Sail on a Historic Schooner
Don't forget about the water during your time in Salem. Take a break from pounding the cobblestones and hop onto a historic schooner for a relaxing sunset sail on the Atlantic Ocean. Enjoy views of Salem's coastline while you feel the breeze in your hair. You can even BYO adult beverage! Click here to book this sunset sailing trip.
For more great ideas on what to do in Salem, check out the latest Salem Massachusetts October events.
---
There are so many things to do in Salem, MA to discover its mystery and magic. If you want to be even better prepared for your visit, check out our suggested books below. Happy travels!
Suggested Reading:
---
You might also like:
---
Pin me to save for later!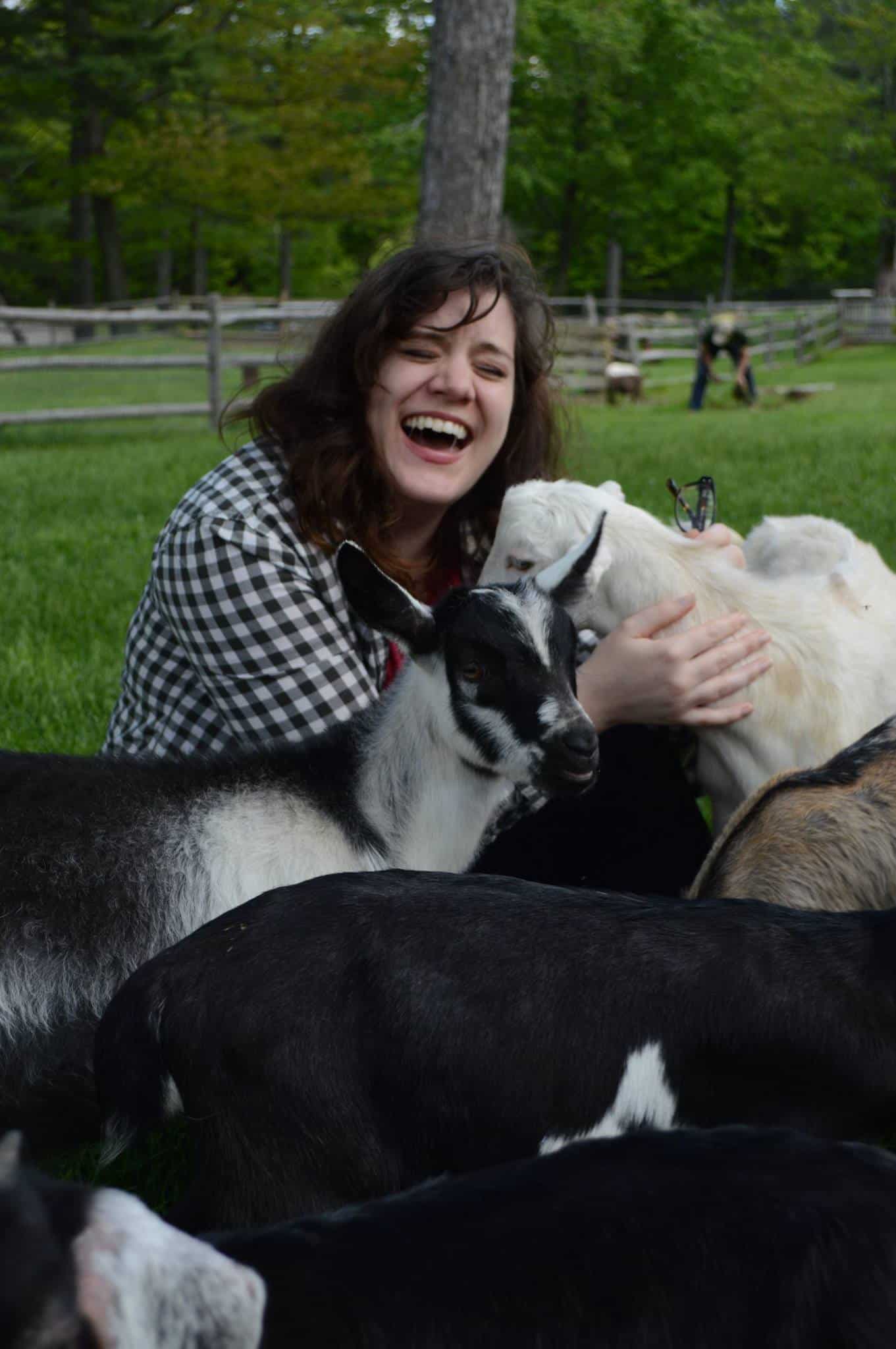 Amy is the founder of New England with love. A proud Vermonter, she hopes to share her love of New England and help you find the best adventures in the region. Amy is also blogger/founder at Two Drifters, where she writes alongside her husband about romantic and couples travel, relationships, honeymoons, and more. When not working on websites, Amy is probably reading, cuddling with her husband, son, and cats, & drinking a maple latte.