*This site uses affiliate links; if you make a purchase through these, I may receive a small commission at no cost to you.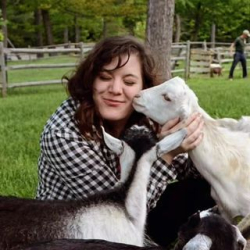 Latest posts by Amy Hartle
(see all)
Getting ready to book a trip to Salem ? We're jealous! What a great town—especially during Halloween and throughout the fall. Your next task is to decide which of all the places to stay in Salem MA you'll choose. We can help!
We've helped you out by compiling a list of some of Salem's most loved and most popular hotels, including some that just might be haunted!
Without further ado, here is our list of the 10 best hotels in Salem Massachusetts.
PS: If you'll be visiting in the fall, book your Salem lodging well in advance if possible. It can be very difficult to get last-minute hotels in Salem for Halloween and for the several weeks before.
The Salem Inn
On our last visit to Salem, we stayed at The Salem Inn, and it doesn't get much more classic Salem than this. Once a sea captain's home, the inn became a B&B 35 years ago. Comprised of 3 historic homes (the West House, the Curwen House, and the Peabody House), this is one of the finest inns in Salem. There are 40 rooms and suites to accommodate guests.
We enjoyed our stay at The Salem Inn, especially the complimentary breakfast which was quite delicious. It's also one of the best pet friendly hotels in town!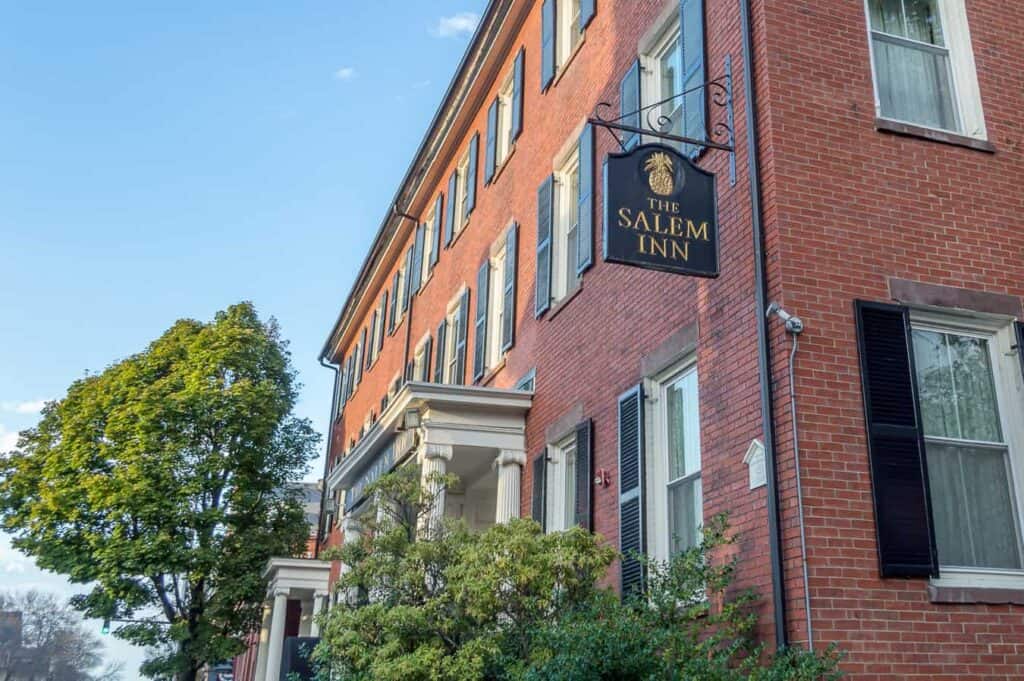 Is The Salem Inn haunted?
Salem Inn Room 17 is known as 'the Haunted Room' and guests have reported strange happenings here! Book if you dare!
Closest attractions: The Salem Witch House and The Ropes Mansion (as seen in Hocus Pocus!)
What makes this one of the best hotels in Salem MA:
A trip to Salem is not complete without a stay in a historic hotel. It definitely adds to the atmosphere of your visit, especially in the fall months. This inn is well-loved by past guests and is in a great location that is close to everything but quiet and beautiful, as well.
Check rates & book: Booking.com
Salem Waterfront Hotel & Suites
Not every visitor to Salem is looking for a spooky B&B or a historic home. Some travelers prefer a modern-style hotel with all the typical amenities. You'll definitely find that at the Salem Waterfront Hotel & Suites, and this spot is extremely well-located, too. The House of the Seven Gables and The Salem Witch Museum are only 0.3 miles away.
This is one of the top hotels in Salem, and perfect if you want to be near the water.
Is the Salem Waterfront Hotel haunted?
I can't find much evidence to suggest that hauntings happen at this hotel, although one TripAdvisor reviewer claims they experienced some odd activity. If you stay here, let us know!
Closest attractions: The House of the Seven Gables
Why this is one of our recommended Salem Massachusetts hotels:
If you're looking for a fitness center and a pool, this is the hotel for you. Another advantage is onsite dining at The Regatta Pub.
Check rates & book: Booking.com
The Hotel Salem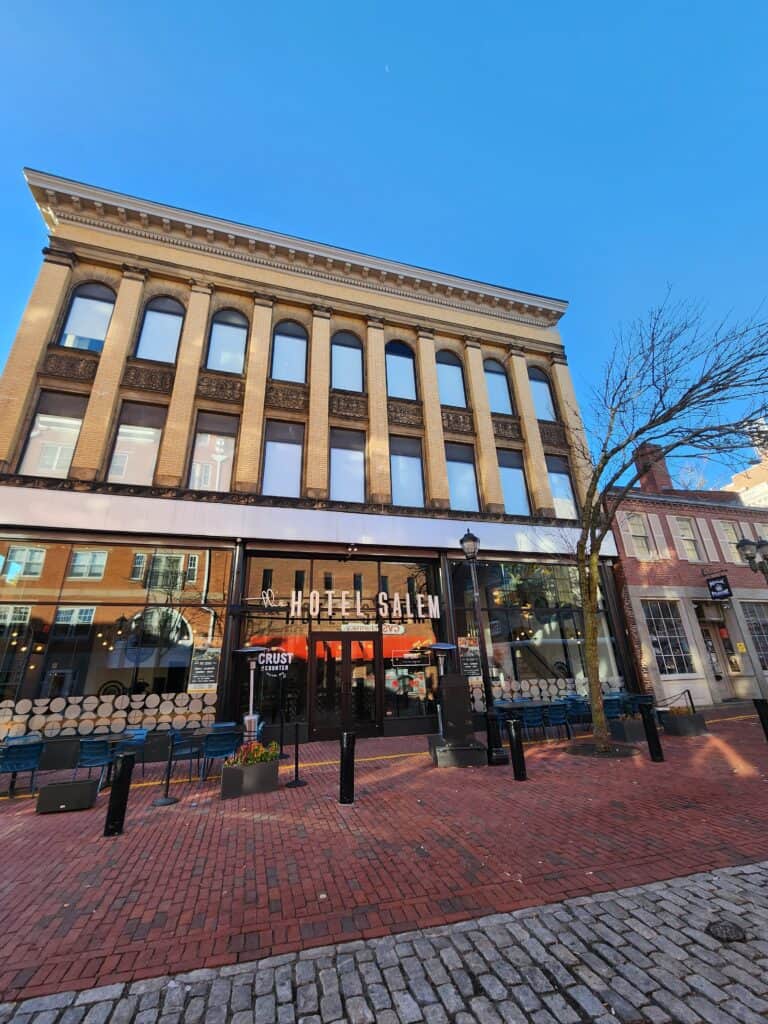 The Hotel Salem is one of the newest additions to the city's accommodation offerings. With 44 rooms, the hotel is right in the center of everything in Salem, just steps from shops, restaurants, and attractions on Essex Street. There are a range of room sizes and styles offered, including micro-rooms designed for budget-conscious travelers. That's helpful to know if you're traveling to Salem on a budget!
Is The Hotel Salem haunted?
Are brand new things ever haunted? From my research, this hotel appears to be ghost-free.
Closest attractions: The Peabody Essex Museum, The Bewitched Sculpture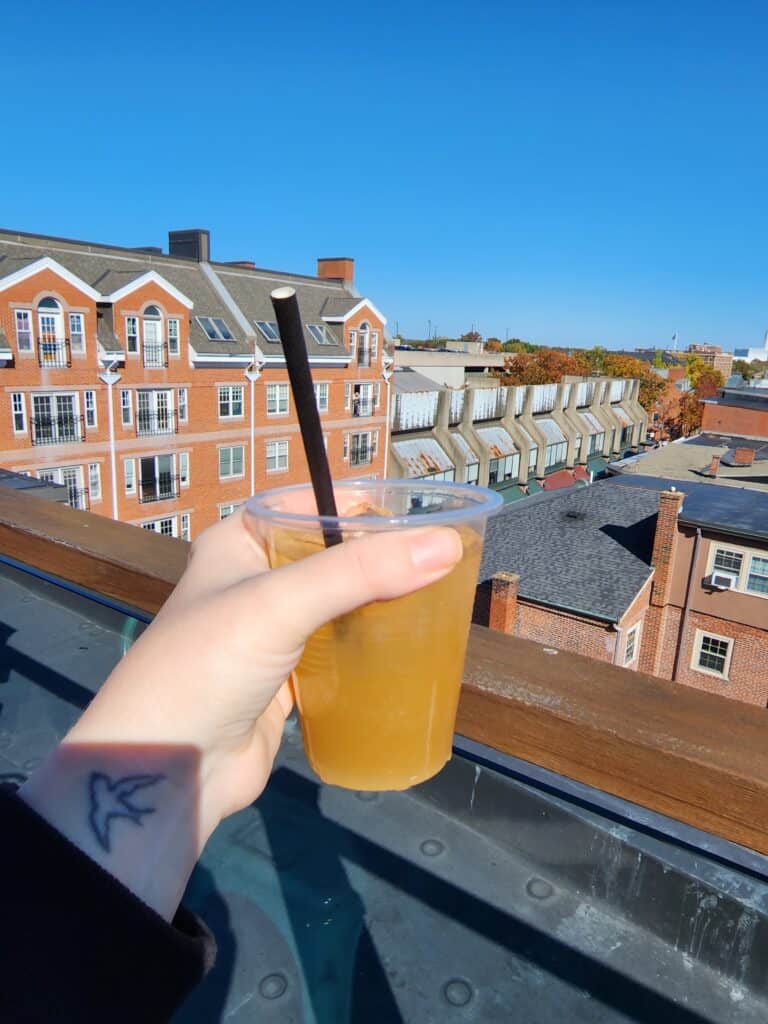 What makes this a great option in Salem MA hotels:
If you're looking for Salem MA lodging with a fresh, modern vibe, this is the one! The Hotel Salem is part of Lark Hotels, a group known for their bright and stylish hotels. Perhaps the coolest thing about The Hotel Salem is its rooftop bar and restaurant—the only one in Salem. You'll have lovely views over the city while enjoying some delicious cocktails and snacks.
Check rates & book: Booking.com
The Daniels House B&B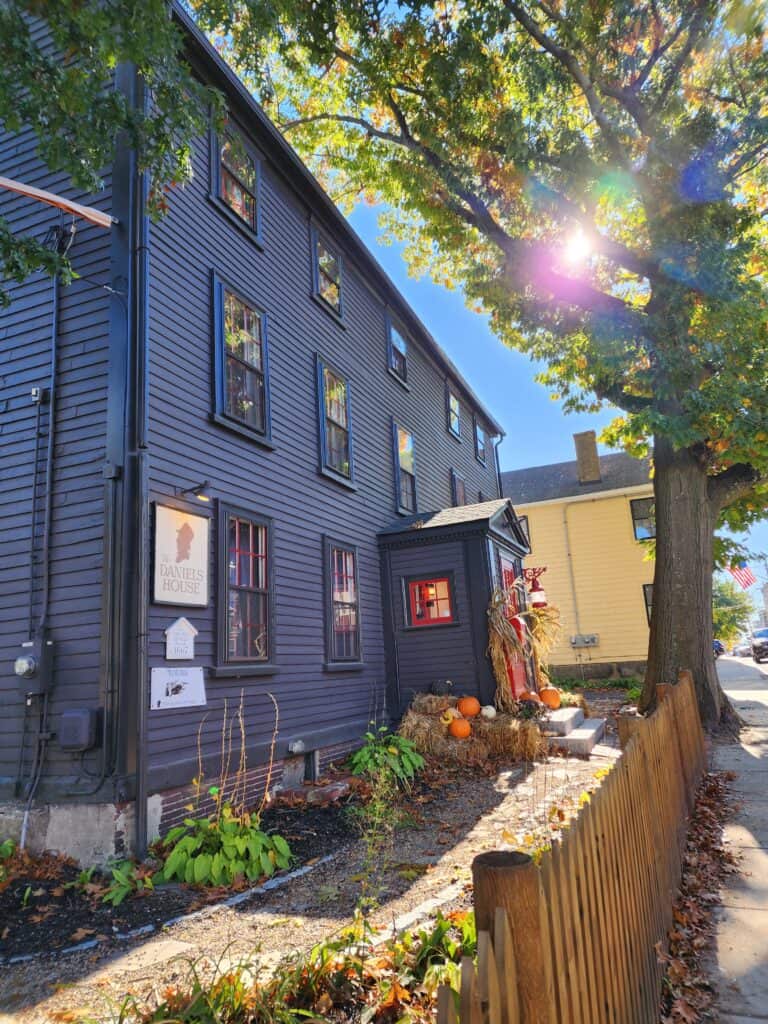 If you're looking for historic places to stay in Salem that may or may not be haunted, you've got to check out Daniels House. Not only is it conveniently located just a short 5 minute walk away from The House of the Seven Gables and the Salem Maritime National Historic Site, but it will also appeal to those looking for a cozy Salem bed and breakfast.
Is The Daniel's House haunted?
According to message boards on What Lies Beyond, haunted happenings have been reported in this Salem MA bed and breakfast! Ghost sightings include a grey tabby cat that appears suddenly and then seemingly vanishes into thin air, a tall man in all black Puritan style clothing, and a woman in a long skirt who apparently takes a hard fall down the stairs.
Closest attractions: House of the Seven Gables
What makes this one of the best bed and breakfasts in Salem MA:
The Daniels House was built in 1667 and has seen many changes over the years, while still retaining its historic charm with open hearth fireplaces, exposed beams, and antique touches everywhere you turn. Guests love the rich decor, fantastic location, and of course, the delightful breakfast spread served in the historic Old Parlor.
Check rates & book: Booking.com
Hawthorne Hotel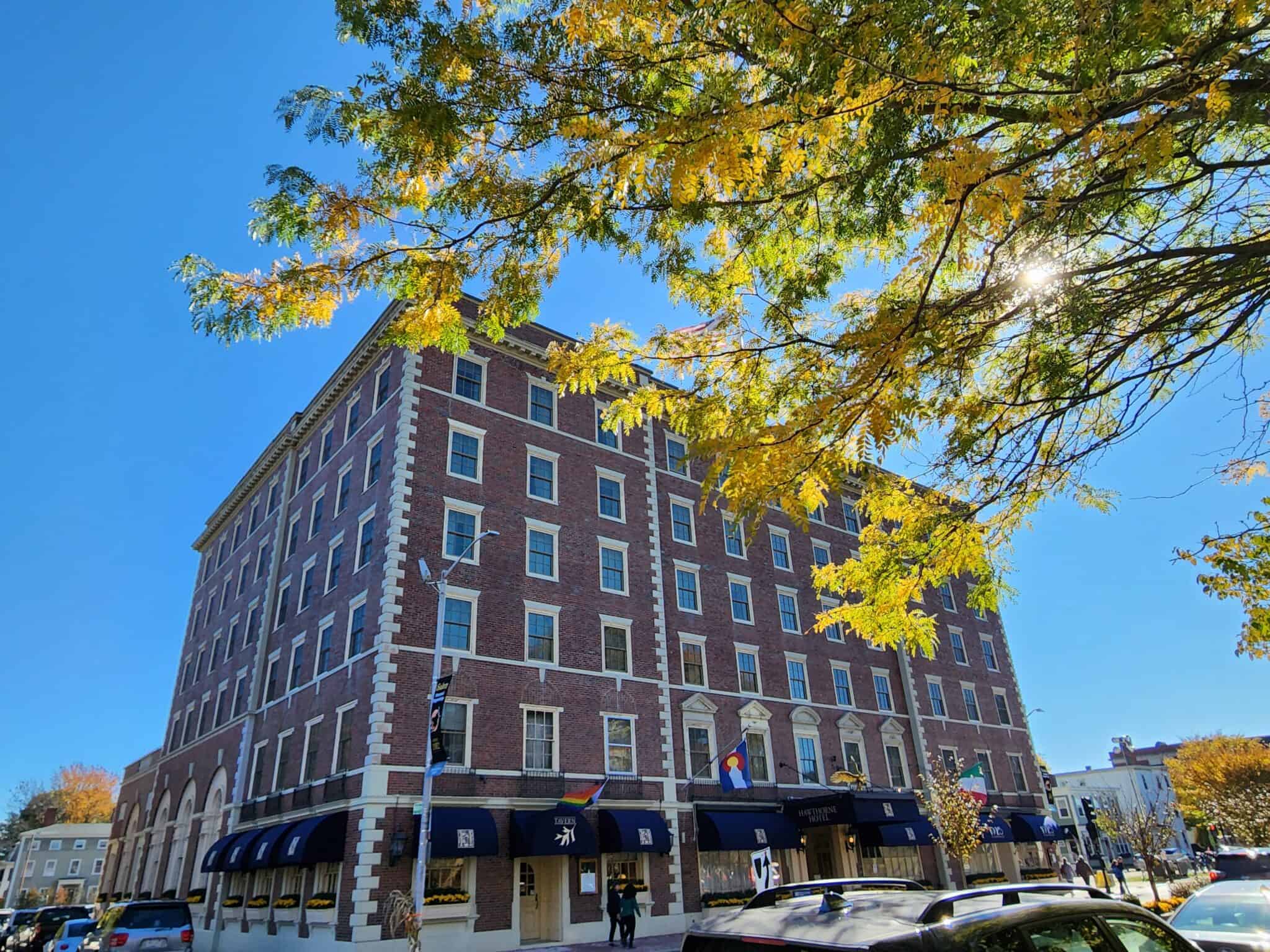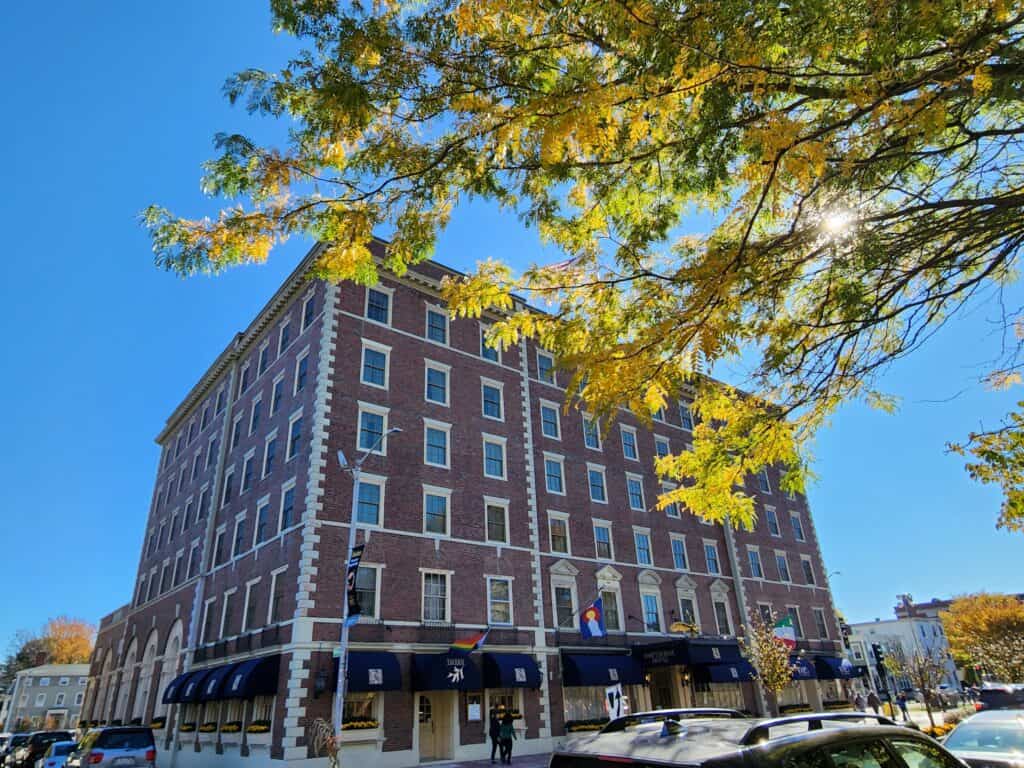 I've always wanted to stay at The Hawthorne Hotel. The very name just screams "Salem!" This is a truly historic hotel, completed in 1925. Right near Salem Common, the hotel has a restaurant, fitness center, and free WiFi in every room. They also offer free bikes for guest use. This is an excellent accommodation choice because it is in walking distance to so many of Salem's most popular attractions.
Is the Hawthorne Hotel haunted?
This hotel is regularly declared one of the most haunted places in Salem, and often even called one of the most haunted hotels in America! Although the hotel's website says that some guests claim the property is haunted, the majority of visitors "do not have a haunted experience."
Legend says that the most haunted room in the hotel is Room 325, while Room 612 and the whole sixth floor have had reports of a ghostly woman walking the halls. The hotel has also hosted several unique supernatural events, such as a séance held on the 64th anniversary of Harry Houdini's death. Attempts to summon the famous magician proved unsuccessful.
Closest attractions: The Witch House and the Peabody Essex Museum
Why this is one of the best hotels in Salem Massachusetts for Halloween (or any time!):
This is a hotel with a lot of history and character and even some potential spookiness. It has a beautiful interior and a wonderfully central location. The Hawthorne Hotel consistently receives excellent reviews and is very popular. It's also one of the best breakfast places in town!
Check rates & book: Booking.com
Stepping Stone Inn
One of the top rated inns in Salem MA, Stepping Stone Inn seems to effortlessly infuse modern sensibilities and historic charm in their 1846 inn, with a vibe that can be best described as timeless. Plus, their location right next to the Salem Witch Museum is pretty convenient, too!
Is Stepping Stone Inn haunted?
Stepping Stone Inn is not one of Salem's haunted hotels.
Closest attractions: Salem Witch Museum

Why this is one of the best places to stay in Salem Mass:
While this inn is beautiful and has great amenities like private bathrooms for each of its 6 guest rooms, free parking, and a great continental breakfast, visitors especially love its convenient location! It's a great choice for where to stay in Salem if you're looking to explore a lot of popular tourist sites on foot.
Check rates & book: Booking.com
The Merchant
This place looks amazing. One look at the photos from The Merchant, and I'm pretty sure you'll want to stay here.
This is a gorgeous Salem boutique hotel housed in a historic federal-style building. Inside, the decor blends modern touches with original features of the building. There are lots of jewel-toned colors in this Salem inn, and these pops of color make the hotel super easy on the eye. Like The Hotel Salem, this is also a part of the well-known Lark Hotels.
Is The Merchant haunted?
Here's what the hotel has to say about that:
The Joshua Ward House (The Merchant) "…was where Sheriff George Corwin lived and maintained his jail in the 1680s. It was Corwin's self-appointed duty to interrogate anyone suspected of witchcraft, as well as carry out the accused's death sentence. For this reason, our building has a reputation of its own for ghosts and mystery — even in a town full of intrigue and hauntings. Local legend has it that perhaps the spirits of a few innocent victims of Sheriff Corwin still roam our halls." Spooky!
Closest attractions: Restaurants, shops, Salem City Hall
Why this is one of the top hotels Salem MA has to offer:
Aside from a stunning ambiance, this hotel offers a great central location, daily breakfast, complimentary parking, and maybe best of all, gas fireplaces in every room! You can also sleep where President George Washington once slept if you're looking for cool historic places to stay in Salem MA!
Check rates & book: Booking.com
Hampton Inn Salem Boston
Those who are budget-minded will probably love the Hampton Inn Salem Boston. Hampton Inns, by Hilton, have a reputation for being clean, comfortable, affordable, and consistently reliable. Not only that, but this is a pet friendly hotel in Salem, so it's an excellent choice if you're traveling with your canine companion.
Is The Hampton Inn Salem haunted?
I'm gonna go out on a limb and say I've never ever heard of a haunted Hampton.
Closest attractions: Witch Dungeon Museum
Why this is on our list of recommended Salem stays:
The hotel features free breakfast for all guests, an indoor pool, and a fitness center. They also offer the option of connecting rooms, which can be useful when traveling with a group or as a family.
Check rates & book: Hotels.com
The Coach House
Do you want to stay a bit away from the hustle and bustle of Salem? The Coach House might be the ideal selection for your visit. This luxuriously appointed in offers a cozy respite just under a mile from the crowds of downtown. While you may not be in easy walking distance of most major attractions in Salem, it's just a few minutes' drive. You can easily grab an Uber from this property. Or, if you have a car, the Coach House offers limited on-site parking for guests, as well as street parking.
Is The Coach House haunted?
Any historic building has a decent chance of a haunting! The Coach House was built in the 1870s by local sea captain, Ephraim Augustus Emerton.
Closest attractions: Pioneer Village
What makes this a dreamy spot to stay in Salem?
With it's chic black and white decor and little touches such as 100% Sateen Linen Frette Sheets and Linens, you'll feel truly pampered and cozy during your stay at The Coach House.
Check rates & book: Hotels.com
CitizenM Boston North Station
While this isn't strictly a hotel in Salem, I wanted to include this spot on the list because it's a great option if you can't find accommodation within Salem proper.
CitizenM is in Boston, but it is situated right at North Station. From there, you can easily hop directly on a train and be in Salem in less than half an hour, for a very low price.
This is awesome if you're trying to avoid parking in Salem, particularly in October. And by staying in Boston, you also have the opportunity to do some sightseeing there, as well.
While staying in Boston is not the same as staying in Salem, you can feel confident booking this hotel that is located within easy reach of great restaurants and many fun things to do.
Should you consider this hotel?
Definitely! You get the best of both worlds by staying in a Boston hotel that is convenient to Salem.
Check rates & book: Hotels.com
---
Planning a trip to Salem, Massachusetts? Check out these other helpful resources: