---
*Links in this article may be affiliate links, from which we may earn commission. See our
Privacy Policy
for full details.
---
Getting ready for a trip to Salem? We're jealous! What a great town—especially during Halloween and throughout the fall. Your next task is to decide which of all the places to stay in Salem MA you'll choose. We can help!
As you plan your trip, you'll be considering various Salem hotels. To help save you time, we've compiled a list of the best. Check out these great options for your visit to magical Salem, Massachusetts!
We've also included which of these properties might be considered haunted hotels in Salem MA. Personally, I am a huge scaredy-cat and have zero interest in booking a potentially haunted room, but perhaps you're really into the supernatural. In that case, you do you, boo! There are many Salem haunted hotels that you're bound to love. (You'll also want to check out our list of 13 haunted places in New England!)
Travel Tip: If you'll be visiting Salem in the fall, book your accommodation in advance if possible. It can be difficult to get last-minute hotels in Salem, Massachusetts for Halloween and the weeks before.
Interested in Airbnbs? See this article next: 12 Enchanting Airbnbs in Salem MA
Without further ado, here are a few of the best places to stay in Salem MA: 5 excellent Salem MA hotels.
The Salem Inn
On our last visit to Salem, we stayed at The Salem Inn, and it doesn't get much more classic Salem than this. Once a sea captain's home, the inn became a B&B 35 years ago. Today, the inn is comprised of 3 historic homes in the heart of Salem. There are 40 rooms and suites to accommodate guests.
We enjoyed our stay at The Salem Inn, especially the complimentary breakfast which was quite delicious.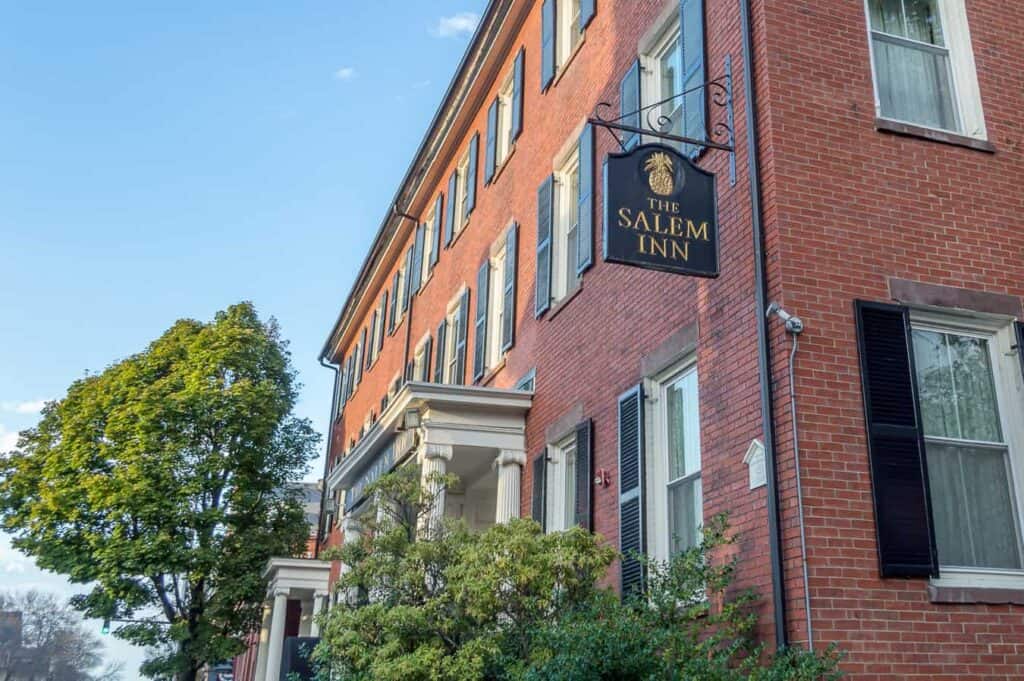 Is The Salem Inn haunted?
Room 17 is known as 'the Haunted Room' and guests have reported strange happenings here! Book if you dare!
Closest attractions: The Salem Witch House and The Ropes Mansion (as seen in Hocus Pocus!)
What makes this one of the best hotels in Salem MA:
A trip to Salem is not complete without a stay in a historic hotel. It definitely adds to the atmosphere of your visit, especially in the fall months. This inn is well-loved by past guests and is in a great location that is close to everything but quiet and beautiful, as well.
Read reviews: TripAdvisor | Check rates & book: Booking.com
Salem Waterfront Hotel & Suites
Not every visitor to Salem is looking for a spooky B&B or a historic home. Some travelers prefer a modern-style hotel with all the typical amenities. You'll definitely find that at the Salem Waterfront Hotel & Suites, and this spot is extremely well-located, too. The House of the Seven Gables and The Salem Witch Museum are only 0.3 miles away.
This is an excellent accommodation choice if you want to be near the water.
Is the Salem Waterfront Hotel haunted?
I can't find much evidence to suggest that hauntings happen at this hotel, although one TripAdvisor reviewer claims they experienced some odd activity. If you stay here, let us know!
Closest attractions: The House of the Seven Gables
Why this is one of our recommended Salem Massachusetts hotels:
If you're looking for a fitness center and a pool, this is the hotel for you. Another advantage is onsite dining at The Regatta Pub.
Read reviews: TripAdvisor | Check rates & book: Booking.com
The Hotel Salem
The Hotel Salem is one of the newest additions to the city's accommodation offerings. With 44 rooms, the hotel is right in the center of everything in Salem, just steps from shops, restaurants, and attractions. There are a range of room sizes and styles offered, including micro-rooms designed for budget-conscious travelers. That's helpful to know if you're traveling to Salem on a budget!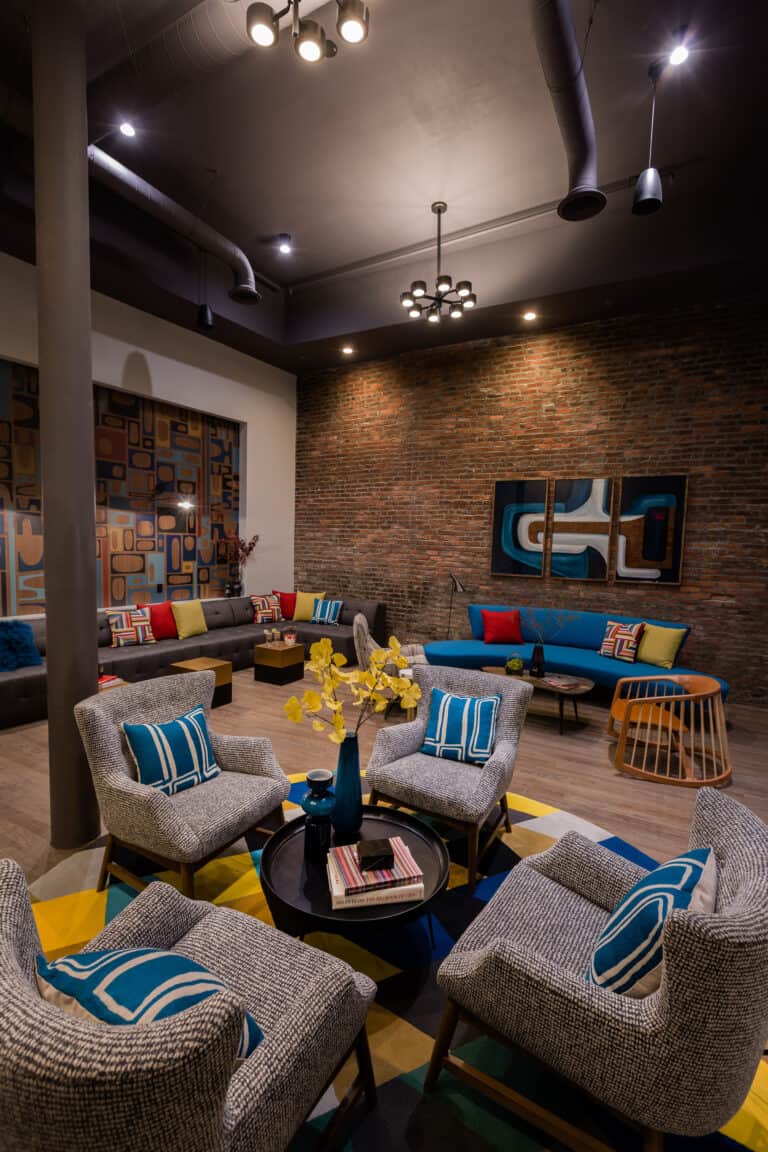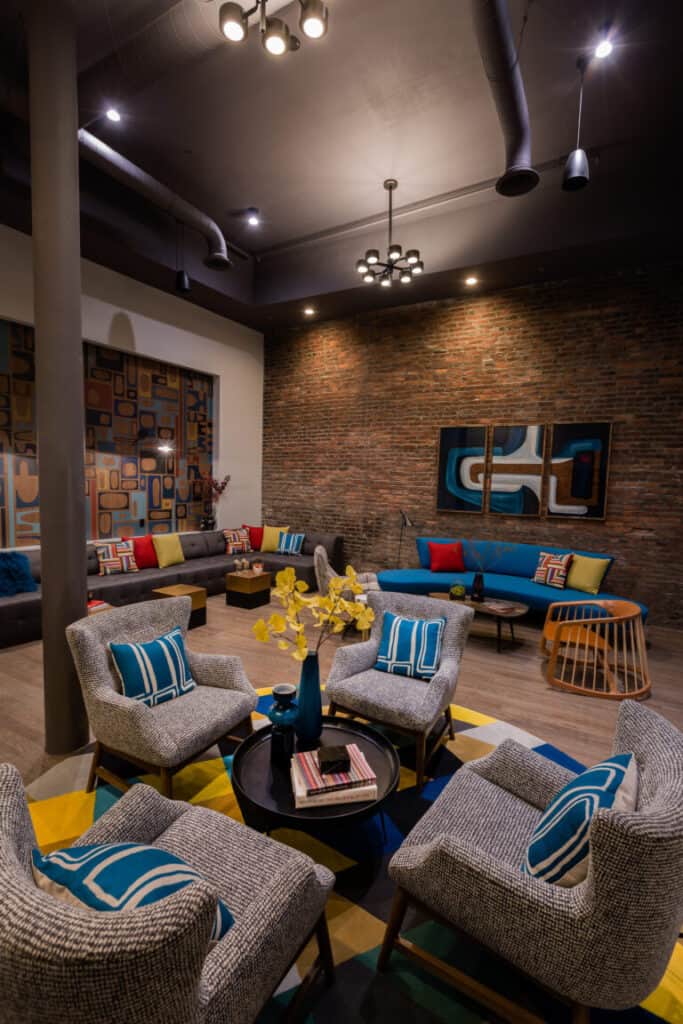 Is The Hotel Salem haunted?
Are brand new things ever haunted? From my research, this hotel appears to be ghost-free.
Closest attractions: The Peabody Essex Museum, The Bewitched Sculpture
What makes this a great option in Salem MA hotels:
If you're looking for Salem, MA lodging with a fresh, modern vibe, this is the one! The Hotel Salem is part of Lark Hotels, a group known for their bright and stylish hotels. Perhaps the coolest thing about The Hotel Salem is its rooftop bar and restaurant—the only one in Salem.
Read reviews: TripAdvisor | Check rates & book: Booking.com, Hotels.com
Hawthorne Hotel
I've always wanted to stay at The Hawthorne Hotel. The very name just screams "Salem!" This is a truly historic hotel, completed in 1925. Right near Salem Common, the hotel has a restaurant, fitness center, and free WiFi in every room. They also offer free bikes for guest use.
Is the Hawthorne Hotel haunted?
This hotel is regularly declared one of the most haunted hotels in Salem, and often even called one of the most haunted hotels in America! Although the hotel's website says that some guests claim the property is haunted, the majority of visitors "do not have a haunted experience."
Legend says that the most haunted room in the hotel is Room 325, while Room 612 and the whole sixth floor have had reports of a ghostly woman walking the halls. The hotel has also hosted several unique supernatural events, such as a séance held on the 64th anniversary of Harry Houdini's death. Attempts to summon the famous magician proved unsuccessful.
Closest attractions: The Witch House and the Peabody Essex Museum
Why this is one of the best places to stay in Salem Mass:
This is a hotel with a lot of history and character. It has a beautiful interior and a wonderfully central location. The Hawthorne Hotel consistently receives excellent reviews and is very popular.
Read reviews: TripAdvisor | Check rates & book: Booking.com
The Merchant
This place looks amazing. One look at the photos from The Merchant, and I'm pretty sure you'll want to stay here.
This is a gorgeous boutique hotel housed in a historic federal-style building. Inside, the decor blends modern touches with original features of the building. There are lots of jewel-toned colors in this Salem MA inn, and these pops of color make the hotel super easy on the eye. Like The Hotel Salem, this is also a part of the well-known Lark Hotels.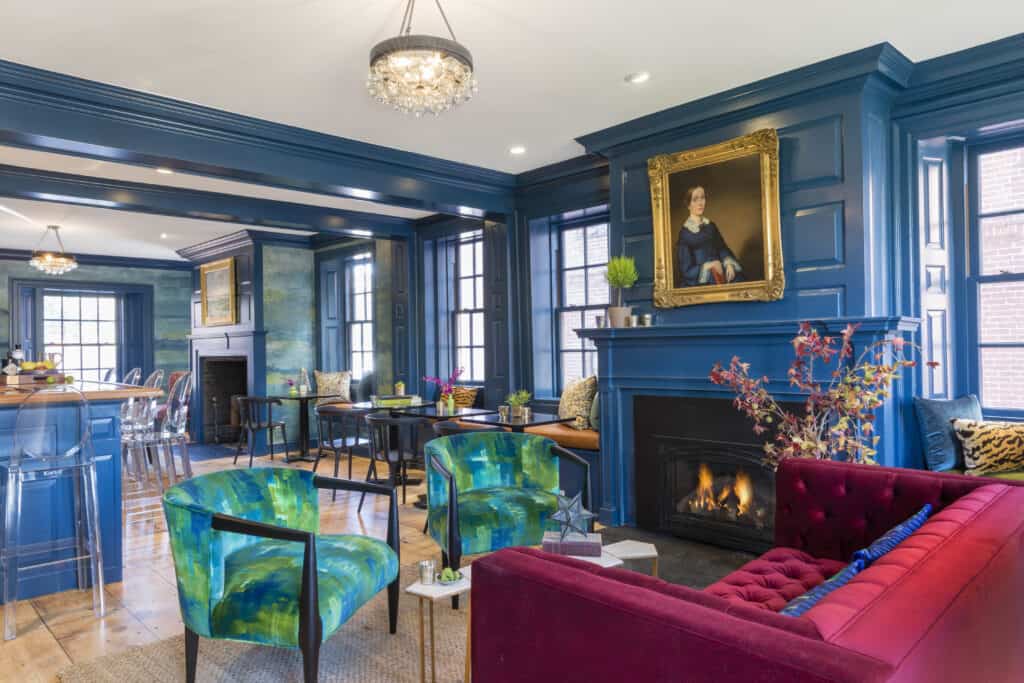 Is The Merchant haunted?
Here's what the hotel has to say about that:
The Joshua Ward House (The Merchant) "…was where Sheriff George Corwin lived and maintained his jail in the 1680s. It was Corwin's self-appointed duty to interrogate anyone suspected of witchcraft, as well as carry out the accused's death sentence. For this reason, our building has a reputation of its own for ghosts and mystery — even in a town full of intrigue and hauntings. Local legend has it that perhaps the spirits of a few innocent victims of Sheriff Corwin still roam our halls." Spooky? Go stay there and find out!
Closest attractions: Restaurants, shops, Salem City Hall
Why this is one of the top hotels Salem MA has to offer:
Aside from a stunning ambiance, this hotel offers a great central location, daily breakfast, complimentary parking, and maybe best of all, gas fireplaces in every room! You can also sleep where President George Washington once slept, if you're a history nerd.
Read reviews: TripAdvisor | Check rates & book: Booking.com
---
Planning a trip to Salem, Massachusetts? Check out these other helpful resources:
---
Pin this post to save for later!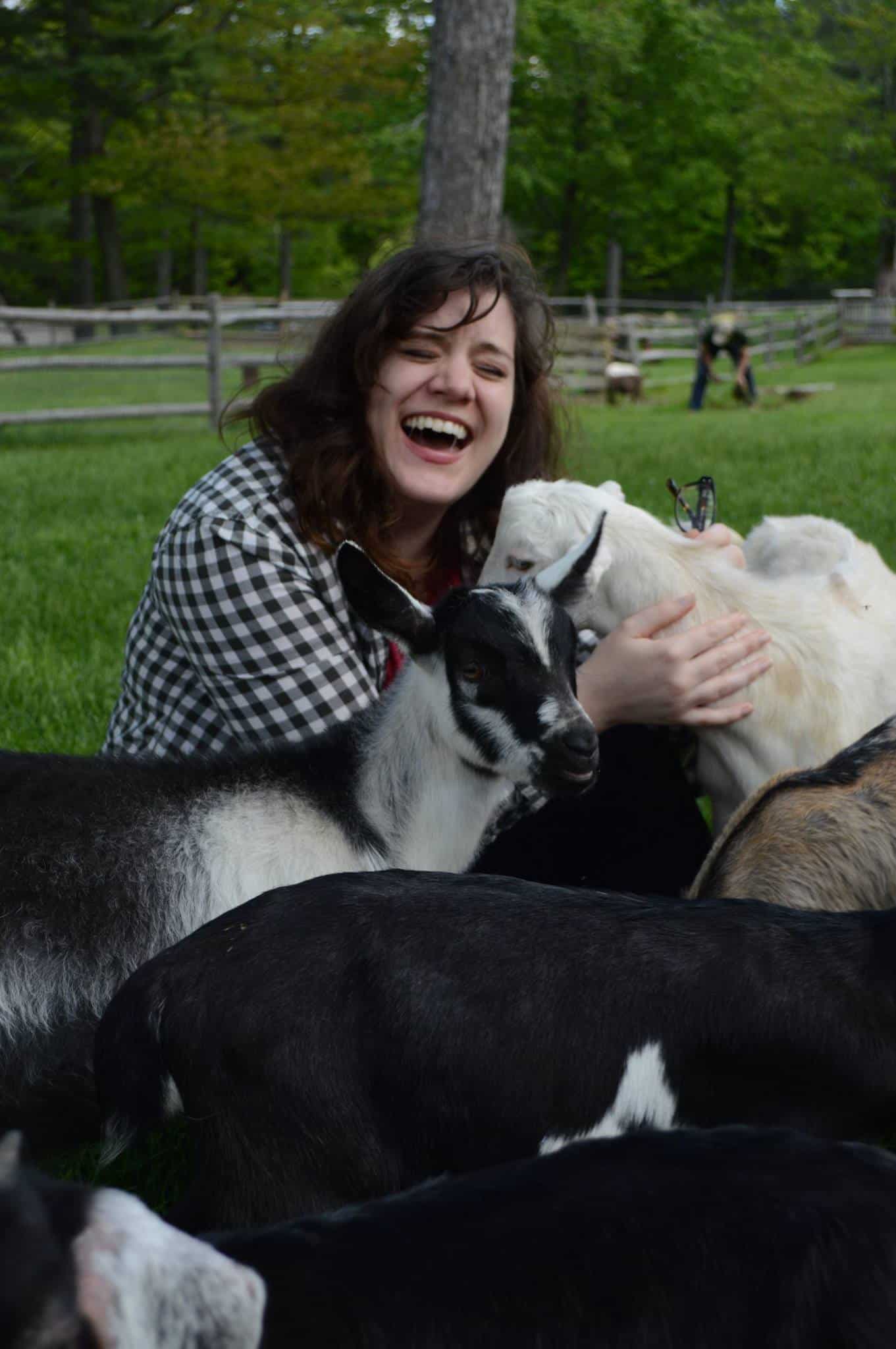 Amy is the founder of New England with love. A proud Vermonter, she hopes to share her love of New England and help you find the best adventures in the region. Amy is also blogger/founder at Two Drifters, where she writes alongside her husband about romantic and couples travel, relationships, honeymoons, and more. When not working on websites, Amy is probably reading, cuddling with her husband and cats, & drinking a maple latte.