Salem, Massachusetts is one of the finest historic towns to visit in New England, and it is a bucket list vacation destination for many reasons! While it would be wonderful to be able to book a long visit and not have to worry about how long we have to explore, that's just not in the cards for every trip.
If you're planning a weekend trip to Salem, it can feel a bit overwhelming trying to figure out how to fit everything in. This magical town is full of fun, and no one wants to miss out!
We can help point you in the right direction of the top can't miss attractions in Salem, and give you a schedule to follow so you can maximize your time in the Witch City.
You don't have to follow this Salem Massachusetts weekend itinerary exactly, but it will help keep you on track to be sure you make the most of your visit.
A weekend in Salem MA is better than nothing at all, so without further adieu, let's get on with it already! Salem, Massachusetts, here we come!
PS only have one day in Salem MA? That's okay, follow this Salem MA day trip itinerary to get the most bang for your buck.
How to Get Around Salem MA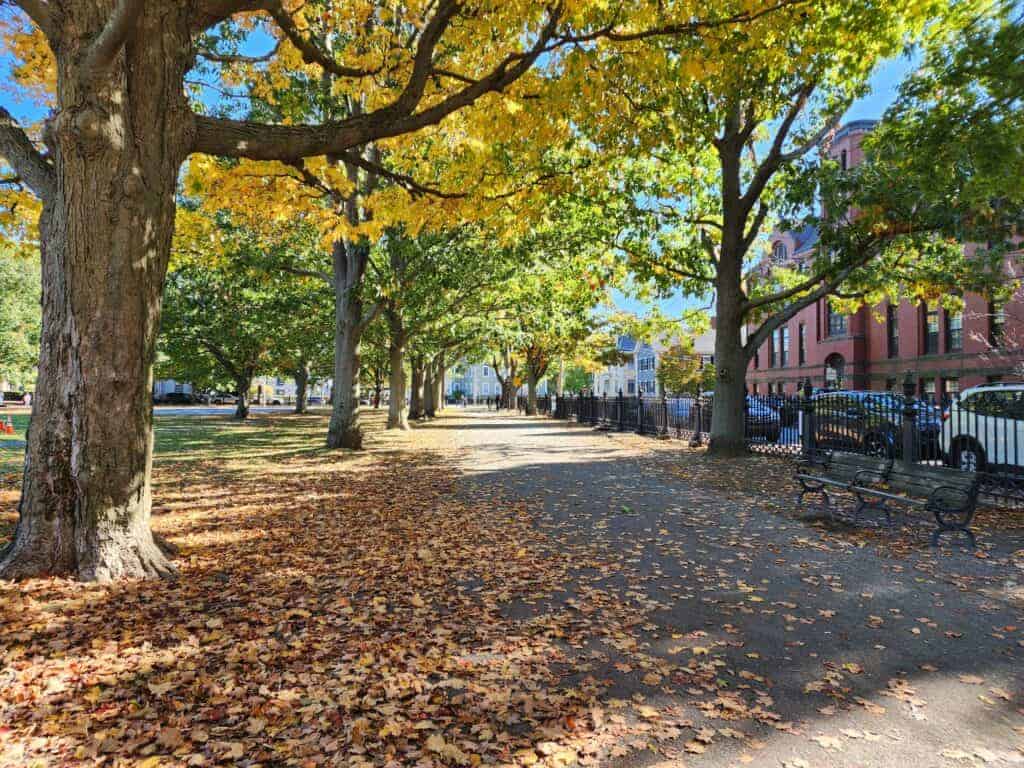 Wondering what the scoop is on getting around Salem? Well, truth be told, you don't *need* to have a car to get around Salem!
Most of the attractions on this weekend in Salem itinerary are intentionally walkable, and there are Ubers available to help bridge the gap between.
If you do choose to drive in Salem, just adjust your expectations a bit when it comes to parking and traffic during the busy fall months.
Salem is a Halloween tourist town that sees a major influx of people, especially during October when their Haunted Happenings are going on! You will be vying for limited parking places with locals and tourists alike.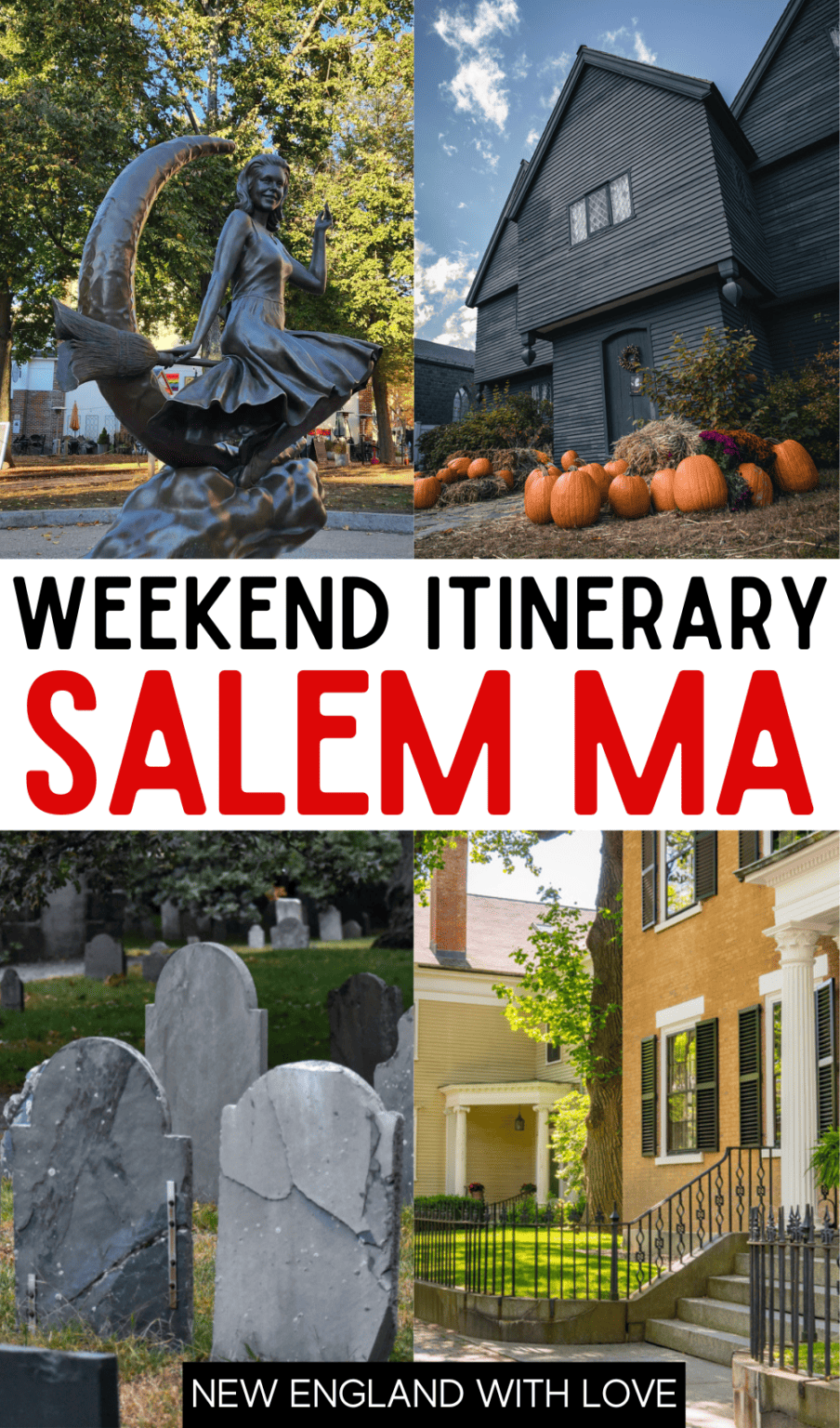 Salem Massachusetts Weekend Itinerary – Day 1
The Salem Trolley
2 New Liberty Street, Salem, MA 01970
A Salem Trolley tour isn't just a fun way to kick off your weekend trip to Salem, it's also an excellent way to get a good lay of the land.
The Salem Trolley day tours are available in person on the same day, and run April through November. Plus, it's only a one hour tour, so it leaves plenty of time to get on with your weekend trip.
You'll be able to see where some of the most popular Salem sights are located, like the House of the Seven Gables, Charter Street Burial Ground, the Salem Witch Museum, the historic waterfront, and more. This will help you get a great visual on the town and the places you'll be seeing during your weekend in Salem!
Salem Witch Museum
19 1/2 N Washington Square, Salem, MA 01970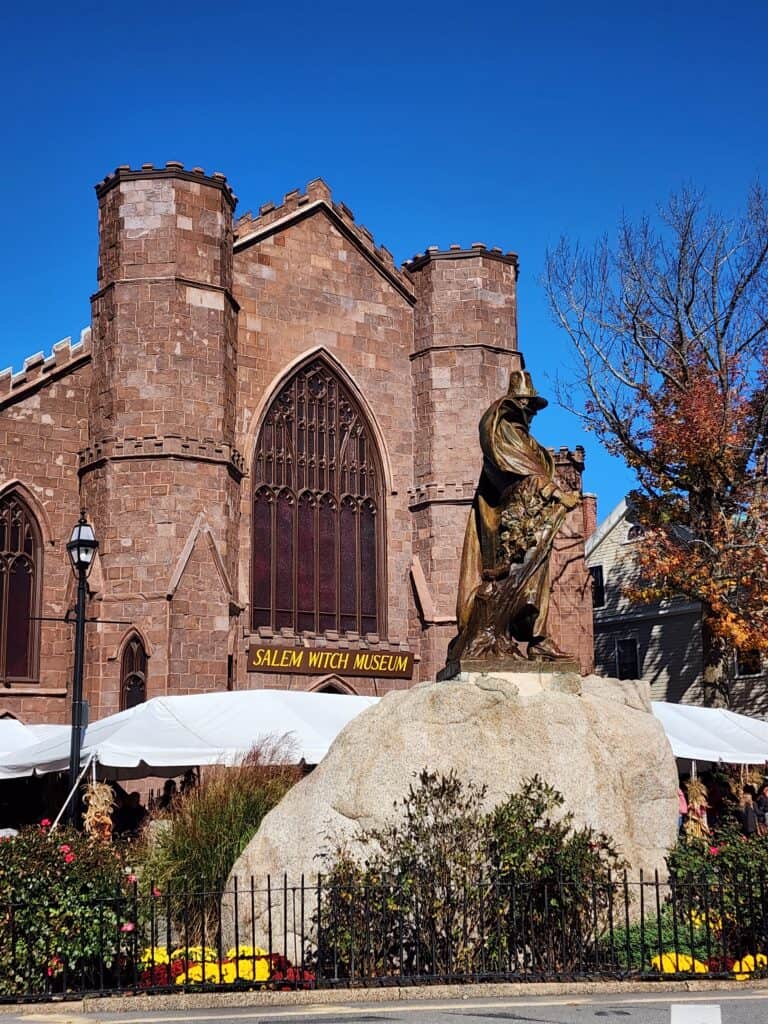 One of the most popular Salem attractions is the Salem Witch Museum, where you can learn all about the infamous Salem Witch Trials of 1692. In fact, this museum even goes beyond the historically traumatic witch trials and explores what it means to be a witch to the many currently practicing witchcraft in the town of Salem today.
Visitors typically spend about an hour or so in the Salem Witch Museum.
Salem Common
N Washington Square, Salem, MA 01970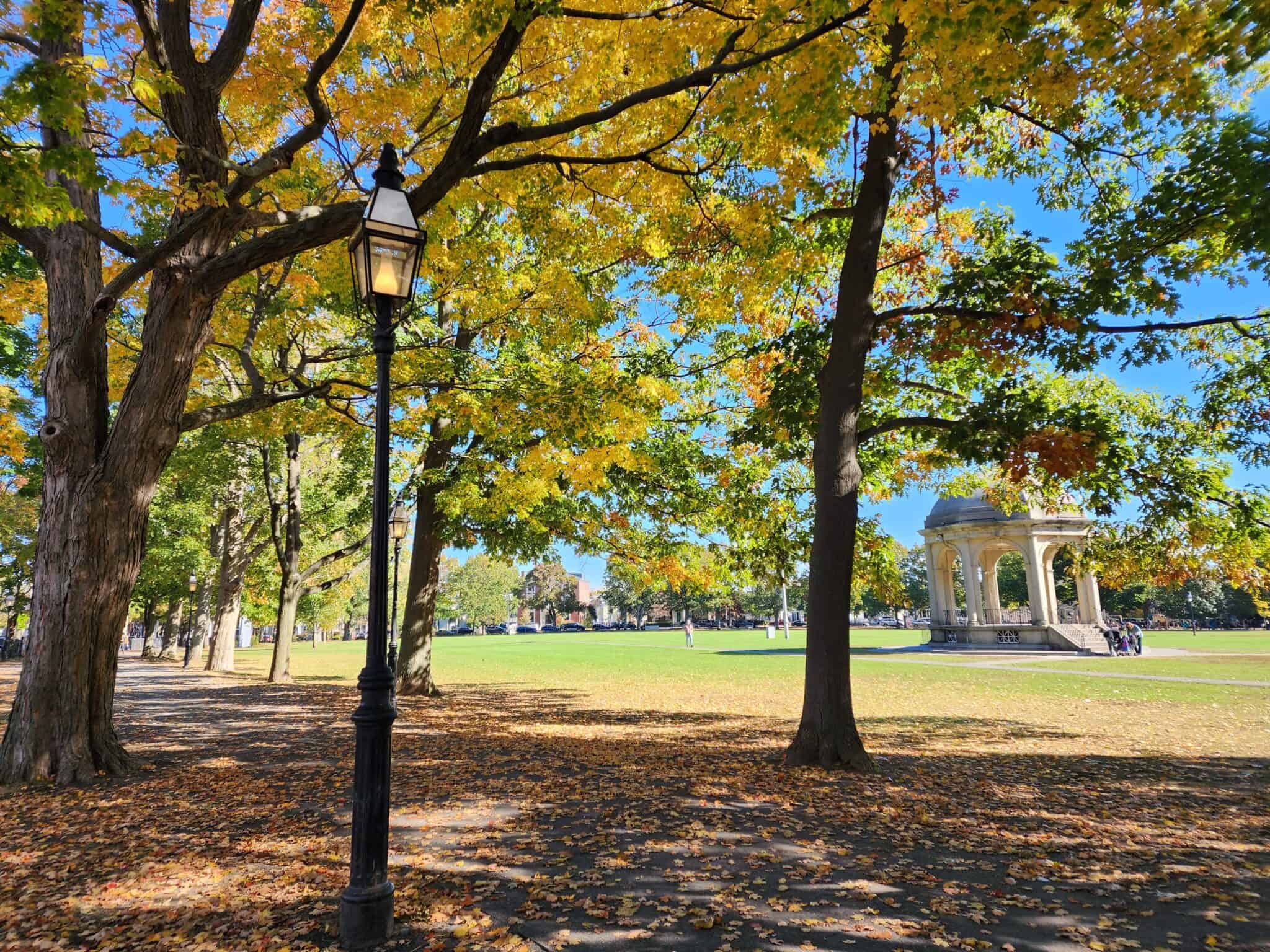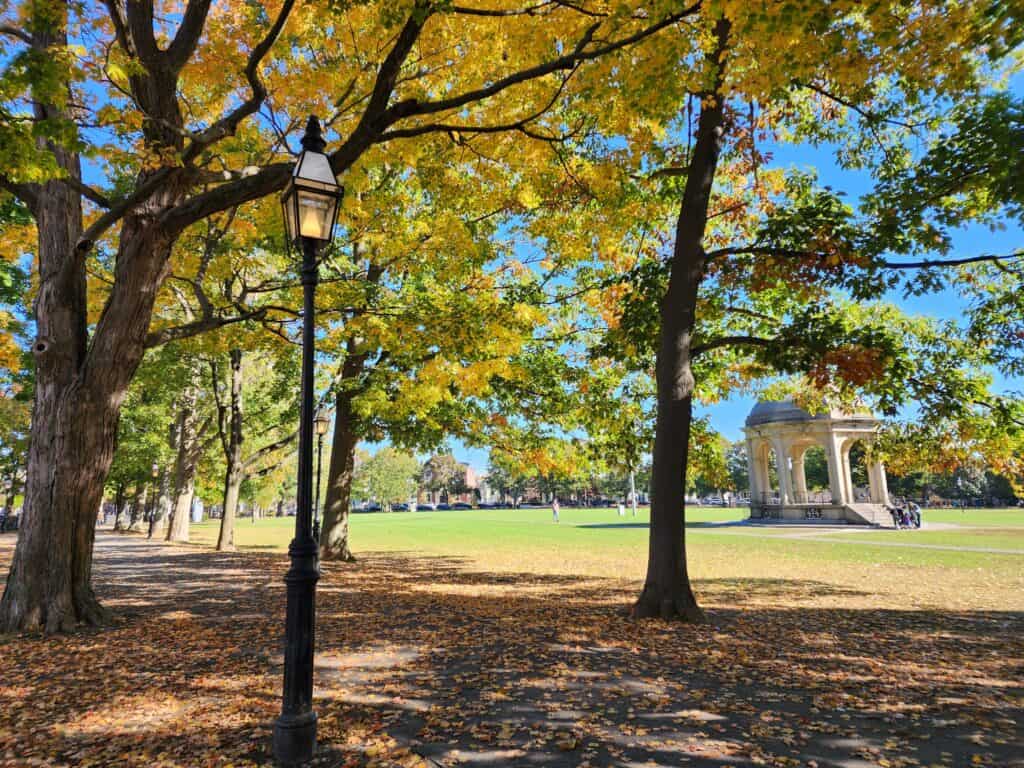 Once you've learned more about the deeply distressing Salem Witch Trials in the Witch Museum, you might want to get a bit of fresh air and reset, and you can do that easily by taking a spin around Salem Common!
This beautiful 8-acre park is absolutely gorgeous and is the perfect place to take a breather from some of the heavy history that this area is so well known for. Plus, it's just a very pretty space, and you'll find community events hosted there throughout the year like the Haunted Happenings Marketplace, annual Food Truck Festival, and more.
This could be a quick 10 minute breather, or you could spend as long as you want walking around this pretty Salem park. If you've got the kids with you, there's a nice playground at Salem Common for them and plenty of space for them to run around and get some energy out.
Red's Sandwiches
15 Central Street, Salem, MA 01970
At this point, you're bound to have worked up an appetite. While it's going to be impossible to hit up all the best restaurants, especially if you've only got 2 days in Salem, there is one that should be on your can't miss list and it just so happens to be close to your day 1 activities!
Red's Sandwiches is an especially historic restaurant in Salem, considering it was once where pre-Revolutionary era patriots would meet to ponder the push for freedom. Open from 7am to 3pm Monday through Saturday, and 7am to 1pm Sunday, this is a fantastic option for breakfast or lunch in Salem!
Expect eggs, pancakes, and other classics for breakfast, and hearty options like chicken pot pie, meatloaf, sandwiches, and more for lunch. It's a popular spot for locals and tourists alike.
Peabody Essex Museum
161 Essex St, Salem, MA 01970
Once you've gotten your fill at Red's, head to the Peabody Essex Museum, one of the most popular Salem museums, and one of the few not exclusively focused on witchy history!
You'll find cultural, historical, and artistic exhibits that cover a wide range of topics, styles, and eras, and the Dotty Brown Art & Nature Center on the first floor is an especially popular all ages space for hands on creativity. The interactive art exhibits are always a hit for the young kids, especially!
Plan to spend at least an hour at this Salem museum.
The Salem Witch Trials Memorial
24 Liberty St, Salem, MA 01970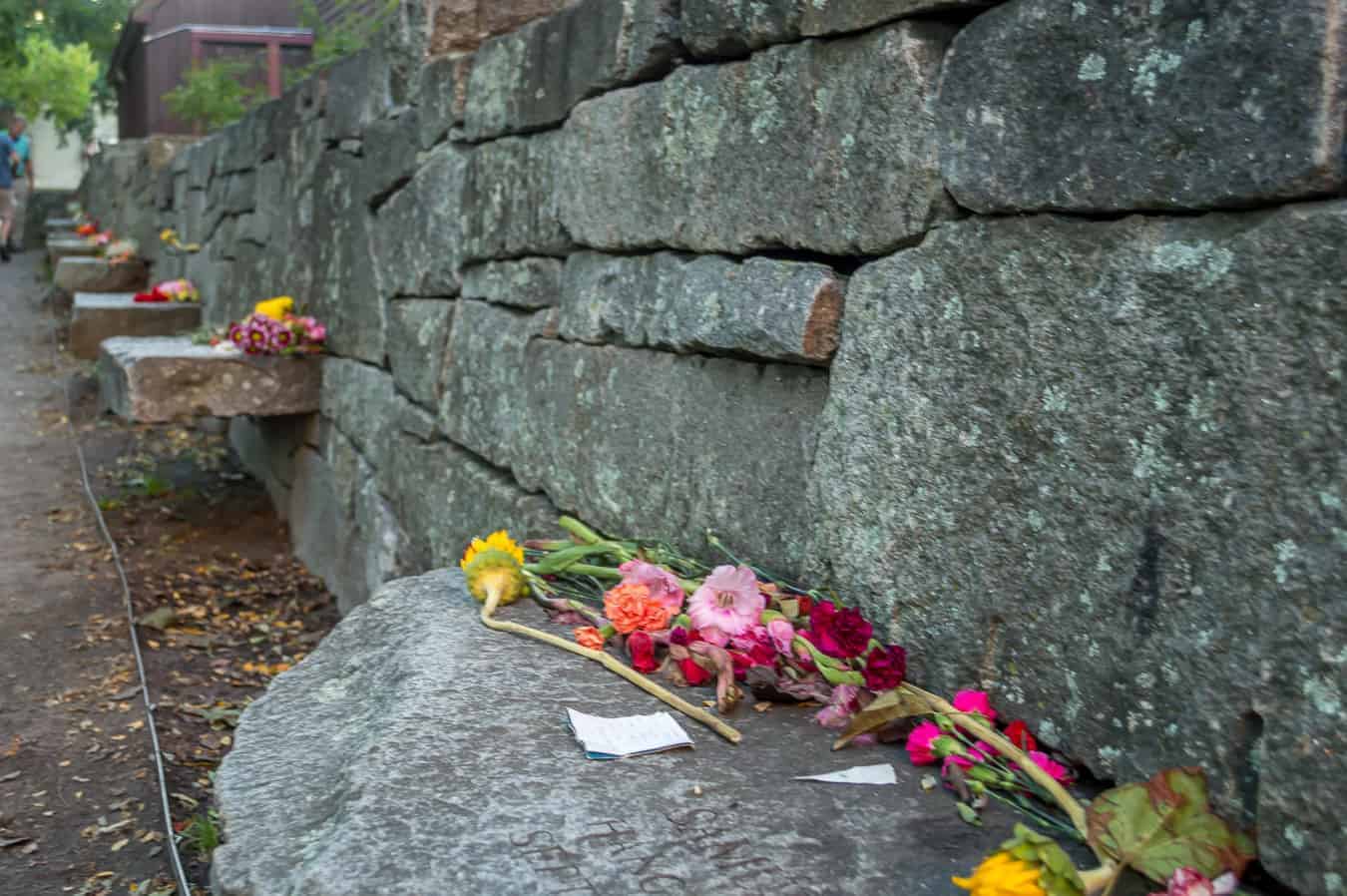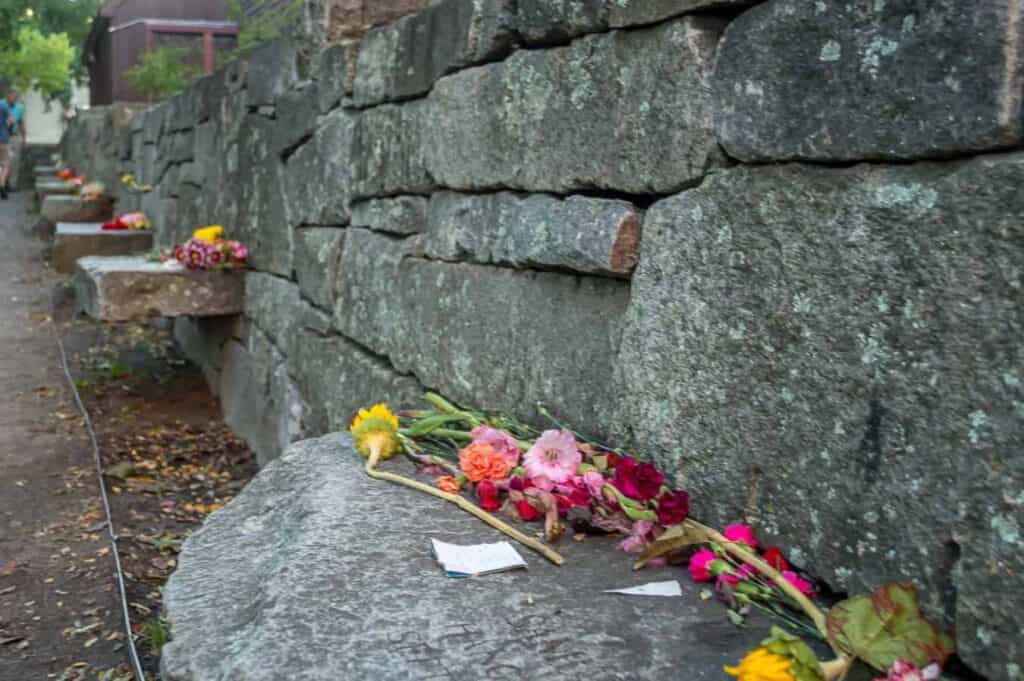 This is one of the definite must visit sites in Salem, as it is an important memorial to the lives lost during the Salem Witch Trials. A bit different from many of the other attractions in town, this is a simple, somber stone memorial with the names of each of the victims of the 1692 tragedy.
Plan to spend a few minutes here before strolling over to your next stop on this Salem Massachusetts weekend itinerary.
Old Burying Point
51 Charter St, Salem, MA 01970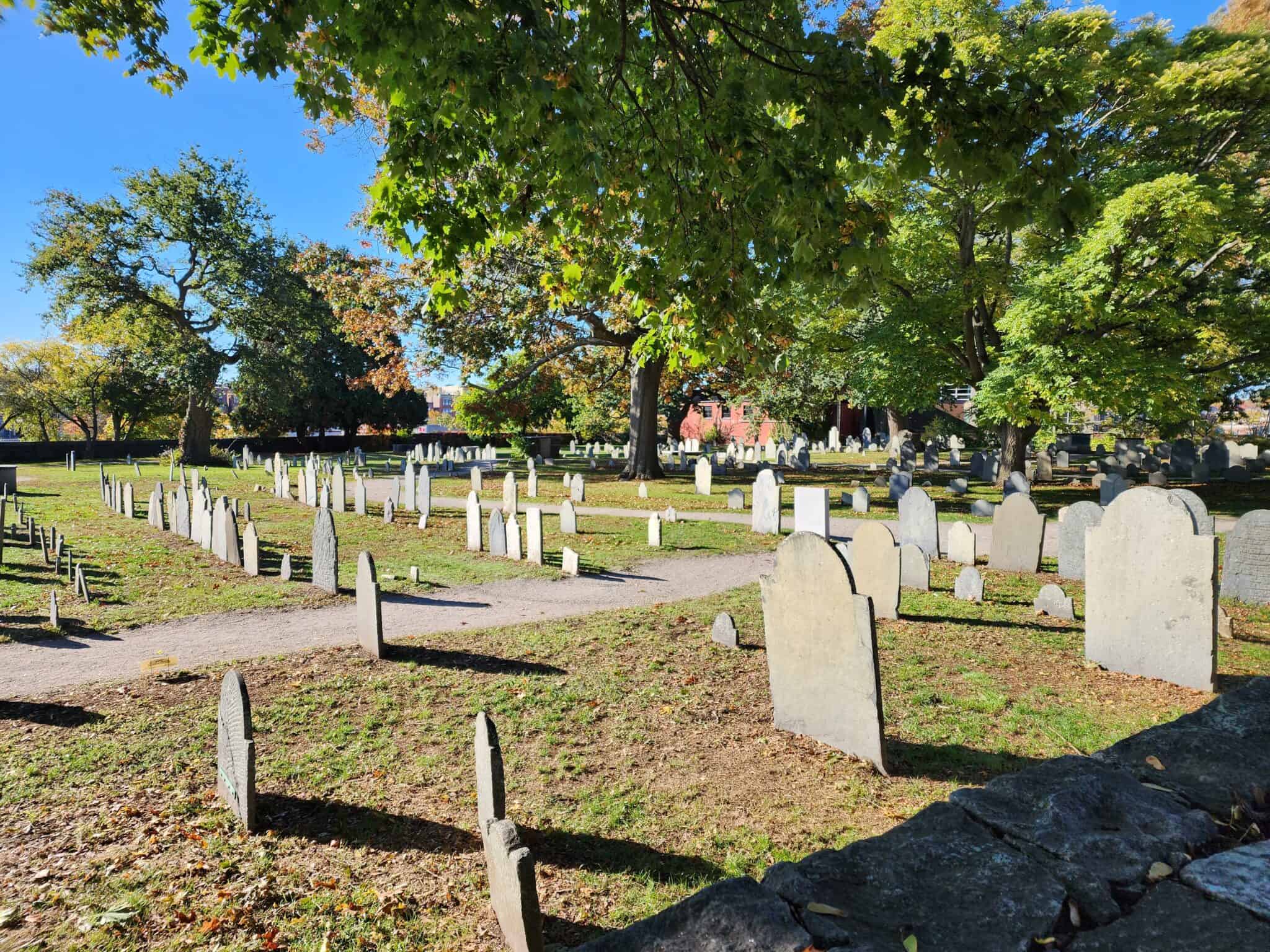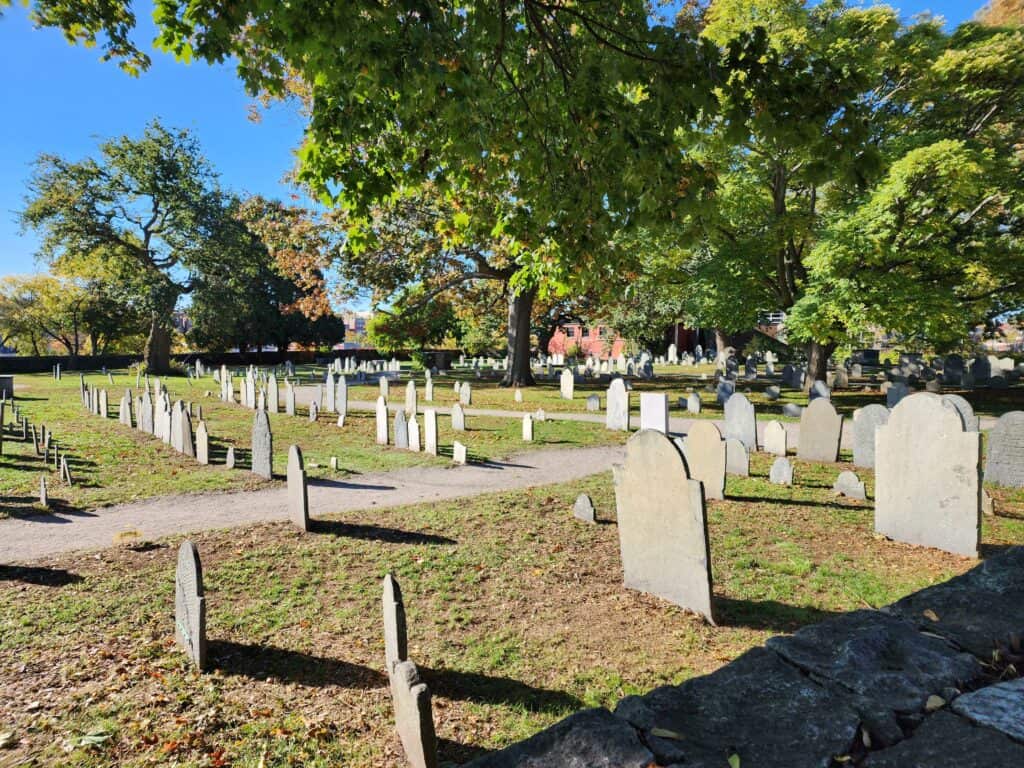 Also known as Charter Street Cemetery, the Old Burying Point is one of those historical cemeteries in Salem that have gravestones that date back to the 1600s. Learn a little more about this historic site at the Charter Street Cemetery Welcome Center before exploring these hallowed grounds.
Just a stone's throw from the Old Burying Point is the Salem Witch Village, if you'd like to peruse some of the touristy type shops there before moving on.
At this point, you'll have gotten off to a great start in seeing some of the top can't miss Salem attractions! We suggest enjoying a nice meal at one of the top Salem restaurants for dinner before either heading to your hotel or taking part in one of the several popular Salem ghost tours.
Tavern Restaurant
18 Washington Square W, Salem, MA 01970
Dinner options abound, but may we suggest the Tavern Restaurant at Hawthorne Hotel? Not only is the Hawthorne Hotel one of the best places to stay in Salem (you can even request one of their allegedly haunted rooms, if you're into that sort of thing!), but it's home to one of the best restaurants, too.
This is a warm and cozy restaurant where you'll find hearty New England staples like Seafood Chowder, Lobster Rolls, and more. Bonus points if you're visiting in the cooler months, because the fireplace just perfectly compliments the ambiance of this stately, yet comfortable restaurant. Heads up, last seating is 8:30!
Optional Ghost Tour
If you've decided to go with a ghost tour, there are a ton of awesome ghost tour options in Salem, especially during spooky season. We took this Candlit Ghostly Walking Tour through the Salem Wax Museum and it was just the right level of spooky for us, but we've heard a lot of people recommend the Salem Voodoo, Vampires, and Ghosts Guided Walking Tour for those looking for something with a darker edge.
Don't stay out too late tonight, friends, tomorrow is day two of your fun 3 days in Salem, Massachusetts!
Salem Massachusetts Weekend Itinerary – Day 2
Jaho Coffee
197 Derby Street, Salem, MA 01970
Good morning! Hopefully you've gotten a great night's rest and you're ready and raring to go for your second day of Salem explorations, but today will be at a slightly lower pace than yesterday if you follow this Salem MA itinerary exactly.
To begin, let's fuel up with a nice light breakfast and a great cup of coffee, shall we? Head to Jaho Coffee & Tea for specialty lattes, delicious boba drinks, scrumptious pastries, and of course, a fantastic cup of coffee if that's all you need in the morning!
PS if it's noon or after when you're leaving Jaho Coffee, check out Enchanted of Salem, in the same plaza. It's a very cool little magic shop where you can find crystals, tarot cards, crystal balls, spell kits, and so much more!
Salem Maritime National Historic Site
160 Derby St, Salem, MA 01970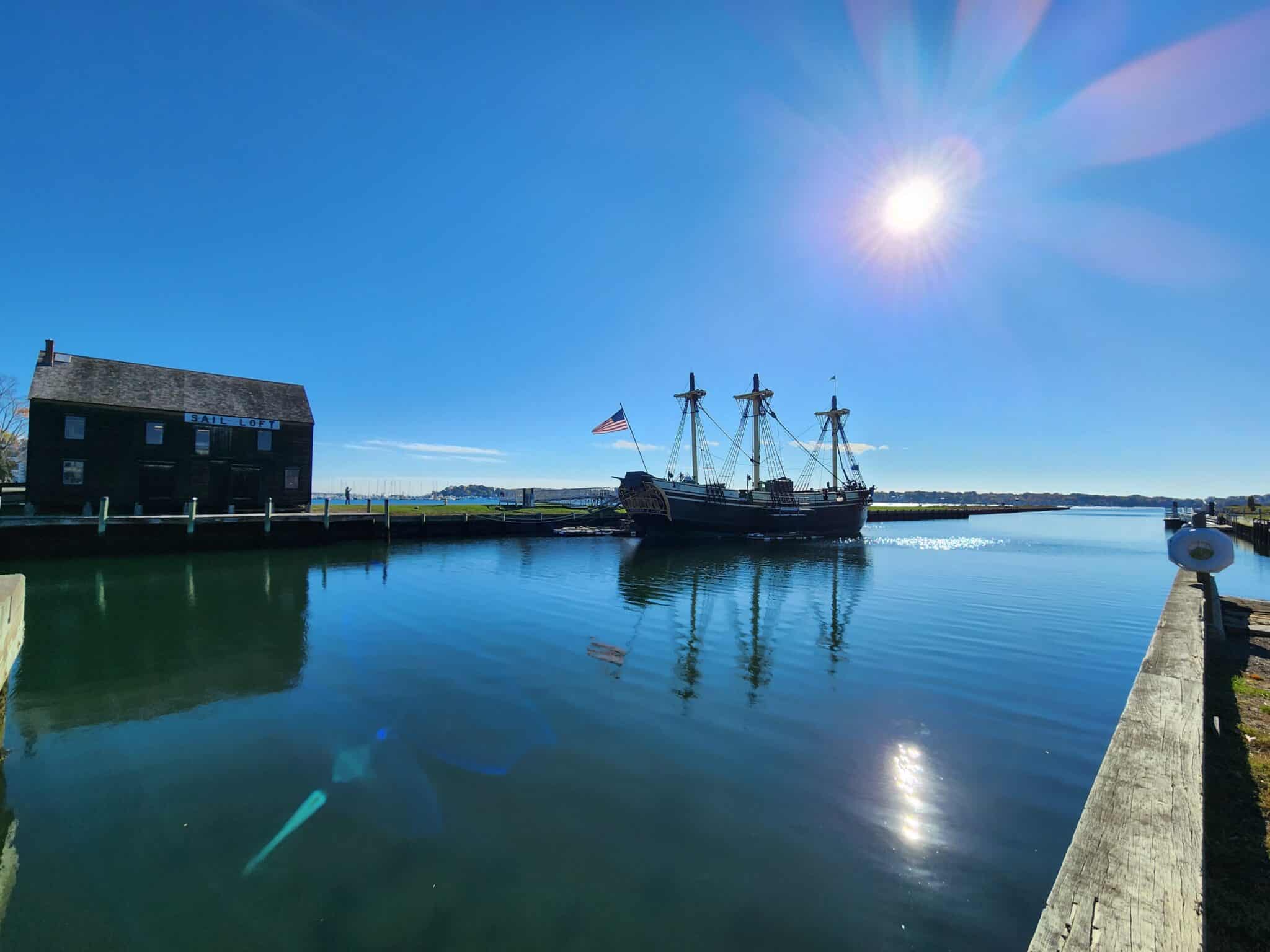 Just a quick stroll up Derby Street, Salem Maritime National Historic Site is a great place to start your 2nd day in Salem off. This area of Salem is a little less crowded than the main touristy areas, and you get to explore more of this coastal cities maritime history out here.
The Salem Maritime National Historic Site consists of 12 historic structures spread over 9 acres, so there's plenty to explore along the water's edge. Take your time with it and explore as much as you'd like, but be sure to visit these top historic attractions: The Derby Wharf Light Station, the Friendship of Salem, Custom House, Derby House, and the Narbonne House.
The merchant ship replica, "The Friendship," is under renovation as of this writing, but word on the street is that they are still allowing limited access tours. Even if you just walk up the wharf a bit to view from the outside, this is a very cool replica tall ship and well worth a closer look.
Allow at least an hour to explore the various properties and gardens in this area! Save the Narbonne House for last so you can land on Essex Street within easy walking distance of your next stop.
Daniel's House Inn
1 Daniels St, Salem, MA 01970
Said to be the oldest inn in Salem, the Daniel's House Inn is also one of the most haunted places in town! You can book a room to stay at this historic inn, but if you're not in for super low ceilings and rickety floors for your overnight, you can just opt to take a day tour.
Check their tour times here, but they typically offer tours several times a day. This is one of the most meticulously kept historic properties in the Witch City, and it's full of interesting stories, antiques, and furniture.
Want to book a stay at this supposedly haunted Salem inn? Click Here to Check Prices & Book!
Mercy Tavern
148 Derby St, Salem, MA 01970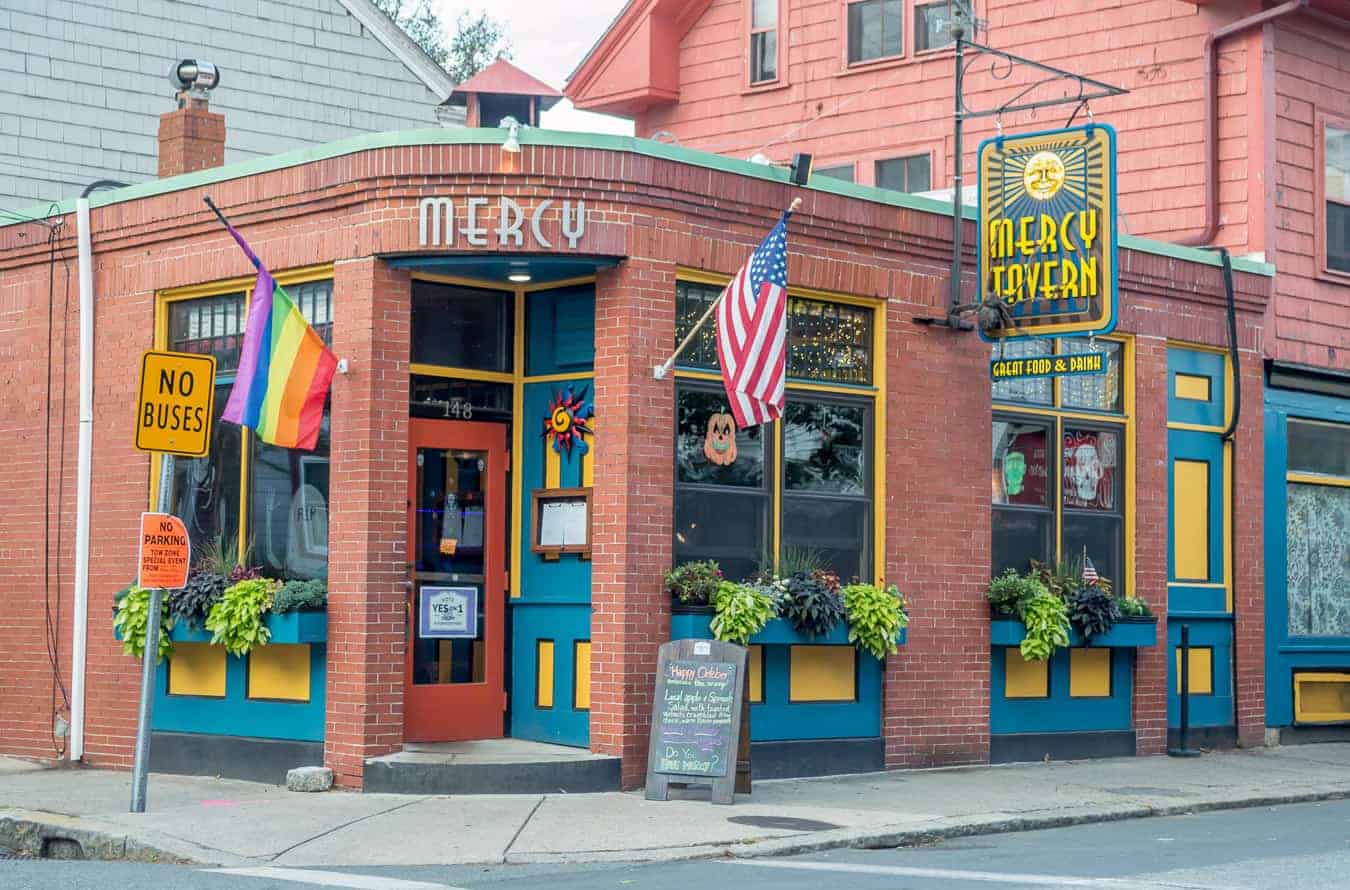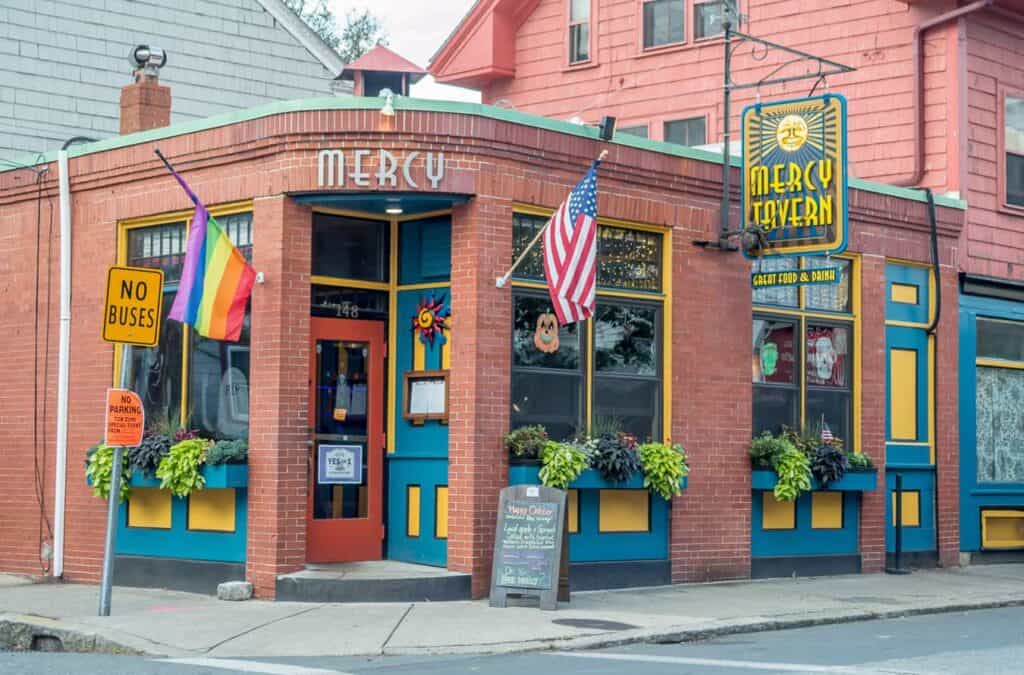 Getting hungry? Head down Daniels street back toward the water until you get to Mercy Tavern at the corner of Daniels and Derby.
This lively gastropub opens for lunch Wednesday through Sunday, but is dinner service only on Mondays and Tuesdays. You can enjoy a delicious meal with a view of the water, and it's the perfect place to grab a bite while on the waterfront.
The House of the Seven Gables
115 Derby St, Salem, MA 01970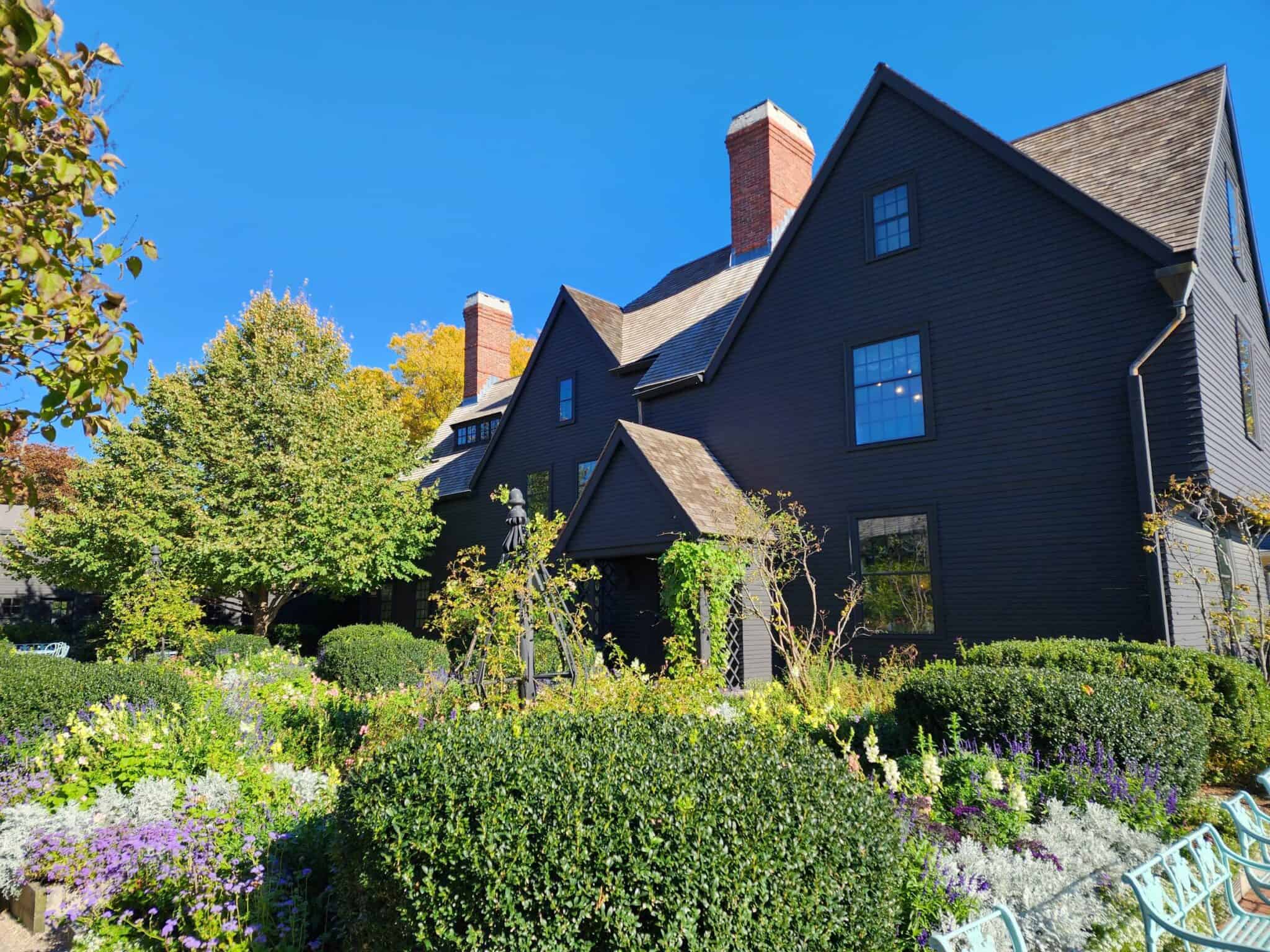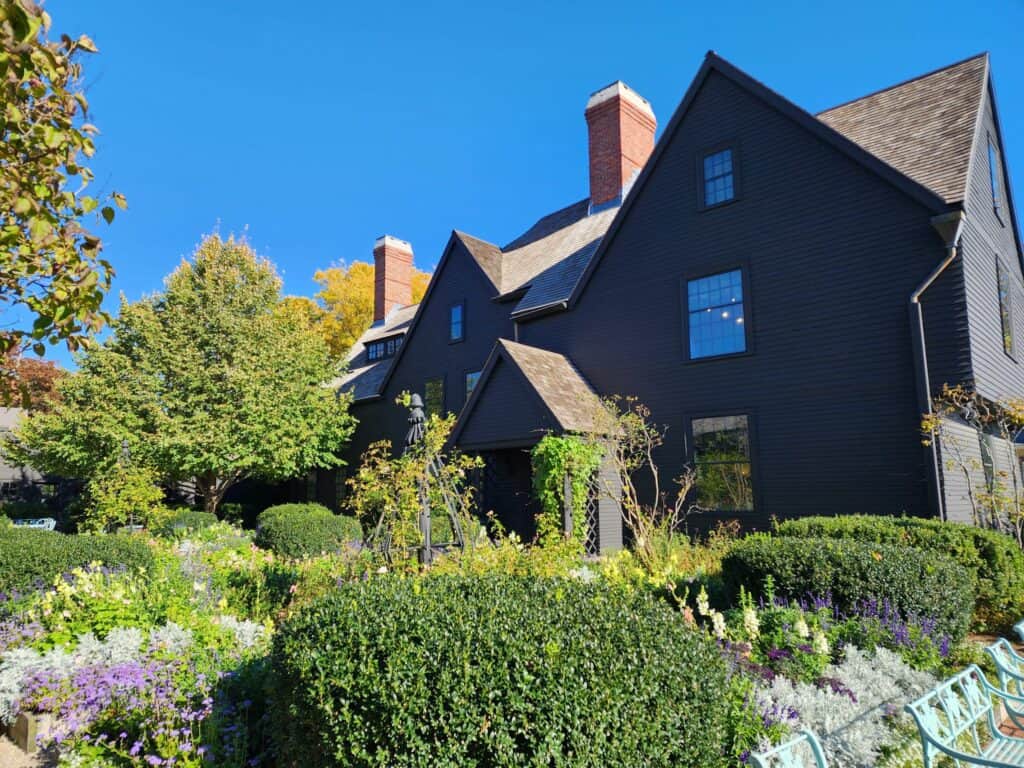 Author Nathaniel Hawthorne made this historic property famous in his novel of the same name, but today the House of the Seven Gables serves as more than just a notable literary sight. This beautifully preserved property is now one of the most popular historical homes to visit in Salem, with a rich history and a very relevant present day influence, often hosting educational events on its grounds.
You can even visit Nathaniel Hawthorne's birthplace, relocated from its original Salem location to be a part of the grounds of the historic House of the Seven Gables. This is one of those definite can't miss things to do in Salem, even if you just get the Grounds Pass and explore from the outside.
Expect to spend at least an hour exploring this historic property.
Ye Olde Pepper Companie
122 Derby St, Salem, MA 01970
Next up, Ye Olde Pepper Companie! The oldest candy company in the country, this is a very cool place to visit in Salem with kids or without.
You'll find historic candy, modern candy, and all kinds of sweet treats in between. This is a scrumptious place to visit, and certainly a good spot to nab a few Salem souvenirs!
Go Sailing on a Historic Schooner
10 Blaney St, Salem, MA 01970
The When and If historic schooner is docked at 10 Blaney St, just a quick stroll over from Ye Olde Pepper Companie. There are other options for boat tours in Salem, but this particular one is popular for their Sunset Sail.
The Sunset Sail is a 2 hour sailing adventure exploring Salem Sound, with adult beverages available for purchase. It could be the perfect way to cap your Salem waterfront explorations.
Click Here to Check Prices & Book!
Sea Level Oyster Bar
94 Wharf St, Salem, MA 01970
How about a little seafood by the sea? Sea Level Oyster Bar is one of the best seafood restaurants in town, with popular dishes like seafood pie, crab cake, and of course, a raw bar full of scrumptious oysters!
Plus, there are lovely water views to accompany your meal. Seafood by the sea is always a must while visiting a coastal town like Salem. After dinner, you can either head back to your room for day 3, or head out to explore some of Salem's nightlife!
Salem Massachusetts Weekend Itinerary – Day 3
Red Line Cafe
188 Essex Street, Salem, MA 01970
If you are lucky enough to get a long weekend in Salem, your 3rd day is going to be even more of the can't miss Salem attractions! To begin your day, let's do breakfast at Red Line Cafe, one of the cutest coffee shops in Salem.
Crepes are their specialty, and you really can't go wrong whether you order one that's sweet or savory. Either way, that and a delicious coffee or tea will fuel you well for your last day in the Witch City!
Witch Pix
172 Essex St, Salem, MA 01970
Have you ever heard of Witch Pix? This super cute photo opportunity is the perfect souvenir to take home from your 3 days in Salem!
They provide the outfits, the backgrounds, and the photography, you just show up ready to put on your best witchy pose and voila! Witch pics to remember your Salem trip by. This experience only takes about 45 minutes.
Witch History Museum
197 Essex St, Salem, MA 01970
Just a few doors down on the Essex Street Pedestrian Mall, Witch History Museum awaits! You'll find there are 15 historical recreations of the now infamous scenes of the Salem Witch Trials, including a walk through a spooky Salem forest and a meeting with Tituba, one of the first to be accused of witchcraft in 1692.
This is a little less museum and a little more attraction, and the kitschiness level is high! However, it's a fun walk through and an interesting little Salem attraction, so we consider it worth a stop during your trip. If kitsch is not your thing at all, you can skip over this one. Tours only last about 30 minutes.
Wicked Good Books
215 Essex St, Salem, MA 01970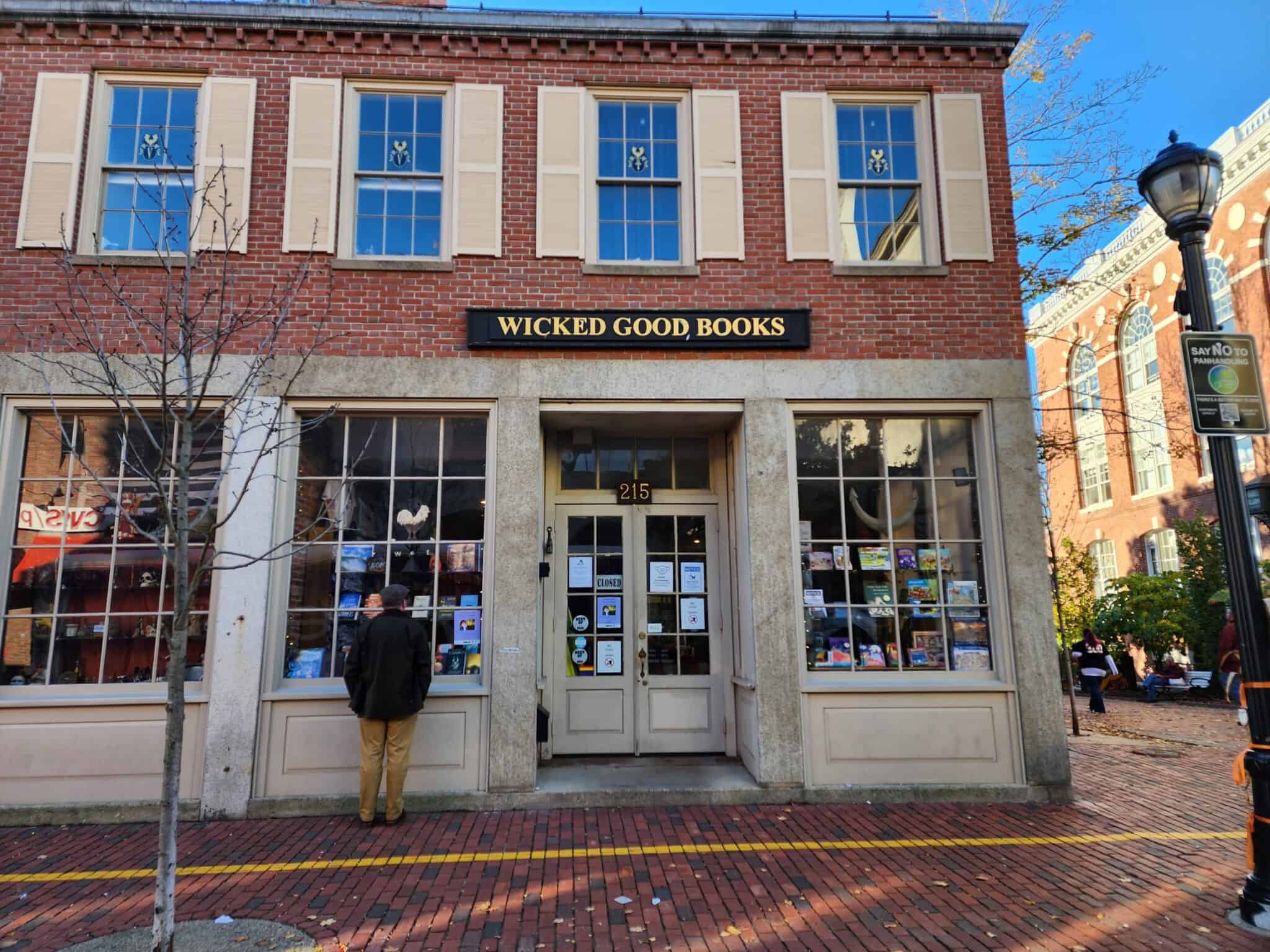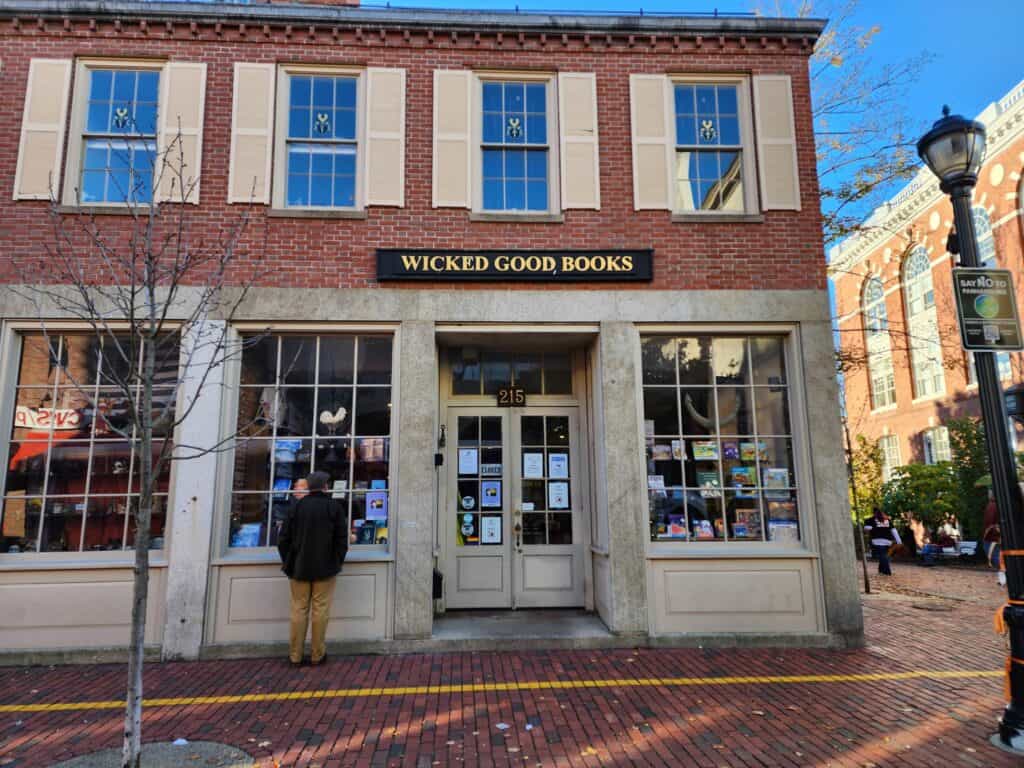 Wicked Good Books is an interesting Salem stop because it's not just a very cool bookstore, but it's also located above now defunct underground tunnels, said to be quite haunted. In fact, this Salem bookstore is reputed to have seen some paranormal activity!
Whether you see anything fishy while you're in this haunted bookstore or not, you will have a chance to maybe find your next favorite read, and that's always a plus, right?
Count Orlok's Nightmare Gallery
217 Essex St, Salem, MA 01970
Open only during spooky season, Count Orlok's Nightmare Gallery is one of the most popular Salem things to do for horror fans. You'll find sculptures, figurines, and memorabilia of your favorite horror characters throughout history.
If you're a horror fan at all, this has to be a definite must visit. It takes about a half hour to an hour to enjoy this interesting attraction.
Bewitched Sculpture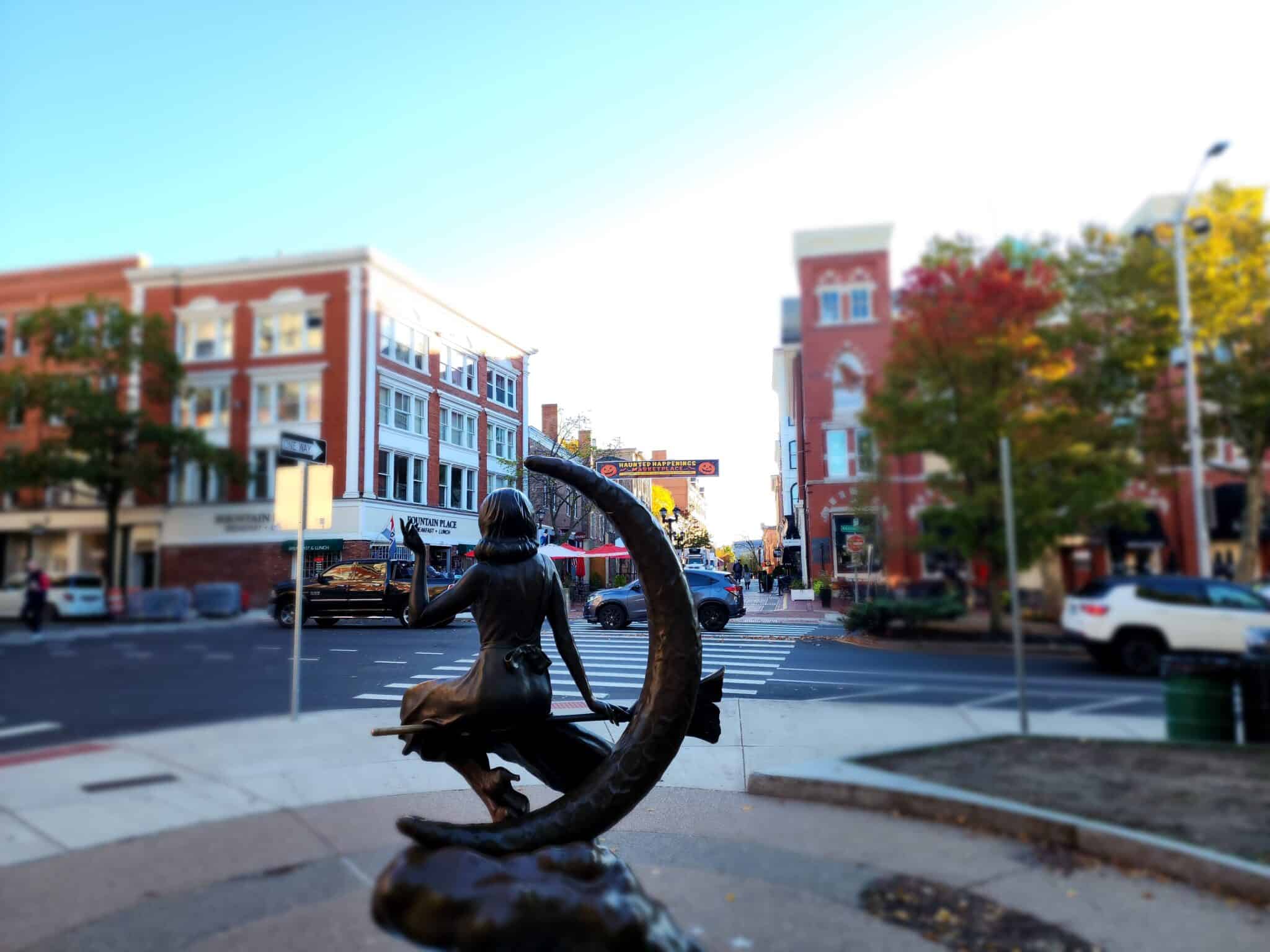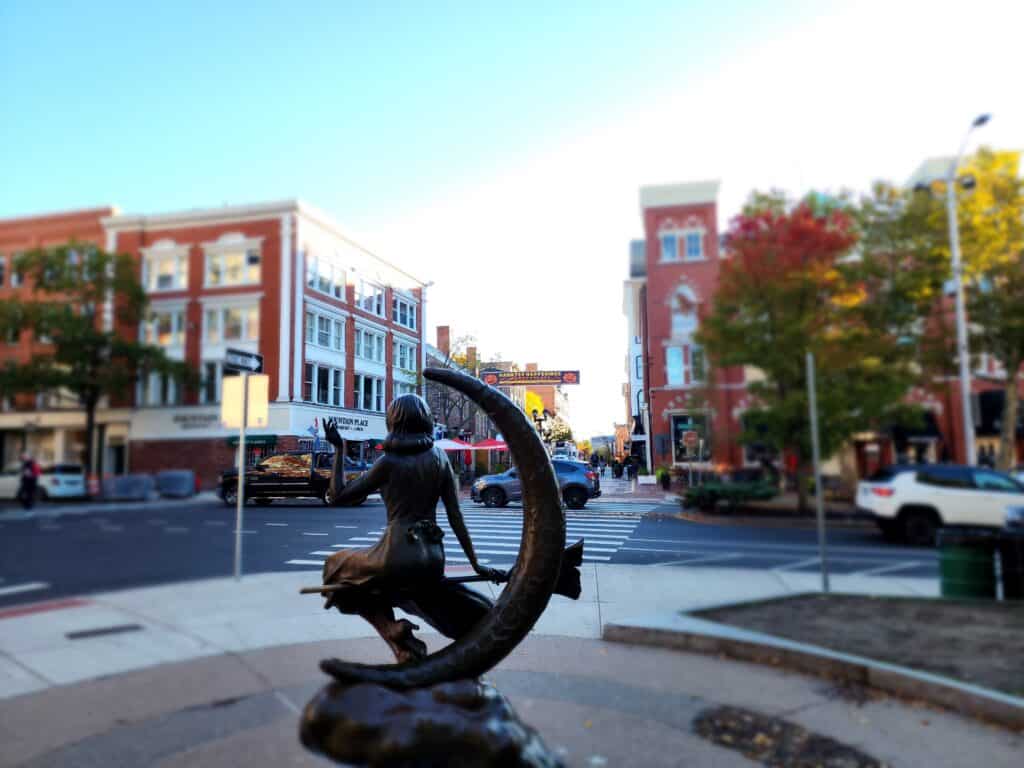 Cross over Washington Street to the Salem landmark that also serves as a meeting place for several popular local tours: the Bewitched Statue! Good ol' Elizabeth Montgomery sits perched on a broomstick in a crescent moon in her role as Samantha, America's favorite TV witch from the 60s.
Grab a pic or two for the 'gram!
Gulu Gulu Cafe
247 Essex St, Salem, MA 01970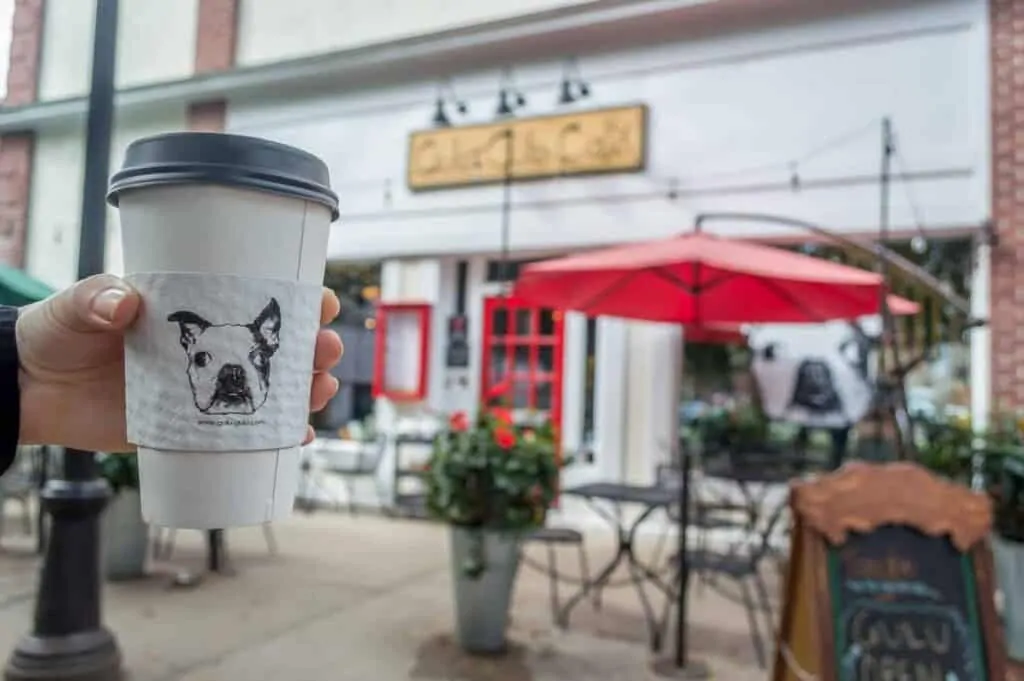 Now it's time to kick back, relax, and enjoy one of our favorite Salem spots: Gulu Gulu Cafe.
The interior of this cafe is very cozy, and one of the best aspects of the menu is breakfast is served all day! So no rush to make it to this Salem cafe, you can order one of their scrumptious egg sandwiches all the way to close.
Sometimes they have live music, and they've got a little bit of everything; coffee drinks, specialty cocktails, beer, wine, and more! It's the perfect way to close out your 3 days in Salem, Massachusetts.
If you've still got more time to hang in Salem, consider going on a self guided tour to see popular Hocus Pocus filming spots like Ropes Mansion. There's also the Salem Witch House, aka the Jonathan Corwin House, another one of the historic and allegedly haunted Salem locations.
Truly, the list could go on and on and fill another day or two, but we think you've got a great start to see the most interesting sights in Salem with the items on this list!
Where to Stay in Salem MA
We've given a couple of suggestions for where to stay in Salem, Massachusetts, but if you're looking for more options, here they are!
Salem is a blast to visit, and whether you follow this Salem MA weekend itinerary to the letter or you skip around a bit, you're bound to have a blast exploring the Witch City. Enjoy!
You might also like: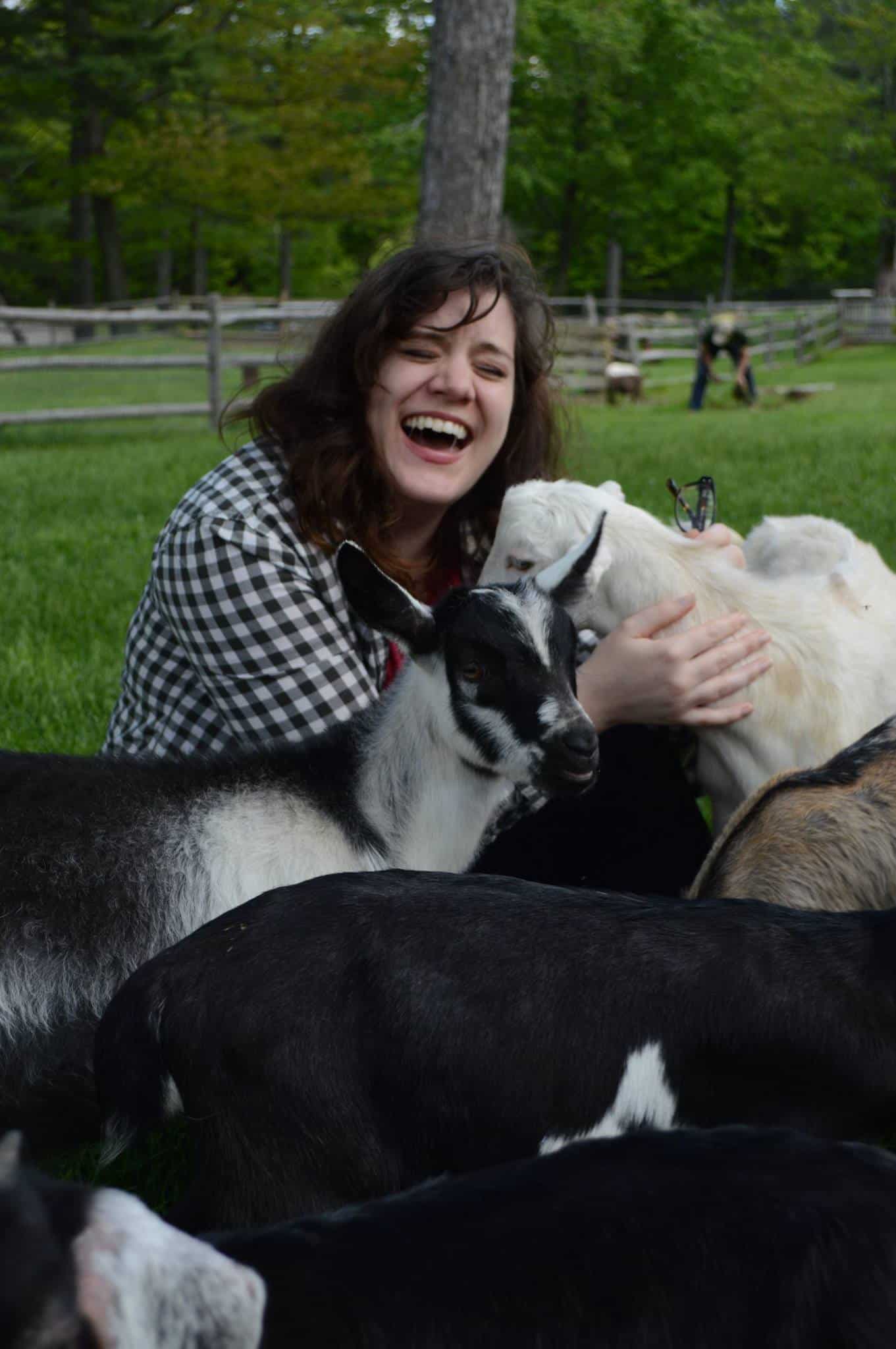 Amy Hartle is the founder and Editor-in-Chief of New England With Love, a comprehensive resource for travel in the New England region. Amy has been exploring New England since 2001. She lived in Vermont for many years and is a graduate of Plymouth State University in New Hampshire. Amy has been writing about travel for over a decade. On this site, Amy aims to share her love of New England and help you to have the best possible adventures!
Amy has been a full time blogger since 2012, and is also the publisher of Two Drifters, where she writes about couples travel and relationships, as well as Let's Adventure Baby, a family travel site. When not traveling the world or creating epic blog content, Amy can be found cuddling with her husband, son, and cats, & drinking a maple latte.