Looking for the best breakfast in Salem? We've got you covered with this round up of the top ten Salem breakfast spots!
There are so many great Salem restaurants to choose from, whether you need to grab a quick bite or want to dine in and take your time, we've got great options here for where to find the best breakfast in Salem!
Best Breakfast in Salem MA
Ugly Mug Diner
122 Washington Street
Locals and visitors absolutely love Ugly Mug Diner and their award winning breakfast! Located just a 4 minute walk from the train station in the heart of historic Salem, this is a perfect option to start your day before you set out to explore all that Salem has to offer!
Breakfast options include standards like waffles, pancakes, french toast and eggs. If you're feeling more adventurous, try the Chipotle Brisket Hash or the Duck Confit & Waffle!
Aside from their delicious breakfast options, Ugly Mug has amazing handcrafted lattes, homemade sodas, and mimosas. Ugly Mug Diner is a solid choice for breakfast in Salem, you won't be disappointed!
Nathaniel's Restaurant
18 Washington Square West
Nathaniel's Restaurant at the Hawthorne Hotel offers amazing food with a 1920's vibe right in the heart of Salem! At Nathaniel's you can expect delicious coffee and food and exceptional service!
Classic benedicts are served with delightful parmesan-crusted fingerling potatoes. You'll also find typical breakfast options such as eggs, breakfast platters, pancakes, french toast, and waffles.
If you aren't much of a coffee person, they also have a menu of "sunrise sips" like mimosa's, an early morning spritzer, or the Hawthorne Bloody Mary.
If you're looking for a tasty Salem Massachusetts brunch, this is it!
P.S. this is also one of the most haunted places in town.
Read Next: Top 5 Most Haunted Hotels in Salem to Book if You Dare!
A&J King Artisan Bakers
48 Central St
139 Boston St
A&J King Artisan Bakers is one of the best bakeries in Salem and has two convenient locations to choose from. You definitely don't want to miss out on A&J King Artisan Bakers for a quick and delicious fresh baked breakfast!
A&J has a fun selection of seasonal treats as well such as Strawberry Cream Sugar Buns in the summer or Spicy Caramel Heart Cookies around Valentine's Day.
You'll always be able to find delightful muffins, scones, croissants, sticky buns, breads, and other baked goods throughout the year. If you're looking for a quick breakfast in Salem, A&J King Artisan Bakers should be at the top of your list!
Gulu Gulu Cafe
247 Essex Street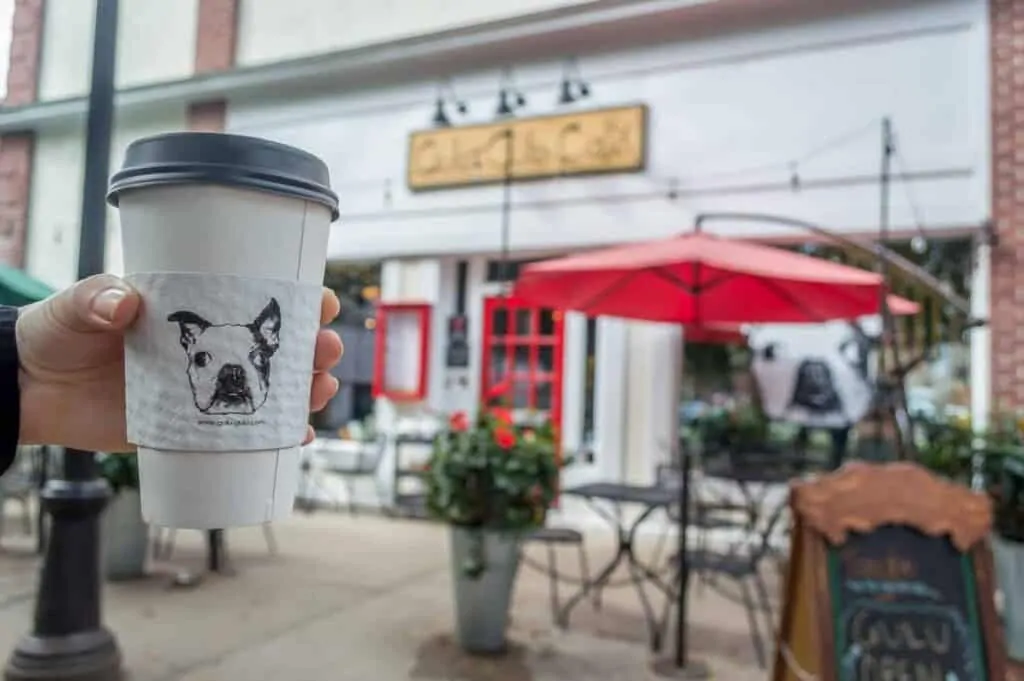 Not an early-riser? No problem, Gulu Gulu Cafe has breakfast all day! Located behind Lappin Park and the Bewitched Statue, this is one of our favorite breakfast restaurants in Salem.
You'll find classic breakfast options like bagels, belgian waffles, croissants, bacon & ham, and delicious scrambled egg sandwiches. Vegan and vegetarian breakfast options are available as well.
Whether you're looking for an early breakfast to start your day or to satisfy your nighttime breakfast cravings, Gulu Gulu Cafe is a delicious option for breakfast in Salem!
Read Next: Top 25 Things to Do in Salem with Kids
Caramel French Patisserie
281 Essex Street
Why not start your morning with authentic French bakery pastries and coffee for breakfast? Just a short walk from the Bewitched statue and the Witch House, Caramel French Patisserie is a delightful and convenient breakfast spot in Salem.
Caramel French Patisserie is an adorable authentic French Bakery and offers a wide variety of croissants, macarons, eclairs, holiday themed creations, and more!
You definitely don't want to skip this if you're in Salem, and there's so much variety you'll probably want to come back for more during your time in Salem.
Red's Sandwich Shop
15 Central Street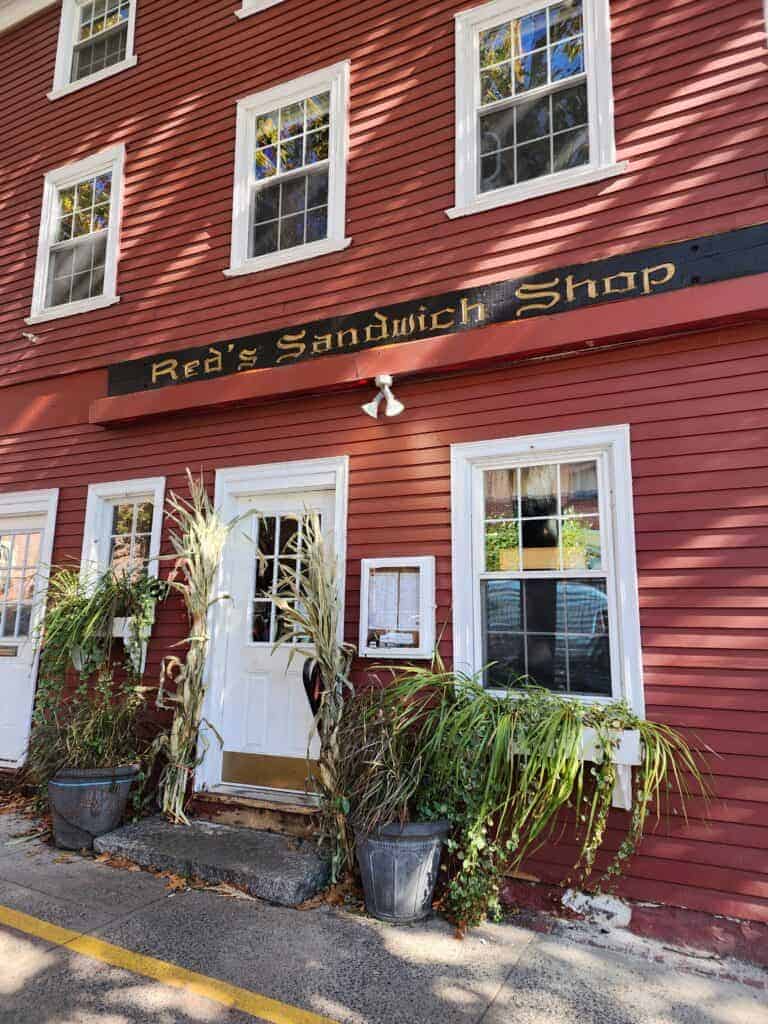 Red's Sandwich Shop offers a menu of classic breakfast options in Salem with interesting twists.
Red's also opens a little earlier than many other Salem breakfast spots, so you'll be able to kick off your day of sightseeing even earlier!
Aside from classic breakfast fare, breakfast specials include "Brekkie" (their version of a full English breakfast), "Pratie Cakes" (potato pancakes), and the "Bama Benny" (their version of corned beef hash).
Breakfast specials are available all day, every day, so you can get your breakfast fix anytime!
Fountain Place Restaurant
232 Essex Street
If you're exploring historical Salem, why not have breakfast in a building steeped in history?
Fountain Place Restaurant is next to the fountain that was the first water pump for the city that was written about by Nathaniel Hawthorne.
Also, the building was home to the Henry Ives Bookstore that published the first board game, so that's pretty cool.
Fountain Place has all your breakfast favorites and serves up very generous portion sizes. You'll find omelettes, waffles, a variety of eggs benedict, and even hash stuffed grilled cheese.
Fountain Place is your pick if you want a small hometown restaurant with hearty breakfast options!
Red Line Cafe
188 Essex Street
If you're looking for a hot cup of coffee and a delicious pastry in a cozy cafe, Red Line Cafe is the place to check out!
Red Line Cafe has a simpler smaller menu than some of the other options on this list, but the options they do have are stellar! You'll find delicious sweet crepes, bagel breakfast sandwiches, and croissant breakfast sandwiches.
There's a reason locals and tourists are eager to frequent the Red Line Cafe multiple days in a row!
Coffee Time Bake Shop
96 Bridge Street
Looking for a quick grab and go breakfast? Coffee Time Bake Shop is the perfect go to for your coffee and quick breakfast!
Coffee Time has wonderful breakfast pastries like unique hand cut donuts, scones, biscuits, croissants, danish, and bagels. Depending on when you go, keep an eye out for seasonal offerings as well such as apple cider donuts, traditional polish paczki, and king cake!
Coffee Time Bake Shop is a solid option to start your day off with something delicious and easy to take with you while you're exploring Salem!
The Little Depot Diner
1 Railroad Ave, Peabody
Just outside of Salem proper, you'll find a super cool little cozy diner with tons of character! The Little Depot Diner is worth the quick drive from Salem.
The diner is built in a 1929 15 stool Worcester Lunch car! Much of the decor is original from 1929 and the retro blues diner vibe is definitely a unique experience. Locally, the diner is known as the "Cheers of diners."
Menu offerings include interesting options like the "Johnny Cash Hash and Eggs" and "The Beatles Benedicts," perfectly in line with that bluesy, retro vibe.
If you want an amazing breakfast and a memorable experience, it's worth the drive to The Little Depot Diner!
Hopefully, you'll find something on this Salem breakfast restaurants list that is exactly what you're looking for. There's so much to do: you've got spooky ghost tours, Hocus Pocus filming locations, walking tours, and so much more, you're definitely going to be working up an appetite!
Whether you're only in town for one day or you've got a whole weekend, enjoy your Salem trip!
You might also like: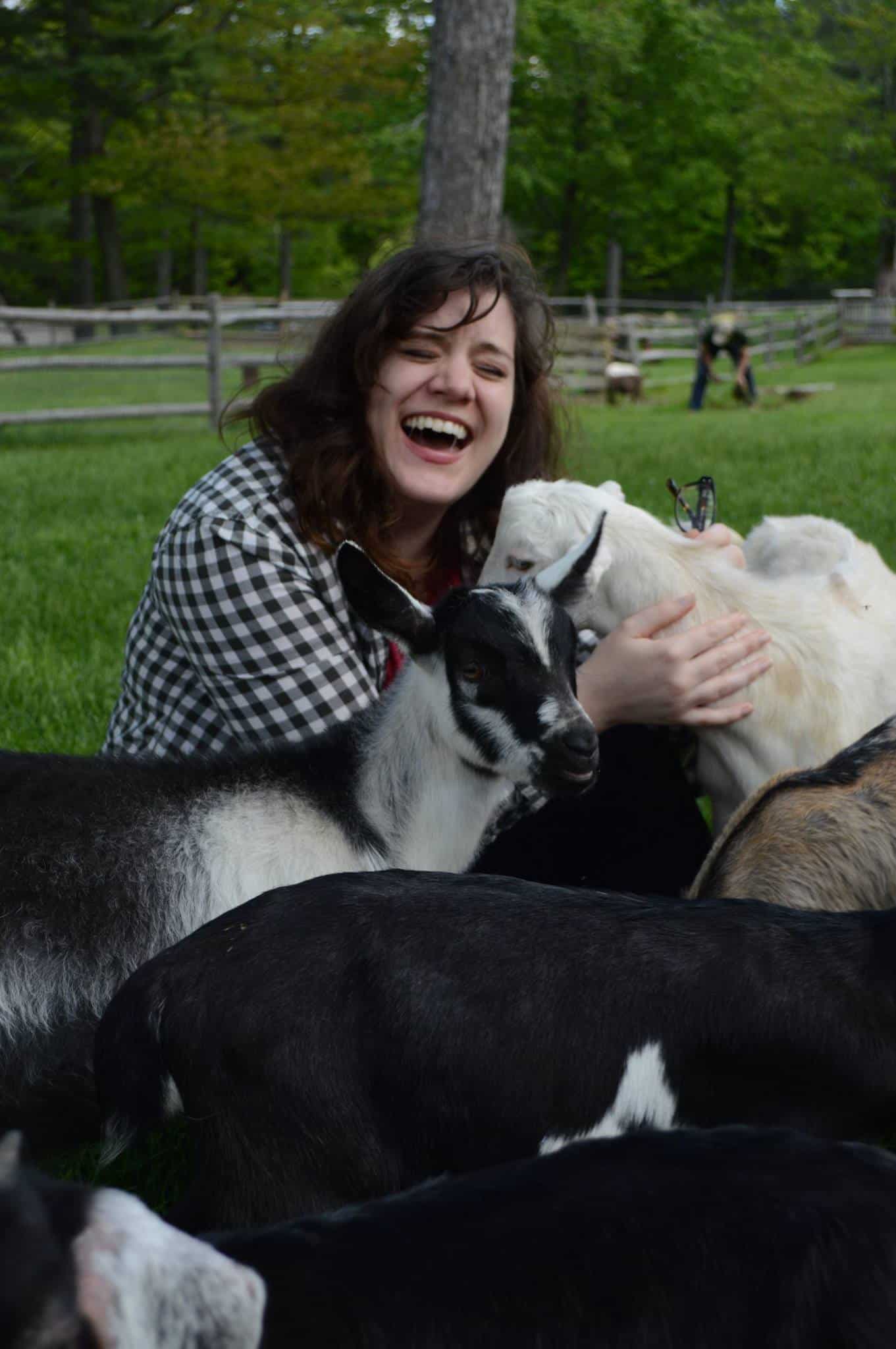 Amy Hartle is the founder and Editor-in-Chief of New England With Love, a comprehensive resource for travel in the New England region. Amy has been exploring New England since 2001. She lived in Vermont for many years and is a graduate of Plymouth State University in New Hampshire. Amy has been writing about travel for over a decade. On this site, Amy aims to share her love of New England and help you to have the best possible adventures!
Amy has been a full time blogger since 2012, and is also the publisher of Two Drifters, where she writes about couples travel and relationships, as well as Let's Adventure Baby, a family travel site. When not traveling the world or creating epic blog content, Amy can be found cuddling with her husband, son, and cats, & drinking a maple latte.