---
*Links in this article may be affiliate links, from which we may earn commission. See our
Privacy Policy
for full details.
---
Trying to figure out where to eat in Salem? Maybe our list of the best restaurants in Salem MA can help!

This little waterfront town offers plenty of opportunities to dive into the historic haunted lore and witchy associations of Salem with ghost tours and lots of witch-related things to do and see in October, but there is even more to Salem than just spooky stuff to see and do.
For example, Salem also has a pretty awesome little restaurant scene; this waterfront town is definitely known for its seafood, of course, but that's not all there is to find in Salem restaurants!
There are a ton of great places to eat in Salem, so check out our list of the best Salem MA restaurants to find your next favorite place to eat in Salem.
Village Tavern
Village Tavern serves up a healthy helping of New England staples like creamy New England Clam Chowder and buttery Lobstah' Mac n Cheese alongside hearty cuts of meat like their signature slow-roasted Prime Rib. Also on the menu at this restaurant in Salem is a weekly rotation of game nights, live entertainment, and a game room that features skee ball, air hockey, dartboards, pool tables, and more!
Village Tavern has a full bar and indoor and outdoor seating, so whether you're in the mood to quietly sip your cocktail as you eat your Prime Rib French Dip and people watch from your open-air table, or you'd rather drink your beer and munch on your 10-Spice Dry Rub Tavern Wings while the game plays in the background, you can do it all at this Salem restaurant on Essex.
PS this is actually one of the top bars in Salem!
Howling Wolf Taqueria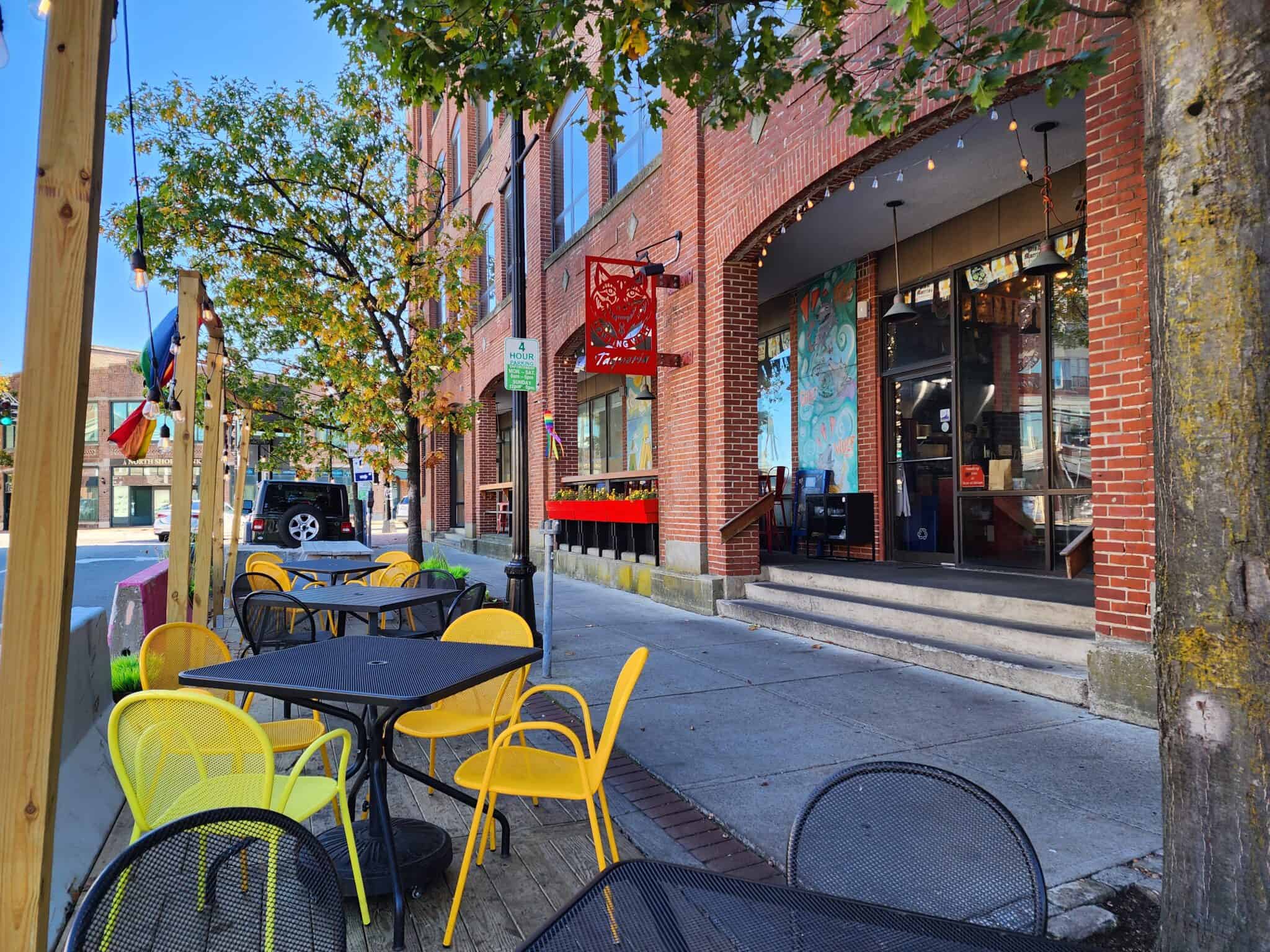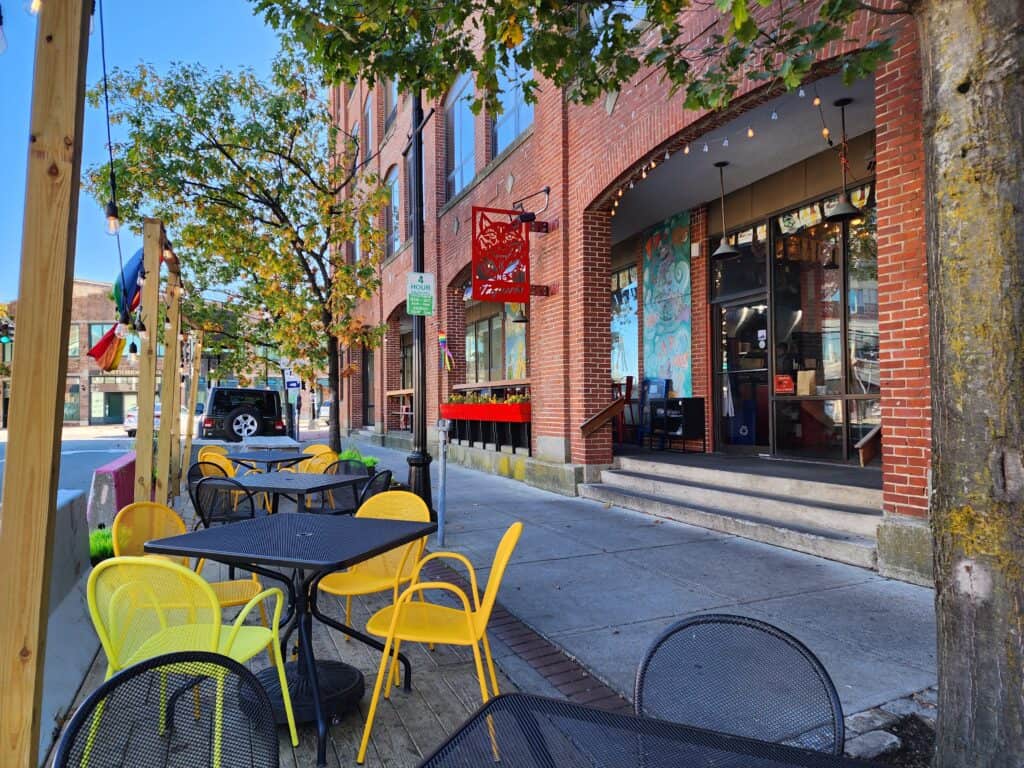 Looking for a good Mexican restaurant in Salem MA? Then you need to check out Howling Wolf Taqueria on Lafayette, where flavorful and fresh made-from-scratch Mexican cuisine is served in a sleek space punctuated with colorful and creative art pieces that add to the ambiance of this southwestern fare restaurant. Hand-made flour and corn tortillas mean there is no such thing as a bad taco or burrito at Howling Wolf Taqueria.
Tortilla chips are also fried up fresh throughout the day, so even the chips and salsa are out to impress. Whether you decide to sit inside or out on the adorable patio of this Salem restaurant, don't forget to order up an expertly-mixed specialty margarita to accompany your Howling Wolf Burrito; word on the street is that Howling Wolf makes a mean Jalapeno Margarita… Margs and Mexican really never get old, do they??
O'Neill's Pub & Restaurant
Got a craving for a pint of Guinness? If you don't already, walking through the door of O'Neill's Pub might just put you in the mood for a little taste of everyone's favorite Irish stout! You'll find standard pub fare served up in a fun atmosphere that will have you feeling the "wicked good craic" O'Neill's says they strongly believe in (translation: great conversation and entertainment!) They take their craic seriously, too, with a full calendar of live entertainment, trivia nights, game nights, and more!
Irish pub classics like Bangers & Mash and Shepherd's Pie accompany New England staples like Clam Chowder, and if it's a well-made cocktail you're after, you can order from the full bar or make it yourself at the super hooked up Build Your Own Bloody Mary station! You'll be feeling like you've got a little Luck o' the Irish yourself after dining in Salem MA's O'Neill's Pub & Restaurant on Washington.
Ledger Restaurant
Another Salem restaurant on Washington, Ledger Restaurant is a must-visit restaurant with a uniquely interesting take on their fabulous fare; not only is everything masterfully hand-made in-house, but Ledger also takes traditional 19th-century favorites and updates them with a lot of 21st-century love. For example, wood-fired grills are used to artfully infuse meats and vegetables with a smoky richness that can only be found in wood-fired grills, so that Ledger Double Burger you've ordered? It's going to be in a class of its own!
A top brunch spot in Salem, Mystery Mimosas are a major hit around town. Plus, Ledger is located in a historically significant building, because it was formerly the second Savings and Loan bank opened in the US! The exposed brick, the teller window with its black grate window, and the visible bank vault door that now houses the walk-in cooler are some of the neat little historical touches that this Salem restaurant has retained that will have you reveling in both the deliciousness of the cuisine and the uniqueness of the setting.
Red's Sandwich Shop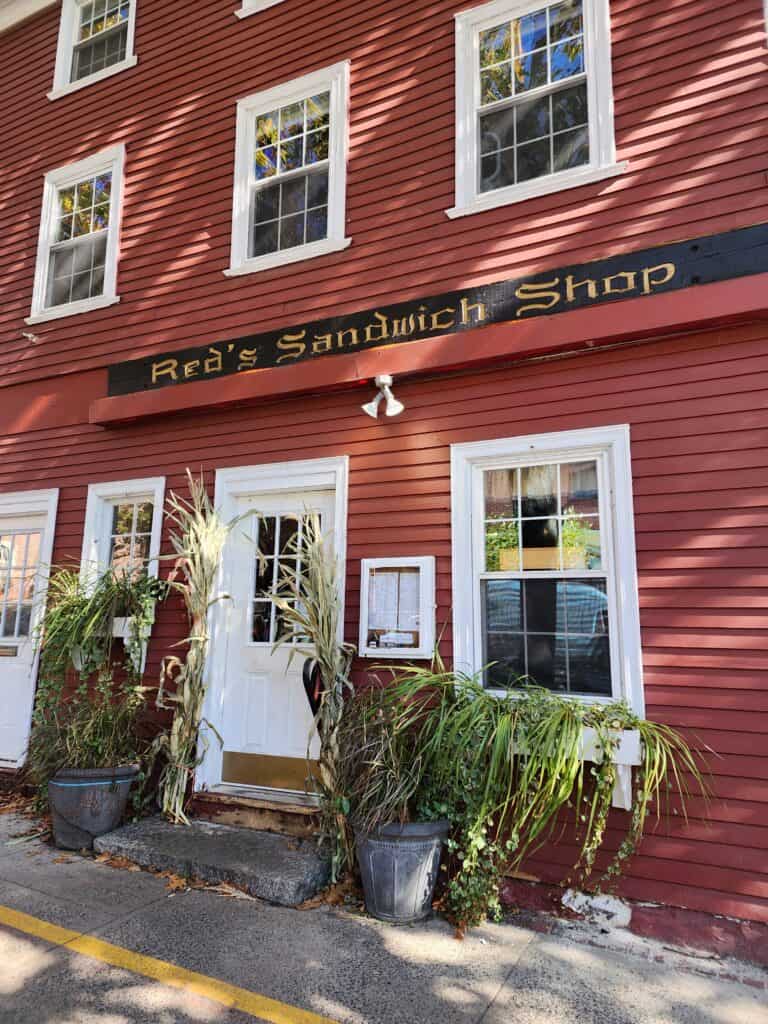 Winner of the "Best Breakfast on the North Shore" for 24 years in a row, Red's Sandwich Shop on Central is both a local Salem favorite and a tourist draw, with Red's Sandwich Shop history including having previously been the Old London Coffee House, where the Revolutionary forefathers met often in the 1700s. Red's menu is comprised of traditional American breakfast and lunch fare with a New England flavor, of course, with everything prepared fresh to order and in generous portion sizes with budget prices!
Open from 7am-3pm daily, Red's Sandwich Shop is a brunch favorite, but whether you're in the mood for a hearty Kielbasa & Cheese Omelet or the traditional Roasted Turkey Dinner, consider ordering the Ultimate Bloody Mary to go along with… it's said to pair nicely with just about everything on the menu at this top Salem place to eat!
Flying Saucer Pizza Company
Gourmet pizzas served with a side of geeky fun? SIGN ME UP! Flying Saucer Pizza Company is the go-to in Salem for delicious 'za in a fun atmosphere, with Flying Saucer Pizza describing their schtick as "nerdvana," with décor and food themes that include Star Wars, Doctor Who, and basically all things sci-fi, like their Spaceballs: The Musical meatball appetizer, their Soylent Green spinach and artichoke dip, and their major crowd favorite specialty pizza, the Nick Fury, a super spicy pizza with cream sauce, buffalo chicken, sriracha, mac n cheese, bacon, and scallions… sounds amazing, right?
They have lots of vegan, vegetarian, and gluten-free options at this Salem pizza place too, so there's really something for everyone here. They are located on Washington Street, right behind the Bewitched Samantha statue, and there is outdoor seating available also. The theme is cool, the food is fabulous, and oh yeah, did we mention there's a full bar too?
The Tavern at Hawthorne Hotel
Located at what is considered both one of the best places to stay in Salem and one of the most haunted locations in town, The Tavern at Hawthorne Hotel gives off more quintessential New England tavern vibes than it does creepy haunted vibes! Oak-paneled walls and a wood-burning fireplace make The Tavern an irresistibly cozy Salem restaurant for a nice meal in the gorgeous Old-World dining room or a quick cocktail at the beautiful bar.
The quality of food is well worth those Restaurant-At-The-Hotel prices, especially if you choose to sample their hearty signature Seafood Chowder with shrimp, scallops, haddock, clams, and potatoes… YUM! Plus, you really never know… maybe you'll end up seeing or sensing a little of the paranormal activity that makes The Hawthorne one of the Top 20 Haunted Hotels in America. "There I was, enjoying my seafood chowder when…" Wouldn't that make for a great Salem story to tell when you get home??
Read Next: Top 5 Most Haunted Hotels in Salem MA to Book if You Dare!
Kokeshi
If you're looking for a great Asian restaurant in Salem, Kokeshi serves up bold and flavorful Asian street food staples and their signature selection of delicious ramen. Located on Lafayette, Kokeshi also has a storefront at their Italian sister restaurant, Bambolina on Derby. Kokeshi's vibe is very hip and welcoming with an industrial, yet colorful, visual aesthetic, but as cool as their vibe is, their food is clearly still the star of the show.
Appetizer options like savory Osaka Street Corn, and Ramen choices like Pork Belly and Colonel Sanders Fried Chicken will have you feeling the commitment that the owners have made to infusing unique flavors with versatile Asian staples, and why they believe Kokeshi is "comfort food with soul" at its finest! If you're feeling daring, try out the Octopus Hot Dog with some of K's Kitch'n Sriracha… you might just find your new favorite restaurant in Salem!
Turner's Seafood at Lyceum Hall
Turner's Seafood at Lyceum Hall is one of the best Salem MA restaurants, no doubt about that, and no visit to the waterfront town of Salem could be complete without swinging by Turner's for some of the freshest, most delicious seafood you've ever had. As the folks at Turner's like to say, "Anything fresher still swims!"
This Salem restaurant menu of classic New England seafood staples includes essentials like Maine-style cold Lobster Rolls and an award-winning Lobster Bisque that brings all the boys- and girls- to their yard. Turner's is one of those places where both the indoor and outdoor seating capture that historical New England vibe with beautiful exposed brick and tiled ceilings indoors and a lovely little bistro setup in the courtyard. In the mood for seafood? Turner's Seafood at Lyceum Hall has got to be on that list!
All Soul's Lounge
How does vintage cocktails, gourmet grilled cheese, and an old school jukebox sound? If this word combo intrigued you, you're not alone because All Soul's Lounge on Derby is one of the top places to eat in Salem MA! Some of the gourmet grilled cheese combos include Blue & Bleu with provolone, bleu cheese, onion, and blueberry compote, or the Sweet Salt with cheddar, fontina, applewood smoked bacon, and hot honey. I mean, WOW.
Also on the menu are dips and fancy hot dogs, but beware there is no kids menu, high chairs, or kids cups here so if you're looking for a place to eat in Salem with kids, this probably isn't it! But for adults looking for a gourmet hot dog and a fancy vintage cocktail? It's a definite yes!
Goodnight Fatty
K, so this isn't a traditional restaurant in Salem, this is a cookie-centric bakery that offers breakfast on Sunday morning and cookies at night on the weekend, but Goodnight Fatty is such a cool Salem spot to eat, they had to be mentioned! A fatty is the term they use for their cookies which are quite robust and overflowing with cookie goodness. Their Sunday morning offerings are called a chubby, and these are just little "breakfast bundles" of egg, cheese, and other scrumptious ingredients.
Goodnight Fatty is conveniently located just around the corner from the Witch Museum, but the really cool draw of Goodnight Fatty (other than their delectable cookies) is that they will deliver these fresh baked goodies to you anywhere in Salem from 5-11pm Friday and Saturday, and Sunday 2-10pm! So wherever you choose to stay in Salem, remember Goodnight Fatty when you get that late night weekend sweet tooth!
The Adriatic Restaurant & Bar
Looking for an excuse to get dressed up for dinner? The Adriatic is it! This beautiful Salem restaurant offers warm, polished vibes and an incredible menu filled with fresh, beautifully-prepared Mediterranean cuisine, so come ready to spend some time enjoying the impeccable service and the delicious offerings of this Washington Street favorite.
Seating is also available on their lovely street-side patio if you prefer to dine al fresco and people watch. Pair an expertly mixed cocktail or bottle of wine from their extensive wine list with the creamy Risotto with Shrimp, a house favorite. Certainly, do eat to your heart's content, but don't forget to save room for The Adriatic's specialty Tiramisu!
Gulu Gulu Cafe
This self-described artisan sandwich shop and craft beer bar on Essex showcases local art and music alongside their tasty offerings. Gulu Gulu Cafe is a great spot to grab lunch in Salem, with light faire like soups, sandwiches, and their ever popular crepes! With options like Whatever Floats Your Goat featuring grilled chicken, goat cheese, tomato, and pesto, then garnished with a little arugula and balsamic, you can probably see why.
You'll also find great gluten free and vegan options at this Salem cafe, including options for gluten free and vegan mac n cheese, yum! Drinks include specialty coffees and teas and of course, a wicked craft beer assortment. If you're looking for unique places to eat in Salem, MA where you can sample a little local art while you're at it, check this Salem restaurant out!
Sea Level Oyster Bar
Possibly the best restaurant Salem MA has, Sea Level Oyster Bar on Wharf Street is known for, you guessed it, seafood! Of course you'll find fantastic oyster bar offerings at Sea Level Oyster Bar, but you'll also find crowd favorites like the Fisherman's Platter, the Baked Seafood Pie, a clambake, and so much more, but you cannot leave this Salem restaurant without ordering the Chowder Fries!
These are fries smothered with clam chowder, steamed littlenecks, and cheddar cheese, and if you are a seafood lover (you really should be, if you're at this Salem restaurant!) you are going to absolutely adore them! They also have a great drinks menu and awesome outdoor seating with those wonderful waterfront views, so if you've been looking for Salem MA restaurants on the water, here ya go!
The Ugly Mug Diner
Looking for a great diner type restaurant in Salem Massachusetts? The Ugly Mug Diner is not only one of the best restaurants in Salem, but it's also a great option if you're looking for kid friendly Salem restaurants. You've got typical diner breakfast and brunch options like pancakes, waffles, egg sandwiches and such, and not so typical offerings like the This Ain't No Chicken and Waffles which features a waffle topped with duck confit and candied pecans, then served up with a Bourbon Maple Syrup Reduction.
Open seven days a week from 8am to 2pm, The Ugly Mug Diner should definitely be at the very top of your list for breakfast, brunch, and lunch options in Salem MA!
This historic waterfront town is one of the best places to visit in Massachusetts, and all of the fantastic places to eat in Salem Massachusetts is just a tiny piece of that, we know! But while you're in town, we hope you get a chance to check out as many of these top places to eat Salem offers. Enjoy your Salem restaurant tour!
Salem's town motto is "Still making history," and now it will be a part of your history, too!
You might also like:
---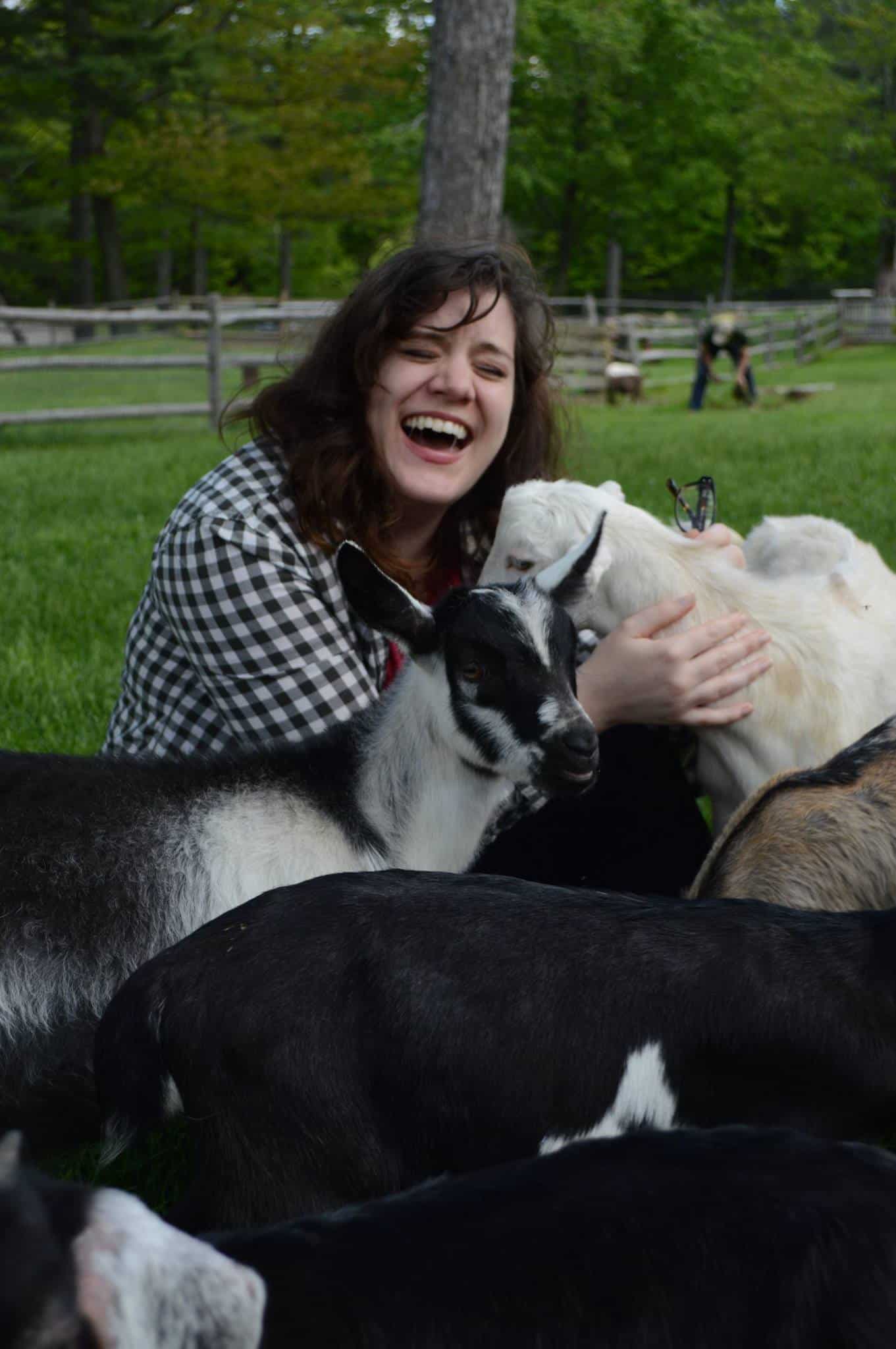 Amy Hartle is the owner and editor of New England With Love, a comprehensive resource for travel in the New England region. Amy lived in Vermont for 15 years, attended Plymouth State University in New Hampshire, and continues to travel regularly around the entire New England region. On this site, Amy aims to share her love of New England and help you to have the best possible adventures!
Amy has been a full time blogger since 2012, and is also the publisher of Two Drifters, where she writes about couples travel and relationships, as well as Let's Adventure Baby, a family travel site. When not traveling the world or creating epic blog content, Amy can be found cuddling with her husband, son, and cats, & drinking a maple latte.