*This site uses affiliate links; if you make a purchase through these, I may receive a small commission at no cost to you.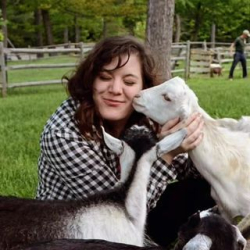 Latest posts by Amy Hartle
(see all)
Halloween in New England is a unique experience you won't find anywhere else. From the spooky hauntings in Salem, Massachusetts, to the eerie coastal towns of Maine, you can enjoy the wonders of fall with a mix of frightful fun.
Whether you're looking for family-friendly events or after-dark thrills, there's something for everyone this Halloween season in New England. In this blog post, we'll explore some of our favorite events and attractions across the region so you can make the most of this magical time.
Here are the best Halloween events in New England!
Halloween Events in New England
Halloween Events in Vermont
Queen City Ghostwalk in Burlington
One of the best Vermont Halloween events is the Queen City Ghostwalk! This takes place in Burlington and has been going on since 2002, so you could pretty much say it's a tradition at this point.
The tours begin in 2023, and tickets should be purchased in advance. The tours are fully outdoors. It's consistently rated as one of the best spooky outdoor guided tours, and the tour guides are well-loved.
Read Next: 15 Haunted Places in Vermont: Ghosts & Paranormal Activity 👻
Hathaway Farm Corn Maze in Rutland
Head up north to Rutland, Vermont, to enjoy one of the state's best corn mazes. Hathaway Farm Corn Maze is open during the fall months where you can go out and try to escape the maze on your own.
For a fun time, get involved in the Maze Scavenger Hunt. It's always a fun challenge to partake in! Be sure to also stop by the on-site farm store where you can purchase some of the best maple syrup.
Dead North Farmland of Terror in Danville
Dead North Farmland of Terror in Danville has been going on for years! This is definitely one of the spookiest events, as you'll walk for about a mile through straight terror. Get spooked as you meander through a dark cornfield plastered with special effects, animatronics, and more.
Some years, there's even a short ride included. If you get hungry when spooked out, don't worry. There's normally food available for purchase before and after the event – last year, they had treats from the Boy Scouts.
Note that this is definitely one of the scarier Vermont attractions. It's not recommended for younger children.
Nightmare Vermont in South Burlington
Head to South Burlington for one of Vermont's best Halloween attractions at Nightmare Vermont. This is a charity Halloween event that is a combination of many things – think combat, interactive spookiness with special effects, and even an immersive theater. It started in 2004 and has been an annual event ever since.
Nightmare Vermont began to help support local charities, and in 2021 they even donated $30,000+ to the Champlain Vally Expo. In the past, they've also supported groups like Women Helping Battered Women and hurricane relief.
Reeve's Haunted House in Essex
Essex, Vermont, is home to Reeve's Haunted House. It's recommended for those 10+ and they often have an early hour day where you can come earlier and experience it without any actors. (Which is perfect for kids!) When the actors are in place, though, it can get really freaky.
This is a self-guided haunted house, and it is a tour through more than ten different basement rooms that have been decorated. Prepare to be spooked!
Halloween Events in New Hampshire
White Mountain Oktoberfest in Lincoln
That's right – New Hampshire has it's own White Mountain Oktoberfest. This Halloween event is anything but spooky but always takes place during the month of October. It's normally a 3-day weekend special event in Lincoln.
If you love German food and beer, then this is an event you won't want to miss. You'll be able to get close to the Bavarian traditions (or as close as you can get from New England) and enjoy tasty brats and beer. What more could you want?
Brew Festival in Bretton Woods
Brew Fest is an annual event in Bretton Woods. It's another Halloween event that isn't super spooky but still deserves a spot on this list because it has all the fall vibes. During this festival, you can try tasty drinks from many of New England's best breweries.
Historically, the first 100 people to show up also get a commemorative glass. The event normally takes place during the month of November.
Read Next: 13 Most Haunted Places in New Hampshire: Paranormal Activity
Haunted Acres in Epping
Head to Epping to take part in Haunted Acres! They have a new theme every year, and in the past, they've had a graveyard theme and even an Area 52 theme. How fun is that?
During this event, you can explore haunted mazes, have drinks at the beer garden, or even ride a super long zip line. The entire area is spooky and dark, so hopefully you don't get even more frightened when the lights are off! Don't forget to take part in the haunted houses.
Fright Kingdom in Nashua
One of the best New Hampshire Halloween events is Fright Kingdom in Nashua, New Hampshire. This normally takes place in October and is one of the state's best haunted house attractions, so you don't want to miss it.
Tickets should be purchased in advance if you plan on attending. Some fun things they've done in the past include coffin rides, Krampus meetings, and of course, the haunted houses. (There's normally 5 haunted houses going on at the same time – how fun is that?)
Halloween Events in Massachusetts
Halloween Annual Craft & Vendor Fair in Chelmsford
If you want a less spooky Halloween event, make your way to Chelmsford, Massachusetts. The Halloween Annual Craft & Vendor Fair is the perfect place to go where you can shop from more than 20 local vendors. Admission is normally free and there's a cash bar and raffle table.
For fun, kids can dress up in costume and trick or treat at the different vendor stands. Usually, the first 100 kids or so will receive a complimentary gift, like a trick-or-treat bag or something else along those lines.
Haunted Happenings in Salem
Salem is the place to go for Halloween events in Massachusetts. You can't miss out on the Haunted Happenings, which have been going on since 1982! The small town of Salem normally gets more than 500,000 visitors during this month, so they put on many special events.
With Haunted Happenings, stop by local museums, get spooked in haunted houses, go to special events, attend a night walking tour to get frightened, or even attend a seance or get a psychic reading.
Factory of Terror in Fall River
Fall River, Massachusetts, has its own special event with Factory of Terror. This is considered to be one of the best and scariest haunted houses, and sometimes they even do a special full-contact event if you're into that and don't mind extreme darkness and claustrophia.
To save money, be sure to buy your ticket online instead. You can normally save about $5 per ticket by doing this.
Fright Fest in Six Flags New England Agawam
Six Flags across the country always get involved in some spooky events, and Fright Fest at Six Flags New England Agawam is no exception. During this event, go through scare zones (who knows, you might even see a ZOMBIE), get spooked in haunted houses, or even go on some spine-tingling rides in the dark.
Festival of the Dead in Salem
Another of Salem's best Halloween events is Festival of the Dead. This is an annual event put on by Salem Warlocks where you will "step through the veil into a realm where spirits await." How spine-chilling!
With this event, there are daily psychic readings at the witches' market, a Halloween ball, and even story sharing circles at The Mourning Tea.
The Official Halloween Bar Crawl in Boston
Obviously, this list of Halloween events in New England wouldn't be complete without including one of the things Boston does best: a bar crawl. Throughout October, there are many pub and bar crawls throughout the city where you can go and jump from bar to bar!
Usually, you can dress up in fun costume with this event as you try out local brews from pub to pub. You may even be able to try a special Halloween ale or two!
Read Next: 13 Haunted Places in Massachusetts: Paranormal Hot Spots 👻
Halloween Events in Maine
Halloween Bar Crawl in Portland
Another city that has Halloween bar and pub crawls is Portland, Maine. In fact, the 6th annual one will be happening in 2023. The event normally takes place during Halloweekend, and be sure to don your best costume!
Fright at the Fort in Prospect
Fright at the Port is one of the more unique haunted attractions in Maine! This one takes place in Prospect, and after a two-year hiatus, returned in 2022. Recently, the theme was Stephen King!
This is a super scary haunted house that's great for families and friends. Admission is normally $10 per person.
Trail of Terror at Aquaboggan Water Park in Saco
Another place that does great Halloween festivities is Aquaboggan Water Park in Saco, Maine. They have their own haunted walk, Trail of Terror. It's usually rated as very scary and is best for kids age 9 and up. There's normally an entire story made up to go along with the theme of the walk that year.
Read Next: 13 Creepy Haunted Places in Maine: Ghost Stories & Legends 👻
Farmington Fright Fest in Farmington
Farmington, ME, has its own Halloween event called Farmington Fright Fest. During this event, there's usually three different haunted houses that you can enter, all for just one entry fee price. Plus, there's many vendors on-site that you can purchase fun things from.
Halloween Events in Rhode Island
Seven Cedars Farm Haunted Hayride in Smithfield
Seven Cedars Farm has its own Haunted Hayride that's tons of fun if you like being spooked. It's right in Smithfield, and you'll get taken through 21 acres of land for just $15 per person.
The event is normally on Fridays and Saturdays throughout the month of October, and there's always a fun theme that helps tie it all together. One year they even did Jurassic Park!
Slater Park Haunted Tunnel in Pawtucket
One of the scarier attractions in Rhode Island is Pawtucket's Slater Park Haunted Tunnel. It started out as a way to fundraise to help with the nearby farm's animals and has since grown in popularity.
With this event, go through 200 feet of a concrete tunnel as you go through multiple rooms that are set up to spook. There's also an on-site corn maze and pumpkin patch so the haunts can continue outdoors.
Read Next: 13 Wicked Haunted Places in Rhode Island: Real Life Hauntings 👻
Jack-O-Lantern Spectacular at Roger Williams Park Zoo
For a family-friendly event, look no further than attending the Jack-O-Lantern Spectacular at the Roger Williams Zoon. It usually takes place throughout the month of October in the evenings, and is open no matter if it's raining or not.
Throughout the event, you can walk around and check out some out-of-this-world pumpkins that have been carved to the nines. Your children may even recognize some of their favorite characters on them!
Halloween Events in Connecticut
Fright Haven, Stratford
Stratford, Connecticut, has its own attraction called Fright Haven! They like to say that there are more than 20,000 square feet of scares at this event – how spooky is that? This is said to be one of the best haunted houses in Connecticut.
In addition, Fright Haven has different events throughout the year, including a halfway-to-Halloween event in the springtime.
CT Horrorfest, Naugatuck
Connecticut's Horrorfest in Naugatuck takes place every September! At this event, you can attend panels, shop from horror vendors, and even meet celebrities from horror media. In the past, they've had celebrities like Damien Leone and Cassandra Peterson attend.
Nightmare Acres, South Windsor
Nightmare Acres in South Windsor is an incredible haunted attraction for those who like to get spooked. Your worst nightmares will come to life during this event. It's essentially a haunted trail that's outdoors, and you'll be frightened the entire way.
Phantom Fall Fest, Bristol
Last but certainly not least is Phantom Fall Fest in Bristol, Connecticut. This normally occurs on weekends in October, and they switch it up by having family-friendly activities during the day, while it gets more frightful at night.
During this event, you can check out scare zones, haunted houses, and even have spooky themed food. They like to say that "the nights are for frights" and the "days are for play!"
Read Next: 13 Most Haunted Places in Connecticut: Ghosts & Ghastly Tales 👻
No matter what state you live in, there's no shortage of spooktacular events to explore this Halloween season. From Maine all the way to Connecticut, New England has something for everyone looking for a good scare.
So if you're looking for a frightfully fun time this Halloween, be sure to check out one of these amazing events throughout the region! We hope you enjoyed this post on the best Halloween events in New England.
---
Read these next: