Ah, New England in the fall. Honestly, what could be better? Maybe enjoying the fall weather and beautiful foliage by going to some local pumpkin patches! There's nothing more fun than finding the perfect pumpkin to carve with friends and family, and Rhode Island is the ideal place to do it.
Because there are so many pumpkin patches in Rhode Island, it can be hard trying to find the one that's perfect for your needs. Luckily, this article includes 12 of the best pumpkin patches in Rhode Island!
Best Pumpkin Patches in Rhode Island
Dame Farm & Orchards
First up is Dame Farm and Orchards in Johnston, Rhode Island. They have a great pumpkin patch here, which is pretty breathtaking because its views are amazing. If you're looking for the picture-perfect pumpkin patch in Rhode Island, this is it.
While you're here, be sure also to check out the orchards. There are so many delicious and juicy apples just waiting to be picked. After, maybe you can make a tasty pumpkin pie and an apple pie too!
Read Next: 11 Abandoned Places in Rhode Island
Cucumber Hill Farm
You might be thinking, what is a place called Cucumber Hill Farm doing on a list of the best pumpkin patches in Rhode Island? Well, it has a fantastic pumpkin patch if you're looking to find a great pumpkin to bring home!
In addition, Cucumber Hill Farm gets into the fall festivities, making it an excellent destination for families visiting New England or who already live in the area. Some of the popular past events that they hold including flashlight maze, hayrides, and more. They even let guests ride ponies!
Read Next: 11 Ultimate Fall in Rhode Island Things to Do in 2023!
Escobar's Highland Farm
Escobar's Highland Farm in Portsmouth is another of the best pumpkin patches in Rhode Island. So many people love this place because there are so many different pumpkin options here. Plus, there's a corn maze… so you can stay busy here for hours!
This is one of the pumpkin patches and farms known for getting busier, so try to plan your trip here wisely. The lines tend to be long on the weekends, but they are very much worth it for the experience!
Read Next: 8 Best Corn Mazes in Rhode Island
Sweet Berry Farm
Sweet Berry Farm in Middletown, despite having the words "berry farm" in its name, is one of the great pumpkin patches in Rhode Island. Here, not only can you pick your own pumpkins, but you can also pick your own apples. What's not to love?
It's a short drive from Newport, making it a great day trip from that area of Rhode Island. While you're there, don't forget to stop by the fantastic cafe and grab yourself something local to eat for your drive home.
Read Next: 10 Awesome Places to Go Apple Picking in RI
Confreda Greenhouses and Farms
Confreda Greenhouses and Farms is one of the most popular pumpkin patches in Rhode Island. Anytime you come here, it's usually pretty busy, and that's a good sign! To get to the pumpkin patch, you have to hop on a free hayride. How festive!
There's a vast area where you can go out and pick the pumpkin of your dreams. Once you are done, be sure to stop by the shop because they also sell delicious apple cider and donuts. The hayride at this RI pumpkin patch is also an absolute must, especially if you are traveling with family!
Read Next: 12 Charming New England Towns to Visit in the Fall
Manfredi Farms
Without a doubt, Manfredi Farms in Westerly is one of the most incredible pumpkin patches in Rhode Island. There are tons of pumpkins to pick from here, and you'll be able to find the perfect one to bring home.
As you might expect, Manfredi Farms is also filled with tons of other amazing things to do. Take the time to hop on the hayride, pick up some fresh treats from the shop, and be sure to stop by the amazing corn maze.
Oh, and did I mention this RI pumpkin patch also has a petting zoo?
Read Next: New England Fall Road Trip: 7 Day Itinerary 🍁
Jaswell's Farm
Next up is Jaswell's Farm, which is located in Smithfield. If you're looking for one of the historic pumpkin patches in Rhode Island, head here. It's one of the oldest in the state! They have some pretty giant pumpkins here, too, so you get your money's worth.
Like some other spots on this list, Jaswell's Farm has its own shop where you can try some of their own treats made with ingredients on the farm. Be sure to try some of their apples, which are so juicy.
Read Next: 13 Stunning Hikes in Rhode Island You Won't Want to Miss!
Quonset View Farm
Quonset View Farm is easily one of the best pumpkin patches in Rhode Island. This is another one on this list that's exceptionally picturesque. When you're standing at one end of the pumpkin patch, you can look out and just see pumpkins as far as the eye can see!
In addition to pumpkin patches, you can pick your own potatoes here! That's not something you see very often at farms, so definitely stop by here if you want to make some fresh mashed potatoes for your Thanksgiving feast this fall.
Read Next: Fall in New England: Best Foliage, Farms, Fun 🍁
Old Stone Orchard
Old Stone Orchard is a great pumpkin patch that's located in Little Compton. Many people say that it has many of the same features as Sweet Berry Farm, which is also on this list.
At Old Stone Orchard, you can go both pumpkin picking and apple picking. You get free range of the patch just to go out and grab whatever you'd like. Plus, they have a great farm stand where you can pick up some delicious delicacies to bring home.
Some of the most famous pieces of produce to bring home after visiting Old Stone Orchard include squash, gourds, eggplant, and tomatoes. Some of these you can also go out and pick on your own, depending on the time of year!
Read Next: The Best New England Fall Foliage Tours Worth Your Money
Salisbury Farm
Salisbury Farm is a great place to go to pick your own pumpkin. They have quite a variety, but be careful; they go quick! The farm is also pretty historical and was founded back in the 1800s. It's been in the Salisbury family ever since it opened and has genuinely evolved a lot from the hay farm that it started as.
In addition to pumpkins, Salisbury Farm also offers tons of local foods to purchase, including honey and jams. Try and make your way through the corn maze at this RI pumpkin patch; if you want an extra challenge, attempt the Moonlight Maze!

Read Next: 13 Wicked Haunted Places in Rhode Island: Real Life Hauntings 👻
Carpenter's Farm
Carpenter's Farm has a wide variety of pumpkins available to pick from. This farm is located in South Kingstown, Rhode Island, and is yet another farm that the same family has run for five generations. How cool is that? This is the perfect place to go to genuinely support a small business.
This farm was opened officially back in the 1860s, and it's been running strong ever since. It is pretty massive, with more than 150 acres of land on it. As you might imagine, you can get some pretty fantastic produce here!
The fall is a really lively time at Carpenter's Farm. They host a wide variety of fall festivities and activities, making it a super fun time to visit, especially if you're traveling with little ones. Stop by on the weekend for the chance to catch some live music!
Read Next: 13 Best Ghost Tours in New England to Spook You in 2023 👻
Barden Family Orchard
As the name suggests, this is one of the most popular places to visit in Rhode Island if you're looking for a great place with your family! Of course, it's also run by a family too, so that's a huge plus.
One great thing about Barden Family Orchard is that it is actually open every day during the fall months. This makes it super easy to plan a trip here! In addition to checking out the pumpkin patch, be sure to check out some of the fantastic fresh produce.
Believe it or not, but Barden Family Orchard is one of the newer pumpkin patches in Rhode Island. This farm first opened in the 1930s and is most famous for its amazing apples. Seriously, you'll want to pick your own apples while you're here, in addition to checking out the great pumpkin patch!
—
There are so many great pumpkin patches in Rhode Island! Hopefully, you found one that you are dying to visit on this list. Each one is amazing, so you honestly won't be disappointed no matter what one you pick.
Have you visited any pumpkin patches in Rhode Island? What one did you like most?
---
You might also like:
---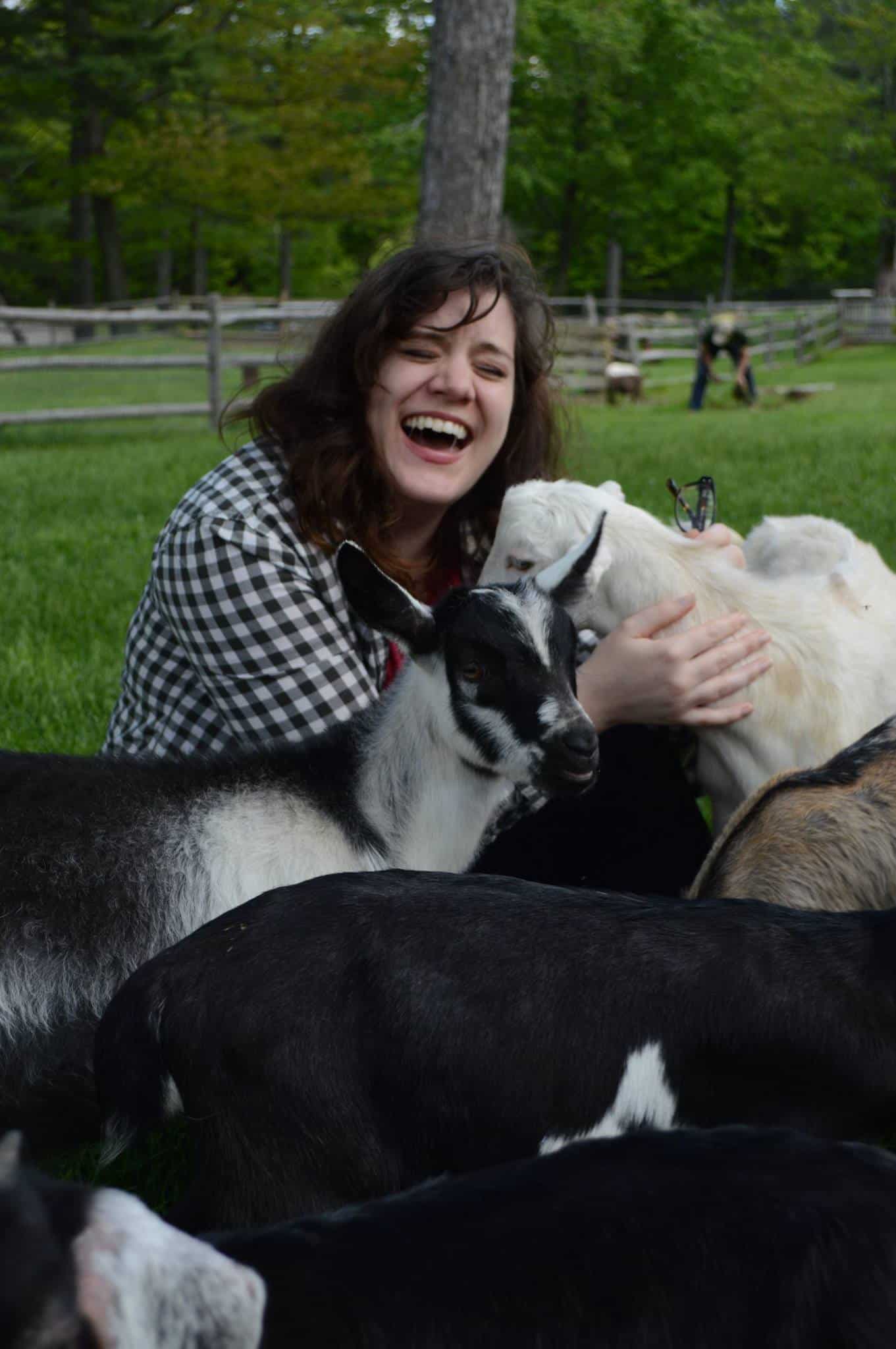 Amy Hartle is the founder and Editor-in-Chief of New England With Love, a comprehensive resource for travel in the New England region. Amy has been exploring New England since 2001. She lived in Vermont for many years and is a graduate of Plymouth State University in New Hampshire. Amy has been writing about travel for over a decade. On this site, Amy aims to share her love of New England and help you to have the best possible adventures!
Amy has been a full time blogger since 2012, and is also the publisher of Two Drifters, where she writes about couples travel and relationships, as well as Let's Adventure Baby, a family travel site. When not traveling the world or creating epic blog content, Amy can be found cuddling with her husband, son, and cats, & drinking a maple latte.