When a place that was once full of life is abandoned to its own devices, it seems to take on a whole new life of its own. There are abandoned places in Rhode Island that are spooky, there are RI abandoned places that are historically interesting, and there are some places in Rhode Island that have been abandoned so long ago, that there's hardly a trace of the life it once had.
If you're interested in learning more about abandoned places in Rhode Island, these are the top abandoned RI spots to look into.
Disclaimer:
This list of abandoned places in Rhode Island is meant for entertainment purposes only. Visiting many of these in person is not only dangerous but also illegal and may be considered trespassing. Trespassing laws vary from state to state, but most are prosecutable offenses that could land you in hot water with steep fines or even jail time. Have fun reading through this list of abandoned places in Rhode Island!
Abandoned Places in Rhode Island
The Bells, Newport RI
Once a part of the wealthy estate of a prosperous copper magnate, The Bells estate in Newport sat empty for years before becoming a makeshift home for WWII gunnery personnel, but then caught on fire and was demolished in the 1960s, leaving just the stables behind.
Over the decades, the stone-walled stables have been a popular party spot for Newport's youth, and there is graffiti covering just about every surface. It is located in what is now Brenton Point State Park.
Belton Court, Barrington RI
One of Rhode Island's most gorgeous historic estates, Belton Court was built in the early 1900s for a notable Rhode Island political figure, and was officially added to the National Register of Historic Places in the 1970s.
This gorgeous estate evolved from a private residence to a college and is often referred to as Zion Bible College. Today its future hangs in the balance as the powers that be try to figure out the best use for this grand historic estate that has been abandoned to time.
Enchanted Forest, Hopkinton RI
Once a fun family fairy-tale themed amusement park, today Enchanted Forest sits tucked away in the woods of Rhode Island, slowly deteriorating since its close in 2005.
It has recently been sold and is now privately owned and access is blocked, but there is something that feels so eerie just knowing that this once beloved kiddie wonderland in the woods still exists, slowly being overtaken by the native grasses and vegetation of the forest that this once abandoned amusement park was built in.
Windswept Ruins, Narragansett RI
One of the most popular abandoned places in Rhode Island where you can easily explore for yourself, the Windswept Ruins were originally a 21-room mansion dated back to the late 1800s, built for a family whose wealth was grown from a popular pain killer of the time, featuring opium.
It was sold decades later and became a restaurant before multiple fires decimated much of the property, leaving only the dramatic stone facade of what is now commonly referred to as the Windswept Ruins.
The Milk Can, North Smithfield RI
If you like a little novelty in your abandoned places exploration, swing by The Milk Can in North Smithfield, located right on HWY 146; you really can't miss this giant structure in the shape of an old milk can!
Once an ice cream shop in the 1930s, it has changed hands, purposes, and even locations over the years, but has sadly been sitting abandoned since the 1990s. There has been talk of reviving it in the near future as expansion work will bring resources like city water closer to this historic roadside oddity, but for now, it sits empty, an abandoned Rhode Island relic of an earlier era.
Fort Wetherill, Jamestown RI
One of the more off-the-beaten-path things to do in Jamestown, the historic remnants of Fort Wetherill are now a part of the state park of the same name, just waiting to be explored by those who love to explore abandoned Rhode Island sites!
A site of military significance stretching all the way back to the late 1700s, what is now known as Fort Wetherill was established in the late 1800s and in service through both world wars before being retired from military use. It is now a part of a gorgeous RI state park, and exploring these cool military ruins are just one of the fun things to do out there!
PS you might catch a glimpse of the spirit dog who is said to still haunt this property!
Crook Point Bascule Bridge, Providence RI
Over a hundred years old, the Brook Point Bascule Bridge was once an important part of the fabric of the Providence area before being retired and abandoned in the 1970s, with the bridge left in the extended, upright position, frozen in time.
Today the city is moving forward with efforts to incorporate this interesting abandoned bridge into a new public space, so keep checking back to see what the Creative Capital ends up doing with this abandoned railroad bridge.
Fort Mansfield, Westerly RI
You can find the abandoned military fort of Fort Mansfield on Westerly's Napatree Point. First established in 1898, this Rhode Island military fort was built in a spot with a so-called "fatal flaw," a blind spot from which this fort could be easily snuck up on from the water, rendering it useless as an active defense post.
By 1917, all armament had been removed and this military fort was left abandoned on Rhode Island's coast. This area has changed much due to coastal erosion, and the remains of one battery can still be sometimes seen at low tide, while two others remain visible and explorable on land.
Rocky Point Amusement Park, Warwick RI
With a history stretching back all the way to the mid 1800s, Rocky Point Amusement Park was a popular place to go for young and old in Warwick Rhode Island, until it permanently closed in the 1990s.
Today it is a state park where you can stroll the waterfront, occasionally coming across bits and pieces of the original park, like stations for the scenic gondola ride, and other bits of abandoned amusement park history here and there.
Ramtail Factory, Foster RI
Perhaps the only abandoned Rhode Island place that was once officially designated as a haunted site by the 1885 Rhode Island Census, the Ramtail Factory was once a thriving clothing mill before one of the owners came down on hard times and took his own life on the floor of the factory.
Paranormal activity was reported so frequently that it earned the official designation of haunted property in the late 1800s, and to this day there are those who report a feeling of heaviness in the stone remains that still sit abandoned out in the woods of Foster RI.
Roger Williams Park Mausoleum, Cranston RI
The story of the Roger Williams Park Mausoleum in Cranston is one of the saddest tales of an abandoned place, a place forgotten to time. Once this was the well-kept resting place of almost 500 Rhode Islanders, several of them WWII veterans, but today it has been abandoned to time and the elements.
Vandals, animals, and the weather have torn apart this structure, with some even ripping coffins out of their vaults and stealing remains. With so many of the deceased buried here having no remaining family left to advocate on their behalf, this crumbling mausoleum has been left largely abandoned by the city and the state. You can follow the link above to see the horror that was uncovered when one man went inside.
You might also like: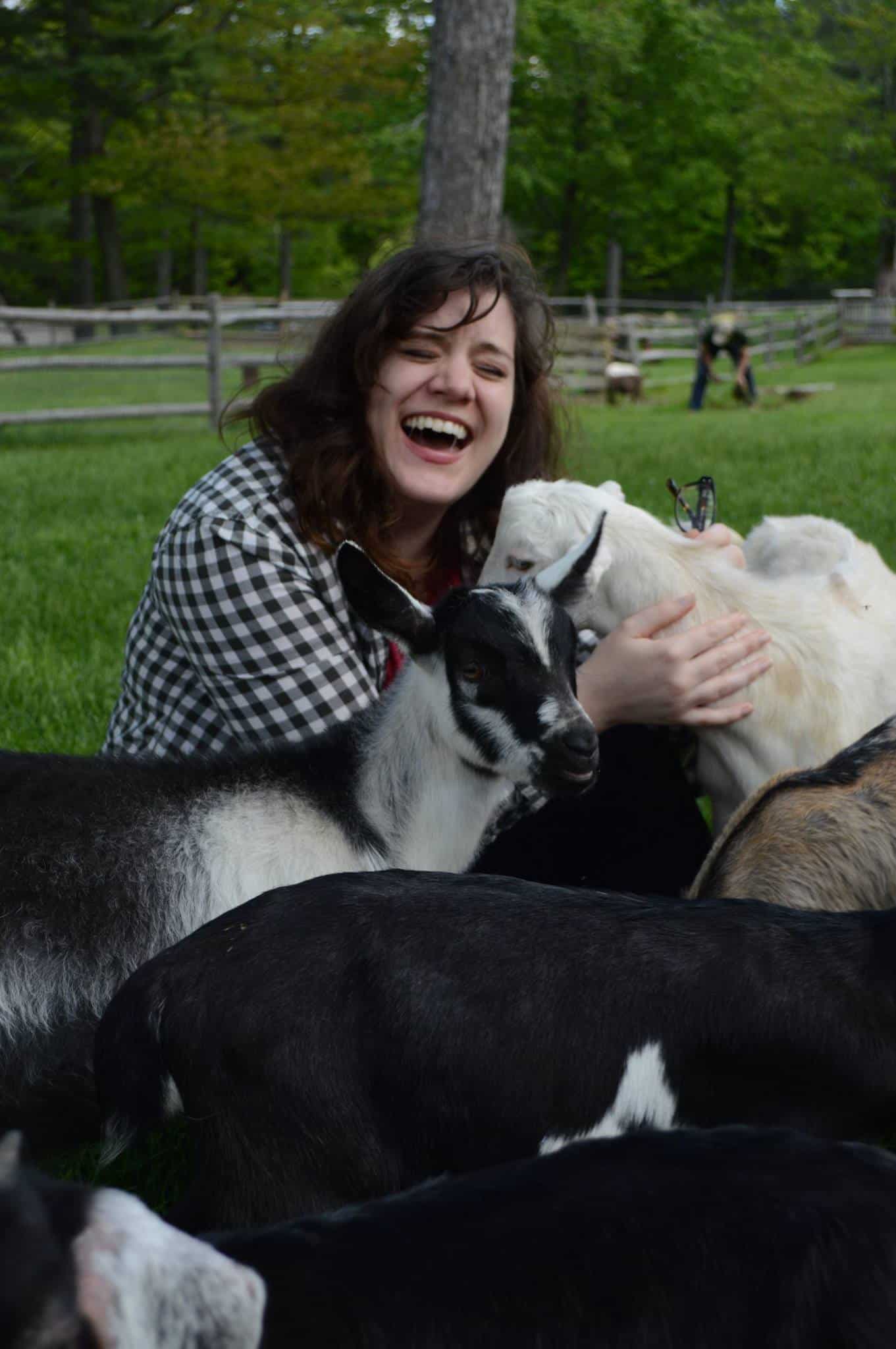 Amy Hartle is the founder and Editor-in-Chief of New England With Love, a comprehensive resource for travel in the New England region. Amy has been exploring New England since 2001. She lived in Vermont for many years and is a graduate of Plymouth State University in New Hampshire. Amy has been writing about travel for over a decade. On this site, Amy aims to share her love of New England and help you to have the best possible adventures!
Amy has been a full time blogger since 2012, and is also the publisher of Two Drifters, where she writes about couples travel and relationships, as well as Let's Adventure Baby, a family travel site. When not traveling the world or creating epic blog content, Amy can be found cuddling with her husband, son, and cats, & drinking a maple latte.