Some abandoned places are historically interesting, others are absolutely wild to see what seems as if life was frozen in its tracks. If it's abandoned places in Connecticut you'd like to learn about, there are several interesting abandoned CT spots to consider checking out.
Connecticut's abandoned places are interesting to read about or even explore for yourself, and somehow, some of these places seem to remain perfect snapshots of what they once were. Whether you're just here to read about these abandoned places or you're looking for ones you can explore yourself, this is our list of the top abandoned places in Connecticut.
Disclaimer:
This list of abandoned places in Connecticut is meant for entertainment purposes only. Visiting many of these in person is not only dangerous but also illegal and may be considered trespassing. Trespassing laws vary from state to state, but most are prosecutable offenses that could land you in hot water with steep fines or even jail time. Have fun reading through this list of abandoned places in Connecticut!
Abandoned Places in Connecticut
Old New-Gate Prison & Copper Mine, East Granby CT
Once a prison and copper mine (we know, shocking!) the Old New-Gate Prison & Copper Mine has a long past as an amateur mine from the early 1700s before being converted into the state's first official prison, dating clear back to the 1770s and being used to house POWs from the Revolutionary War.
Officially abandoned as a prison in the 1820s, the Old New-Gate Prison & Copper Mine has remained a major tourist attraction over the years; you can easily visit this abandoned Connecticut prison and explore its stone structures for yourself.
Dudleytown, Cornwall CT
If you're looking for creepy abandoned places in Connecticut, Dudleytown should be at the top of that list. First settled in the 1700s, it is said that the arrival of the Dudley family, whose father was beheaded by none other than Henry VIII, brought a curse to the land.
With the soil infertile and the water undrinkable, residency of this community declined quickly, but rumors persisted that it was the result of a curse placed on the Dudley family that caused Dudleytown's issues. What remains of Dudleytown is closed to public access, but its lore still looms large for those who live nearby.
Union Pond Mill, Manchester CT
Construction began on the Union Pond Mill in the early 1900s as a textile mill that was in high demand… until it was recognized that it was creating significant pollution in nearby Union Pond, forcing it to close. Later it was repurposed into a recycling center, but this didn't last long either before closing.
Now it is a makeshift skate park and graffiti site for local teens, and this abandoned Connecticut mill remains in relatively good structural condition, a true testament to the craftsmanship of its time.
Hearthstone Castle, Danbury CT
Built in the late 1890s as a summer retreat for a New York photographer and his wife, this castle in the woods became known as Hearthstone Castle after the many stone fireplaces found within this castle's walls.
This abandoned castle was purchased by the city in the 1980s and has been vandalized by trespassers over the years and its gorgeous stone walls are now covered in graffiti. However, it is still a cool abandoned place in Connecticut to see for yourself, even after all the damage.
Bara-Hack, Pomfret CT
The abandoned community of Bara-Hack has had many nicknames over the years, including the Haunted Village of Lost Voices, The Village of Ghostly Voices, and The Lost Village of Pomfret, giving a bit of a clue to what this area is known for.
This 18th-century colonial settlement lasted less than a century as residents died and left Bara-Hack behind, but visitors to this abandoned community over the years have reported paranormal occurrences such as apparitions, disembodied voices, and more, including a particularly disturbing repetitive sighting of an infant reclining in one of the Bara-Hack trees! Today this abandoned place is private property with no public access.
Old Remington Arms Munitions Factory, Bridgeport CT
When it comes to old abandoned places in Connecticut with a lot of baggage, Old Remington Arms Munitions Factory fits the bill. Built in 1867 as the Union Metallic Cartridge Company, it merged with Remington Arms Company in the years leading up to WWI, but its explosive (yeah, yeah) history began even earlier.
The nature of this factory meant explosions were a part of life here in addition to the other health hazards associated with the job, with several workers being injured or even losing their lives prematurely to explosions, lead poisoning, chemical burns, or disfiguring accidents with equipment.
Closing its doors finally in the mid-80s, this abandoned factory has been associated with many paranormal occurrences over the years, including disembodied screams and voices. This is considered one of the most haunted places in Connecticut.
Cunningham Tower, West Cornwall CT
Built in 1915 as an observation tower on Mohawk Mountain, Cunningham Tower once had two floors with a beautiful stone stairway that spiraled to the roof, but the years have rotted the roof and destroyed the staircase, leaving this observation tower a shell of what it once was.
The tower itself still stands strong although the second floor has rotted away, with a red tiled floor on the bottom and architectural gargoyles visible on the outer facade. You can enter and explore the tower, but it has sadly become a popular graffiti spot.
Pleasure Beach, Bridgeport CT
Accessible today only by water taxi, Pleasure Beach is the site of an abandoned amusement park in Connecticut that was first created in the 1890s, featuring a carousel, roller coasters, carnival attractions, and more that didn't last too long, going bankrupt and closing its doors in the early 1960s.
A bridge had connected the mainland to Pleasure Beach and Long Beach, technically in Stratford, but after years of deterioration and poor upkeep, it was damaged beyond repair in a 1996 fire and those who still lived in cottages on the land were forced to pack up and move. Today it is a protected nature refuge with few of the original structures remaining abandoned in various stages of decay.
Fairfield Hills Hospital, Newtown CT
Opened as a psychiatric hospital in the 1930s, today many of the buildings that were once a part of the Fairfield Hills Hospital have been repurposed into municipal buildings, while others remain empty and abandoned as they were when the facilities closed in the mid-1990s.
Luckily for those who love to explore abandoned places, there is a great trail called the Fairfield Hills Loop that gives you a great opportunity to see many of those abandoned buildings close up. You can even stop and have a beer at Newsylum Brewing on the Fairfield Hills campus after your walk! The town of Newtown continues to grapple with how to move forward on either restoration or demolition of these abandoned hospital buildings.
Seaside Tuberculosis Sanitorium, Waterford CT
Built for tuberculosis patients in the 1930s, the Seaside Sanitorium was considered a cutting-edge facility for children suffering from tuberculosis, allowing them to receive what was then the standard of care for tuberculosis: time spent in the sun by the seaside.
Just as beautiful as the scenery around the sanatorium was the building itself, designed by the same architect who designed the Woolworth Building in New York. Over the years the sanatorium was repurposed into other facilities, but the doors officially closed in the mid-1990s and the buildings have been sitting abandoned ever since. Fortunately for those who want to see this empty historic gem up close, it is a Connecticut State Park and visitors are free to roam by the seaside and admire these abandoned buildings for themselves.
Gay City, Hebron CT
Gay City was first established in 1796 and had a successful run as a mill town until complications from the War of 1812 and then subsequent fires a decade+ later resulted in a strong and steady decline of Gay City's industry and population.
Today, many relics of Gay City remain, and you can visit the stone walls and foundations that remain at what is now a part of Gay City State Park, the 1,569 acre Connecticut state park where you can hike, swim and picnic after you explore this cool lost village in Connecticut.
Cedarcrest Hospital, Newington CT
Founded in 1910 as a tuberculosis hospital with a very lengthy name, it was then named the Hartford State Sanitorium in 1912 and continued to change names as it changed purposes, before finally becoming Cedarcrest Hospital in the 1970s.
With a long history of psychiatric patient care, there are some who state this property remains haunted with the souls of those who were admitted to its care, and patients weren't completely removed from the grounds until 2010. Today the future of this abandoned hospital in Connecticut remains unclear.
You might also like: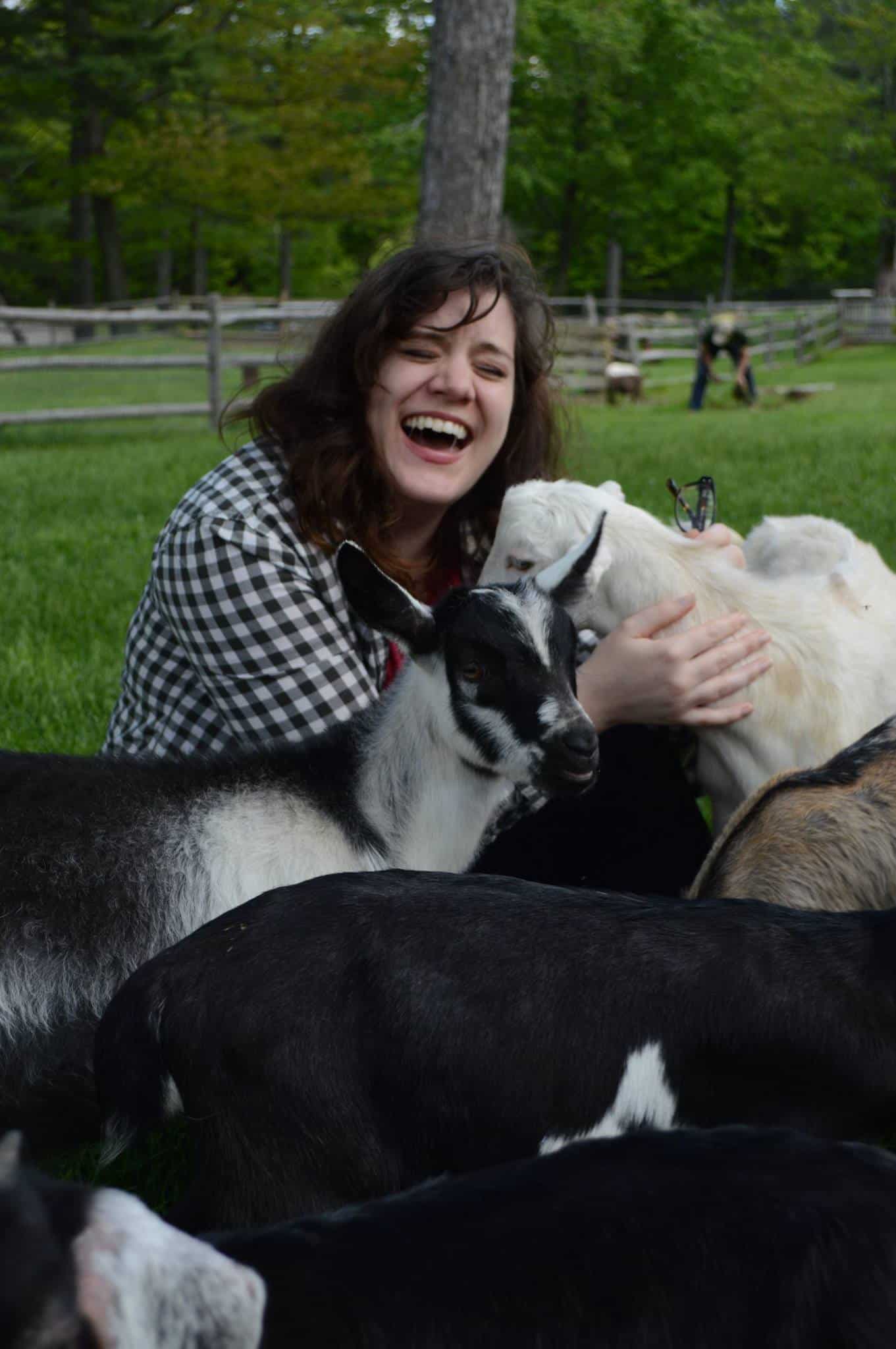 Amy Hartle is the founder and Editor-in-Chief of New England With Love, a comprehensive resource for travel in the New England region. Amy has been exploring New England since 2001. She lived in Vermont for many years and is a graduate of Plymouth State University in New Hampshire. Amy has been writing about travel for over a decade. On this site, Amy aims to share her love of New England and help you to have the best possible adventures!
Amy has been a full time blogger since 2012, and is also the publisher of Two Drifters, where she writes about couples travel and relationships, as well as Let's Adventure Baby, a family travel site. When not traveling the world or creating epic blog content, Amy can be found cuddling with her husband, son, and cats, & drinking a maple latte.