*This site uses affiliate links; if you make a purchase through these, I may receive a small commission at no cost to you.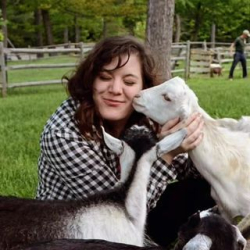 Latest posts by Amy Hartle
(see all)
Even though Halloween may be the most popular time for ghost tours in Boston, this list of the city's best spooky tours are impressive any time of year! Ghouls, ghosts, and gravestones, oh my!
With some taking place during the day and others at night, this article truly has something for everybody. Even if you're traveling with children, you'll be able to find a great tour here.
Just make sure you book in advance because a lot of these tend to book up quickly, especially in the fall!
Without further ado, here are all of the top ghost tours in Boston that you won't want to miss out on.
Ghost Tours in Boston
First up is one of the most fun ghost tours in Boston – a trolley tour! This is a reasonably affordable tour for how fun it is. Plus, it has an average rating of 4.5 stars out of five with around 500 reviews – it's a trusted tour.
The Boston Ghosts & Gravestones Night-Time Trolley Tour is about two hours long. Instead of it being a sightseeing tour, it's more of a frightseeing tour! Your guide is dressed up as a gravedigger from the seventeenth century, which only adds to the fun.
Some of the notable spots along the tour include the Granary Burying Ground, Boston Tea Party Ships & Museum, and Boston's North End.
Click Here to Check Prices & Book!
Read Next: Spookiest Ghost Tours in New England
Are pubs more your thing? Then this Haunted Boston Ghost and Pub Walking Tour is definitely the tour for you! It's just under three hours long, making it one of the longer ghost tours in Boston on this list.
Along the way, you'll have a tour guide dressed up in a fun costume who will tell you the haunted tales of Boston that you didn't know existed. Some places you'll stop by including the Granary Burying Ground and King's Chapel! This is a nighttime tour, so make sure you dress appropriately.
Plus, you'll of course be visiting tons of pubs along the way, which is what makes it such a great tour!
You'll even have time to get a beverage or two at each of the pubs as a sort of break between all of the haunted stories.
Click Here to Check Prices & Book!
Next up is a classic Boston ghost tour which will help you discover all of Boston's haunts with your own personal tour guide. This one is an absolute great deal for an hour and a half tour.
The tour includes stops at tons of historical landmarks throughout the city tied to the Revolutionary War. Popular spots along the way include the Mary Dyer Statue, King's Chapel, and of course, Boston Commons. You'll even see spots that were on popular ghost hunting TV shows!
This is an excellent tour if you're looking for more of a classic introduction to the haunted tales of Boston. Plus, it's not adult-only, so even your kids can come along if you think they can handle the spooky tales of the city.
Click Here to Check Prices & Book
If shorter tours are more your thing, then you'll want to check out the Boston Ghost Tour. It's only about an hour long and takes place in the evening once the sun goes down to add even more depth and spookiness to it.
What's so great about this tour is that all the spots you visit are way less crowded because it's in the evening. However, since it's at night, you'll be seeing many spots from the outside, which is why it's only one hour long.
You'll visit places like the Granary Burying Ground, Massachusetts State House, and even the Boston Opera House along the way. Each spot on the tour is about ten minutes long. Plus, the tour starts at Dunkin Donuts near Boston Commons, so you can grab a warm cup of coffee or tea before the tour begins.
Click Here to Check Prices & Book!
The Death and Dying Ghost Tour is one of the most well-known ghost tours in Boston. It's a tour that many people travel to Boston to partake in! Tickets are reasonably priced, and the tour lasts approximately an hour and a half, give or take.
This tour is for adults only and specializes in being super unique compared to other tours in the city. It's one of those tours that will leave your head spinning when you leave, which is why you really won't want to miss out on it.
Similar to other tours, there are many stops along the way, like the Granary Burying Ground and the Old South Meeting House, but you'll stay at each one for about fifteen to twenty minutes.
Click Here to Check Prices & Book!
Are tour guides not your thing? Be your own! This option is perfect for those who would rather take their time along the tour and be their own guide. Plus, it's a lot more budget-friendly for the tour total.
The tour takes place via an app that you download. Then, you add in your unique password to access the live GPS map, which also comes with audio narration as you visit the spots. The entire route is mapped out for you, so you won't feel rushed along the way. Plus, you can do the tour any time of day!
This tour focuses mainly on Boston's haunted spots and graveyards. You'll even visit a haunted hotel or two… hopefully, you're not actually staying at any of the hotels that the tour visits, or you'll truly be in for a fright!
Click Here to Check Prices & Book!
For a quick tour with a guide, you'll want to book a spot on this one! The 90-minute ghosts of Boston tour is the perfect way to step back in time and learn more about the city. Along the way, you'll visit cemeteries, haunted hotels and houses, and more. What more could you want?
The main focus of this tour, in comparison to others on this list of ghost tours in Boston, is the Revolutionary War and those who were involved. The main focus of the tour is history but with a pop of hauntedness.
The 90-minute ghosts of Boston tour has a high average rating from past tour members. The guides are super responsive on this tour, making it perfect if you're the kind of person who usually likes to ask a lot of questions along the way.
Really get your money's worth and maybe even ask for some other Boston recommendations from your guide before departing! This is another of the more popular tours to book while in Boston to make sure you reserve your spot well in advance.
Click Here to Check Prices & Book!
This super fun short tour is budget friendly, and you'll be able to visit some of the most haunted spots in Boston along the way! This tour focuses on telling haunted tales of Boston's spookiest spots after the sun goes down.
This tour also taps into the paranormal, which is something the other tours on this list don't do, making it a super fun one to book. Popular spots along the way include the Omni Parker House (the most haunted spot in all of Boston), Old City Hall, and more. Trust me; you'll be spooked out doing this tour, for sure!
Many past reviewers have said that they absolutely loved their guide, so you're truly in for a treat by booking this one. The tour company carefully vets their guides and only hires the most passionate, so you may end the tour being spooked out by all of the stories that you hear.
Click Here to Check Prices & Book!
This spooky walking tour is reasonably priced and will show you some of the darker parts of Boston's history such as the Boston Strangler and Boston Massacre. You're sure to have a fun time and learn a bit of Boston's eerie history throughout from your storyteller guide.
Looking to take some spooky photos as a souvenir? Bringing your camera for the tour is strongly encouraged as many guests report capturing real paranormal photos!
Past reviewers love this tour for being extremely interesting, informative, fun, and spooky. The storyteller tour guides are top notch and will keep you engaged throughout the tour.
Click Here to Check Prices & Book!
Yes, you read that right; this haunted Boston ghost tour includes Boos & Brews, this is always a great combo! You've got horror stories and booze, what could possibly top that?
Move from haunted place to historic pub, hearing real life tales of the spirits who still roam these places. This Boston ghost tour ends at the Beantown Pub, said to be the only pub in the world where you can "drink a cold Sam Adams while viewing a cold Sam Adams" as he is buried right across the street!
Click Here to Check Prices & Book!
As you can see, there are tons of ghost tours in Boston! You really have your pick of the lot when it comes to finding the perfect one for your visit to this coastal city. Which tour would you most want to go on? Leave a comment below!
—
You might also like: