What is it that makes abandoned places so interesting? Well, if it's abandoned places in Maine you're looking for, this is the list for you.
Whether you're looking for some interesting reading about Maine's abandoned places or you're the kind of person who likes to see things for themselves, Maine has got some pretty intriguing stories to tell about places that people and time have left behind.
Disclaimer
This list of abandoned places in Maine is meant for entertainment purposes only. Visiting many of these in person is not only dangerous but also illegal and may be considered trespassing. Trespassing laws vary from state to state, but most are prosecutable offenses that could land you in hot water with steep fines or even jail time. Have fun reading through this list of abandoned places in Maine!
Abandoned Places in Maine
Fort Williams, Cape Elizabeth ME
Officially named Fort Williams in 1899, this historic military fort contained multiple batteries, barracks, a hospital, commissary, and all the other essential buildings necessary to make a self-contained military community, but after WWII, many of its batteries were declared surplus and weaponry was removed, and Fort Williams was officially closed in the early 1960s.
Today Fort Williams can be accessed by the public and the remaining concrete bunkers and structures that remain are available for exploration for anyone who wants to see this abandoned place in Maine.
Fort Baldwin Historic Site, Phippsburg ME
Who doesn't love exploring old abandoned military forts? Fort Baldwin Historic Site became an official part of the Harbor Defense of the Kennebec in 1908 and was considered an essential part of America's defense plans during both World Wars, although it luckily was never needed.
You'll find three separate batteries, dark tunnels, and a whole lot of very weathered concrete. This abandoned military fort is located in Phippsburg and is open to the public.
Perkins Township, Swan Island ME
Perkins Township on Swan Island was once a self-sustaining community stretching back to the 1700s with farms, a schoolhouse, a cemetery, and more before the economic collapse of the 1930s pushed the residents of Perkins Township to leave.
Today, multiple historic homes and buildings remain in this Abandoned Maine town that seems frozen in time. You can visit today as it is operated by the Maine Department of Inland Fisheries and Wildlife.
Abandoned Eagle Lake and West Branch Railroad, near Greenville ME
Sometimes referred to as the Ghost Locomotives and located at the Eagle Lake Tramway near Greenville, this now abandoned railroad was once an integral part of transporting timber across the North Maine Woods, running its last run in 1933. Today, the rusted-out remains of two abandoned locomotives still sit where they came to rest on that day so many years ago.
The tramway is also a part of the Allagash Wilderness Waterway.
Kennebec Arsenal, Augusta ME
Located in Augusta, Kennebec Arsenal is one of the most interesting of Maine's abandoned places. Built in the 1820s and 1830s and made up of eight granite buildings, the Kennebec Arsenal was a munitions depot until the early 1900s.
A few years later it was repurposed first as the Maine State Hospital, then the Augusta Mental Health Institute, and it is said that over 11000 patients perished on the grounds over its history as a mental hospital, many buried in unmarked graves on the 800 acre property. The dilapidated buildings and the tunnels beneath them are carefully monitored by alarms and cameras due to significant safety issues.
Moulton Mill, West Newfield
Built in 1790, the old Moulton Mill was once the center of Newfield. This was an active mill until the 1980s when it was shut down by the state due to health risks of the sawdust pollution washing down the river.
Once upon a time, there were plans to turn the old Moulton Mill into a museum, but the decay of this historic wooden building was too far gone so it is now one of several abandoned places in Maine.
Battery Steele, Peaks Island ME
Battery Steele on Peaks Island was once the most important military fortification in Casco Bay during the World War II years, and also has the distinction of being the largest battery built in the United States.
It was finally retired in 1995 after decades of non use and today this abandoned military battery's concrete walls are covered in graffiti and the 300-foot cement corridor requires a flashlight for those brave enough to explore within this abandoned place in Maine.
Read Next: 13 Creepy Haunted Places in Maine: Ghost Stories & Legends 👻
B52 Crash Site, Moosehead Lake ME
On a January afternoon in 1963, a jet from Westover AFB in Massachusetts crash landed in the woods of Moosehead Lake, killing 7 of the crew onboard that day. The Navigator Captain is the only person that has ever survived a mid-air ejection from a plane without a parachute opening to this day. Rusted and shredded pieces of metal and aircraft are still strewn about the B52 Crash Site.
Signage leads the way to this abandoned crash site which now acts as a final memorial resting place for the 7 lives lost that day in 1963.
Fort Gorges, Portland ME
Fort Gorges is an abandoned military fort that was built in the mid 1800s but was quickly proven obsolete when it was realized that it could not be modernized to accommodate quickly changing military weaponry. It was used for storage during WWII, but then abandoned again.
In 1960 it was given park status, but there is no maintenance that is regularly done of this abandoned military fort, so while people are welcome to come explore at their own risk, the only way to reach the park is by boat or kayak.
You might also like: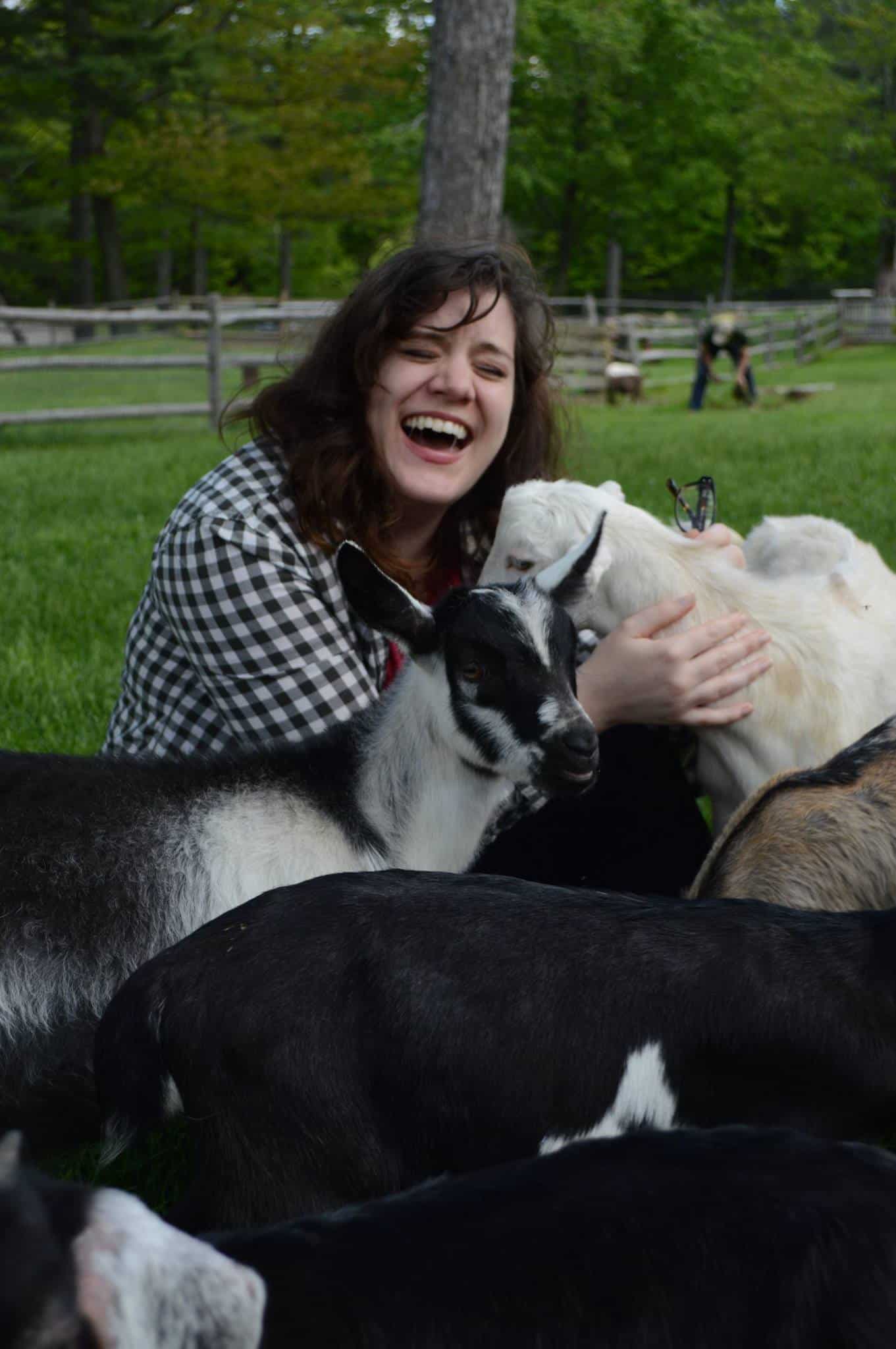 Amy Hartle is the founder and Editor-in-Chief of New England With Love, a comprehensive resource for travel in the New England region. Amy has been exploring New England since 2001. She lived in Vermont for many years and is a graduate of Plymouth State University in New Hampshire. On this site, Amy aims to share her love of New England and help you to have the best possible adventures!
Amy has been writing about travel for over a decade, and is a full time blogger, publishing both Two Drifters and Let's Adventure Baby. When not traveling the world or creating epic blog content, Amy can be found cuddling with her husband, son, and cats, & drinking a maple latte.