*This site uses affiliate links; if you make a purchase through these, I may receive a small commission at no cost to you.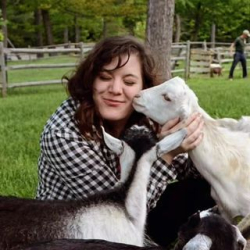 Latest posts by Amy Hartle
(see all)
Do you like exploring abandoned places? Well, if you're looking for abandoned places in Massachusetts, there are plenty of them!
The Bay State has several historic abandoned places that are fun to read about and some you can even visit for yourself. Of course, anytime you go off the beaten path exploring, exercise caution, obey all signage, and use your best judgment to stay safe!
Disclaimer:
This list of abandoned places in MA is meant for entertainment purposes only. Visiting many of these in person is not only dangerous but also illegal and may be considered trespassing. Trespassing laws vary from state to state, but most are prosecutable offenses that could land you in hot water with steep fines or even jail time. Have fun reading through this list of abandoned places in Massachusetts!
Abandoned Places in Massachusetts
Medfield State Hospital, Medfield MA
Founded in the 1890s as the Medfield Insane Hospital, Medfield State Hospital was comprised of scores of brick buildings spread out across a large campus that took in thousands of people with mental disorders over the years, with the controversial use of such methods of the time as insulin shock and electroshock treatments.
The actual hospital closed its doors in 2003 and while the buildings are mostly boarded up and locked, the grounds of the hospital are open to the public, with many using it as a public space to walk their dogs and get exercise. It has also been used as a filming site for films like Knives Out and Shutter Island.
Fernald State School, Waltham MA
Opening in the 1880s as a state institution for those with developmental disabilities, Fernald State School quickly became a site of horrific abuse, including medical and scientific research done on children; the most widely known being the infamous radioactive Quaker Oats that were being fed to young boys to track absorption of calcium and iron. A settlement to the tune of $1.85 million was reached in 1998.
The doors of Fernald officially closed in 2014, and today the massive 196-acres of historic buildings and outdoor space is largely overgrown and in various stages of decay. Many buildings are so far gone that ceilings and floors have collapsed, making it incredibly dangerous to even set foot inside. Others are simply dirty and disheveled and look like time has simply stood still within its walls. This is a state-run property and it is illegal to enter the grounds.
Chester-Hudson Quarry, Becket MA
The historic Chester-Hudson Quarry began as an operational quarry in the 1860s and is cited as being a pivotal part of early development of this area of Massachusetts. However, it was abandoned in the 1960s, with most of the equipment left behind as if the workers had left for the day expecting they would return the next!
Today you can tour this historic abandoned MA place for free, seeing the vintage quarry equipment, tools, and remaining structures as they stood all those decades ago. You can even pick up a brochure at the quarry entrance on your way in to explore this abandoned place.
Lyman School for Boys, Westborough MA
Established by the Commonwealth of Massachusetts in the 1880s, Lyman School for Boys was a reform school for "unteachable" boys and was operated with military-like ideals. As was the case with so many of these state-run, live-in schools during the time, physical, mental, and sexual abuses were common.
This state-owned school was closed in 1971 and in the decades since, a few parcels of property of the 200+ acreage once used by the school has been sold, but a grand majority of the buildings that once made up the Lyman School for Boys still remain, many completely boarded up and most in significant states of decay. This state-owned property is on the National Register of Historic Places and it is illegal to enter the grounds.
Franklin Park Bear Dens, Boston MA
Once used to house actual bears in the earliest days of Boston's Franklin Park Zoo, the Franklin Park Bear Dens were abandoned in 1971 as the layout of the zoo changed, putting these elaborate cages outside the boundaries of the zoo.
This area of Franklin Park is known as Long Crouch Woods and is accessible by putting "Long Crouch Woods" as your GPS destination. A magnificent stone staircase leads to these abandoned bear cages, which include elaborate engravings of bears and the 1912 Boston seal. A visit to this surreal space is a peek into the zoo as it was in its earliest days.
Taunton State Hospital, Taunton MA
Built in the 1850s and originally named the State Lunatic Hospital at Taunton, it was only the second state asylum of its kind built in Massachusetts, and in its time it took in a variety of patients who were suffering from both real mental and physical handicaps as well as those that were considered disruptive or unusual for their time, including "outspoken women" and those who simply did not meet the status quo of the day.
The main section of the Taunton State Hospital was closed in 1975 and the building was added to the National Register of Historic Places in 1994, before significant parts of the building began to fall into disrepair through collapse and fire damage. Today, what remains of Taunton State Hospital serves the community as residential program centers for the Department of Youth Services and other at-risk community members; it is not open to the public.
Rutland Prison Camp, Rutland MA
The Rutland Prison Camp was created in 1903 as a holding place for minor offenders like petty thieves, and the prisoners held there worked the land and raised livestock, even producing so much milk that the excess was sold to the general public! The Rutland Prison Camp even had a tuberculosis hospital onsite.
However, the low lying area proved problematic for drainage and flooding issues forced the camp to close in 1934, but the concrete ruins remain open to the public to explore (and graffiti, unfortunately; so much graffiti at this abandoned MA place!) in Rutland State Park. As always, explore at your own risk.
Read Next: 13 Haunted Places in Massachusetts: Paranormal Hot Spots 👻
Clinton Tunnel, Clinton MA
Clinton Tunnel is an abandoned rail line tunnel that opened in 1903 as a part of a 100+ mile route for the Central Massachusetts Railroad. It operated until the 1970s when parts of the rail line were discontinued, leaving this 800-foot tunnel abandoned in Massachusetts' woods.
Its stone walls are now covered in graffiti, and the inside of the tunnel is almost always wet, and it was recently closed for repairs to prevent loose rocks from becoming a safety issue. Be sure to do a little research ahead of time before traveling to see this abandoned place in MA as it is completely closed to the public while repairs are being made.
Brook Farm, Boston MA
Brook Farm was the site of a transcendentalist social experiment began in 1841 in a quest to create a utopian community. In its short time operating as an actual community, it had up to 120 members and generated a significant source of income with its onsite school, but the experiment ended in 1847 and the grounds were abandoned.
The property was used as a training site for Civil War soldiers during the Civil War, then as a Lutheran orphanage, and a few other things in its life, but as the original buildings deteriorated and succumbed to fires and other natural forces, they all gradually fell. Today you can explore the 179 acres of woodlands, wetlands, and nature trails for yourself; a Lutheran cemetery remains on the grounds.
Steinert Hall, Boston MA
A piece of Massachusetts' abandoned history that exists right underfoot of Bostoners, Steinert Hall was originally built as an underground performance venue in the 1890s, intended to provide almost near and total soundproofing and block out the sounds of the busy city outside its doors, but as fire codes began to be put in place, it was clear that Steinert Hall couldn't be updated to be up to code.
Out of commission since 1942, this opulent underground abandoned theater features curved walls, intricate architectural details, and acoustics that are to this very day, absolutely incredible. The Today Show was able to go into Steinert Hall in 2017 and in addition to offering a 3D tour of the abandoned theater, they also recorded world-class violinist Joshua Bell playing in Steinert Hall; once a premier performance space for giants of the classical world such as Sergei Rachmaninoff, today this space is inaccessible to the public and exists tucked away and mostly forgotten in the heart of Boston.
You might also like: