Are you one of those people who like exploring abandoned places? Well, if it's abandoned places in NH you're looking to explore, there are some great options!
What is it about abandoned places in New Hampshire that is so cool? Read on to find out.
Disclaimer
This list of abandoned places in NH is meant for entertainment purposes only. Visiting many of these in person is not only dangerous but also illegal and may be considered trespassing. Trespassing laws vary from state to state, but most are prosecutable offenses that could land you in hot water with steep fines or even jail time. Have fun reading through this list of abandoned places in New Hampshire!
Abandoned Places in NH
Madame Sherri's Castle
Located in the 513-acre state forest named after it, what is now known as Madame Sherri's Castle are the final remnants of what was once a grand castlesque estate of a Paris-born costume designer who liked to throw lavish parties during the Prohibition era for her family and friends; once alcohol became legal again, her parties became less popular as people could publicly drink in bars and restaurants again.
The home sadly burned down in the early 1960s and the only thing left standing was the dramatic curved stone staircase, still a sight to see even after all these years. A portion of the stone staircase collapsed in 2021 and the area was roped off in order to assess how to move forward safely.
Read Next: 13 Most Haunted Places in New Hampshire: Paranormal Activity
Livermore
If you like exploring abandoned villages in New Hampshire, then Livermore might be perfect for you! What was once a successful logging community is today just a memory, with brick and stone walls in varying degrees of decay throughout the village.
The population of Livermore continued to decrease as the logging industry that had sustained it began to dwindle and residents moved out of the community to other areas nearby that had more amenities. To this day, you can find artifacts of Livermore's time as a community still around this abandoned place.
Monson Center
As far as abandoned places in New Hampshire goes, Monson Center is perhaps the very oldest, with buildings remaining that were built in the 1700s in this colonial-era village. This historic gem has been preserved as a park/nature center and there is signage that details what the different ruins were at one time.
Monson Center also has a small museum, located in one of the restored original buildings, but as you wander this old New Hampshire ghost town, you might get more of a feel for this abandoned place than you will exploring the museum.
Odiorne Point Batteries
Located in Odiorne State Park are the Odiorne Point Batteries, two bunkers that were built by the US military to defend against a potential attack at Portsmouth Harbor during World War II. These now abandoned bunkers are still present and able to be viewed, but entrance to them have been sealed as a safety precaution.
Also at Odiorne Point is what is sometimes referred to as the "Plymouth Rock of New Hampshire," a stone monument dedicated to the first European settlers of New Hampshire.
Bartlett Train Cars
In the White Mountains of New Hampshire, on a now defunct rail line, sit the Bartlett Train Cars, frozen in time. Made up of three coach cars, a coal car, and a swayback flat car, these train cars came to a stop in the 1990s and never started up again.
Today they are showing their decades of wear from being exposed to the elements for so long, and there have even been tales of a bear that likes to make its way onto the train, but these abandoned train cars still sit on the line with torn up seats, ceilings caving in, and windows busted out, never to move again.
Laconia State School
Opened in 1903 and initially called the New Hampshire School for the Feeble Minded, Laconia State School operated until 1991. In the earliest days, many of its so-called "inmates" were children of the most impoverished and disadvantaged that simply had nowhere else to go.
As was the case with many of these types of institutions of the time, abuses occurred regularly over the years, including forced sterilization. Today, the state of New Hampshire is trying to sell the almost 250 acre campus that remains boarded up and inaccessible to the public.
Fort Constitution Ruins
The Fort Constitution ruins are what remain from an American military fort that was constructed in the late 1700s, but interestingly, it was originally designated as a defense post in 1631 and named Fort William and Mary after the king and queen of England at the time and colonists flocked to the fort on Paul Revere's warning and was able to seize English weaponry in what many consider to be the first big movement of the American Revolution.
The Fort Constitution ruins sit on the same land as the Portsmouth Harbor Light. You can view the ruins from a distance, but it is currently fenced off for safety ruins.
Old Hill Village
Ever heard of any entire town being forced by the government to up and move? That was the case of Old Hill Village, the New Hampshire village that was abandoned to accommodate a flood control project in the 1930s.
As you make your way through the abandoned village today, you can find old foundations and even stone steps that remain from its time as a village before it was abandoned; there is even still remnants of a sidewalk.
Elbow Pond Community
Another abandoned place in New Hampshire, Elbow Pond Community was once a small recreational community of White Mountains cabins situated on a part of the Gordon Pond Logging Railroad. The land was owned by a logging company until the 1970s when it was bought by the government as a part of White Mountain National Forest.
It is said that the furious folks that lived at Elbow Pond Community and were being forced out decided to not go quietly and burnt their own cabins to the ground. Today you can go poking around the burnt-out remnants left behind of this once successful cabin community.
You might also like: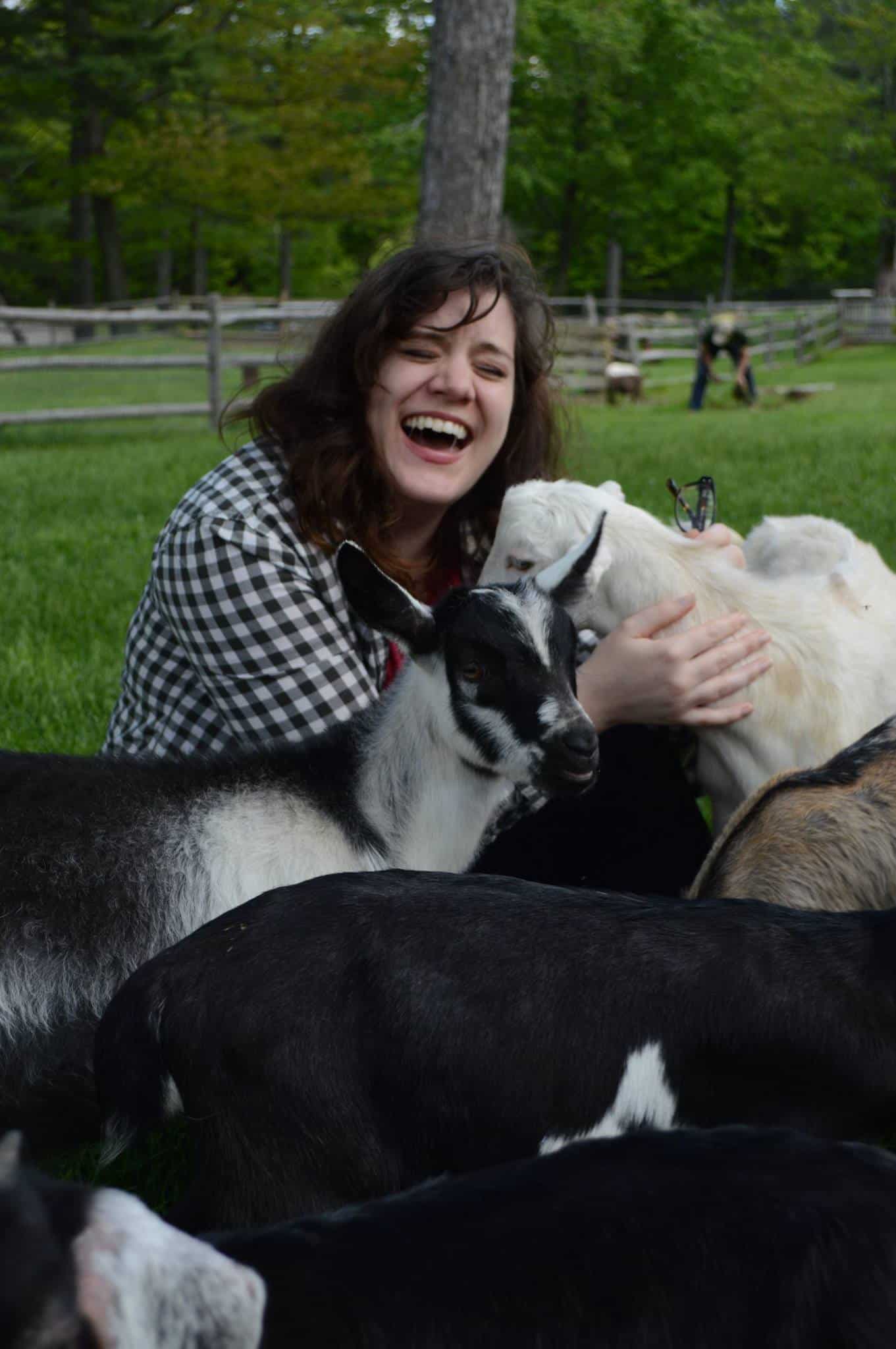 Amy Hartle is the founder and Editor-in-Chief of New England With Love, a comprehensive resource for travel in the New England region. Amy has been exploring New England since 2001. She lived in Vermont for many years and is a graduate of Plymouth State University in New Hampshire. Amy has been writing about travel for over a decade. On this site, Amy aims to share her love of New England and help you to have the best possible adventures!
Amy has been a full time blogger since 2012, and is also the publisher of Two Drifters, where she writes about couples travel and relationships, as well as Let's Adventure Baby, a family travel site. When not traveling the world or creating epic blog content, Amy can be found cuddling with her husband, son, and cats, & drinking a maple latte.