Abandoned places are so interesting to read about and explore, kind of like experiencing time frozen. If it's abandoned places in Vermont you're interested in, there are several cool abandoned VT spots to read about and explore.
The list below of Vermont's abandoned places makes for some interesting reading, and many are even open for exploration. Whether you're interested in reading about abandoned ghost towns or haunted places, you'll find some interesting spots on this list!
Have fun reading about and possibly exploring abandoned places in Vermont.
Disclaimer:
This list of abandoned places in Vermont is meant for entertainment purposes only. Visiting many of these in person is not only dangerous but also illegal and may be considered trespassing. Trespassing laws vary from state to state, but most are prosecutable offenses that could land you in hot water with steep fines or even jail time. Have fun reading through this list of abandoned places in Vermont!
Abandoned Places in Vermont
The Walloomsac Inn, Bennington VT
Once an inn bustling with guests and activity, today The Walloomsac Inn is holding on as best as it can while it waits for a new owner who will maybe someday restore it to its former glory. It was initially built as a tavern in the 1770s and remained a staple of Bennington VT with doors open to the public until the 1990s.
Today it shows signs of its age, wear, and tear, and a new owner is being sought for it who will work to renovate and restore this historic abandoned inn back to what it once was. For now, it is an abandoned inn in Vermont that sits waiting for some much-needed attention.
The Log Cabin Motel, Stockbridge VT
The old Log Cabin Motel in Stockbridge was once a great place to stay for outdoor enthusiasts like hunters and fishermen that frequented the area, but after decades and decades of failed maintenance, it now sits empty and abandoned, a shell of its former self.
The most notable aspect of this abandoned property is the quaint log cabin with two stone chimneys that was built in the 1940s, still appearing as if a part of a Vermont fairy tale. The future of this property remains in question to this day.
Freedley Quarry, Dorset VT
Freedley Quarry, opened in the early 1800s, is a little different from other abandoned quarries around New England because it was created by digging directly into the side of a mountain. Marble from the Freedley Quarry was in high demand until finally closing in the 1920s as other cheaper materials were being mined in the region.
Not only is this abandoned place interesting to explore and poke around in in the warmer weather, but it's also home to Vermont's only underground ice skating rink! As the temperatures plummet, bring your own ice skates out and take a spin or two in this underground abandoned Vermont place.
Von Trapp Chapel, Stowe VT
Located in the woods near Stowe sits a lovely little stone chapel, seemingly untouched by time. This is the Von Trapp Chapel, built by none other than the Von Trapps of the inspiration for the musical, The Sound of Music.
Nearby you can stay in the Trapp Family Lodge in picturesque Stowe, then hike through the woods to this gorgeous stone chapel. No longer in use, it now sits tucked away in the trees, a beautiful remembrance of the history of this important family and a fun abandoned place to hike to during a Stowe summer.
The Old Green Mountain Racetrack, Pownal VT
Located in Pownal and sometimes referred to as the Pownal Race Track, the Old Green Mountain Racetrack was built in the 1960s as a horse racing track and operated successfully until the 1990s.
Unfortunately, this old abandoned place was almost completely gutted by arson in the fall of 2020. The community and the owners of this abandoned racetrack are still working to find a way forward to secure this old building safely and/or demolish to start over.
Ricker Basin, Waterbury VT
An abandoned Vermont community, Ricker Basin was established in the early 1800s and was unfortunately ill-fated from the start due to soil issues and then a disastrous flood in the early 1900s sealed the day, causing the last families of Ricker Basin to abandon the town.
Today, there are foundations and stone walls of the Ricker Basin community that remain to be explored, as well as a historic Ricker Basin cemetery. Ricker Basin is now a part of Little River State Park, so this abandoned place in Vermont is easily accessible for exploration!
Hyde's Hotel, Sudbury VT
Built in the mid-1800s, Hyde's Hotel began as a summer resort, becoming a popular place for travelers to come and summer, with onsite activities like a bowling alley, dance hall, tavern, and more.
Abandoned in the early 1970s, this beautiful historic building has been slowly decaying and deteriorating over the decades since its doors finally shut. Today it is a place that is being slowly reclaimed by nature, and huge portions of the roof have collapsed in entirely.
Maple Valley Ski Resort, Dummerston VT
Maple Valley Ski Resort was once a popular ski area in the Brattleboro area, featuring a 1000-foot vertical drop and multiple ski areas, lifts, and a base lodge. Opening in the early 1960s, Maple Valley Ski Resort had some difficulties keeping up over the years, and ownership changed hands multiple times before finally closing its slopes permanently in 2000.
In the years since, there has been talk of reviving this once popular Vermont abandoned place, including building a brewery. At the time of this writing, the future of this abandoned ski resort remains uncertain.
Lyndonville Air Force Base, Lyndonville VT
Construction began on the Lyndonville Air Force Base in the mid 1950s on East Mountain in remote Northeast Kingdom of Vermont. Also known as the East Mountain Radar Base, it was officially closed in the 1960s, but a series of odd events have taken place on its site.
In 1961, a UFO sighting took place in the skies above this air force base just a few hours before there was a reported UFO abduction in nearby New Hampshire, with many believing there was a connection. Then in 1969, a freak accident with a snowmobile onsite resulted in someone being decapitated. Just a couple of decades later, another trespasser died when they fell from one of the radar towers. Today, it is considered one of the creepiest abandoned places in Vermont.
Retreat Tower, Brattleboro VT
This large stone tower in Brattleboro began to come into formation in 1887 as a part of what was initially called The Vermont Asylum for the Insane before being renamed The Brattleboro Retreat. The Retreat Tower was built as both an important working project for the patients at the hospital and then as a scenic lookout tower for patients, but it ended up having a nefarious purpose instead.
Several of the patients that climbed the tower ended up jumping from the top to their deaths, and the exact number of patients who did this remains unknown. There is also a nearby cemetery with graves dating back to the 1800s, most former residents of the hospital. This is an abandoned place that is said to have high amounts of paranormal activity, so heads up!
You might also like: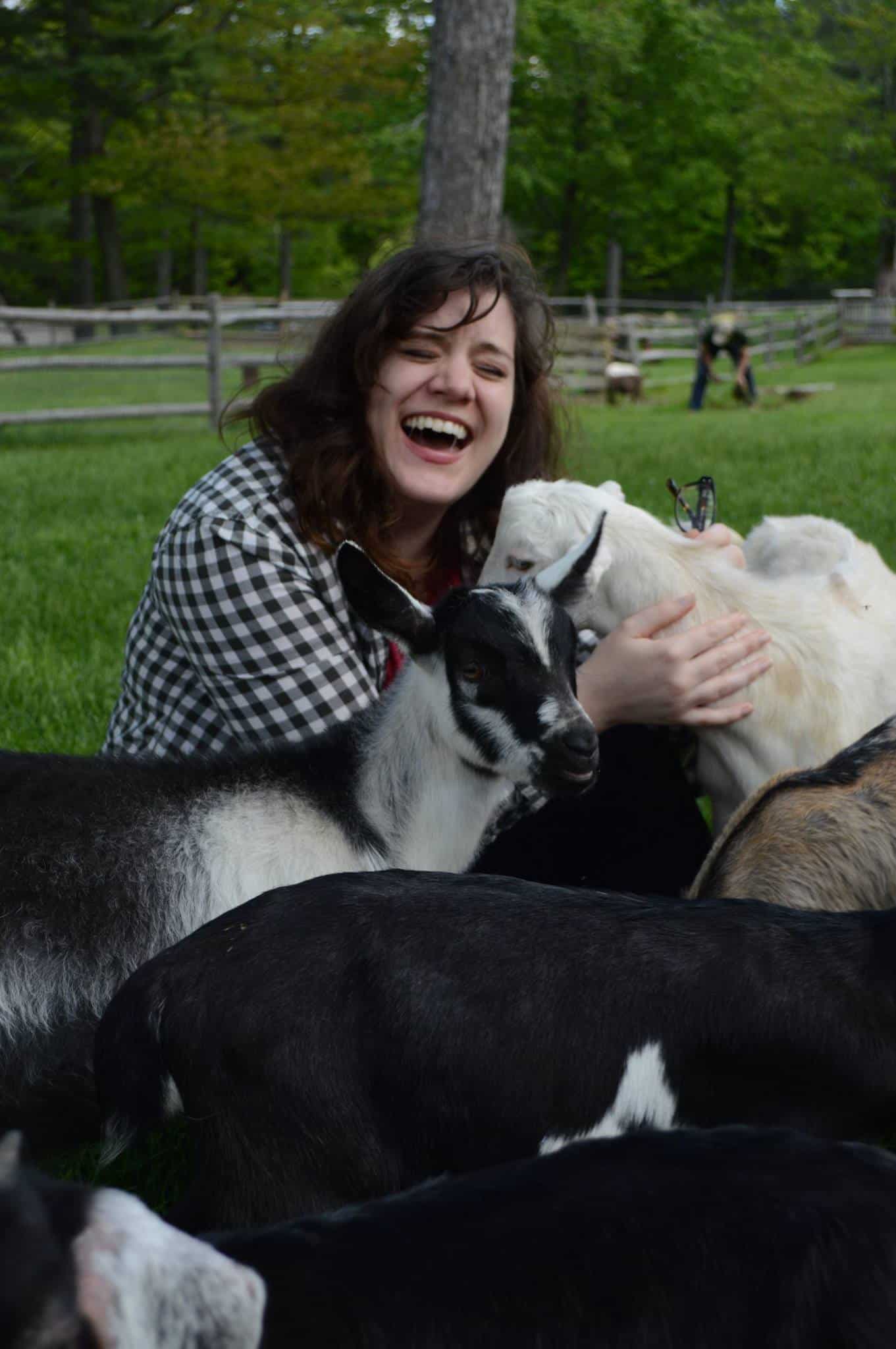 Amy Hartle is the founder and Editor-in-Chief of New England With Love, a comprehensive resource for travel in the New England region. Amy has been exploring New England since 2001. She lived in Vermont for many years and is a graduate of Plymouth State University in New Hampshire. Amy has been writing about travel for over a decade. On this site, Amy aims to share her love of New England and help you to have the best possible adventures!
Amy has been a full time blogger since 2012, and is also the publisher of Two Drifters, where she writes about couples travel and relationships, as well as Let's Adventure Baby, a family travel site. When not traveling the world or creating epic blog content, Amy can be found cuddling with her husband, son, and cats, & drinking a maple latte.