*This site uses affiliate links; if you make a purchase through these, I may receive a small commission at no cost to you.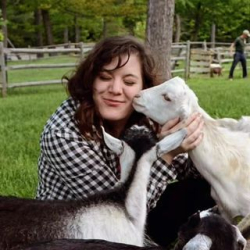 Latest posts by Amy Hartle
(see all)
If you're traveling in New England, hiking is definitely something that's bound to be on your bucket list. The region has such a fantastically varied terrain that you can find just about any kind of hiking you are after; Craggy coastal hikes? Check. Challenging mountain hikes? Yup. Scenic New England hikes? Absolutely!
If you're looking for the best hikes in New England, you've come to the right place! There are hiking options best suited for families with kids, challenging hiking trails for those looking for an adventure, scenic New England day hikes perfect for those looking for a great photo op, and more.
The best hikes in New England are the hikes that are best for you, so check out these New England hiking options for everyone to find the New England hike that's right for you!
Best Hikes in New England – Vermont
Mount Olga Trail
Located near Wilmington in Molly Stark State Park, 1.8-mile Mount Olga Trail is great for hikers of all skill levels looking for a quick scenic hike. Offering a distinctively New England hiking experience, there's a tower climb that provides incredible 360-degree views and a distillery and brewery near trailhead parking that is perfect for refueling after your hike!
Mount Mansfield via Long Trail
The tallest point in Vermont, Mount Mansfield is a beast of a New England hike! Taking Long Trail South from Route 108, it is about 4.7 miles to the summit; to make it to "the chin" requires a gain of 2,790 feet in elevation. Much of this challenging hike is fairly steep and rocky and is recommended only for very experienced hikers. After about 2,000 feet of climbing, you will reach Taft Lodge where you can rest and regroup before making your final ascent. You'll def want the break!
Mount Pisgah Trail
Just 2.3 miles to get to the summit, Mount Pisgah Trail is a moderate New England hike that meanders through beautiful forest and alongside streams, even offering some fantastic views of sparkling Lake Willoughby down below. There's the North Trail and the South Trail and while you can do it as a loop, that will leave you walking a few miles along the busy roadway to get back to where you started!
Lye Brook Falls Trail
Lye Brook Falls Trail is a moderately difficult hike of less than 5 miles round trip, and the scenic prize is huge! At an impressive 125 feet, Lye Brook Falls is one of the tallest and most beautiful waterfalls in the Green Mountain State; if you're looking for scenic hikes in New England, Lye Brook Falls Trail might be just the hike for you!
Best Hikes in New England – Connecticut
Kent Falls Trail
Are you looking for beautiful waterfall hikes in New England? The hike to Kent Falls is a quick .7 mile trail that is fairly easy to maneuver on for all skill levels, with 250 feet of gorgeous cascading waterfall that you can get close enough to that you feel the rushing water mist your face! Plus, Bull's Bridge in Kent is a must-visit while in the area and makes for a great photo op after your New England waterfall hike!
Talcott Mountain Trail
Talcott Mountain Trail is a moderate 2.5-mile hike in beautiful Talcott Mountain State Park that leads to a spectacular view at Heublein Tower, the 165-foot tall tower that provides incredible sights from the top of Talcott Mountain; this is an especially scenic New England hike in fall!
Indian Council Caves Trail
A part of Connecticut's Tunxis Trail, Indian Council Caves Trail is a mostly moderate 4.9 mile New England day hike that has plenty to see and enjoy, including lovely wildflowers and very interesting rock and boulder formations. These aren't true "caves," but they are a pretty neat area to hang and explore!
Best Hikes in New England – New Hampshire
Arethusa Falls Trail
Leading to one of the most beautiful waterfalls in NH, Arethusa Falls Trail is a fantastic New England day hike. Only 3 miles round trip, this moderate hike leads to a spectacular waterfall of almost 200 feet! Definitely a spectacular photo op for those looking for a scenic New England hike!
Mount Pemigewasset Trail
Sometimes referred to as Indian Head, Mount Pemigewasset Trail is a challenging New England hike that is rated as moderately difficult. At 3.7 miles round trip, this scenic hike offers spectacular White Mountain views that are difficult to match! Visit in spring when wildflowers are carpeting the ground with splashes of color!
Artists Bluff and Bald Mountain
If you're looking for an easy-moderate scenic day hike in New England that offers a nice climb up and spectacular views, then the 1.5-mile loop of Artists Bluff and Bald Mountain might be just what you're looking for! This is a popular fall foliage hike for the incredible aerial views of sparkling Echo Lake surrounded by New Hampshire autumn colors, but it's gorgeous all year round!
Tuckerman's Ravine Trail
The highest point in New England, Mount Washington is often referred to as the most dangerous small mountain in the world, and hikes to the top should only be attempted by very experienced hikers. 7+ mile Tuckerman's Ravine Trail from Pinkham Notch is a popular way to reach the summit, and getting current weather information is a must for this hike.
Alternatively, you can just hop on The Cog and see the top of the mountain that way, unless you're looking for a very challenging, somewhat dangerous New England hike!
Best Hikes in New England – Massachusetts
Mount Greylock
Clocking in at 3,491 feet, Mount Greylock is the highest point in the Bay State. There are so many fantastic hikes on Mount Greylock for all varying degrees of difficulty, but if you're looking for a moderate hike to the top, consider Cheshire Harbor Trail, a 6.2-mile ascent to the spectacular views awaiting at the summit; Mount Greylock is a fantastic choice for a scenic fall New England hike!
Bash Bish Falls Trail
Bash Bish Falls Trail is only 2.1 miles of mostly moderate hiking outside of Mount Washington that leads to one of the most beautiful waterfalls in the Bay State! A great scenic New England day hike, Bash Bish Falls is always a fantastic photo op, so be ready to get plenty of pictures of these gorgeous falls!
Great Island Trail
Cape Cod's lovely Great Island Trail is a moderate scenic day hike that twists and turns through dunes, woods, and open beach, with an option to extend the modest 4-mile loop to an 8.8-mile loop to Jeremy Point Overlook. One of several great Cape Cod hikes, the magical Cape Cod scenery and the simplicity of this hike work together to create the perfect scenic day hike in New England for clearing the head and soul!
Best Hikes in New England – Maine
Mount Katahdin
Regardless of what trail you choose, Mount Katahdin is an absolute beast to ascend, as you end up gaining a whopping 4,000 feet in elevation! Mount Katahdin is only for the seasoned and very well-prepared New England hiker; Knife's Edge is an incredible photo op, but it is extraordinarily challenging and should only be attempted by those who consider themselves expert-level hikers.
Burnt Meadow Mountain Trail
If it's a moderate New England day hike with babbling brooks, wildflowers, and scenic views of mountain valleys you're after, consider the 3.4-mile Burnt Meadow Mountain Trail near Brownfield! Burnt Meadow Mountain Trail has a blue trail and a yellow trail, with the blue trail requiring some steep scrambling up rock faces to get to the top; choose the yellow trail if you prefer a gradual ascent and a picturesque babbling brook!
Moxie Falls Trail
Another spectacular waterfall New England hike, Moxie Falls Trail is a moderate 1.7-mile trail that leads to one of the tallest waterfalls in Maine! A wide gravel path eventually makes way for stairs, but it is recommended to use caution as you get closer to the falls; things get a little slippery! Safety first when capturing those wonderful waterfall shots on this scenic New England hike!
Best Hikes in New England – Rhode Island
Cliff Walk
The Cliff Walk is 3.5 miles of seaside serenity that meanders along Newport's shoreline, offering interesting views of the Gilded Age homes that line the shore here in the Historic District. Most of the walk is fairly moderate, and there are multiple opportunities to hop on and off of this scenic coastal hike!
Block Island Greenway Traverse
Block Island has a few different hiking options, but the Greenway Traverse is a 6-mile moderate scenic day hike with fantastic Block Island views. Don't forget to visit the scenic Mohegan Bluffs while on the island; the walk down the 141 steps to get to the actual beach is a hike in itself on this must-visit spot on the Ultimate New England bucket list!
Beavertail Trail
Located in lovely Jamestown, Beavertail Trail is an easy 2.3 mile New England hike that offers a fantastic excursion through Beavertail State Park. Plus, you can visit the Beavertail Lighthouse and Museum to learn more about the 3rd oldest lighthouse in the US!
Best Hikes in New England with Kids
Flume Gorge Trail
The Flume Gorge Trail is a fantastic hike for kids in New England! Clocking in at just 2 miles for the loop, you can also opt for a shuttle bus ride from the visitor center, making it only a .7 mile round trip to explore this neat gorge! Much of the hike is on a boardwalk and young kiddos will still need closely monitored, but kids (and adults!) of all ages will love inspecting the awesome vegetation that grows wild along the Flume Brook here.
Shoreline Trail
Shoreline Trail is another great New England kids hike! Located in lovely Lily Bay State Park, this 2-mile scenic lake hike is easy on legs of all sizes as it's flat and easy terrain. Plus, it's got gorgeous views of Moosehead Lake; hard to beat that!
Atlantic White Cedar Swamp Trail
Located in beautiful Wellfleet, the Atlantic White Cedar Swamp Trail is a perfect New England hike with kids! Only a 1.2-mile loop, this moderate trail enters the Atlantic White Cedar Swamp via a boardwalk and meanders through a woodland wonderland of stunted oak and pine! There are some steep stairs along the trail, so smaller kiddos might need a little help there.
Wonderland Trail
Acadia's Wonderland Trail is a 1.4-mile round trip, easy, scenic day hike that is very kid-friendly! Not only is Acadia a blast to visit with so much to see and do, but this scenic coastal hike weaves in and out of spruce and fir forest and allows for exploration of the tide pools and all the critters that call the tide pools home!
Walden Pond Trail
Visit Henry David Thoreau's homestead site on the Walden Pond Trail, an easy 1.8-mile loop hike that is perfect for little legs! Not only do you get to see the famous Walden Pond, but there are beaches for swimming, too, making the Walden Pond Trail a great summer New England hike with kids.
There are so many great New England hikes to choose from, whether you're a beginner or a pro! The best hikes in New England are the hikes that are the best for you, so take your time, plan to backpack when necessary, do a little research and be sure to check the weather before heading out because no one wants a Hiking in New England Story that includes being rescued from a dangerous spot in a wicked storm!
Read these next: