Massachusetts is known for many things. It's a beautiful state that's home to many natural resources, like state parks, historic sites, hiking trails, and of course, waterfalls!

Waterfalls in Massachusetts are known for being surrounded by thick forestry and having incredible views. There's a reason so many people flock to these falls, after all.
If you're looking for a MA waterfall that curbs your wanderlust and helps you reconnect to nature, these are the falls to head to. So, which falls should you see first? And what are some key things to know about them? Here are 12 must-see waterfalls in Massachusetts, and why you should visit them ASAP.
Waterfalls in Massachusetts
Bash Bish Falls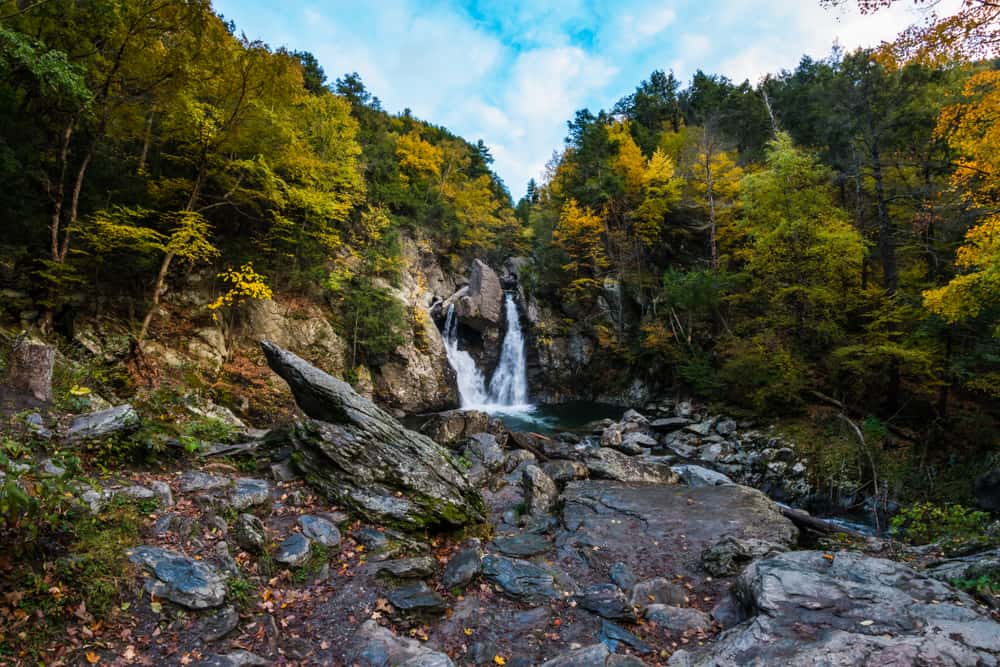 One of the most well-known waterfalls in Massachusetts is Bash Bish Falls — and there's a reason it's so popular. These falls are located in the south-western portion of Massachusetts and are a part of Bash Bish Falls State Park surrounded by luscious forestry. The hike to get there is moderate but well worth it.
The falls have an 80-foot drop where water from the Bash Bish Brook crashes into a pool below. You can admire the pool and the falls year-round, but it's recommended you visit them between April and November. This MA waterfall can draw quite a crowd, though, just a heads up!

Royalston Falls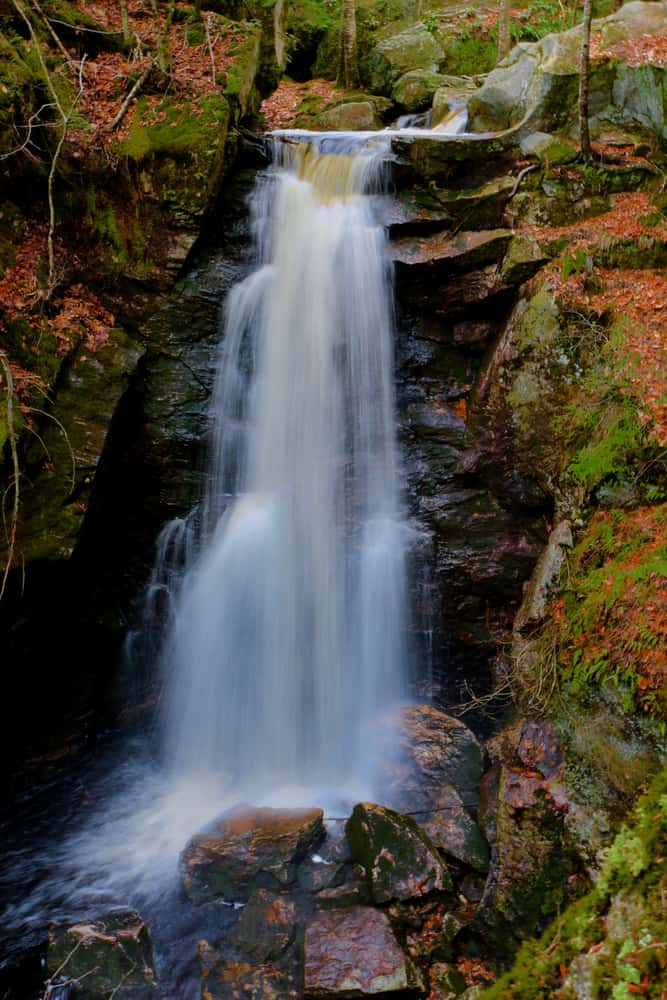 One of the most scenic MA waterfalls to visit is Royalston Falls. These scenic falls are located in the town of Royalston within the Royalston Falls nature preserve, a space that houses more than 200 acres of sprawling natural beauty.
Royalston Falls is located along the Tully Trail and has a 45-foot drop that sends water from Falls Brook down into a gorge. If you want to look at the falls, you can get a fabulous view by carefully standing at the top of the falls or from behind cable-wire safety fences.
You can even spend the night at Royalston Falls — there's a small shelter less than a half-mile above the falls that houses hikers, but spots are limited.
Doane's Falls
While you're in the town of Royalston visiting Royalston Falls, you can also swing by Doane's Falls. Doane's Falls is 6.7 miles away from Royalston Falls and is located in Doane's Falls Reservation. They have a 175-foot total drop and have a number of plunges, cascades, and even a block.
You can take a small hike to the lower part of this MA waterfall and witness water from the Lawrence Brook gush over the shelf-like cascades. If you do decide to explore the falls and the surrounding area further, it's recommended you stay on the trail, especially if it's rainy and muddy near the falls.
Gunn Brook Falls
Looking for kid friendly waterfall hikes in Massachusetts? Consider Gunn Brook Falls, where you've got both a lower and upper falls hike that could be appropriate for shorter legs, and with the hike being only about .2 miles long.
The falls here at Gunn Brook Falls are only about 15 feet high, but if you hike out after heavy spring rains, it is an absolutely gorgeous waterfall to visit!
Campbell Falls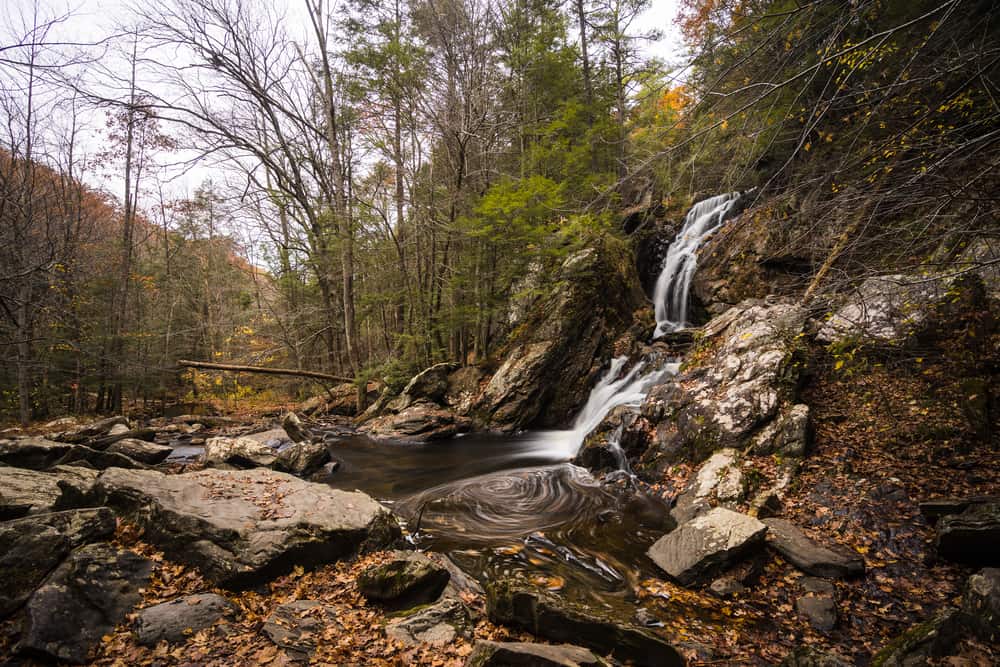 One of the best waterfalls in MA to visit is Campbell Falls. Campbell Falls is located within Campbell Falls State Park Reserve in New Marlborough, a town right on the Massachusetts and Connecticut border.

The falls have a 50-foot total drop that delivers water from the Whiting River into small pools and gorges. If you do visit these falls, it's best to visit them between April and November. Remember, the more rain the area gets, the more likely you'll see water gush down the wondrous walls of the falls.
Race Brook Falls
If you're looking for a series of Massachusetts waterfalls to visit at one time, look no further than Race Brook Falls. These falls are located near the town of Sheffield and within the Mt. Everett State Reservation.
Race Brook Falls has a 300-foot drop, making them one of the highest in the state. The falls are made up of five sets of waterfalls that offer scenic views of trees and trails.
Trails to each waterfall differ in intensity, so be prepared for that difference if you want to see different levels of the falls. If you still have an itch for hiking after seeing the falls, you can go to nearby Mt. Everett or Mt. Race and tackle their summits.
March Cataract Falls
There are many nice waterfalls in western MA. This one, located in north-western Massachusetts in the Mt. Greylock State Reservation, March Cataract Falls is one of the shortest waterfalls in the state— but don't let that fool you: these falls still have a wonderful view.
Check out this guide to hiking to the falls.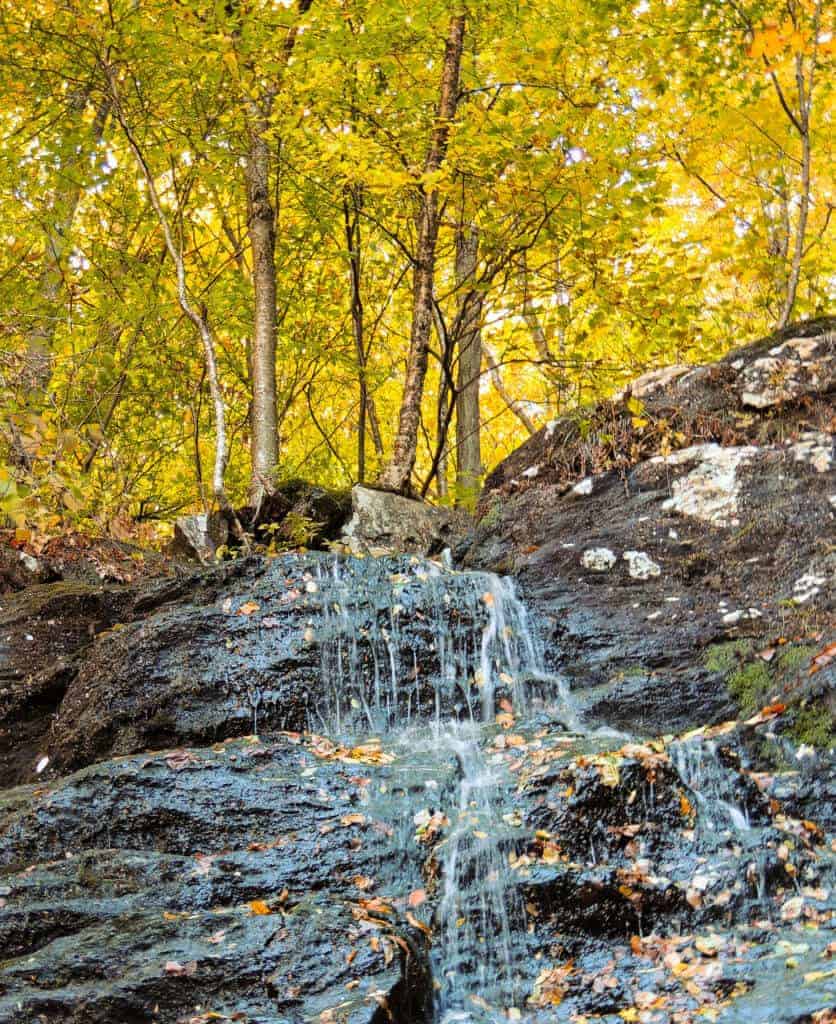 The falls are fan-shaped, which makes the water from Hopper Brook trickle down the walls in a unique and beautiful way. There's also a trail that's close to the falls, which means you can get close without having to risk your safety.
Chapel Brook Falls
Located on lovely Pony Mountain, Chapel Brook Falls is one of the most popular MA waterfalls, in part because it is easy to access. Made up of three drops of about 45 feet total, these falls really have a beautiful presence after heavy rains!
The best time to visit is April through November, and the hike to get out to Chapel Falls is only about .2 miles long and very simple, so this is a lovely waterfall hike to take with little ones!
Bear's Den Falls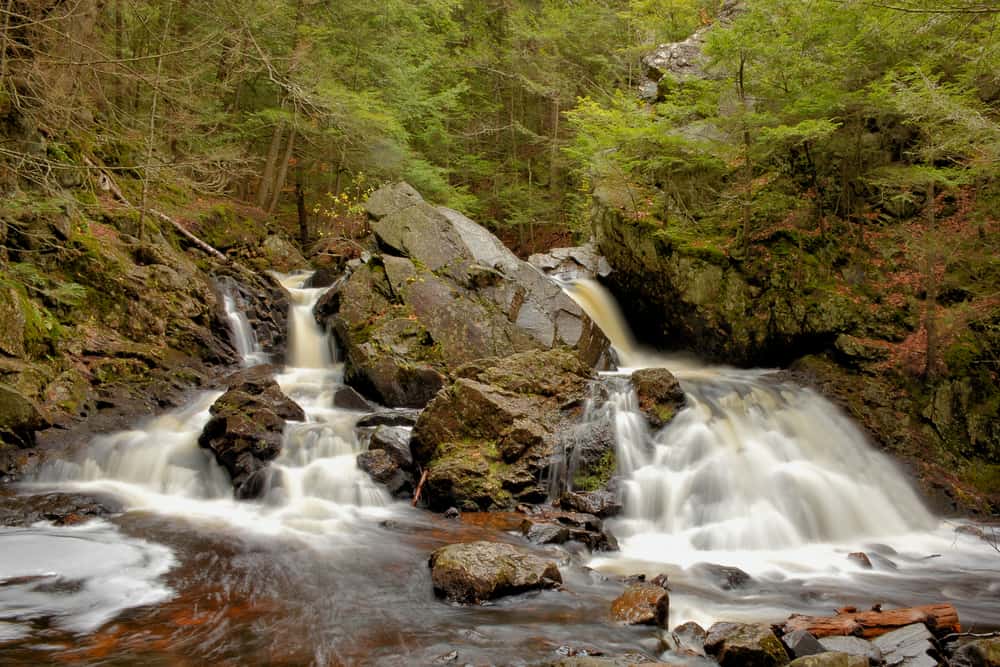 If you're looking for a small waterfall you can access by a small hike, then Bear's Den Falls is the waterfall for you. This 12-foot high waterfall is located within the Bear's Den Reservation in the small town of New Salem. It's one of the smallest waterfalls in the state, but don't let its size fool you — it's still a sight to see.
Water from the Swift River flows along the cascades and fans out before it hits a small pool, creating a scenic view for hikers. Be sure to bring your camera along for this one!
Umpachene Falls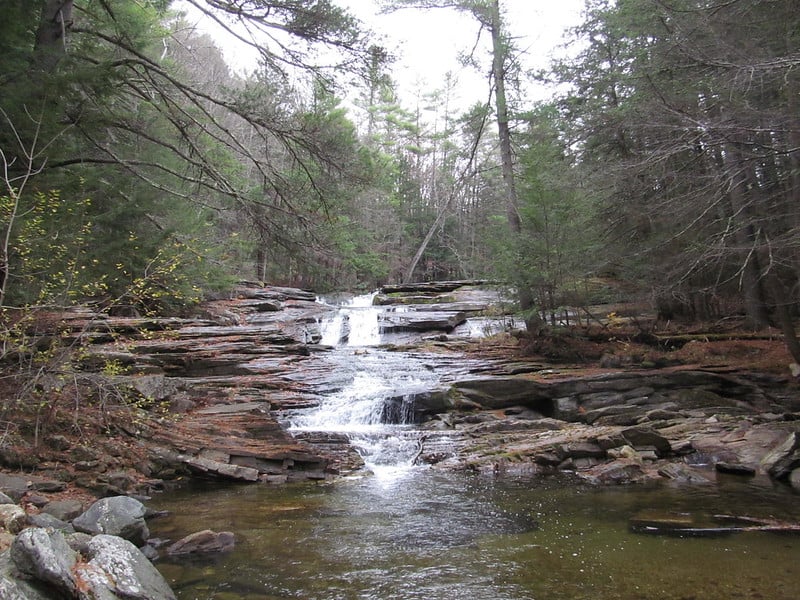 If you're looking for a great spot in Massachusetts to both hike and swim, Umpachene Falls is your place. You'll find this waterfall within Umpachene Falls Park, located in the town of New Marlborough.
This 40-foot waterfall is easy to find and hike along. Once you get there, you'll find a steady stream of water flowing down cascades and into an impressive swimming hole. Feel free to take a dip!
You can also climb the cascades and take pictures on the rocks, but be super careful. If the water is really gushing, the cascades could be slippery.
Twin Cascades
The name gives it away, but Twin Cascades is composed of not one, but two MA waterfalls that come together to form the shape of a Y. With a drop of 80 feet and 60 feet, respectfully, these are beautiful waterfalls to see, and with less than a mile of a trail to reach them, they are fairly easy to get out to.
However, these falls are technically on private property, but waterfall chasers have historically been allowed to hike out as long as they are respectful of the space and not misusing it, aka partying out there.
Tannery Falls
Tannery Falls, located in the Savoy Mountain State Forest, is one of those waterfalls that you'll remember for a long time. These are actually an 80-foot series of tall plunges, cascades, and slides. The trail you take to marvel at these beauties is just shy of five miles long, which means you'll need some time to get to the falls. Wear your hiking shoes!
It's recommended that you visit these falls between May and October, but you can really see the water plunge down the cascades after a good rainfall. So, you'll likely see them at their peak in late spring.
Wahconah Falls
Another of the prettiest waterfalls in Western MA you'll see is Wahconah Falls. Located within Wahconah Falls State Park in the town of Dalton, these falls are popular among locals and tourists alike. There are places to picnic, fish, and hike along the falls.
These 40-foot falls are fed by the Wahconah Falls Brook. You can watch the water flow over the multiple tiers of cascades as you hike a half-more loop along the upper falls. Like many waterfalls on this list, it's recommended you visit the falls in the spring to see it at its most powerful (and beautiful).
Goldmine Brook Falls
If you're looking for a waterfall that's beautiful and remote, look no further than Goldmine Brook Falls. This waterfall is located in Chester, Massachusetts, and it's not exactly the easiest waterfall to find in Chester-Blandford State Forest. But once you do find it, you'll see a gorgeous multi-tiered waterfall with a 45-foot drop.
There are places to swim here, but the water may be a little too cold for your liking. Instead, you can walk along the rocks and admire the natural beauty of water from Goldmine Brook falling in this hidden gem.
Trap Falls
Another hidden gem you must visit is Trap Falls. It's one of the prettiest spots in Massachusetts and is a favorite spot among locals. Located within the Willard Brook State Forest in the town of Ashby, these falls are made of three separate plunges that fall into a shallow pool, with the highest plunge being 12 feet.
The falls are also family-friendly and have facilities available to those who wish to make a day trip out of their journey. You may see others while visiting them, but they're still pretty remote. Bring a camera to capture the beauty and fun memories you'll create!
---
There are numerous waterfalls to explore in Massachusetts, but these ones are must-sees for a number of reasons. They provide breathtaking views, are located in picturesque landscapes, and provide families with a fun outdoor activity to partake in.
If you visit these Massachusetts waterfalls with your family and friends, remember to keep safety in mind. Pay attention to the trails and how safe they are for hiking. As long as the trails are safe and the falls are in good shape, hike your heart out!
---
This Massachusetts waterfalls map can help you locate all the best spots!
---
You might also like:
---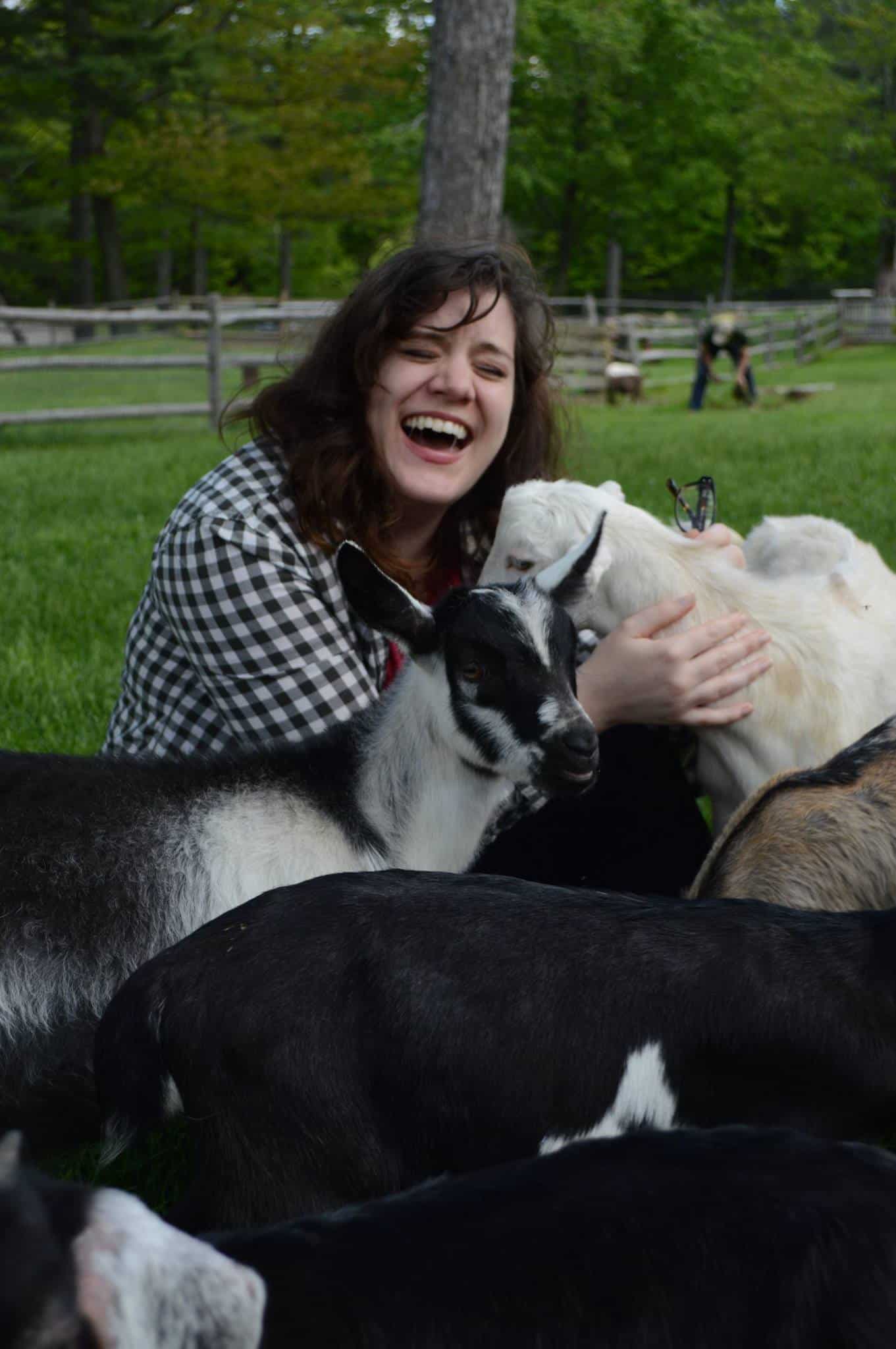 Amy Hartle is the founder and Editor-in-Chief of New England With Love, a comprehensive resource for travel in the New England region. Amy has been exploring New England since 2001. She lived in Vermont for many years and is a graduate of Plymouth State University in New Hampshire. Amy has been writing about travel for over a decade. On this site, Amy aims to share her love of New England and help you to have the best possible adventures!
Amy has been a full time blogger since 2012, and is also the publisher of Two Drifters, where she writes about couples travel and relationships, as well as Let's Adventure Baby, a family travel site. When not traveling the world or creating epic blog content, Amy can be found cuddling with her husband, son, and cats, & drinking a maple latte.