---
*Links in this article may be affiliate links, from which we may earn commission. See our
Privacy Policy
for full details.
---
Massachusetts is known for many things: Cape Cod, the Berkshires, Plymouth Rock, the Boston Tea Party, and even Walden Pond, made famous by Henry David Thoreau's writing, to name a few. Great hiking is probably not one of the first things that comes to mind when thinking of the Bay State, but from the eastern coastal plains to the gently rolling mountains in the west, there are plenty of adventures to be had. That's why today we're taking a look at some of the best hikes in Massachusetts!
For being one of the country's smallest states (45th, if you're curious), Massachusetts has a surprising amount of state parks (24), national parks (16), and national historical sites. It also boasts numerous preserves and forest areas (38). Although Massachusetts is the most-populated state in New England, there are still plenty of wild areas left to explore on foot.
With over 450,000 acres taken care of by the Bureau of State Parks and Recreation and over 2,000 miles of trails, you're sure to find plenty of memorable Massachusetts hiking trails! Let's get right to it and check out some of the best hikes in MA!
Waterfall Hikes
Did you know there are over 400 waterfalls in Massachusetts? Needless to say, it's not hard to find Massachusetts hikes with waterfalls, regardless of what part of the state you're in! Here are some of New Englanders' favorites.
Bash Bish Falls
Perhaps the most well-known and loved falls in the state, Bash Bish is located in its namesake state park near Mount Washington, MA. Plummeting 59ft down a steep rock face into a boulder-strewn creek below, it is Massachusetts tallest waterfall. You can get to the falls one of two ways: Starting at the Upper Falls and making a steep descent down alongside Bash Bish or taking one of the trails in from the bottom. The latter is a 2-mile out-and-back and travels along the rocky banks of the brook through a shady forest before getting up-close views of this magnificent double waterfall.
Doane's Falls
Another popular water feature to hike to in Massachusetts is Doane's Falls. Located near Royalston, this area offers not one, but three cascades to explore. Doane's Falls itself plunges an impressive 175ft altogether over a series of drops. Again, there are a couple of different routes to get to the falls. If you're short on time or have young kids with you, you can opt for the short half-mile hike from Tully Lake Park. If you're ready to embark on an all-day adventure, there is a 7.5-mile loop trail as well.
Wahconah Falls
Located within its own state park as well, Wahconah Falls is another popular destination for Massachusetts' nature-lovers. This 40ft tiered waterfall begins with a series of smaller cascades before converging and meandering down a series of rock terraces before plunging into a deep pool at the bottom. The easy half-mile trail leading to the falls wanders through a lovely mix of hardwood and evergreen trees. Be sure to go early as this area can become crowded!
Berkshires Hikes
Although we've already covered some hikes in the Berkshires above as many of the state's waterfalls are located in this region, there are plenty of other great hiking opportunities in this beautiful area of Massachusetts! Here are a couple of the most scenic hikes in the region, plus our entire list of top Berkshires hikes.
Stevens Glen
This lush, tranquil area will have you feeling as if you just stepped into a fairytale! The Stevens Glen Trail is a modest 1.5-mile loop and is mostly easy, though it does have some steep sections along the way. (It should be noted that there is currently construction on the trail and it is an out-and-back for the time being.) The creek is noted to be a great place to soak your feet on a hot day and, if you're not sick of waterfalls yet, you're in luck as there is a narrow that passes through a tight ravine. Be sure to take a well-deserved break at the observation deck there as well!
Hoosac Range Trail
Located near North Adams, this trail is definitely for those seeking more of a challenge. The Hoosac Range Trail, which heads up to the summit of Spruce Hill (2,543ft), winds its way through the forest and along a ridgeline for about 3-miles one-way. The ascent is fairly gradual, but you will gain about 900ft along the course. Several viewpoints are available, including the spur trail to must-see Sunset Rock. (If you don't feel like a 6-mile hike, it is about 1.6-miles just to Sunset Rock.) Don't forget your camera as you'll want to get some pictures of those awesome vistas!
Eastern MA Hikes
Love the city, but just need some peace and quiet sometimes to recharge? You might be surprised by the number of hikes near Boston! If you're looking for some nature therapy in the eastern half of the state, here are a couple of our favorite hikes in MA!
Skyline Loop
If you need a breather from the city but don't want to drive too far out in the sticks, the Skyline Loop is your best bet. This trail is located within the Blue Hills Reservation and is only about 16 miles from Boston, making it just far enough away you can relax, but not so far away it's inconvenient. The Skyline Loop is only 3-miles long, but you'll be climbing up and down several hill summits, including the tallest one in the park: Great Blue Hill. Be sure to check out the observation tower while you're up there for panoramic views of the Boston skyline.
Noanet Peak Trail
For a similar hike in the Dover area, check out the Noanet Peak Trail in the Noanet Woodlands. This 3-mile lollipop loop trail takes you up a couple hundred feet to the top and would be considered moderate, at most. Other than the great view of the distant Boston skyline, you'll also pass several ponds along the way and there is even an old mill site to check out. For extra beauty, head to the Noanet Trail in the spring to view the wildflowers!
Western MA Hikes
For some truly scenic Massachusetts hiking, you can't beat the gentle hills, mountains, streams, and more of the western half of the state. Check out these two iconic hikes to experience the beauty this region has to offer!
Chesterfield Gorge
For some of the best hikes in Massachusetts, you can't beat the trails traversing along Chesterfield Gorge. The Westfield River, which is a National Wild and Scenic River, has carved away at the rock in this area for thousands of years, leaving behind 70-ft high cliffs and mesmerizing cascades. There is a short, easy half-mile trail that runs along the top of the gorge, offering great views from above. If you're looking to hike a longer distance, there is a 4-mile out-and-back that runs along the gorge as well. There are plenty of connecting trails in the area, so your hiking possibilities are endless!
Mount Toby Trail
If you're ready for a moderately challenging hike that rewards you with waterfalls, shady forest, and panoramic views, the Mount Toby Trail is waiting for you! Like most trails on the list, there are several means to get to the top. One popular option is the lollipop loop trail that covers about 4.3-miles altogether and gains an impressive 920ft. It is very steep, both up and down, so wear your good hiking shoes and take some trekking poles!
Day Hikes
Ready for some awesome day hikes in Massachusetts to a couple of its finest natural resources? Whether you're ready to ascend mountains or take a leisurely stroll along the beach, these two hikes are ones for the book!
Mount Greylock
At 3,491ft tall, Mount Greylock is Massachusetts' tallest point. With that being said, most trails to the top are rated as moderate and you will gain well above 1,000ft of elevation along the way. Don't let this put you off, though, because the 90-mile views from the top are worth it! There is also a veterans memorial and lodge at the summit. You might even grab a bite in the lodge's restaurant!
To get there, try taking the Campground Trail to the Hopper Trail to the summit. You won't be disappointed with the lush surroundings and shady beech and pine forest on your way there.
Great Island Trail
For a more laid-back hike set in one of Massachusetts' most popular destinations, look no further than the Great Island Trail located on Cape Cod. The main loop is known as the Tavern Loop and will take you about 4-miles around Griffin Island. For some extended hiking time, take the extension out to Jeremy Point for an 8.8-mile round-trip. No matter whether you cover the long or short version, this trail is great for nature enthusiasts, especially bird-lovers. You should be aware of tides and, while very romantic, walking along sand can become tedious after a while.
—
As you can see, there are plenty of places to go hiking in Massachusetts. While many trails may not be terribly challenging due to the state's topography, you can rest assured you can find an enjoyable hike regardless of what kind of scenery you're into: Waterfalls, mountains, seashore, and beyond!
---
Read these next:
---
Pin to save for later!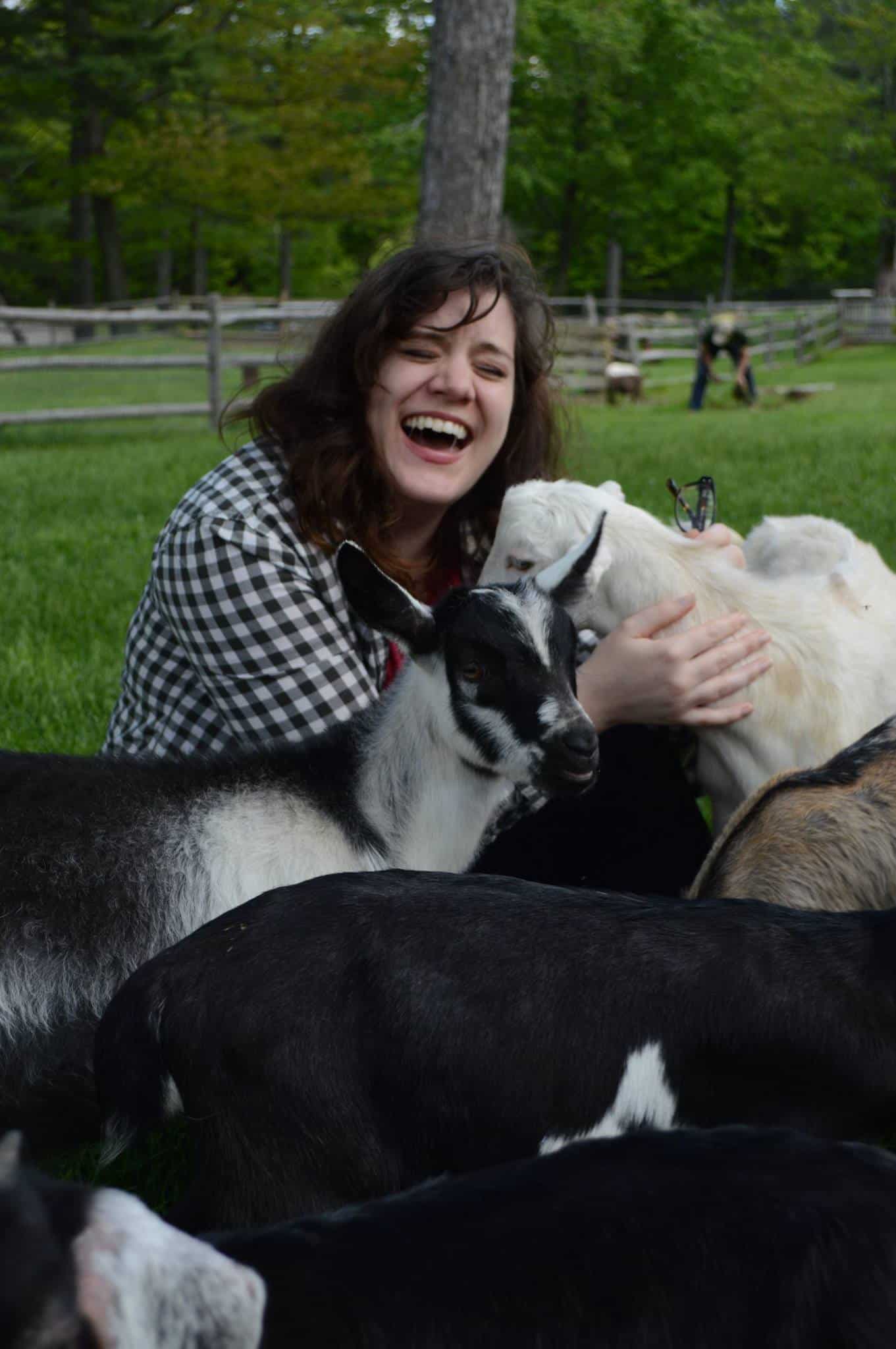 Amy is the founder of New England with love. A proud Vermonter, she hopes to share her love of New England and help you find the best adventures in the region. Amy is also blogger/founder at Two Drifters, where she writes alongside her husband about romantic and couples travel, relationships, honeymoons, and more. When not working on websites, Amy is probably reading, cuddling with her husband, son, and cats, & drinking a maple latte.