*This site uses affiliate links; if you make a purchase through these, I may receive a small commission at no cost to you.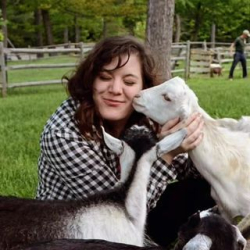 Latest posts by Amy Hartle
(see all)
If you're looking for one of the most beautiful spots in the US, look no further than Massachusetts. You'll discover beautiful towns and natural landscapes that make this New England destination a favorite for all travelers.
There is a lot to see and do in Massachusetts that allows you to appreciate its beauty. From the scenic coastal destinations, historical harbors, and natural landmarks, the Bay State has something for everyone to enjoy. Let's take a look at the most beautiful places in Massachusetts that are a must-see when you visit.
When is the Best Time to Visit Massachusetts?
Well, there is beauty to be found year round in the Bay State, for sure! Winter getaways in Massachusetts are all that is cozy and warm, spring in places like Boston are a celebration of new growth and rejuvenation, but when it comes right down to it, summer and fall probably offer the best opportunity for viewing the most beautiful places in Massachusetts.
Most Beautiful Places in Massachusetts
1. Boston Harbor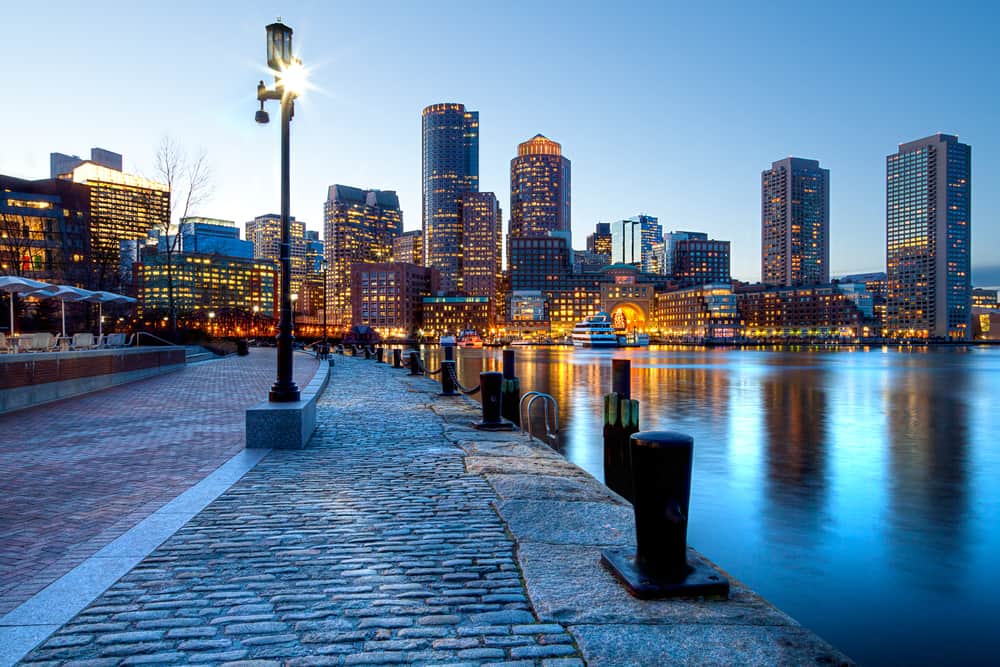 Boston is much too large to experience it all in one day, so I'll let you in on a tip: the Boston Harbor is a must-see. You might've heard about the harbor as the famous site of the historic Boston Tea Party. Today, it offers many beautiful sights to enjoy while pondering the myth if the water still tastes like tea.
You can go for a leisure stroll on the Boston Harborwalk, where you'll have scenic views of Massachusetts Bay and the endless ship masts docked in the harbor. Take a harbor cruise to view the magical skyline of Boston Harbour, undeniably one of the most beautiful places in MA.
2. Boston Harbor Islands
Board one of the ferries from the Boston Harbor to visit the Boston Harbor Islands. It consists of 34 islands in total, with 13 of them designated as a state park. With more than a half-million visitors every year, there are many sights and activities to explore on each island.
Whether you're checking out the historic Fort Warren on George's Island, hiking the coastal trails on Moon Island, or checking out the iconic Grave's Lighthouse, there's something to do for everyone. You'll be surrounded by beautiful Massachusetts scenery and have views of the Boston Skyline in the distance.
3. Boston Common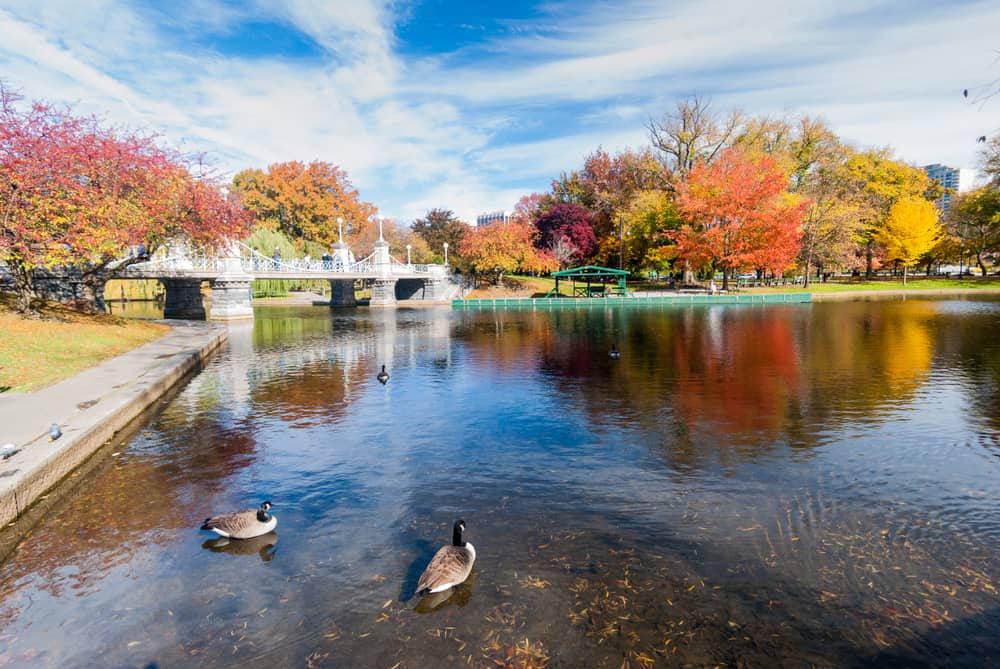 You will find lots of people enjoying Boston Common, an urban park in Downtown Boston, all year round. You'll get to enjoy more than 50 acres of green space surrounded by towering office buildings and residences. The summertime is always a popular time to enjoy recreational activities, but the winter can be just as charming.
This beautiful Boston park was built in 1964, making it the oldest public park in the US and one of the most beautiful places in MA. There are sporting facilities like a baseball field, tennis court, and ice-skating rink. It's an excellent place for people-watching, picnics, or catching an event like Shakespeare in the Park. The park is the starting point of the Freedom Trail.
4. Cape Cod National Seashore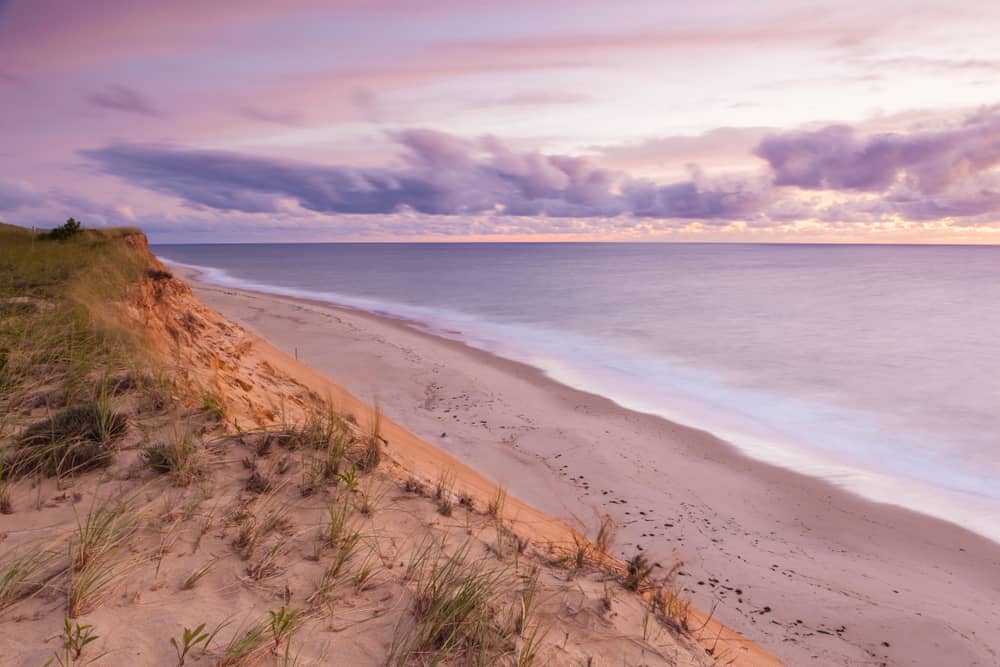 Cape Cod is a favorite vacation destination spot for New Englanders, thanks to its picturesque scenery. It's a large peninsula extending into the Atlantic Ocean with several towns, but a national seashore area is a place you don't want to miss.
Cape Cod National Seashore's beauty will surely take your breath away. Of all the most beautiful places in MA, you will get to experience the best of its beaches, with 40 miles of shoreline. Visitors can enjoy swimming, surfing, kayaking, and more.
Go for a scenic Massachusetts hike along the sandy beach trails or boardwalk swamp trails. You'll encounter landmarks like the Nauset Lighthouse and Highland Lighthouse. (Check out more of the best lighthouses in Massachusetts).
5. Martha's Vineyard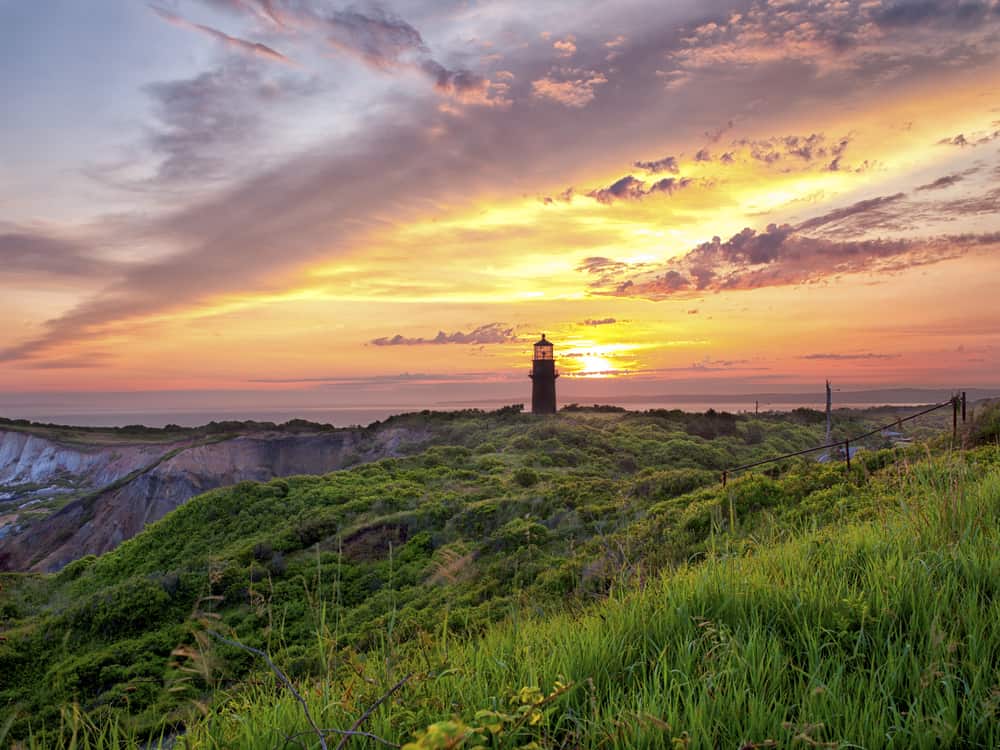 Martha's Vineyard is no longer Massachusetts's best-kept secret because it's now developed into a popular vacation spot. But even with the large summer crowds, the island's beauty still captivates visitors to make it a go-to destination.
You can take a short ferry ride from Cape Cod to reach the island. It has everything from charming colonial-style towns like Oak Bluffs to some of the most picturesque MA beaches, making it truly one of the rarest and most beautiful places in MA.
One of the best ways to experience the island is by renting bikes and exploring the island. Be sure to stop by the local wineries for wine tasting while visiting this Massachusetts gem.

6. Isabella Stewart Gardner Museum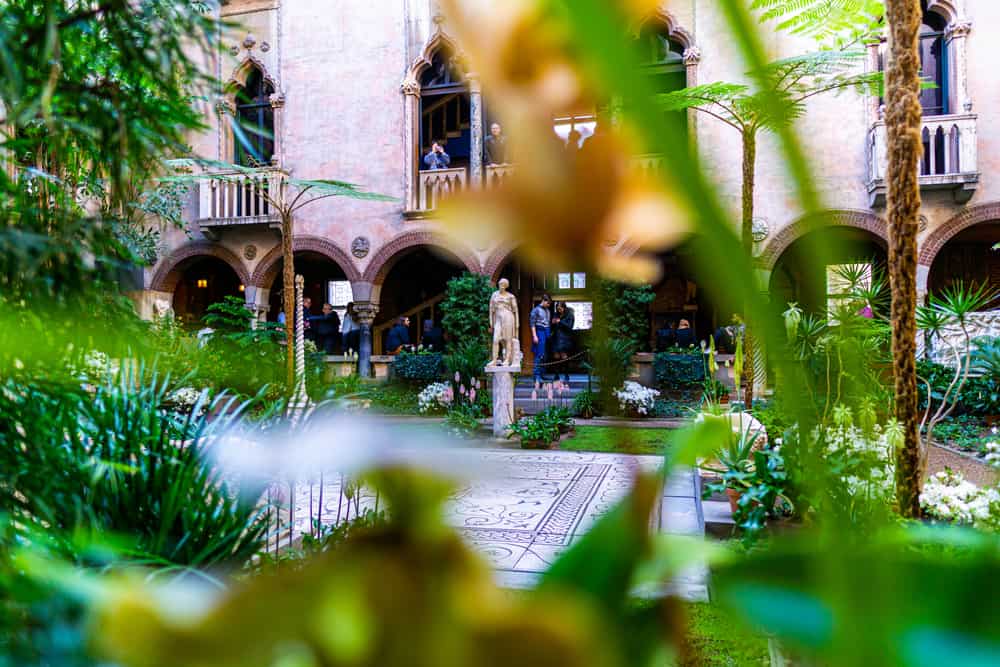 Boston has several world-class museums, but none quite as beautiful as the Isabella Stewart Gardner Museum. The stunning courtyard is a trendy place for photography.
It's hard to say which is more impressive – the Venetian mansion-style architecture or the famous paintings hanging inside it. The art collection includes works from Rembrandt, Vermeer, and Botticelli. You'll see masterpieces from American, European, and Asian art.
You can spend a few hours wandering the multiple floors of this beautiful museum. The courtyard features decorative plants and perfect lighting that makes it appear like a work of art in itself. Historically and aesthetically, it is few among the most beautiful places in MA for art-lovers.
7. Heritage Museum and Gardens
With over 100 acres of manicured garden landscape, you won't find another garden as big as the Heritage Museum and Gardens in the region. You'll immediately feel the tranquil atmosphere as you wander around the beautiful gardens.
The Heritage Museum and Gardens, located in Sandwich, feature many exotic flowers, trees, bushes, and more. Every detail of the garden is designed, including decorative features like waterfalls, a lake, windmills, and more.
The most popular times to visit these scenic Massachusetts gardens are during the spring and winter. The spring features the flora at full bloom, where the entire space is filled with colors and a pleasant aroma. The Gardens Aglow event is during the winter, where the site features an incredible Christmas light display.
8. Plimoth Plantation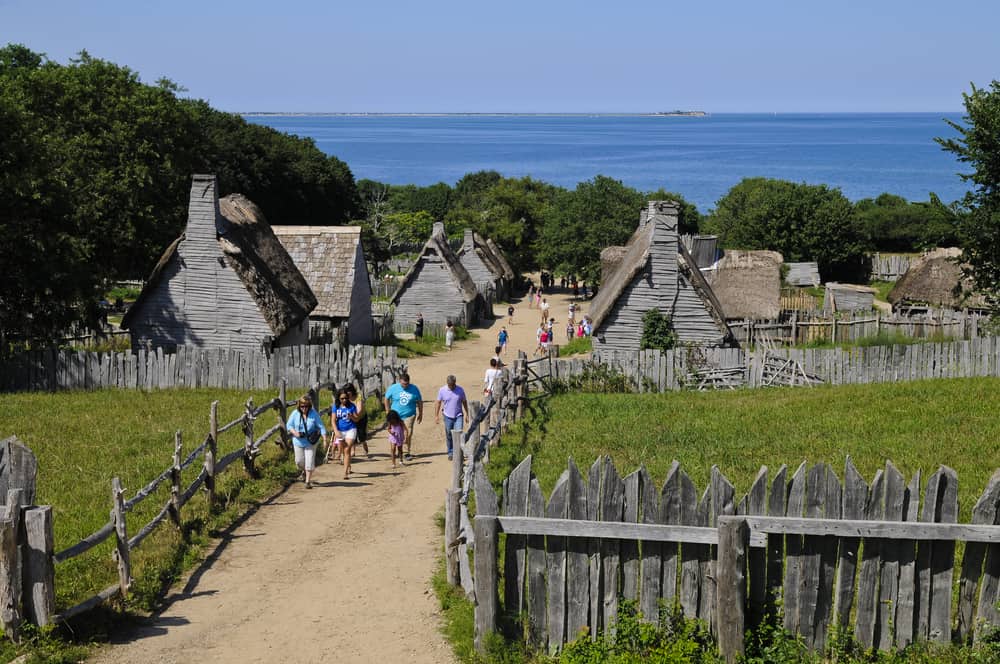 Take a walk through the past to see where the pilgrims first landed when arriving in the new land. Plimoth Plantation is an impressive attraction that recreates the Native and Pilgrim villages as they were during the 17th Century.
Plimoth Plantation is a living museum experience that immerses you into the pilgrims' lifestyle. You'll see colonists dressed in authentic costumes that talk about their lives in the new world. You can even peek inside the traditional homes to see how they lived. If you are excited to experience pilgrim villages, Plimoth Plantation is undoubtedly one the must-visit spots in Mass.
Don't forget to check out the restored Mayflower ship located just a few minutes away, also in the town of Plymouth.
9. The Berkshires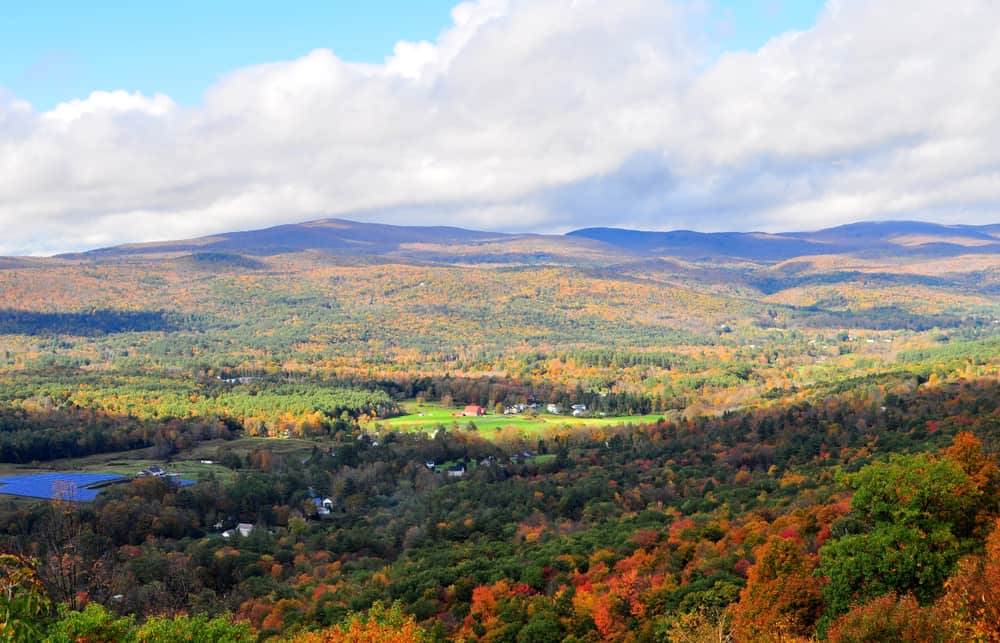 Travel to scenic Western Massachusetts to appreciate the Bay State's natural beauty. The Berkshires describe the region characterized by forest-covered mountains and is a favorite outdoor recreation area. For nature-lovers, it is one of the most beautiful places in MA and in the USA.
Hiking is one of the favorite activities in the Berkshires. Step out into the scenic outdoors to discover the best viewpoints and trails. Hike to the Mount Greylock summit for the best view overlooking the landscape – it's the highest point.
Autumn is a beautiful time to visit; the Berkshires is one of the best places in MA to see the colorful fall foliage. It's also great for a scenic drive in between towns.
10. Bridge of Flowers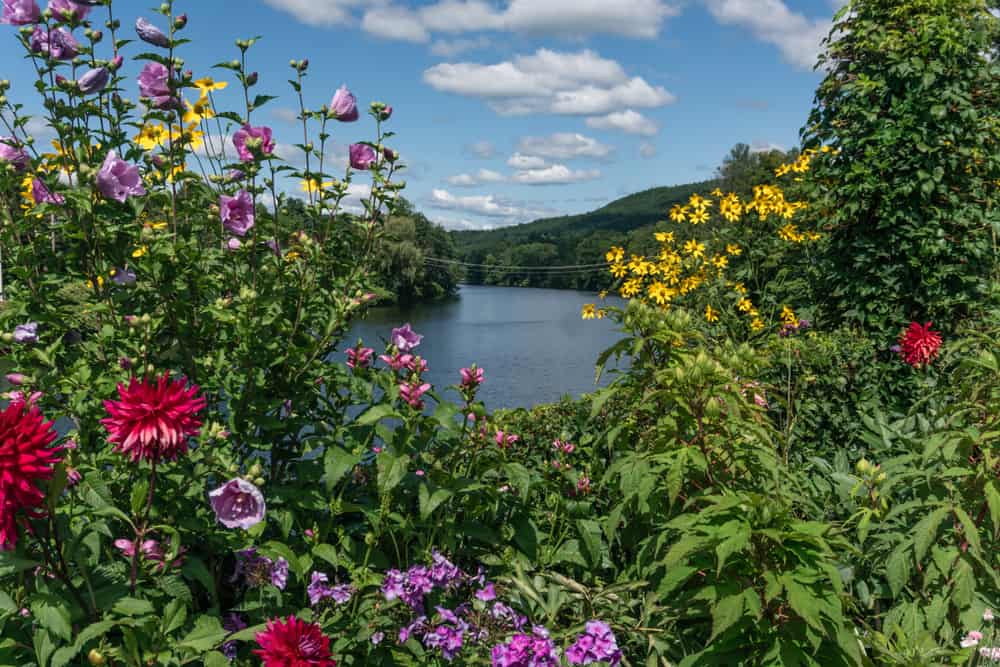 Guaranteed, you've never seen a bridge as unique as the Bridge of Flowers. The name accurately describes this small yet beautiful attraction in Massachusetts. The bridge is decorated with a colorful array of flowers seasonally, so it's worth a visit anytime of year. For plant lovers and gardeners, this nature's paradise will definitely appeal to you as one of the most beautiful destinations in Massachusetts.
Bridge of Flowers is a former trolley bridge built-in 1908 that is now a pedestrian bridge extending between Shelburne and Buckland. It is decorated with various flowers, such as bulbs, perennials, and dahlias.
You can visit the bridge to see the flower decorations from April to October. It's a popular photography spot or great for simply enjoying views of Deerfield River.
11. Nantucket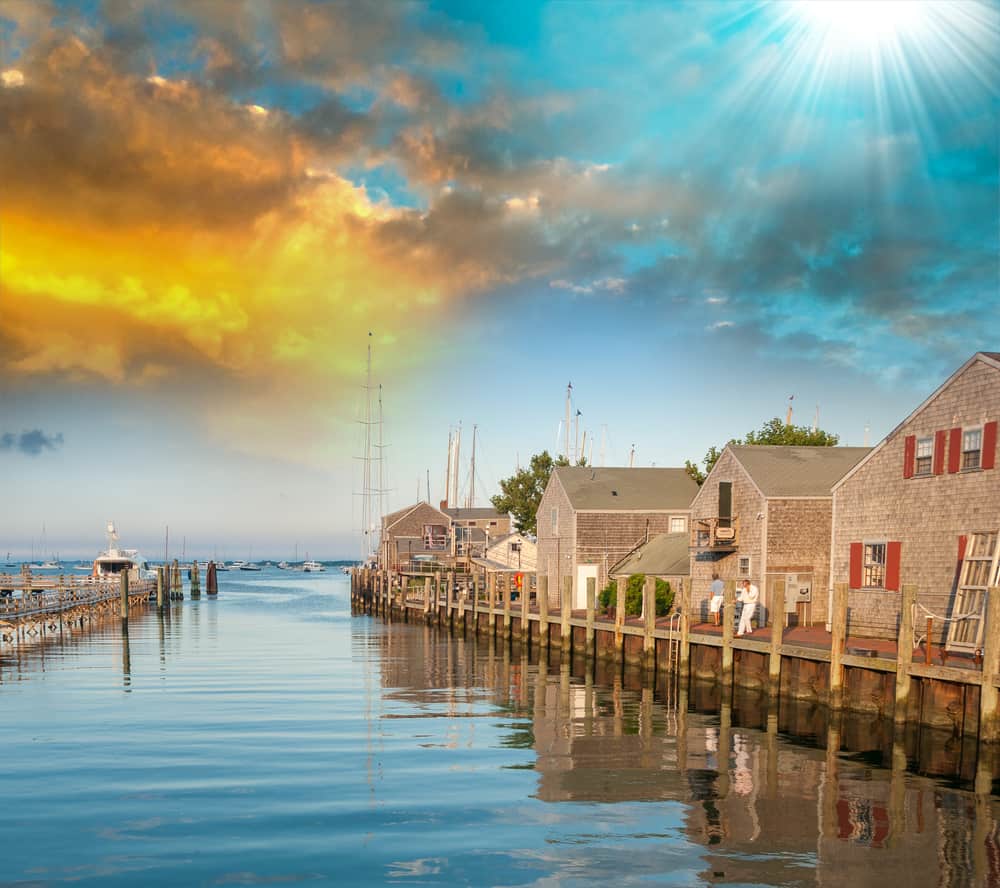 Massachusetts has some of the wealthiest communities in New England. You'll get a glimpse of it when you visit Nantucket. It's an island about 30 miles south of Cape Cod that's a beautiful place for a scenic day trip. It's also a great spot for a serene, restful retreat in winter!

This beautiful Massachusetts island feels secluded since it's only accessible by ferry, but it has lots of sights and things to do. Visit the quaint town of Nantucket and explore the boutique shops lining the cobblestone streets or visit Brant Point Lighthouse, one of the three lighthouses on the island.
Whaling has a long history in Nantucket. You can take a whale-watching cruise or visit the Whaling Museum.
12. Rockport
Chances are, you've probably already seen Rockport in one of your favorite movies. This beautiful Massachusetts town is a popular film shoot site, and now you can say you've visited it!
The small town of Rockport is the perfect escape from nearby Boston. It's a scenic coastal town that keeps visitors coming back. Not only is it situated right on the shore surrounded by the Atlantic Ocean, but you'll see many vintage fisherman shacks that now house restaurants and shops; lots of small town MA charm here!

Rockport is a popular art destination with many galleries and you can go on a gallery crawl to see works from local artists depicting the town's beauty.
13. Harvard University Campus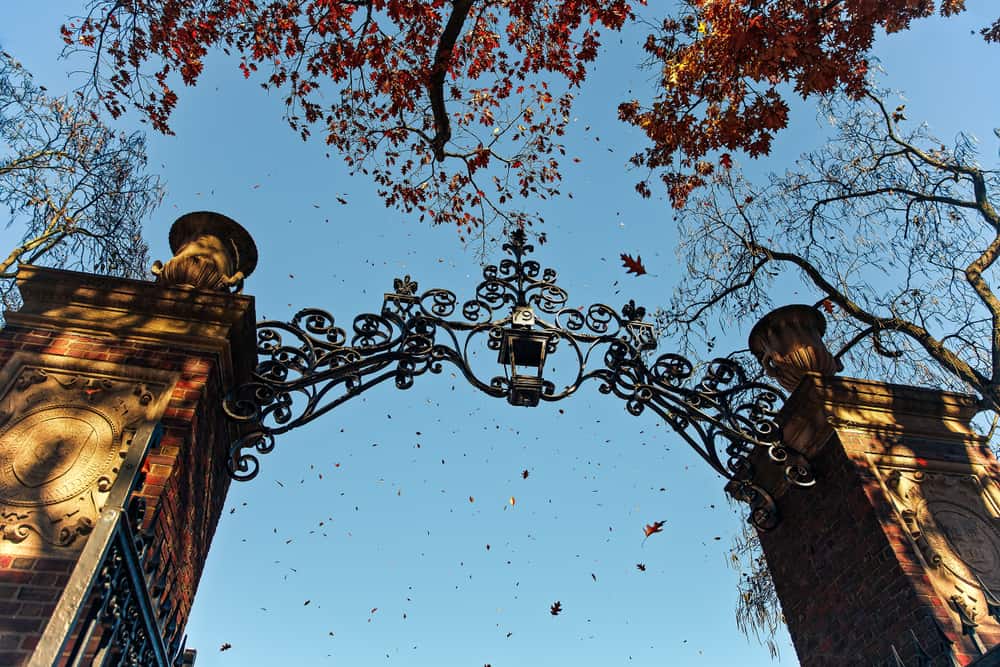 Harvard University is perhaps the most prestigious university in the world, but it's also absolute architectural eye candy. Located in Cambridge, the campus is one of the most iconic places you'll see in Massachusetts. It's full of historic buildings, and you'll feel smarter just by walking around the campus.
Harvard University was established in 1636, making it the oldest university in the US. Although it is a private university, visitors are welcomed to walk the campus. Harvard Square is a central hub of the campus that features statues and historical landmarks. Some of the most notable sites include the John Harvard statue, Massachusetts Hall, Widener Library, and Memorial Church.
14. Provincetown Dunes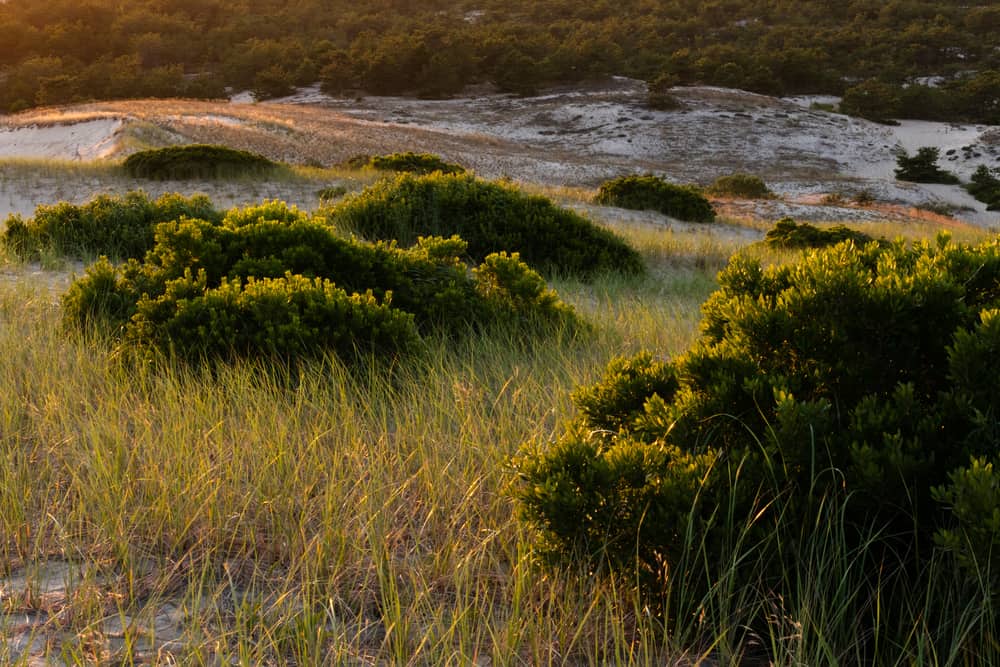 You'll feel like you're in a new world as you begin to hike the Provincetown Dunes. The dunes occupy a large area of the Cape Cod National Seashore, but the landscape change appears otherworldly.
The coastal Provincetown dunes offer one of the best views of the Atlantic Ocean. It's easy to forget that you're in Massachusetts, thanks to the ethereal scenery.

The entire region is covered with rolling dunes so prepare to get very sandy. There are hiking trails that wind around and above the dunes. Plus, you're in Provincetown, which is full of fun things to do and yummy places to eat!

15. Aquinnah Cliffs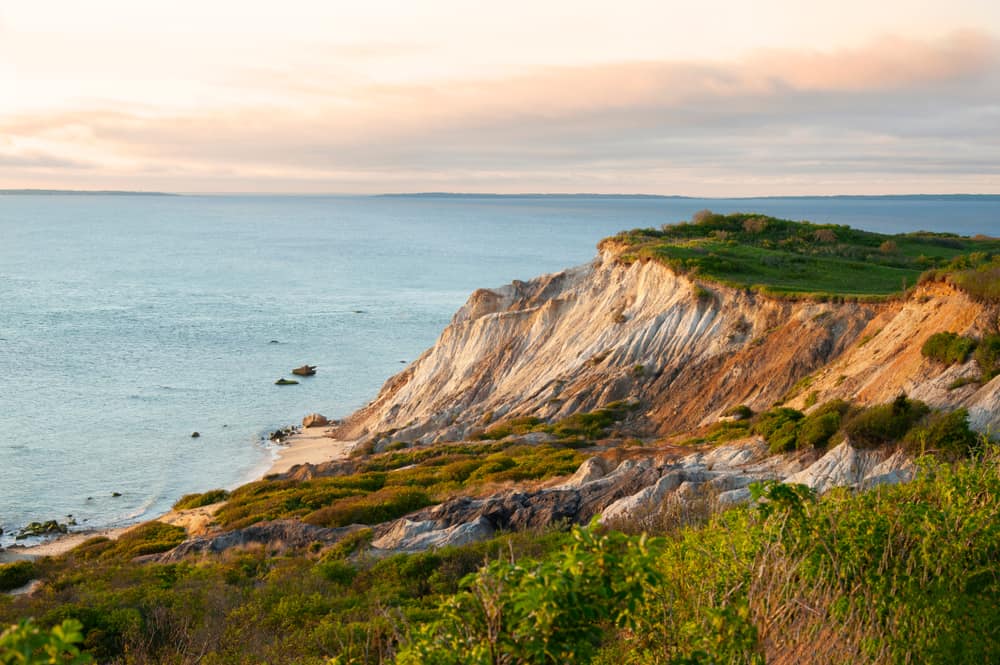 The Aquinnah Cliffs are a must-visit while on Martha's Vineyard because the pictures don't capture how beautiful it is. Formerly known as Gay Head Cliffs, it's one of the most popular destinations and most beautiful places in MA.
The Aquinnah Cliffs are made from red clay, giving them a spectacular color. Visitors can climb to the top of the cliffs to enjoy one of the best views Massachusetts offers, with sweeping vistas of the Atlantic Ocean and nearby landmarks like the Gay Head Lighthouse.
If you can, join the crowds to watch an incredible MA sunset from atop the cliffs.
16. Parker River National Wildlife Refuge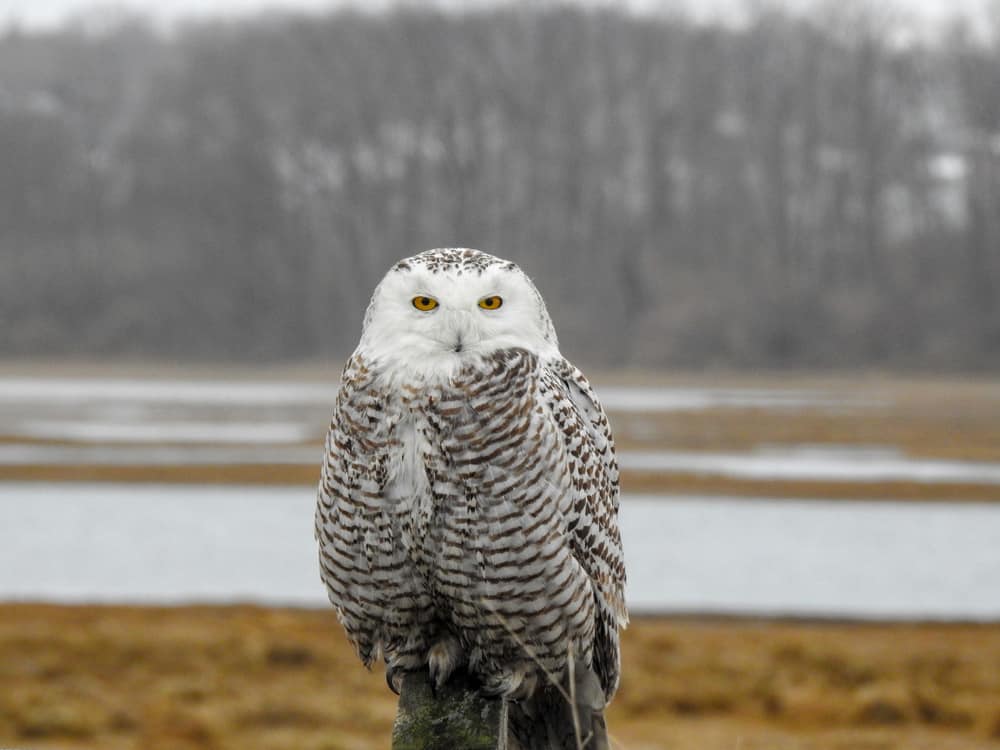 Travel to Plum Island to discover the well-preserved landscape of the lovely Parker River National Wildlife Refuge. This nature area was designated for migratory birds, but the conservation efforts make it one of the most beautiful places in Massachusetts to check out.
Parker River National Wildlife Refuge covers most of the small island. The scenic coastal landscape has the cleanest beaches and picturesque dunes. It's an excellent destination for birdwatching, swimming, hiking, and fishing.
There is a visitor center to learn more about the best places to see birds and hiking trails to scenic viewpoints.
17. Bartholomew's Cobble
If you're a fan of the outdoors, you'll genuinely enjoy nature walks at Bartholomew's Cobble, near Sheffield, MA. Designated as a natural landmark, you have a chance to see hundreds of species of plants and birds.
Bartholomew's Cobble is known for its flora diversity. Several miles of hiking trails take you around this forested region of Massachusetts. It's a scenic hike that you'll surely enjoy as you trek alongside the Housatonic River.
Fall is one of the best times to visit this scenic area of Massachusetts, where the region showcases the vibrant colors of the fall foliage.
18. Bash Bish Falls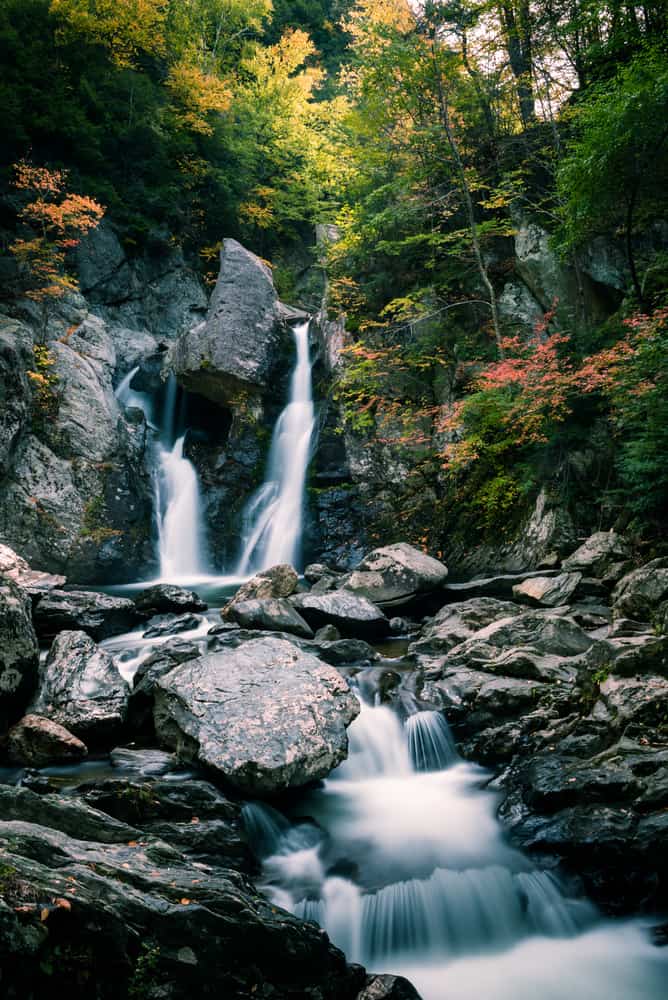 New England has plenty of beautiful waterfalls to check out, but Bash Bish Falls consistently ranks as one of the most stunning. It's tucked away in the forest, so you get to hike the trails before stumbling upon this incredible sight.
Bash Bish Falls is located on the Massachusetts-New York border. It is the tallest waterfall in MA, with a nearly 60-ft drop. Although swimming isn't permitted, the spectacular scenery at this Massachusetts waterfall is more than enough to appreciate.
During the warmer seasons, you can have a picnic near the waterfalls. Enjoy your meal amidst the soothing sounds of the falls trickling down the large rocks.
19. Stellwagen Bank National Marine Sanctuary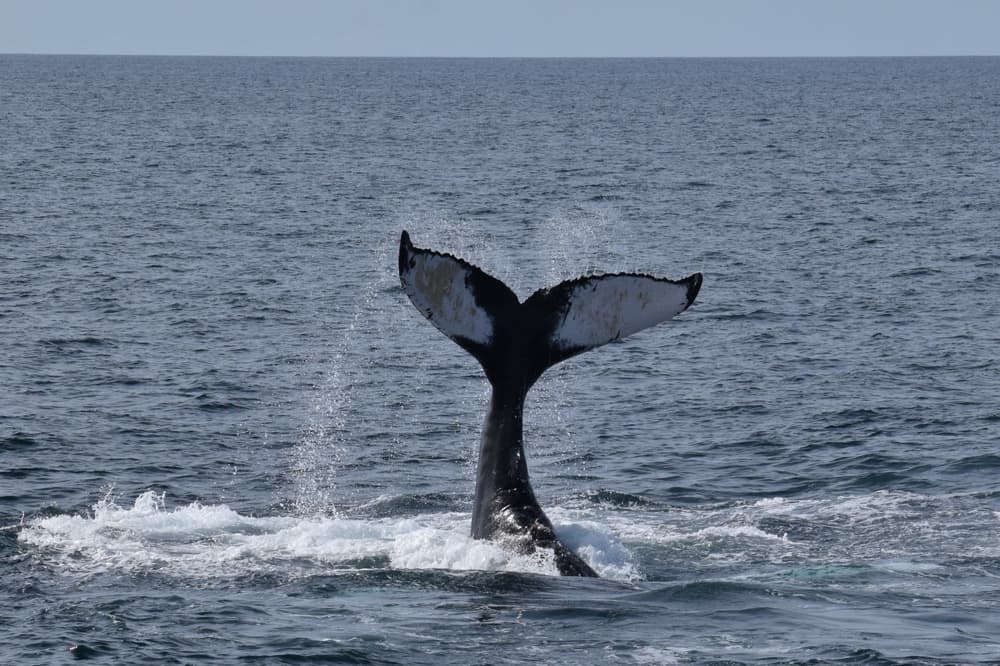 One of the most beautiful places in MA to see nature's largest mammal is at the Stellwagen Bank National Marine Sanctuary. It's a popular whale-watching site that will leave you speechless once you get to see it in person.
Stellwagen Bank National Marine Sanctuary is a large preserved marine area of Massachusetts Bay. It's a hotspot for spotting whales, dolphins, and other species.
Take a scenic boat tour into the bay and keep your camera ready to snap photos of these majestic marine creatures.
20. Halibut Point State Park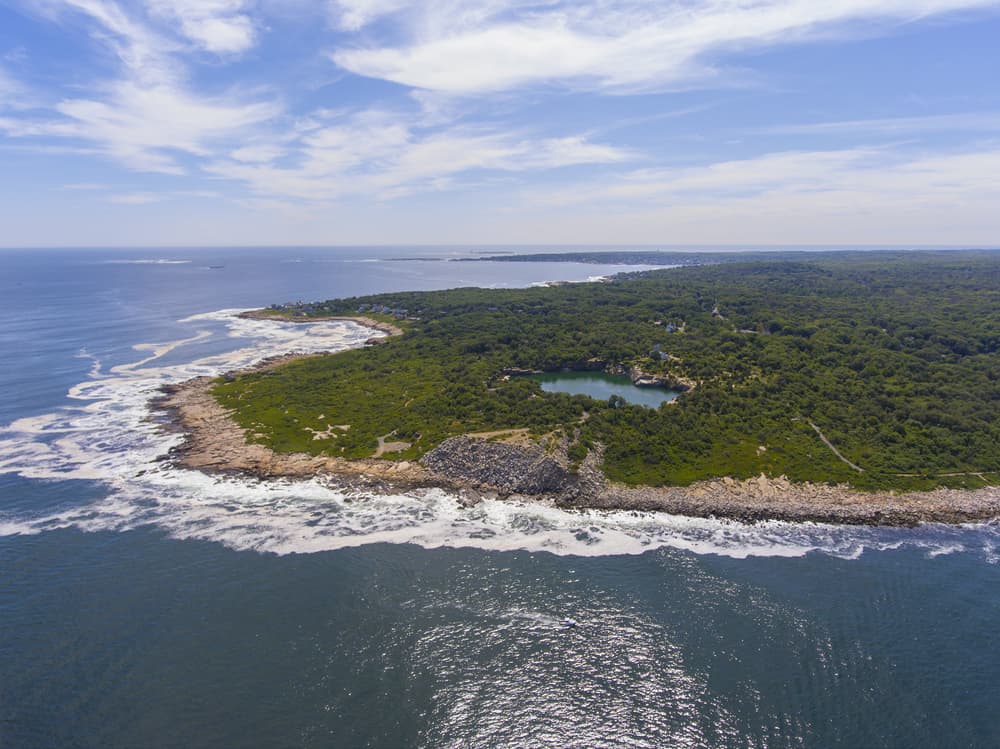 After you've explored the scenic town of Rockport, stop by the Halibut Point State Park located just outside of town. It has 67 acres worth of hiking trails and landmarks in the beautiful landscape.
Halibut Point State Park is unique for the massive rocks lining the shore. The hiking trails extend over the rocks. You'll reach elevations for one of the most scenic overlooks as it definitely scores top among the most beautiful places in MA. You can see the nearby beaches, Isles of Shoals, and even Mount Agamenticus in Maine on clear days.
21. Wellfleet Kettle Ponds
One of the most beautiful "hidden" places in Massachusetts is the Cape Cod open secret of the beautiful freshwater oases that have been left behind from melted glacial deposits thousands of years ago, known as the Wellfleet Kettle Ponds. While access for non residents can be tricky to these gorgeous deep blue ponds as they all do require a Wellfleet Residents sticker to park, you could probably find yourself a friend in Wellfleet to take you there for an in-person glimpse of this gorgeous natural scenery in Massachusetts.
22. Benson's Pond Cranberry Bog
Of course, you can't talk about the most beautiful places in Massachusetts without mentioning the vibrant, crimson-filled cranberry bogs that have been such a significant part of Massachusetts' state agricultural history and culture for such a long time!
Not only can you visit cranberry bogs in Massachusetts, but you can even participate in the cranberry harvest at places like Benson's Pond, where you can strap on a pair of chest waders and get right in the vivid red cranberry bog yourself. This would make for a very cool photo to add to your Insta!
---
You might also like:
5 Best Places to Visit in Massachusetts
9 Best Restaurants in Marthas Vineyard
---