*This site uses affiliate links; if you make a purchase through these, I may receive a small commission at no cost to you.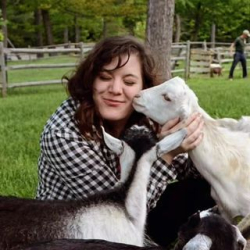 Latest posts by Amy Hartle
(see all)
Are you planning a trip for winter in Massachusetts? The Bay State has plenty of great options for winter vacations, whether you're looking for active outdoorsy fun, restful retreats, or something in between, it's not hard to plan an amazing winter in Massachusetts!
There are lots of fun things to do in winter in MA, these are just a few of the top Massachusetts winter vacation ideas for your next cold weather getaway.
Winter in Massachusetts Vacation Ideas
Play in the MA Snow
Massachusetts may not be the first place that people think of when considering a New England ski adventure, but it has some great spots to hit the slopes! Ski Butternut is one of the most popular ski spots in MA, with 100 skiable acres and 100% snow-making capabilities, so you know there will always be plenty of snow! Plus, Ski Butternut is located in Great Barrington, where there are all kinds of cute small-town MA things to see and do.
All of Massachusetts' main ski areas are in or near the Berkshires except for Blue Hills Ski Area in Canton, just a 10-minute drive from Boston. Blue Hills Ski Area features 60 skiable acres and 90% snow-making capabilities, so if you're planning to stay in Boston, Blue Hills Ski Area is perfectly situated to give you a little face time with the slopes. Whether your preference is skiing, sledding, ice skating, snow tubing, or cross country skiing, Massachusetts has plenty of it!
Take a Restful MA Winter Retreat
Looking for a quiet, restful retreat? Consider heading to a popular warm-weather vacation destination to experience the tranquility of the off-season experience. Nantucket has great warm-weather things to see and do, but a winter vacation in Nantucket means fewer crowds while you explore the beauty of the island; Sankaty Light is a stunning sight any time of year, but there's nothing quite like a visit with the muted winter sun framing its outline. The Nantucket Hotel and Resort is open year-round and has the inside scoop on winter fun in Nantucket so you can find out why Vogue calls December "Secretly the Best Time to Visit Nantucket!" Note that a lot of things close from January to March, so plan your Nantucket winter vacation for December.
Click Here to Check Prices & Book The Nantucket Hotel and Resort!
Cape Cod is another typical warm-weather getaway that offers great charm in the colder weather months; you know those beautiful beaches that you sunbathe on in the summer? They become near-pristine places for quiet reflection and stunning sunrise and sunset walks in the winter. There are so many great towns to visit and so many lovely opportunities to explore the natural beauty of the Cape without having to contend with summer crowds; winter might even become your new favorite time to visit Cape Cod! For a luxury Cape Cod winter getaway, consider booking a room at the stunning Chatham Bars Inn.
Click Here to Check Prices & Book Chatham Inn!
Plus, an off-season visit can also mean getting great deals on places to stay in both Nantucket and Cape Cod!
Plan a Romantic Winter Getaway in MA
If you are looking for a romantic winter getaway, Massachusetts can 100% provide! There are several excellent romantic getaway spots across the Bay State to choose from, like 33 Main in Lenox, a gorgeous boutique B&B that puts you perfectly situated in the Berkshires for so many great things to see and do; plus, everyone loves a gourmet breakfast to wake up to in the morning, right?
Click Here to Check Prices & Book 33 Main!
If you're looking for a little more of a big city vibe for your romantic getaway, consider Boston as your winter vacation destination! Not only is there a great selection of romantic things to do in The City on a Hill, but there's also a surplus of fantastically cozy indoor activities, like stellar restaurant and brewery options, cute coffee shops, neat museums, and amazing hotel and vacation rental options. Consider booking a room at the gorgeous Fairmont Copley Plaza to really take your romantic winter vacation to the next level!
Click Here to Check Prices & Book Fairmont Copley Plaza!
Dive into Christmas Cheer
If you will be spending your winter in Massachusetts during the Christmas season, there are oh, so many festively fun things to do, like Boston, which is just absolute Christmas time magic with events like the Faneuil Hall Tree Lighting, the Beacon Hill Holiday Stroll, and just so many more great Christmas happenings!
Then there are towns like Stockbridge that give off all the Hallmark Christmas movie vibes with all their Merry Christmas happenings, and so many wholesome and festive activities, like visiting a Christmas tree farm for hot cocoa, wagon rides, and fantastic Christmas photo opportunities! The Bay State has a whole lot of Christmas charm, so if you're lucky enough to be in Massachusetts for Christmas, enjoy!
Cozy up in the Perfect MA Winter Cabin
If a Massachusetts winter vacation that lets you hunker down in a comfy, cozy cabin while the winter weather rages around you sounds appealing, then you should check out MA cabins to rent! There are so many options for cabins in the Bay State, so you'll just need to figure out what you want to be near and start your search there.
If you're looking for a vacation rental that delivers a major WOW factor, check out the Octagonal Glass Treehouse in Otis, one of the best rentals in MA. With floor-to-ceiling windows, the views from this unique home are absolutely phenomenal! While not technically a cabin, this treehouse gives off major comfy cozy cabin vibes, and the wood-burning fireplace makes it an ideal place to warm up after a long day of playing in the Berkshires!
Head to a MA Winter Festival
Massachusetts in wintertime hosts some pretty cool winterfest events, like the Lowell Winterfest, an annual event in downtown Lowell that features ice skating, live music, carousel rides, and of course, lots of tasty treats from local food vendors! There's also a winter market, a soup competition by local restaurants, and an all-you-can-eat chocolate event; consider a side trip to nearby Concord to see author Louisa May Alcott's house and other neat historical sites, too!
North Adams hosts their Winterfest on the 3rd weekend in February with ice sculpting, horse-drawn carriage rides, a chowder competition, a winter market, ice skating, and marshmallow roasting at the large community campfire! Plus, there's plenty to do and see in North Adams besides just the Winterfest, too.
The Brimfield Winery in Brimfield hosts Winterfest, a February tribute for French Canadian Day featuring a specialty drink similar to Quèbec's "Caribou Juice", tasty poutine, hot mulled wine, music, bonfires, snowman competitions, a beverage ice luge, and more! There is a ton of fun stuff to see and do in nearby Pioneer Valley towns like Springfield and Northampton, too.
There are so many fun ways to spend your next winter in Massachusetts; enjoy creating (and crossing items off!) your winter Bay State bucket list!
Read these next:
5 Best Places to Visit in Massachusetts
7 Scenic Places to go Cross Country Skiing in Massachusetts