*This site uses affiliate links; if you make a purchase through these, I may receive a small commission at no cost to you.
Latest posts by Mallory Sullivan
(see all)
If you find yourself on your Cape Cod getaway craving activity between all the beach trips and the ice cream shops and the seaside relaxation, why not take a walk or a hike? With a plethora of trails and pathways traversing towns across the peninsula, you'll find something to suit your mood and make you move.
Take a casual walk on a paved path through a Cape Cod town or a nature-inspired trek along a forest trail or near an old cranberry bog. Whatever you choose, you'll have a wonderful time exploring another side of Cape Cod via some of the best hiking trails and walking paths around. Here are a few of the best Cape Cod hikes to consider.
Cape Cod Hikes and Walking Trails
Atlantic White Cedar Swamp Trail, Wellfleet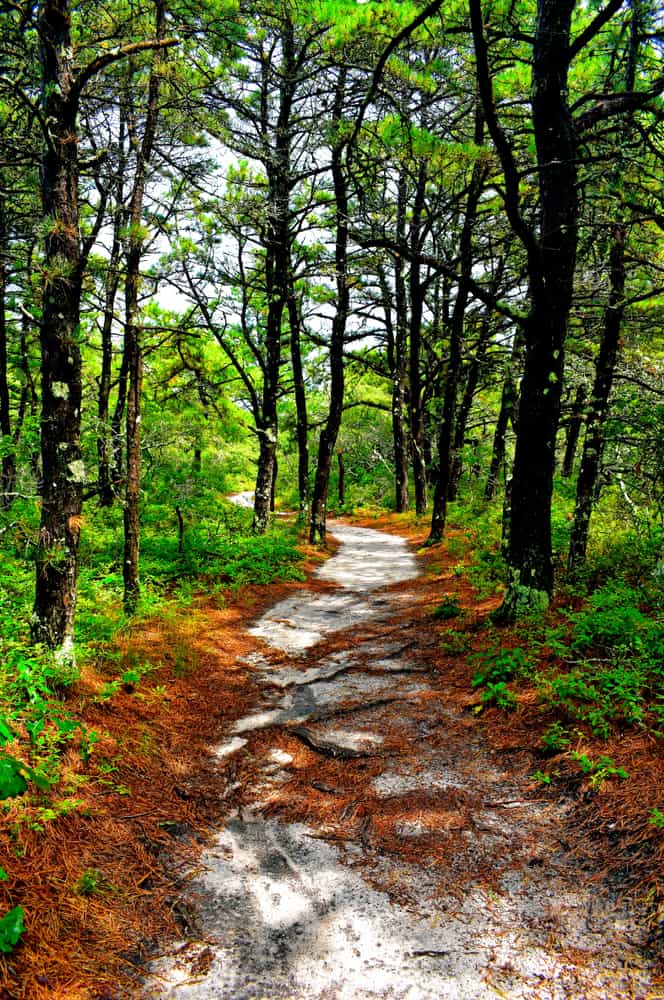 At just over a mile long, the Atlantic White Cedar Swamp Trail is short in distance but vast in what it offers to hikers. The loop trail, which is part of the Cape Cod National Seashore, begins as a boardwalk through a dense, lush, and enchanting landscape. It ends by looping back along a sandy road, with several options to extend the trek along one of a few spur trails that take you deeper into the forest or closer to shore.
The heart of this Cape Cod hiking trail is the cedar swamp itself, which is home to the white cedar tree. A pretty and contemplative spot, it's simple to get to but feels a world away from the beach. The trail has mostly level terrain, though there are a few stairs to climb. Parking is available on Marconi Station Road in Wellfleet, and the hike is a great addition to a visit to Marconi Beach or a stay in Wellfleet.
Bass Hole Boardwalk, Yarmouth
The delightful Callery Darling Conservation Area has miles of trails and accompanying views to stun those looking for Cape Cod walks. For a short but sweet trek, take a walk along the 800-foot Bass Hole Boardwalk. The walk offers a picture-perfect vantage point to gaze at sunsets or the surrounding salt marshes, animals, boats, and sky.
The brackish waters – the areas where saltwater and freshwater meet – and rich soil of these wetlands and provide nourishment for red maples, pine, and oak trees to flourish. In addition, animals thrive in the habitats created by this rich environment so keep your eyes open for birds, mammals, amphibians, and reptiles.
This spot is not only scenic, but tranquilly relaxing. Pack a picnic to enjoy at the large picnic area close by to take in even more of the scenery!
Province Lands Bike Trail, Provincetown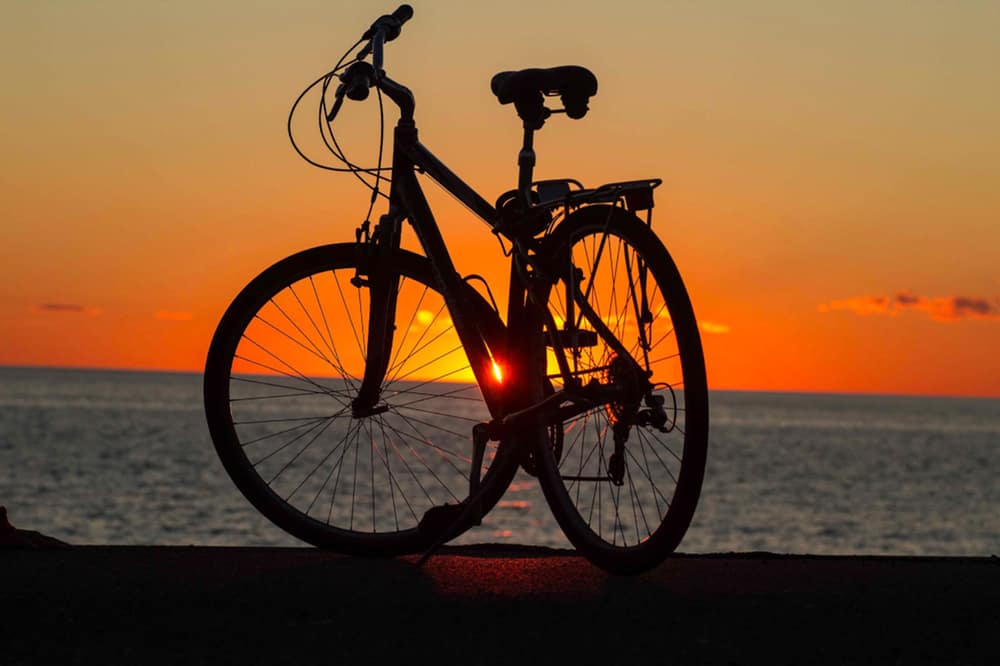 Provincetown is a hustling and bustling place, so if you find yourself seeking some quiet from the activity of the town, look no further than the Province Lands Bike Trail. Covering over five miles of hilly terrain, this paved pathway is the ideal spot to walk, run, or bike. While there, you'll enjoy sights including a beech forest, cranberry bogs, and sand dunes.
Start your walk at the Province Lands Visitor Center. From here, trails lead to both Herring Cove Beach and Race Point Beach, so be sure to pack your beach bag if a break by the shore is in store. The Province Lands cover 4,000 acres of land, and are the perfect place to go for a contemplative journey or for a taste of coastal nature without venturing too far away from town.
There's lots of tasty restaurants in Ptown to fill you up after you work up an appetite out on the Province Lands Bike Trail, too!
Red Maple Swamp Trail, Eastham
Beginning on the Fort Hill Trail, you'll run right into signs for the Red Maple Swamp Trail. One of the most popular walking trails on Cape Cod for fall foliage sights, its namesake – Red Maple – makes this an absolutely stunning autumn trail.
Plus, it's only about a half an hour to complete the entire trail, so this is a great fall Cape Cod walk when you're looking for big bang for your buck… or your time!
Monomoy National Wildlife Refuge, Chatham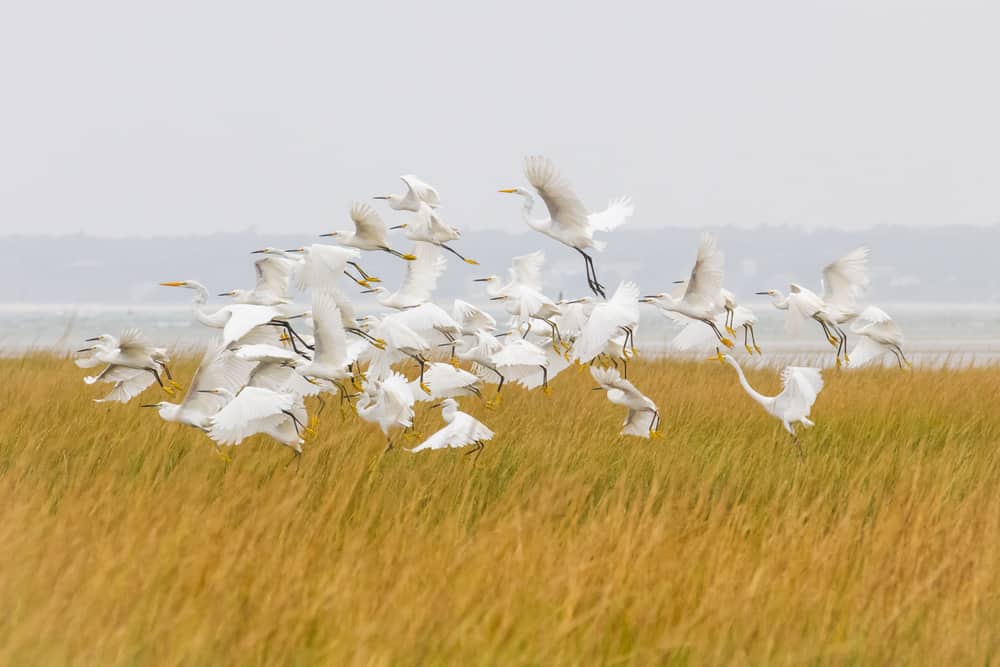 Monomoy National Wildlife Refuge in Chatham is a preservation area of over 7000 acres, consisting of barrier islands and water maintained by the U.S. Fish and Wildlife Service. Although its purpose is to preserve wildlife and habitats, limited areas are open to the public for hiking and recreation.
Start from the visitors center at Morris Island and take the one-mile Morris Island Trail. This breathtaking walk will take you through sand dunes, saltmarshes, beach, and forest. It is home to seals, migratory shorebirds, horseshoe crabs, wildflowers, seagrass, and more, making it the perfect walk for budding naturalists.
Along the way, you'll have a chance to glimpse wildlife and plants, plus the ocean and vessels passing by. Wilderness hiking is also possible on North Monomoy, South Monomoy, and Minimoy Islands, which are part of the national wildlife refuge, but access is only possible by boat.
Downtown – Beach Loop, Harwich Port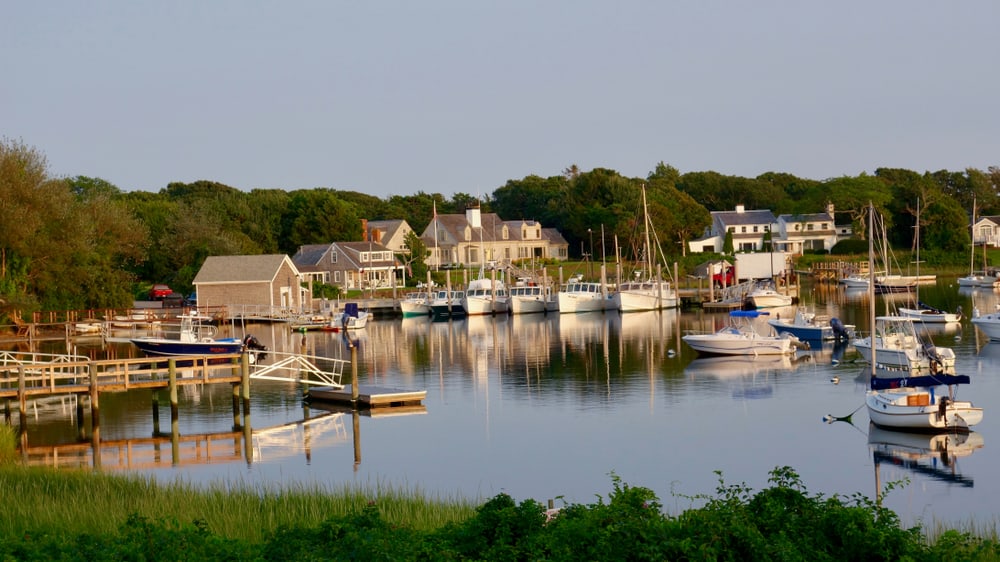 If you're seeking a more bustling and urban atmosphere, take a walk through downtown Harwich Port. This classic Cape Cod downtown spans about a half-mile along Main Street.
Sweet small businesses with friendly owners and staff, a downtown visitors center, and charming architecture make this the perfect place for a leisurely stroll or to take in the sights and do some shopping. And if the idea of shopping is beckoning, there are plenty of stores to patronize, from boutiques to book shops, souvenirs to art galleries to artisan cafes and more.
Once you're done walking along Main Street, turn onto Snow Inn Road. This road has a mix of classic homes and newer construction, but the real gem is Wychmere Harbor, a picturesque sight. At the end of the road, there's beach access to Merkel Beach and Bank Street Beach. Take your shoes off and walk through the sand. You can continue your walk and return to Main Street via Bank Street, near the Bank Street Beach parking lot.
Lawrence Island Trail, Bourne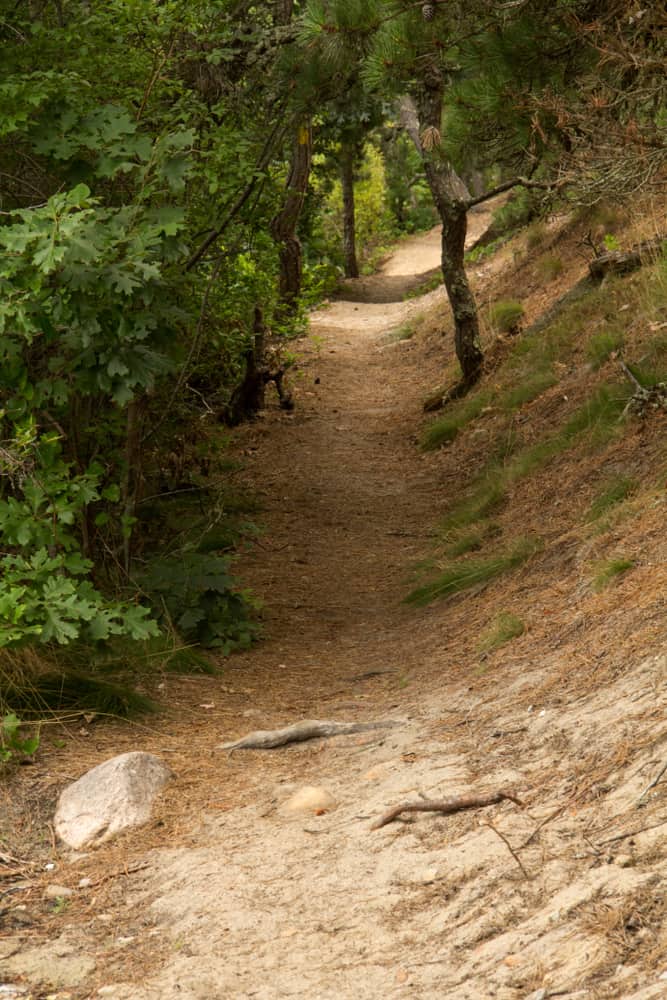 If you are staying on the upper Cape, a visit to the Bourne Conservation Trust lands will not disappoint. The Lawrence Island Trail and Lawrence Island Wildlife Sanctuary are a gem, tucked away in a corner of the upper Cape along Buzzards Bay.
The coastal hike begins with a mile-long trek along a sandy trail beside Squeteague Harbor. With cottages on one side and anchored boats on the other, it's a picture-perfect Cape Cod scene. Once you reach Lawrence Island, you'll traverse a loop around the island. Keep your eyes on the lookout for birds, crabs, and small mammals, all of whom live in this preservation habitat. Also check out the boulders, which are pink-ish in color and magnificent.
This is a good hike for trekkers interested in doing some beachcombing and taking in beautiful views in a serene atmosphere. Before heading out, be sure to check the tide schedule, as areas can be muddy, flooded, or even inaccessible at high tide.
Cape Cod Rail Trail
The Cape Cod Rail Trail is a great place to get out and walk, rollerblade, or bike ride! This 22-mile (and counting) paved, off-road pathway connects the towns of Dennis and Wellfleet through four other towns. On the trail, you'll traverse through quaint oceanside towns, state forest land, cranberry bogs, parks, and of course, a few beaches. It's a great pick whether you just want a scenic path to one of these destinations or if the journey is the destination.
Visitors can easily access some of Cape Cod's best beaches directly from the trail. Since it's a former railroad, the path stays flat, making it accessible to all and an enjoyable place for a leisurely or active jaunt. If you want to take a spin on the trail, rent a bike from one of many shops along the Cape.
Cliff Pond Trail, Brewster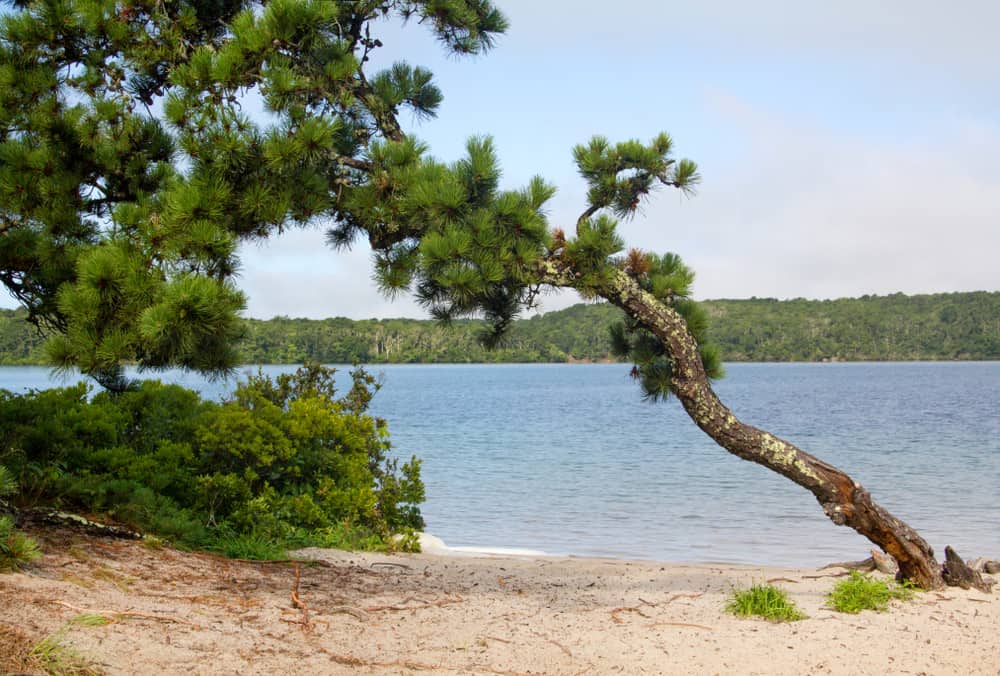 For a stunning hike through peaceful forested land and around a glistening pond, head to Nickerson State Park in Brewster. Here, you'll find the Cliff Pond Trail, a 3.2-mile loop circumnavigating Cliff Pond. Circling the pond, you can walk along the sand or along a packed dirt trail. The pond has some areas with sandy beaches, so be sure to pack a bathing suit, as you may just be tempted to jump in part way through this Cape Cod hike!
If you camp in the park, the trail connects with two of the camping areas. If you're looking for more once you've completed the loop, you won't have to go very far, as Nickerson State Park has miles of trails for hiking, biking, and horseback riding.
Child's River Conservation Area, Mashpee
This peaceful area is part of the Mashpee National Wildlife Refuge, with waters flowing into the protected Waquoit Bay. The 1.2-mile trail loops around former cranberry bogs, just one reminder that this hike features regionally unique qualities. No longer used for harvesting cranberries, these freshwater marshes are home to native plants including cattails.

For a more extensive hike, pay a visit to other trails that make up the expansive Mashpee National Wildlife Refuge or to the Waquoit Bay National Estuarine Reserve. This protected area on Nantucket Sound is home to aquatic life and their habitats, and visitors can attend public programming and partake in outdoor amenities.
It likely wasn't a shock to read that you can find beautiful Cape Cod hiking trails and walking trails all around the Cape, but we all know that it's often the beaches and the boat tours and the restaurants and the hotels that typically get most of the press!
Next time you're on the Cape, be sure to make time to explore some of the scenic places to hike on Cape Cod that we shared above!
---
You might also like:
Amazing Cape Cod Wineries You Must Visit ASAP
10 Best Things to Do in Cape Cod With Kids
Where to Find the Best Lobster Roll in Cape Cod
When is the best time to visit Cape Cod?
---