---
*Links in this article may be affiliate links, from which we may earn commission. See our
Privacy Policy
for full details.
---
Located on the coast of Massachusetts on Cape Cod, it's easy to see why Brewster is one of the top places to visit in New England. It's a quaint small town with incredible beachy, laidback vibes. There are also so many great things to do in Brewster MA.
This post was put together with all types of travelers in mind. Brewster is perfect for anyone, with beachy and more laidback activities like mini-golfing. There are even some museums, seafood shacks, and state parks worth visiting!
Here are all of the absolute best things to do in Brewster MA.
Camp at Nickerson State Park
There are many great state parks in Massachusetts, but one of the best ones is Nickerson State Park in Brewster. It's absolutely massive at just shy of 2000 acres. There are tons to do there too, from hiking and swimming to even fishing or camping!
To get outdoors while visiting Brewster, consider spending the night in Nickerson State Park by camping. Sure, there are a lot of spots for camping in Massachusetts, but camping in a state park is on a whole new level.
There are a variety of different camping spots available at Nickerson State Park. There are yurts, standard sites, and even larger group campsites. Yes, you read that right; you can literally stay in a yurt in the middle of a state park! Facilities are excellent, with bathrooms and access to electricity and water.
Bike the Cape Cod Rail Trail
If you're looking to go biking, you're in luck. One of the top things to do in Brewster MA is to ride the Cape Cod Rail Trail. It goes through many towns on the Cape, including Wellfleet, Harwich, Dennis, Eastham, Orleans, Yarmouth, and of course, Brewster.
The trail is pretty long at 25.5 miles, but even just biking a part of this paved trail can be tons of fun. Consider biking to one of the nearby towns to get exercise and explore other places in the area.
There are a few different places in Brewster to rent a bike if you visit the area without one. Consider checking out the Rail Trail Bike Shop (right on the bike path) or Brewster Bike. They have a variety of different options.
See the Sunset at Paine's Creek Beach
One of the best places to see a beach sunset is in Brewster! Head over to the quaint Paine's Creek Beach in Brewster. It may be a small inlet, but it's incredibly tranquil. Plus, it's primarily only locals that tend to visit this underappreciated beach.
Get there right around sunset and get cozy as you watch the sunset over the top of the water. It will be absolutely breathtaking. This area is especially popular to visit among families that are visiting the area.
Keep in mind that this gorgeous beach is open year-round, and the sunset is just as beautiful whether you visit in December or July.
Try to Win at Harbor Lights Mini Golf
Have some friendly rivalry and competition by heading out to play mini-golf! It can be absolutely fun for all ages. The best place to do this in Brewster is Harbor Lights Mini Golf which is open for the majority of the day.
They do have limited spring hours, so be sure to check their website to see if they will be open during your trip. The owner is also known for opening for groups, so if you're visiting with family, you can call and let them know when you'd love to visit, and they just might open for you!
The course at Harbor Lights Mini Golf is super fun. There's always music playing, and the different holes are styled uniquely. Some of them even feature fountains! It's also a budget-friendly place to go golfing.
Learn at the Cape Cod Museum of Natural History
What's a trip without doing any learning? One of the great things to do in Brewster MA is to head to the Cape Cod Museum of Natural History. This is the perfect place to go to learn more about local history. They also have displays on archaeology.
The museum is relatively small, so plan on spending about forty-five minutes to an hour exploring the museum. Throughout the year, the museum also hosts different events, which can be the perfect opportunity not only to learn but also to meet some locals in the area.
Have Dinner at Kate's Seafood
When visiting Brewster, everyone has to visit Kate's Seafood. This is the top seafood restaurant in Brewster that features a classic New England walk-up window. Then, after ordering, there are picnic tables under a covered seating area where restaurant-goers can sit and enjoy their food.
It's impossible to miss the restaurant from the outside because it's a bright red color. In addition to seafood (like must-try lobster rolls), they also sell smaller snacks like chicken tenders, fried pickles, and mozzarella sticks.
Don't forget to wash it all down with excellent ice cream!
Grab a Sweet Treat at Brewster Scoop
If you happen to be visiting in the summer, be sure to stop by Brewster Scoop. This is the perfect spot to cool off with a tasty ice cream cone, and they genuinely do have a flavor for everyone.
This small ice cream shop is built in the classic eastern Massachusetts style of architecture with bright white and brown wood. Visitors can walk up to the window and easily place their orders. There are also a few seating areas outdoors.
Note that they do occasionally sell out of ice cream, and they close when they do! So, if you want to stop by on a holiday, try to get there earlier in the day to ensure they are still open.
See a Show at Cape Rep Theatre
Calling all theater fans; there's a place to see shows in Brewster! Head over to Cape Rep Theatre, which has many different shows playing throughout the year. In the past, they've done Mamma Mia! and even shows for kids like Click, Clack, Moo: Cows That Type.
Tickets can be purchased online on their website and should be purchased in advance. Though they have multiple dates for each show, sometimes they can sell out, especially during the summer months.
One of the best things about visiting in the summer, though, is that the shows do take place outdoors in the outdoor theater. If it rains, they just move it indoors because they have an indoor theater as well.
Step Back in Time at Brewster Ladies' Library
One of the more unique things to do in Brewster MA is to head to the Brewster Ladies' Library. It's a free library open to the public in Brewster and has been open since the 1850s. As the name suggests, it was actually started by a group of women in the area.
When the library first opened in the 1800s, women actually paid less for the books than men! This changed after a while, but it's part of the library's fascinating, quirky past.
Visitors are more than welcome to head into the library and check it out. It's interesting to explore, even though it is a bit small. To learn more about its history, be sure to chat with the librarians. They love sharing what they know about its past!
Dip Your Toes in the Water at Mayflower Beach
Be sure to also stop by a beach during a visit to Brewster. One of the top ones in the area to stop at is Mayflower Beach on Cape Cod. Though it's technically in Dennis, it's not that far from Brewster by any means.
This is the perfect place to dip your toes in or even to just relax along the water's edge. When the tide is low, visitors can actually go out and walk right on the tidal flats. That's why this is such a popular beach to visit!
In addition to being a beautiful beach, other fun activities are waiting to be had. Guests can have a picnic, explore the boardwalk, or even play a game of volleyball or frisbee.
Check Out History at Stony Brook Grist Mill & Museum
Another of the historical sites to visit in Brewster is the Stony Brook Grist Mill & Museum. It's one of the spots many locals will frequent because it's so tranquil and serene, so it's still one of Brewster's hidden gems.
It used to be a part of the Factory Village in Brewster because there were a lot of industrial sections in its past. This is all that really remains! Stop by the museum there to learn all about its history. There are also different demonstrations going on throughout the day, which will bring you back in time.
Throughout this post, you learned all about the great things to do in Brewster MA! Hopefully, it has helped you plan out the perfect Brewster itinerary for your trip. Don't forget to share this post on social media with others who may be planning their trips!
---
You might also like: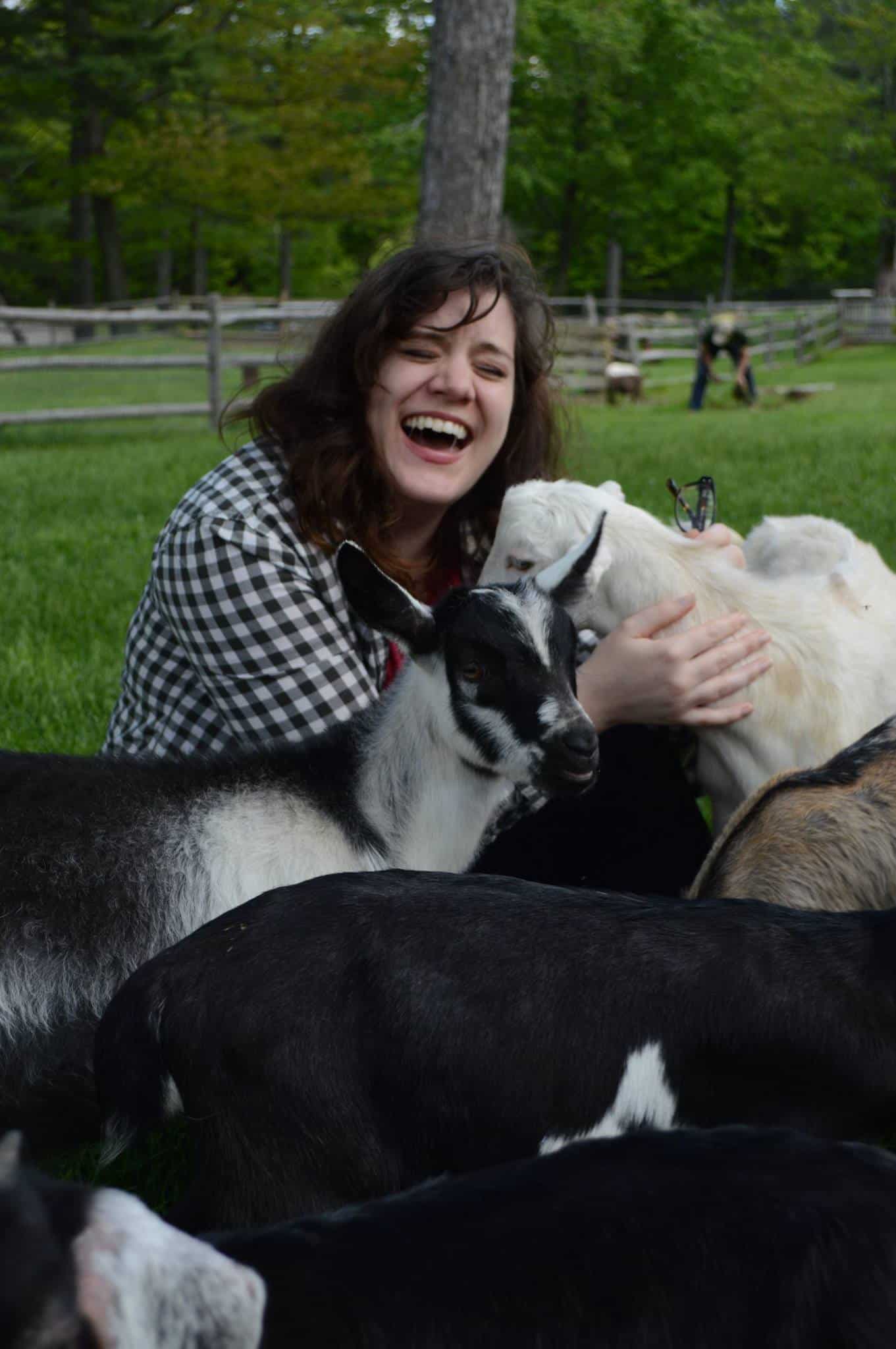 Amy Hartle is the owner and editor of New England With Love, a comprehensive resource for travel in the New England region. Amy lived in Vermont for 15 years, attended Plymouth State University in New Hampshire, and continues to travel regularly around the entire New England region. On this site, Amy aims to share her love of New England and help you to have the best possible adventures!
Amy has been a full time blogger since 2012, and is also the publisher of Two Drifters, where she writes about couples travel and relationships, as well as Let's Adventure Baby, a family travel site. When not traveling the world or creating epic blog content, Amy can be found cuddling with her husband, son, and cats, & drinking a maple latte.