---
*Links in this article may be affiliate links, from which we may earn commission. See our
Privacy Policy
for full details.
---
If you're currently planning a trip to Wellfleet, you're in for the trip of a lifetime. There are so many fun things to do in Wellfleet, Massachusetts, which is why it's the perfect place to vacation on Cape Cod and one of the best beach towns in New England.
Wellfleet is a pretty small town, but it's surrounded by the coast on both sides. It's most well known for its great oysters (which you have to try!) and wildlife sanctuary. Plus, it's pretty centrally located on Cape Cod, so you can easily take trips to nearby towns and beaches if you want.
Below, find some of the best things to do in Wellfleet MA!
Eat seafood from Mac's on the Pier
Trying seafood is an absolute must on this list of things to do in Wellfleet, Massachusetts. There's no better place in Wellfleet to try it than at Mac's On the Pier! It's located right along the waterfront (as the name suggests) and is situated in a shack, which is just what you'd expect from a great seafood restaurant on the Cape.
The most popular thing on the menu here is clams, but they also serve various other dishes. There are oysters, littlenecks, shrimp, shellfish, lobster bisque, and more. If you don't like fish, you'll still enjoy this shack. You can also find many other staples on the menu, like hot dogs, burgers, and salads.
Visit the Wellfleet Bay Wildlife Sanctuary
One of the most beautiful and tranquil places to visit in Wellfleet is the Wellfleet Bay Wildlife Sanctuary. This area has multiple trails that will bring you throughout the sanctuary, and the trails are basically like boardwalks, so they're not that difficult to walk. You could even easily push a stroller on them if you're traveling with younger kids.
The sanctuary has its own campground, too, if you're interested in camping while visiting Wellfleet. One of the best things to do at the sanctuary is attend one of the events or classes that they host. More information about them can be found on their website.
Relax at Marconi Beach
If you visit Cape Cod and you don't visit one of the beaches, then you're doing your trip wrong! It's one of the main reasons that so many people visit the Cape. Wellfleet's best beach is Marconi Beach, which is one of the Cape Cod beaches. It's incredibly picturesque and perfect for relaxing.
In addition to relaxing, there are many other great things to do here. You can go hiking, swimming, and even biking on one of the trails that the beach is home to. There is also a huge parking lot at the beach, which makes it pretty easy to visit from the surrounding area.
Support locals at Wellfleet Flea Market
The Wellfleet Flea Market is the biggest flea market on all of Cape Cod. They usually have between 150 and 300 vendors. Even if you attend the flea market knowing you don't have anything to buy, you'll probably leave with at least something.
The flea market is only open on weekends, which is something to consider if you know this is something you want to attend during your trip to Wellfleet. The majority of the vendors are local, so this is the perfect opportunity to show your support for them. Throughout the flea market, you can find antiques, souvenirs, art, and more.
There aren't many drive-in movie theaters left in the United States, let alone in New England. This is the only one left on Cape Cod. That makes visiting this one in Wellfleet a real treat and unique experience, no matter your age! This movie theater opened in the 1950s and has been a favorite among locals ever since.
The drive-in has tons of parking spots, so you can set up your spot to watch movies from your own car. You pay by the number of people in your car, tune your radio to their radio station, and settle in to watch the show. They also have a snack bar, so you don't have to worry about bringing your own food.
Do the Cape Cod Rail Trail
A fun way to spend an afternoon while in Wellfleet is on the Cape Cod Rail Trail. This is a pretty long trail and goes on for just under 26 miles. It's doable just to do a small part of the trail if you want, or you could do the entire thing.
The trail goes through many different towns along the Cape, including Wellfleet, Eastham, Yarmouth, Brewster, and Dennis. It's a great way to explore the nature in the area, and also get outside and moving, especially if you're visiting during the time that it's gorgeous weather. If you want a bike to do the trail (because you're most likely not traveling with one), you can find a bike shop to rent from.
Learn at the Wellfleet Historical Society & Museum
One of the best things to do in Wellfleet, Massachusetts (and anywhere you visit) is to head to one of the local museums so that you can learn more about the area. In Wellfleet, that museum is the Wellfleet Historical Society & Museum.
The museum hosts a variety of different exhibits and artifacts about the area, and the people who work there are extremely helpful and know a lot about Wellfleet. If you have any questions about Wellfleet's history, this is the place that you'll want to ask them! The museum also hosts some significant events open to the public and the community.
Go on a boat tour
Because you're on the Cape, what better way is there to explore than by going on a boat tour? There are quite a few different boat tour companies in the area, though you bay have to take a short drive to a nearby town to find a more affordable tour company.
The main company that you can get boats from in Wellfleet is Cape Cod Catamaran Sailing Charters. Other options include going to Eastham to Nauset Boat Tours or going to Orleans for Blue Claw Boat Tours. No matter what you choose, this is the perfect way to get out and explore Cape Cod Bay and take in the scenic views.
Walk the Great Island Trail
Another of the best trails to explore in Wellfleet is the Great Island Trail. This is arguably one of the most popular trails in this area of Cape Cod. It's roughly five miles long and is a loop trail, so you start and end at the same point.
Along the trail, you can take in epic views and even spot some of the local wild life. The trail is considered moderate and part of it will even give you some great viewpoints of the surrounding coastline, so be sure that you don't forget your camera! It's also a kid-friendly trail and can be biked instead of hiked/walked.
Visit Marconi Wireless Station
The Marconi Wireless Station is a historic destination and attraction in Wellfleet. It was built in early 1903 and was the very first site where communication was able to occur from the United States over the Atlantic Ocean to Europe!
While there isn't a whole lot to see here, it's still worth visiting because of its historical significance. There are a few outdoor exhibits and signs than will give you a bit of a run-down about the area when you visit. You could also visit Marconi Beach which is a short drive away and another great beach in the Wellfleet area.
Indulge at PB Boulangerie Bistro
The PB Boulangerie Bistro is a delicious restaurant serving up French and European cuisine in Wellfleet. They also have a great bakery with top-notch French pastries that will make you feel like you're in Paris!
The restaurant is a bit on the pricier side, but the price is well worth it for the great food. On the menu, you can find burgers, steak, pasta, desserts, and more. This is the perfect place to eat if you want to pretend you're in Europe.
Attend the Wellfleet OysterFest
You can't visit Wellfleet without trying the oysters at least once. If you're a huge oyster fan, then you should definitely try them during the Wellfleet Oysterfest! This annual celebration and festival which takes place in Cape Cod in the fall, first began in 2000 and has been a fun event held in Wellfleet ever since.
During the event, there's live music, vendors, and of course, lots of oysters! There are even educational programs on throughout the event so that you can learn about the town's history with them. Be sure to purchase some Wellfleet Oysterfest merch too so that you can support the local industry!
—
There are so many great things to do in Wellfleet, Massachusetts. From going on gorgeous cliffs to explore the area's nature to attending fun events like the Wellflet Oysterfest or Flea Market, you're sure to keep busy during a trip there.
So, what are you waiting for? Start planning your next trip to Wellfleet today!
---
You might also like:
---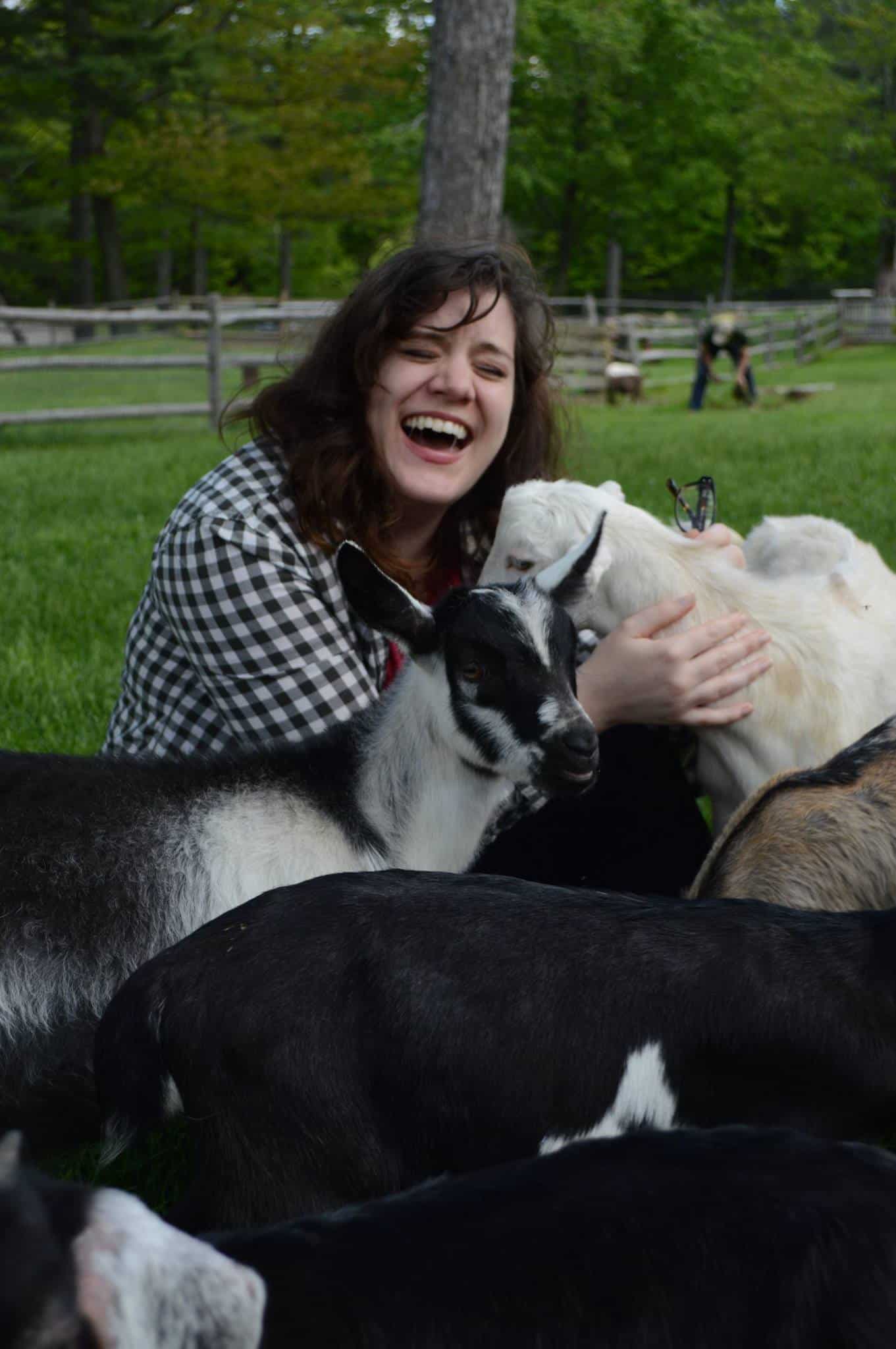 Amy is the founder of New England with love. A proud Vermonter, she hopes to share her love of New England and help you find the best adventures in the region. Amy is also blogger/founder at Two Drifters, where she writes alongside her husband about romantic and couples travel, relationships, honeymoons, and more. When not working on websites, Amy is probably reading, cuddling with her husband, son, and cats, & drinking a maple latte.