---
*Links in this article may be affiliate links, from which we may earn commission. See our
Privacy Policy
for full details.
---
Cape Cod is an ever-popular vacation destination during the summer months, but have you ever heard of Second Summer? Second Summer is that lovely little period after the summer tourist rush has passed but the early autumn weather is still inviting as all get out and ideal for all kinds of fun fall outdoor activities!
There are a ton of great things to do and see in the cool Cape Cod towns, but when the heat and humidity of summer are waning and the cooler days of autumn come rolling in, Cape Cod is the perfect location for a great vacation getaway! Check out this list of 13 ways to enjoy Cape Cod in the fall.
Relax in Peace on the Beach
A huge advantage of visiting a major tourist destination in the "shoulder season" when most tourists have returned home is that there just aren't the same crowds to contend with.
An autumn afternoon spent lounging at the beach is quieter, calmer, and more peaceful than it is when it is teeming with thick summer crowds. So pack a picnic lunch and bring your favorite book to decompress in peace by the sea at any one of Cape Cod's most beautiful beaches, or time your visit to catch some brilliant Cape Cod sunrises and sunsets!
Pick the Perfect Pumpkin at Taylor-Bray Farm
Taylor-Bray Farm is a historic working farm in Yarmouth Port, right on the edge of the beautiful Black Flats Marsh. In October they host a Fall Festival with hayrides, farm animals, fresh cider, and pick-your-own-pumpkins, and there is also a Revolutionary War-era farmhouse on the property that has been renovated and housed with period pieces so you can get a peek into what life on this gorgeous farm might've looked like centuries ago.
Walk out a bit on the boardwalk to get a better view of the Black Flats Marsh before you leave this lovely historic property.
Read More: 15 Best Pumpkin Patches in Massachusetts
Go on a Whale-Watching Tour
Whale-watching along the cape is a popular activity from April through October, but one of the best times to see whale activity in this area is in September and early October, when these majestic marine creatures make their annual migration south. There are so many fabulous whale-watching tours that depart from the cape, so you'll have your pick!
Remember to dress warmly as it is always cooler out on the water than it is on shore, and keep your eyes peeled because you're likely to see other marine wildlife, lighthouses, and other notable local landmarks.
Attend the Wellfleet OysterFest
Wellfleet is one of the best beach towns in MA and is host to one of the most well-known annual Cape festivals, Wellfleet OysterFest. This mid-October event is a celebration and promotion of the oyster industry that has been such an important part of this town's success for so long, and you'll find live music, oyster-shucking competitions, local craft vendors, and lots of great food and drink!
Wellfleet OysterFest is just one of many fun things to do in Wellfleet, so stay awhile and enjoy some of Wellfleet's beautiful beach scenery.
Go Apple-Picking at Crow Farm
Picking your own apples is about as quaint and quintessential a fall activity as it gets, and oh, so much fun! Crow Farm in Sandwich suggests following their Facebook page to see when each variety is ripening so you can better plan your apple-picking trip.
Of course, there are so many fun things to see and do in Sandwich that it's not likely you'll ever regret making the trip out, even if your favorite varieties of apples aren't ready to pick yet!
Indulge in a Brew at Cape Cod Brewfest
Another fun annual autumn tradition on the Cape, Cape Cod Brewfest happens in late September, featuring dozens of the best regional craft breweries. This adults-only event also features live music and local food trucks, with "sampling sessions" that allow you to try out hundreds of different styles of brews while you enjoy the crisp and cool autumn air at this outside Rain or Shine event in East Falmouth. Be sure to bring your thirst!
Tour a Cranberry Bog
Cranberry bog tours are always a cool experience, but fall is the perfect time of year for them as cranberry harvesting season on Cape Cod is from September to December; if you can catch a tour at harvest time, you might witness the picturesque image of cranberries ready for harvest floating on the surface of the bog, with fall foliage serving as the backdrop. There could even be an opportunity to sample some of the freshly harvested berries for yourself!
Unwind at One of New England's Favorite Wineries
Truro Vineyards is one of the most popular wineries in New England, and a visit in the fall will let you enjoy some of its distinctive varietals as the crisp and cool autumn breeze blows in, the leaves on the trees transforming into their ruddy fall colors in the background of this idyllic vineyard.
If you're less of a wino and more into spirits, South Hollow Spirits is also on the property with their environmentally friendly distilled liquor. Keep an eye on their events calendar to see what to expect on your next visit out.
Embrace Off-Season Rates with a Romantic Luxury Getaway
Visiting Cape Cod in the fall means more bang for your buck as standard rates go down, so if you were putting off that luxury getaway due to price, an autumn stay at a romantic boutique hotel like Chatham Inn might be perfect for you! One of the most romantic getaway spots in the Bay State, Chatham Inn offers nightly rates in October and November that are a fraction of the price they are during the busiest tourist season, and there are so many awesome things to do in Chatham, too.
Cape Cod is already a romantic vacation destination, now it's also a budget-friendly one!
Head Out and Hike
Cape Cod has some excellent hiking and walking trails, so take advantage of the cooler fall weather to explore them for yourself in prime comfort. Venture into the woodlands as the leaves on the trees start their spectacular color show with trails like the Atlantic White Cedar Swamp Trail and the Lawrence Island Wildlife Sanctuary footpaths.
Hiking is a fabulous way to enjoy the stunning natural scenery of the Cape any time of year, but add a little fiery fall foliage into the mix and you're really set; there are lots of great biking trails, too!
Take a Lighthouse Harbor Tour
Available until Columbus Day in October, a Lighthouse Harbor Tour with Bay Spirit Tours offers a great vantage point to see some of the Cape's loveliest lighthouses and other local points of interest, including the Kennedy Compound in Hyannisport. As an added bonus, your harbor tour will provide you with some great glimpses of the leaves turning color on the shore, too. Dress in layers, it can get a little chilly out on the water!
Partake in the Provincetown Food & Wine Festival
In early November, Provincetown holds a 4-day food and wine festival featuring some of this colorful town's most celebrated chefs and restaurants. Events include live music, dinners, wine and beer pairing demonstrations, and a champagne drag brunch (Ptown has a great LGBTQ+ friendly vibe!)
Provincetown is full of fun things to do and cool places to stay, so definitely consider staying a day or two at this vibrant town at the tip of the Cape!
Go on Cape Cod's Haunted History Tour
Leaving from Barnstable, Cape Cod's Haunted History Tour is heavy on the haunted and the history! This top-rated tour runs 5 nights a week from July through mid-November, visiting several historical sites including the Old Jail that was built in the 1690s, with many reports of very vivid paranormal experiences happening inside. Sensory equipment is also used to help detect ghost activity. If you're interested in a hair-raising historical tour, this might be just the thing for you!
Cape Cod has some of the coolest beach towns in Massachusetts and awesome places to stay, too. The next time you're looking for a fun fall getaway in Massachusetts, consider Cape Cod for your autumn vacation destination!
---
You might also like:
---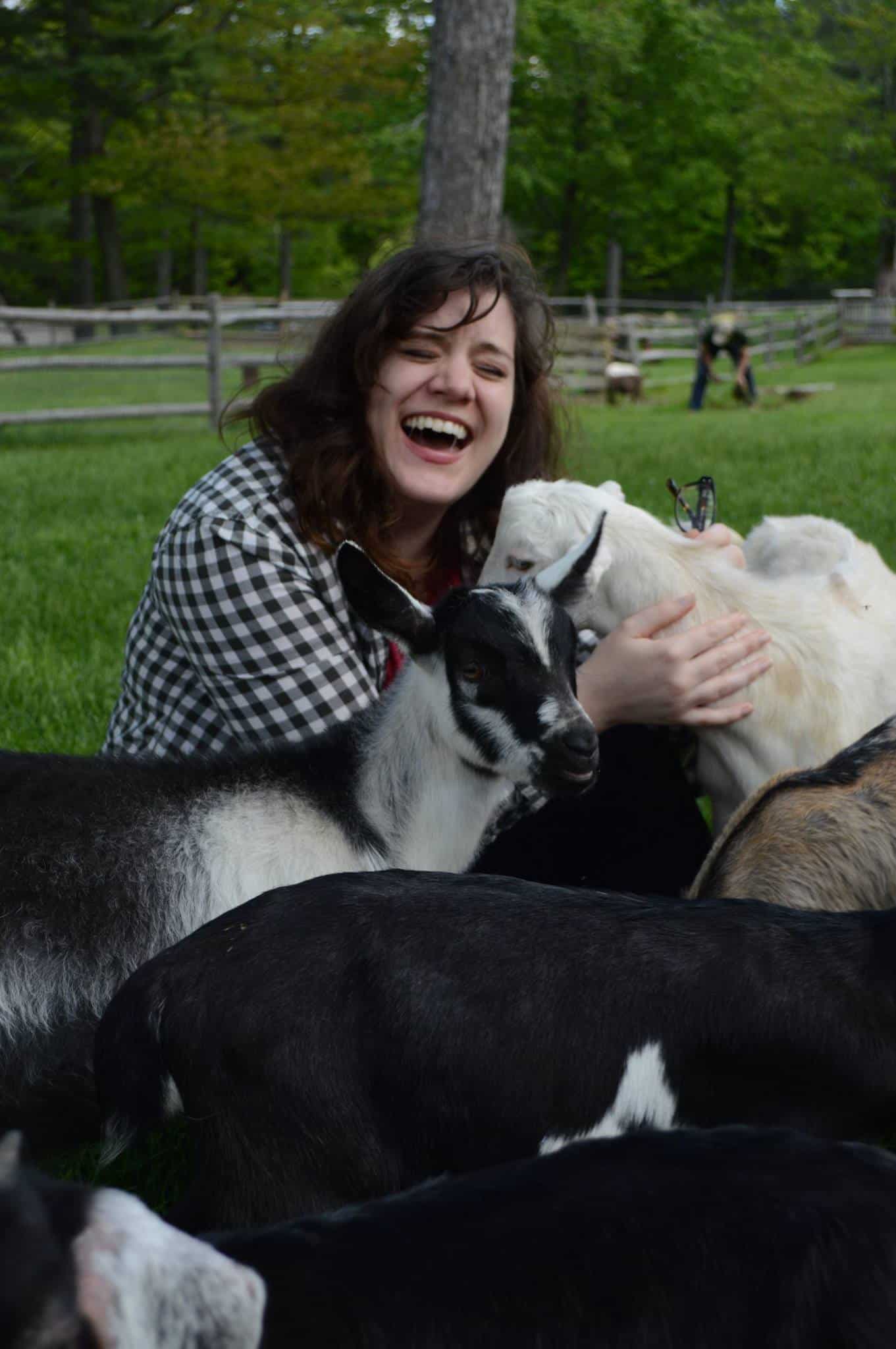 Amy Hartle is the owner and editor of New England With Love, a comprehensive resource for travel in the New England region. Amy lived in Vermont for 15 years, attended Plymouth State University in New Hampshire, and continues to travel regularly around the entire New England region. On this site, Amy aims to share her love of New England and help you to have the best possible adventures!
Amy has been a full time blogger since 2012, and is also the publisher of Two Drifters, where she writes about couples travel and relationships, as well as Let's Adventure Baby, a family travel site. When not traveling the world or creating epic blog content, Amy can be found cuddling with her husband, son, and cats, & drinking a maple latte.