Cape Cod, Massachusetts, is a must-visit for travelers looking to explore the beautiful charm of New England. From its sandy beaches and quaint village-style towns to its breathtaking views, Cape Cod has something for everyone. Including many Cape Cod lighthouses!
Perhaps one of the most captivating attractions in this region are the lighthouses that are scattered along the shoreline. Whether you're into history, architecture, or just love taking picturesque photos, these 13 amazing Cape Cod lighthouses can't be missed!
Read on to discover everything about these magnificent towers—from their histories and locations to our best tips for visiting them.
Cape Cod Lighthouses
Three Sisters Lighthouses
First up is not one but a set of three lighthouses called the Three Sisters Lighthouses. They're situated in Eastham, Massachusetts and date back to the 1800s. Unfortunately, the original three towers that were built went through erosion, which made them all fall.
They were later replaced in the 1890s to the wooden lighthouses that stand there now. Each of the lighthouses is situated right next to each other and is only 150 feet away from each other, right at Nauset Beach.
You might be wondering "why are they named that?" Well, they got this name because many people say that from the water, they actually look like three sisters hanging out in the forest.
Race Point Light
Situated in Provincetown, Race Point Light is one lighthouse on the Cape that you won't want to miss out on. This is a classic New England-style lighthouse that's white with a black top. However, similar to the Three Sisters, it's also been replaced over the years!
This lighthouse was originally built in the 1800s but was replaced in 1876 when a new tower was added (the one that's seen today) along with a brand new place for the keeper to stay.
Provincetown is easily one of the best places to visit in Massachusetts, so don't miss out on stopping by Race Point Light when visiting Cape Cod.
Nauset Light
Nauset Light is situated in Eastham right on the Cape Cod National Seashore. It's one of the newer lighthouses on the coast, having been built in 1923. However, it was built using the old tower that was moved here from the previous Chatham Light. It's truly a bolder lighthouse, with a big red stirpe at the top that photographs beautifully.
This isn't the first lighthouse in the area, as previously there was the Nauset Beach Light Station in the 1800s. Lots changed over the years, including new lighthouses being erected and some of the towers moving along the coastline. You can learn more about the coastal erosion and its effects on the lighthouses here during a visit.
Wings Neck Light
Located right by Pocasset on the edge of Wings Neck Point, Wings Neck Light is a beautiful brick lighthouse having some breathtaking views of the Atlantic Ocean. This lighthouse was first built in the 1840s to help with the traffic along Buzzards Bay to nearby Sandwich and Wareham.
The lighthouse was later rebuilt (like many other Cape Cod lighthouses) in 1889 because of some damage that it received. When it was rebuilt, they did what they could to still represent the beauty of Cape Cod architecture.
Interestingly enough, the lighthouse was sold in 1947 to Irene and Frank Flanagan, who enjoyed the property as a place to retire until 1999. Now, you can actually book a week in the lighthouse to stay!
Highland Lighthouse
Head to Truro, MA to check out the Highland Lighthouse. Similar to other lighthouses on this list, the tower that's standing today was built in 1857 but replaced previous lighthouses that were already there, dating back to 1797. To this day, it's the oldest lighthouse in Cape Cod that's still standing (and, it's also the tallest, at 66 feet high!)
There are 69 steps to get to the top of Highland Light, but keep in mind that when climbing to the top, it's possible another group might be climbing down at the same time. It's a tiny space to climb up! Be sure to book a tour to get the best experience while visiting, they're kept small to a maximum of 12 people per group.
Long Point Light
Another lighthouse worth checking out on the Cape is Provincetown's Long Point Light. This historic lighthouse helps to navigate people around the Provincetown Harbor, and dates back to 1827. It's a brick lighthouse that is only 38 feet tall, making it one of the shorter lighthouses you'd come across!
Because of it's location, the only way to get to Long Point Light is by foot, and it's a fairly long hike. Along the way, many people also stop at Wood End Light, which is a bit further down on this list! Read on to learn more about it.
Stage Harbor Light
Stage Harbor Light in Chatham is another classic Cape Cod lighthouse that was built back in 1880. It has a house attached to it, and both are in a bright white, reflecting the classic Cape Cod lighthouse architecture.
The original tower was discontinued later on in 1933 but there's still a skeleton tower that still stands, which can be used to help navigate ships. Note that many people also refer to this lighthouse as Stage Harbor Lighthouse.
Wood End Light
Wood End Light is yet another of the lighthouses that can be found in Provincetown. It's right on the edge of Long Point and also helps to navigate mariners out on the Provincetown Harbor.
This lighthouse dates back to the 1870s. It's gone through a lot over the years, ranging from when it was converted to solar energy powring in the 1980s to a submarine colliding right near the lighthouse in the 1920s.
Today, it's possible to walk out to Wood End Light but it's a difficult walk that takes up to 45 minutes (sometimes longer). The walkway is also frequently flooded and sometimes the waves in the area can be violent. There's also not a whole lot of parking near where the walk begins.
West Dennis Lighthouse
The West Dennis Lighthouse, also known as the Bass River Light, is situated in Dennis, MA. It's on top of a hotel called the Lighthouse Inn and was built in the 1850s. It's one of the shorter lighthouses, only 44 feet tall, and is made of wood, iron, and brick.
This is one of the more interesting lighthouses, with a story about a man who always kept a lantern lit in his attic window. Today, to best experience the lighthouse, consider booking a stay at the seasonal hotel located right along the water's edge. It makes for a perfect romantic getaway.
Chatham Light
The Chatham Light is located directly in Chatham – hence the name. Similar to other lighthouses on this list, it had a previous name, so you may also hear people call it Twin Light.
This lighthouse was built in 1808, but was replaced multiple times over the years, with the most recent change being made in 1877. It stands at 43 feet tall and is made of concret, brick, wood, and cast iron. It's owned and operated by the Coast Guard, but there are often tours offered of the lighthouse throughout the year. This lighthouse is considered to be one of the most iconic lighthouses on the Cape.
Nobska Light
The Nobska Light, which is also sometimes called Nobska Lighthouse or Nobska Point Light, is in Falmouth. It's by Buzzards Bay and Nantucket Sound. This lighthouse dates back to the 1820s and is 40 feet tall, made of brick and iron. It's a classic black and white lighthouse with a building right next to it.
The lighthouse's most recent updates are from 2017 when local voters voted to have it restored. The old keeper's dwelling is meant to be completely restored and updated to be turned into a maritime museum for visitors to come and learn more about the lighthouse.
Sandy Neck Lighthouse
The Sandy Neck Lighthouse in Barnstable, Massachusetts is situated right near Barnstable Harbor. It was built in the 1820s, but the one that stands today was built in the 1850s.
This is one of the more popular lighthouses to visit, and many people will see it if they go on a whale watching tour in the area. The lighthouse is 40 feet tall and is made of steel and cast iron.
Monomoy Light
Last but not least is the Monomoy Light which is also in Chatham. It was built in the 1820s and was originally a wooden tower. However, it was rebuilt in 1849 and is now made of cast iron to hold up better over the years.
Unlike others on this list, the Monomoy Light is closed to the public. However, there are special times throughout the year where the local refuge program offers an overnight stay in the lighthouse, usually in late summer.
Now you know all about the best Cape Cod lighthouses! No matter which one you visit, we're sure that you'll have the best time learning about the history that each of them has to offer. (Plus, they're extremely picturesque and offer unbeatable views of the Atlantic Ocean, too.)
---
You might also like: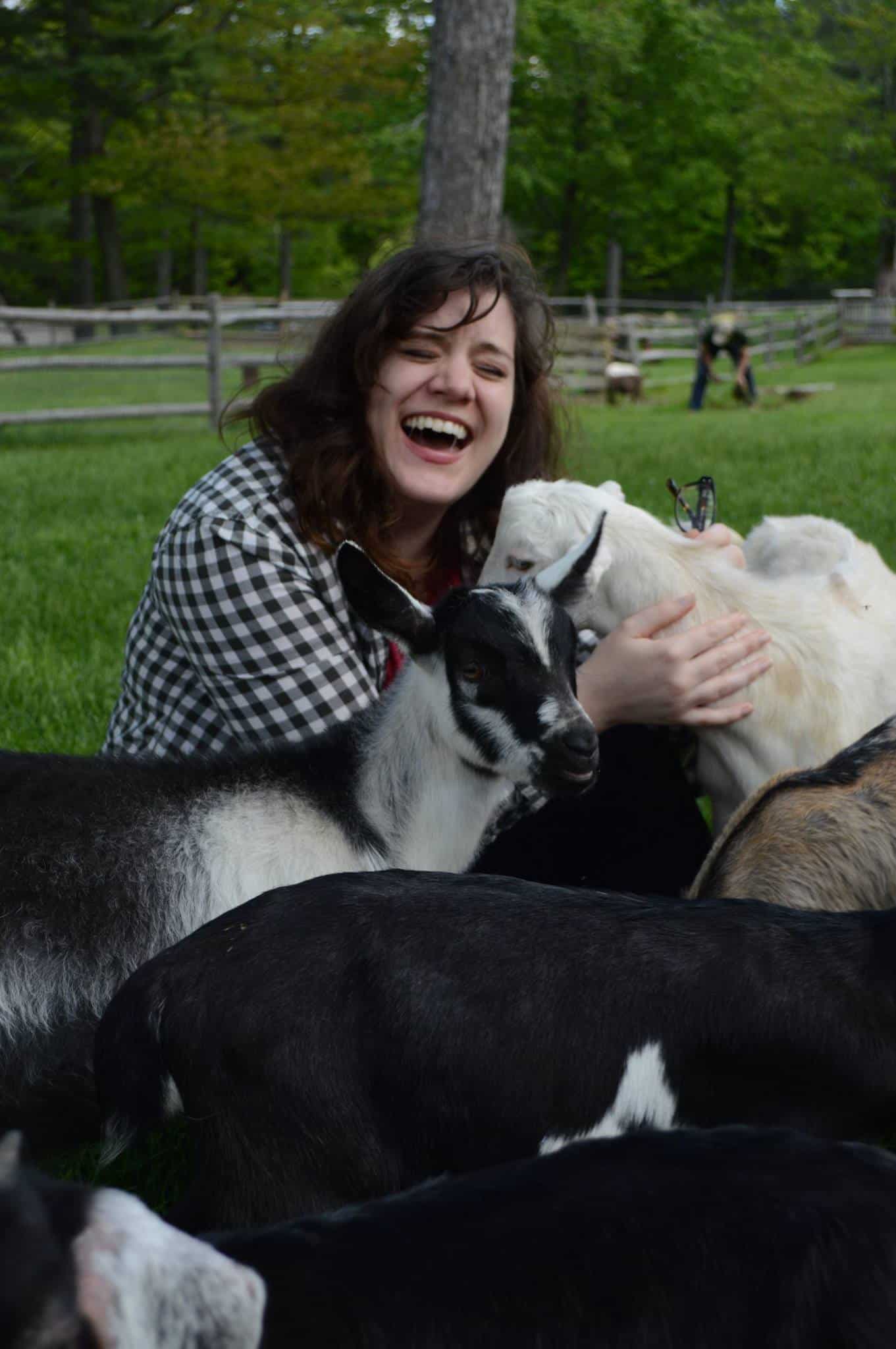 Amy Hartle is the founder and Editor-in-Chief of New England With Love, a comprehensive resource for travel in the New England region. Amy has been exploring New England since 2001. She lived in Vermont for many years and is a graduate of Plymouth State University in New Hampshire. Amy has been writing about travel for over a decade. On this site, Amy aims to share her love of New England and help you to have the best possible adventures!
Amy has been a full time blogger since 2012, and is also the publisher of Two Drifters, where she writes about couples travel and relationships, as well as Let's Adventure Baby, a family travel site. When not traveling the world or creating epic blog content, Amy can be found cuddling with her husband, son, and cats, & drinking a maple latte.