---
*Links in this article may be affiliate links, from which we may earn commission. See our
Privacy Policy
for full details.
---
New England's northeastern climate swings between humid summers and hard frosts, lending itself to many things: opportunities to rock fabulous fall and winter fashion options, incredible scenic views as the seasons shift, and a winery/vineyard culture that prides itself on the craftsmanship of the stewards who grow and cultivate products that surpass all expectations.
From traditional grape wines grown along Southern New England's Coastal Wine Trail to more eclectic and unique fruit wines grown even further north, New England wineries and vineyards offer wines that are both bold and unassuming, all with the background provincial beauty that the region offers.
Whether you're looking for a romantic New England getaway, a Cape Cod winery tour with friends, or perhaps just a solo journey to get back to yourself, a tour of the best New England vineyards and wineries might be just what you're looking for!
New England Wineries
Truro Vineyards, Truro MA
This gorgeous 5-acre farm takes advantage of the sandy soil and balmy ocean breezes of the Outer Cape to grow the grapes that make a visit to Truro Vineyards one of the top things to do on Cape Cod! Producing over a dozen varietals every year, Truro Vineyards offers a variety of reds, whites, and a signature lighthouse series that includes distinctive blends like the Truro Vineyards Cape Blush, an off-dry rosé that comes in a signature lighthouse-shaped keepsake bottle.
South Hollow Spirits also operates out of the property, creating unique spirits distilled in an environmentally friendly fashion, so you can kick back and enjoy either a glass of wine or a delicious cocktail as you gaze out across the gorgeous grape-covered vines. Flight tastings are available seasonally, but check in with Truro Vineyard's events calendar to see what live entertainment events are coming up. Private and reserved tastings can be arranged and food trucks are often present in the warm weather months. Plus, Truro Vineyards is just about a 12-minute drive from colorful Provincetown, so be sure to leave time to venture on up to P-Town, too!
Jonathan Edwards Winery, North Stonington CT
Situated on a romantically secluded 48-acre hilltop, Jonathan Edwards Winery is a bi-coastal winery, creating spectacular wines with grapes from both their California and Connecticut estate vineyards. Choose from their selection of reds, whites, and blushes, with all embodying the Jonathan Edwards Winery motto of "bringing the heart of Napa Valley to New England," like their 2019 Cabernet Franc that features spicy cherry and cranberry notes with a finish of cinnamon and nutmeg; what a quintessential New England combination, right?
The winery is open year-round, and The Tasting Room is open 7 days a week. Follow the winery on social media to see whats happening at this lovely Connecticut winery, but any time of the year you can buy a bottle and pick a cozy spot at the vineyard to enjoy both the wine and the vibe!
Seven Birches Winery, Lincoln NH
Located in lovely Lincoln and situated in the RiverWalk Resort at Loon Mountain, Seven Birches Winery offers handcrafted blends of classic European grape varieties and locally sourced fruits, with both traditional and nontraditional offerings, like their small-batch Strawberry Wine, made with locally-sourced strawberries that transform into a sweet souvenir of summer in a bottle! In addition to traditional grape and fruit offerings, Seven Birches also produces a line of hard ciders called Rhythm Craft Cider, available for tasting across the street at the Lincoln Village Shops.

A visit to Loon Mountain Resort is considered one of the best things to do in the White Mountains, period, so whether you're in the area for the incredible skiing, or the warm-weather Loon Mountain fun, you have two options to check out Seven Birches offerings: The Winery Tasting Room at RiverWalk Resort offers wine tastings and tours of the facility, and the Atrium Tasting Room & Wine Bar at Lincoln Village Shops has both an indoor and outdoor seating area, so you can choose where you'd like to go to sample all the delicious creations Seven Birches Winery has to offer.
Snow Farm Vineyard and Winery, South Hero VT
Perfectly situated on the idyllic Lake Champlain Islands, South Hero's Snow Farm Vineyard and Winery is a Vermont gem! Specializing in working with cold-hardy grapes for the last 20+ years, Snow Farm was the first vineyard in Vermont that produced and sold its product commercially, and today, there are 18 different varieties offered at Snow Farm; Naked Mermaid features pink grapefruit, orange, floral, lemon, and pear flavors and is a local favorite.
This beautiful vineyard has a charmingly rustic aesthetic that will make you feel right at home as you pull up for your weekend wine tasting. In addition to the handcrafted wines, Snow Farm also offers fresh maple syrup from the Maple orchard behind the vineyard, so be sure to pick up some maple goodies while you're there, too. Keep an eye on Snow Farm's social media to see when wine by the glass and live entertainment will return!
Bar Harbor Cellars, Bar Harbor ME
If you're planning a visit to Acadia National Park and Bar Harbor, Bar Harbor Cellars absolutely MUST be on your list of places to go! This winery is housed on 100-acre Sweet Pea Farm and produces wines from fruit sourced from Europe and North America, priding themselves on being able to create traditional grape wines true to the region the grapes are being sourced from, as well as more creative fruit wines sourced from local fruit, such as their Blueberry wine made with Maine blueberries.
Visit May through October when Bar Harbor Cellars is open daily, offering tastings of their carefully curated whites, reds, and specialty wines in their lovely tasting room. Also located on the grounds is Sweet Pea Café, specializing in wood-fired pizza made with farm-to-table ingredients, open Wednesday through Sunday, May through October. In addition to their wines and delicious dishes, the gift shop also features locally made goodies such as chocolates, jams, and other Maine-made treats so you can take home plenty of fantastic souvenirs from your experience.
Newport Vineyards, Middletown RI
With gorgeous Newport just a short 10-minute drive up the road, Newport Vineyards boasts over 50-acres of lovingly-tended vines on 100-acres of farmland, producing wines handcrafted from estate-grown grapes. In addition to the reds, whites, rosé, and specialty wines available, Newport Vineyards also houses a small-batch brewhouse, Taproot Brewing, featuring hops-forward brews that will delight all hops-lovers.
Tastings are available daily at this Rhode Island winery, and tours are Sunday through Friday, with reservations strongly suggested. Oh, and did we mention the fantastic farm to fork dining found at Newport Vineyards? Follow Newport Vineyards on social media to get the latest information on hours and availability!
Westport Rivers Vineyard and Winery, Westport MA
Located on Massachusetts's sunny Southern shores, Westport Rivers is a Coastal Wine Trail stop with 80 acres of vineyards producing delicious blends that highlight regional flavors, such as their Pinot Noir Rosé, featuring strawberry, watermelon, red berries, and summer herbs- a little taste of summer in coastal Massachusetts in every sip!
Tastings are available at select times Monday through Saturday, and enjoying wine on the gorgeous grounds of Westport Rivers is always a treat. Plus, their onsite food truck is open every day the winery is open from Memorial Day to Halloween, so you won't be hungry while sipping on your new favorite wine. Check in with Westport Rivers' social media often to see what's happening at this beautiful Bay State winery.
LaBelle Winery, Amherst NH
Lovely LaBelle Winery is just less than a half-hour's drive from Manchester, offering tastings of dozens of different wines produced from the finest fruit grown around the region. Wine tastings and public vineyard and winery tours are available, as are private tours and wine tastings, with the latter requiring reservations. LaBelle Winery also proudly showcases local art in their gallery space on-site, so you can take home both a few bottles of your favorite wine (maybe their Cranberry Riesling?) and some local New Hampshire art.
Wine tasting is first come, first served, open Wednesday through Sunday, and you should plan to try out The Bistro at LaBelle Winery, the winery's farm-to-fork restaurant that features produce grown on the farm at LaBelle right alongside LaBelle's wines. The onsite wine and gift shop also offers opportunities to take home wines and products from The Winemaker's Kitchen culinary line, LaBelle's collection of kitchen staples for you to use for yourself at home. Check in with their calendar for information on upcoming events.
Maugle Sierra Vineyards, Ledyard CT
Another member of the Coastal Wine Trail, Maugle Sierra Vineyards is a perfect representation of the rolling hills Southeastern New England aesthetic, where you can sit contentedly overlooking the 11-acres of grape-growing vines on the sprawling country estate, enjoying the fresh coastal breeze and the lovely scenery. Growing most of the grapes used in their blends themselves, a staple at Maugle Sierra Vineyards is their St. Croix, described in-house as "intensively fruit-forward" with rich flavors of blackberry and plum.
Open year-round (check here for current hours) for wine by the glass and the bottle, live music often happens on the weekends, so be sure to check out the calendar in advance. Plus, a visit to Maugle Sierra Vineyards lands you just a quick 15-minute drive from the cute coastal town of Mystic, so don't miss out on that while in the area, either!
Shelburne Vineyard, Shelburne,VT
Just 5 miles south of Burlington and open year-round, Shelburne Vineyards offers an independently rustic charm alongside their award-winning selection of both classic and modern wines. The Tasting Room is open every day except Tuesday, from noon to 6pm.
Shelburne Vineyards offers a robust selection of wines, including some incredibly unique and interesting blends, such as their Vidal Fizz, a sparkling, bubbly wine that is the result of a collaboration between IAPETUS, Newport Wine Cellar, and Fortnight Wine Bar. Other Vermont-made staples like cheese and maple syrup are also sold on-site, but Shelburne Vineyard's easy proximity to Burlington means a day at the winery can be conveniently followed with a delicious dinner at one of the best restaurants in the city if you want!
New England Wine Tours
Are you interested in New England wine tour packages? You might enjoy booking one of these!
Wine and food in Plymouth, Massachusetts? The perfect combination! Plus, you get a souvenir glass.
This White Mountains winery tour offers a behind the scenes look at the wine making process at Seven Birches, and the opportunity to meet those responsible for your favorite Seven Birches blends!
---
New England is fortunate to have such a strong showing of wineries and vineyards, with each one showcasing its unique take on grape-growing and winemaking in a region that often offers many opportunities to overcome challenges related to climate and weather. Of course, New Englanders are nothing if not resilient and resourceful, and it certainly shows in the best wineries and vineyards of the region.
If you decide to mix it up a little on your New England winery tour, be sure to look into a few of the breweries and cideries that make New England a craft beer lover's paradise, too. You'll never have to worry about having your adult beverage needs met while traveling around New England!
You might also like:
---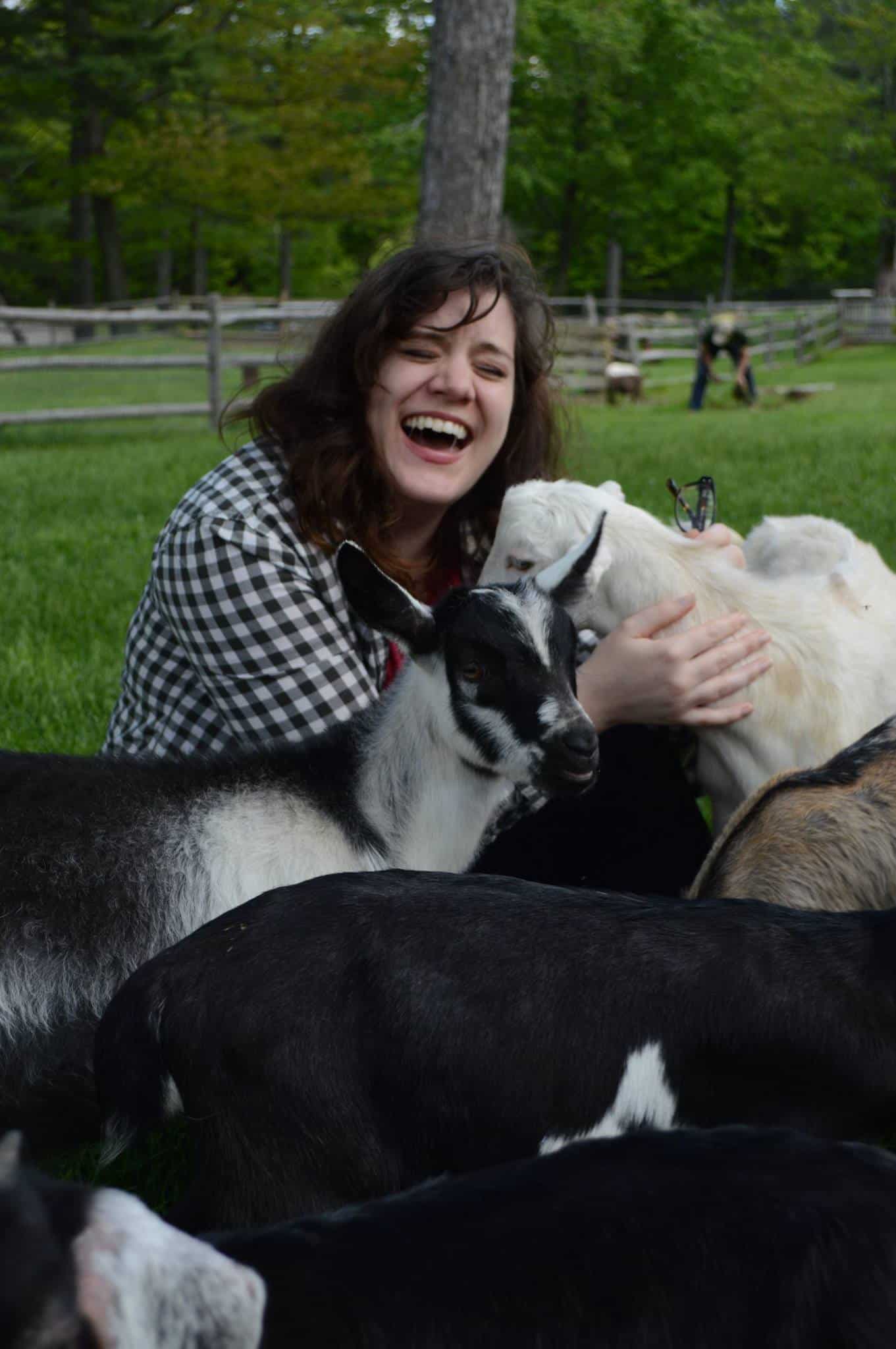 Amy Hartle is the owner and editor of New England With Love, a comprehensive resource for travel in the New England region. Amy lived in Vermont for 15 years, attended Plymouth State University in New Hampshire, and continues to travel regularly around the entire New England region. On this site, Amy aims to share her love of New England and help you to have the best possible adventures!
Amy has been a full time blogger since 2012, and is also the publisher of Two Drifters, where she writes about couples travel and relationships, as well as Let's Adventure Baby, a family travel site. When not traveling the world or creating epic blog content, Amy can be found cuddling with her husband, son, and cats, & drinking a maple latte.