---
*Links in this article may be affiliate links, from which we may earn commission. See our
Privacy Policy
for full details.
---
New England is known for a lot of things. Fall foliage, covered bridges, lobster, skiing, cold winters. But in the past few decades, New England has grown well-known for something else as well: A go-to destination for lovers of craft beer.
We're brewing a lot of beverages up here in this small corner of the United States. And we're keeping pace with other states. Vermont, for instance, ranks 2nd on the list of most breweries per capita for the whole country. We also rank #1 in craft beer consumption but that's another story! Other New England states have similar statistics as the region grows into a craft beverage mecca.
Luckily, if you're keen to visit the best New England breweries, the states are tightly packed, making them ideal for a brewery-focused road trip.
Depending on the amount of time you have, you could explore even further into each state, but we've identified 6 major craft beer cities/regions that will make for excellent stops on your visit to New England.
Burlington, Vermont
Home to some of the best breweries in New England, and certainly a few of the most famous, Vermont is quite possibly a beer lover's dream destination. While you can pop around the state to some of the more remote breweries, you should focus your trip on Burlington, the state's biggest city.
Magic Hat is here, a funky brewery that is well known for its imaginative, flavorful beers and its quirky space. You can take a tour of the brewery or sample a few brews on draft at the bar. Along the waterfront is a newer addition to the Burlington beer scene, Foam Brewers. This spot has already become super popular. Not only is it in a great location on Lake Champlain, but they produce a rotating menu of exceptional beers, including some unique sours.
Other breweries to visit in the Burlington, VT area include Switchback, Vermont Pub & Brewery, Queen City Brewery, Zero Gravity, and Citizen Cider, which specializes not in craft beer but in craft cider. PS: It's delicious.
If you're feeling adventurous, head about 40 minutes out of town to Waterbury, where IPA fans can sample the famous Alchemist Heady Topper. This American Double IPA is well-loved by many.
Portland, Maine
Portland, Maine is such a cool city, and it is home to an amazing number of breweries. In fact, this city is #1 for the highest number of breweries per capita.
You'll definitely want to spend a couple of days of your New England brewery road trip exploring Portland. A few favorites that you should definitely make time for include Allagash, Foundation Brewing, Rising Tide, and Bissell Brothers.
Allagash is a Maine staple. Many consider it the starting point of Maine's craft beer scene. Since 1995, Allagash has been brewing Belgian-style beers and doing it consistently well. It's definitely a must-visit for Maine breweries.
Foundation Brewing offers a variety of small-batch beers to sample. Located in an industrial park, it has a cool vibe and friendly, knowledgeable staff. There are several other breweries in the immediate vicinity, too.
Next up, head to Rising Tide Brewing Company, which is within walking distance from downtown Portland. Often, the brewery has food trucks on-site, so you can grab a tasty snack to go with your brews.
Bissell Brothers is a highly-rated Portland brewery that has lots of space to sit and enjoy your beer. Be sure to try their flagship brew, Substance Ale.
PS: When you get hungry, Portland is a great place to try some Maine lobstah"!
Portsmouth, NH
Portsmouth, New Hampshire is an easy in-between spot on your drive from Portland to Boston. This coastal town has some awesome dining and some terrific craft breweries to match.
Portsmouth Brewery was New Hampshire's first craft brewery, starting off in 1991. It's still a small operation, though, and they only sell their brews on site. You can also enjoy cocktails and wine if you're a bit hopped out!
Started by two college roommates, Liar's Bench Beer Co is a fun space and exactly what you'd expect from a hip craft brewery. They offer a half dozen or so rotating beers, plus sausages and other grub. With long tables and open space, (it's housed inside a 1970's plumbing supply warehouse) it's definitely a unique spot in Portsmouth.
Boston, MA
It's no surprise that Boston would offer a lot of great beers! Of course, there is the historic Samuel Adams Brewery. Many find that Sam Adams is one of the must-do New England brewery tours. You get to sample 3 beers plus keep a tasting glass to take home with you.
Mystic Brewery in Chelsea is another standout, though you'll have to go a few miles north of Boston. Emphasizing Belgian saisons, the brewery has also come out with some other styles. Feeling nostalgic for your original Nintendo? Stop by the taproom to play some old-school video games.
Trillium Brewing Company is also a bit outside of Boston proper. But this hip brewery is well-worth it, particularly for IPA lovers. Not only does Trillium produce some of the most innovative New England IPAs, they've also got quality Pale Ales, Stouts, and Sours.
Providence, RI
Rhode Island is hot on the craft brew scene, too.
Providence is a happening town, so it's no surprise that many of the top breweries are centered around the capital.
Long Live Beerworks not only has a great name, but good beer. Their brews are "hop-forward" and they offer a bunch of regular new releases. As of this writing, the brewery is serving 3 double-hopped IPAs on tap. There's no tours here at the moment, but Long Live Beerworks is in the process of building a larger space on Providence's West Side, so stay tuned.
Trinity Brewhouse is a nice spot to stop and stay awhile. Opening in 1995, this was one of the first brewpub restaurants in New England, so you can enjoy tasty food plus all your favorite craft brews on tap. They serve a variety of beer styles so you're sure to find something to suit your palate.
New Haven, CT
Connecticut seems to have great breweries popping up all over. Some of the top picks for your road trip of New England beers are all based along the coast. Half Full Brewery is located in Stamford, while your next stops, Two Roads Brewing Company and New England Brewing Company are both closer to New Haven. May as well make a stop by Yale while you're there!
At Half Full Brewery's cozy tasting room, you can sample up to 12 beers that are currently on tap, plus enjoy food and maybe pick up some Half Full merch. This brewery does a lot; they even have their own podcast! Check out their calendar and you might be in town for one of their events.
Two Roads Brewing Company is housed in a big space. Not only do they have a tasting room and offer tours, but they have space for private events as well. They've got an array of regular beers on rotation (including a handful of IPAs) plus seasonals, lambic-style beers, sours, and collaborations with other breweries. It's a lot to take in (and taste!).
New England Brewing Company is most definitely quirky. Some of their brews' names include Coffee Breath, Fuzzy Baby Ducks, and Sea Hag. Their rotating tap menu features 30+ beers, so you might want to come here more than once!
---
You might also like:
---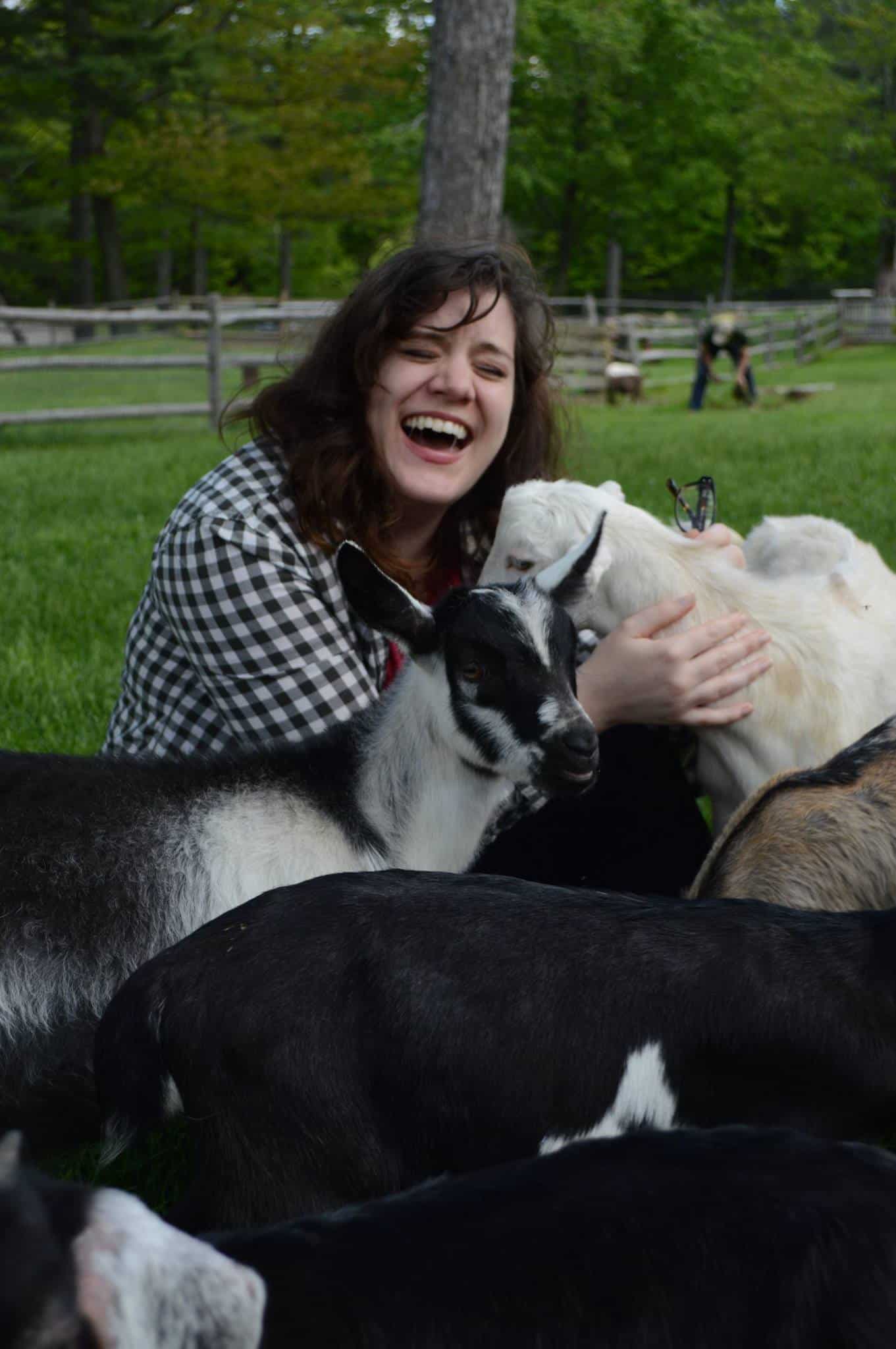 Amy is the founder of New England with love. A proud Vermonter, she hopes to share her love of New England and help you find the best adventures in the region. Amy is also blogger/founder at Two Drifters, where she writes alongside her husband about romantic and couples travel, relationships, honeymoons, and more. When not working on websites, Amy is probably reading, cuddling with her husband, son, and cats, & drinking a maple latte.