Are you looking for a fun and scenic road trip along the New England coast? If so, consider making the journey from Boston to Portland, Maine. It's not a long road trip, but this scenic route takes you through charming coastal towns and offers plenty of opportunities for adventure, exploration, and fresh caught seafood, if that's your jam!
To help you plan your Boston to Portland trip, we've put together a travel itinerary that highlights some of the best stops along the way. From Boston, Massachusetts to Portland, Maine, this coastal New England road trip offers a variety of suggestions for where to stop and what to do to make this a very memorable trip!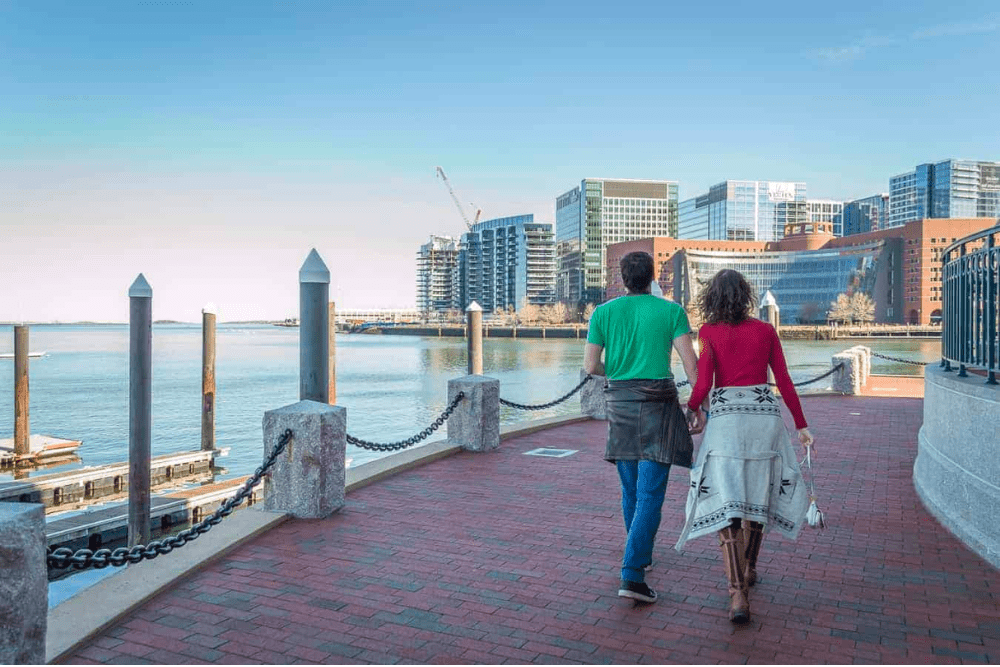 How to Get from Boston MA to Portland ME
Do you know that you can easily take a train from Boston, Massachusetts to Portland, Maine? The Amtrak Downeaster connects Boston and Portland, so if you'd like to skip the driving and just ride direct, that's not a bad option at all. Amtrak trains can be a very convenient way to road trip, but you will of course miss out on all the fun stops along the way.
However, if you're looking to get from Boston to Portland, Maine in just a couple of hours without having to slide behind the wheel of your car, you've got options. Check out the train schedule here. There are multiple Amtrak trains per day leaving from Boston North Station heading to Portland!
If you'd rather fly than ride, Logan Airport has plenty of flights from Boston to Portland, Maine, too! Jet Blue, American Airlines, Delta, and more fly daily between these two locations. Click here to look for deals on Boston to Portland ME flights!
If you're the type of person who would prefer to control where you stop and for how long, drive. There is a direct route that takes you up I-95 that would get you from Boston to Portland ME in just under 2 hours, but that's not for people looking for road trip adventures along the way.
Want the road trip experience but don't have your own wheels? Click here to find deals on a rental car!
How Far is it from Boston to Portland, Maine?
Not very! Whether you're traveling by plane, train, or automobile, it's just about a couple of hours, but if you're looking to enjoy some of the top sights in coastal Massachusetts and Maine, then it will take a couple of days at least to really get the full experience.
Can you do the drive in one day with quick stops at each spot? Technically, yes. But spreading this coastal road trip between Boston and Portland out over a weekend or longer will be more fun!
We are including the best things to do at each stop between Boston and Portland and letting you decide where to spend your time during this very customizable coastal road trip.
We suggest allowing 2-3 days for this Boston to Portland ME trip, but you should personalize it any way you'd like. We're even including our favorite places to stay along the way for overnight fun, too.
Where to Stop on the Drive from Boston to Portland, Maine
Stop 1: Salem MA (20.2 miles via US-1N)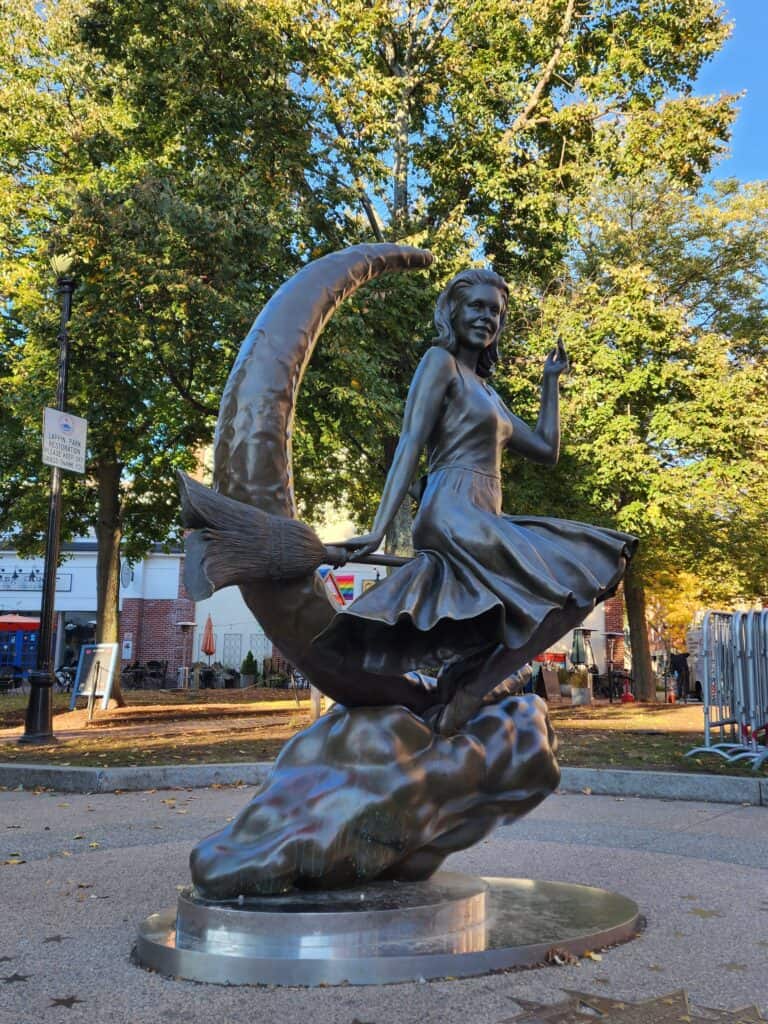 Kick off your trip by heading north from Boston to Salem, Massachusetts. Salem is a fascinating town with a rich history, and is worthy of being its own vacation destination, especially if you're planning an October trip and looking for haunted places to visit and stay!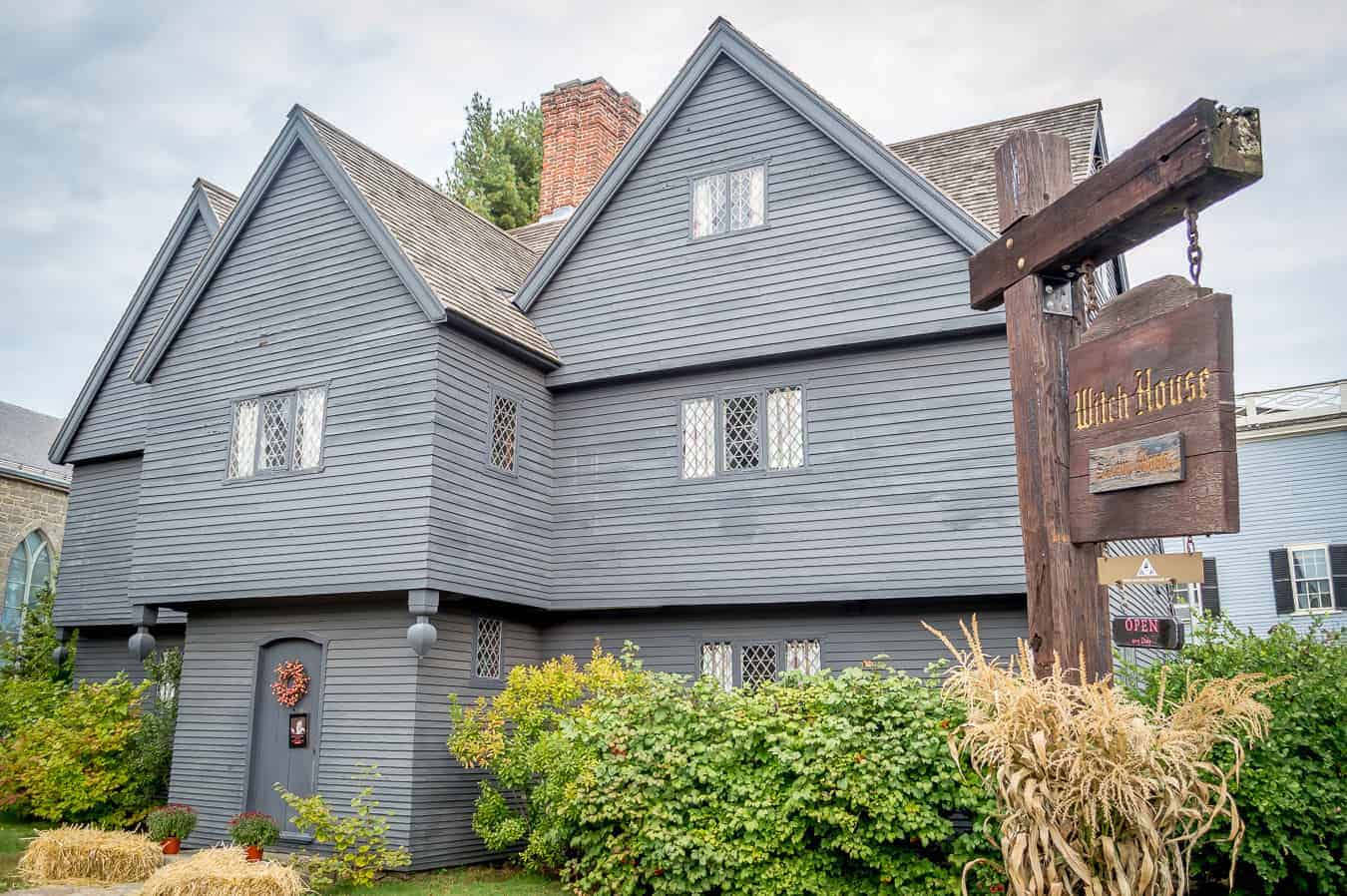 Salem is one of our favorite places to visit and it's definitely worth a longer visit to take advantage of all the cool ghost and walking tours, but if you've only got a few hours to spend in Salem during your Boston to Portland road trip, these are our suggestions for what to see and where to stop:
See the Salem Witch House
Pay your respects at Salem Witch Memorial
Grab a bite and/or a brew (coffee or beer!) at Gulu Gulu Cafe
Where to Stay: Hotel Salem
Stop 2: Rockport MA (20.1 miles via MA-128 N)
Next up is Rockport, Massachusetts! Technically, this stop does take you just a bit off the relatively straight path north to Portland, but this charming coastal Massachusetts town is worth the detour, I promise.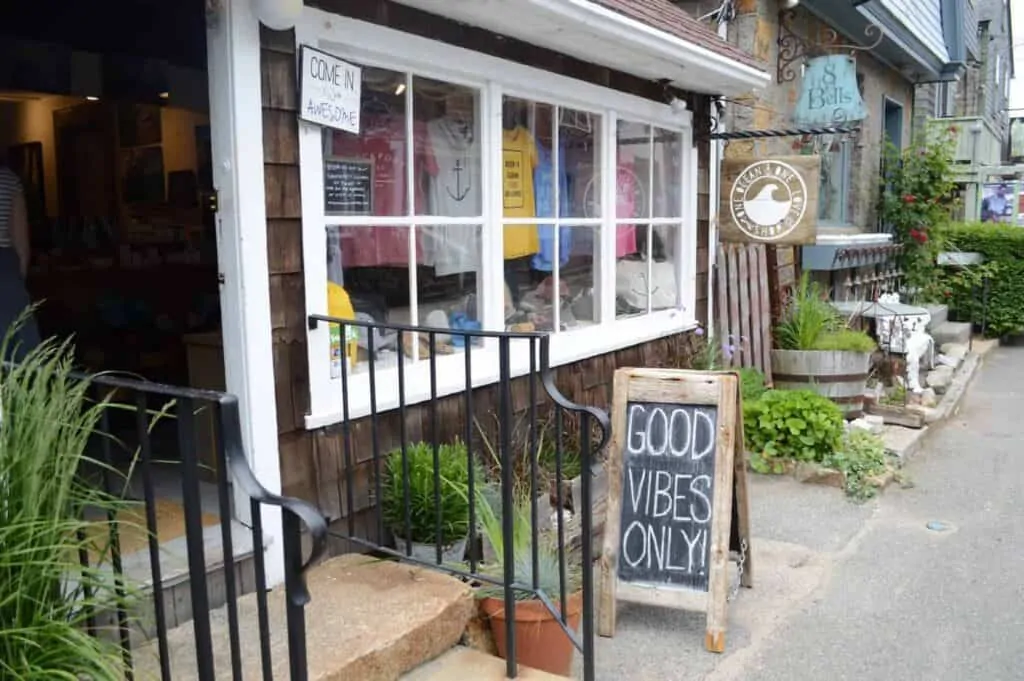 We have loved every visit we've made to this gem by the sea; it's one of those quaint coastal places where you'll find delicious restaurants, great breakfast spots, unique things to do, and even cool places to stay if you decide to do an overnight. These are our top recommendations for what to do in Rockport:
Where to Stay: Emerson Inn
Stop 3: Hampton Beach in Hampton NH (36.9 miles via MA-133 W)
One of the most iconic beaches in New England, Hampton Beach is a definite must-visit if you're taking a scenic road trip from Boston to Portland ME! In fact, it landed on Country Living's list of the top eight "classic beach boardwalks" in the US, with the magazine citing the many offerings of Hampton Beach as being a perfect representation of classic summer nostalgia.
Of course, it's true! Not only is there the beautiful beach with its picturesque boardwalk, but there's also a lot of non beach fun nearby, like playing arcade games at Funarama, gambling a little at Ocean Gaming Casino, eating some yummy fried seafood, and then heading to Buc's Lagoon Mini Golf and Ice Cream to play a round and follow up with a frozen treat!
Some must-dos while in Hampton Beach:
Walk the Hampton Beach boardwalk
Squish your toes in the soft sand at Hampton Beach State Park!
Have some fun at Funarama
Where to Stay: Ashworth by the Sea
Stop 4: Portsmouth NH (13.6 miles via NH-1A N/Ocean Blvd)
Portsmouth is one of the top spots to visit on the New Hampshire Seacoast, and should not be missed on your road trip from Boston to Portland, Maine! Portsmouth has plenty of places to stretch your legs, with Strawbery Banke Museum, the historical outdoor museum, and the very walkable downtown with cobblestone streets and lots of great shopping- yay sales tax-free New Hampshire!
If you're looking for a great place to grab a bite in Portsmouth, there are two notable spots to consider: Fezziwig's Food & Fountain and Portsmouth Book & Bar. The former is a delightfully whimsical cafe that is perfect for a sandwich, pastries, and tea, and the latter is a bookstore/restaurant/bar that really delivers on all fronts! Both are memorable places to visit and eat in Portsmouth, but there are lots of cool breweries, bars, and breakfast spots to check out too!
Where to go on your Portsmouth stop:
Enjoy living history at Strawberry Banke Museum
Stroll pretty Prescott Park (you might even catch a summer concert!)
Take advantage of no sales tax shopping!
Grab a bite at Fezziwig's
Where to Stay: The Hotel Portsmouth
Stop 5: York ME (10 miles via 95 N)
Once you've had your Portsmouth fun, head north to York, Maine. One of the coolest coastal towns in Maine, York is known for its beautiful beaches and historic sites and would be a fantastic stop on your Boston to Portland trip.
There's plenty of great eye candy in York, with Long Sands Beach and Nubble Lighthouse; head to Sohier Park and you'll have fantastic views of the lighthouse. For history lovers, the Old York Historical Society has impeccably maintained several historic structures, including the Old Gaol, originally built in 1656 as Maine's first jail.
If you're hungry in York, you've got options, but Fox's Lobster House has been serving up fresh caught lobster and the finest blueberry pie since 1966, so they're the place to go for a taste of quintessential coastal Maine!
These are some of the top things to do during your stop in York:
Walk Long Sands Beach
Ooh and ahh and photograph Nubble Lighthouse
Visit the Old Gaol
Eat at Fox's Lobster House
Where to Stay: York Harbor Inn
Stop 6: Ogunquit ME (10 miles via US-1 N)
Next stop is Ogunquit, Maine, whose name means Beautiful Place by the Sea in the Algonquin language. This charming coastal town has lots to do and see, including scenic Marginal Way trail, which offers stunning views of the coastline, and lovely beaches that are perfect for sunbathing.
Visit Perkins Cove, take a walk along the beach (Footbridge Beach is especially picturesque), or visit the Ogunquit Museum of American Art. The Ogunquit Playhouse has been a staple of this area since 1933, so if you can make the time, seeing a show at this iconic spot would be a memory-making activity, for sure. Pair this with a dinner at The Front Porch, the local piano bar/restaurant, and you'd be in for a great evening out in Ogunquit.
These are some of our top recommendations for your Ogunquit stop:
Stroll Marginal Way
Enjoy the scenery at Footbridge Beach
Dine at The Front Porch
Catch a show at the Ogunquit Playhouse
Where to Stay: Gorges Grant Hotel
Stop 7: Kennebunkport ME (11.7 miles via US-1 N and State Rte 9 E)
Onwards to charming Kennebunkport, Maine. This coastal Maine town is known for its historic homes, quaint shops, and beautiful beaches; a drive by the iconic Wedding Cake House (private property so keep a respectful distance) will confirm!
Kennebunkport is full of great places to eat and shop, and heading to Dock Square will take you to many of them! This unique waterside area is home to several popular places to visit in Kennebunkport, and the Boathouse Restaurant is one of the most popular local restaurants that offer waterfront dining!
What to do during your Kennebunkport stop:
Drive by the Wedding Cake House
Stroll and shop Dock Square
Indulge a little at Boathouse Restaurant
Where to Stay: The Boathouse (yes, it's also a lovely waterfront boutique hotel, too!)
Stop 8: Old Orchard Beach ME (18.2 miles via US-1 N to 95 N)
Next up is Old Orchard Beach, Maine, home to the last remaining beachfront amusement park in New England! Palace Playland has classic arcade games and amusement park rides, including a ferris wheel, roller coasters, and so much more, plus you've got beautiful Old Orchard Beach with its 7 miles of sandy beach to enjoy, too.
Another popular OOB attraction is the Old Orchard Beach Pier, home to all kinds of great places to eat, drink, shop, and enjoy that spectacular ocean scenery! Hungry? Grab a bite at Hooligan's Steak & Ale, the first restaurant you'll see when walking onto the OOB Pier!
Must-do's for your Old Orchard Beach stop:
Where to Stay: Alouette Beach Resort
Stop 9: Cape Elizabeth ME (17.1 miles via US-1 N)
The next stop on this Boston to Portland ME itinerary is Cape Elizabeth, home to some of the prettiest lighthouses in Maine. Granted, you're just a few miles outside of Portland at this point, but skipping over a visit to the lighthouses in this lovely spot would be a travesty!
There's Portland Head Light, the oldest remaining lighthouse in the state, Ram Island Ledge Lighthouse, and Two Lights, Cape Elizabeth Light and its twin, which is now a private residence. Cape Elizabeth is home to beautiful beaches, parks, and one of the best restaurants in Maine: The Lobster Shack at Two Lights.
Things to see in Cape Elizabeth:
Where to Stay in Cape Elizabeth: Inn by the Sea
Stop 10: Portland ME (8.5 miles via ME-77 N)
Finally, your destination is at hand! You've arrived in beautiful Portland, one of the top vacation destinations in Maine, and a town that seems to truly have something for just about everyone. You've got museums and art galleries, fun out on the water, shopping and browsing through Old Port, the Portland Observatory, and breweries, bakeries, breakfast spots, coffee shops, and restaurants galore to choose from.
In fact, if you're a seafood lover, you're going to LOVE the options you have for seafood in Portland! Check out Luke's Lobster Shack on the Portland Pier for waterfront dining.
Portland has several great options for where to stay, including conveniently located vacation rentals and hotels, and beautiful boutique hotels that offer a variety of unique experiences, like the Press Hotel, located in the former headquarters of the Portland Press Herald.
Whether you're spending a weekend or a day in Portland, you'll find fun in this popular Maine city by the sea.
What to do in Portland, Maine:
Stroll Old Port
Get out on the water
Tour the Portland Observatory
Eat some lobstah
Where to Stay in Portland: The Press Hotel
There are many different ways you can choose to get from Boston to Portland, Maine, but if you take the scenic route along the coast, you'll have so many fantastic memory making opportunities! Coastal New England road trips are the best!
You might also like: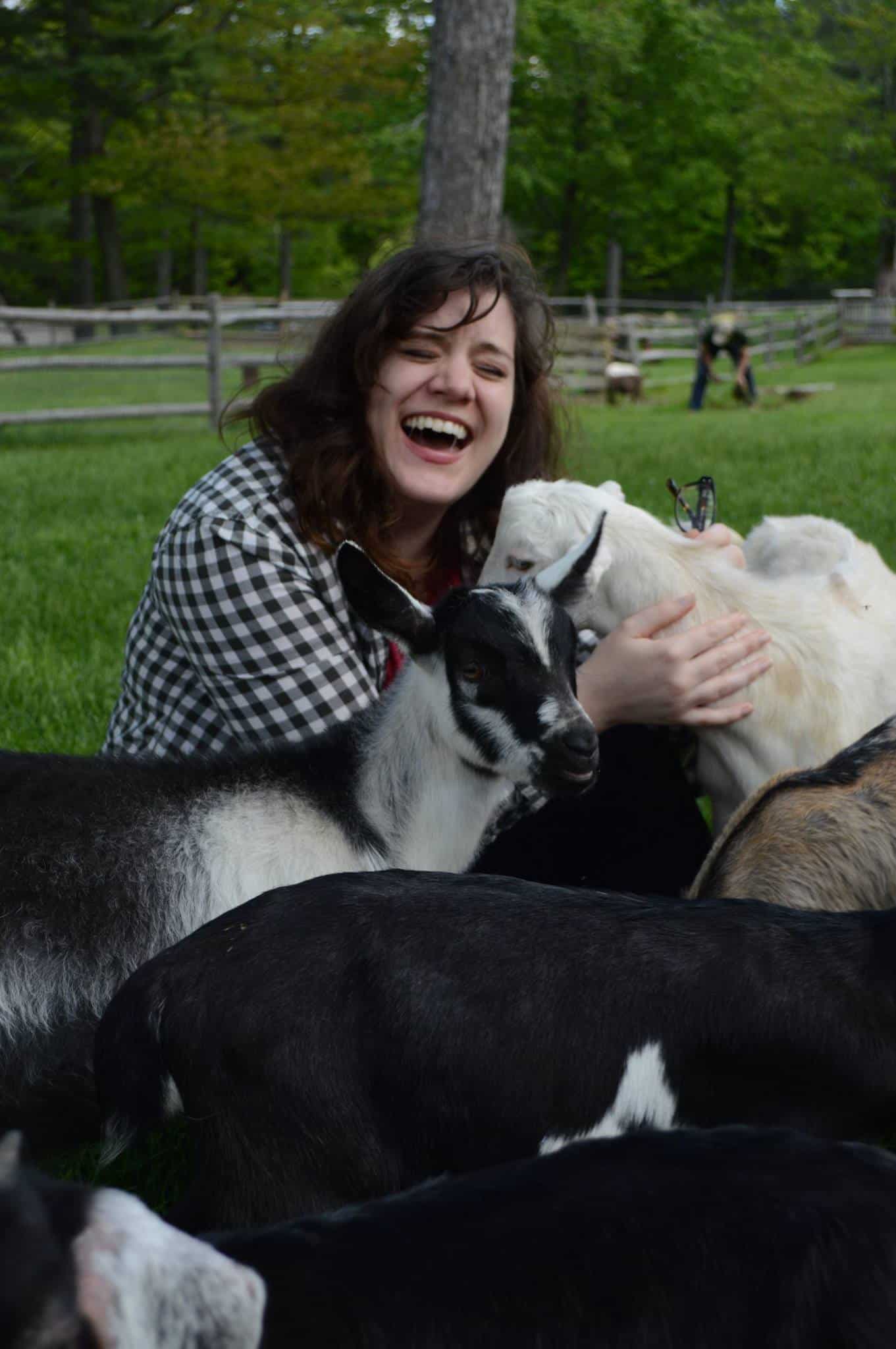 Amy Hartle is the founder and Editor-in-Chief of New England With Love, a comprehensive resource for travel in the New England region. Amy has been exploring New England since 2001. She lived in Vermont for many years and is a graduate of Plymouth State University in New Hampshire. Amy has been writing about travel for over a decade. On this site, Amy aims to share her love of New England and help you to have the best possible adventures!
Amy has been a full time blogger since 2012, and is also the publisher of Two Drifters, where she writes about couples travel and relationships, as well as Let's Adventure Baby, a family travel site. When not traveling the world or creating epic blog content, Amy can be found cuddling with her husband, son, and cats, & drinking a maple latte.