Are you an adventurous traveler looking for a unique experience? Then you'll want to join one of these Portland Maine boat tours!
In Portland, you'll get to experience one of the most picturesque harbor cities on the east coast. From lighthouse trips to sailing around Casco Bay Islands, there are plenty of ways to enjoy your time here. Plus, these trips can be melded for a family trip or even a romantic evening, depending on what you're looking for.
So if you're ready for some nautical adventure, read on as we take a closer look at some of the best boat tours Portland ME has to offer.
Best Portland Maine Boat Tours
With this Sunset Harbor Cruise, climb aboard the Elizabeth Grace to embark on a magical oceanic voyage of discovery while sipping on a locally crafted beer. What more could you possibly want?
This is an unforgettable 1.5-hour journey around Portland Harbor and Casco Bay, with potential sightings of seals, lighthouses, islands, and forts along your way – some of the things that Maine is most well-known for.
Feel immersed in wonder watching the sunset from the shimmering waters followed by Portland's majestic skyline illuminated at night – an experience truly like no other!
This tour is better suited for adults wanting a romantic evening. The boat ride is included, as well as alcoholic beverages during the trip. Some of the landmarks you pass along the way include Peaks Island, Portland Head Light, and Fort Gorges, among others.
Come and explore the beauty of Portland from a unique perspective – by sailing around its majestic coast on this Portland Tall Ship Cruise on Casco Bay! Join everyone else aboard a traditional, Maine-built wind jammer for an unforgettable excursion across sparkling waters.
Spot seals in their natural habitat or help hoist the sails with your own hands – there's something on this tour to suit all ages, which makes it great for families visiting Portland! Don't forget refreshments such as snacks and drinks (because they aren't included) so you can make yourself at home on board this amazing journey.
This cruise is approximately 2 hours long and there are life jackets on the schooners. All the wind jammers for this tour are on the National Register of Historic Places and have been built in Maine.
On this Harbor Lights and Sights Cruise and tour, explore a world of discovery from the vantage point of the sea! You'll be amazed as you get unique views of historic civil war forts and grand lighthouses that have been guiding mariners into Portland Harbor for centuries.
Along the journey, enjoy treats, snacks, and drinks aboard (from the onboard bar and snack bar) as your cruise past iconic sites such as Portland Head Light, Casco Bay Islands, Ram Island Ledge Light, plus many more exciting sights along your journey!
This tour starts in the early morning, making it perfect if you want an activity earlier in the day. It includes the tour itself as well as the onboard amenities like the bar/snack bar and restrooms.
Embark on an unforgettable journey through Portland Harbor and Casco Bay aboard the Elizabeth Grace on this Portland Maine Lighthouses Sightseeing Cruise with Drinks! Get ready for a sightseeing cruise like no other – take in breathtaking views of magnificent lighthouses, ancient historic forts, rocky islands, and more.
Enjoy two complimentary alcoholic drinks as you soak up all that this beautiful city has to offer from the comfort of your ship at Custom House Wharf. Keep watchful eyes out to spot local wildlife such as loons, buffleheads, and black ducks while sipping tasty craft beverages with friends old and new onboard!
Relax into ultimate bliss on this incredible 1.5-hour boat tour in Portland, Maine—bon voyage.
Explore the beautiful Casco Bay in Portland, Maine, like never before on this Portland: Best of Maine Lighthouse Scenic Cruise! Take an unforgettable 2-hour journey that will give you a glimpse into historic maritime landmarks and lighthouses.
Witness views of Portland Harbor and Diamond Pass and be amazed by iconic sights such as civil war-era forts plus the majestic Portland Head Light, Bug Light, and Spring Point Ledge Lighthouse. So come along on this adventure to get up close with fantastic marine sites while discovering all there is to admire about Portland's rich history!
The tour includes on-board restrooms, indoor and outdoor seating options, a beverage bar and snack bar on-site, and a guide who will narrate along the way.
Skip dinner and a movie; Maine's coastline has an unforgettable sunset experience waiting on this Private Sunset Charter on a Vintage Lobster Boat. Chartered by knowledgeable captains and guides in vintage lobster boats, take off to Casco Bay for beautiful views of the sea!
Feel free to carry your own food & drinks along; plates, cups, water, and ice are all provided on board. Plus, with an eco-friendly composting toilet onboard, your night is sure to feel comfortable while you sail into the picturesque landscape as it sets after dusk.
Romantic vibes included – don't miss out on this unique seaside escape that only a private charter like this can provide!
Experience the beauty of Casco Bay on an unforgettable 60-minute narrated tour. From lighthouses to lobster boats, seals, and seabirds – you'll see it all!
Get up close at Maine's oldest lighthouse Portland Head Light for a memorable photo opportunity, then take in stunning views of iconic landmarks like Fort Scammel and Ram Island Ledge Light as you cruise by. Don't miss out on this unique chance to explore beautiful passages along Casco Bay from your very own boat seat!
This tour is fully narrated and includes a beverage and snack bar on board, restrooms, and indoor and outdoor seating options.
Exploring Portland Maine's boat tours is an excellent way to take in the beauty of its stunning coastline. There are plenty of activities available that can make your trip a memorable one.
Whether you're looking for adventure or just want to relax on the water with friends, Portland Maine has something for everyone. So if you're ready for some fun out on the open seas, book a tour from one of these top-rated boat tours today!
---
Read these next: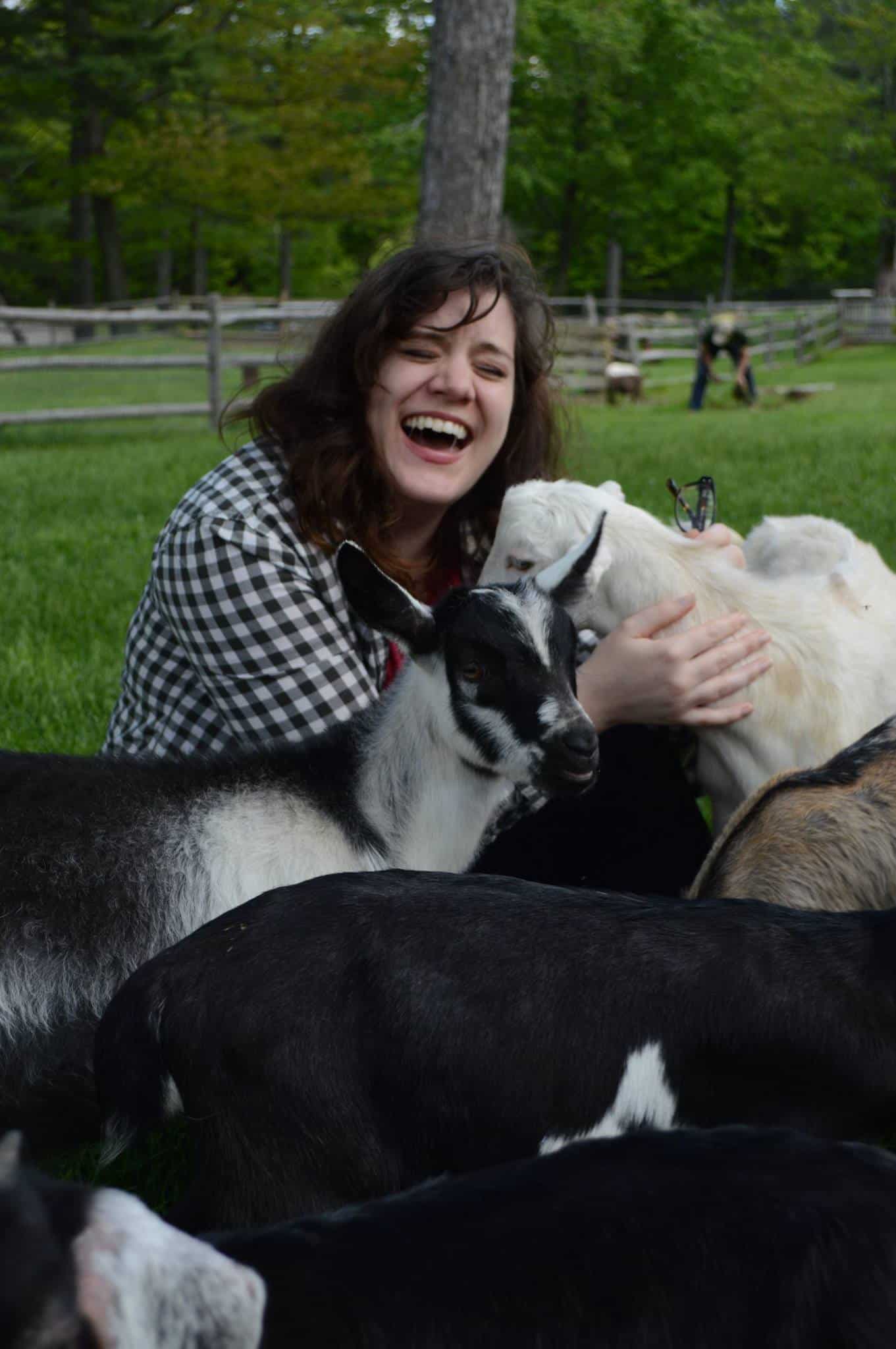 Amy Hartle is the founder and Editor-in-Chief of New England With Love, a comprehensive resource for travel in the New England region. Amy has been exploring New England since 2001. She lived in Vermont for many years and is a graduate of Plymouth State University in New Hampshire. Amy has been writing about travel for over a decade. On this site, Amy aims to share her love of New England and help you to have the best possible adventures!
Amy has been a full time blogger since 2012, and is also the publisher of Two Drifters, where she writes about couples travel and relationships, as well as Let's Adventure Baby, a family travel site. When not traveling the world or creating epic blog content, Amy can be found cuddling with her husband, son, and cats, & drinking a maple latte.