As one of the most beautiful places to visit in New England, it's easy to see why so many people opt to visit Portland, Maine. From interesting history to some of the best seafood you can have in the USA, Portland should not be slept on. Luckily, if you're visiting on a budget, there are so many free things to do in Portland Maine!
Whether you're the type of traveler who loves participating in outdoor activities like biking or walking, or you'd rather stay inside and visit museums, this article will truly have something for you. There truly are so many great free activities to help bring down the cost of your Portland trip.
Below are all of the best free things to do in Portland Maine, in no particular order!
Visit the Portland Head Light
Portland has some fantastic lighthouses. One of the top free things to do in Portland Maine is to visit the Portland Head Light. You'll want to head over to Fort Williams Park to check out this breathtaking lighthouse which is genuinely one of the most picturesque spots in Maine.
No admission fee is needed to access the park, where you can get the best view of the lighthouse. It's open from sunrise to sunset, and if you're able to, definitely try to visit early in the morning or right around sunset for one of the most extraordinary views you'll ever take in.
There is also a museum if you'd like to learn more about it, but there's a small admission fee to enter. A gift shop is also on location in case you want to grab a postcard or another souvenir to remember your trip to the Portland Head Light.
Walk the Portland Freedom Trail
The Portland Freedom Trail is one of the more underrated attractions to visit. It's about ten miles long and has many interesting spots along the way, including a cemetery and nature preserves. There are also even some schools!
If you're interested in history, then you'll want to spend some time walking the Portland Freedom Trail, which serves as a self-guided walking tour throughout the historic parts of the city. There are markers along the way to make sure that you don't get lost.
If you'd rather not walk, some other people have biked it in the past, which is another option. There are places to rent bikes throughout Portland.
Explore Payson Park
Payson Park is a huge park located in Portland that's just shy of 50 acres. There are tons of spots to explore throughout the park, including community gardens, sports fields, and more. The amount of green space here is incredible!
This is an ideal place to go in the summer to get some fresh air. Plus, there are tons of spots just to lay out and have a picnic, and those with families will find that kids can stay busy for hours here.
If you happen to be visiting in the winter, don't worry. The park transforms into a complete winter wonderland. You can build snowmen, go sledding on the hills, or even go ice skating on the pond. There's also a spot where you can ski or snowboard right in the park, which is incredibly unique for a park of this size!
Attend a Free Concert
During the summer, Portland hosts a series of concerts that are entirely free for attendance. They usually take place in July and August and can be fun for all ages. They're traditionally hosted within public parks and include fun food trucks and other activities.
If concerts aren't your thing, don't worry. There are also free movie nights throughout the summer, too! They often play family-friendly movies, and all you have to do is show up. Be sure to dress appropriately because it can get cold when the sun goes down. You'll also want to bring outdoor chairs that you can pop up, snacks, and maybe even a blanket or two for the lawn!
Bike the Eastern Promenade
One of the best bike rides in Maine is the Eastern Promenade in Portland! It goes right along the harbor and is only two miles long, so it's great for a short ride in the early morning or the afternoon. It starts in downtown Portland, too, so it's pretty accessible if you'll be staying in the city's downtown area.
Along the way, you'll come across tons of outdoor spaces. There are green spaces for having fun, picnicking, and even flying kites. Sometimes some events are hosted right off the promenade, too, so even though it's short, you may find yourself stopping to explore quite a bit.
Peruse Exhibits at Umbrella Cover Museum
The Umbrella Cover Museum is one of the most unique places that you can visit in Portland! It's a small museum that is entirely free to visit. As you might assume from the name, this quirky museum is all about showcasing covers of umbrellas.
This museum also holds the Guinness World Record for the most extensive collection of umbrella covers! Visitors can go during open hours to check out the different umbrella covers that Nancy (the museum owner) has placed strategically in fun ways throughout the museum.
Sometimes there are also pop-up pavilions too where you can check out specific sets of umbrella covers outdoors. Overall, this is one of the free things to do in Portland Maine that you won't find elsewhere in the world.
Snap a Photo at the L.L. Bean Boot
So many people head to Maine just to check out the actual Bean Boot! While it's technically located in Freeport near their shopping center, it's only a short twenty-minute drive from downtown Portland.
The Bean Boot is exactly what you'd think it is; it's a gigantic boot replica of their popular shoe that everyone in New England owns. It's normally sitting outside the entrance, and you can walk right up to it and snap a photo.
In total, this Bean Boot is about 16 feet tall. The workers there like to say that it's an actual size 410!
Go in the Shops Along Commercial Street
If you just want to do some window shopping, then be sure to head to Commercial Street. This is the main shopping street in Portland and can be very busy due to its popularity. So, if you're not a fan of crowds, visit earlier in the day when the shops all first open.
The street dates back to the 1800s and holds a lot of history. It's also right near the wharf, so you can see the water every time you cross the street. There are tons of local shops throughout this street that you can pop into and just window shop while speaking with the locals who run them.
See the Rare Books at Portland Public Library
One of the best things to do inside while in Portland is to head to the Portland Public Library. It's closed on Sundays normally but is open every other day of the week. Inside, you can use public computers, have fun with puzzles, and peruse books on the shelves. There are also some great reading nooks where you can read while you're in the library.
In addition, there are some rare books at the library that many people love to go and see. This is a super fun activity for any travelers who love literary adventures.
Stroll Along Willard Beach
Obviously, this list of free things to do in Portland Maine would not be complete without including at least one beach! Willard Beach is located in South Portland and is a great place to go no matter the time of year, but especially in the summer.
It's a small beach near Southern Maine Community College that is great for coastal walks. You can find people there walking up along the coast with their dogs, friends, or partners at any given time of year.
In addition, this beach is great for swimming on a hot summer's day. You can also bring a boat out onto the water if you want to escape from the crowds that the beach may have.
Relax in Longfellow Garden
One of the most beautiful places to visit in Portland is none other than Longfellow Garden. It's free to enter but is open only seasonally between May and October, so plan your trip to Portland wisely if you want to for sure visit the gardens during your visit.
There's something peaceful about visiting gardens in Maine, and this one was built in the Colonial Revival style, so it's incredibly tranquil throughout. It's very well maintained by the Longfellow Garden Club as well.
What's even better is that the garden club hosts quite a few different events throughout its season, including fun author visits, poetry readings, and more. There may even be one going on during your trip!
This post was all about the best free things to do in Portland Maine! You now know exactly what to add to your Portland itinerary if you'll be visiting Maine on a budget. Don't forget to share this post and save it for later!
---
You might also like: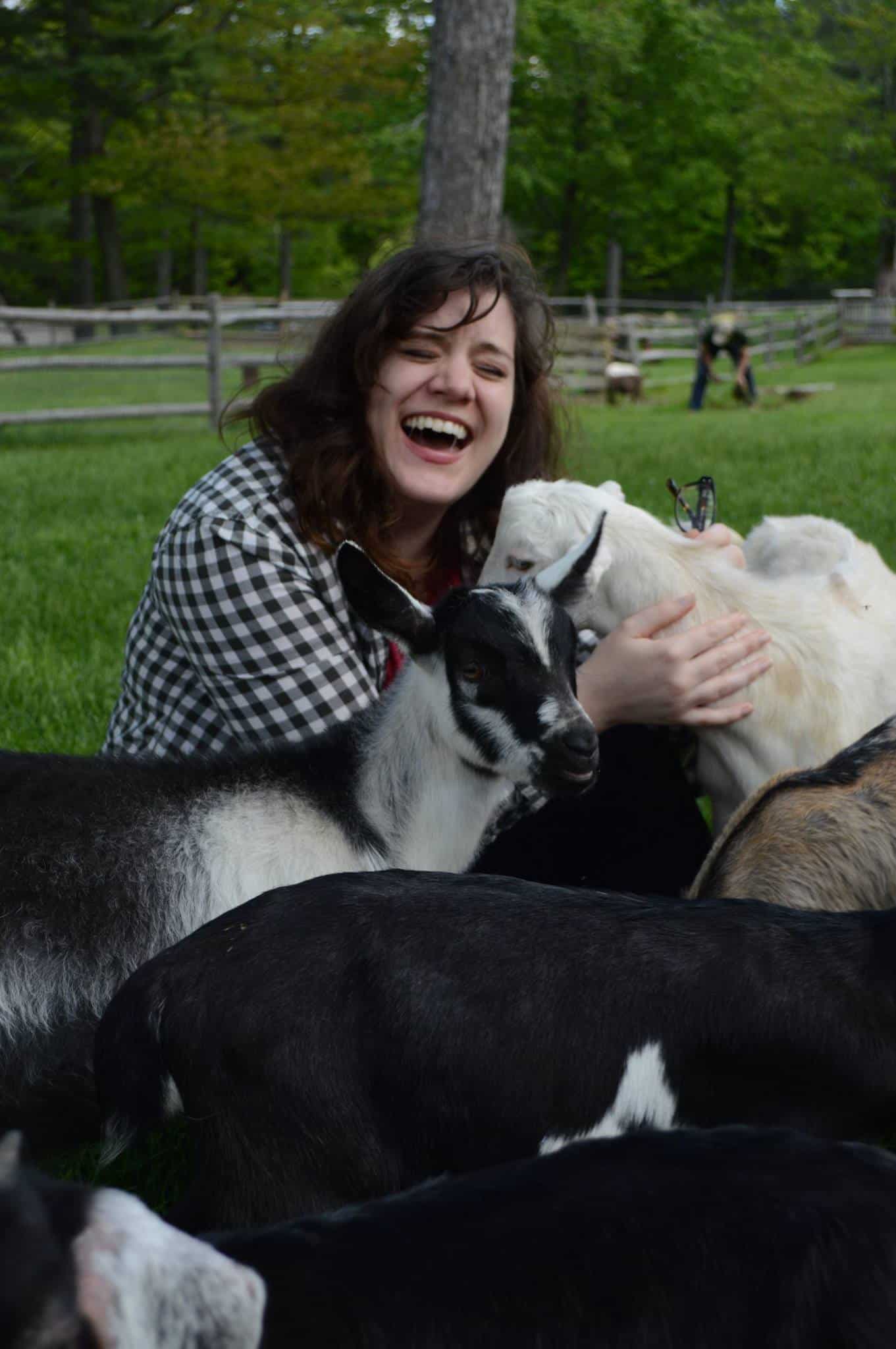 Amy Hartle is the founder and Editor-in-Chief of New England With Love, a comprehensive resource for travel in the New England region. Amy has been exploring New England since 2001. She lived in Vermont for many years and is a graduate of Plymouth State University in New Hampshire. On this site, Amy aims to share her love of New England and help you to have the best possible adventures!
Amy has been writing about travel for over a decade, and is a full time blogger, publishing both Two Drifters and Let's Adventure Baby. When not traveling the world or creating epic blog content, Amy can be found cuddling with her husband, son, and cats, & drinking a maple latte.