*This site uses affiliate links; if you make a purchase through these, I may receive a small commission at no cost to you.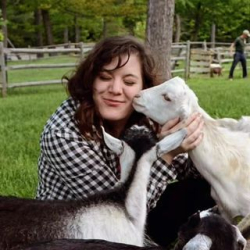 Latest posts by Amy Hartle
(see all)
With its gorgeous, cozy autumns and its lush green summers, it's no surprise that there are boundless opportunities for romantic getaways in New England.
Tucked away in the far northeastern corner of the US, New England represents peace and tranquility; an escape from everyday life. But it's also close enough that escape really is in reach. Here on the East Coast, New England is where lovers vacation!
I've been exploring New England for more than 20 years, so I know a thing or two about where to go for an amazing romantic trip.
Here is a handpicked selection of beautiful and romantic New England inns and properties to which you can sweep your lover off for a weekend. Whether or not you have a special occasion coming up (like an anniversary or a babymoon), it's the perfect excuse to book a luxurious, cozy stay nestled in one of these romantic New England inns and hotels.
I've included a few from each lovely state, rounding out at 21 enchanting couples getaways.
---
Romantic Getaways in Connecticut
The Inn at Stonington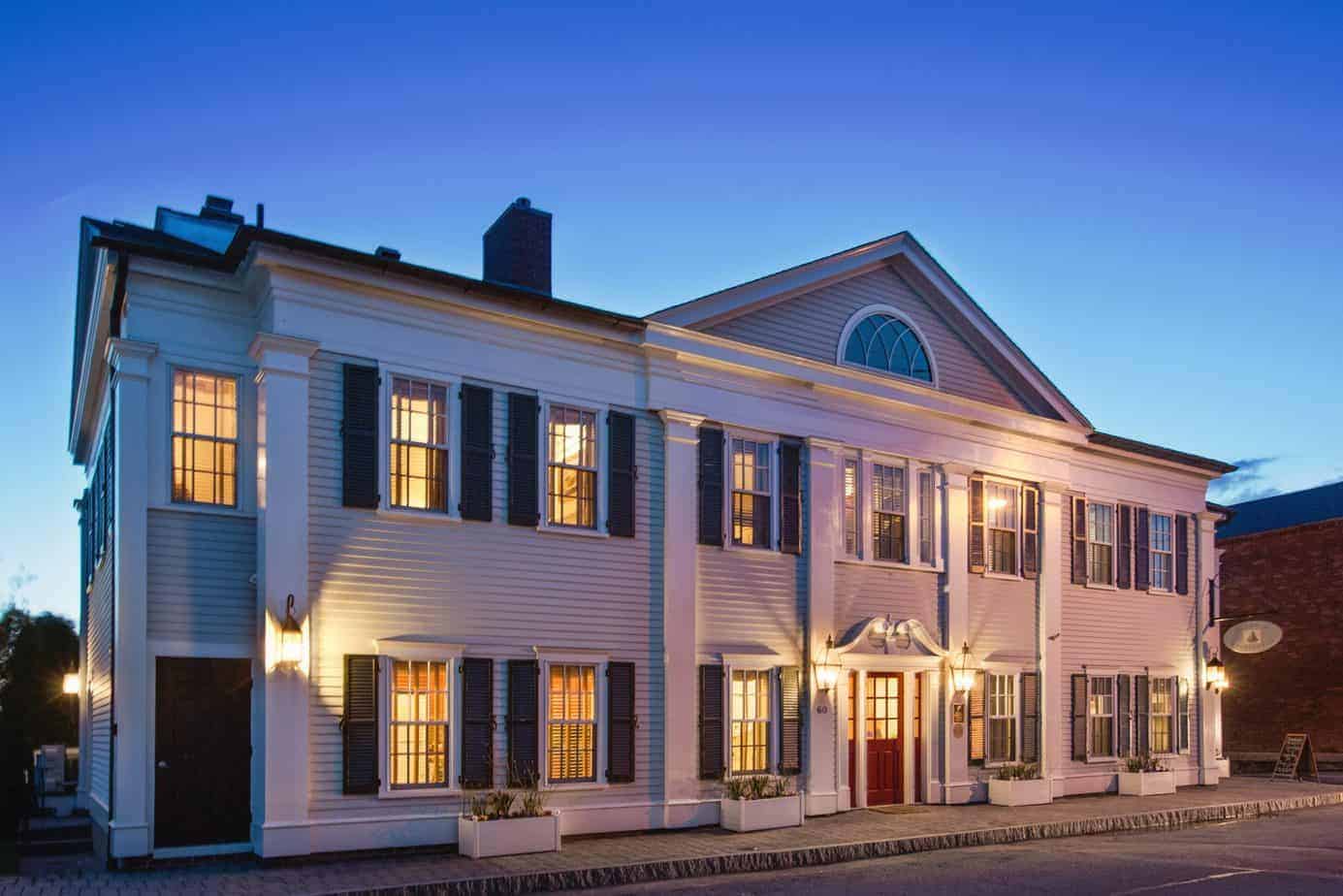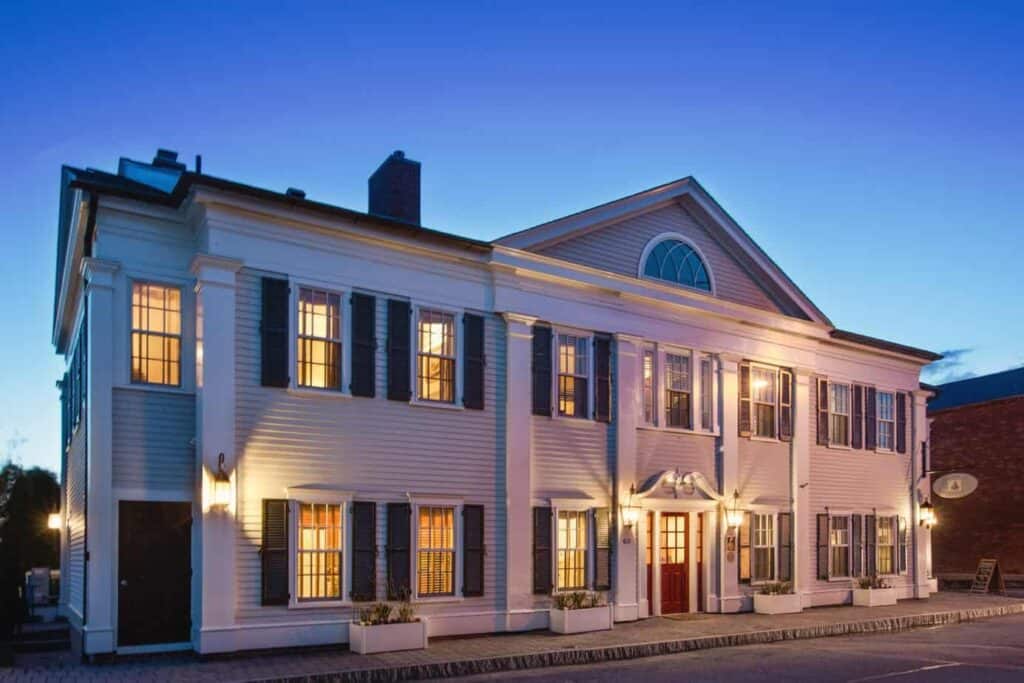 How beautiful is the Inn at Stonington? This waterfront Connecticut B&B is in a great location. The charming Stonington Borough is a historic New England village with a rich coastal tradition. From many of the rooms' private balconies, you can look out over the harbor and watch fishermen and lobstermen sailing out to sea. There are 18 guest rooms at the inn. Many have fireplaces (a New England B&B essential), and each room has a distinct style (see the photo below).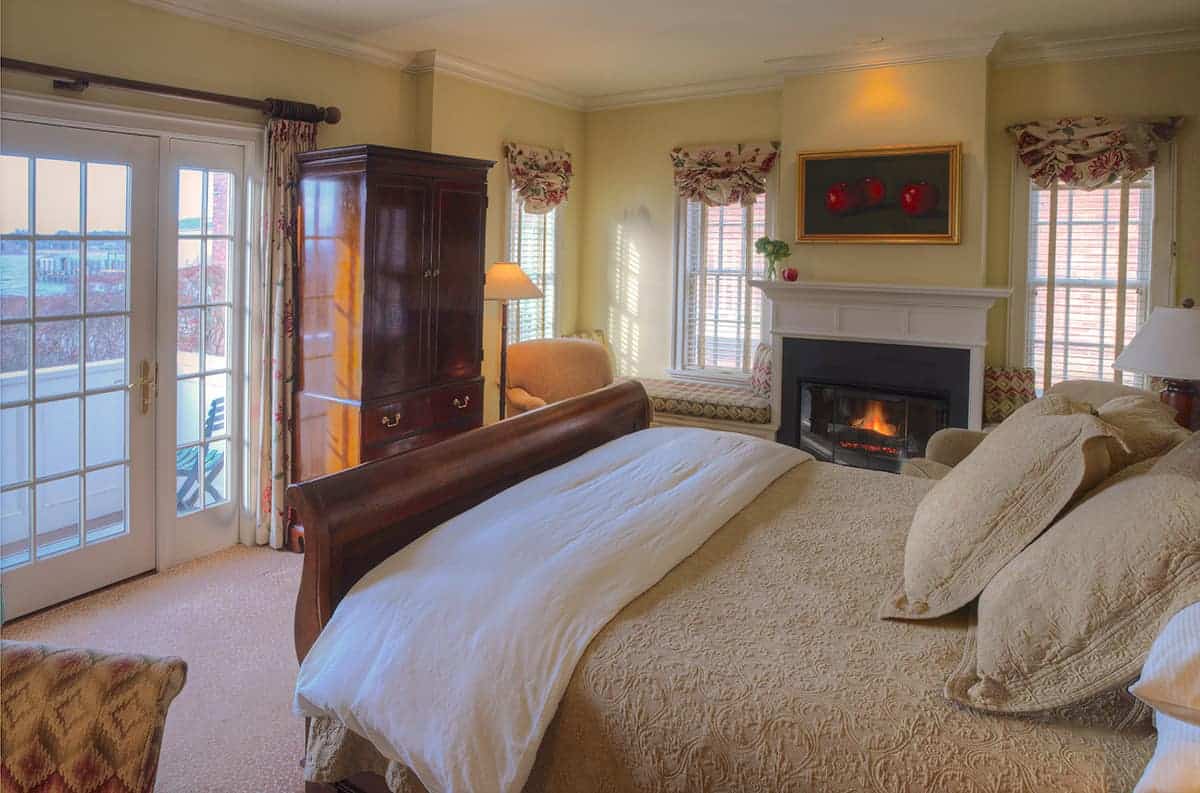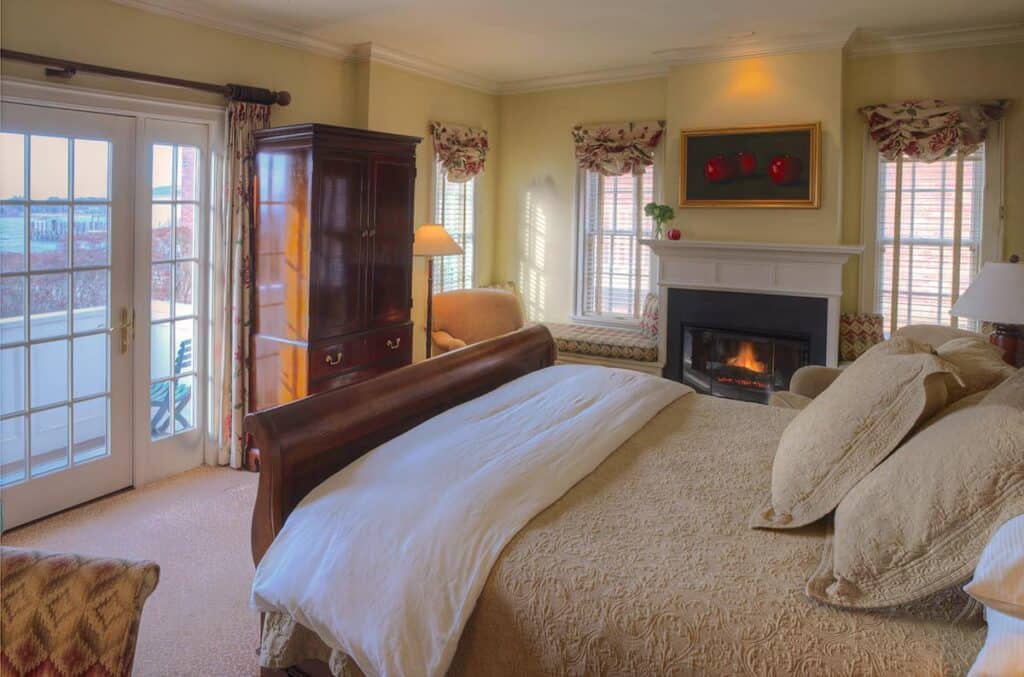 If you can bear to leave your gorgeous guest room, there's plenty to do right in the village. Stroll along the harbor using the path that begins at Stonington Commons complex on Water Street. Visit the Old Lighthouse, now a museum, or check out the exhibits at the house of Nathaniel Palmer, discoverer of Antarctica. Nearby Mystic has lots to explore as well: area attractions include the historic Mystic Seaport and Mystic Aquarium (see all things to do in Mystic, CT).
Read Reviews: TripAdvisor | Check rates & book: HotelCombined.com
---
Stonecroft Country Inn
Stonecroft Country Inn is also located in the Mystic region (it's a great destination) and offers a different, slightly more rustic experience. Think stone walls and charming gardens on 6.5 acres. Inside, the Stonecroft Country Inn has some insanely pretty rooms. Many of them boast beautiful historic details such as original doors.
There is a French-inspired room, one reminiscent of the English countryside, and still others that are said to be "fit for a sea captain." With fireplaces, jacuzzis, and extra comfy plush decor, you'll fall in love with this inn. Oh, and don't forget the seriously amazing breakfast. Surrounding this romantic New England inn are 300 acres of lovely grounds and woodlands where you can get some fresh air.
Read Reviews: TripAdvisor | Check rates & book: HotelsCombined.com
---
The Mayflower Inn & Spa
Any Gilmore Girls fans out there? The charming and elegant Mayflower Inn & Spa was the inspiration for the show's Independence Inn (and some say for the show itself!)
Well, this is a dreamy spot you'll love whether or not you've got Stars Hollow on the brain. From it's lush gardens to its pristine indoor pool, you will find beauty and serenity in the Connecticut countryside in this romantic New England destination!
Head to the onsite spa and get spoiled by a luxurious couples treatment. If you don't feel like venturing out to nearby attractions, you and your partner can simply relax, wine, and dine right at the inn. Feeling active? There is hiking, biking, and even yoga available onsite at this charming New England inn as well.
Read Reviews: TripAdvisor | Check rates & book: HotelsCombined.com
---
New Hampshire
Sugar Hill Inn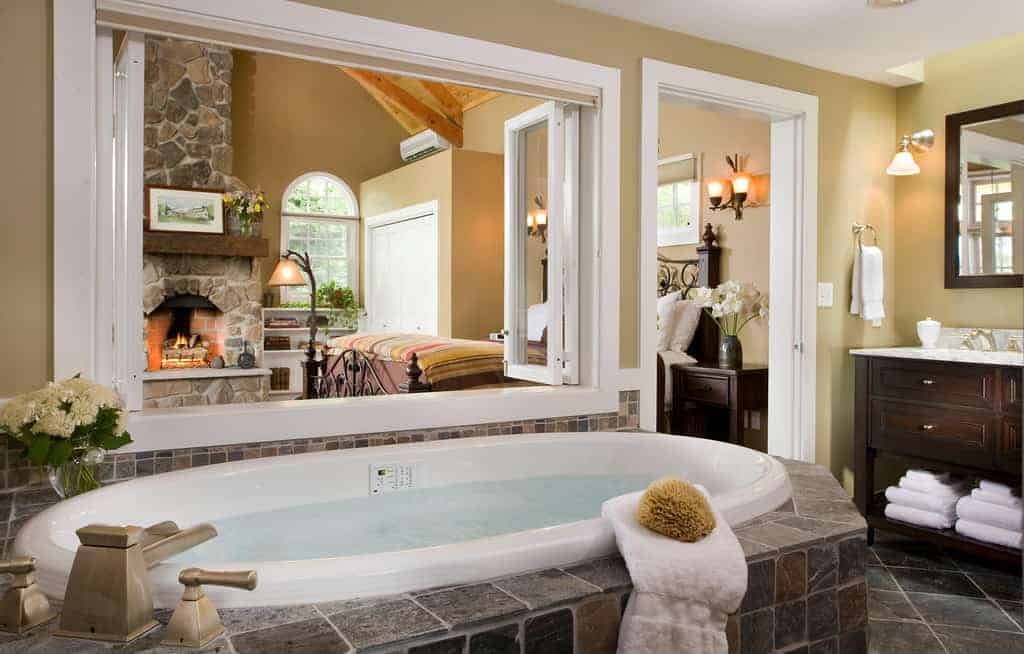 The Sugar Hill Inn has to be one of the most romantic hotels in New England. You and your sweetheart will be swept away by its location in the White Mountains. Explore nearby waterfalls, take part in snow sports, spot the summer wildflowers, and, of course, take advantage of hundreds of miles of some of the best hiking in New England. This New Hampshire B&B is strictly adults-only, so leave the kiddos with a babysitter.
Pick out your favorite of the understated yet elegant rooms (our pick is the Dream Cottage) and settle in for a fantastic weekend. Be sure to check out the romantic extras the inn offers, including sightseeing and skiing packages, add-ons like chocolates, flowers, and champagne delivered to your room, and romantic getaway packages that include dinners for two.
With this steaming jacuzzi tub, I think this makes a dreamy romantic winter getaway in New England!
Read Reviews: TripAdvisor | Check rates & book: Booking.com
---
The Notchland Inn
Want a secluded New Hampshire inn with jacuzzis, fireplaces, and nature all around you? Consider The Notchland Inn, located in Hart's Location, New Hampshire.
The Notchland is situated within the White Mountain National Forest–perfect for whether you wish to go hiking and skiing or simply relax in the quiet embrace of nature.
A majestic Bernese Mountain dog greets guests as they arrive, and you and your significant other will soon feel right at home in your classic B&B style room. All guest rooms have a fireplace, so turn down the lights and enjoy a glass of wine together.
Read Reviews: TripAdvisor | Check rates & book: HotelsCombined.com
---
Chesterfield Inn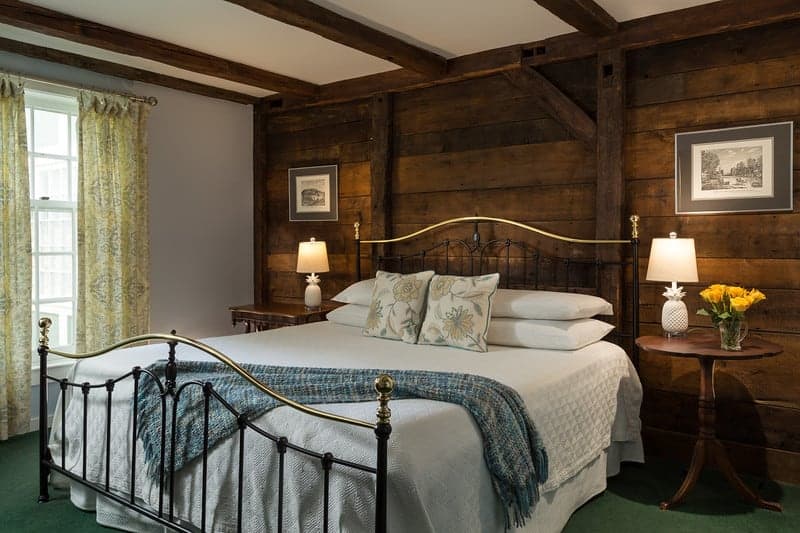 Chesterfield Inn is located in Southern NH's Connecticut River Valley, making it a nice choice for romantic weekend getaways in New England. (It's an easy trip from Boston.) With exceptional food (including wonderful breakfasts of course) and a serene atmosphere, here you will find a perfect spot for your romantic New England getaway.
The guest rooms are spread between three buildings, and each has large picture windows to help bring nature inside. Fireplaces, wood beams, floral wallpaper, four-poster beds: each room is different and equally resplendent.
When not enjoying the inn's amenities, why not hop over the border and explore a bit of Vermont? It's just a few miles away! The region holds opportunities for hiking, canoeing, and horseback riding, winter activities like skiing and snowmobiling, and shopping and antiquing in numerous small quaint villages.
Read Reviews: TripAdvisor | Check rates & book: HotelsCombined.com
---
Maine
Thornhedge Inn
Originally a 1900 summer home, Thornhedge Inn is a Bar Harbor bed and breakfast that is super dreamy. From the outside, you can tell you're in a very special place. Thornhedge is located in downtown Bar Harbor, within walking distance of the shopping, dining, and the harbor. On the edge of Acadia National Park, this Maine destination is filled with scenic beauty and activity.
Back at this romantic New England inn, the guest rooms are straight out of an English country home, and your stay will be complemented by a plentiful breakfast and afternoon wine and cheese.
Read Reviews: TripAdvisor | Check rates & book: Booking.com
---
Wolf Cove Inn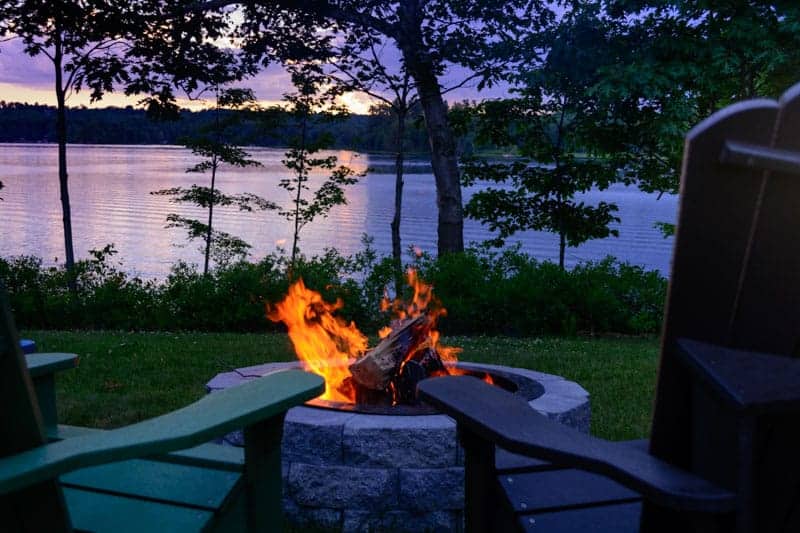 When it comes to the romantic getaways New England has to offer, Wolf Cove Inn differs a bit from the other properties on this list. It is by far the most rustically inclined, which provides intimacy and a close encounter with Maine's glorious nature. For us, it's the perfect mix of love and adventure!
Located on the shores of Tripp Lake, this is an utterly romantic setting. Each morning you'll enjoy a three-course 'Maine comfort breakfast,' after which it's time to explore! Around Valentine's Day, you can count on snowshoeing, sleigh rides, skiing, or simply sitting by a roaring fireplace. Summertime means a romantic paddle around the lake in a complimentary kayak, canoe, or rowboat. For a true escape, this Maine bed and breakfast simply can't be beat.
Read Reviews: TripAdvisor | Check rates & book: HotelsCombined.com
---
Sandy Pines Campground
While you might not think of a campground as being the go-to spot for a romantic getaway, you'd be wrong! Sandy Pines Campground, near Kennebunkport, Maine, is no ordinary campground. This spot is one of the best places for glamping in Maine!
At Sandy Pines, you don't have to "rough it" in a tent or even in your own RV. Instead, book one of their many unique glamping accommodations, including professionally-designed glamping tents, camp cottages, hideaway huts, and more. These are adorable spaces and oh-so-cozy and private.
Click here to read reviews of Sandy Pines or to book your stay.
---
Romantic Getaways in Vermont
See our entire list of romantic getaways in Vermont here.
Woodstock Inn and Resort
For an extra special New England couples trip spot, consider booking a room at "Vermont's Most Beautiful Address." Woodstock Inn and Resort is beautifully designed and perfectly situated in lovely Woodstock, the perfect place for a romantic getaway.
There's plenty to do onsite at this romantic resort, whether it's having a pampering couples treatment at the spa or enjoying expertly prepared meals at the onsite restaurants, but there's also a ton of great things to see and do in Woodstock, too. Woodstock is a fantastic Vermont vacation destination any time of year, but planning your New England couples trip for the holiday season is absolute magic!
Read Reviews: TripAdvisor | Check rates & book: HotelsCombined.com
---
The Inn at Round Barn Farm
Another gorgeous Vermont bed and breakfast is the Inn at Round Barn Farm, tucked away in Waitsfield, VT. Its location in Mad River Valley makes it easy for guests to access ski resorts and destinations such as Sugarbush and Stowe. The inn is well known as one of the finest bed and breakfasts in Vermont. From its historic round barn (one of only a few of its kind left in VT) to its breathtaking 245 acres, this lovely New England B&B is a great spot year-round.
Read Reviews: TripAdvisor | Check rates & book: HotelsCombined.com
---
The Stoweflake Resort & Spa
Stowe is terrific for romantic getaways. It really doesn't get any more classic Vermont than the village of Stowe, (about 45 minutes away from Burlington) and this popular spot is loved by many travelers of all kinds.
A charming town deserves equally charming accommodation, and you'll find that at the Stoweflake. A friendly staff welcomes you to the hotel, located on a sprawling property in a convenient location. As with most of the places on our list, many rooms at the inn have those much-coveted fireplaces.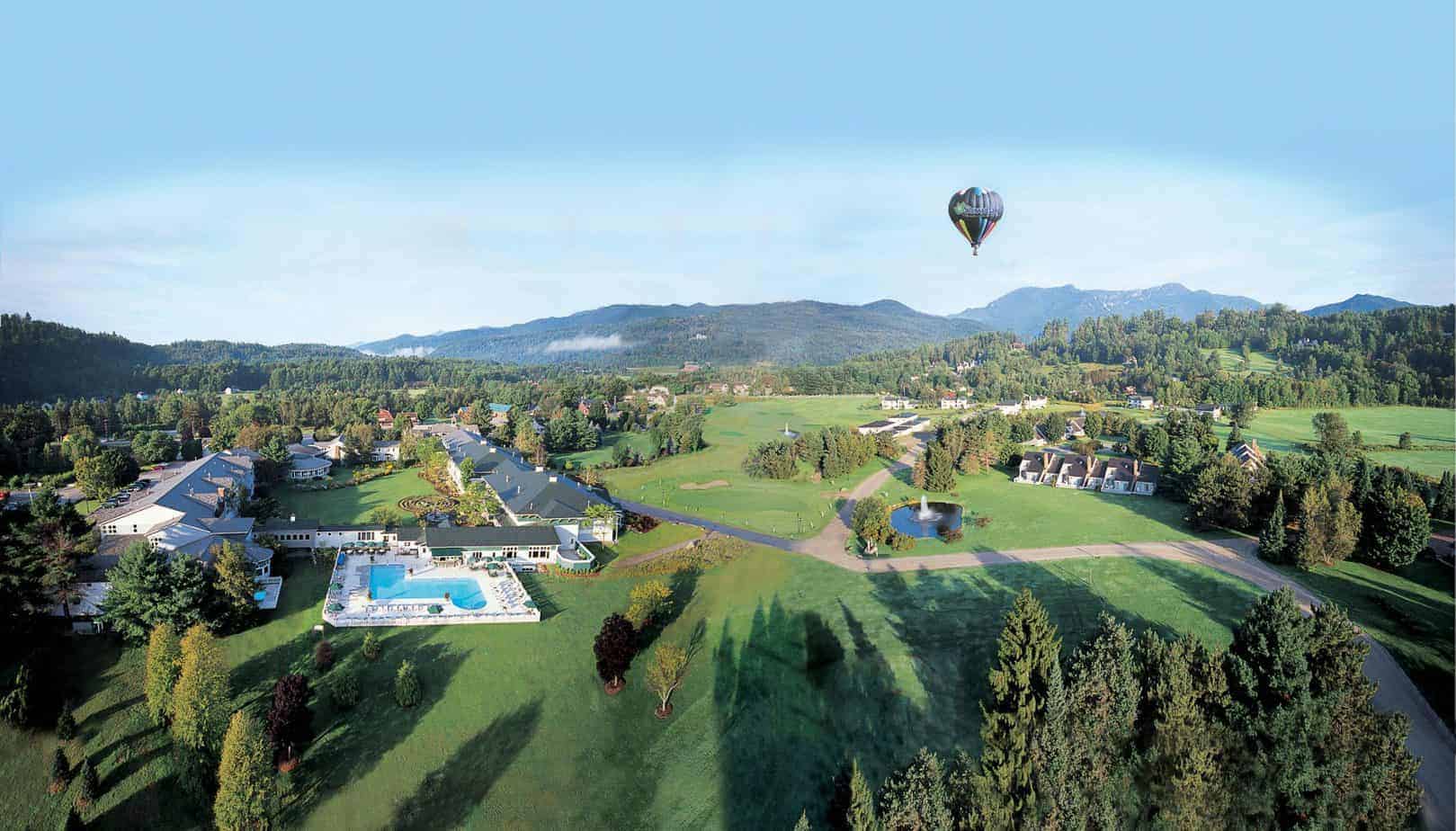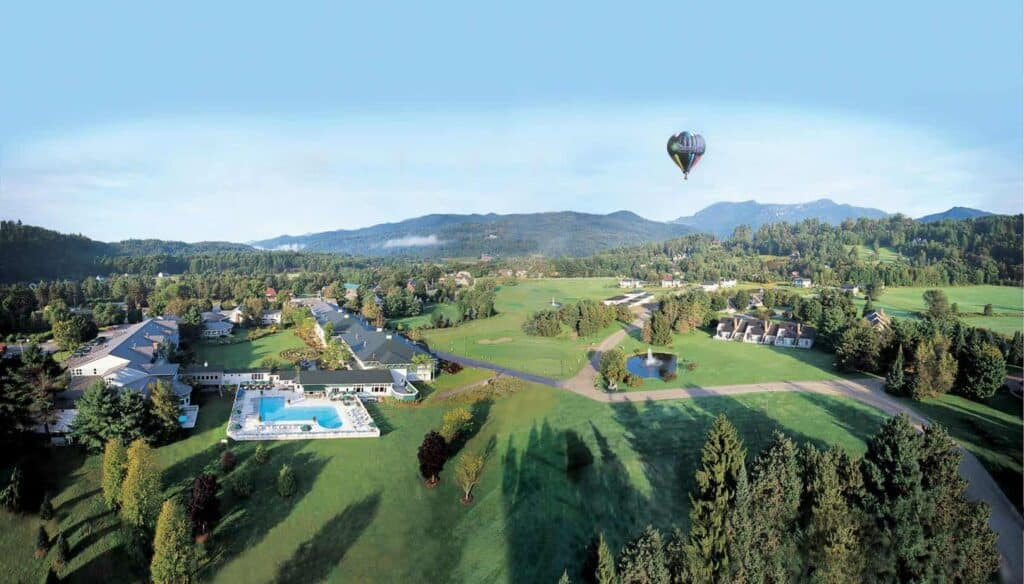 The highlight of your stay here will be the Spa at Stoweflake. This is hands-down the best spa we've ever been to, providing dozens of specialty treatment options in a gorgeous setting. After your massage/facial/etc, spend some time just savoring the spa environment. In addition to all the classic spa amenities you imagine, they have a mineral pool with its own waterfall, transporting you to a magical oasis.
Be sure to check out their special romantic getaway packages to create the best trip possible.
Read Reviews: TripAdvisor | Check rates & book: HotelsCombined.com
---
Taconic Hotel
Located in the town of Manchester, Vermont, the Taconic Hotel feels slightly young and hip, but also classic and timeless. We loved our stay at the Taconic.
The onsite restaurant is a standout element of the Taconic, with insanely delicious offerings and kickass cocktails. You'll definitely want to dine there at least once during your stay.
During the day, it's an easy walk to shopping, museums, and the main spots in Manchester. The Taconic has bikes you can borrow, too, free of charge, so you can pedal easily down the quiet tree-lined streets.
Each evening, enjoy a complimentary glass of wine out on the wide front porch. Here, you can swing in rocking chairs side by side and watch as the sunsets across peaceful Manchester.
Read Reviews: TripAdvisor | Check rates & book: HotelsCombined.com
---
Be sure to check out our list of the most romantic things to do in Rhode Island!
Hydrangea House Inn
Newport, Rhode Island is one of the most popular destinations in New England. Made famous by its Gilded Age mansions, Newport is a place for delightful dining, historical discovery, and much more. When looking for romantic places to stay in Newport, you should definitely consider the Hydrangea House Inn. Here you will stay in the heart of Newport's Old Quarter, and you can easily walk to main attractions.
Of course, you may not want to leave this remarkable New England B&B because the rooms are stunning! Fans of Sex and the City will fall head over heels for the 'Carrie in Paris Suite.' In the Hydrangea Suite, you can relax in a soaking tub next to an elegant fireplace, basically the perfect room to book for a New England romantic getaway.
Read Reviews: TripAdvisor | Check rates & book: HotelsCombined.com
---
The Chanler
Regularly declared as "America's most romantic hotel," The Chanler at Cliff Walk is just breathtaking. This, too, is found in elegant Newport, and this hotel is the cream of the crop. Considering a New England honeymoon? This is exactly the type of dramatic and opulent hotel most honeymooners are looking for. Unsurprisingly, this is also a perfect location for a New England wedding.
The Chanler is one of Newport's original mansions, built in 1873 for John Winthrop Chandler and his wife. After touring the Gilded Age mansions, you can go home to when of your very own when you stay here.
The onsite restaurant boasts lovely views out over the water, as do the lavish guest rooms. Not only are these stunning, but you'll find in-room jacuzzis, fireplaces, and other amazing amenities including your own personal Bath Butler, in-room spa treatments, and 24-hour room service.
There's not much else to say about this romantic New England getaway besides "wow."
Read Reviews: TripAdvisor | Check rates & book: HotelsCombined.com
---
Hotel Providence
Getting ready for a trip to Providence? There are several great places to stay in PVD, but if you're looking for the perfect place to host your New England romantic getaway, book a room at Hotel Providence. As the only AAA Four Diamond luxury boutique hotel in downtown Providence, this is the place to stay for a fun and fabulous RI couples trip!
Vibrantly decorated, this downtown PVD hotel is the epitome of modern, comfortable elegance. The beloved Jewel of Weybosset Street, Providence Performing Arts Center, is just a 2 minute walk from Hotel Providence, so grab a bite to eat at the hotel's Backstage Kitchen + Bar, then head over to PPAC to catch a show. Sounds like a fantastic New England couples getaway to me!
Read Reviews: TripAdvisor | Check rates & book: HotelsCombined.com
---
Romantic Getaways in Massachusetts
Brook Farm Inn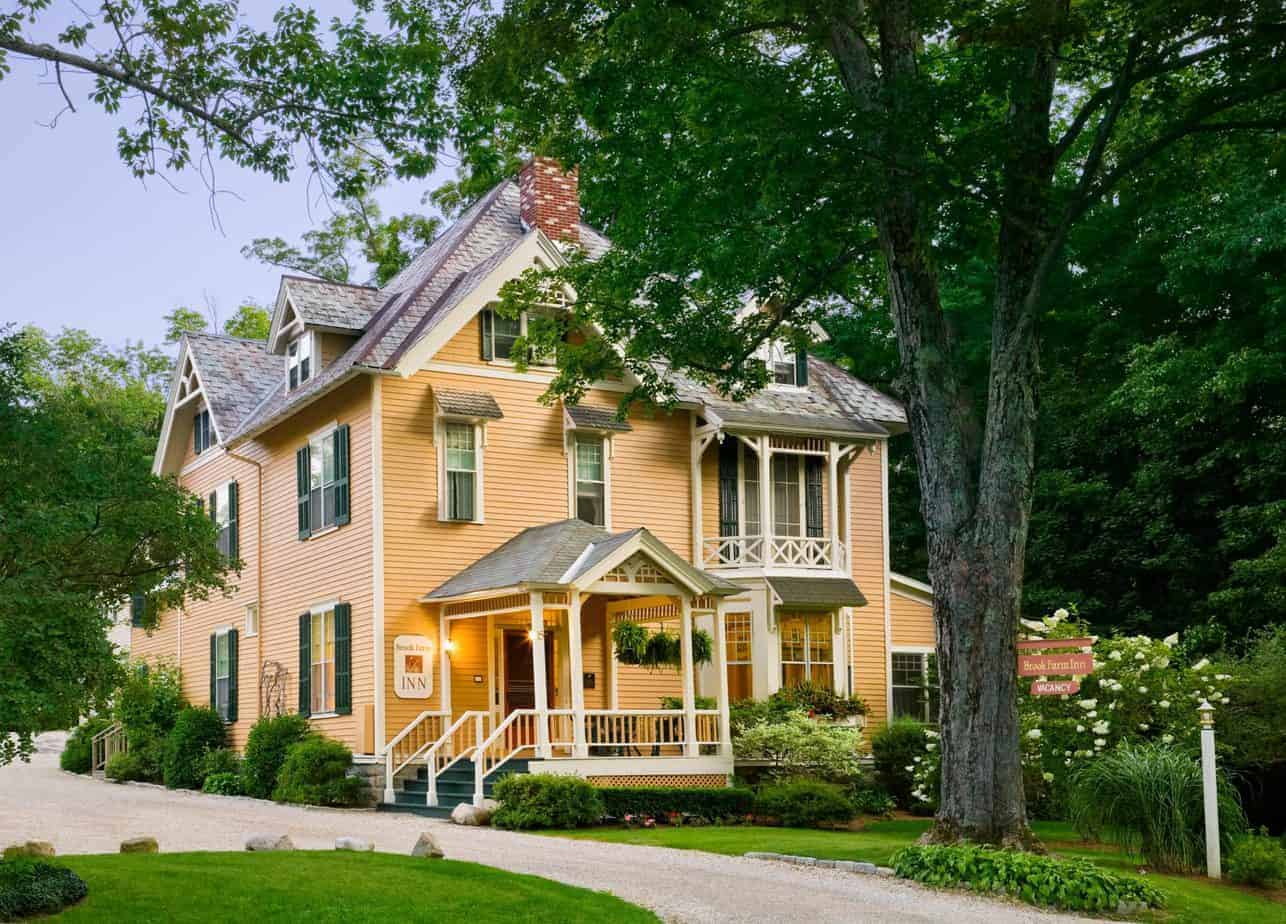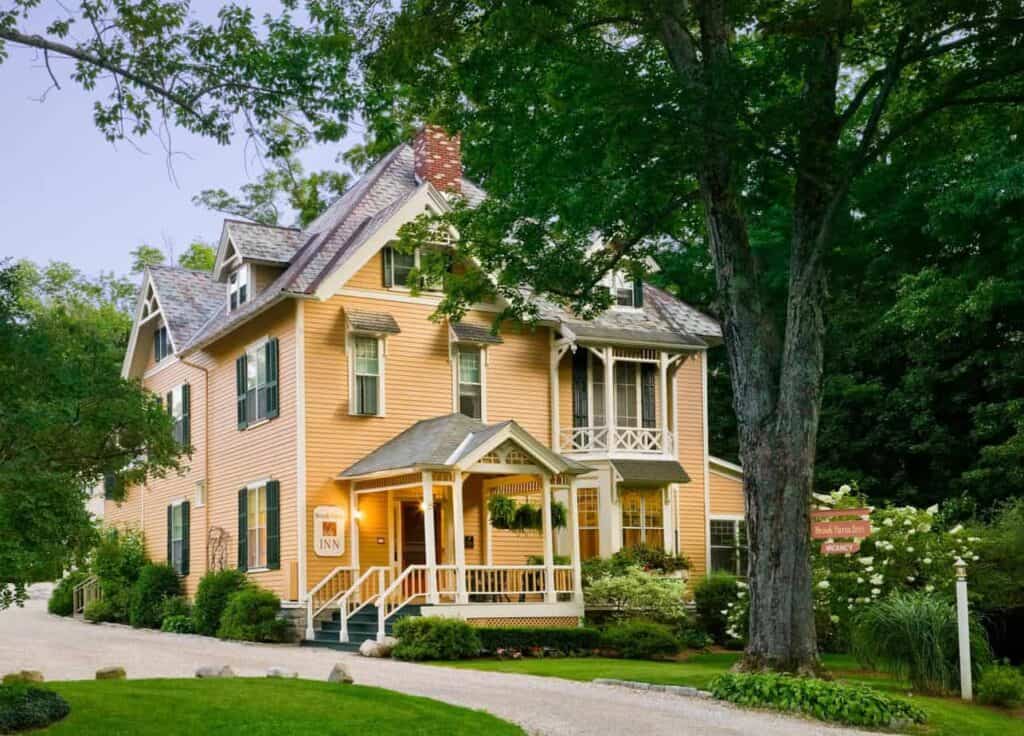 The Berkshires are a beloved area in Massachusetts and perfect for a romantic getaway. If you want the sweetest Berkshires B&B, choose Brook Farm Inn. The exterior is clearly adorable, but inside, luxurious yet cozy rooms await you. Most have fireplaces and many have jacuzzi tubs. It's a perfect recipe for romance. Want to unwind? Book a couples massage and let your stresses melt away.
The location is excellent. You'll be in Lenox, a stunning town and central to the best of the Berkshires, including Tanglewood, a music hall that is the summer home of the Boston Symphony Orchestra.
Read Reviews: TripAdvisor | Check rates & book: Expedia.com
PS: These Berkshires Airbnbs may also make for some cozy getaways for two.
---
The Inn at Cape Cod
Cape Cod is one of New England's most romantic destinations. If you're visiting, the Inn at Cape Cod will provide you with a tranquil and romantic stay. In 1830, this magnificent property became a stagecoach hotel. Today it remains a classic, sophisticated New England inn built in a "Southern Plantation" style.
Within minutes of restaurants, beaches, and activities, this Yarmouth Port B&B is a convenient location for your Cape Cod trip. You can choose from one of nine luxurious rooms, all boasting a clean, crisp New England flair. His & Hers bathrobes are a special touch–ideal for your Valentine's escape.
Read Reviews: TripAdvisor | Check rates & book: HotelsCombined.com
---
The Blantyre Hotel
Looking to stay in a castle? In historic Lenox, Massachusetts sits Blantyre, a 1902 Tudor-style mansion. This breathtaking, 5-star estate is beyond luxury, so if you're planning an unforgettable romantic getaway in Massachusetts, this is the place.
Accommodations range from stately suites to your own private cottage. In any event, you're destined to feel like royalty here.
Blantyre is home to 3 onsite dining spaces, The Bistro, The Conservatory, and the Dom Pérignon Salon, where fabulous champahne is paired with tasty seasonal light bites. All of the dining on the property is farm-to-table focused, and guests will enjoy New England cuisine with a Berkshire specialty.
Read Reviews: TripAdvisor | Book: Blantyre.com
---
Fairmont Copley Plaza
Finally, rounding out this list of the most romantic hotels in New England is the Fairmont Copley Plaza. This historic hotel is ideal for a weekend getaway to Boston, and it is located in a prime spot in the city.
The Copley is regal as can be, with luxury at every turn. The service is unparalleled and the overall experience extremely memorable.
Situated in convenient Copley Plaza, you'll be able to walk out the front doors of this grand hotel and enjoy Boston's best shopping. And of course, all the rest of Boston is within easy reach.
Read Reviews: TripAdvisor| Check rates & book: HotelsCombined.com
---
Wequassett Resort & Golf Club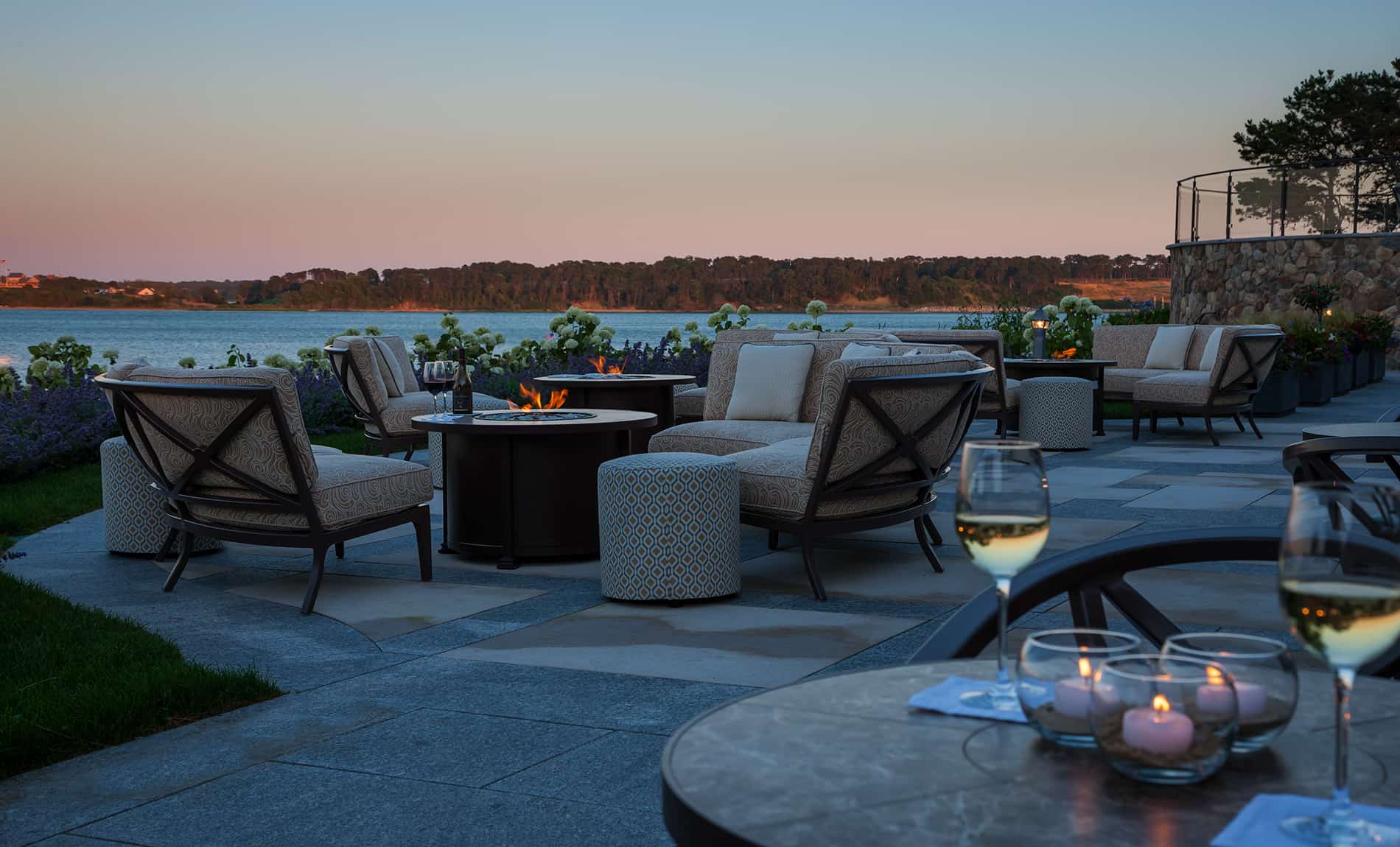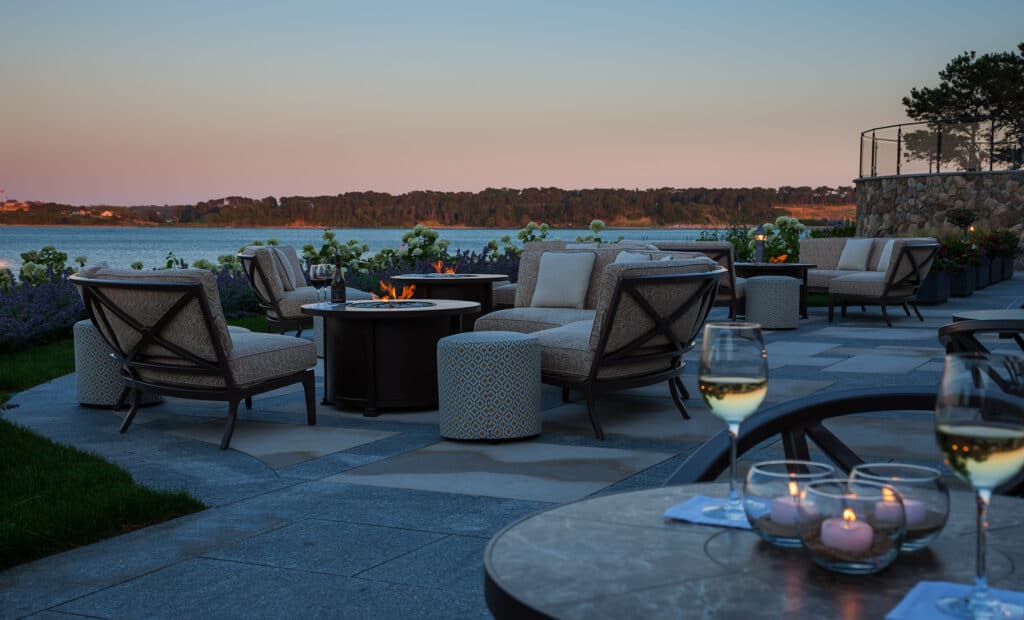 For a gorgeous luxury Cape Cod getaway for couples, check out Wequassett Resort & Golf Club. This beautiful waterfront vacation destination offers a variety of different accommodations, including signature suites, cottages, villas, and more, many with spectacular coastal Cape Cod views.
Of course there are plenty of amazing things to do on Cape Cod, but you and your love won't even have to leave the property at this romantic New England resort to have a good time, with offerings like yoga, cooking classes, boat rentals, swimming at the resort pools, walking along the beach, and more. Enjoy the remarkable onsite dining at the Forbes Five Star restaurant, Twenty-Eight Atlantic, then retire to the scenic patio overlooking the pool with fire pits, lounge chairs, and stunning views of the bay.
A stay at this romantic Cape Cod resort is the perfect way to spend a romantic New England couples trip!
Read Reviews: TripAdvisor| Check rates & book: HotelsCombined.com
There are romantic getaways in New England for every kind of occasion, whether you're looking for a coastal summer getaway or a cozy winter inn to hunker down for the weekend with your partner. Whichever of these romantic getaways in New England you choose, we hope you have a great time!
Read these next:
9 Fabulous Boston Hotels with an In-Room Jacuzzi
---
Where will you stay for your next romantic New England getaway?
---