We can all use a little pampering now and then. In fact, one might argue that it is absolutely essential! Pampering, relaxation, and serenity are important at any time, but they are also ideal vacation activities when traveling with loved ones. If you're planning a girls' getaway or a romantic couples trip in the northeast, consider booking a stay at one of these incredible spa getaways in New England.
It may come as no surprise that there are dozens of New England spas and spa resorts dotted throughout the region. After all, New England is a wonderful vacation destination with lots of charm and scenic beauty.
The list below represents an ongoing venture, as we seek to find the best spas in New England and share them with you.
Where can you have the best massage? What is the most beautiful spa in New England? Which resort has the best amenities? We're on a mission to discover it all for you.
Spa getaways are synonymous with girlfriend getaways or girls' trips as well as with romantic occasions. At the moment, we haven't yet visited all the spas on this list, but we're working on it! Those we haven't personally experienced have been included on this list via the recommendations of fellow travelers, high praise on TripAdvisor and other sites, etc.
Alright, grab some eye cucumbers (actually don't—save them for the spa!) and get reading and planning!
---
What makes for a great spa getaway
The perfect spa escape may be different for everyone (and it will likely differ based on the type of trip you're taking) but what I look for is a combination of things: good location, cozy rooms, strong hotel amenities, and a total, unique spa experience. For me, the very best spa resorts offer all of this, and place emphasis on their onsite spas and offerings. Other aspects, like fantastic hotel dining, are also really important, particularly if you're looking to simply relax at the resort for the majority of your trip.
7 Terrific Spa Getaways in New England
Here's a collection of some spa hotels in New England that come highly recommended:
Christmas Farm Inn & Spa – Jackson, New Hampshire
The Christmas Farm Inn is tucked away in the White Mountains of New Hampshire and it is a great place to head for a quiet getaway. While you're close enough to the activity of North Conway, the inn itself is in the peaceful town of Jackson.
My sister and I stayed here in September 2019 and had a wonderful time. We were housed in a cozy cottage where we each had our own king bed (comfortable bliss!) and we had a shared sitting room with a fireplace.
The spa here is very nice. An Aveda spa, there is a deep sense of holistic health and a connection with nature. It feels more laid back than some other spas (in the sense that it feels more welcoming and accessible, sometimes spas can feel elitist or overwhelming), and that was part of its charm. Our Aveda Aroma massages were excellent, and we felt like the therapists were generous and kind; they really took the time to figure out what we needed from our treatments.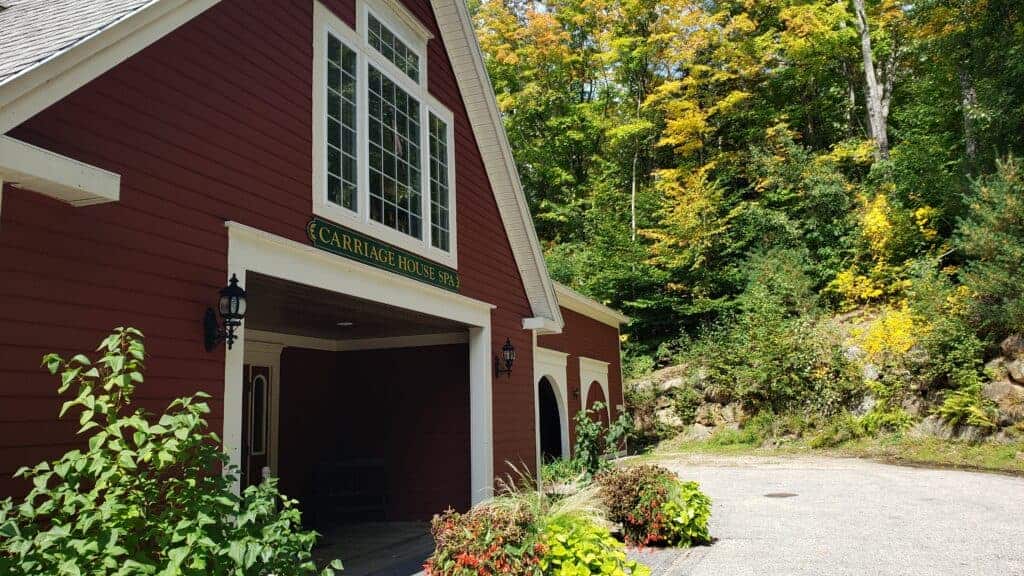 Personally, I felt like a new person after my massage. Utterly relaxed.
The spa has a beautiful indoor sitting area as well as an outdoor patio for warmer weather. Guests can also take advantage of the resort's indoor and outdoor pools, fitness center, and hot tub.
Aside from the spa itself, this inn is ridiculously cute. The main inn building is historic and quaint and would be the perfect place to gather on a cold winter night. Definitely make time to enjoy dinner at the restaurant – the offerings are seasonal and delectable.
Make sure to check out the inn's special New England girls getaway packages – perfect for your sister trip, mom and daughter weekend, and more!
Read Reviews: TripAdvisor | Check rates & book: Booking.com
---
---
The Stoweflake Mountain Resort & Spa – Stowe, Vermont
Nathan and I enjoyed a stay at the Stoweflake in Stowe, Vermont a couple of years ago. Stowe is one of our favorite New England towns and this is a fab choice for a Vermont spa getaway.
This is definitely one of the best spas, offering dozens of unique specialty treatment options in a gorgeous setting. The toughest part will be choosing which treatment with which to pamper your body, mind, and spirit. ( Vermont Maple Sugar Body Polish sounds ahhhhmazing to me).
You can easily spend many hours of serenity here in the 35,000 square foot spa space. In addition to all the classic spa amenities, like steam rooms, sauna, jacuzzi, and quiet spaces, the highlight of the Stoweflake Spa is their Aqua Solarium. This rock-lined, warm-water pool allows you to sit underneath a 12-foot cascading waterfall which serves as a therapeutic massage for a tired neck and shoulders.
PS: You can visit this spa for a day rate without being a hotel guest. However, the hotel is lovely, in a very convenient area of Stowe with access to everything.
Planning a big girls' getaway, such as for a bridal party? Consider booking one of their beautiful onsite townhouses, where you can head out the back door and have access to walking, hiking, snowshoeing, and cross country skiing.
Read Reviews: TripAdvisor | Check rates & book: Booking.com
---

One of only 56 Forbes Five-star rated spas in the world (and the only one in romantic Rhode Island) it's clear that Ocean House is a must-visit luxury destination.
Does the ocean relax you? You would be in heaven at Ocean House's 12,000 square foot Oh! Spa, with its commanding views over the Atlantic Ocean. Not only is their space completely beautiful with a classic, almost Grecian style, but the menu of spa services is equally enticing, with treatments like Coastal Escape and Harvest Dreams to rejuvenate and pamper you.
Ocean House is ideal for a total wellness getaway, as the spa also has a fitness center, heated saltwater lap pool, and complimentary fitness classes like yoga, pilates, and Tai Chi.
The rooms at this popular RI spa hotel are well-appointed and stunning, with ocean-view suites available, including some that have an outdoor terrace. So much luxury here!
Read Reviews: TripAdvisor | Check rates & book: Hotels.com
---
Mayflower Inn & Spa – Washington, Connecticut
In search of a country retreat that's not too far from the city? You might be perfectly paired with a spa getaway at the Mayflower. This beautiful and elegant inn is located in the Litchfield Hills region of CT.
If you happen to be a Gilmore Girls fan, an interesting tidbit is that this inn was the inspiration for the show's Independence Inn (and some say even for the show itself!) There couldn't be a better place to chill out with your gal pals.
Here at the Mayflower is a little bit of heaven. The inn itself boasts lush gardens and boutique, B&B style rooms. Think of an English country garden with a New England vibe and you're on the right track.
The spa menu is massive, with tons of options for massage, facials, body treatments, Eastern healing modalities like Thai massage and Reiki, and entire packages that combine a bit of everything.
We love the sound of the romantic escape, a couples package performed in a private suite and including the 90 Minutes Body Treatment of your choice, with healing essential oils and a scalp massage followed by a 30 minute sound healing and a soak.
After your day of bliss, you can relax in your room or enjoy a satisfying meal in one of two dining spots, all featuring farm-fresh New England cuisine.
Read Reviews: TripAdvisor | Check rates & book: Hotels.com, Booking.com
---
Topnotch Resort – Stowe, Vermont
Now, you might notice that there are two Vermont spa resorts on this list, and both in the town of Stowe. Well, as a Vermonter, I may be biased, but Stowe is truly wonderful, and I can't think of a more perfectly "New England" destination.
Topnotch Resort is a cozy yet modern resort with so much to offer. They have loads of activities you can do right on-site at the hotel, including trail rides from their own equestrian center. There is also a tennis academy, outdoor gear rental for a range of activities, and two swimming pools (one indoor and one outdoor, seasonally).
But aside from all that you can do (and eat at their yummy restaurants!) the spa is a focal point of Topnotch, and as they say on their site, a place to "get lost in the moment." Here's where you can go to treat yo'self!
The Topnotch spa is a classic resort spa, offering all the expected spa amenities and comfortable areas to relax in a pleasant, zen atmosphere. Sit back with your girlfriends on the plush lounge chairs and enjoy a glass or two of champagne. Your spa treatment includes access to access to the indoor and outdoor pools and hot tubs, sauna, steam room, and more.
Some unique treatments you may want to consider booking at Topnotch include the lush sounding Vermont Maple Sugar Body Smoothie or the Total Hops Massage, which incorporates the antioxidant properties of hops and actually includes a post-treatment beer!
Read Reviews: TripAdvisor | Check rates & book: Booking.com
---
---
This list of top spa resorts in New England would not be complete without an addition from the state of Maine. Craving a girls getaway to Maine? Or a couples escape on the coast? Our pick is Cliff House, located atop the cliffs of Cape Neddick.
As you might imagine, the ocean plays a major role in the spa at Cliff House, known as the Seaside Sanctuary. The space was designed "embracing 'wild and free' elements of coastal Maine, the spa channels a transformative interplay of water, stone, earth and sky." The architecture in this spa is sweeping and modern, truly one of the most beautiful spaces. In this center of luxuriant tranquility, you can book in for a number of seacoast-inspired services.
The spa menu is incredibly nature-driven, with dedicated seasonal services built to match the time of year of your visit. Couples will want to consider the side-by-side packages, including an option to receive your massages in the oceanfront suite with its incomparable views.
When not living your best life in the spa, you'll be falling in love with the Maine coast, and enjoying it from inside Cliff House. Also, the dining options are great, varying from a more casual "lobster shack"-inspired restaurant to the epic Tiller Restaurant. Plus, they have their own coffee shop onsite—how cool is that?
Read Reviews: TripAdvisor | Check rates & book: HotelsCombined.com
---
The Mirbeau is one of the best known overnight spas in New England. While Mirbeau has a handful of different northeast properties, the one in historic Plymouth is where you'll be visiting.
Mirbeau is focused on their incredible spa offerings. The spa menu includes a wide variety, but their skincare treatments such as facials seem to be emphasized, with many rejuvenating possibilities. Mirbeau also offers Kur rituals which are full-body treatments that involve soaking in a jetted mineral bath. Ooh la la.
The spa facilities itself are gorgeous. You'll feel like royalty as you relax in this European-baths style lounge. Regal touches are around every corner.
Similarly opulent are the guest rooms, which are ideal for a romantic escape. Think plush bedding in jewel-tones ready to wrap you up for the weekend.
Read Reviews: TripAdvisor | Check rates & book: Booking.com
Read these next:
---
Pin this post to save for later!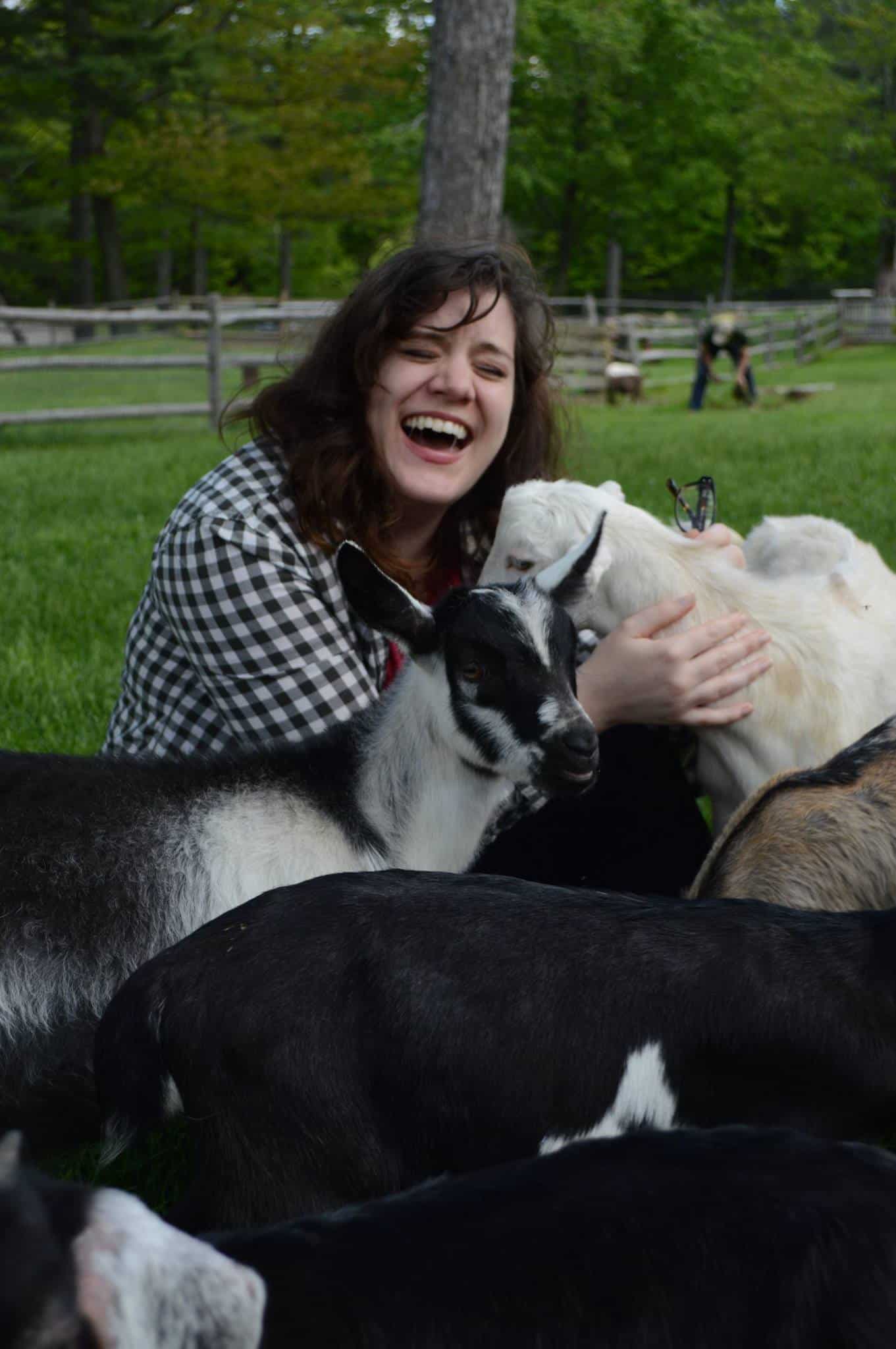 Amy Hartle is the founder and Editor-in-Chief of New England With Love, a comprehensive resource for travel in the New England region. Amy has been exploring New England since 2001. She lived in Vermont for many years and is a graduate of Plymouth State University in New Hampshire. Amy has been writing about travel for over a decade. On this site, Amy aims to share her love of New England and help you to have the best possible adventures!
Amy has been a full time blogger since 2012, and is also the publisher of Two Drifters, where she writes about couples travel and relationships, as well as Let's Adventure Baby, a family travel site. When not traveling the world or creating epic blog content, Amy can be found cuddling with her husband, son, and cats, & drinking a maple latte.