---
*Links in this article may be affiliate links, from which we may earn commission. See our
Privacy Policy
for full details.
---
Sometimes you just need a little mini-vacation to reset, and weekend getaways are perfect for that! If you're looking to plan the perfect adventure away from Boston, then check out this list of 18 weekend getaways from Boston that will have you returning to the city recharged and ready to jump back into the grind!
Best of all, with the drive-ability of New England, you can head to destinations in all 6 of the region's states for your weekend escape.
Make a beeline for the Berkshires
This one is a no-brainer, right? If you're looking to get away from The City on a Hill for a little weekend reset, you don't even need to leave the state because the Berkshires can offer both fun and relaxation! If you're looking for a weekend getaway in the fall, there are multiple choices for prime leaf-peeping and apple-picking, and if you're looking for a little more adventure, there are several options for that too, including some of the coolest hikes in New England!
If it's more of a romantic getaway you're after, there are some really, really romantic locations to choose from, too. Whether you're into action, respite, or romance, the Berkshires is an ideal weekend getaway from Boston.
Check in and check out for the weekend in Old Saybrook
Saybrook Point Resort and Marina in Old Saybrook, CT means a weekend getaway of rest and relaxation on the lovely Long Island Sound. Not only does this resort offer a spectacular spa services menu, but the accommodations are absolutely to die for. Room options include stellar views over the Long Island Sound, fireplaces, private balconies, and all accommodations include luxuriously plush linens and room service.
If you are planning a romantic weekend getaway from Boston, the Lighthouse Suite was voted the "Most Romantic Place to Stay" by Connecticut Magazine and features 360-degree views of the coastal oasis of Old Saybrook, CT, so hint, hint on that…
No matter where you stay, Old Saybrook is definitely one of the best beach towns in New England to visit.
Spend the weekend sampling all Portland has to offer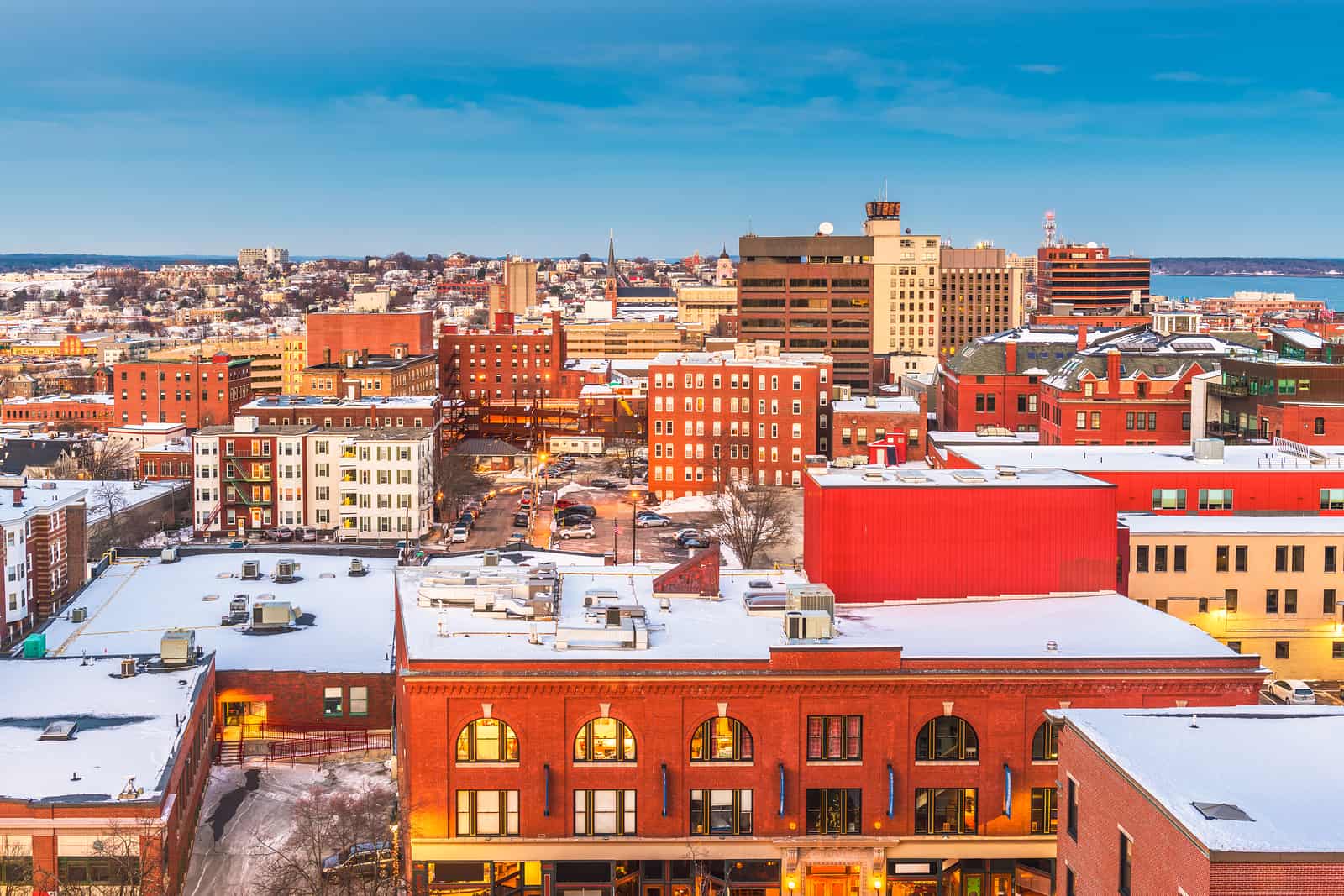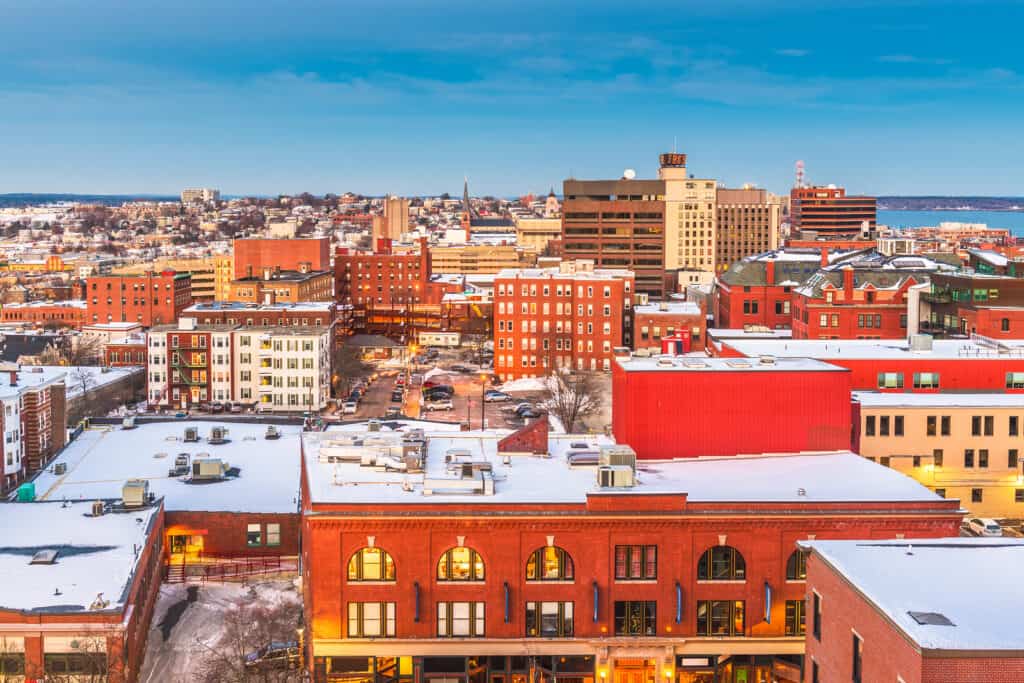 Portland, ME is well-known for its culinary prowess as a foodie destination, but there is plenty more than food to make this one of the best New England weekend getaways.
Portland is an interesting and eclectic mix of trendy hipster vibes and historical sophistication; you can find breweries, museums, lighthouses, shopping, sailing and cruises in Casco Bay, nearby hiking trails, and so much more. In fact, you can find a ready-made itinerary of all the must-do, must-see, must-eat &drink spots to visit for a perfect weekend getaway in Portland here, including recommendations for the best places to stay.
Stay in stunning Stowe
A must-add to any weekend getaway list, the gorgeous ski town of Stowe, VT is perfect for people looking to escape the big city grind! Travel + Leisure named Stowe as one of America's Best Ski Towns, and it's not hard to see why since Stowe has a lot more to offer beyond just their spectacular ski slopes!
Any time of the year you visit, you'll find plenty to see, do, and enjoy. Bingham Falls is a popular waterfall and swimming destination in Stowe, and the hike out to it even made it on this list of the Best Hikes in Vermont. There are many things to do in Stowe, including hot air balloon rides and visits to local craft breweries, and if you're looking for a spot to rev up the romance, well, Stowe also made it on this list of romantic getaways in Vermont, too!
Venture into North Conway
If you are looking for a weekend getaway from Boston that allows you to hunker down in a cozy cabin or beautiful B&B in lovely Mount Washington Valley and enjoy a variety of adventurous outdoor activities, then North Conway might just be the perfect destination for you! In the winter, you can hop on a snowmobile as the snow falls softly all around you, and in the summer, you can kayak or tube down the river as the sun glistens off the water with highly-rated Northern Extremes.
There are plenty of fun things to do here, but don't forget to check out one of the region's favorite outlet malls, Settlers Green, where you can shop at all 60+ retailers TAX-FREE!
Indulge in some Gilded Age glory in Newport
Newport, RI is one of the most beautiful cities on the New England coast, and a weekend getaway to this gorgeous Ocean State city is sure to make anyone feel like they have stepped into another world far, far away from the hustle and bustle of Boston. Newport is well-known for its beautifully preserved Gilded Age era mansions and the world-famous Cliff Walk, but there's even more to discover of this coastal gem!
Considered one of the sailing capitals of the world, a sailing tour allows you to appreciate Newport from the sparkling waters of the Atlantic, including the enchanting lighthouses that dot the coast. It's hard not to get swept away in the romance of this enchanting city, so if you are looking for a romantic getaway, Newport is a perfect choice!
Retreat to Rockport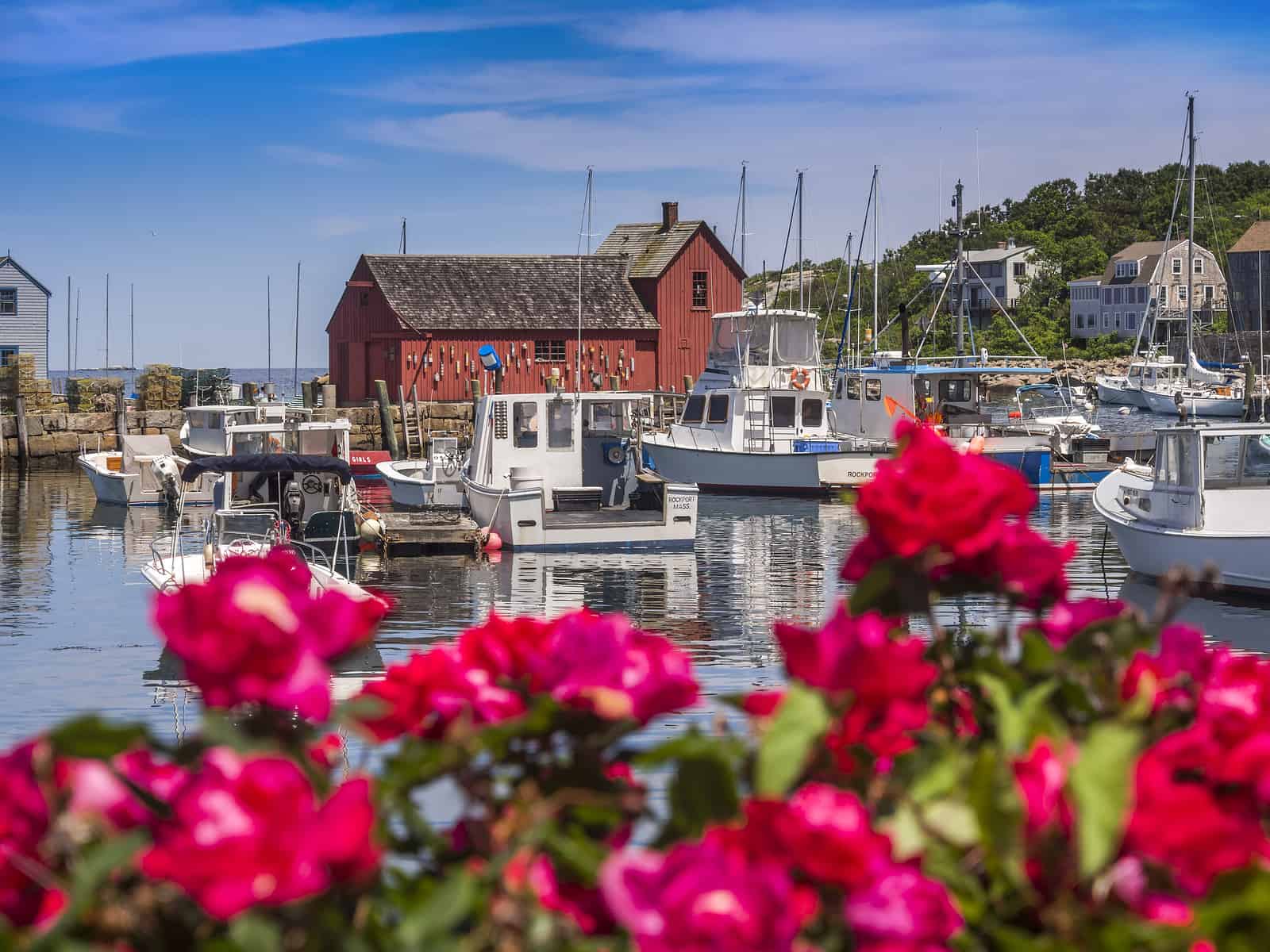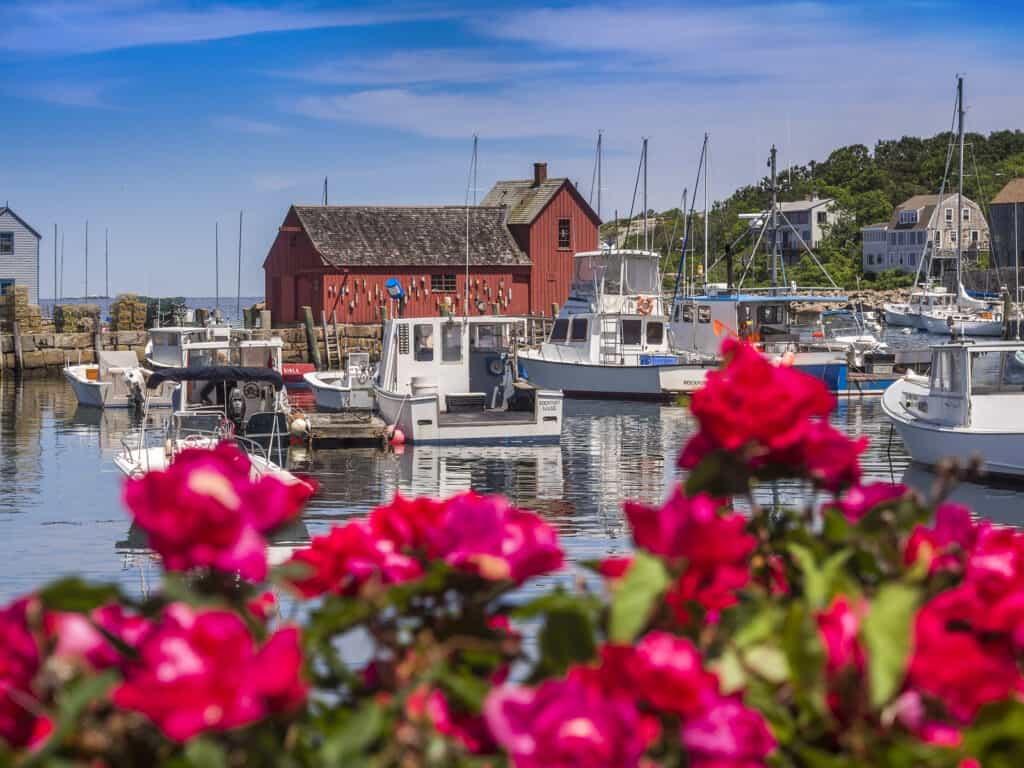 Just about an hour up the road, lovely Rockport, MA makes for an extra easy to access weekend getaway from Boston! This picturesque place, one of the best beach towns in Massachusetts, is known for many things, including both the stunning natural scenery of Cape Ann and the man-made charm that includes the row of rainbow houses and Motif #1, the bright red fishing shack that attracts artists from all around the world to capture its essence.
Whether you spend your weekend in Rockport checking out the local art on Bearskin Neck or lounging on the beach, this picturesque seaside village offers plenty of options for anything a person might need to relax and unwind for the weekend, including interesting inns and some of the best breakfast options on Cape Ann!
Go for a wild weekend in Acadia National Park
Okay, so spending the weekend visiting Acadia National Park doesn't necessarily mean you will be going "wild," but the case can certainly be made that it is one of the best locations for viewing and interacting with the wild beauty of coastal Maine. It is often thought that fall is the best time to visit Acadia, but no matter what time of year you take your weekend getaway, there will plenty to do!
Whether you decide to stay in one of these beautiful Airbnbs, charming inns, or to rough it by camping on your own, there are so many ways to enjoy the stunning scenery of Acadia National Park. Hiking is a given, but leave the plan loose with plenty of time to explore other activities too (like whale watching!) and you can even use this thoughtfully planned Perfect 3 Day Itinerary: Acadia National Park & Bar Harbor.
Lose your stress in Litchfield Hills
When you are looking for a laid-back weekend getaway to escape the stress and pressure of big city life, look no further than the region of Litchfield Hills, CT. You can return to simpler times with activities like apple picking in the fall and hiking all year round, with a scenic backdrop that includes picturesque covered bridges and rushing waterfalls.
In fact, this area is such a perfect example of New England charm that the village of Kent was included in our list of 6 Charming New England Towns to Visit in the Fall. Some of the coolest Airbnbs and coziest cabins are in Litchfield Hills, too, so be sure to thoroughly explore your lodging options! When it is laid-back and restful vibes you are after on your weekend getaway from Boston, Litchfield Hills is the answer!
Pop in to Providence for a weekend well-spent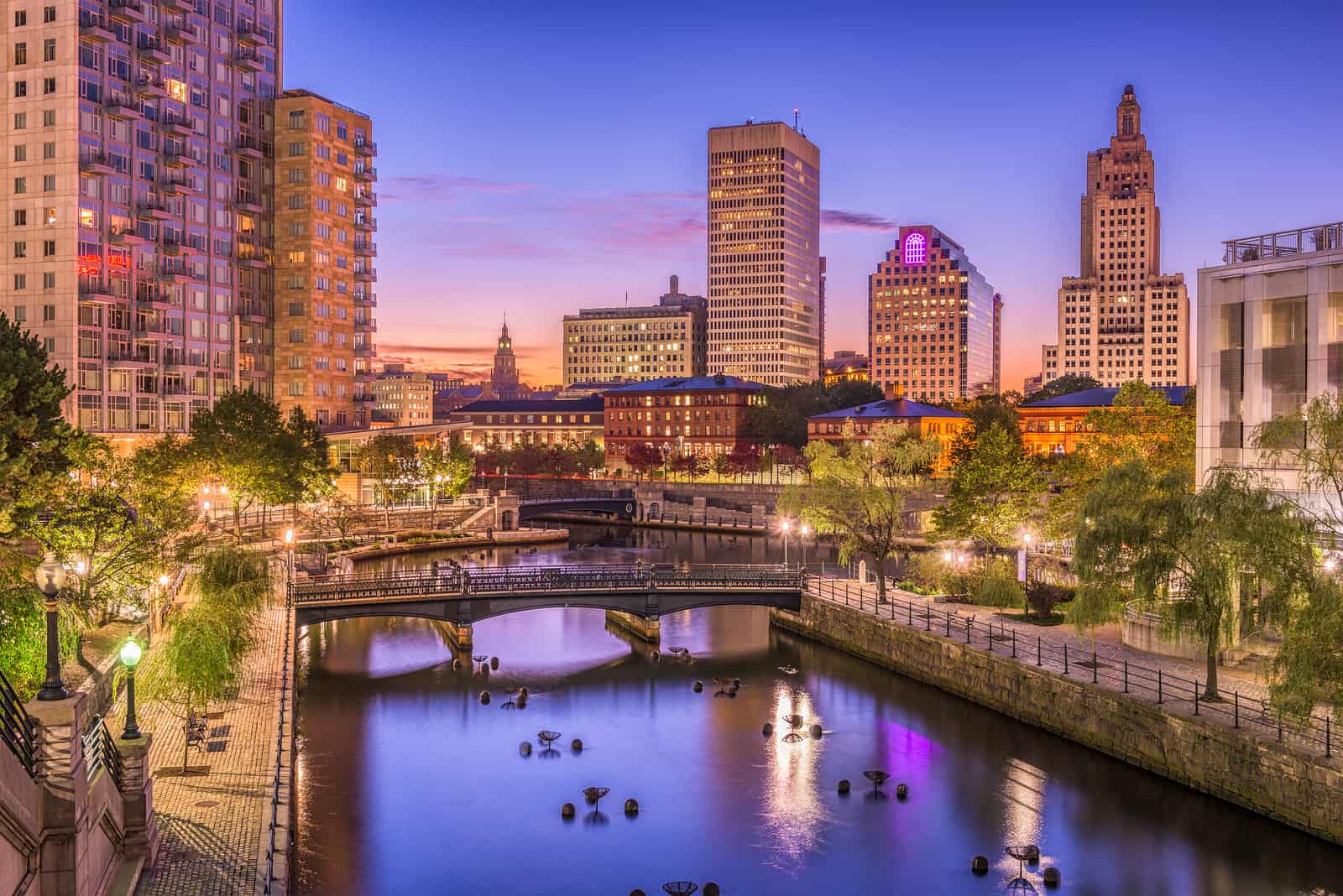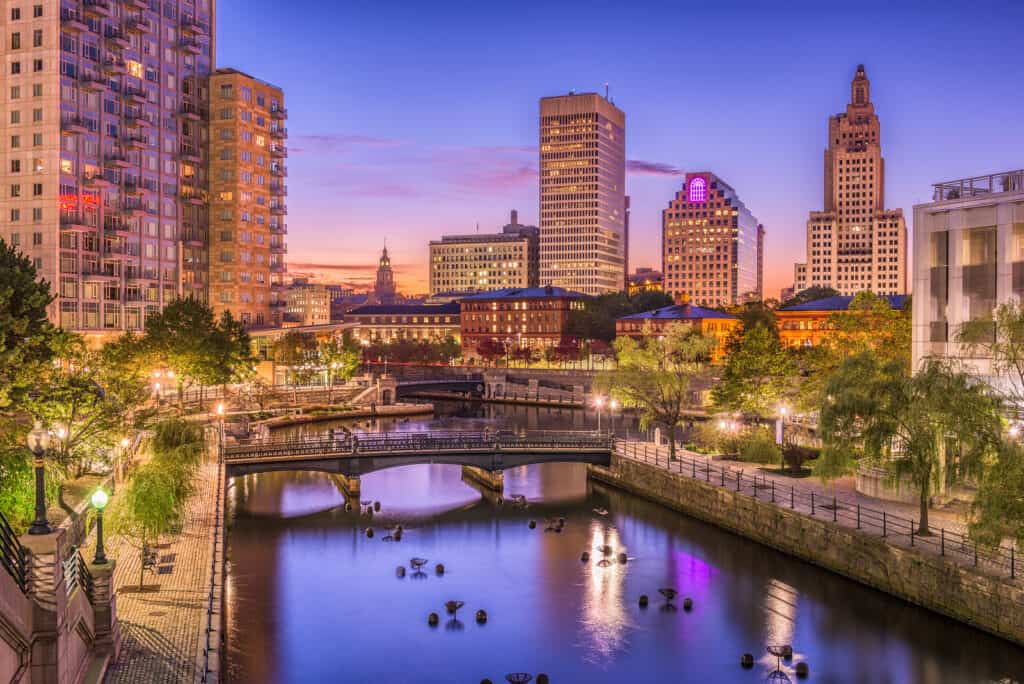 The capital city of Rhode Island is its own unique brand of hip, and a weekend getaway to Providence means so many different opportunities for things to see, do, and taste! Visit the Museum of Natural History and Planetarium, then venture down Thayer Street for some delicious multi-cultural grub options. There are funky outdoor flea markets, world-renowned performing art centers, and more cool, historical landmarks and places of interest than you could possibly shake a stick at, plus there is Waterfire, an internationally known annual art installation event that draws people in from all around the world.
Check out this link for 15 Awesome Things to Do in Providence, RI to plan your trip, and if you're looking for a weekend getaway of the more romantic variety, Providence made it on both this list and this list of romantic destinations in Rhode Island!
Pack your bags for Portsmouth
Portsmouth is just a quick drive up from Boston, but this weekend getaway destination will still take you worlds away from all the hustle and bustle of the city! This cute coastal New Hampshire town offers a ton of museums and historical monuments, incredible food options, cool breweries, and more. There are plenty of options for where to stay in Portsmouth, but you have to check out these awesome Airbnb stays, too.
Don't limit your travel to spring through fall, either, because Portsmouth becomes positively magical during the Christmas season! Be sure to check out this virtual tour guide of 11 Terrific Things to Do in Portsmouth, NH to plan your perfect weekend getaway from Boston on the Seacoast.
Have the best time in Burlington
There is good reason why Burlington has been crowned a perfect spot for a Vermont weekend getaway! This hip and artsy college town has a lot to offer visitors, like some extra cozy coffee shops, unique breweries and bars, and a few of the best hikes in the state! There are plenty of cool options for where to stay in Burlington, including some awesome Airbnbs, and if you are traveling with your pup, Burlington is extra pup-friendly with lots of restaurants, hotels, and activities that welcome you and your pooch, too!
Check out our detailed list of 25 Best Things to Do in Burlington VT, and whatever you do, don't forget to save the link for the 5 Spots for the Best Breakfast in Burlington VT because you will want to have this on hand during your visit, for sure!
Lap up luxury in Nantucket
For the ultimate luxury weekend getaway from Boston, look no further than The Wauwinet in Nantucket, MA! Adults only, this stunning seaside resort is the only Relais & Chateaux hotel on the island and when you are there, you will feel like royalty.
Rooms are luxuriously furnished with an airy yet elegant coastal décor and your pampering can begin from the moment you open your eyes with breakfast in bed followed by an in-room massage. Then you can head out for a walk (or a swim, depending on what time of year you visit!) on their private beach before coming back to treat yourself to TOPPER'S, The Wauwinet's AAA-Five-Diamond Award Winning on-site restaurant. The Wauwinet was featured in 10 Romantic Getaways in Massachusetts for the Perfect Couples Escape and you will see why from the moment you check in.
Explore the magic of Mystic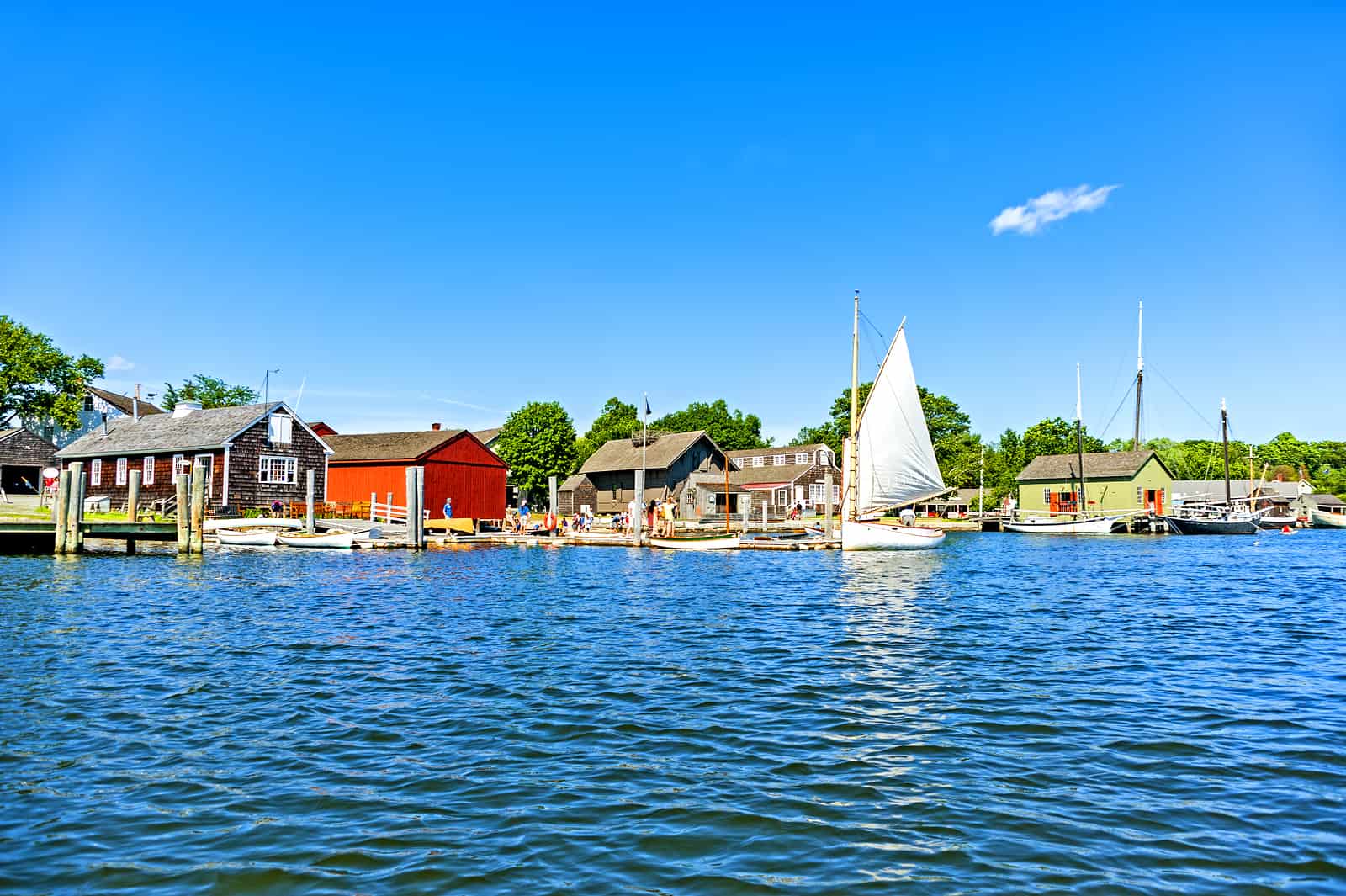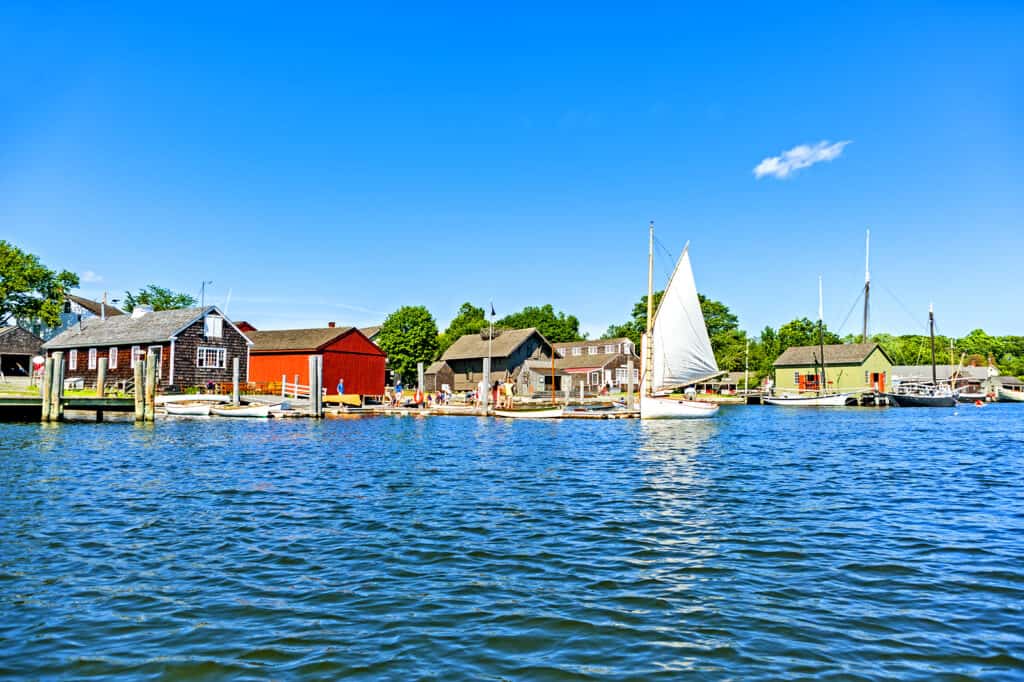 The waterfront village of Mystic is an ideal destination for any weekend getaway, and not just because you can visit the actual Mystic Pizza that the Julia Roberts movie was based on!
Located on the Mystic River, Mystic offers a wide range of activities for anyone interested in exploring this historical seaside escape. There are museums, vineyards, and breweries, and a ton of delicious restaurants to choose from when you visit this southern Connecticut gem.
For a thorough list of awesome things to do in Mystic, check out 14 Fabulous and Fun Things to Do in Mystic CT and consider booking your weekend getaway during leaf-peeping season when you can take advantage of all the fun fall activities Mystic has to offer, too!
Visit the history, mystery, and intrigue of Salem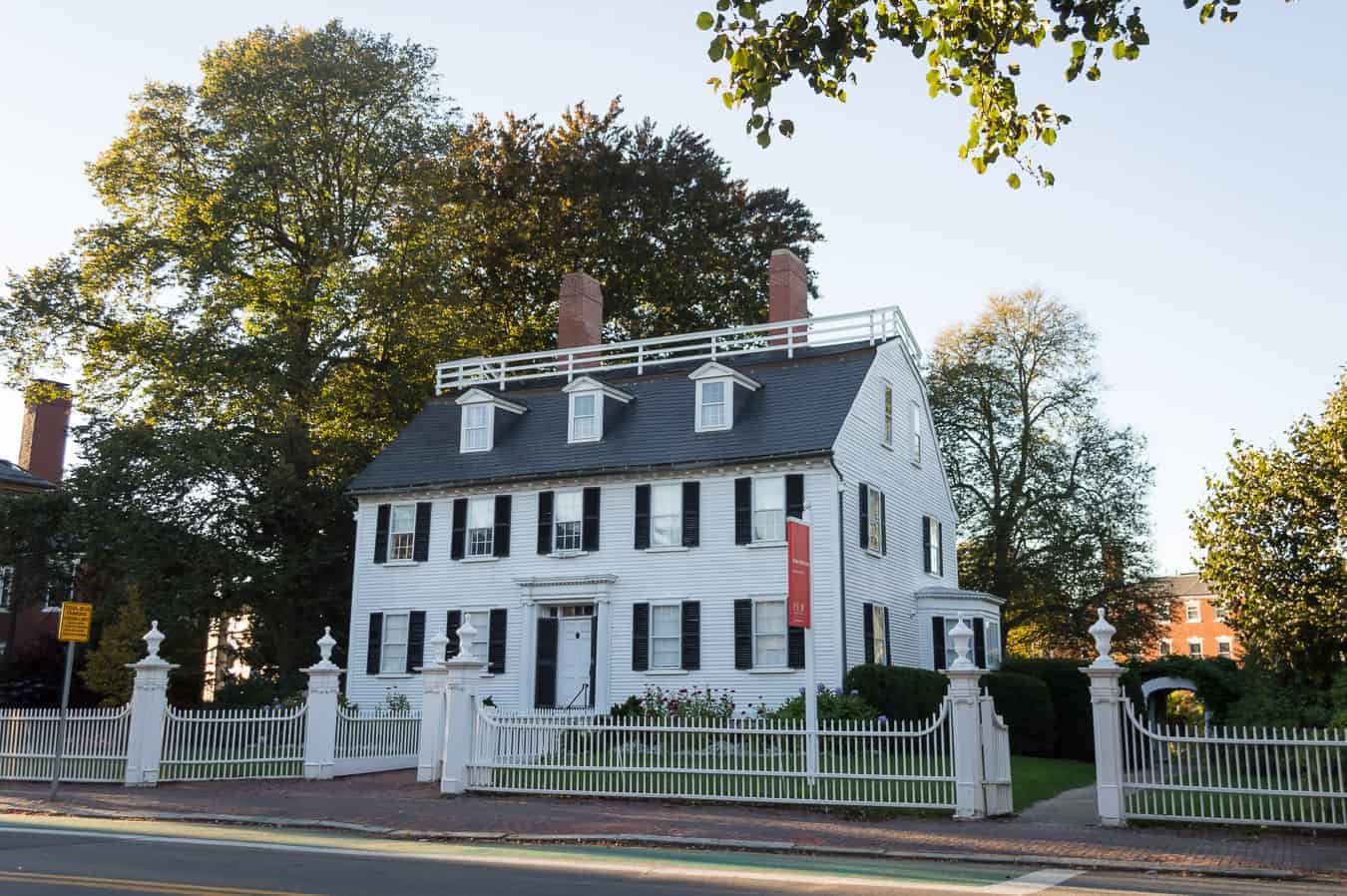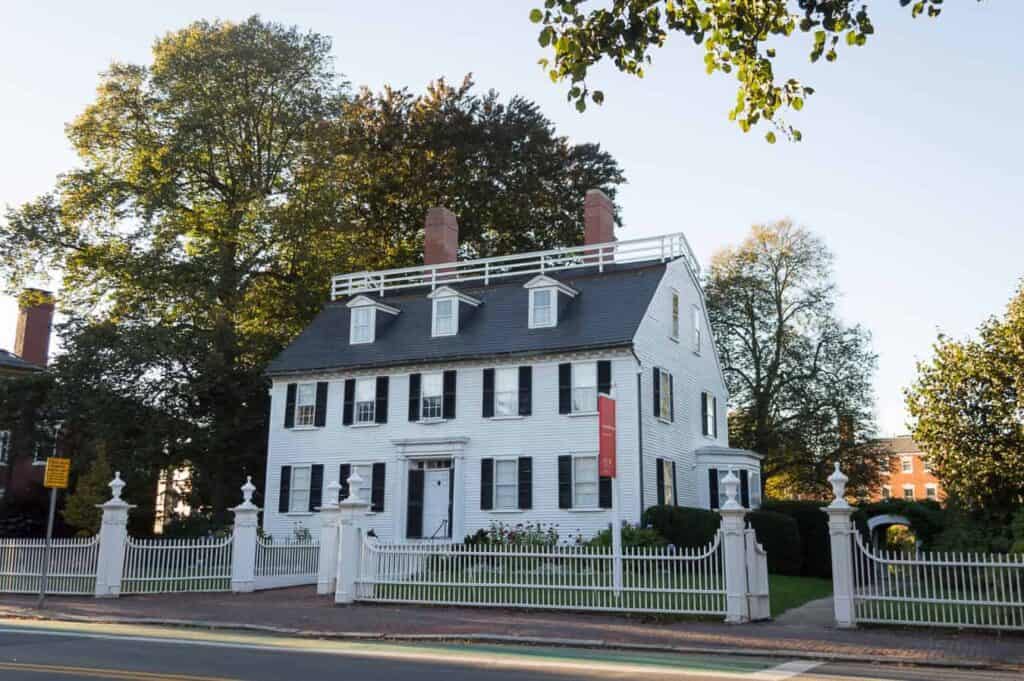 Salem remains a hotspot for all intrigued by its infamous past, but there's more to explore here than just historical drama on its hallowed streets. Of course, there are a lot of activities around Halloween, including ghost tours and checking out all the locations that Hocus Pocus filmed in town, but all year round you can find interesting museums, novelty shops, reputedly haunted inns, and psychic encounters that will let you get a bit of a taste of the occult yourself. Salem's motto is "Still making history," and when you spend your weekend getaway sampling the tastiest restaurants and staying in the coolest Airbnbs and inns, you'll see how that's true!
Make memories in Manchester, VT
Nestled in the Green Mountains, Manchester is one of Southern Vermont's most picturesque villages.Manchester offers something for every kind of visitor:
Are you looking for outdoor adventure? Hike in the Equinox Preservation Trust or make the trek out to Lye Brook Falls and discover one of Southern Vermont's most beautiful waterfalls. Are you looking for something a little more laid-back? Go for a tour of Hildene, the Lincoln Family Home, or take a spin around the Southern Vermont Arts Center. With fabulous restaurants and lodging options, Manchester is an excellent setting for a weekend getaway that will leave you feeling refreshed and ready to go on Monday. Don't forget to check out this list of 15 Terrific Things to Do in Manchester VT (and Nearby!) to plan your perfect Manchester weekend!
Be cool in Cape Cod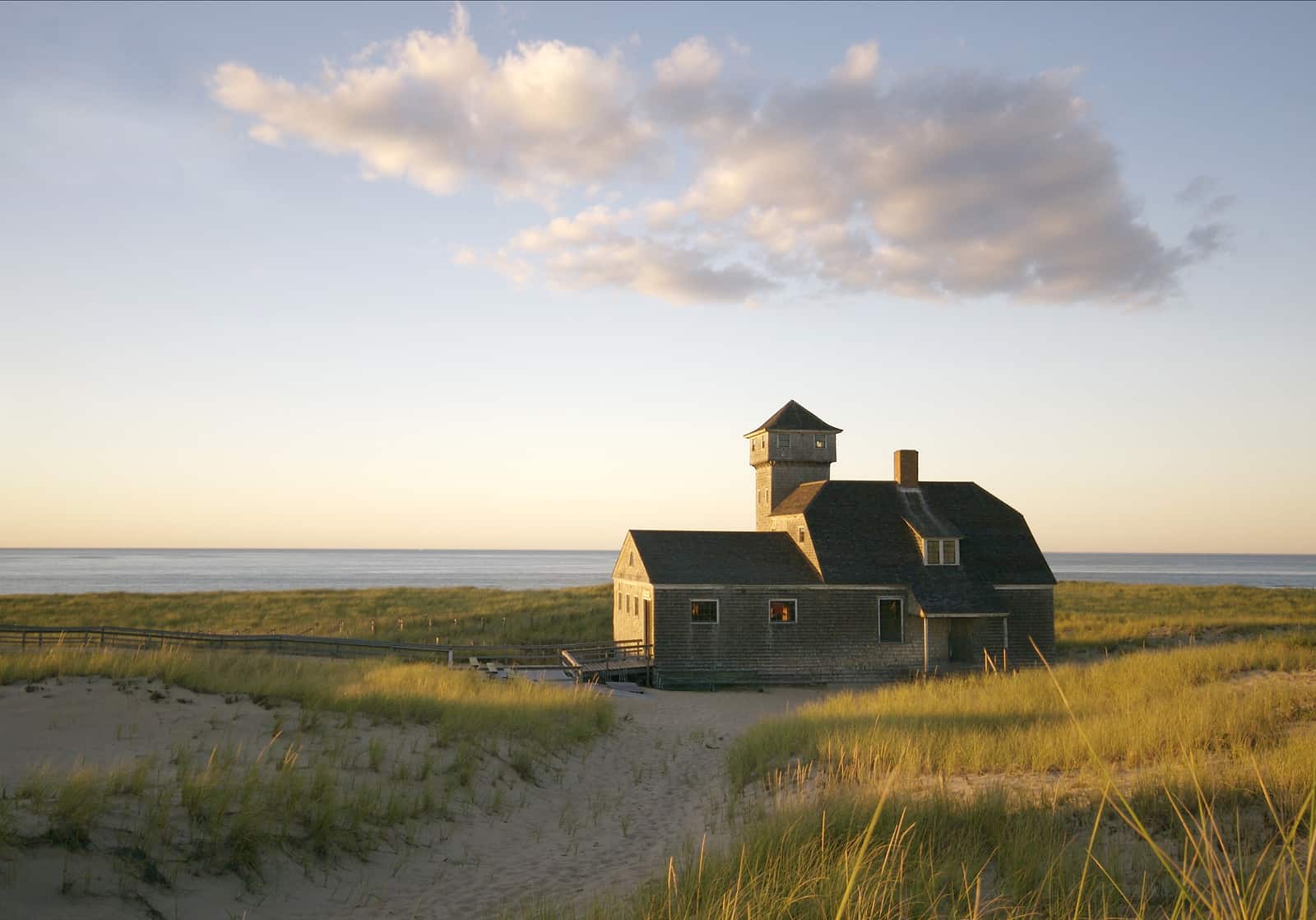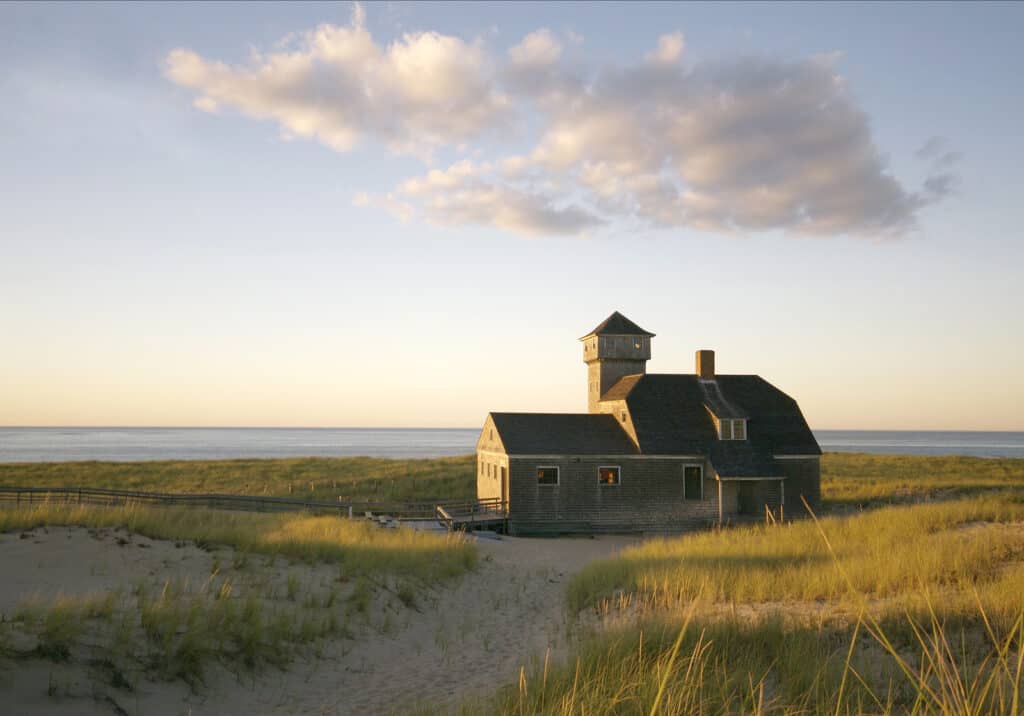 Cape Cod is one of the most spectacular settings in America to take in the beauty of the Atlantic Ocean, and a weekend getaway to this gorgeous destination is nothing short of paradise any time of the year. There is plenty to do on Cape Cod during the cold winter months, but planning your weekend getaway for warmer weather means you can enjoy the beaches while the warm summer sun sparkles on the ocean and the cool Atlantic breeze will be refreshing, not chilling!
With so many fantastic options for dining and lodging, the biggest issue you will find on your weekend getaway from Boston will be narrowing down your choices. If it's romance you're after, however, we have narrowed down 13 Romantic Things to Do in Cape Cod, MA for you!
Slow down on Block Island
Block Island has just about every ingredient to make the perfect weekend island getaway: beaches, bluffs, lighthouses, and all the amenities you could possibly want. Beautiful Block Island is only accessible via boat, plane, or ferry, but that is half the magic! Park your car and bring only your suitcase and expectations for a relaxing and rejuvenating island getaway, unless of course you also would like to bring your special someone for a little romance in Rhode Island, in which case you are certainly coming to the right spot!
With plenty of options for lovely inns, charming B&Bs, and historic hotels, there is no doubt you will find the perfect place to lay your head on Block Island after a long day of enjoying the soft sand beaches, the fabulous eats, art and novelty shops, and the laid back pace of this beautiful island. You should also check out this list of 10 Things to Do on Block Island to plan your perfect island retreat!
Weekend getaways are always an excellent option for decompressing and letting off a little steam. You work hard all week, hope this list helps you choose the best weekend getaway from Boston for you!
---
You might also like:
---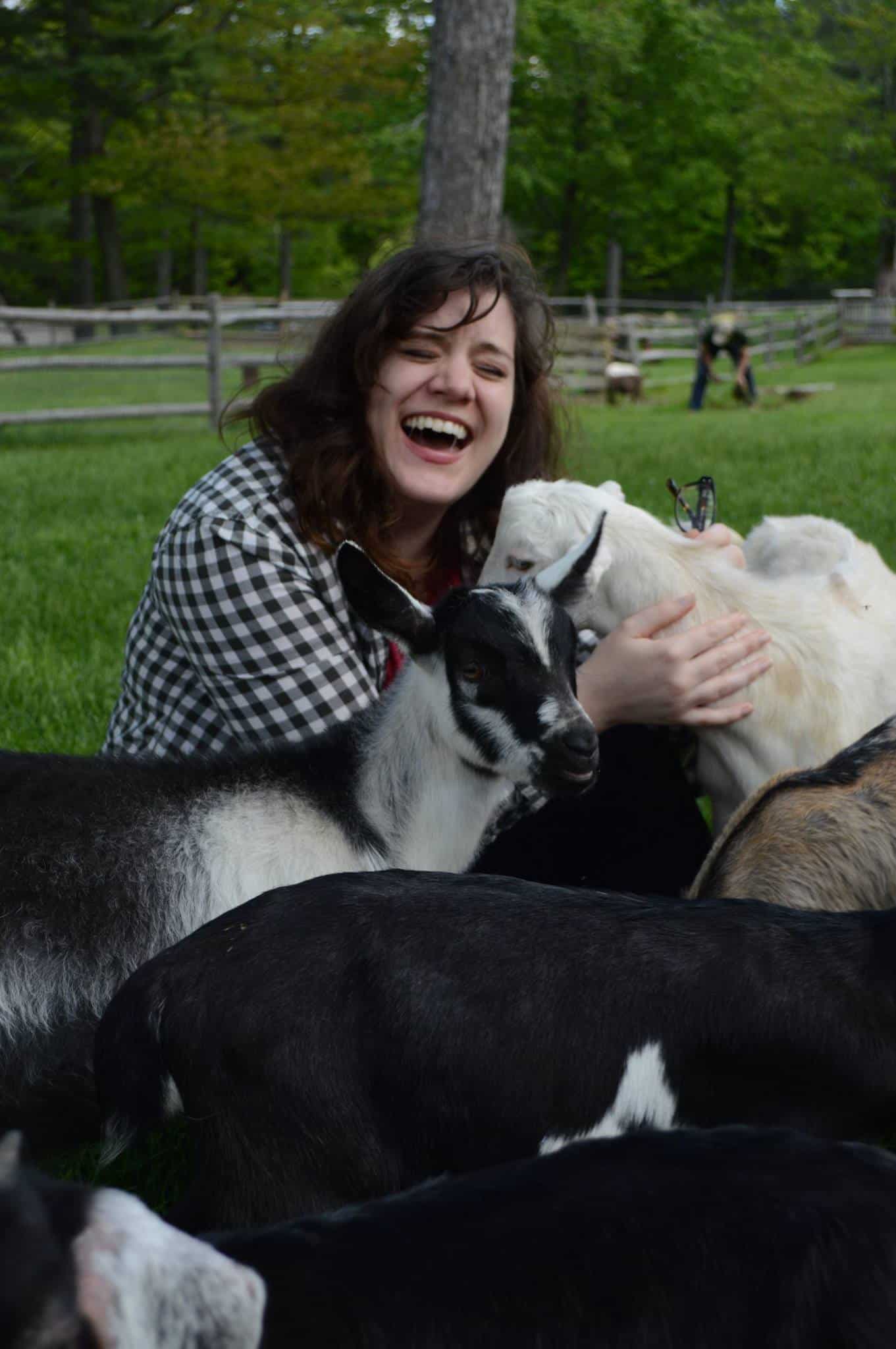 Amy is the founder of New England with love. A proud Vermonter, she hopes to share her love of New England and help you find the best adventures in the region. Amy is also blogger/founder at Two Drifters, where she writes alongside her husband about romantic and couples travel, relationships, honeymoons, and more. When not working on websites, Amy is probably reading, cuddling with her husband and cats, & drinking a maple latte.