Newport, Rhode Island, is a magical getaway located right on the coast in New England. This historic town is filled with great shopping, beaches, and restaurants: activities that no trip to the northeast is complete without!
Plus, Newport is filled with tons of beautiful homes and mansions. You can even stay in some of them for your accommodation; how cool is that? Plus, some of them are reasonably affordable if you're traveling with a larger group of people.
Here are the best Airbnbs in Newport, Rhode Island, for your next trip to the coast!
---
Beach Cottage by Newport with Water View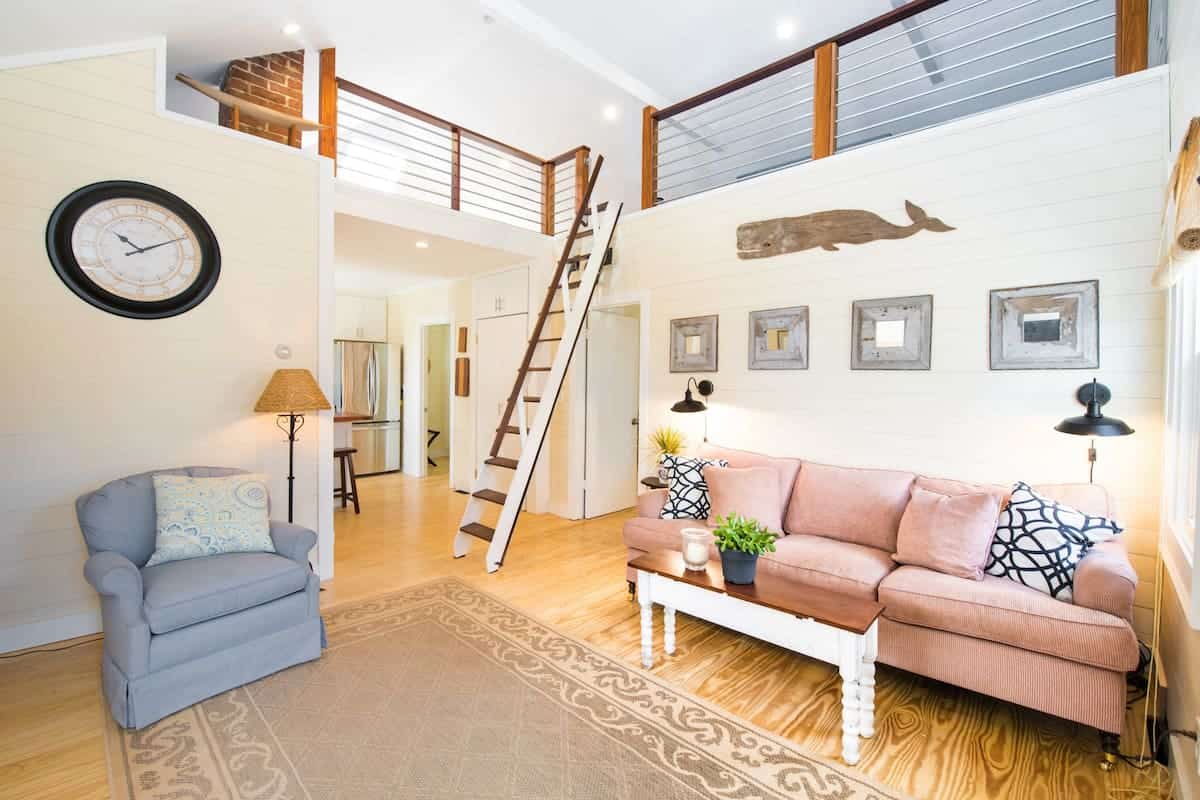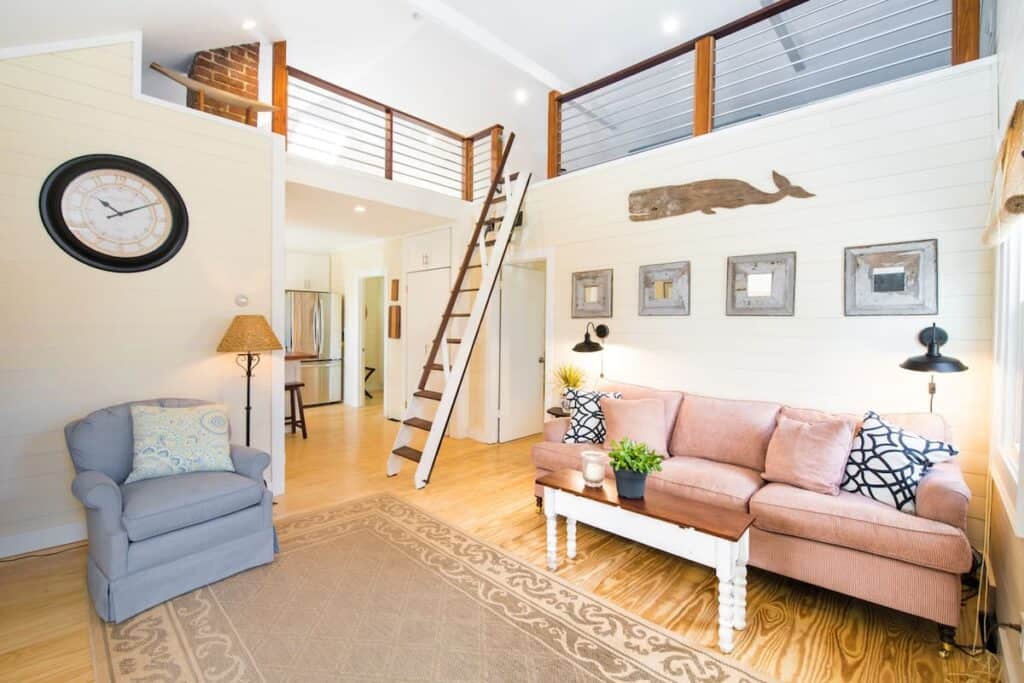 Sometimes for a weekend getaway, you just want to stay in a cottage by the water. Well, in Newport, you can! This cottage can host up to six guests at a time.
Inside, there are two bedrooms, one bathroom, a full kitchen, dining area, and living room. Plus, there's a patio with outdoor furniture and a grill in case you want to hold a BBQ with your friends and family that you're traveling with.
This cozy cottage is decorated to feel just like a home and will make you instantly feel comfortable. There is even fun beachy decor hidden throughout that you might not even notice without looking closely, like the surfboard hanging on the wall in the living room!
Click here to check out the listing and book!
---
Farm on the Coast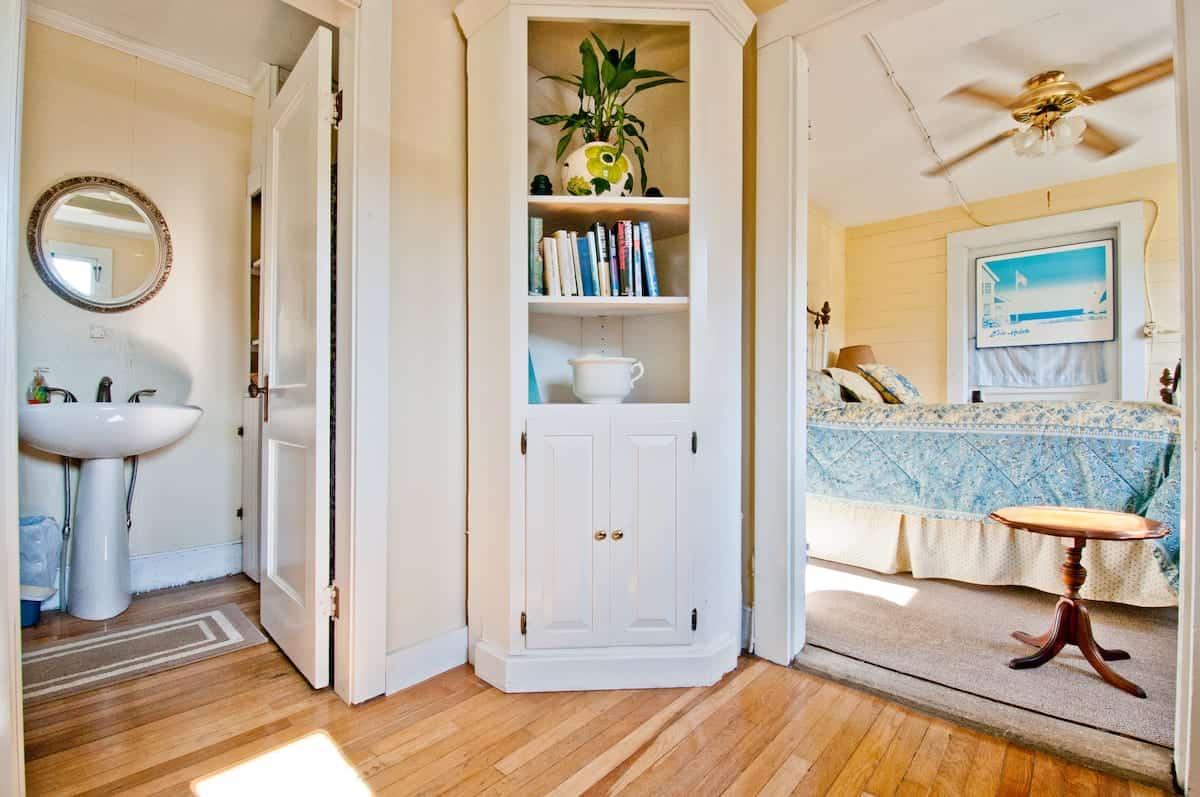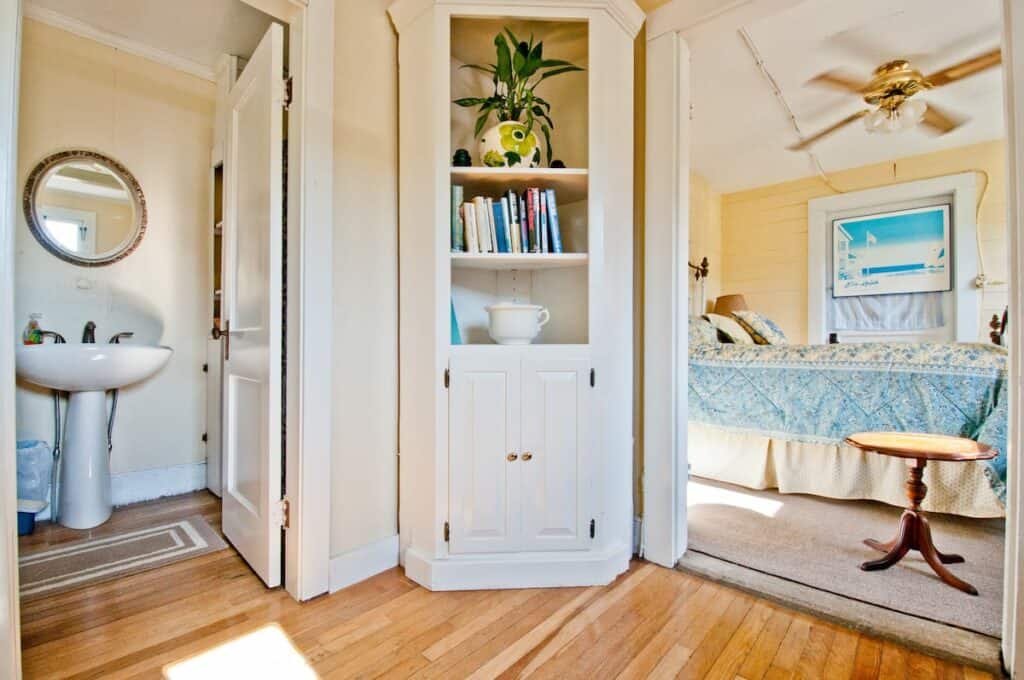 Imagine staying on a farm right near some of the best beaches in Rhode Island! This guest suite is a place where you can do just that, and you'll be able to stay inside a historic barn.
This guest suite is the perfect place for a romantic getaway, as it hosts up to two guests at a time. Inside, there's a bedroom, a full bathroom, and many amenities provided by the host. All guests will have access to beach chairs, boogie boards, coolers, and bikes!
The Airbnb is located in Saunderstown, which is located between Newport and Narragansett, two places that have breathtaking beaches you won't want to miss out on. There is also free parking at the Airbnb for guests.
Click here to check out the listing and book!
---
Historic Home Apartment With Roof Deck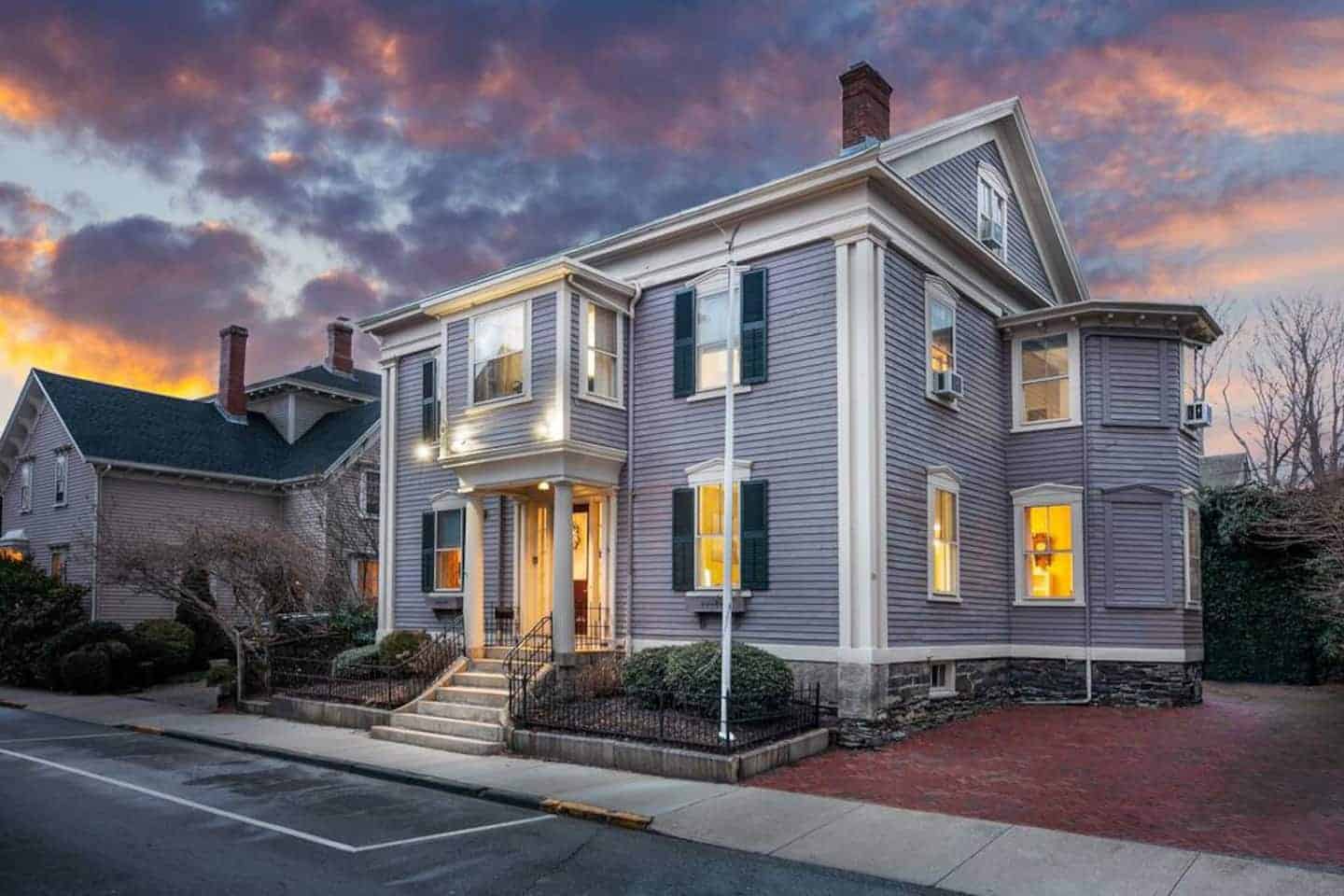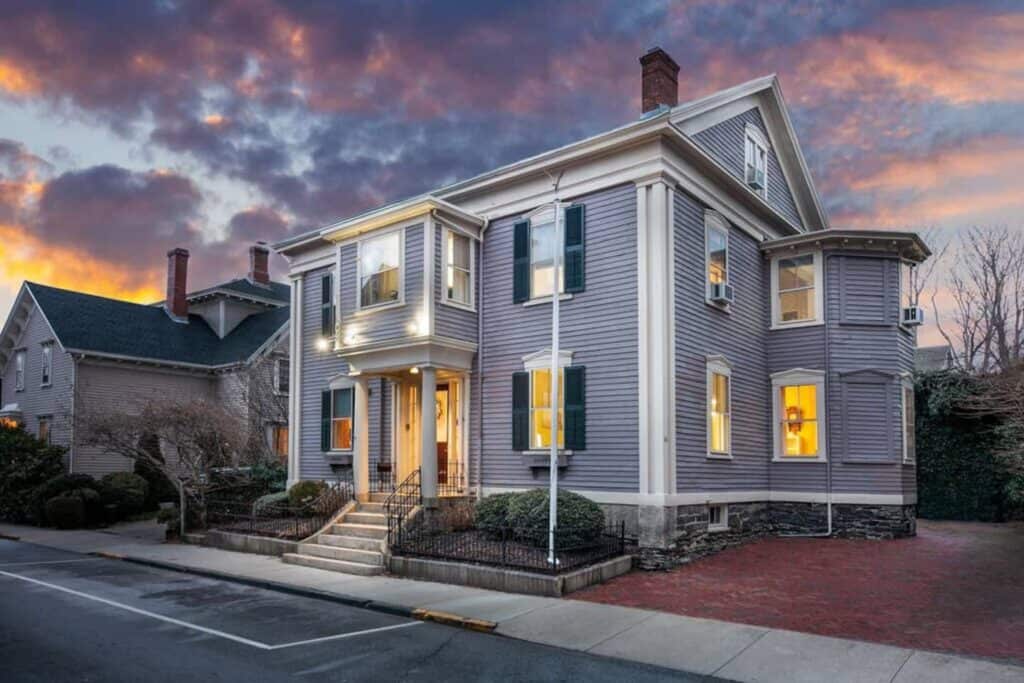 This studio apartment packs a lot in a small space! Located in downtown Newport just a short walk from the beach, this Airbnb can host up to five guests at a time.
The apartment has three beds, a kitchenette, and a bathroom. Plus, you'll have access to a rooftop deck, which only adds to the allure of this superb accommodation, because it's located on the third floor. The host was kind enough to leave outdoor furniture out on the patio so that you can sip your morning cup of coffee while watching the sunrise in Newport!
Click here to check out the listing and book!
---
JEWEL Loft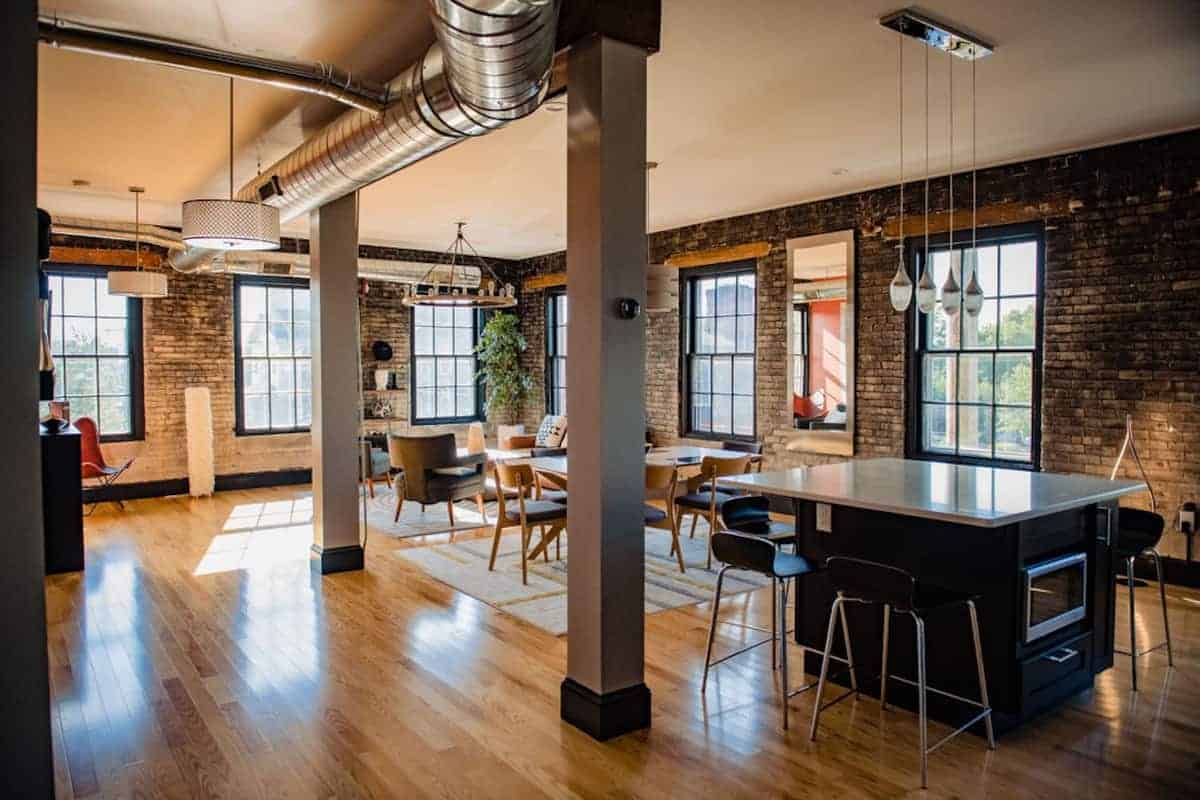 This ultimate modern and stylish brick loft in Newport is an accommodation out of hipster dream. No matter where you look, you'll find something trendy that's perfect for a backdrop on Instagram.
The loft hosts up to six guests at a time and has a full kitchen, dining area, living room, and lots of storage space. Fun accents like Edison bulbs, plants, muted patterns, and exposed brick walls help make this one of the most unique places to stay in Newport.
What makes this apartment even better is that it's located right in downtown Newport. Within minutes, you can walk to tons of great shops and restaurants.
Click here to check out the listing and book!
---
Gorgeous Suite in Designer's Home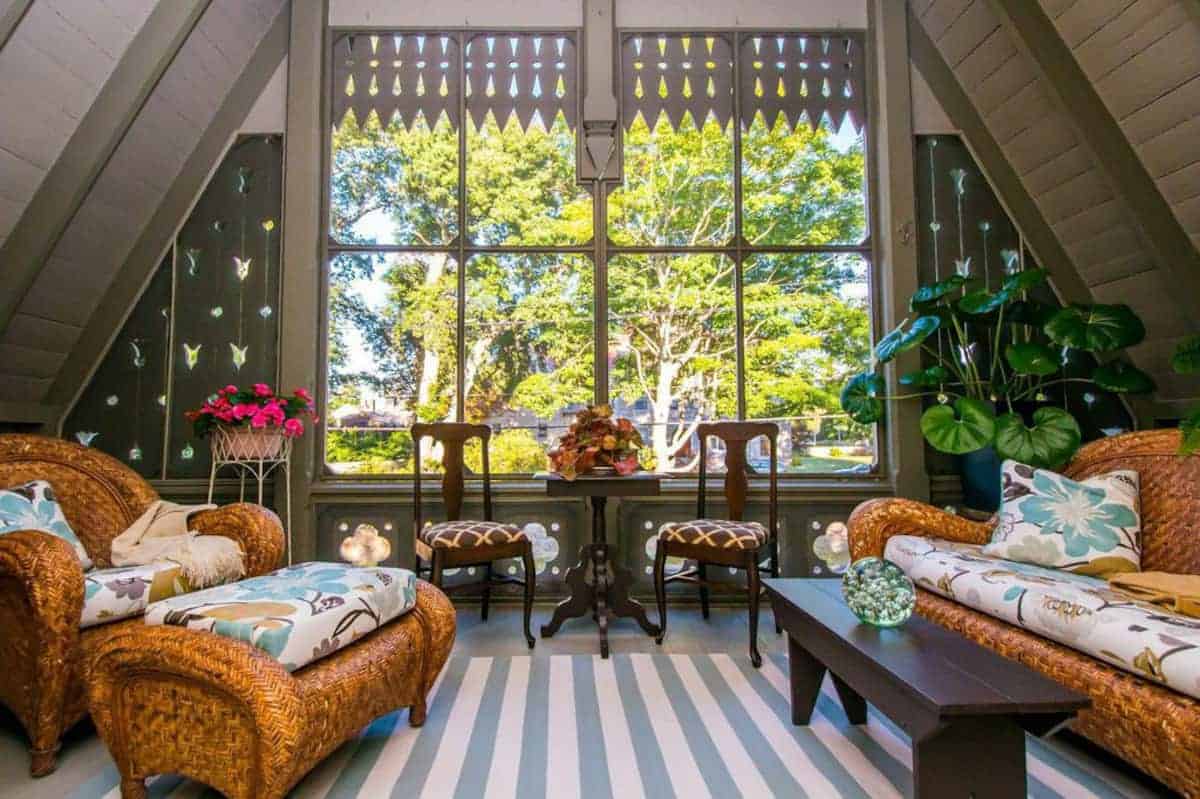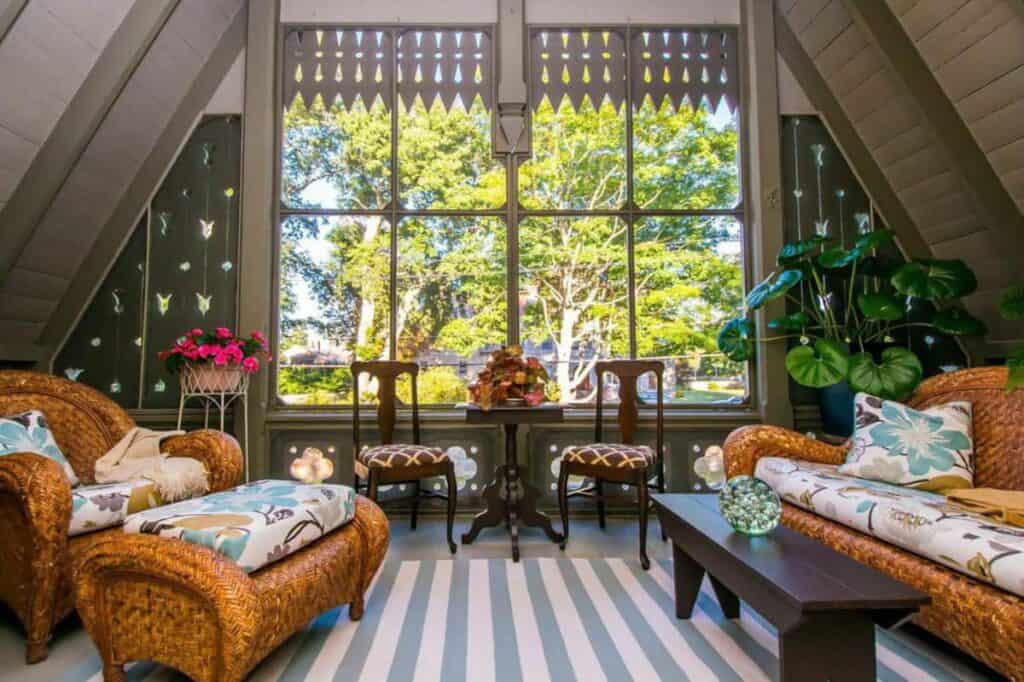 This unique master suite with a queen bed and a private porch is the perfect place to get away for a luxurious couple's retreat! While it can only host two guests at a time, the suite is still fit for royalty.
There are huge windows, lots of plant life, a full kitchen, and a historic tub, which only adds to the accommodation's character. If you are traveling with more people, be sure to contact the host, because they have other rooms available in the house for more guests!
This accommodation is located in a quiet residential area, so even though it's close to downtown, you won't even realize it.
Click here to check out the listing and book!
---
Amazing Location, Beautiful and Spacious Home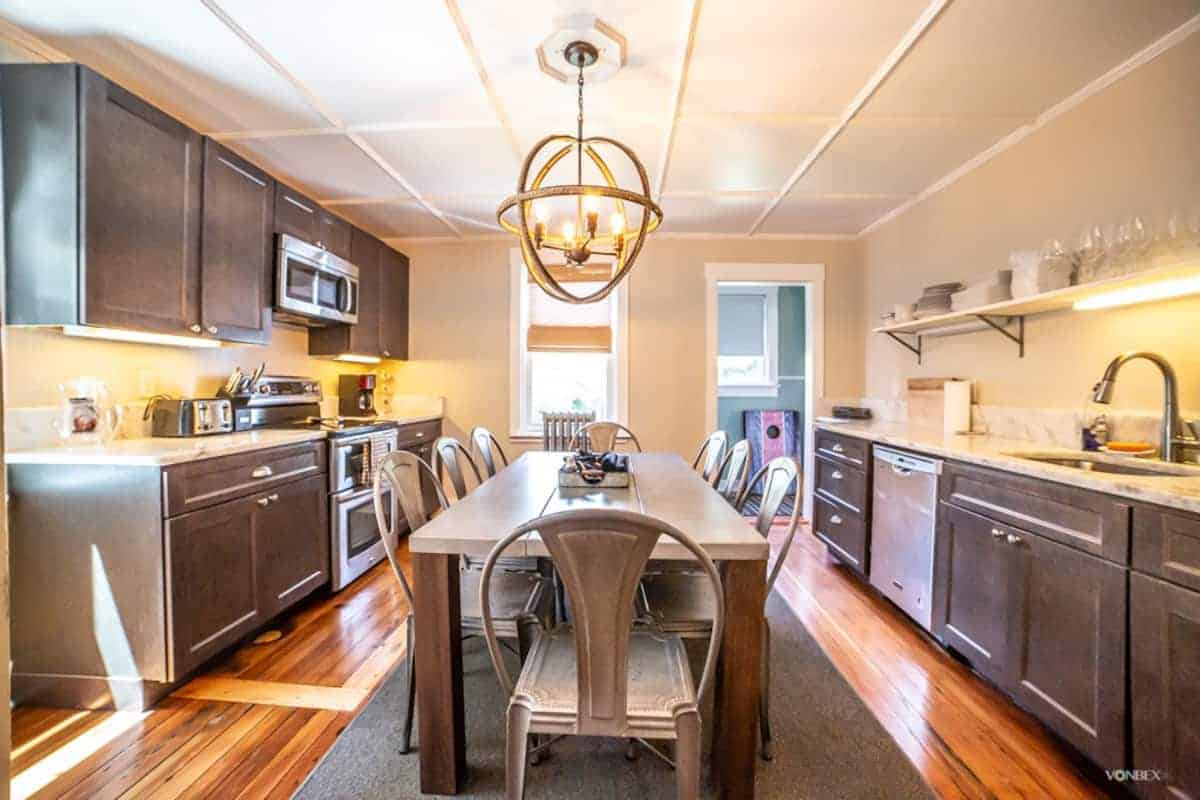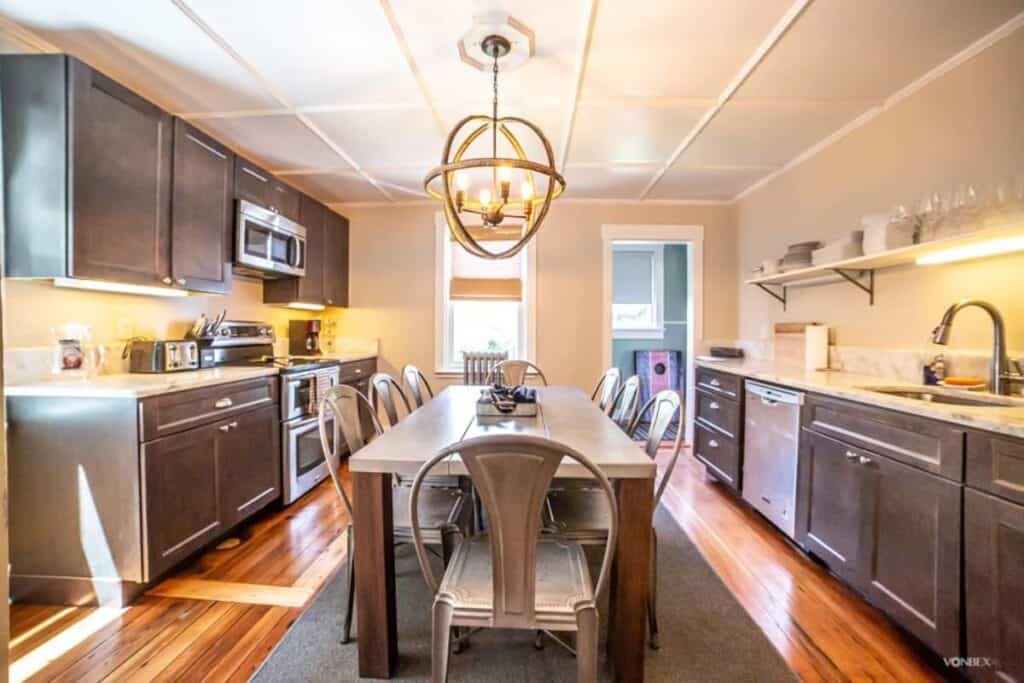 If you're traveling with a big group of people, look no further than this fantastic home in Newport! It can host up to nine guests at a time and features four bedrooms, a huge kitchen and dining area, 2.5 bathrooms, a living room, and a backyard with outdoor furniture so that you can get some fresh air at your accommodation.
Plus, there's even a unique outdoor shed that the guest has turned into a private sitting area, perfect for a family game night!
The accommodation is near Easton Bay and is right next to some of Newport's most popular restaurants, including Winner Winner and Mama Luisa.
Click here to check out the listing and book!
---
Old Beach Road Condo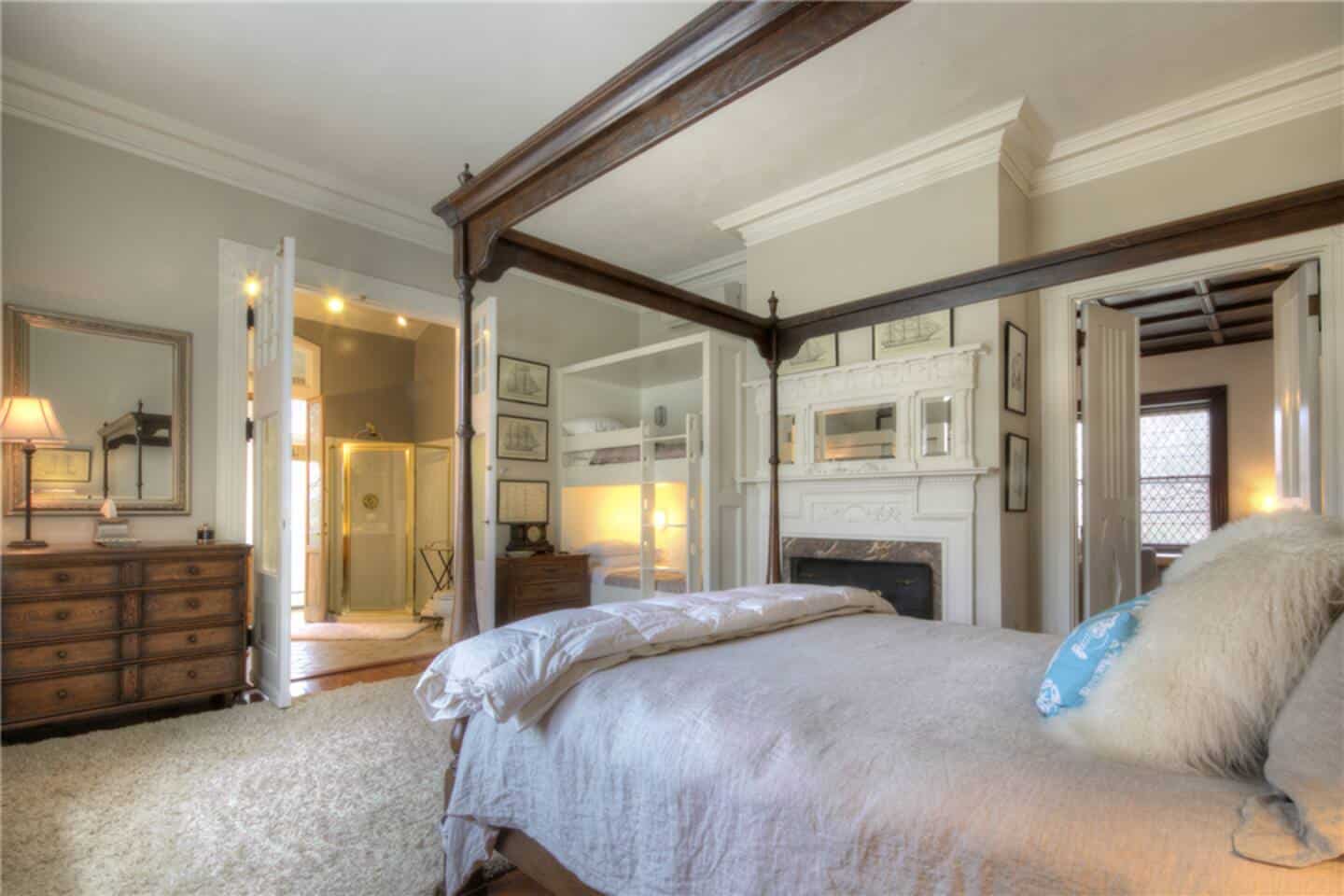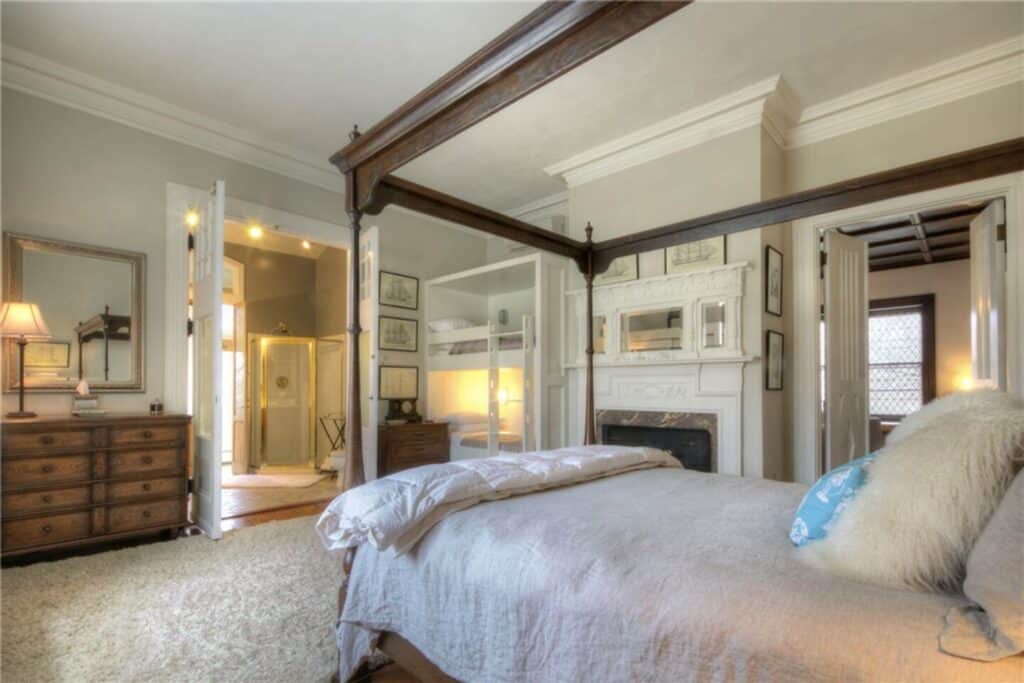 This condo fit for eight is situated inside a historic renovated home. You'll find a washer and dryer, luxurious living room, full kitchen, dining area, two bedrooms, and two bathrooms inside.
Within two blocks, you can get to the breathtaking cliff walk in Newport, which you can take a peaceful jog or walk along in the early morning to catch the sunrise. This accommodation is also near located to some of the most breathtaking mansions in all of Newport.
The interior is very bright yet has decorations fit for royalty.
Click here to check out the listing and book!
---
3 Bedroom Condo with Water Views
Stay in a modern three-bedroom condo with great views of the water in Newport for your vacation! This condo is giant and can host up to eight guests at a time. There's a vast open kitchen and living area, three bedrooms, and three bathrooms.
To lighten up the area, there are skylights throughout. You'll also find four flat-screen TVs and a washer and dryer, in addition to beach chairs and towels if you want to head down to the ocean!
Click here to check out the listing and book!
---
Hopefully, this post has helped you plan your next trip to Newport, Rhode Island! If you've never been before, you should add it to your travel list.
---
You might also like:
---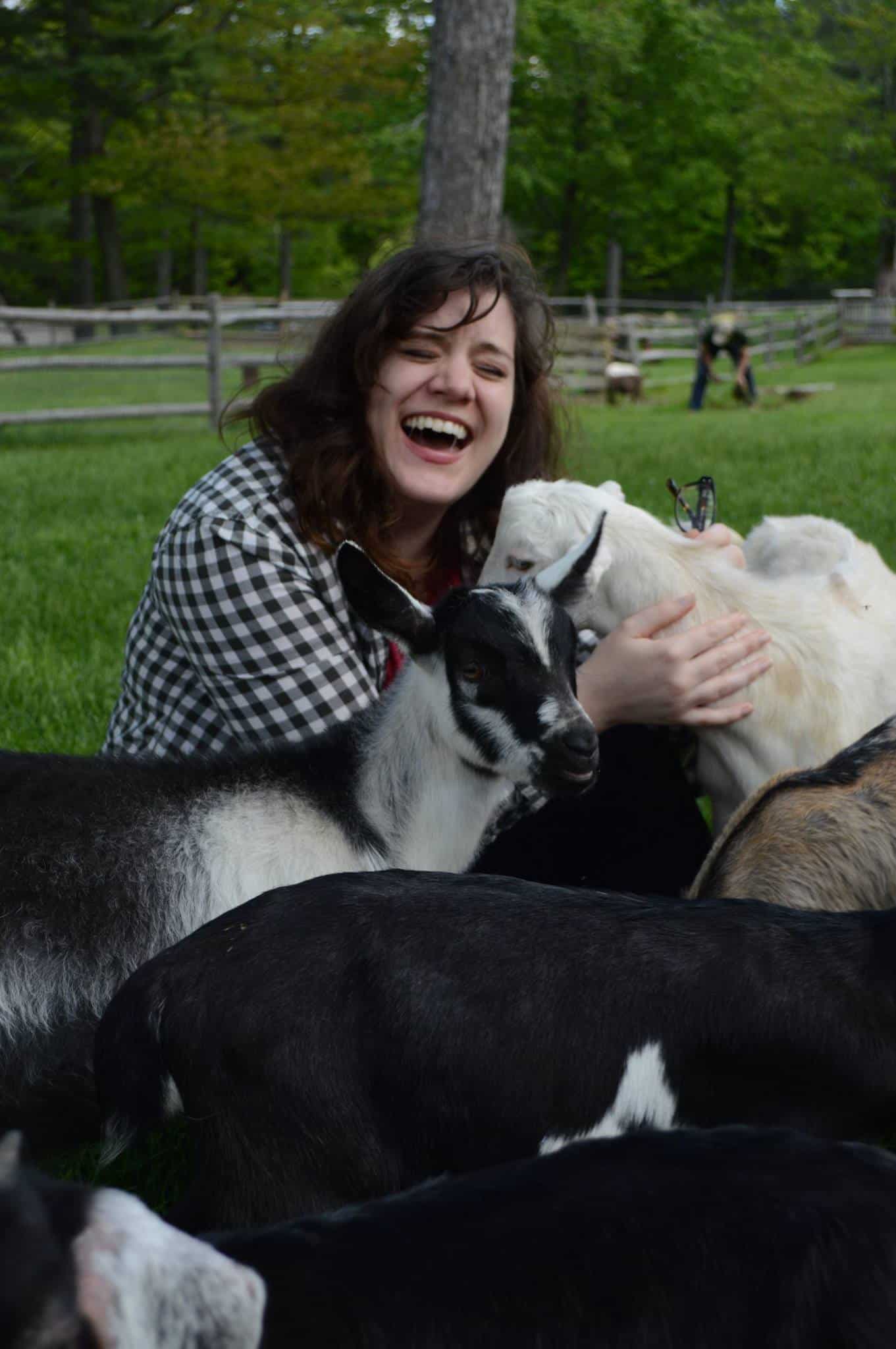 Amy Hartle is the founder and Editor-in-Chief of New England With Love, a comprehensive resource for travel in the New England region. Amy has been exploring New England since 2001. She lived in Vermont for many years and is a graduate of Plymouth State University in New Hampshire. Amy has been writing about travel for over a decade. On this site, Amy aims to share her love of New England and help you to have the best possible adventures!
Amy has been a full time blogger since 2012, and is also the publisher of Two Drifters, where she writes about couples travel and relationships, as well as Let's Adventure Baby, a family travel site. When not traveling the world or creating epic blog content, Amy can be found cuddling with her husband, son, and cats, & drinking a maple latte.