Good morning! Looking for where to go for breakfast in Providence RI? Whether you're looking for the perfect place to enjoy a Bloody Mary with your brunch or you're looking for a quick yet delicious breakfast on the go, there are so many great options for breakfast and brunch in Providence Rhode Island!
Blu Violet
Strictly a brunch option in Providence, Blu Violet on Dorrance is a good one! This restaurant features floor to ceiling windows on their roof location, so views with brunch are standard. The brunch menu is only offered on the weekends 11am-3pm, but if you can swing it, you definitely should!
With an incredible cocktail menu and brunch offerings that include items like Tiramisu Stuffed French Toast and Lobster Jambalaya, Blu Violet is the place to go for Sunday brunch in Providence. PS, they have a DJ, too!
Ellie's
Looking for a Providence restaurant that serves breakfast all day? Wednesday through Sunday, 8am-3pm, Ellie's does! This Weybosset Street cafe offers indoor and patio dining and an all over Parisian cafe feel.
Offering inventive breakfast combos like their Cranberry Lemon Cheesecake Croissant featuring cranberry jam and lemon cheesecake cream stuffed inside their flaky croissant, and their Avocado Toast with watermelon radish, candied jalapeno, lime, and cilantro on sourdough, the breakfast menu at Ellie's isn't large, but what it does offer is done spectacularly well!
Massimo Ristorante
One of the best Providence restaurants for brunch, lunch, and dinner, Massimo Ristorante on Atwells Ave offers inventive New England brunch options like Lobster Crepes featuring lobster and mushrooms with sherry shallot cream, creme fraiche, and mascarpone. If it's less savory and more sweet you're after, consider the Bombolini, their Italian hole-less potato doughnut stuffed with vanilla cream and Nutella… yum!
They also have a great selection of gluten-free options, so if you're looking for a gluten-free menu in Providence, Massimo Ristorante does an excellent job of providing one! Oh, and their cocktail selection is pretty stellar too, so if you're looking for a brunch with a great cocktail menu, there ya go!
The Classic
The Classic on Westminster serves up a retro vibe along with their classic diner style breakfast platters, with crowd favorites like the Kitchen Sink 3 egg omelet, featuring all the breakfast goodies stuffed inside, and the Hashita, their corned beef hash fajita platter featuring a grilled hash with cheddar cheese, onions, tomatoes, poached eggs, and The Classic's signature fajita sauce served on top of homefries with warm tortillas on the side.
If you're looking for a great breakfast diner in Providence RI, The Classic has got to be at the top of your list. Open from 8am-2pm 7 days a week, it's always a great choice for breakfast in PVD!
Julian's
If you're looking for great vegan breakfast options in Providence, head to Julian's in Federal Hill, because they have excellent vegan breakfast plates, like their Vegan French Toast and their Vegan St. Jamez Eggs Benedict with fried tofu, vegan hollandaise, and a garlicky baby spinach… yum!
Julian's opens at 9am throughout the week to serve up a hot Providence breakfast, and their brunch cocktails include their popular "There's Always Money in The Banana Stand" cocktail, featuring a walnut infused rye whiskey, Baileys, coffee, Giffard Bana Du Bresil, and chocolate syrup…. How absolutely delectable does that sound as an accompaniment to your Julian's breakfast???
Brickway on Wickendon
This popular Providence breakfast spot is open from 8am-2pm with breakfast served all day! So if it's noon and you've got a craving for breakfast foods in Providence, Brickway on Wickendon has your back.
This Providence restaurant has some fantastic breakfast offerings, like their 3 egg Eau Claire omelette featuring Cheddar and Brie with tomato, basil, and parmesan cheese, or their Lemon Blueberry French Toast featuring lemon yogurt and fresh blueberries. With indoor and outdoor dining, there's always a spot at Brickway on Wickendon for you!
Kin Southern Table
In the mood for a little soul food for your Sunday brunch? Kin Southern Table is the go to in Providence for brunch with a soul food twist! They open early at 11 on Sundays for their famous brunch offerings like their Chicken n' Waffles, Shrimp & Grits, and their crowd favorite Crispy Chicken Wings, available plain or with BBQ or Honey Garlic sauce. Word on the street is that the wings are a must try.
You can even go bottle service on the Mimosas and add guava or passionfruit to your breakfast cocktail, or try out one of their other brunch cocktails like the Auntie's Cold Brew, featuring cold brew coffee, coconut bacardi, Bailey's, Kahlua, and a whipped cream garnish. The vibe at Kin is laid back and filled with soul, so head to this Providence restaurant at the corner of Washington and Union street the next time you're looking for Sunday brunch with a little soul!
Small Point Cafe
Looking for a quick breakfast in Providence that doesn't skimp on quality for convenience? Yup, that's Small Point Cafe on Westminster. The menu has a pretty solid selection of breakfast sandwiches, bagel and toast options, and all kinds of baked breakfast goods that make for a quick and easy breakfast in Providence.
The inside of Small Point Cafe is bright and airy with exposed brick on the walls, offering a modern, relaxed cafe feel, so if you decide to eat your Sausage and Cheddar Quiche and drink your chai tea latte onsite, you'll be as comfy as can be, but if you need to grab your breakfast and go? That's easy to do at Small Point Cafe, too.
Amy's Place
Wednesday through Sunday, 8am-2pm, Amy's Place on Wickendon is serving up some of the best breakfast in Providence RI! House Specialties include Amy's Vermonster breakfast sandwich with scrambled eggs, cheese, sausage, hash browns and maple aioli on a grilled wrap, and The Hangover, a hearty bacon, egg, heese, spinach and onion sandwich with guac and hot sauce on a bolo.
Amy's also serves up coffees, teas, and all the other usual breakfast beverages, but the smoothies are the real popular drink option, with options like the Hellabomb, featuring pineapple, banana, raspberry, guava juice, and coconut milk, or the Eastsider with banana, strawberry, granola and soy milk. Amy's Place is always a solid breakfast in Providence option!
Nick's on Broadway
If you're looking for a great Providence brunch place, Nick's on Broadway has got to be in the running. Brunch is served from 10-4, so there's no rush getting out the door for their brunch offerings, either, and you can dine indoors or on their lovely patio space.
Popular brunch plates at Nicks on Broadway include the Honey Chili Chicken Biscuit with Glazed chicken, egg, cheddar and chipotle sauce served on a house biscuit, or the Berry Pancakes featuring local berrries, granola crumble, rhubarb compote, and a fresh whipped cream… yum!
You've got some great options when it comes to where to go for breakfast in Providence RI; hope you find something to scratch the breakfast itch on this list!
You might also like: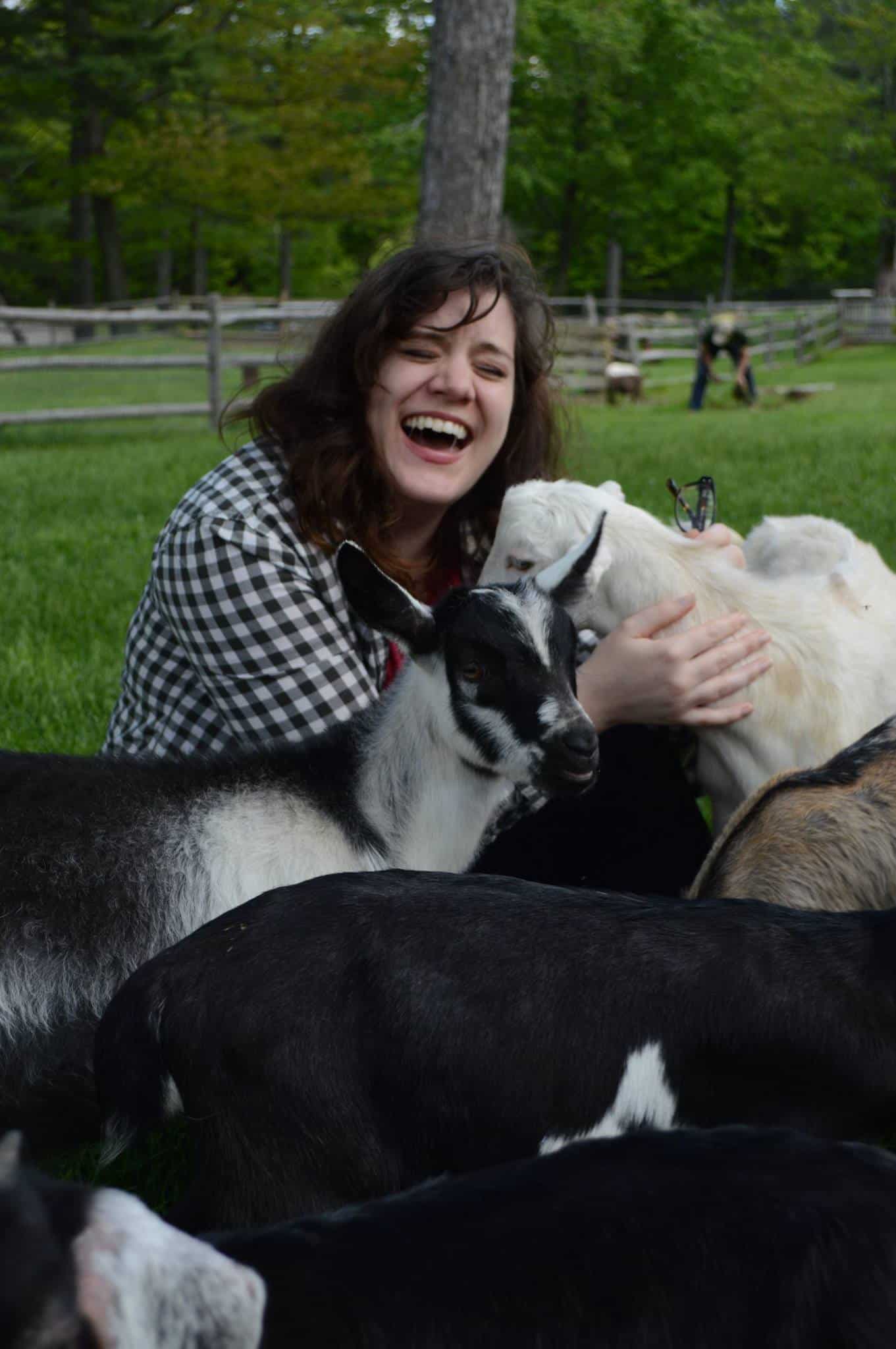 Amy Hartle is the founder and Editor-in-Chief of New England With Love, a comprehensive resource for travel in the New England region. Amy has been exploring New England since 2001. She lived in Vermont for many years and is a graduate of Plymouth State University in New Hampshire. Amy has been writing about travel for over a decade. On this site, Amy aims to share her love of New England and help you to have the best possible adventures!
Amy has been a full time blogger since 2012, and is also the publisher of Two Drifters, where she writes about couples travel and relationships, as well as Let's Adventure Baby, a family travel site. When not traveling the world or creating epic blog content, Amy can be found cuddling with her husband, son, and cats, & drinking a maple latte.