---
*Links in this article may be affiliate links, from which we may earn commission. See our
Privacy Policy
for full details.
---
Fall in Rhode Island is absolutely unparalleled. As you probably already know, New England is known for its incredible fall foliage, which is only visible for a few short weeks or so throughout the northeast states.
You can go on an epic ghost tour, pick the perfect pumpkin from a local farm's pumpkin patch, or even go on a road trip through the state to check out all of the fall foliage. No matter what you choose to do, fall in Rhode Island will genuinely knock your socks off (it's one of the best times to visit RI)!
Here are some of the best things to do during autumn in Rhode Island for your next trip to the state.
Go on a ghost tour
Yes, there are ghost tours in this state, one of the spookiest things to do during fall in Rhode Island!
The most popular ghost tour here is the Providence Ghost Tour, which is in no other than Providence, Rhode Island. Their tour here is only about 1.5 hours, and tickets start at about $25. The tour will bring you (by lantern) through some of the ghostly horrors of the city.
If you're not visiting Providence, you could also consider checking out the Ghosts of Newport Tour. This is another nighttime tour by lantern light that will bring you through the streets so that you can learn all about the creepy history of the place. Tickets for this tour start at only $20, making it a super affordable way to spend the evening.
Pick the perfect pumpkin
Rhode Island is filled with fantastic pumpkin patches strewn all across the state, so honestly, you could go to any of them and find the perfect pumpkin. After you find one, bring it home to carve it into a spooky jack o lantern to put on your stoop! You could also bake it into an amazing pumpkin pie.
If you're looking for some recommendations, consider checking out Dame Farm & Orchards, one of the best pumpkin patches in Rhode Island. They have great views, and the area is pretty picturesque. This farm is located right in Johnston.
Another amazing pumpkin patch for fall in Rhode Island is Manfredi Farms. It's located in Westerly and has a lot more than just a pumpkin patch; they also do great hayrides, which you won't want to miss out on. Don't forget to stop at one of the restaurants in Westerly while you're there!
Explore via a foliage cruise
I know what you're thinking… what the heck is a foliage cruise? Well, it's basically just a cruise that occurs during fall in Rhode Island, so guests can check out all of the amazing foliage in the area. It's not really any different from your average boat tour, except it occurs during the fall!
A great company to consider taking a tour through is Rhode Island Bay Cruises which goes along Narragansett Bay and Newport Harbor. Other options include Gansett Cruises and Classic Cruises of Newport. Do a sunset foliage cruise for an unforgettable experience!
Discover the beauty of Block Island
For some amazing fall foliage, head to Block Island, located right off the coast of Rhode Island. It's most well known for being home to the North Lighthouse, great beaches, and the Block Island National Wildlife Refuge.
A trip to Block Island is unparalleled in fall because of all the amazing colors. Even just sitting near the beach and enjoying the breeze while gazing at the nearby trees will genuinely take your breath away.
To get to Block Island, you have to head to Point Judith and take a ferry. That's the easiest way, at least. You can also get there from some other nearby ports if needed.
Attend the Autumn Leaves Music Series
Held at Bowen's Wharf in Newport, Autumn Leaves Music Series is a great thing to attend during fall in Rhode Island if you are looking for something to do. This fun event, just like the name suggests, is filled with great live music right along the wharf.
In addition to the live music, you can enjoy tasty food, shopping, and more. Plus, since it is right near the water, the weather is guaranteed to be impeccable. The dates usually aren't released until early fall, so you'll want to check out their online schedule to see when the official series will be held.
Visit an orchard and pick apples
One of the best things to do during fall in Rhode Island is to head to one of the nearby orchards and go apple picking! Who doesn't love picking apples? No matter where in Rhode Island you're traveling to, you'll most likely be able to find an orchard somewhere nearby.
The most popular orchard in Rhode Island by far is Steere Orchard in Greenville. They have pick your own apples between August and October. If you don't have time to necessarily pick your own, you can also just stop by the farm stand to grab some to take home with you.
Try to escape Escobar's Corn Maze
What would fall in Rhode Island be without some corn maze fun? The best corn maze in all of Rhode Island is the one at Escobar Farm. It's located in Portsmouth and has limited opening hours, but trust me, you'll want to visit this place.
There is a small $10 fee per person for admission, but children under the age of 4 are free. The corn maze is usually designed in a super fun way every year, so you'll have to ask someone who works there what the design is for the time that you're visiting.
Throughout the season, Escobar's hosts different events, too. There's usually a Harry Potter Day (where you can get a discount for dressing like someone from the series!) and even a costume party day. How fun is that?
Road trip through the state
To really take in the incredible fall foliage that Rhode Island offers, consider going on a road trip through the state. Ones right along the coast are usually the best because you can take in the epic coastline in addition to the fall colors.
For a great ride, consider riding from Westerly all the way to Providence. Stop along the way at places like Bristol, Jamestown, and Newport. The fun thing about a road trip is that you really don't have to have much of a plan, as long as you make it to wherever you're staying each night!
One place you absolutely won't want to miss on a road trip, though, is Narragansett. It's home to a great beach and is usually filled with many people, making it a more popular place to visit.
Attend Jack O Lantern Spectacular
The Jack O Lantern Spectacular is one event that nobody should miss during fall in Rhode Island. Even locals attend this one, especially if they have younger kids at home! It's hosted at Roger Williams Park Zoo and is usually held for the entire month of October, so plan your trip wisely.
At this event, guests walk through all of the incredible jack o lanterns that are set up all over the zoo. While walking, epic music is usually playing too, which is so much fun! Each of the pumpkins is typically a lot more intricate than your average carved pumpkin, too.
If you're up for a bit of an adrenaline rush, you could even consider taking a ride on the zipline ride at the zoo. It will give you a unique experience because you'll be able to see everything from above at a completely different angle that most people won't get to see!
Hike to take in the scenery
Last but not least, one of the absolute top things to do during fall in Rhode Island is to go on one of the state's incredible hikes.
The top-rated hike in the entire state is the Cliff Walk in Newport. This moderate-level hike is about seven miles long, but it only takes approximately three hours. That may sound like a lot, but there's not much elevation gain, and the majority of the path is entirely flat and paved, making it a smooth walk.
For a more leisurely hike, head to do the Carr's Pond and Tarbox Pond hike. It takes less than two hours to do the hike, and it's only about four miles long. You'll hike around the ponds as you take in the view and enjoy the incredible fall foliage, which you're lucky enough to witness.
If you want to go on a hike that goes straight through the forest, then consider doing the Stepstone Falls via Ben Utter Trail. It's just under three miles long, and it's out and back, so you'll hike back on the same trail you walk out on. The main star of the show for this trail is a beautiful waterfall that you won't want to miss.
Even if you don't do one of these suggested trails, you'll genuinely have a blast doing any type of hike in Rhode Island.
While other seasons in Rhode Island are incredible, fall is unparalleled. Take a visit to the state to enjoy all that it offers while enjoying the fall foliage! Which fun activity from this list would you most want to participate in?
---
You might also like:
---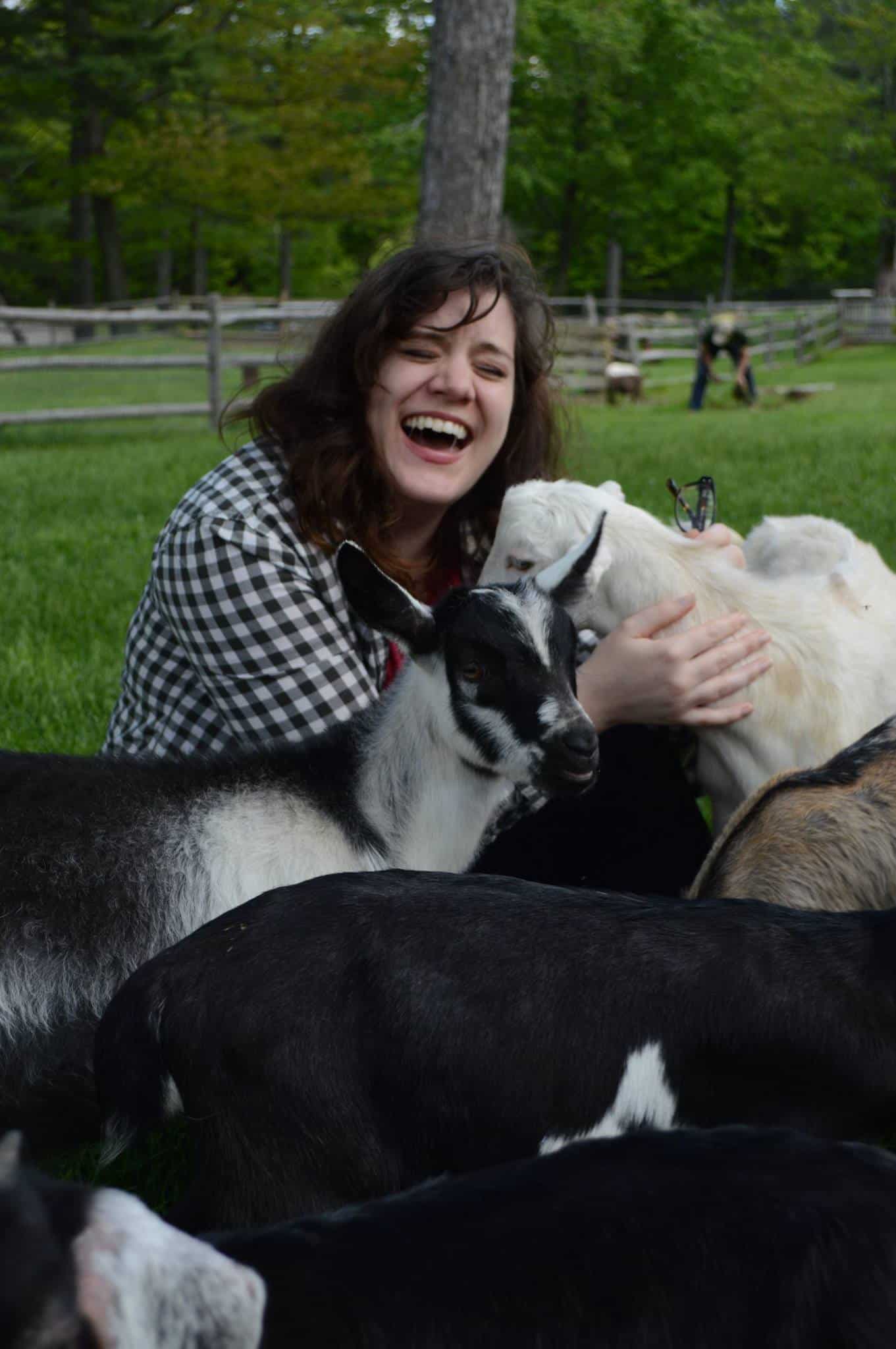 Amy is the founder of New England with love. A proud Vermonter, she hopes to share her love of New England and help you find the best adventures in the region. Amy is also blogger/founder at Two Drifters, where she writes alongside her husband about romantic and couples travel, relationships, honeymoons, and more. When not working on websites, Amy is probably reading, cuddling with her husband, son, and cats, & drinking a maple latte.