Located off the coast of Rhode Island (and not that far from Montauk, New York), Block Island is a must-visit destination for anyone visiting New England. This beautiful island is known for its great summer activities, including biking, fishing, and of course, swimming. While having fun, though, you're sure to get hungry, so you'll want to check out the best restaurants on Block Island!
This post will cover all of the top restaurants on the island that you won't want to miss. Because it's an island, there are fewer restaurants, which makes it even harder to decide which restaurants are worth eating at. Whether you're craving oysters or pizza, this post has it all.
Here are all of the can't-miss drool-worthy restaurants on Block Island!
Poor People's Pub
Location: 33 Ocean Ave, Block Island, RI 02807
First up is Poor People's Pub, one of the best places to eat on Block Island. This is an excellent restaurant if you're looking for something classic. You can't go wrong by dining here with a casual atmosphere, welcoming entrance, and traditional food.
Poor People's Pub is in a great location, right near the Old Harbor Block Island Ferry. There's great outdoor seating either in the sun or on the porch under the shade. If you're visiting Block Island with your dog, you can even let them sit with you at any of the outdoor dining spots.
Prices at Poor People's Pub has mid-ranged prices for food. The menu includes everything from chicken and waffle nachos (yes, you read that right) to salads, soups, sandwiches, and more. Plus, there's a great kid menu as well, with smaller portions and even more affordable pricing.
Club Soda
Location: 35 Connecticut Ave. Block Island, RI 02807
Club Soda is a great and lively restaurant with affordable pricing on Block Island! This restaurant is open seasonally from April to October, which is the most popular time that people visit the island. It's definitely a restaurant better for adults visiting the island, ad it's not your classic restaurant by any means.
What makes this restaurant even better is that on the floor is a bunch of sand. You'll truly feel like you're hanging out at a shack restaurant by the beach! This is more of a late-night restaurant, which is open from around 4:30 p.m. to 1 a.m. every evening except on holidays when hours differ.
Ernies Restaurant
Location: 212 Water St, Block Island, RI 02807
Next up is Ernies Restaurant, which is known for its incredible breakfast and brunch entrees. This is a classic type of restaurant that you think of when you think of a traditional American breakfast. It feels very local and is very much like a diner. It's always pretty busy inside, so expect a wait time if you're visiting during a popular time of year.
On the menu is every type of breakfast that you can think of! There's eggs, sandwiches, fruits, and more. Plus, everything on the menu is very affordable. Nothing costs more than around $10 per entree.
There's both indoor and outdoor seating at the restaurant, so you can easily enjoy the beautiful Block Island weather, which is usually sunny with a breeze! The restaurant is also well known for easily accommodating larger groups.
Block Island Oyster Bar & Grill
Location: 251 Spring Street, Block Island, RI 02807
When you're by the water, you absolutely have to try some fantastic seafood. So, head on over to Block Island Oyster Bar & Grill on Spring Street! If the restaurant seems familiar to you because you've been to Block Island before, that's because it is the sister restaurant to Kimberly's.
Pricing at this restaurant is a bit higher than other restaurants on the island, but that's because they serve top-notch seafood and are known for being an elegant place to dine at. That's why it's such a perfect place to eat for a romantic night out.
The menu is immaculate and is filled with tons of excellent entrees. There are Sicilian littlenecks, sesame seared tuna tacos, and even caramelized sea scallops. Not a fan of seafood but still want to eat here? No worries; there are also dishes like blackened chicken mac and cheese and grilled New York sirloin!
Aldo's Restaurant
Location: 130 Chapel St, New Shoreham, RI 02807
If Italian food is what you're in the mood for, then you'll want to check out Aldo's Restaurant. This Italian restaurant is run by a local family and is known for its incredible brick-oven pizza that will make your mouth water.
The restaurant itself is actually pretty huge. There are tons of seats both inside and outside. The patio is filled with tables that have umbrella covers so you can stay shaded while enjoying your delicious pizza!
In addition to pizza, the menu has every type of Italian food. There are sandwiches, wraps, pasta, and chicken dishes. Plus, if you're not in the mood for Italian, there's also a whole bunch of different seafood dishes you can choose between as well.
Three Sisters
Location: 443 Old Town Rd, New Shoreham, RI 02807
Three Sisters is a great sandwich shop restaurant on Block Island. If you want healthier food as an option while visiting, this is the perfect place to go. It's also great if you want to have something super easy to carry around while exploring the island!
Many people love stopping by Three Sisters and then heading to the beach because they're right near each other. The sandwiches are absolutely incredible, and they have some that are super unique, like ones made with roasted cauliflower.
The restaurant itself is incredibly quaint. From the outside, it looks like a little cottage! But, it's incredibly welcoming with a peace sign flag and a sign letting you know if they're open or not. Walk right on in and place your order, but be careful; sometimes, the line goes out the door!
Persephone's Kitchen & Cafe
Location: 235 Dodge St, New Shoreham, RI 02807
Persephone's Kitchen & Cafe is one of the best restaurants on Block Island. It's a bit more of a cafe than a restaurant, but it should not be overlooked. They are known for consistently providing high-quality ingredients for their meals.
Their menu is rather extensive for the kitchen portion of their restaurant, considering it's a cafe! There are tasty smoothie bowls, smoothies, egg sandwiches, frittata, and even toast with Nutella or tomato and goat cheese.
Be sure to try one of their excellent coffees to go along with it. They have every type of coffee you could imagine!
Prefer pastries in the morning? Don't worry. They have a huge pastry case filled with fresh pastries every day for you to choose from.
TigerFish Tikii Lounge & Restaurant
Location: 126 Corn Neck Rd, New Shoreham, RI 02807
One of the more unique restaurants on Block Island is TigerFish Tiki Lounge & Restaurant. This restaurant specializes in Asian Fusion and has mid-range pricing. From the outside, the building looks just like any other piece of architecture in New England, but the interior has a taste of elegance with warm lighting and a pop of wall art.
The restaurant was opened by owners who were inspired to open their own southeastern-inspired restaurant after traveling throughout the region themselves. They wanted to bring it to Block Island, but with a twist. At night, there's even a DJ that plays music once the sun goes down on Thursday and Friday nights!
The menu consists of great dishes: noodles, rice, potstickers, crab rangoons, and more. Plus, there are tons of tasty share plates that you can choose from to start. They even have unique dishes like chicken teriyaki nachos with pineapple and cojito cheese!
McAloon's Restaurant
Location: 596 Corn Neck Rd, New Shoreham, RI 02807
Last but not least is McAloon's Restaurant, one of the best places to eat on Block Island. McAloon's is a classic and casual Irish restaurant that's extremely welcoming and family-friendly. By eating there, you may even feel like you're actually on the coast of Ireland!
The restaurant opened in the mid-2010s and is relatively large. It was opened by Kathleen McAloon, who has lived on the island for her whole life, so she's a local. The restaurant has ample seating and even has free live music on the patio that you won't want to miss out on. Just don't forget to grab a Guinness first!
The menu combines both Irish food and local seafood dishes that this area of New England is known for. So, there are dishes like New England clam chowder, clam cakes, and Dubliner burgers all on the same menu. Most of the main entrees are around $15, but starters cost significantly less.
For a real treat, try an order of the Guinness battered fish and chips. You won't regret it!
As you can see, there are so many incredible restaurants on Block Island. From Irish food to Asian Fusion, this island has it all. Where will you choose to eat? Choose wisely, but know that each one is incredible!
—
You might also like: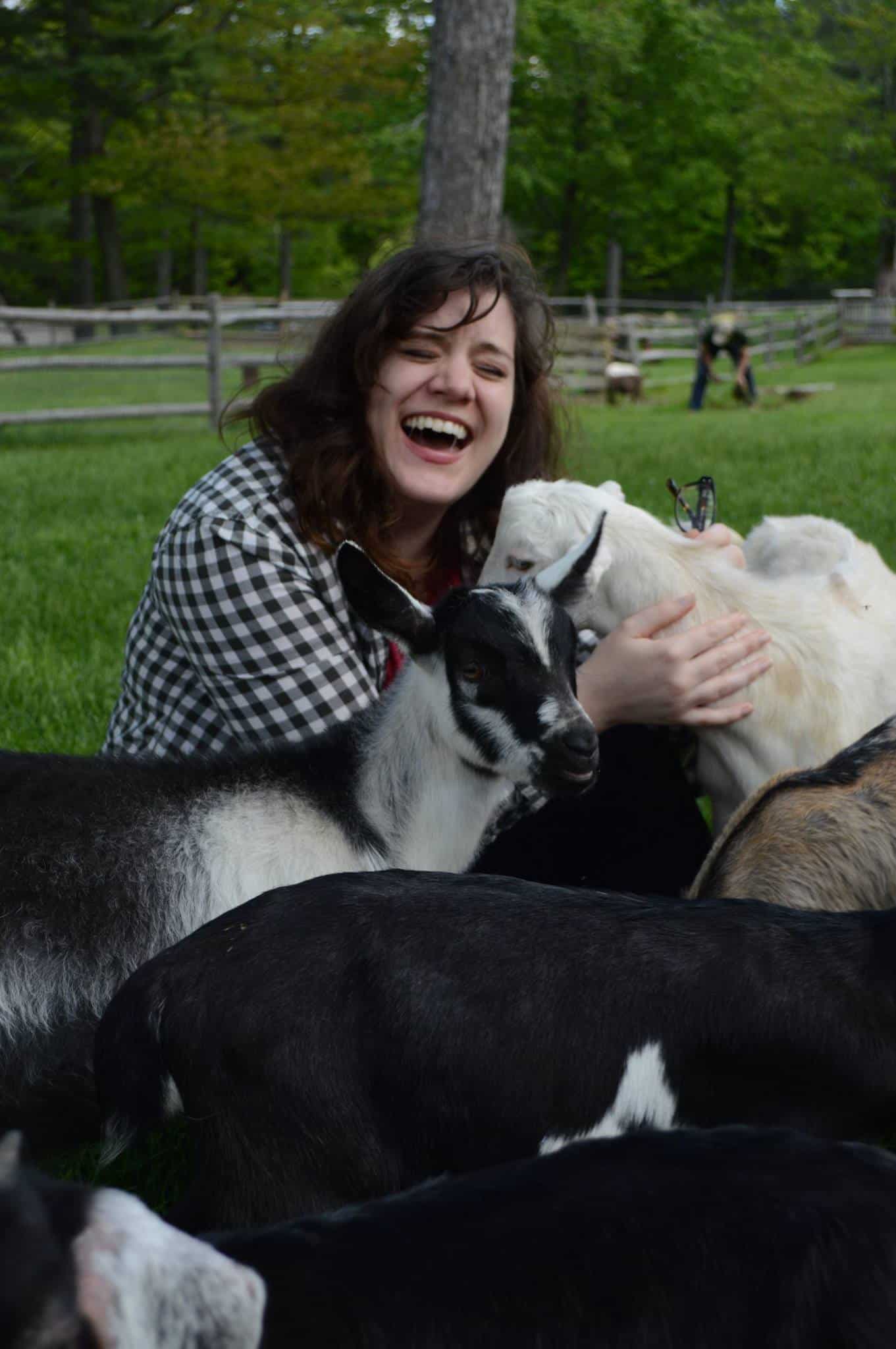 Amy Hartle is the founder and Editor-in-Chief of New England With Love, a comprehensive resource for travel in the New England region. Amy has been exploring New England since 2001. She lived in Vermont for many years and is a graduate of Plymouth State University in New Hampshire. Amy has been writing about travel for over a decade. On this site, Amy aims to share her love of New England and help you to have the best possible adventures!
Amy has been a full time blogger since 2012, and is also the publisher of Two Drifters, where she writes about couples travel and relationships, as well as Let's Adventure Baby, a family travel site. When not traveling the world or creating epic blog content, Amy can be found cuddling with her husband, son, and cats, & drinking a maple latte.