Rhode Island is the smallest state in the United States, but don't let its small size fool you because it's home to some great sights to see. With historical landmarks, gorgeous mansions of the Gilded Age, beautiful beaches, and coastal lighthouses, there's no shortage of beautiful places in Rhode Island!

Once you start exploring the great state of Rhode Island, you'll realize that it has much more to offer than meets the eye. It proves that size doesn't matter!
There are plenty of options, but these are our choices for the most beautiful places in Rhode Island to check out during your next visit to the Ocean State.

When is the Best Time to Visit Rhode Island?
While there is certainly charm to be found in the Ocean State any time of year, if you'd like to have a great shot of seeing the best of scenic Rhode Island, then summer and fall will likely be your best time of year to visit RI.
Most Beautiful Places in Rhode Island
The Newport Bridge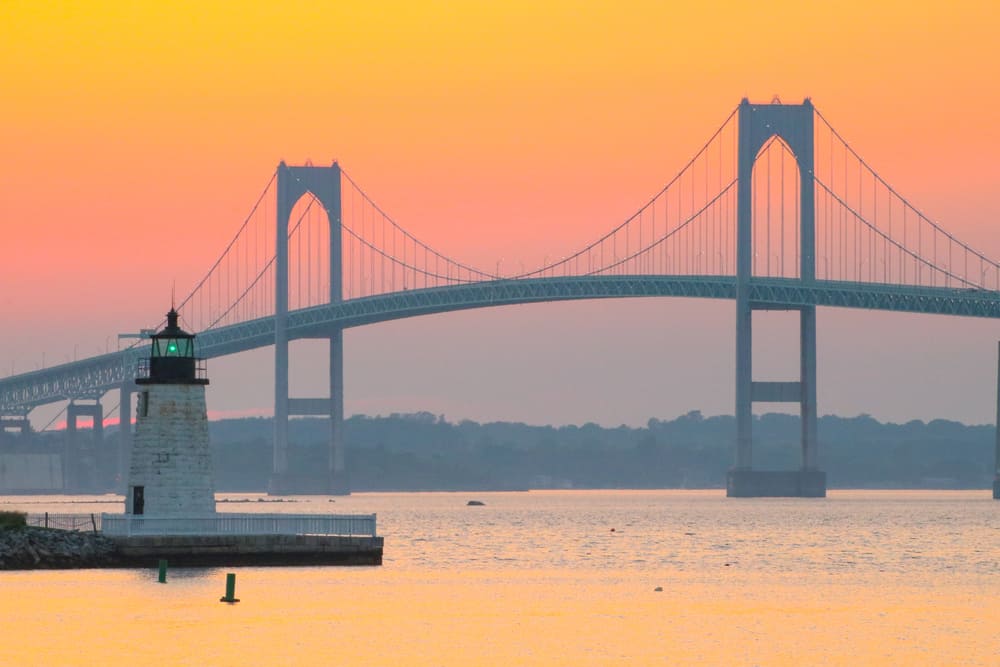 Also known as the Claiborne Pell Bridge, this iconic bridge has been welcoming tourists to Newport since 1969! While driving across it is a fantastic way to appreciate the massive size and structure of this bridge, snapping a photo at sunset is best done from one of the lookout spots in Jamestown and Newport!
The Breakers
Experience life in America's Gilded Age by touring one of the most lavish mansions in Rhode Island – The Breakers. It is the former summer home for the Vanderbilt family and is a National Historic Landmark. You haven't seen the kind of wealth of the Gilded Age until you've stepped inside this beautiful property.
You can take a tour of The Breakers mansion while visiting Newport. It was completed in 1895 and offers a great glimpse of the opulent lifestyle of one of America's wealthiest families.
Even with a detailed audio tour, you'll feel like you've just scratched the surface of this 70-room mansion. The Breakers is a historic Gilded Age gem and one of the most beautiful places in RI.

Colt State Park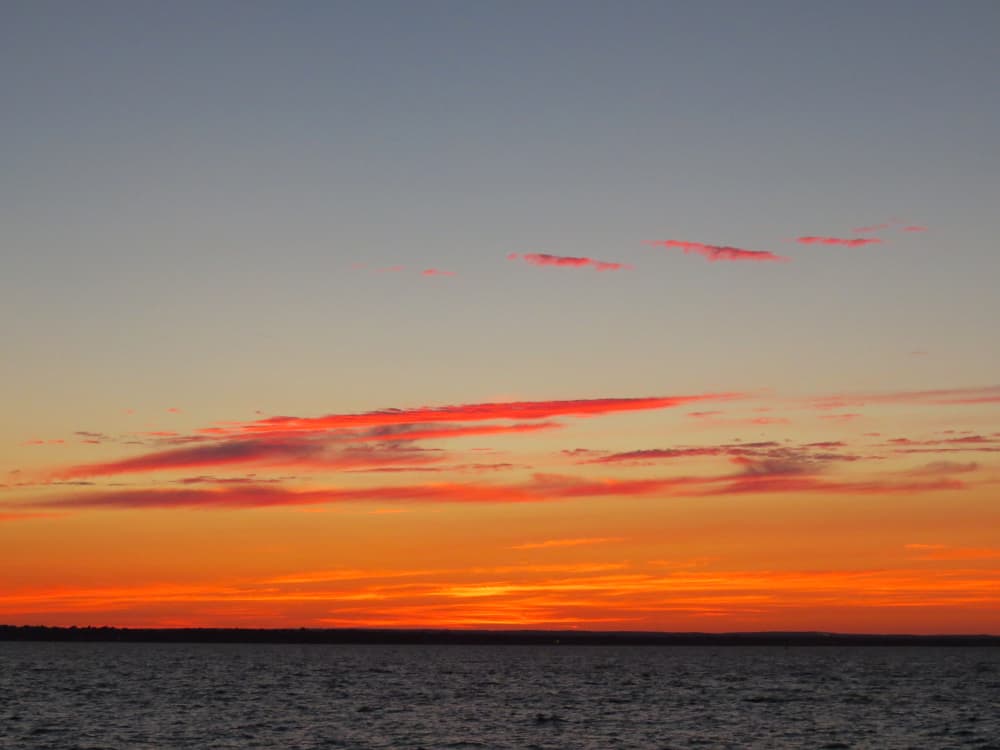 There's a reason why Colt State Park is one of the most popular state parks in RI; not only is it a go-to spot for leisure and relaxation for locals and visitors, but it is a beautiful Rhode Island outdoor space and the perfect place to spend a summer afternoon!

Colt State Park is known for its beautiful scenery. You'll have plenty of space to relax out on the manicured lawn and take in views of the ocean. It's a fun place for a picnic or hike.

Marble House
If you're familiar with the film The Great Gatsby, you'll recognize the Marble House as soon as you arrive. Another one of the famous Gilded Age mansions, Marble House was used in the film and you can tour it yourself in Newport!

The Marble House was completed in 1892 for the Vanderbilt Family and is one of Newport's most famous mansions. Nearly the entire house is made from marble, designed in a Beaux-Arts style.
Take a self-guided audio tour to see how the "other half" lived. It's hard to imagine that it was only used as a summer house.
Prospect Terrace Park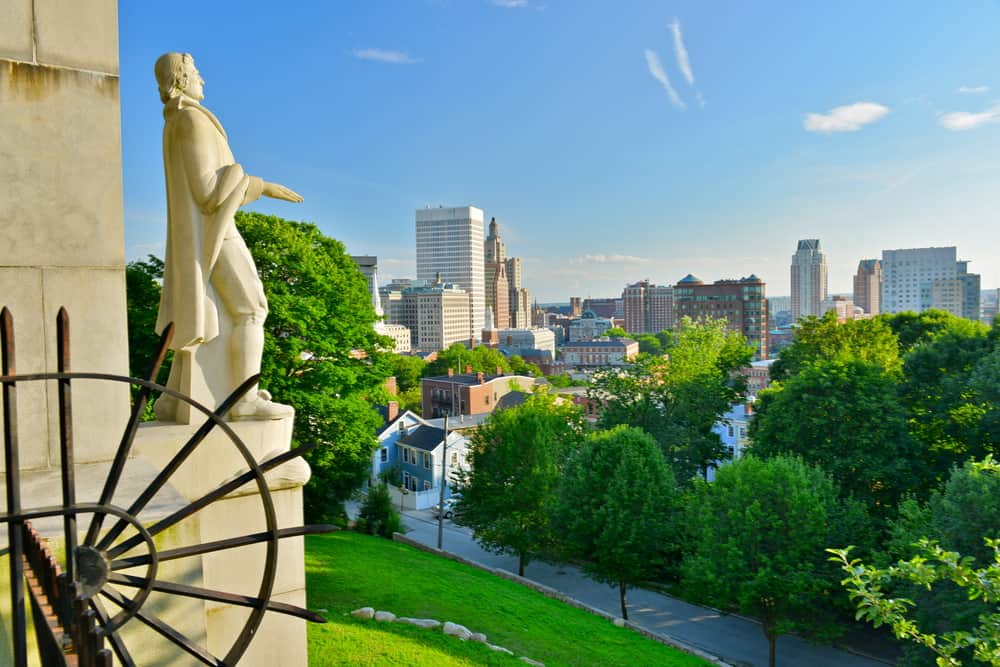 The city of Providence is relatively flat, so there aren't too many places offering a panoramic view of the city… except Prospect Terrace Park!

This beautiful Rhode Island historical park is a popular Providence destination for its views. Drive or hike up the hill to reach an overlook showcasing the Providence cityscape. There are plenty of benches to sit and take in the pretty view.

Narragansett Beach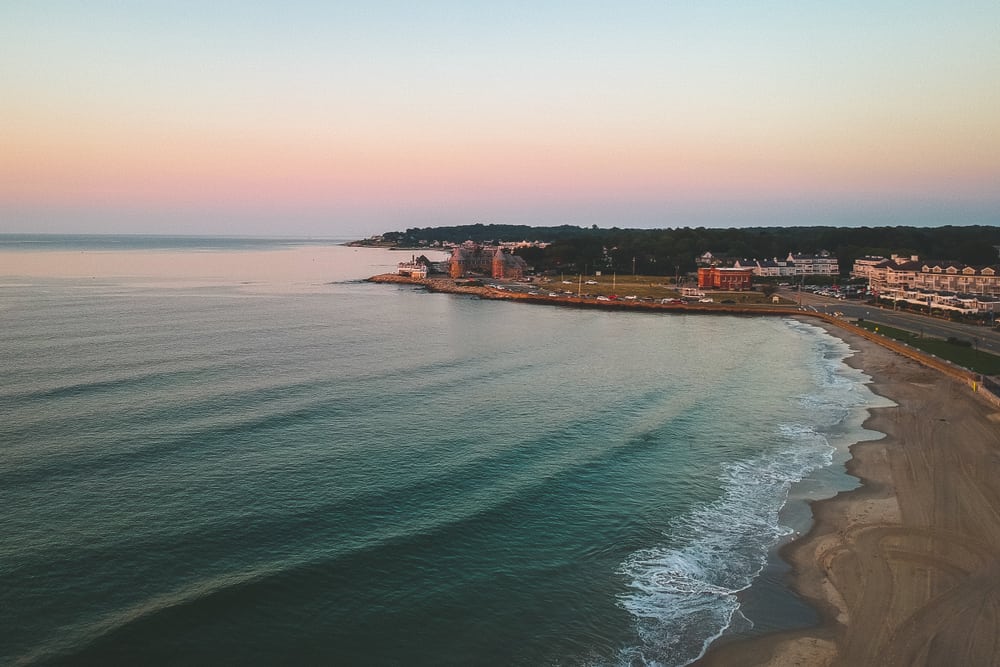 If you're going to The Ocean State, you've got to get to a beach! Narragansett Beach is a scenic coastal gem in Narragansett, Rhode Island, and one of the most popular beaches in the state.

Hop in for a swim or just hang on the sand, but either way, you'll be treated to great views of the Narragansett Towers and the Point Judith Lighthouse.
Beavertail Lighthouse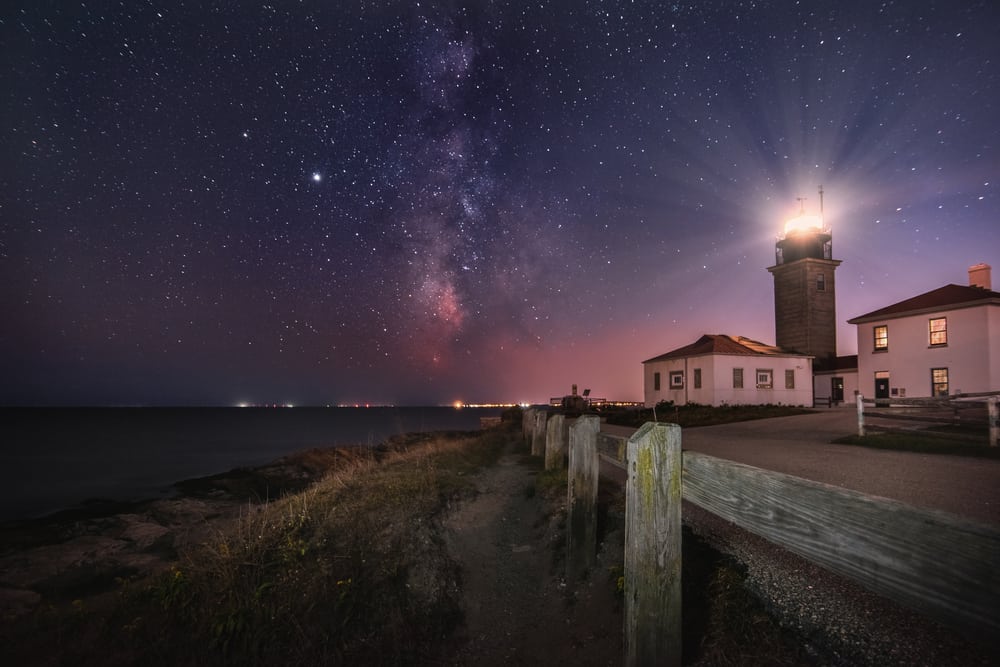 Located in Beavertail State Park is the Beavertail Lighthouse, one of the most popular and well-visited lighthouses in the state.

The 64-ft lighthouse was completed in 1856 for aiding ships through Narragansett Bay, and today you can walk the trails around the lighthouse and through the park for fun. The lighthouse also includes a museum to learn a little more about this lovely lighthouse!

Easton's Beach
Rhode Island is an excellent summer vacation destination, thanks to the beautiful beaches lining the coast. If you find yourself near Newport, stop by Easton's Beach, one of the best coastal spots to hang out.
Easton's Beach is a family-friendly beach with lots of things to do, including swimming and surfing. Those ocean views never really get old, do they?
Brown University Campus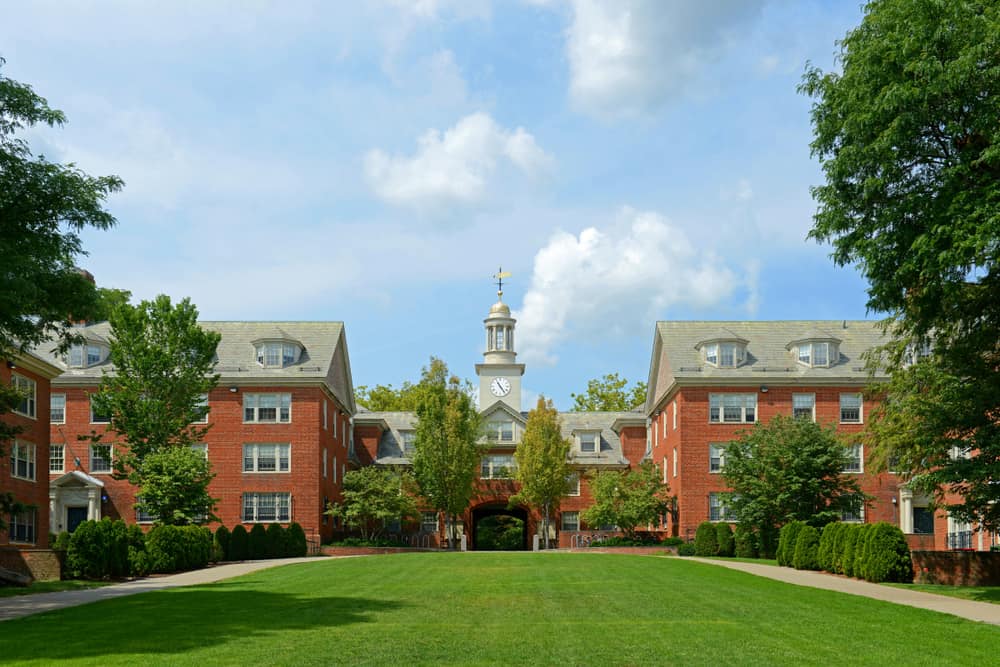 Brown University is a world-class Ivy League school in Providence. Founded in 1764, it's one of the nation's oldest universities and is one of the top tourist destinations in RI.

The main campus is located on College Hill. There over 235 buildings, many of them historic; several are open to the public to walk in to take a look, but even just strolling the well-manicured grounds and appreciating the grand architecture is a top RI thing to do!

Mohegan Bluffs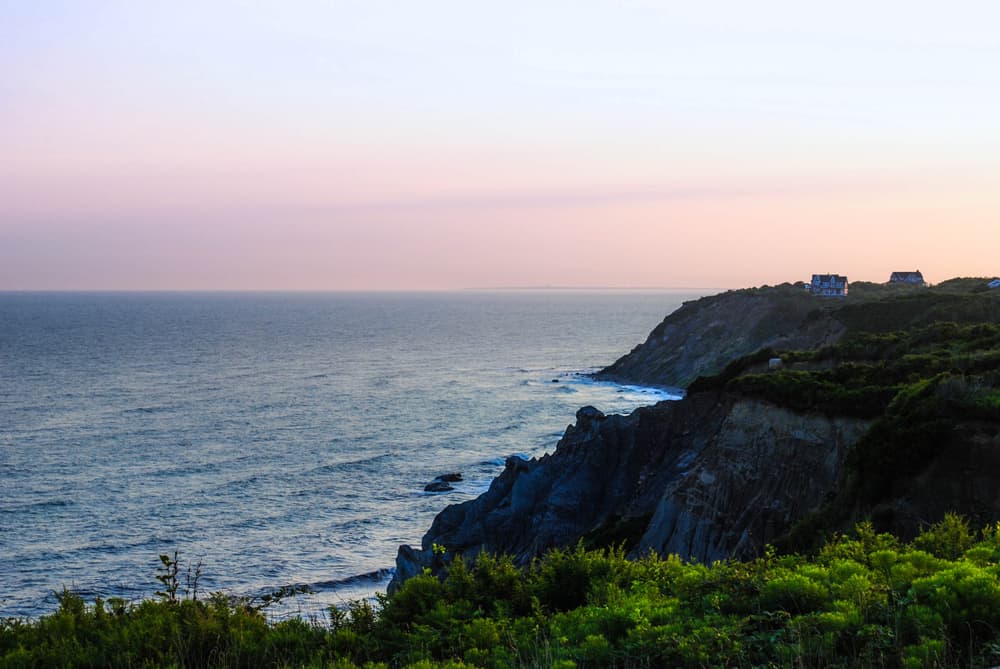 The beach at Mohegan Bluffs used to be a hidden gem, but word is finally getting around! You can descend the steep cliffs to reach a secluded beach or enjoy views from above; you'll also find the lovely Southeast Light perched on top of the cliff.

Mohegan Bluffs is located on the southern end of beautiful Block Island. The cliffs rise 200-ft above the shore with an incredible view of the ocean at the summit. You can climb down the 141 stairs to get to the beach below, or just appreciate the spectacular view from the top; remember, if you go down the 141 stairs, you'll have to come back up the 141 stairs eventually, too!

Sachuest Point National Wildlife Refuge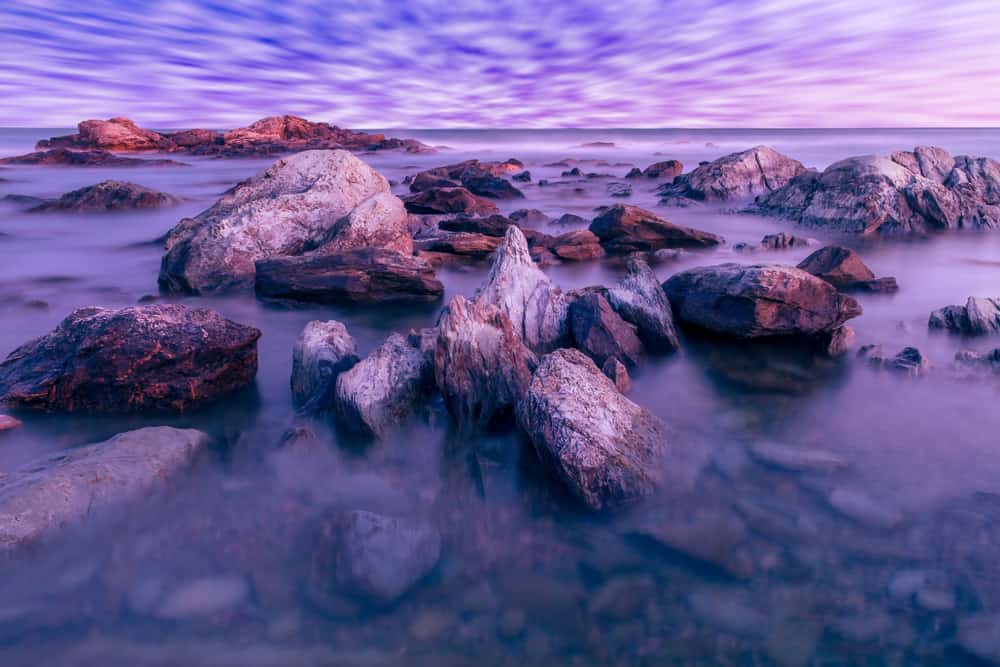 Located on a peninsula near Middletown, the Sachuest Point National Wildlife Refuge is a picturesque preserved area of RI that's home to more than 200 species of birds, and this untouched landscape is one of the prettiest places in Rhode Island.

Sachuest Point National Wildlife Refuge occupies 242 acres of the peninsula. Birdwatching is the most popular activity here, and you might see species like the Rhode Island Harlequin ducks, Red-tailed Hawk, and Peregrine Falcon.
Stop by the visitor center for more info about this beautiful Rhode Island wildlife refuge.

Flying Horses Carousel
Don't confuse the Flying Horses Carousel in Watch Hill with the Flying Horses Carousel in Martha's Vineyard; they are both beautiful antique carousels, but we are covering the most beautiful places in Rhode Island here, not MA!
This beautiful carousel was built around 1867 and enjoyed an illustrious life as a part of a traveling carnival before being abandoned in the coastal town of Westerly just 20-some years later. Watch the pretty ponies make their rounds before heading over to the beautiful Merry-Go-Round Beach.
Newport Cliff Walk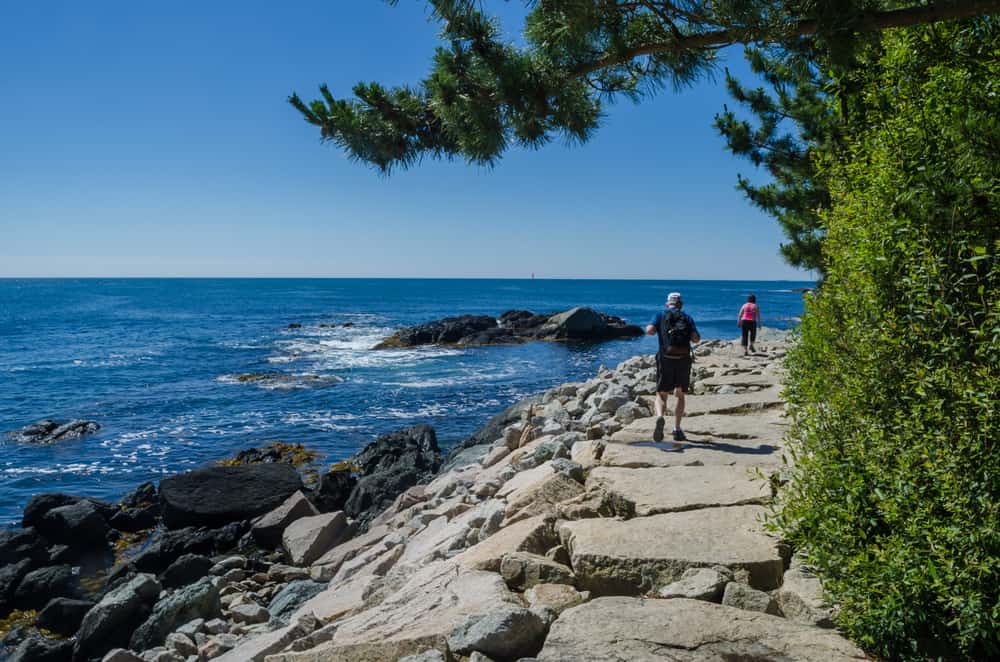 A stroll on the iconic cliff walk is one of the top things to do in Newport, offering expansive scenic views of the bay on one side and glimpses of the gorgeous Gilded Age mansions on the other.

The Newport cliff walk is a paved walking trail that extends for 3.5-miles, and you'll see locals and tourists alike taking advantage of this beautiful walk in Rhode Island.

Green Animals Topiary Garden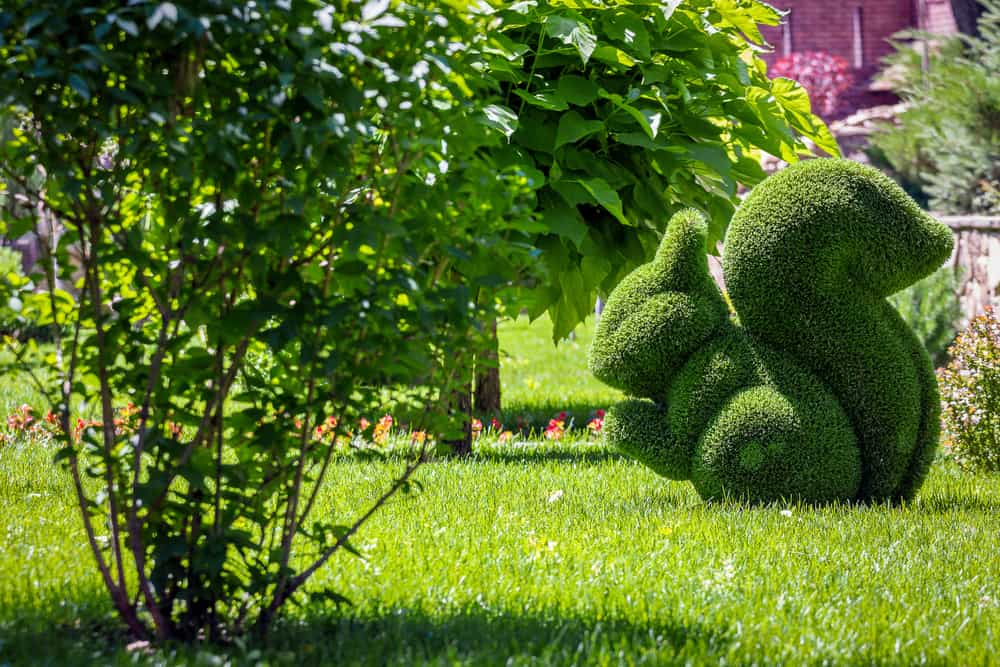 Portsmouth is home to the Green Animals Topiary Garden, the oldest of its kind in the US. This whimsical garden is one of Rhode Island's most unique places to visit.
The Green Animals Topiary Garden features large bushes trimmed to the shape of your favorite animals. You'll see animals like elephants, rabbits, giraffes, unicorns, and bears as you walk through these gorgeous RI gardens.

Visitors can have a picnic out on the lawn and tour the 19th-century estate.
Blackstone River Bikeway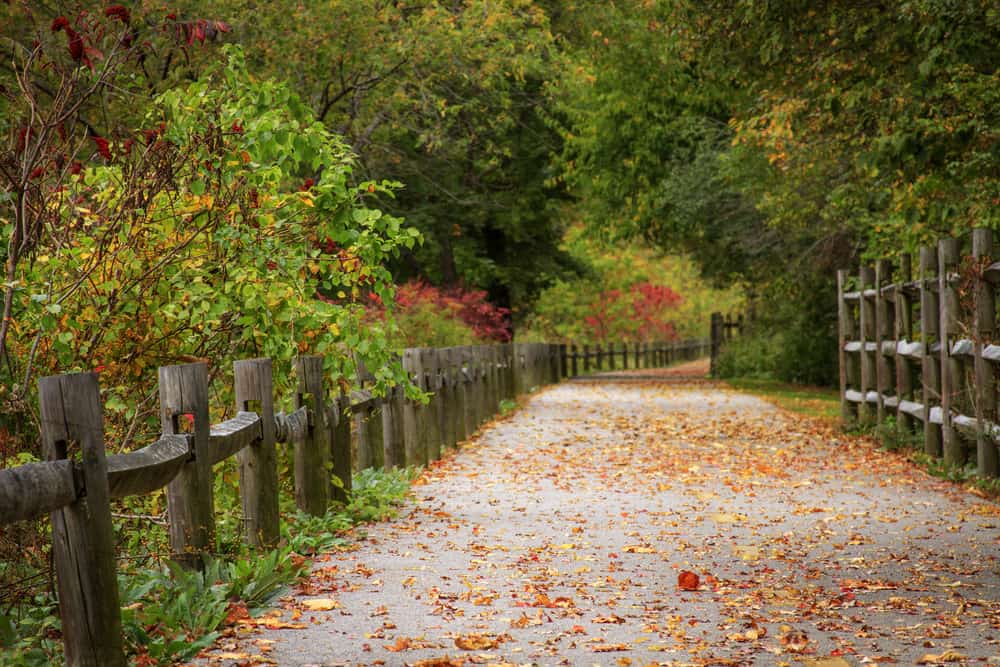 The Blackstone River Bikeway runs for 18.2-miles alongside the Blackstone River, where you'll ride into the scenic natural landscape of Rhode Island. The area is designated as the Blackstone River State Park, and it is a beautiful Rhode Island destination.

Ride or walk, you'll find pretty waterfalls and woods along this path as you enjoy the Rhode Island scenery.
North Light House
Situated at the Northern tip of beautiful Block Island known as Sandy Point, rests a picturesque lighthouse called the North Light. Sandy Point is a scenic area that is perfect for taking a stroll and breathing in that fresh seabreeze!
The North Light is listed on the National Register of Historic Places and even has a museum inside, so be sure to check out this great Block Island spot while you tour this beautiful island.
Castle Hill Lighthouse

You can visit the Castle Hill Lighthouse in Newport for absolutely stellar scenery and lighthouse views, but if you'd like to soak in the beauty of this lovely area of Rhode Island, consider booking a room at Castle Hill Inn! This gorgeous luxury inn offers amazing dining options, an onsite boutique spa, and absolutely incredible ocean views.
Click Here to Check Prices & Book!
The Elms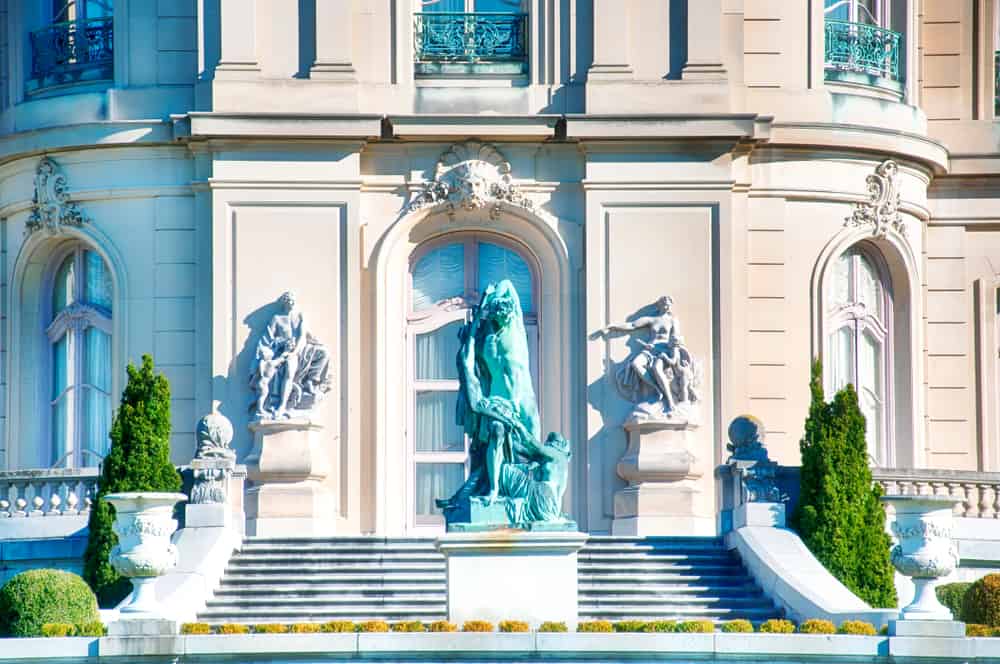 To call The Elms the most modest of the famous Newport Mansions should not undersell the intricate beauty of this home's architectural prowess.

The Elms is a Gilded Age mansion built for the Berwind family, who used their wealth from the coal industry to finance this Neoclassical gem.

The outdoor gardens stand out with pavilions made of marble, bronze sculptures, and decorative fountains; this is a gorgeous outdoor space in Rhode Island to go for a scenic walk!

Jerimoth Hill
Visit Jerimoth Hill to explore the forested area surrounding Rhode Island's highest point– at only 812 feet! This area offers great scenery for a lovely RI hike. Take in the beauty of Rhode Island by walking this quick and easy trail near Foster.
Ocean Drive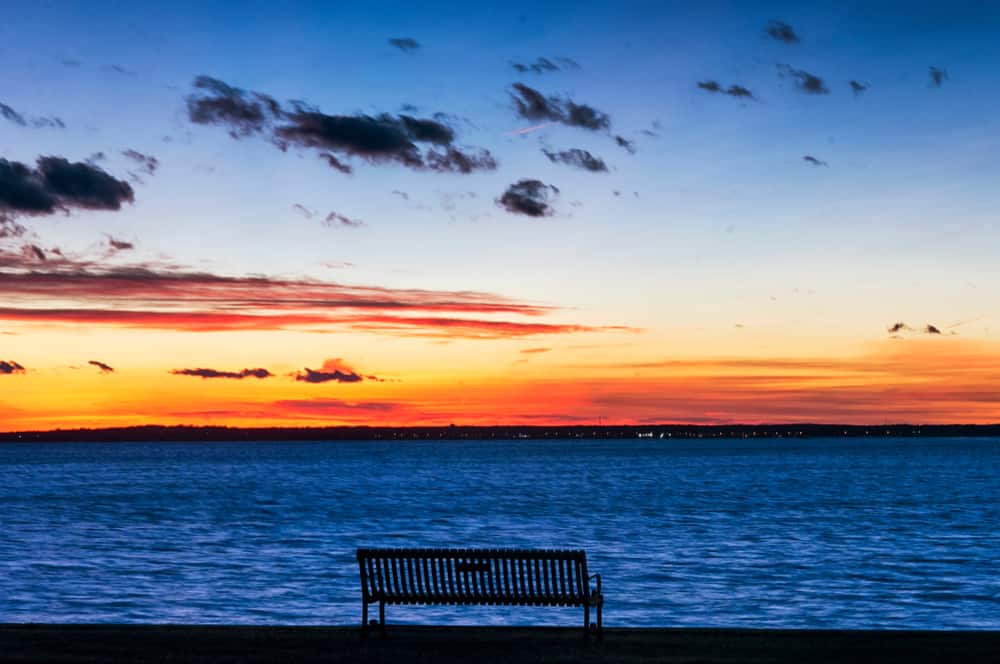 Anywhere with a scenic coastline, you'll surely find a scenic drive, and that's certainly true for Rhode Island. Ocean Drive is a famous scenic drive in RI curving along Newport's Atlantic Coast.
Ocean Drive takes you past several historical landmarks like lighthouses, mansions, and a fort. Of course, there are also the gorgeous ocean views, too!
Benefit Street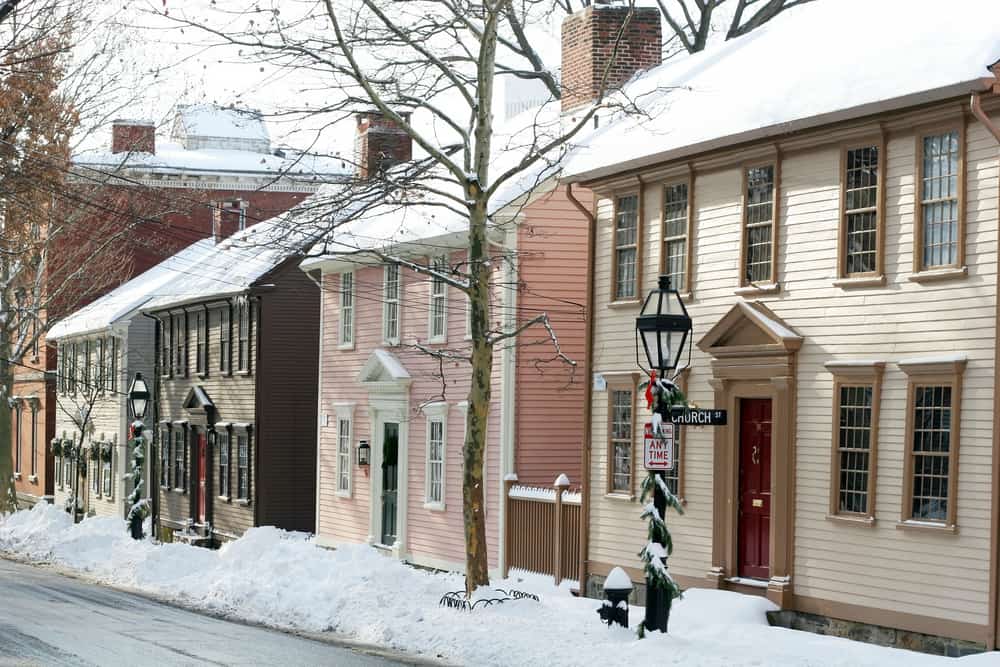 For a charming look at historic Colonial homes in Providence, look no further than Benefit Street, one of Rhode Island's most beautiful historic streets. You can even take a self guided walking tour from the Providence Preservation Society to learn more about its history.
Rhode Island State House
The Rhode Island State House is one of the most impressive buildings you'll see. It has a grand presence with neoclassical architecture and one of the world's largest unsupported domes.
Tourists are welcome to enter the building for tours. You can explore the government offices, house chambers, see historical documents, art, and more. The beautiful marble and detail finishes are a part of what makes this one of the most beautiful places to visit in Rhode Island.
You might also like:
---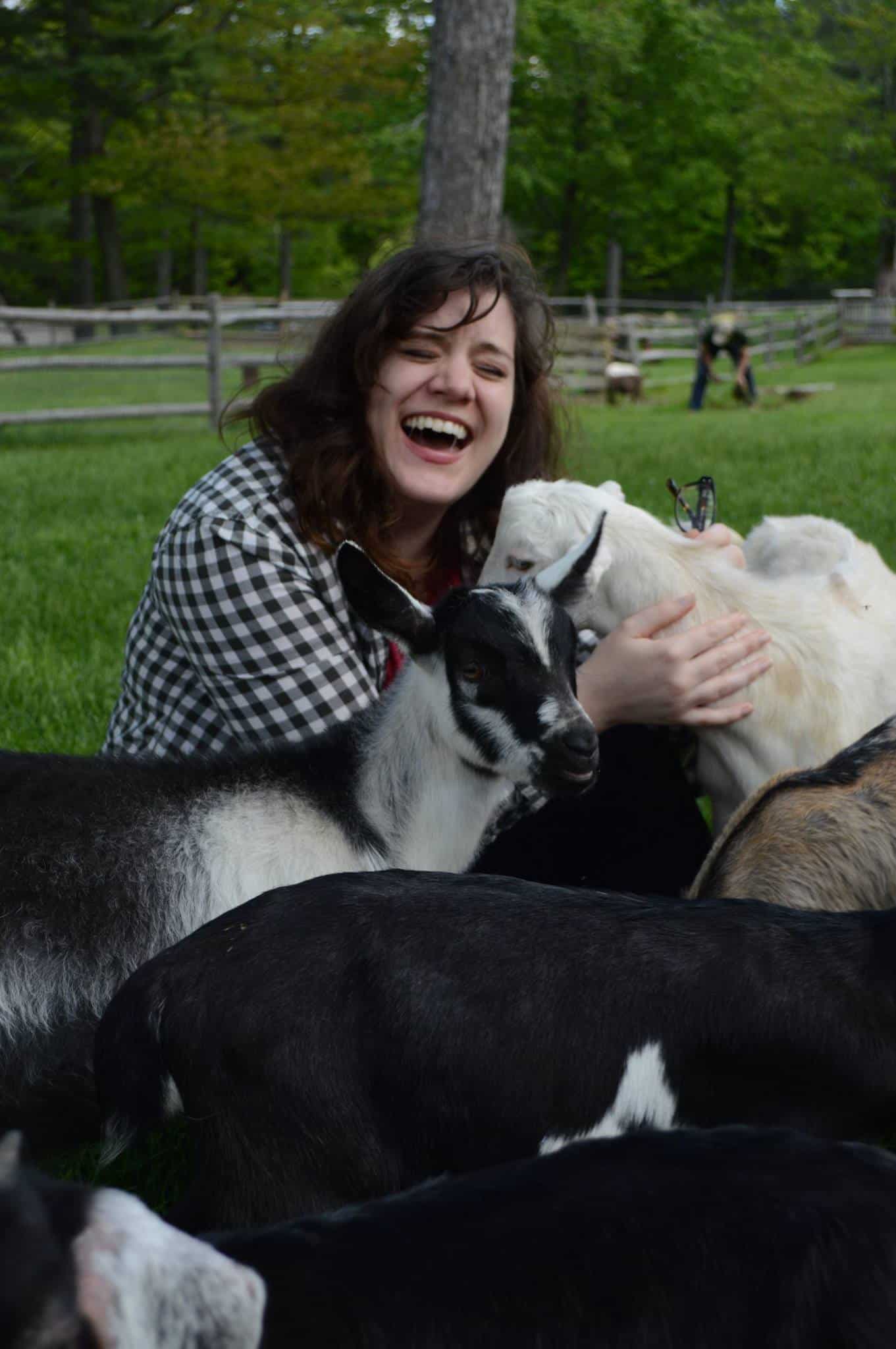 Amy Hartle is the founder and Editor-in-Chief of New England With Love, a comprehensive resource for travel in the New England region. Amy has been exploring New England since 2001. She lived in Vermont for many years and is a graduate of Plymouth State University in New Hampshire. On this site, Amy aims to share her love of New England and help you to have the best possible adventures!
Amy has been writing about travel for over a decade, and is a full time blogger, publishing both Two Drifters and Let's Adventure Baby. When not traveling the world or creating epic blog content, Amy can be found cuddling with her husband, son, and cats, & drinking a maple latte.