Rhode Island is a small but mighty state in New England. It's home to many beautiful places that are wonderful to explore. These spots include waterfalls that will make you feel relaxed and connected to nature in a way you may not have been able to before.
Though its waterfalls may not be as physically impressive as those in its more mountainous neighbors, many of Rhode Island's waterfalls come with an added bonus: ties to local history.
Ready to plan your RI waterfall trip yet? If so, here are 15 waterfalls in Rhode Island you need to put on your "must-see" list.
Waterfalls in Rhode Island
Horseshoe Falls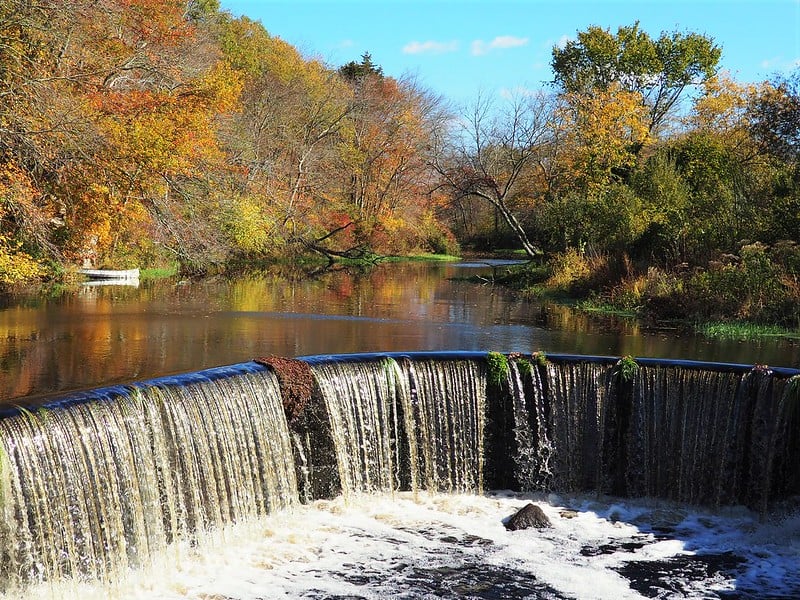 Something unique about waterfalls in RI is that some of them have fascinating ties to history. Horseshoe Falls is one of those waterfalls. Located in the historic district of Shannock, Horseshoe Falls sits along the Pawtucket River and has seen its fair share of history unfold.
Shannock is an old mill village that was once busy thanks to the Columbia Narrow Fabric Company in the town of Richmond. The village is locally significant for its more than 200-year milling and manufacturing history, as well as its older buildings that were once mills, houses, stores, and public buildings. If you take a stroll around Shannock, you won't miss Horseshoe Falls.
Fun fact: the reason why it's called horseshoe falls is that it's shaped like a horseshoe. It's interesting to see how the water falls in the horseshoe shape and into a common pool below. Plus, the scenery around the falls is gorgeous.
Blackstone Dam
This is another one of those Rhode Island waterfalls that has a history attached to it. When the Industrial Revolution hit, several dams were built in Rhode Island to provide power for mills and manufacturers. Blackstone Dam was one of them.
The dam, located on the Blackstone River, resides in the town of North Smithfield. The falls aren't tall at all, but they are pretty wide. If you take a walk through historic North Smithfield, you'll be able to find the falls and admire their beauty.
It's worth noting that there's a boat launch near the dam, which means you could indulge in an afternoon of kayaking on the Blackstone River. However, make sure falls aren't roaring when you launch. You could also explore the Blackstone Gorge, which you can find by following a trail along the river.
Pawtucket Falls
Pawtucket Falls is one of the smaller RI waterfalls on this list, but it's an interesting site to visit. Pawtucket means "place of the falls" in Algonquin, and this waterfall served as a way for indigenous people to cross back and forth over Narragansett Bay. Today, it's a lovely waterfall situated between Warwick and Cranston.
Cascade Brook Falls
While this RI waterfall might not get as much press as some of the other falls in the state, Cascade Brook Falls is certainly a sight to see if you're in Providence County! This 12 foot cascading and horsetail waterfall is one that isn't very exciting out of season, so time your visit for March and April when you can expect to see it in all its glory!
Slater Mill Dam
Slater Mill Dam is another Rhode Island waterfall that's deeply connected to history. Located on the banks of the Blackstone River in Pawtucket, the dam is part of Slater Mill, a historic textile mill complex that was first built in 1793. Now, it serves as a museum, educational center, and music venue.
Slater Mill Dam is a lovely pit stop to make if you're touring Slater Mill. You can have a picnic by the falls and admire the water of the Blackstone River flowing over the dam. Once you see the falls, you can stroll through Pawtucket and take a look at its restaurants and stores — Main Street is just around the corner!
Wolf Hill Quarry Falls
This is one of the natural RI waterfalls you don't want to miss. Wolf Hill Quarry Falls is located in the town of Smithfield and guides rainwater that flows out of the Wolf Hill Quarry. It's accessed via Mountaindale Road, and it's best to visit the falls in the spring, after heavy rainfall.
You can also hike in the nearby Wolf Hill Forest Preserve, which has 300 acres of land and miles of hiking trails. The trails are pretty easy to walk since they used to be farm roads. If you go on these trails, don't be shocked if you see people walking their dogs or riding their horses.
Harrisville Falls
You'll find Harrisville Falls in the village of Harrisville, which is within the town of Burrillville. These man-made falls were created to supply power for a saw mill and grist mill. You can get a great view of the falls from a nearby park, but there are areas where you can get close to the falls and hear their power for yourself.
Once you visit Harrisville Falls, you can choose a path to hike through in Burrillville. Popular hiking spots include Black Hut Management Area, Buck Hill Management Area, and the North-South Trail.
Kenyon Mill Falls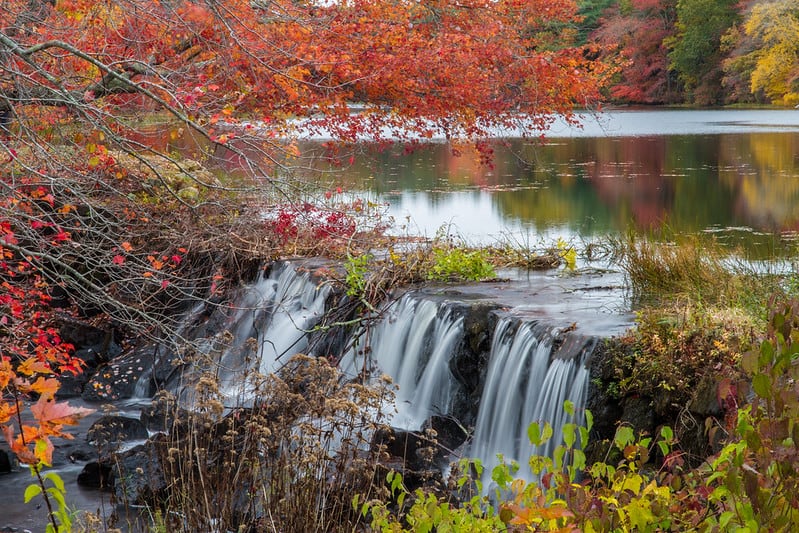 Like many other waterfalls in Rhode Island, Kenyon Mill Falls has an interesting story attached to it. The falls lie behind Kenyon's Grist Mill, a mill that's been operating in West Kingston since 1696. It's Rhode Island's oldest manufacturing business and resides on an impressive piece of property.
If you look out back, you'll see the small (but mighty) falls. It's pleasant and picturesque, so be sure to bring your camera when you visit. The falls are especially scenic when the leaves change in the fall.
While you're visiting the falls, don't forget to stop by Kenyon's Grist Mill. According to their website, the business is known for its Johnny Cake Meal and Clam Cake Mix. It was even featured on the Travel Channel's show, "Bizarre Foods: Delicious Destinations, Providence." They also have a number of recipes you can look up on their website that features their products.
Wyoming Dam
Located in Richmond, Wyoming Dam is a quaint RI waterfall that is a part of a dam that is over 300 years old! This lovely fall can be enjoyed from the banks (it is a popular picnic location) or by boat, as fishing is a very popular activity here.
Pawtuxet Falls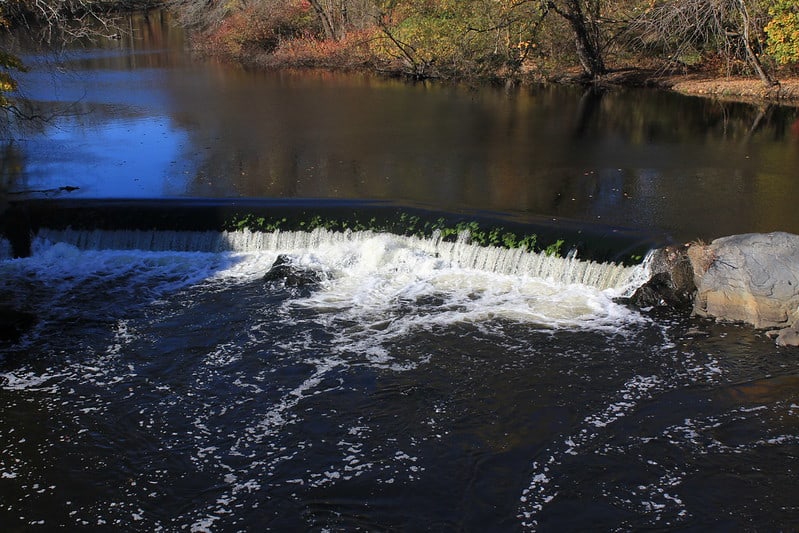 Not to be confused with Pawtucket Falls, Pawtuxet Falls is one of the smaller waterfalls in the state, but it's still a sight to see. Pawtuxet Falls is located in Pawtuxet Village, which lies in the cities of Warwick and Cranston. It's where the Pawtuxet River flows into the Providence River and Narragansett Bay.
The name Pawtuxet comes from the native language of the Narragansett Native Americans. The word "pawtuxet" means "little falls". While these falls are true to their name (they're pretty small), they're still worth seeing. You can take a day to stop by the falls, admire their beauty, then explore historic Pawtuxet Village.
If you explore the village, pay attention to the buildings. You'll be able to see colonial structures that have stood the test of time, along with scenic homes and buildings. The village turned into a mill village when textile mills were put at the ends of Pawtuxet Falls.
Roundtop Fishing Area
The Roundtop Fishing Area is home to one of the coolest waterfalls Rhode Island has to offer. It's located in Burrillville, a town known for fishing. When you go to the fishing area, you'll see these beautiful falls. They're not very tall, but they are wide.
The falls are located at a popular fishing spot, so you'll likely encounter people casting a line if you go during fishing season. If you go during a beautiful summer day or a crisp autumn morning, you could capture some great shots of the falls and the natural area surrounding them.
Pine Swamp Brook Falls
Located in Coventry, Pine Swamp Brook Falls isn't a monster waterfall by any means, but it is a delightful waterfall hike! There's even a lovely little bridge where you can view the falls from above.
Robin Hollow Pond Falls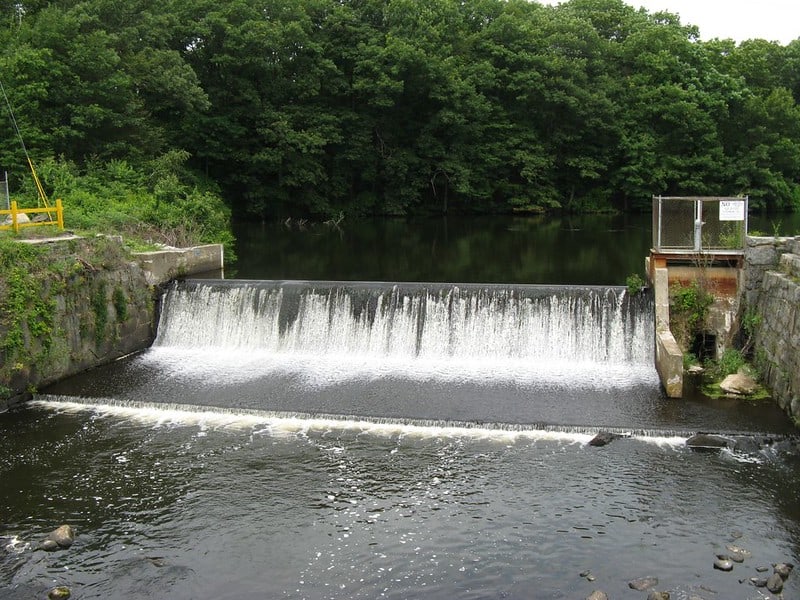 On your adventure in Rhode Island, be sure to make a stop by Robin Hollow Pond Falls. These falls are located in the town of Cumberland, and it's said you can get a great view from the Cumberland Mills Bridge.
The falls are 10 feet high and are a popular spot for fishermen. They're also surrounded by luscious trees that make a great backdrop for scenic photos.
Once you finish visiting the falls, you can hike in Cumberland. You can walk along the Cumberland Monastery Trail or the Mercy Woods and Ridge Perimeter Loop to get some more fresh air and enjoy the Cumberland area more.
Stepstone Falls
Located in West Greenwich, Stepstone Falls is one of those lovely, unassuming Rhode Island waterfalls that has an option to drive in and view from above or to hike out and see up close and personal. These simple cascades are only a ten feet drop, but if you visit in the spring you'll be treated to a lovely rush of water at these falls!
Albion Falls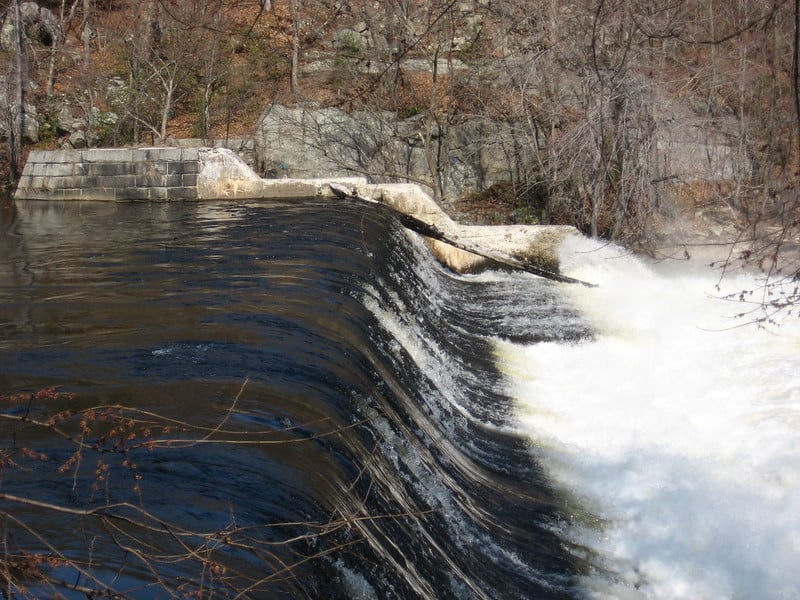 Albion Falls is one of those hidden gems in Rhode Island. Albion Falls is located in the town of Lincoln and is fueled by water from the Blackstone River. Like many other waterfalls on this list, the falls are actually a dam that was built to supply power to a mill. The dam was built in 1916 to provide power to the Albion Mill.
You can get to the falls by walking through Blackstone River State Park. The falls aren't very tall, but they are still worth the walk to see. Albion Falls is one of the lesser-visited falls in the state, so if you're looking for a quiet place with a lovely view, you should take a trip to these falls.
Once you're done visiting the falls, you can take a walk through Blackstone River State Park and admire the scenery. There are plenty of beautiful trees to look at while you take a stroll.
—
If you're looking for smaller waterfalls that are close to other places, such as parks, restaurants, and historic sites, then waterfalls in Rhode Island are the places to visit. You can admire their beauty for a couple of hours and then explore the town without having to go very far… how convenient!

---
You might also like:
---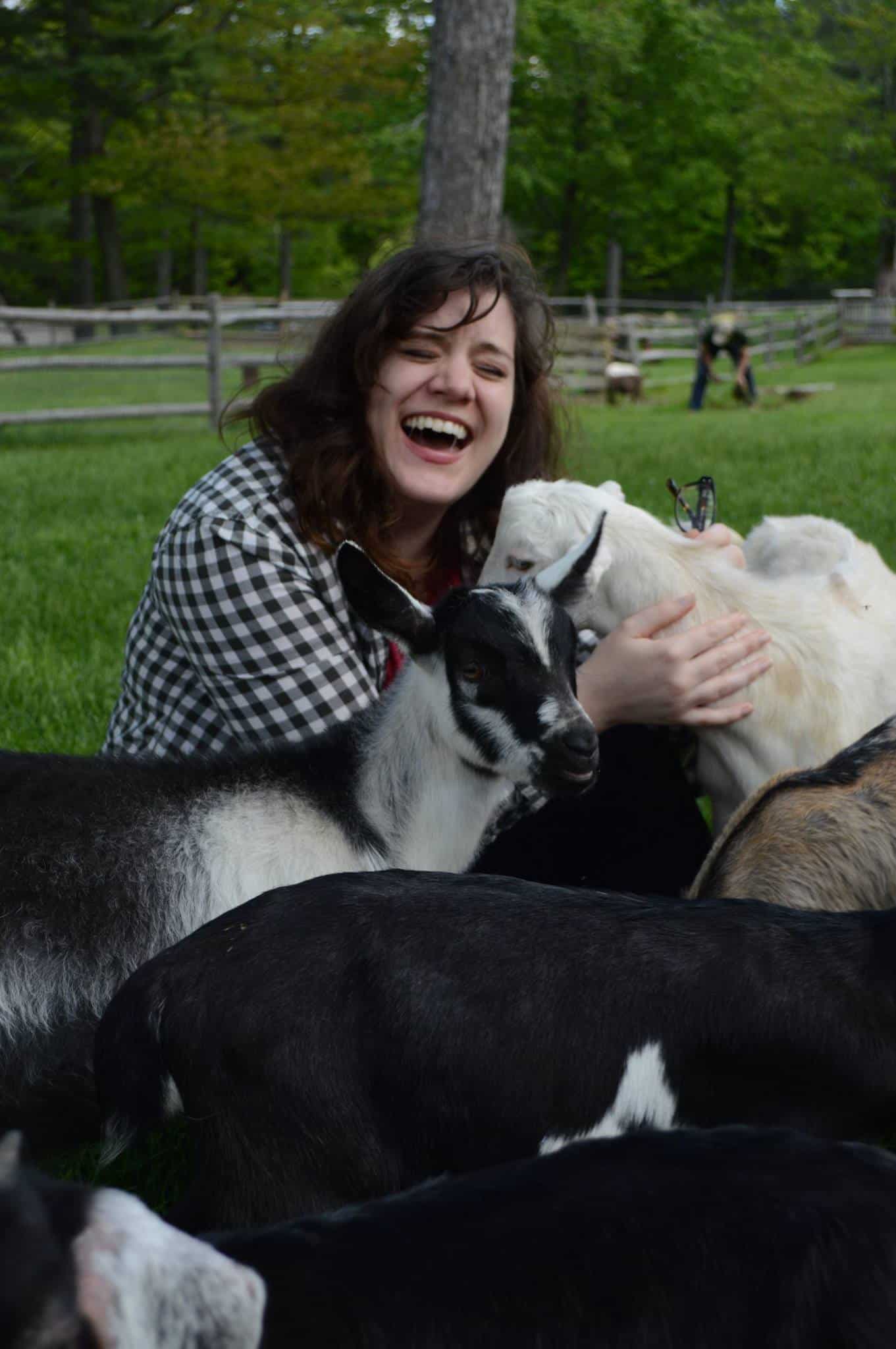 Amy Hartle is the founder and Editor-in-Chief of New England With Love, a comprehensive resource for travel in the New England region. Amy has been exploring New England since 2001. She lived in Vermont for many years and is a graduate of Plymouth State University in New Hampshire. On this site, Amy aims to share her love of New England and help you to have the best possible adventures!
Amy has been writing about travel for over a decade, and is a full time blogger, publishing both Two Drifters and Let's Adventure Baby. When not traveling the world or creating epic blog content, Amy can be found cuddling with her husband, son, and cats, & drinking a maple latte.