Rhode Island may be the smallest state in the country, but it packs a heck of a punch when it comes to cool places to visit. Little Rhody has everything from cerebral and creative urban cities to cool, coastal towns full of charm and is home to some of the top sights to see on the east coast.
Whatever kind of RI vacation you're looking for, you're bound to find it here on this list of the best places to visit in Rhode Island.
Places to Visit in Rhode Island
Westerly RI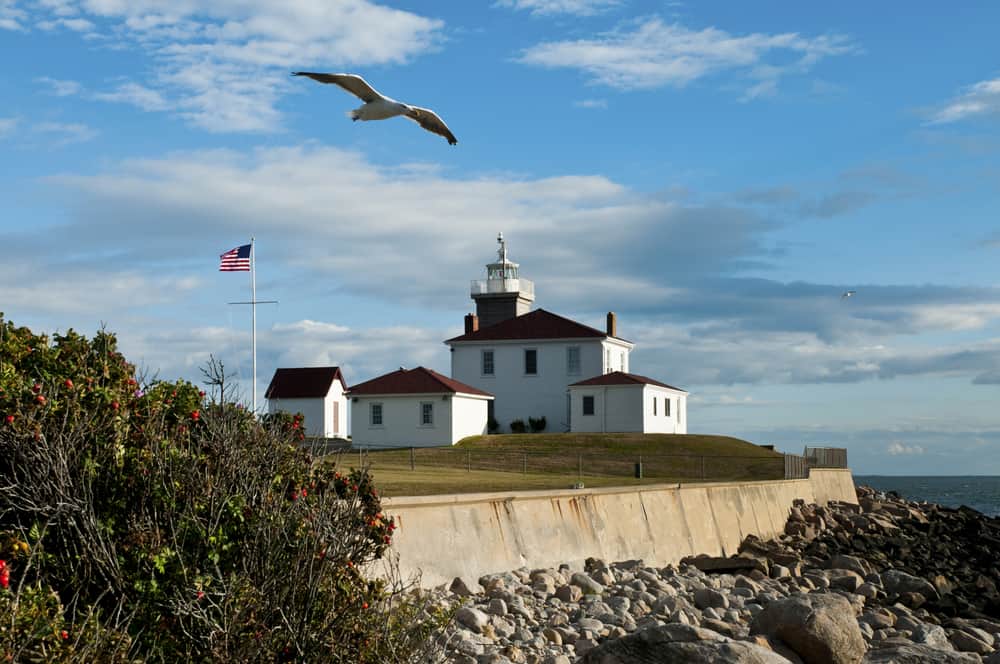 The town of Westerly is located on one of the most beautiful stretches of coastline in Rhode Island. This lovely coastal town has a bit of it all, really: Beautiful beaches, unique shopping, a vibrant downtown, lovely outdoor spaces, and great restaurant options!
Graduate Providence
There are several great places to stay in PVD, but the Graduate Providence is a stunning hotel with a very cool history. Formerly known as the Providence Biltmore, this grand and storied hotel is one of the most popular places to stay in RI both because of its excellent location in Providence and its interesting history… it's said to be one of the most haunted hotels in New England!
Nothing too scary, just reports from staff that laughter and party sounds can be heard from vacant rooms on occasion. Just the right amount of intrigue…
Click Here to Check Prices & Book!
Cruise Ocean Drive
If you're a fan of scenic drives, you've got to check out Ocean Drive in Newport! Just a quick 10 mile drive, but oh my, do the sights deliver. You'll see historic state parks, beautiful beaches, Gilded Age marvels, and of course, those ocean views.
Block Island Beaches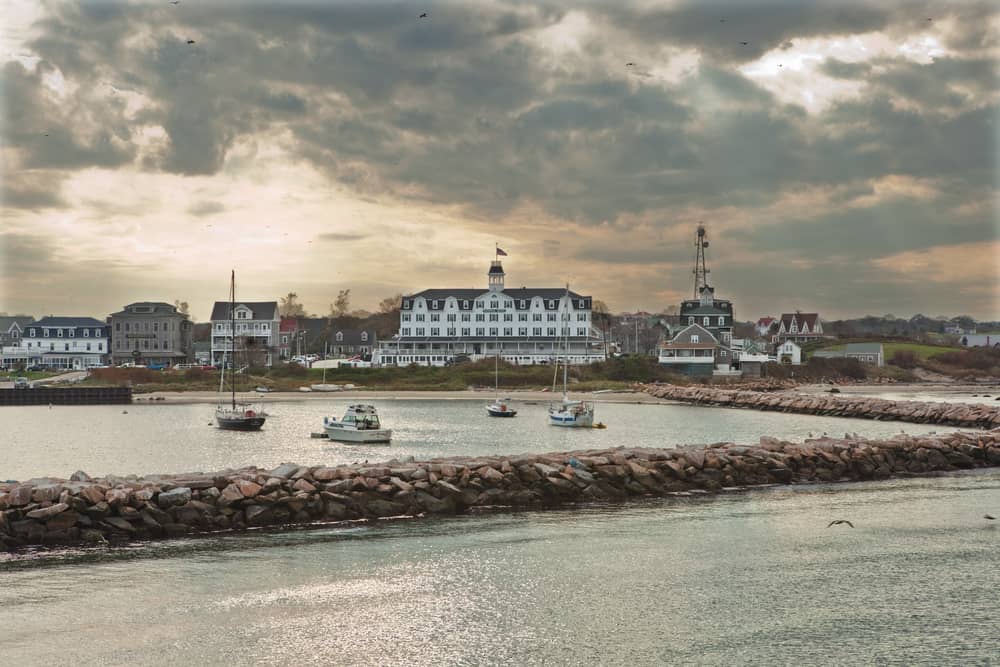 The entire island is absolutely gorgeous with plenty of fun things to do. Beach fun is obvious, and you can check out this guide to Block Island's beaches to figure out which beach will be best for you. Whether you just want to soak up some sun and the views or you want to find where to go swimming, kayaking, paddle boarding, snorkeling, and parasailing, there's a Block Island beach for you!
Providence Anthenaeum
Attention all literary lovers looking for cool places in Rhode Island: Providence Athenaeum has got to be on your list of where to go in RI! This independent library houses first and rare editions of works by many authors, and even was the site of a historical romance involving Edgar Allen Poe. Literary lover or not, this is a very interesting Rhode Island place to visit.
Cliff Walk in Newport RI

Lovely Newport is home to lovely coastal scenery, and one of the best ways to enjoy that is to take the Cliff Walk! This 3.5-mile walk allows you to view some of Newport's most famous Gilded Age era mansions from one side with spectacular ocean views on the other.
In the spring, the Newport Cliff Walk becomes vibrantly alive with the bright and cheery yellow daffodils that pop up all around town, landing Newport on this list of the best places to spend spring in New England.
Beavertail Lighthouse
Located in quaint Jamestown RI, Beavertail Lighthouse is one of the loveliest lighthouses in Rhode Island. Not only is there a museum and gift shop where you can learn more about this cool waterfront fixture, but the grounds of this lighthouse is also a state park that is one of the coolest places to visit in Rhode Island just to walk around and take in those coastal views.
Newport Mansions
Newport's mansions are a definite must see in Rhode Island, with 11 of them open to the public. These historic RI homes show how the very wealthiest Americans in the early 1900s lived. They are great to visit anytime of year, but if you're looking for places to go in Rhode Island at Christmas, the mansions go all out to decorate just as lavishly for the holiday season as their architects lavishly designed them.
Psst… Why visit Newport? This is why!
Tiverton RI
Tiverton is one of those places to visit in Rhode Island that often flies under the radar, but there's a lot of fun small town stuff to see and do. There's beautiful Fogland Beach, with a striking black stone beach that has a playground for the kiddos and a long, shallow shore that's fun to splash around in on a hot summer's day.
There's more to see and do in Tiverton, but on the must visit list has to be Tiverton Four Corners, full of shops, art galleries, cafes, and more. This is one of those quaint New England village throwbacks that are an absolute pleasure to visit.
Providence RI

Probably one of the coolest cities in the country, not just New England, Providence is one of those urban centers that has reinvented itself artfully and intentionally over the years, earning nicknames such as the Creative Capital and the Renaissance City.
Take a tour of the city, check out hot spots like the Rhode Island School of Design (RISD) and the Roger Williams Park Zoo, eat at some of the best restaurants in the city (PVD has some phenomal Italian restaurants!!!), and just soak in some of what makes this one of the most vibrant RI places to visit.
Stay at Ocean House
If you're looking for splurge-worthy elegance and luxury in RI, you have to check out Ocean House in Watch Hill! This RI place to stay is synonymous with service and satisfaction, featuring luxurious accommodations, a gorgeous spa, and a Forbes and AAA Five-Star Restaurant on-site that serves up gourmet cuisine with a spectacular view.
Click Here to Check Prices & Book!
Go on a Narrated Lighthouse Tour
When it comes to places to visit in Rhode Island, the coast is obviously always high up on the list, but one of the best ways to enjoy the beauty of the Ocean State is to get out on the water! This Narrated Lighthouse Cruise leaves Newport Harbor on a 75 minute expedition to see and learn about four of the most popular lighthouses in RI.
Little Compton RI
Just as cute as cute can be, Little Compton is one of those quaint, laid back places to visit in Rhode Island where you can slow down and breathe easy. There's Carolyn's Sakonnet Vineyard, the oldest vineyard in New England, and pretty South Shore Beach, the perfect spot to enjoy a coastal beach walk. Add Little Compton to your list of RI places to visit, especially if it's a slower pace you're after.
Waterfire in Providence
One of the top Rhode Island things to see is Waterfire, the annual art installation like no other that includes several lit braziers in the three rivers downtown on certain weekends between May and November; vendors, performers, and musicians add to the carnival-like vibe.
If you want an extra special RI experience, check out La Gondola's Waterfire package to ride in a gondola, sipping on your favorite bottle of wine, as you view the fiery displays from the water beside them.
Mohegan Bluffs
If you're looking for some of the most spectacular views in Rhode Island, head to Mohegan Bluffs on Block Island. Views from the top are thrilling and expansive, and if you decide to make the trek down the 141 steps to the actual beach, you can swim and walk the beach while admiring the impressive clay cliffs from below.
Narragansett Town Beach
Certainly one of the best beaches in RI, Narragansett Town Beach is extremely popular. In addition to its many conveniences like restrooms, concessions, in season lifeguards, and ample lifeguards, it also has fantastic views of the iconic Narragansett Towers. There are many beautiful beaches in the Ocean State, but this is a must visit in Rhode Island.
PS don't leave Narragansett without a visit to Point Judith Lighthouse!
Green Animals Topiary Garden
If you're looking for interesting and unique places to visit in Rhode Island, check out Green Animals Topiary Garden in Portsmouth! Located on 7 acres that overlook picturesque Narragansett Bay, you'll find the most adorable selection of topiary designs. This is a favorite for kids and their adults, and if you visit in the warm summer months, you'll be treated to some of the most gorgeous garden blooms you've ever seen!
Bristol RI
Bristol is a little seaport town with a lot going on in its 10.1 square mile radius of land! Known for having the country's oldest 4th of July celebration, this adorable town has a sheltered harbor where kayaking and windsurfing are favorite warm-weather activities.
Beautiful outdoor spaces abound like Colt State Park and the Gardens and Arboretum of Blithewold Mansion, named one of the Best 5 Public Gardens in Yankee Magazine. Bristol is a lovely seaside RI place to visit.
Watch Hill
Yes, Watch Hill is where Taylor Swift's summer home is located, but there's more to Watch Hill than just T. Swift. There are beautiful beaches, lovely scenery, and the historic Watch Hill Flying Horses Merry Go Round, the oldest continuously operated merry go round in the US!
Providence Performing Arts Center
One of the top theatre venues in the world is located in Rhode Island, and as you walk through the doors of Providence Performing Arts Center, you'll see why! PPAC is referred to as The Jewel of Weybosset Street, and this gorgeous theatre is almost as lovely to see as the shows being performed there.
The Ocean State is always a fun place to visit, and any of the spots on this list would make excellent additions to your list of the best places to visit in Rhode Island!
---
Read these next:
---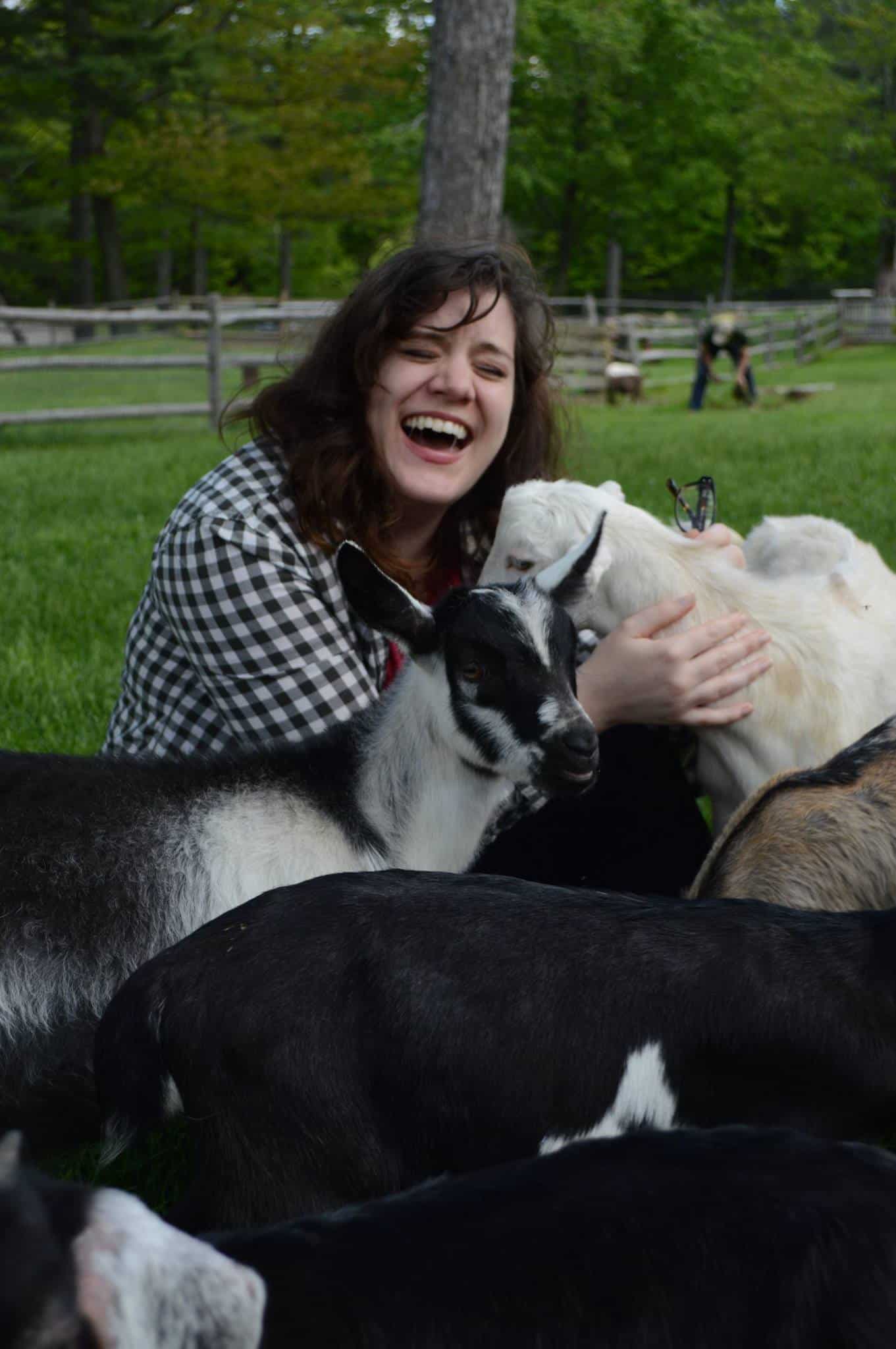 Amy Hartle is the founder and Editor-in-Chief of New England With Love, a comprehensive resource for travel in the New England region. Amy has been exploring New England since 2001. She lived in Vermont for many years and is a graduate of Plymouth State University in New Hampshire. On this site, Amy aims to share her love of New England and help you to have the best possible adventures!
Amy has been writing about travel for over a decade, and is a full time blogger, publishing both Two Drifters and Let's Adventure Baby. When not traveling the world or creating epic blog content, Amy can be found cuddling with her husband, son, and cats, & drinking a maple latte.