---
*Links in this article may be affiliate links, from which we may earn commission. See our
Privacy Policy
for full details.
---
Rhode Island may be the smallest state in the country, but it packs a heck of a punch when it comes to cool places to visit. Little Rhody has everything from cerebral and creative urban cities to cool, coastal towns full of charm and is home to some of the top sights to see on the east coast. Whatever you're looking for, you're bound to find it here on this list of the 5 best places to visit in Rhode Island.
Experience the Wow Factor of Westerly, RI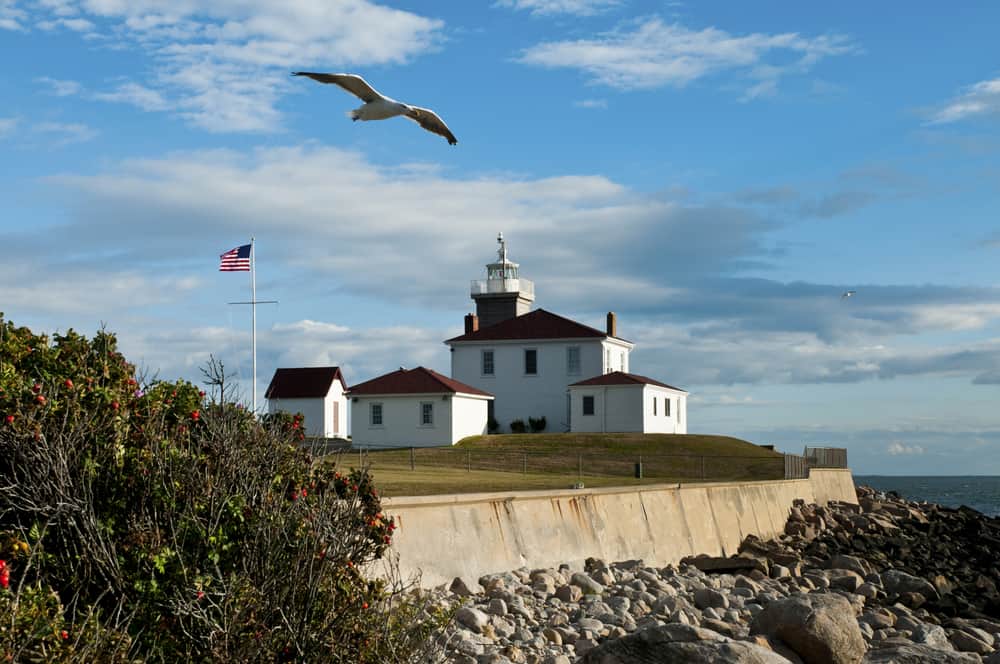 The town of Westerly is located on one of the most beautiful stretches of coastline in Rhode Island and has been both home and vacation destination for many celebrities and high-powered families of wealth over the years, among them names like Clark Gable, Henry Ford, and currently, Taylor Swift, who keeps her summer home in the village of Watch Hill to host extravagant summer parties.
Westerly has a bit of it all, really: Beautiful beaches, unique shopping, a vibrant downtown, lovely outdoor spaces, a wonderful little theatre, and great restaurant options! Some of the must-visits while in the area are The Malted Barley, a craft beer pub that features baked-to-order pretzels made with their signature pretzel dough and of course, a wide variety of craft beers, and The Cooked Goose, a brunch spot that offers decadent staples like Vanilla Almond French Toast and a Crab Cake Sandwich served on a brioche roll that is to die for!
There are many excellent options for places to stay in Westerly, but if you're looking for a little elegance and luxury, you have to check out Ocean House in Watch Hill! One of the most popular seaside resorts in New England, Ocean House is synonymous with service and satisfaction, featuring luxurious accommodations, one of the most fabulous spa destinations in New England, and a Forbes and AAA Five-Star Restaurant on-site that attracts guests from all over the region to enjoy gourmet cuisine with a spectacular view. Ocean House is also an ideal destination for a little romance if you're looking for that perfect Rhode Island romantic getaway, but either way, Westerly will wow you on your visit, for sure.
Be on Island Time on Block Island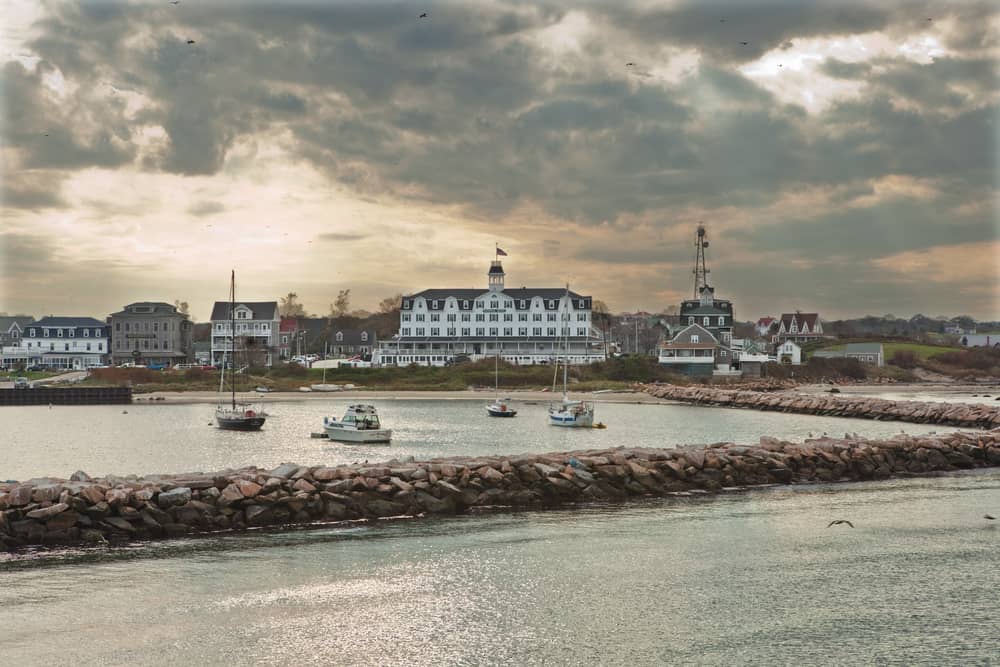 What is island time, you may ask? Well, it's the naturally slower pace of life that happens when you arrive in a paradise location like Block Island! Ride the ferry over and step into rest, relaxation, and fun. The entire island is absolutely gorgeous and you will have stellar views everywhere you look, but there's also plenty of fun things to do, too! Beach fun is obvious; you can check out this guide to Block Island's beaches to figure out which beach will be best for you, and water activities like swimming, kayaking, paddle boarding, snorkeling, and parasailing will give you plenty to do in the warm weather months! Block Island isn't just a summer destination, however; you'll also find fantastic hiking amongst the scenic bluffs, horseback riding, and bike riding that will keep you active even when the water is far too cold to wade into!
With absolutely no chain stores on the entire island, there is tons of opportunity to score some unique finds, including new art for your home in one of downtown Block Island's many galleries. Restaurants are all casual and relaxed, with none requiring a jacket or a tie; just deliciously prepared fresh seafood and island-style cuisine served up in comfortable locations, many with those spectacular Block Island views. There are many excellent options for where to stay on Block Island, but The Atlantic Inn is a Block Island staple (and considered an incredibly romantic getaway destination!) that is located on a hilltop with incredible ocean views. In fact, you can catch dinner at the on-site Restaurant 1879 and watch the sunset out across the Atlantic; what a perfect ending to any day, right? Especially one spent playing, exploring, and unwinding on island time at Block Island!
Visit the Gilded Age Glory of Newport, RI
Considered one of the ultimate vacation spots in New England, lovely Newport is home to stunning natural scenery and dramatic architecture harkening back to American Gilded Age glory, and plenty of other things to do and see while you're visiting, too. It's hard to say whether the biggest attraction of Newport is the phenomenal scenery, like the incredible ocean views from the dramatic cliffs, or the opulent Newport mansions that feature grandiose elegance everywhere you turn! Cliff Walk is the 3.5-mile walk that allows you to view some of Newport's most famous mansions from one side with spectacular ocean views on the other and is one of the best hikes in Rhode Island. In the spring, this walk becomes vibrantly alive with the bright and cheery yellow daffodils that pop up all around Newport, landing Newport on this list of the best places to spend spring in New England!
Newport's mansions are considered a must-see, with 11 of them that are open to the public, each one a standing memorial to how the very wealthiest Americans in the early 1900s lived. The mansions are a must-visit any time of the year, but come Christmas, the mansions go all out to decorate just as lavishly for the holiday season as their architects lavishly designed them, and all of the fabulous Christmas activities they host are just one of the reasons why Newport gives off major "Christmas Hallmark Movie Vibes" and becomes a major Christmas in New England destination. There are a lot of options for where to stay and where to eat while in Newport, but if you're looking to splurge a little on your visit, check out Castle Hill Inn; with incredible ocean views standard with every room, a spa, and an award-winning restaurant on-site, a stay at Castle Hill Inn might just have you feeling like you're getting a little taste of the Gilded Age glory for yourself during your Rhode Island vacation!
Let the Creative Capital Captivate you in Providence, RI
Probably one of the coolest cities in the country, not just New England, Providence is one of those urban centers that has reinvented itself artfully and intentionally over the years, earning nicknames such as the Creative Capital and the Renaissance City. This cerebral and creative capital city has so many things to do! Cultural offerings, both historically and artistically significant, include the Providence Performing Arts Center, ranked as one of the top venues in the world, the Providence Athenaeum, the independent library that will bring literary lovers to their knees with both the first and rare editions it houses and the storied history of literary greats that once graced its grounds (how about a romance involving Edgar Allen Poe, hmm?), and the RISD (Rhode Island School of Design, pronounced "Riz-Dee") Museum that houses incredible collections from all around the world.
There are a ton of restaurants that are worth a visit in Providence, but you really can't go wrong with any finds in Federal Hill and on Thayer Street, so make a beeline for either of these neighborhoods when the hunger sets in! The biggest attraction of all in Providence is Waterfire, the annual art installation like no other that includes several lit braziers in the three rivers downtown on certain weekends between May and November; vendors, performers, and musicians add to the carnival-like vibe. There are several great places to stay in PVD, but if you choose the Graduate Providence, you will be within easy walking distance to downtown and the Waterfire installation; if you want to get even closer, check out La Gondola's Waterfire package that will let you ride in a gondola, sipping on your favorite bottle of wine, as you view the fiery displays from the water beside them. No matter which way you slice it, Providence is just a cool city, and worth checking out during any Rhode Island visit.
Have a Ball in Bristol, RI
Considered a hidden gem of New England, Bristol is a little seaport town with a lot going on in its 10.1 square mile radius of land! Bristol is known for having the country's oldest 4th of July celebration and has a sheltered harbor where kayaking and windsurfing are favorite warm-weather activities, and getting out to explore by sea is a four-season activity for this little seaport town! Beautiful outdoor spaces include Colt State Park and its walking trails, picnic areas, outdoor chapel, and incredible views of the water, and the Gardens and Arboretum of Blithewold Mansion, named one of the Best 5 Public Gardens in Yankee Magazine. Visit the Herreshoff Marine Museum to see 60 "significant" boats that have been carefully restored for display, then head downtown to check out the Bristol Art Museum for a carefully curated selection of art, and the Linden Place Mansion, the gorgeous museum with the checkered past.
There are a lot of great restaurants in Bristol, but one stand-out is a traditional Irish Pub with a rep for absolutely killing it with their Bangers & Mash: Aidan's Pub! With a waterfront view, live music, and a full bar and excellent craft beer list, Aidan's Pub is a perfect niche foodie destination to check out while you're in Bristol. There are some great historic inns located in this waterfront town, and Bristol Harbor Inn is a fantastic boutique inn with tons of historic coastal charm, meaning you'll enjoy the inn almost as much as you will enjoy exploring the town and experiencing those lovely harbor breezes during your Bristol stay!
The Ocean State is always a fun place to visit, and any of the places on this list would make excellent destinations on your next visit to Rhode Island!
---
Read these next:
---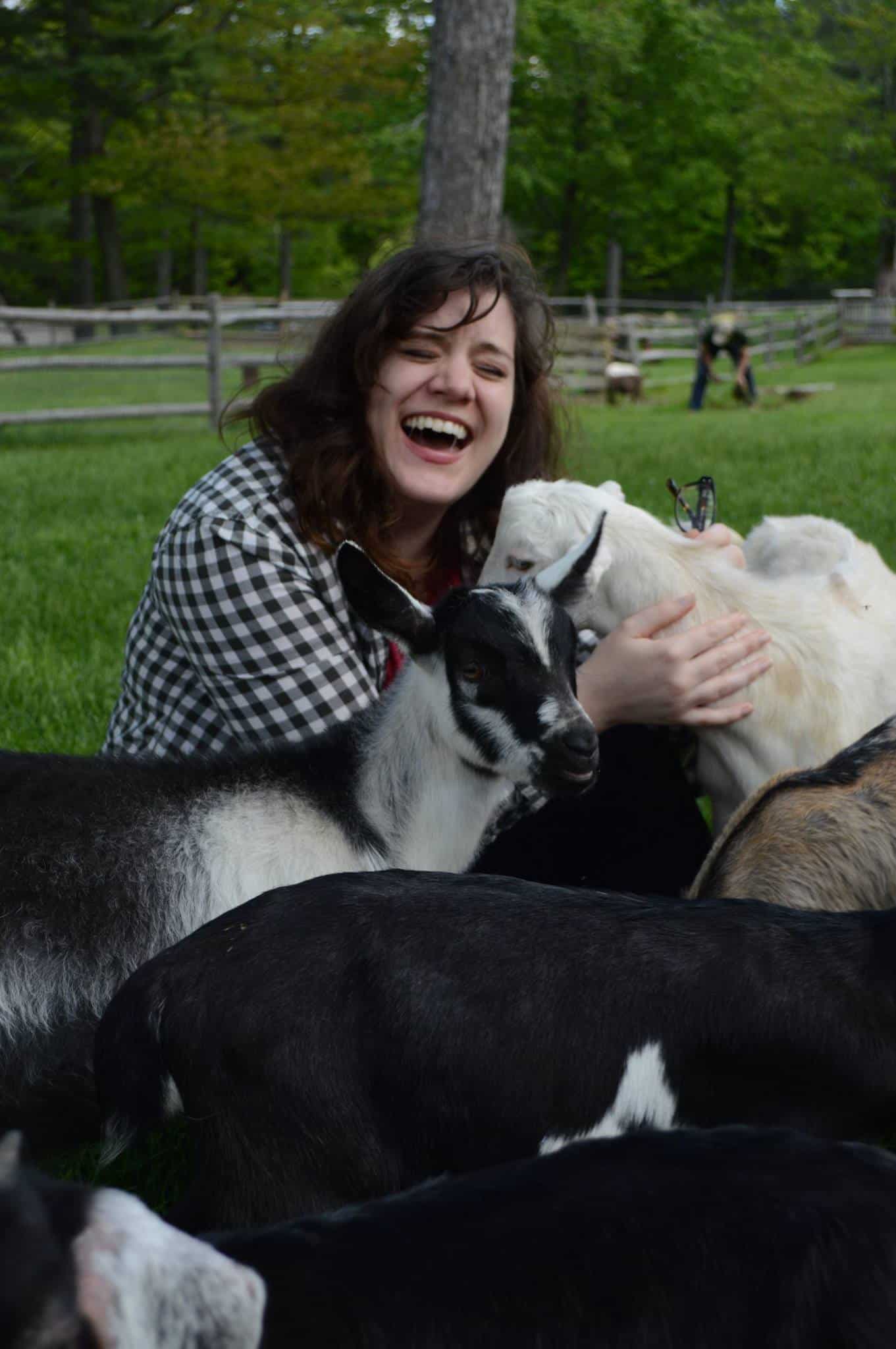 Amy is the founder of New England with love. A proud Vermonter, she hopes to share her love of New England and help you find the best adventures in the region. Amy is also blogger/founder at Two Drifters, where she writes alongside her husband about romantic and couples travel, relationships, honeymoons, and more. When not working on websites, Amy is probably reading, cuddling with her husband, son, and cats, & drinking a maple latte.