---
*Links in this article may be affiliate links, from which we may earn commission. See our
Privacy Policy
for full details.
---
Are you planning a weekend getaway to Providence Rhode Island? There are so many fantastic things to do in Rhode Island's Creative Capital, you have options galore!
There are parks, zoos, breweries, museums, and so much more to explore, so let's get going on your weekend in Providence RI itinerary!
Oh, and if you're looking for things to do in Providence RI this weekend or wondering what to do in Providence today, be sure to check out this local events calendar for current Providence events!
When is the best time to visit Providence RI?
Typically the warmer weather months are considered the best time to visit Providence, so think late spring through fall. Winter in Rhode Island has its charm, but if you want to travel to Providence to see all the top attractions, winter is probably not the best time to visit.
Where to Stay in Providence RI
There are some fantastic options for hotels and vacation rentals in Providence, so this might be tough! If you'd like to stay in downtown Providence within easy walking distance of great restaurants, theaters, museums, and other Providence attractions, consider a stay at either Hotel Providence or Graduate Providence.
Hotel Providence
Beautiful Hotel Providence is located in Providence's theater district within easy walking distance of the Jewel of Weybosset St itself, Providence Performing Arts Center. This gorgeous boutique hotel has amenities galore and an onsite restaurant offering a "theater menu" before shows.
Click Here to Check Prices & Book!
Graduate Providence
Formerly known as the Providence Biltmore, Graduate Providence is another downtown gem. Within easy walking distance of all kinds of downcity Providence fun, you'll also find amenities onsite like The Norwich Spa offering skin and body treatments, massage, sauna, salon services, and more!
Click Here to Check Prices & Book!
If you're having a romantic Providence weekend, you might also consider going the Bed and Breakfast route; the Christopher Dodge House is a popular Providence inn for romantic getaways and was even named Best City B&B in Rhode Island by Yankee Magazine! This historic inn features comfy cozy guest rooms, and of course, breakfast! Add in some extra romance by requesting the Romantic Getaway Package.
Click Here to Check Prices & Book!
A Weekend in Providence RI: Your 2-Day Itinerary
Day 1 in Providence
Fuel up at Bolt Coffee Co in RISD
Ready to hit the ground running on your first day in Providence? So much to do, so little time, so start off by fueling up at Bolt Coffee Co, one of the best coffee shops in Providence. Artisanal, fair-trade coffee and scrumptious pastries and breakfast sandwiches await you! Plus, there's just no substitute for the convenience of its location when you are starting your first day in Providence scoping out the scene at RISD!
See art at RISD
RISD is pronounced "Riz-Dee" and is short for Rhode Island School of Design, and the RISD Museum houses over 100,000 works of art and design in their collections and exhibits from all around the globe. RISD also offers free admission days, so check the website to see if your weekend trip to Providence lines up!
Visit the Providence Athenaeum
Calling all literary lovers, this might be your favorite part of your weekend in Providence! The Providence Athenaeum is not just an amazing library housed in a gorgeous historic building, it's also the site of some kinda juicy romantic literary lore!
In addition to housing unique collections and rare editions from some of America's greatest names in literature like Herman Melville and Louisa May Alcott, the athenaeum also served as a meeting space for great writers throughout its almost 200-year history, so it's collected some interesting history, including a tale of an engagement gone wrong involving Edgar Allen Poe!
Grab Lunch and a Beer at Trinity Brewhouse
Considered one of the best breweries in Providence and one of the first brewpubs in New England, Trinity Brewhouse is a great spot to go for a midday break! Try one of their handcrafted brews and high-quality food offerings like their Scallop Po' Boy or Lobster & Shrimp Mac n Cheese! If you didn't have visit a brewery on your must do in Providence list, feel free to choose from any of the other fantastic restaurants nearby!
Take a Providence Walks Tour
These self-guided walking tours are one of the best ways to explore Providence Rhode Island! There are several options, including an Early Black History walking tour, a Downtown Historic walking tour, an East Side walking tour and so on, so take a look at the Providence Walks options to see which one sounds the best to you!
Catch a Show
The beautiful thing about a weekend visit to Providence RI is that no matter the weekend you choose, you'll be able to find something to see in town! You've got incredible live theater and music options at places like Providence Performing Arts Center, Trinity Repertory Company, The VETS, and more, so definitely check out the local Providence events calendar to see what's happening during your visit!
If you are lucky enough to be planning your trip for a Waterfire night, then you'll be catching one of the coolest art installation pieces in all of New England! Partial and full lightings happen on various Saturdays throughout the year, so see if you can time your weekend trip to Providence to coincide with a Waterfire weekend!
Indulge in Skyline Views with Dinner
Looking for rooftop dining in Providence RI? Check out the Rooftop at Providence G, offering year-round rooftop dining with enclosed, open-air, and fireside dining options available! Dinner with a view is hard to beat, but Providence has so many fantastic places to eat that if rooftop dining isn't what you're looking for, you've got many, many options.
Day 2 in Providence
Breakfast at All Favorites Cafe
If you're looking for a great breakfast place to begin your second day in Providence, consider starting off at All Favorites Cafe in Cranston; not only is this family-owned restaurant one of the top breakfast spots in the area, it will also put you in the perfect position for your next weekend in Providence activity!
Roger Williams Park
Just a fifteen-minute walk from All Favorites is New England's largest public indoor garden, the Botanical Center at Roger Williams Park. With five greenhouses, a rose maze, and 150+ different types and varieties of plants in their indoor and outdoor gardens, there's plenty of natural eye candy to snack on here, but keep making your way further into this 435-acre park!
Roger Williams Park is one of the most gorgeous outdoor spaces in Rhode Island and makes for a great outdoor activity in Providence. There are lots of lovely trails for walking and you can even rent a jumbo swan paddleboat to explore this gorgeous park by its connected waterways!
If you are visiting Providence in November, there are illuminated jumbo swan paddleboat rides with hot cider and hot chocolate, too, for extra fall fun.
Roger Williams Park Zoo and/or the Museum of Natural History and Planetarium
Also onsite at this beautiful park is one of Providence's favorite tourist spots, Roger Williams Park Zoo, with over 160 animal species onsite, so if you're an animal lover, don't miss it! There's also nearby Carousel Village, so if you're visiting Providence with kids, be sure to take a ride on this lovely carousel!
If going to the zoo didn't interest you, consider going to the Museum of Natural History and Planetarium instead, also here at Roger Williams Park with its many educational exhibits to explore. Spending a little time at the Providence Natural History Museum and Planetarium is an excellent cap to a day spent at gorgeous Roger Williams Park!
Drive Under the Bronze Pinecone
Next up during your weekend in Providence is a visit to the historic Federal Hill neighborhood, known for its quaint cobblestone streets and the giant bronze pinecone or La Pigna that welcomes visitors to the neighborhood as they enter through the iconic gateway arch. Sometimes the pinecone is referred to as the pineapple, and those in the know say that's fine, too!
Once you're in Federal Hill, you'll want to spend a little time in picturesque DePasquale Square, the fountain and plaza that acts as the "beating heart" of this historic neighborhood. People watch, take photos of the spectacular fountain and colorful buildings of the square, and enjoy this charming outdoor space.
Getting hungry? You've got some of the finest Italian restaurants in Providence nearby, so start looking around PVD's Little Italy to see what appeals to you! You've got choices galore, but Camille's on the Hill has a gorgeous outdoor patio space and classical Italian favorites right in the heart of Federal Hill!
Take a Ride on La Gondola
Looking for a unique activity for your Providence weekend visit? Taking a ride on a Venetian-style gondola through the waterways of PVD might count! Reservations are strongly suggested at La Gondola, and packages can be personalized to include a singing gondolier, a musician to play your choice of mandolin, guitar, or violin, and specialty treat packages of Italian wine biscuits and chocolate truffles.
If you're looking for weekend in Providence plans for September and October, check out the Viaggio di Fantasme, or the "Trip of Ghosts," which shares all of the haunted local lore with its passengers. They even have a Waterfire package that allows you to enjoy the fiery art installations from up close. La Gondola is BYOB but they can provide glassware and a corkscrew for your gondola ride. What better way to end your Providence trip than to ride along under the stars with your favorite beverage and your favorite person, soaking in the vibrant energy of the capital city of Rhode Island? This could be great for a little romance!
Have a Nice Meal Out
For your final meal during your Providence weekend getaway, the sky is the limit! There are so many fantastic restaurants all around the city to choose from: in the mood for an Irish tavern? Check out Blake's Tavern. How about a good burger? Check out Harry's Bar & Burger. Looking for an excuse to get dressed up? Check out Mill's Tavern. Really, you can't go wrong!
To Review: Your Weekend in Providence Itinerary
Day 1
Coffee and art at RISD
Visit the Providence Athenaeum
Grab a bite and a brew at a brewery
Take a Providence Walks tour
Catch a Show
Dinner and a view on the rooftop
Day 2
Breakfast at All Favorite's Cafe
Explore Roger Williams Park, zoo, and the Museum of Natural History & Planetarium
Drive under the bronze pine cone to Federal Hill
Eat in Providence's Little Italy
Take a gondola ride
Have a nice meal out
Bonus Ideas for your Weekend in Providence
Here are a few more ideas for things to do during your PVD weekend getaway!
The great news is that pretty much no matter what you choose to do during your visit, you're probably going to have a fantastic time during your weekend in Providence because, well, it's just a cool city to visit and there's always fun to be had in the capital city of Rhode Island! Have fun during your Providence weekend getaway!
You might also like: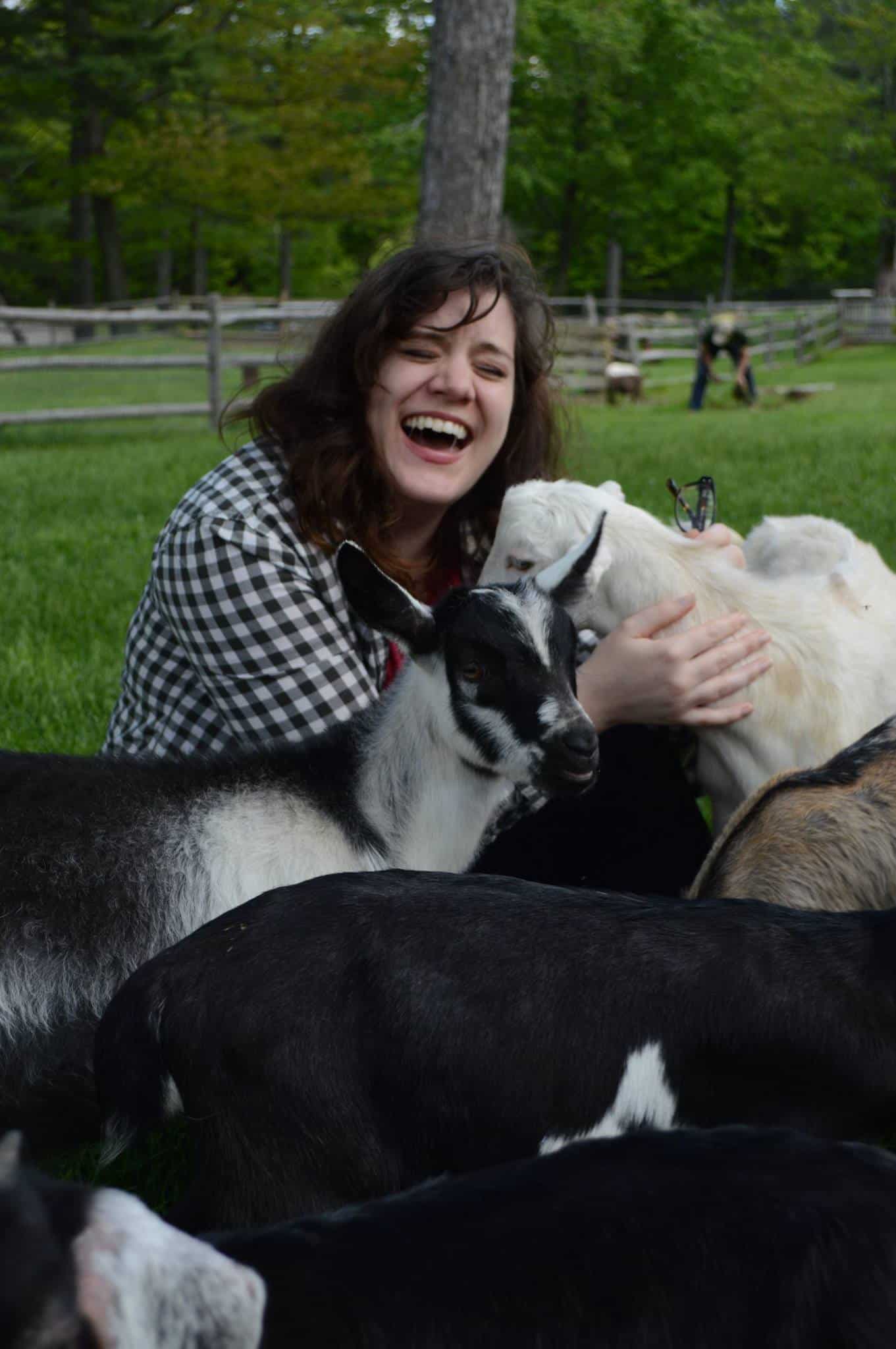 Amy Hartle is the owner and editor of New England With Love, a comprehensive resource for travel in the New England region. Amy lived in Vermont for 15 years, attended Plymouth State University in New Hampshire, and continues to travel regularly around the entire New England region. On this site, Amy aims to share her love of New England and help you to have the best possible adventures!
Amy has been a full time blogger since 2012, and is also the publisher of Two Drifters, where she writes about couples travel and relationships, as well as Let's Adventure Baby, a family travel site. When not traveling the world or creating epic blog content, Amy can be found cuddling with her husband, son, and cats, & drinking a maple latte.