---
*Links in this article may be affiliate links, from which we may earn commission. See our
Privacy Policy
for full details.
---
While most people visiting Rhode Island will visit places like Block Island, Providence, or Newport, Watch Hill is truly somewhat of a hidden gem. There are so many things to do in Watch Hill Rhode Island, a neighborhood located right on the water in Westerly.
Watch Hill is famously known for being the home for celebrities like Taylor Swift, whose summer home is actually right along the beach in this neighborhood. It's a wealthier neighborhood that's extremely well-kept, and there's beauty around every corner.
Whether you're visiting Rhode Island for a long time or you only have a day or two there, you won't want to miss out on this neighborhood. Keep reading to discover why and learn all about the best things to do in Watch Hill Rhode Island!
Relax at Watch Hill Beach
One of the most popular things to do in Watch Hill Rhode Island is to relax at Watch Hill Beach. This beautiful beach is located right near the neighborhood's center and is also sometimes referred to as Carousel Beach.
There are a few different spots near the beach to park, but most of them do have fees, so keep that in mind when planning your trip. The beach can also get extremely crowded during busy times of the year, like in summer. If you want to avoid the crowds, be sure to visit earlier in the morning to relax more!
In addition to laying out near the water, other fun activities here include taking in the view or walking along the water's edge. During certain hours (depending on the time of the year), there is also a lifeguard on duty.
Have Dinner at The Cooked Goose
The Cooked Goose is an absolute must-visit if you're looking for restaurants near Watch Hill. This restaurant, in particular, opens bright and early in the morning for breakfast and then also stays open for lunch through the late afternoon.
As one of the most popular places to eat in the area, The Cooked Goose is often busy, but it never takes too long to get a seat. Pick-up and curbside are also available for guests who would rather take their food to go.
For breakfast, The Cooked Goose has just about every type of breakfast imaginable. There are omelets, eggs benedict (including a unique Mexican one with refried beans, guac, jalapenos, and salsa), sandwiches, and more.
The lunch menu has a wide variety of sandwiches, salads, burgers, soups, and more. Prices are mid-range and tend to be around $15 for a full entree.
Go on a Sailing Trip
Another of the best things to do in Watch Hill Rhode Island is to go on a sailing trip. Luckily, this is relatively easy to do with Sail Trim Again, a local option that is available for many different types of daily sails, including moonlight or sunset trips.
Whether you're visiting Watch Hill for a special event or an anniversary, this can be such a fun activity. Some of the tour options even include sparkling wine and have the option to add catering, making it quite an entertaining affair.
In addition, going on one of these trips can be the perfect opportunity to learn more about sailing if that's been something of interest to you or one of your travel companions.
See the Watch Hill Lighthouse
Anyone visiting this area must check out the Watch Hill Lighthouse, one of the best things to do in Watch Hill Rhode Island. It's absolutely breathtaking and was built back in 1745. It's been updated quite a bit over the years, including by President Thomas Jefferson.
There are quite a few lighthouses in Rhode Island, but the Watch Hill Lighthouse is one of the most picturesque. It's stone and is situated next to a few other bright white buildings right along the coast.
Leading up to the lighthouse, there's a long stretch that visitors can walk along. There are also often people fishing in this area on the rocks. Visit at sunrise or sunset to get one of the most unforgettable views of the lighthouse!
Explore Art at Lily Pad Gallery
Art enthusiasts should stop by the local Lily Pad Gallery in Watch Hill, which is filled with tons of beautiful art. It's run by Wivi-Anne Weber, Ph.D., who has found many great artists and features their work throughout the gallery.
The gallery has shorter hours than some other attractions in the area, but anyone who adores looking at art will find that it's well worth the visit. The art throughout the gallery is in different mediums, ranging from paintings to sculptures and everything in between.
Surf at East Beach
East Beach in Watch Hill is the perfect place to go surfing! The waves here tend to be a bit harsher than those at Watch Hill Beach, which is why it's usually the preferred option for surfing in the area.
If you're not into surfing but still want to check out this beautiful beach, don't worry! There are still tons of other fun things to do here, like walking along the edge of the water, taking in the view, or relaxing in the sand. There are also some lovely spots near the beach to grab small bites to eat, like sandwiches or lemonade, in case you work up an appetite.
Walk the Napatree Point Conservation Area Trail
For a great easy hike during a visit to Watch Hill, hike the Napatree Point Conservation Area Trail. It's about 3.2 miles with 26 feet of elevation gain. It's also a loop trail, which means you won't have to retreat back on the same trail, and instead will have new views the entire time.
The trail is fairly calming and is a bit more like a coastal walk. Dogs are allowed on the trail, and it's also kid-friendly. Overall, the trail takes around an hour or so to do, making it perfect for an early morning or afternoon activity in Watch Hill!
This trail is also very beachy, so prepare to get sand in your shoes if you're wearing sneakers. Parts of the trail are also a bit overgrown as of summer 2022, so just be careful while hiking it to avoid an accidental run-in with any potential plants like poison ivy.
For anyone looking for a great walk along the beach, though, the Napatree Point Conservation Area Trail is absolutely perfect. There is fairly limited parking nearby, so plan your trip wisely and perhaps try doing it earlier in the morning to avoid crowds that may come later in the day.
Grab a Meal at Olympia Tea Room
If you're looking for amazing food in Watch Hill, look no further than the Olympia Tea Room, an old-school restaurant dating back to the 1930s. This has been a staple in the area for years and is a rather elegant place to eat.
The menu includes typical American restaurant dishes like pizza, salads, sandwiches, pasta, and more. There is also an abundance of fish dishes, which are a must-try when visiting Rhode Island, like fish and chips or lobster salad rolls.
Be sure to ask for a table with a view because many of the tables do overlook the nearby harbor, which is breathtaking any time of day. Sometimes, it can be a while for a table, so try to beat the crowds by visiting right before meal times.
Bird Watch on the Dr. John Champlin Glacier Trail
Another great easy trail to do in the Watch Hill/Westerly area is the Dr. John Champlin Glacier Trail. This is also an easier trail that's only about 2.1 miles long, but it provides the perfect opportunity for bird-watching along the way.
This loop trail only has about 130 feet of elevation gain and is overall fairly simple and doable for most people. The walk is calming, but it isn't fully shaded, so try to walk it earlier in the morning if visiting during the summer months.
What makes this trail so amazing is also that it's incredibly well-marked. So, you don't have to worry about accidentally going off-route when exploring this trail. There are also educational signs along the route which allow visitors to learn more about the area.
Ride the Watch Hill Flying Horses Merry-Go-Round
For anyone visiting with children, be sure to stop at the historic Watch Hill Flying Horses Merry-Go-Round. It's located near Watch Hill beach and is actually the oldest merry-go-round in the country that's still operating.
Hours for the merry-go-round change depending on the time of year, and there are some weeks when it's closed, so be sure to check their hours of operation online. Overall, hours tend to be longer during the summer months between June and September.
Book one of the tickets that come with the brass ring game for a fun and memorable time. This is great for older children who will be riding the merry-go-round.
Now you know all about the best things to do in Watch Hill Rhode Island. This post covered everything from hiking to checking out the best beaches! Enjoy your trip to Watch Hill.
---
You might also like: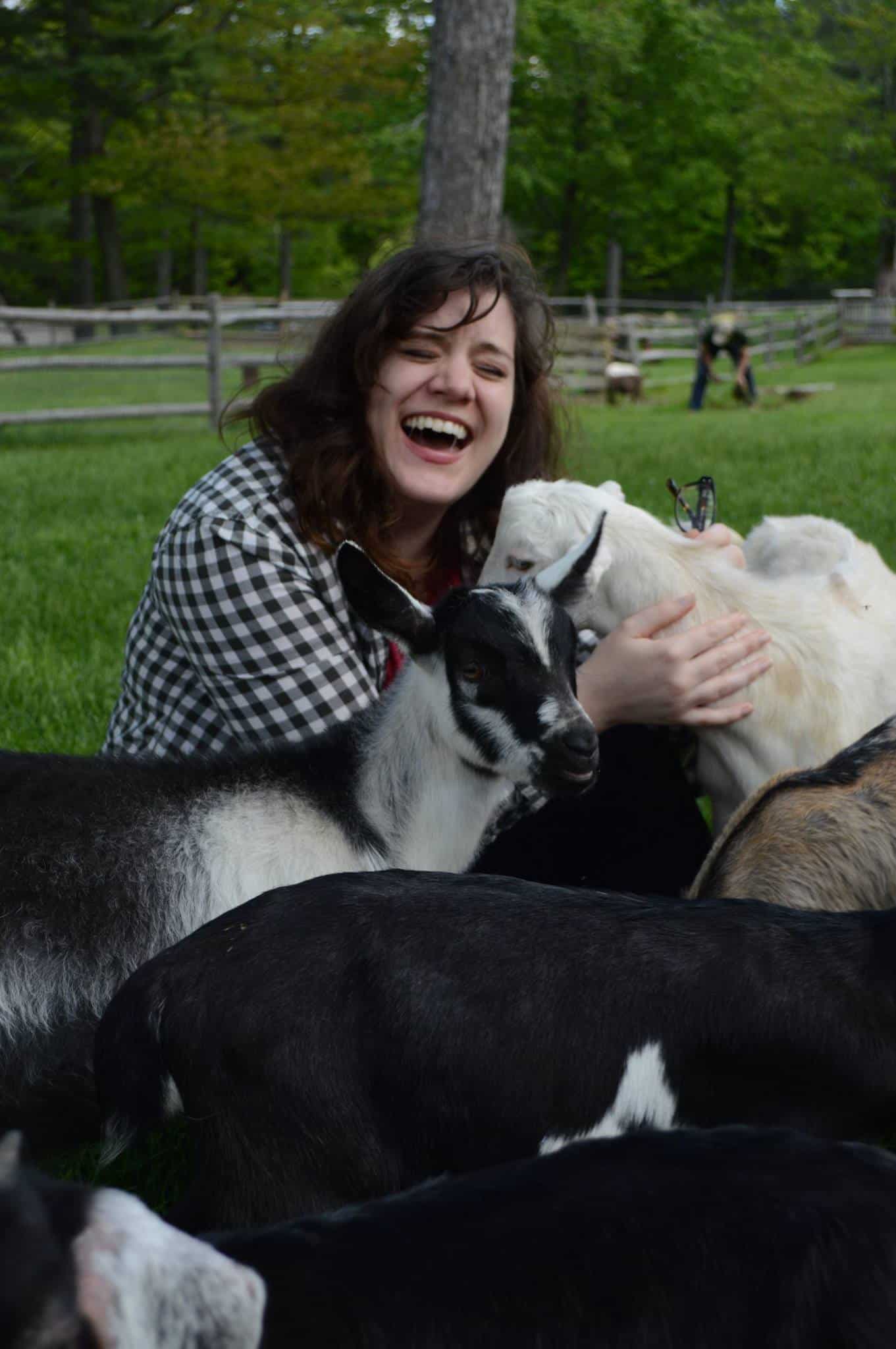 Amy Hartle is the owner and editor of New England With Love, a comprehensive resource for travel in the New England region. Amy lived in Vermont for 15 years, attended Plymouth State University in New Hampshire, and continues to travel regularly around the entire New England region. On this site, Amy aims to share her love of New England and help you to have the best possible adventures!
Amy has been a full time blogger since 2012, and is also the publisher of Two Drifters, where she writes about couples travel and relationships, as well as Let's Adventure Baby, a family travel site. When not traveling the world or creating epic blog content, Amy can be found cuddling with her husband, son, and cats, & drinking a maple latte.