*This site uses affiliate links; if you make a purchase through these, I may receive a small commission at no cost to you.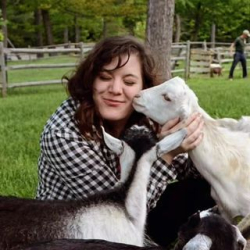 Latest posts by Amy Hartle
(see all)
If you want to know all about the best swimming holes in Rhode Island, you're in the right place! We've rounded up the top places to go swimming in the state, from state parks to small ponds and everything in between.
Summer in Rhode Island is truly like any other, and one of the best and easiest ways to cool off while enjoying the state's landscape and natural beauty is to hop in a swimming hole. Plus, this tends to be a very budget-friendly option for cooling off, as some of the locations on this list are even free!
So, what are you waiting for? Here are all of the best RI swimming holes.
Please keep in mind that many of these swimming holes are rocky and can be very slippery. Some also don't have any lifeguards. Please do your own due diligence and swim at your own risk.
Wood River
First up is Wood River, which flows near a few different towns in Rhode island. This is one of the most breathtaking swimming spots, and the river runs for about 25 miles. Luckily, because it's so long, there are quite a few spots along the river where you can pop in for a swim.
If you're looking for a scenic spot to swim, Wood River is your best bet. In addition to swimming, you can also go fishing and boating at different parts of the river.
Lincoln Woods State Park, Lincoln
Located in Lincoln, Rhode Island, Lincoln Woods State Park is a lovely place to go swimming. It's in Lincoln, Rhode Island, and isn't that far from Pawtucket and Providence, making it the perfect day trip.
The best thing to do at the park is to go to the freshwater beach and enjoy some swimming. There are also other water activities at the park, like trails, green spaces, and spots to relax out in the sun. Many people also love coming to Lincoln Woods State Park to go horseback riding!
Like most state parks in Rhode Island, Lincoln Woods State Park does have lifeguards on duty, depending on the season. They are usually watching the water between 9 a.m. and 6 p.m., especially in the summer months, making this a great spot to go as a family if you have younger children.
Ashville Pond, Hopkinton
Make your way to Hopkinton to enjoy the beauty of Ashville Pond! What makes this such a great place to go swimming is that since it's not in a state park, it's a little bit more secluded and lesser-visited. It's also right on the CT border, and is surrounded by a breathtaking forest.
Keep in mind that most of the signs at Ashville Pond are just for boating, but some people do swim at their own risk. Many say that swimming here is a "gray area," – so please do your own research on this before hopping into the water. You will often see people swimming somewhat near the boat launch here.
While at Ashville Pond, consider checking out the hiking trails in the area. Some great trails nearby include the Blue Pond Loop and Long Pond Woods Trail (which is the most popular).
Spring Lake Beach, Burrillville
Another great swimming hole is at Spring Lake Beach. This is a nostalgic spot to go swimming with more traditional vibes, including an on-site arcade. It's just like the swimming holes you remember going to as a kid!
It's open seasonally, just during the warmer months, unlike some of the others on this list. Spring Lake Beach does have lifeguards who are trained that work on-site and watch the waters. Other amenities at the park include picnic tables, a swimming dock, showers, restrooms, slides, concessions, and a penny arcade!
During the summer, this beach does get incredibly busy, so try to get there early to have a prime spot in the sand. Otherwise, you may get stuck sitting directly in the sun in a spot you won't like!
Pulaski State Park, Chepachet
Located in Chepachet, Pulaski State Park is a great swimming hole for cooling off in the summer months. This beautiful state park has a swimming area surrounded by forest that makes it truly breathtaking, especially in summer under a blue sky with little to no clouds.
Other fun activities at the park include picnicking, fishing, and just relaxing. There's lots of green space surrounding the 13-acre lake, where kids and families can have fun and play games like tag if they want to.
Many trails are within the area of Pulaski State Park and the George Washington Management Area, so you could also go on a hike before cooling off in the water to work up a bit of a sweat!
Burlingame State Park, Charlestown
Another of the best swimming holes is located in Burlingame State Park in Charlestown, Rhode Island. This park is just over 3000 acres in size, and the main feature is a giant lake that's perfect for swimming in the summer months.
The park can get pretty busy when the weather is warm, but it's still worth a visit if you get there earlier in the day. Children especially will love this swimming area, and adults will enjoy the sandy areas near the water where they can relax. Lifeguards are also on duty seasonally between the hours of 9 a.m. and 5 p.m.
Want to do more than just swim? You're in luck because Burlingame State Park has tons of other fun activities. Enjoy camping at one of the 700 campsites or 200 cabins, playing games at the arcade, or getting outdoors on the hiking trails.
Bowdish Reservoir, Chepachet
This 226-acre swimming hole in Chepachet is a lovely place to cool off! There is a small swimming area here, but note that the reservoir is also often used by boats. Because of that, you'll want to be careful of your surroundings when swimming here, and of course, swim at your own risk.
The shoreline at Bowdish Reservoir is also pretty rocky, so be sure to wear proper swimming shoes when you're here. There are also tons of other fun activities in the area by Bowdish Reservoir if you want to make an entire day or weekend out of it!
Watch Hill Merry-Go-Round and Beach, Watch Hill
Make your way to the beautiful Watch Hill to go swimming at the Watch Hill Beach! There's also a historic merry-go-round here, which isn't to be missed if it's open during your visit. The merry-go-round is actually the oldest continually-running one in the entire country.
This is a paid beach to go to, with adults costing around $12 and those aged 3 to 17 costing $6. Children under age 2 are free. There are also season passes, so if you live in the area, it's definitely worth it to buy one of those instead.
Ninigret Pond, Charlestown
This beautiful small pond in Charlestown is a lovely swimming hole during the summer months! Many locals in the area grew up swimming in this pond, and it has a much more laid-back feel than some of the others on this list.
Many Rhode Island locals consider Ninigret Pond to be a hidden gem of types, even though the beach is pretty big in size. If you're visiting as a family, be sure to head to Little Nini Pond. The water is a bit calmer here and is overall shallower, so it's perfect for young ones.
Many other great amenities are here, including a playground, disc golf course, picnic spots, paths for biking or walking, and more. There is even a dog park if you want to bring your furry friend along for the trip!
Block Island
With so many beaches on Block Island, it just had to be included on this list. There are many beaches that are perfect for swimming, but also other fun activities like surfing, walking along the water's edge, and relaxing. Plus, most of the beaches are extremely family-friendly.
Some of the best beaches on Block Island include Mansion Beach (where the foundation of an old mansion can still be seen), Mohegan Bluffs (literally looks like paradise), and Crescent Beach (which connects four other beaches on the island). No matter where on Block Island you go, you'll have an excellent time swimming.
Wallum Lake, Burrillville
Last but certainly not least is Wallum Lake in Burrillville. This is a great place to go swimming, and there are also miles of hiking trails that surround the area. It's truly an outdoor lover's paradise, especially in summer!
On holidays, this lake gets very busy because it's a favorite among locals. However, the swimming area is quite large, and there are double lifeguard stands there. Many picnic tables are scattered around, too, so you can even make an entire day out of it.
Well, there you have it, all of the best swimming holes in Rhode Island. We hope you've enjoyed reading this post, and we hope you enjoy the beauty of the state! Happy swimming.
---
You might also like:
15 Best Beaches in Rhode Island for Coastal Bliss