If you're looking for fun things to do in Little Compton, Rhode Island, you're in luck! This town is filled with rural character, stunning scenery, and many fun activities that can keep you busy.
Whether you're the type of traveler who loves to relax by going wine tasting at vineyards or you'd rather get out and go on hikes or scenic walks, there's something for you to do in Little Compton. Plus, a lot of these activities can be enjoyed year-round!
Keep reading to learn all about the best things to do in Little Compton RI.
Go wine tasting at Carolyn's Sakonnet Vineyard
One of the best things to do in Little Compton RI is to go wine tasting at none other than Carolyn's Sakonnet Vineyard. Not only is it the oldest winery in New England, but it's also one of the absolute must-visit spots whether you're visiting Little Compton for a romantic weekend or just with your friends.
This vineyard was founded in 1975 and covers 150 acres of land where they make some of the best-tasting wines. The area that it's located in will make you feel like you're in another country, forgetting that you're actually in Rhode Island.
They have specific tasting hours throughout the week, though they are closed some days. Be sure to check their website for the most up-to-date information. They have some seating right on-site where you can enjoy to-go food paired with their tasting flights so you can try a few kinds during your visit!
Relax at South Shore Beach
The best beach in Little Compton is South Shore Beach! It's a smaller beach, but there are lifeguard stands during the busy season. It's fairly affordable to park, and there are many great spots in the sand where you can just sit and relax.
Because it's one of the more popular beaches in the area, you'll want to visit in the evenings to avoid crowds if that matter to you. There is a higher fee to park and visit if you're not a Little Compton local, but it's well worth it.
For a really good time, consider stopping by at sunrise or sunset. The colors of the sky reflect so beautifully on South Shore Beach. Just wake up early, grab your favorite cup of coffee, and head out to be fully amazed!
Walk the Farmsite Simmons Pond Loop
Of course, this list of fun things to do in Little Compton RI had to include at least one walk/hike in the area. One of the best is the Farmsite Simmons Pond Loop. It's only about 2.3 miles long with minimal elevation gain, so it's a fairly easy hike.
This loop trail goes around the beautiful blue pond, which is breathtaking no matter the time of year. In the fall, this can be a great place to be near the fall foliage that New England is so well known for.
The trail itself is fairly well maintained, and it's kid friendly. There are signs that will teach you about the area throughout, and the scenery will keep you interested until the very end. In total, this trail only takes about 45 minutes to an hour.
Dine at The Barn Restaurant
For some great food in Little Compton, head over to The Barn Restaurant. This is easily one of the most visited restaurants in Little Compton, and for good reason. It's open for tasty breakfast and has mid-range pricing, with hours normally between 7 am and 12 pm.
For breakfast, they have tasty dishes like omelets, french toast, wraps, pancakes, waffles, and more. Some of their dishes are also super unique too. In the past, they've even had a dish called "Peach" that had two poached eggs on a hash with sweet potato, chorizo, spinach, and more!
The inside of the restaurant is very fitting because of its name. It looks just like a barn, with high vaulted ceilings and a wooden aesthetic. There's fun eclectic decor on the walls and lots of windows that lets the light in. In addition, there are numerous spots to sit outdoors under umbrellas, so you can enjoy the weather when the weather is warm.
Explore the Wilbour Woods
The Wilbour Woods is a great outdoorsy place to go when visiting Little Compton if you want to get outdoors. This spot is just what it sounds like: a natural, wooded area filled with trails, a river, and lots more to enjoy. It's super fun for families visiting the area to stop by here.
The parking here is normally easy to find, and there are places where you can also host gatherings if you want to. In fact, you can normally find some tables, chairs, and even grills, so you can cook if you would like to!
While this place is beautiful year-round, it's even more breathtaking in the winter. It gets covered in a soft blanket of snow, and sometimes the creek even peeks out from it. The area is also breathtaking in fall and is a great spot to check out the fall foliage during a visit to Little Compton, Rhode Island.
Have a pint at nearby Taproot Brewing Co
The best brewery near Little Compton is actually over in Middletown! It's in Newport Vineyards and is called Taproot Brewing Co. This brewery has great food and amazing drinks and focuses on creating in small batches made with care.
The inside of the brewery is sophisticated but also industrial and rustic. It features exposed wooden beams, a bar area with a high top so you can eat solo, and beer hall-style tables and chairs throughout. Of course, there's also tons of warm lighting, too! In addition, when the weather is nice, you can enjoy your drinks outside under umbrellas.
In addition to all the drinks on their menu, they have a multitude of smaller bites that you can enjoy with your drinks. There are dishes like Narragansett Bay Quahog chowder, Newport sea salt pretzels, hot spinach and onion cheese dip, buttermilk fried chicken drums, and even pizzas.
See the Sakonnet Lighthouse
Just like almost everywhere else in Rhode Island, Little Compton is also home to its own lighthouse! The Sakonnet Lighthouse, or Sakonnet Light, was built in the 1880s and is near Sakonnet Point.
The lighthouse sits out in the water, jutting out against the blue ocean on its own little rock island. It's bright white and is quaint, but is incredibly picturesque. There aren't many lighthouses that are set up the same way; this one is right in the ocean, so there have been lots going on with it lately to see if it could be upkept or not.
There are some spots to park in the area, though you have to look for them, in order to get a view of the lighthouse. Many people will actually head over to South Shore Beach to try to get a great view! Be sure to try to check out the lighthouse at sunset; it's the most gorgeous time of day and will truly take your breath away.
Visit the Young Family Farm
Yes, Little Compton has its own farm, and it's one of the best spots to go apple picking in Rhode Island! Say hello to the Young Family Farm, which has been open since the 1990s. Whether you're visiting for a weekend or an entire weekend, visiting here is one of the best things to do in Little Compton RI.
This place usually attracts visitors from all over New England, including Boston, during the summer months, and helps to bring lots of visitors to the Little Compton town. The majority of their farm is just for potatoes, but they have many other foods that they grow as well!
When visiting, be sure to head over to the Farm Stand. It's open seasonally but is the perfect spot for purchasing produce and crops directly from the farm, including veggies like kale and spinach. They also have pick your own berries and flower picking throughout the year, though these are available to the public seasonally!
Walk the Dundery Brook Trail
Last but not least, on this list of things to do in Little Compton RI is to walk the Dundery Brook Trail. This is easily the most popular walk in all of Little Compton and includes a beautiful wooded walkway that will lead you through the forest.
The trail is fairly short at around 2 miles long with minimal elevation gain, which is why it's more of a walk than a hike. It's an out-and-back trail, too, including a beautiful lake that's incredibly tranquil. It's kid-friendly, though dogs aren't allowed.
Be sure to check the weather before doing this trail if you plan on it for your trip to Little Compton. It can get a bit flooded after it rains because of its location! Overall though, the trail is fairly well maintained, and it's a great spot for bird-watching and looking out for other wildlife.
We hope you enjoyed this post all about the best things to do in Little Compton RI! No matter what you choose to do, you'll have an incredible time.
---
Read these next: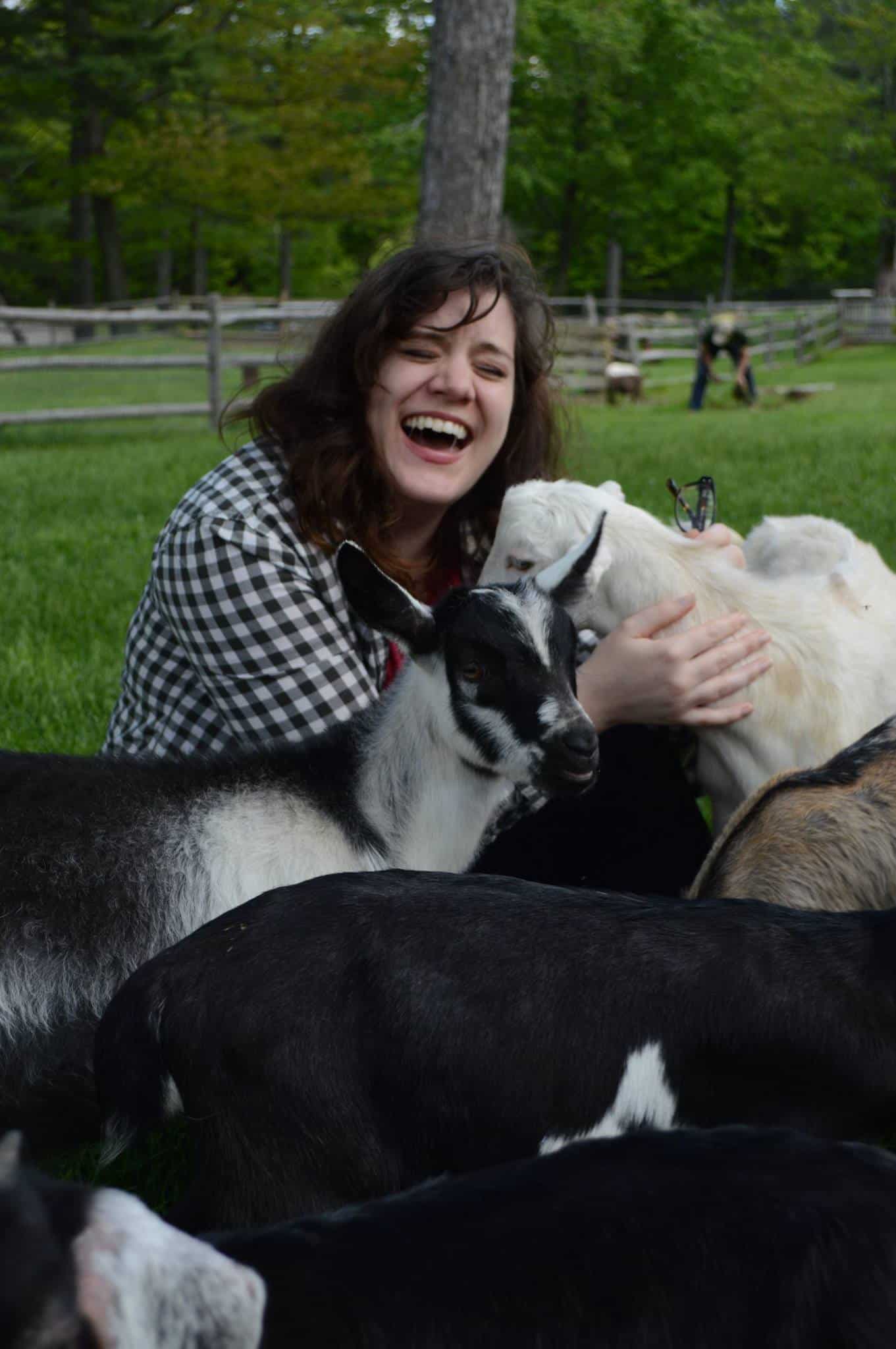 Amy Hartle is the founder and Editor-in-Chief of New England With Love, a comprehensive resource for travel in the New England region. Amy has been exploring New England since 2001. She lived in Vermont for many years and is a graduate of Plymouth State University in New Hampshire. Amy has been writing about travel for over a decade. On this site, Amy aims to share her love of New England and help you to have the best possible adventures!
Amy has been a full time blogger since 2012, and is also the publisher of Two Drifters, where she writes about couples travel and relationships, as well as Let's Adventure Baby, a family travel site. When not traveling the world or creating epic blog content, Amy can be found cuddling with her husband, son, and cats, & drinking a maple latte.