Are you looking for the best beach towns in Rhode Island for your next Ocean State getaway? If it's coastal views, sand, and surf that you're looking for, Rhode Island beach towns have got what you need!
Whether you're looking for the perfect Rhode Island beach town for your next family vacation or you're planning the ultimate romantic getaway for your favorite person, you'll find what you need on this list of the best beach towns in Rhode Island!
Little Compton
Little Compton is a quaint RI beach town that is home to several beaches, but many are private, so if you don't have a vacation rental, you won't have access. That's not a problem though, because there are public beaches you do have access to! South Shore Beach features white sand and a pretty rocky shoreline, so protect your feet with a good pair of water shoes. There are seasonal lifeguards and restrooms at South Shore, but bring your own snacks and drinks; there is a parking fee as well.
One of the coolest features of South Shore Beach in Little Compton is that you can walk about half a mile along the shore to get to Goosewing Beach, one of the best beaches in Rhode Island! A part of a 75-acre nature preserve that protects this gorgeous coastal pond and barrier beach, Goosewing Beach offers stunning scenic views and a whole lot of wildlife! Bird watching is always a popular activity at this peaceful beach destination. Swing by Carolyn's Sakonnet Vineyard to pick up a bottle of one of their award-winning blends on your way to your hotel; Stone House Inn offers gorgeous ocean views and private beach access!
Click Here to Check Prices & Book!
Narragansett
One of the cutest beach towns in RI, Narragansett has plenty of shoreline for facetime with the ocean! Narragansett Town Beach is an ever-popular tourist destination with ample parking, concessions, restrooms, seasonal lifeguards on duty, soft sand, and views of the iconic Towers, so it's basically the entire package! Rent a board from Narragansett Surf & Skate Shop if you don't already have one, because the surf at Narragansett Town Beach is fantastic.
If you'd prefer to check out some of the other beaches in 'Gansett, you've got options: Scarborough State Beach is one of the most popular beaches in the state, with over 2,000 feet of beach, Roger Wheeler State Beach aka Sand Hill Cove Beach and Salty Brine State Beach have breakwater barriers that make them an excellent choice for families looking for gentle surf for the kiddos, and all three have excellent amenities like gazebos, restrooms, lifeguards, concessions, and more! Book a room at The Break Hotel to stay within beach walking distance!
Click Here to Check Prices & Book!
New Shoreham, Block Island
When you think of beach towns in Rhode Island, you've gotta think of New Shoreham, Block Island's only town. New Shoreham is home to so many beautiful beaches, each with its own attraction; if you're wanting to sift through the sand for sea glass, head to West Beach. If you'd like to see some of the most dramatic views of the Atlantic, that's Mohegan Bluffs, one of the most beautiful places in all of Rhode Island. If you want a beach with a tiki bar, Ballard's Beach is for you. If you're traveling with kiddos, check out Baby Beach. Truly, there's a New Shoreham beach that is perfect for you somewhere on Block Island!
It's not just great beaches that make New Shoreham a fantastic RI beach town, it's all the great things to see and do around the island, too. There are no chains in New Shoreham, so there are all kinds of unique restaurants, boutique shops, and art galleries to check out, and the natural scenery is accentuated by the two gorgeous lighthouses on the island, so photo opportunities abound in just about every direction! Book a room at the lovely Atlantic Inn for views for days!
Click Here to Check Prices & Book!
Bristol
If you're looking for a beach town in Rhode Island that is small in size but big in charm, check out Bristol! This hidden New England gem is home to Bristol Town Beach, just across from Colt State Park. The beach is pretty pebbly, so bring your water shoes, but there are seasonal lifeguards, concessions, and restrooms in addition to a sports complex with a skate park, tennis courts, etc.
Bristol is also home to attractions like Blithewold, the 33-acre summer estate with gorgeous gardens and exhibits, and Musee Patamecanique, the creative and curious immersive experience that is a once in a lifetime kind of event, so there's plenty to see and do in Bristol other than just the beach! Consider a stay at the Bristol Harbor Inn, the boutique waterfront inn that has a restaurant with gorgeous waterfront views.
Click Here to Check Prices & Book!
Middletown
A part of Newport County, Middletown is a cute little RI beach town that doesn't get nearly enough love in the press! Home of two of the most popular beaches in Rhode Island, Sachuest Beach (Second Beach) and Third Beach, Middletown has beautiful beaches for when you need a generous dose of Vitamin Sea. You'll find more amenities at Second Beach, but both have restrooms and lifeguards and are great for swimming! Expect to pay for parking at both.
Also in Middletown is Sachuest Point National Wildlife Refuge, a favorite local spot for nature trails and bird watching, and Sweet Berry Farm, a local farm known for both its PYO fruits and having one of the best pumpkin patches in the state! If you have time, don't forget to swing by Newport Vineyards to see what they're bottling. Maybe take a bottle or two back with you to The Sea Breeze Inn?
Click Here to Check Prices & Book!
Westerly
Westerly is one of the most beautiful little beach towns in Rhode Island; of course it is, its Watch Hill neighborhood is where Taylor Swift decided to buy her summer house! With gorgeous popular public beaches like Misquamicut State Beach, Watch Hill Beach, Wuskenau Beach, and Atlantic Beach Park, you have some great choices for where you'll spread out on the sand!
All of them have their own distinct offerings, like Atlantic Beach Park has its carousel, arcade, and its fun summer events like live music that deliver big fun on the beach; it was originally called "Atlantic Beach Casino!" If you're looking for a peaceful stroll by the sea, visit the lovely Napatree Point Beach. For classic Rhode Island beach fun, Misquamicut State Beach has fantastic surf, concessions, restrooms, lifeguards, a playground, and soft sand that is perfect for a barefoot walk on the beach! Book a room at elegant Ocean House for a luxurious Watch Hill place to lay your head after a fun day in Westerly.
Click Here to Check Prices & Book!
Charlestown
Charlestown is a lovely little RI beach town that does what beach towns do best: has beautiful beaches! Blue Shutters Town Beach is a great beach with lifeguards, restrooms, soft sand, and absolutely stunning views of Block Island Sound, the Charlestown Breachway has lifeguards, restrooms, soft sands, and plenty of space to spread out, and East Beach is a quaint, soft sand beach with lifeguards, restrooms, but very limited parking, so arriving early is key. If you'd prefer freshwater to splash around in, there's beautiful Burlingame State Park.
Charlestown is also home to the Ninigret National Wildlife Refuge for wildlife walks and nature trails, and the fantastic Frosty Drew Observatory and Science Center for stargazing. If you're looking for a lovely and laidback place to stay in Charlestown, consider booking a spot at Hathaways Guest Cottages.
Click Here to Check Prices & Book!
Newport
When it comes to Rhode Island beach towns, many minds will immediately think of Newport! This gorgeous coastal town has so much to offer, with popular beaches like Easton's Beach (First Beach) that offer soft sandy shores, a gentle surf, restrooms, lifeguards, concessions, a carousel, an aquarium, and the beginning of the famous Cliff Walk!
Of course, there are plenty of other beaches in this lovely RI beach town, but Newport has so much to offer its visitors! There are so many fun things to do in Newport, like touring the Newport Mansions for a little peek into the Gilded Age history of the area, exploring the Fort Adams State Park, and sampling some of Newport's best restaurants. There are so many fantastic places to stay in the area, but if you're looking for a uniquely Newport stay, check out The Wayfinder Hotel!
Click Here to Check Prices & Book!
For a state nicknamed "The Ocean State," it's no surprise that Rhode Island beach towns offer great opportunities to enjoy the ocean with scenic beaches, cute coastal things to do, and gorgeous waterfront places to stay! Whether you're looking for a quiet beach to read and relax or you're looking for some stellar surf to get out on, you'll find it in a Rhode Island beach town!
Read these next: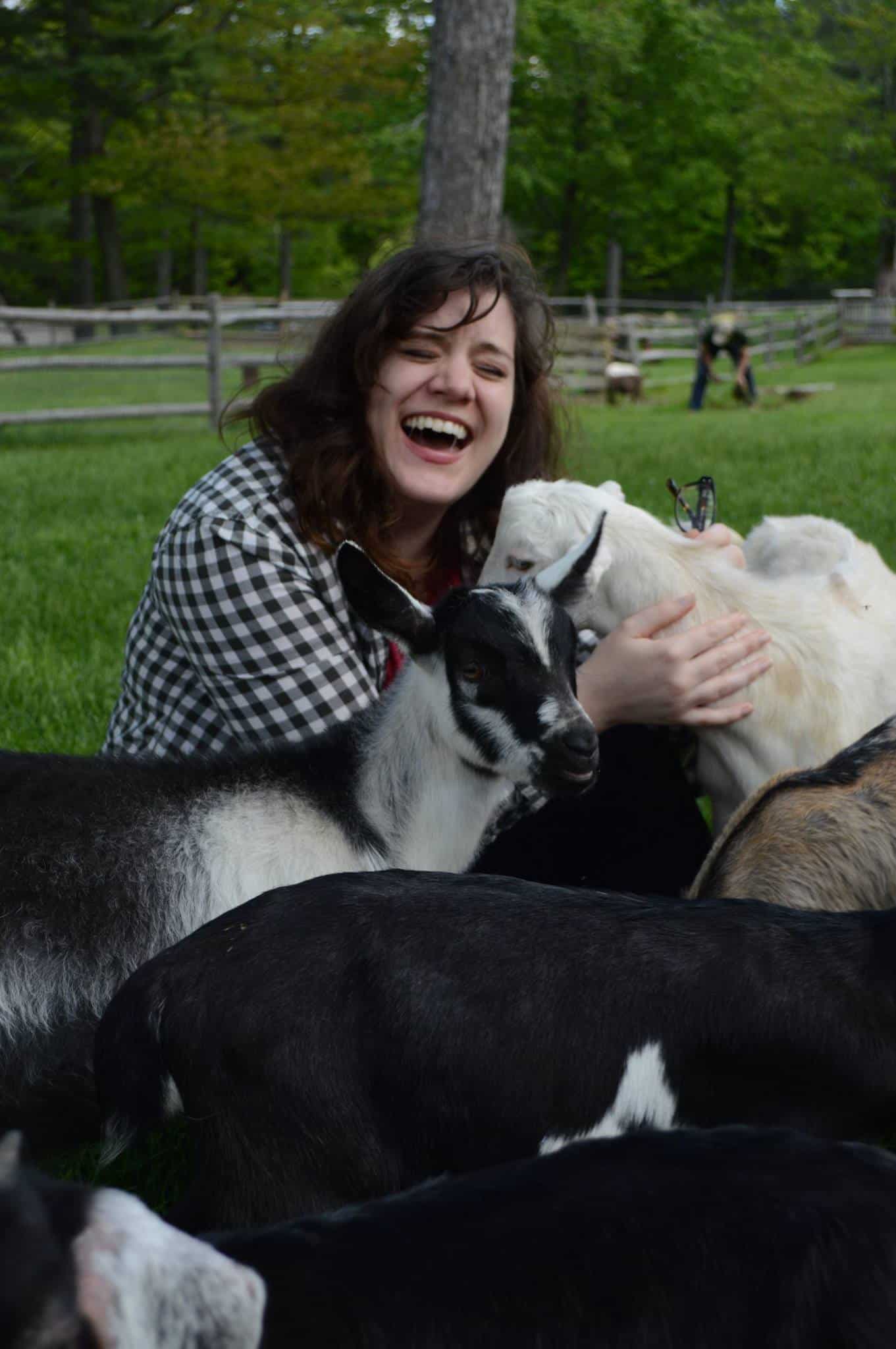 Amy Hartle is the founder and Editor-in-Chief of New England With Love, a comprehensive resource for travel in the New England region. Amy has been exploring New England since 2001. She lived in Vermont for many years and is a graduate of Plymouth State University in New Hampshire. Amy has been writing about travel for over a decade. On this site, Amy aims to share her love of New England and help you to have the best possible adventures!
Amy has been a full time blogger since 2012, and is also the publisher of Two Drifters, where she writes about couples travel and relationships, as well as Let's Adventure Baby, a family travel site. When not traveling the world or creating epic blog content, Amy can be found cuddling with her husband, son, and cats, & drinking a maple latte.