Connecticut has its share of adorable little towns, and New London is definitely one of them! New London has plenty of great things to see and do, whether you're there for a day or a week. Not only is one of the most gorgeous beaches in the state in this little waterfront town, but it is also full of art and history and fun things to do, oh my!
Below are all of the most terrific things to do in New London, Connecticut!
Lyman Allyn Art Museum
A New London treasure since 1932, Lyman Allyn Art Museum houses a collection of art pieces that includes works from all around the world, with a particular emphasis on American paintings and decorative arts. One of Lyman Allyn Art Museum's permanent exhibits is a robust collection of Victorian toys and dollhouses that attracts people from all over who come to enjoy a peek at the toys that defined the Victorian era.
Exhibits update each year, and Lyman Allyn Art Museum continues to provide community enrichment through workshops, demonstrations, and other community events.
Fort Trumbull State Park
Originally built to protect the New London harbor from British attack in colonial times, Fort Trumbull State Park has served as military fort, research grounds, and schools for the US Army, Navy, and Coast Guard. The visitor center has two stories of interactive exhibits that tell the story of Fort Trumbull over the years, and there are 1.3 miles of walking paths on the grounds that lead around the fort and out to a pier over the Thames River. It is a peaceful space to visit and get a nice little dose of New London maritime history.
The Hempsted Houses
The Hempsted Houses were built in 1678 and 1759 by one of New London's first settlers and his descendent, respectively, and the 1678 Joshua Hempsted House is one of the oldest homes remaining in Connecticut. The homes have seen much history over the course of their lives, including housing a Revolutionary War hero, two enslaved people in the 1700s and early 1800s, and a few of New London's leading abolitionists from the 1840s.
These wonderfully preserved historical museum homes offer visitors a glimpse of life in New London spanning the 17th to the early 19th century and a space to explore and better understand the historical roots of social issues that continue to affect society to this day.
The Old Town Mill
Old Town Mill was originally built in 1650 as New London's first town mill but was burned down by Benedict Arnold in 1781 during the New London raid, and then rebuilt again to continue to accommodate the town's farmers. To this day, the Old Town Mill remains on the National Historic Register as one of the oldest industrial sites in the Nutmeg State. Old Town Mill is accessible all year round from dawn to dusk for anyone who wants to admire this picturesque historic landmark.
Custom House Maritime Museum
Designed in 1833 by Robert Mills, the architect and designer of the Washington Monument, the Custom House Maritime Museum has been housing a robust collection of items that tell the story of New London's rich maritime history since 1983.
The Maritime Society also owns three of New London's lighthouses: Ledge, Race Rock, and New London Harbor Lights. New London Harbor Lighthouse is the tallest and oldest on Long Island Sound and can be visited year-round from the shore. Ledge and Race Rock are accessible only by boat during the summer. All three are very photogenic!
Garde Arts Center
Built in 1926 and originally called the Garde Theatre, the Garde Arts Center began refurbishing and restoring this lovely theatre in 1985 so New London could enjoy its delightful charms again. The Moroccan interior is original to the theater, a throwback to a time when attending the theatre was often seen as visiting an exotic, far away world, much removed from day-to-day life.
You can catch everything from Broadway tours to major musicians to independent films to community performing arts series at the Garde Arts Center, but whatever it is you are there to see, the charming warmth of this theater will add to your experience.
The Arboretum at Connecticut College
Open to the public 365 days a year, dawn to dusk, the Arboretum at Connecticut College is a beautifully landscaped space that includes lovely winding paths for walking among the wildflowers, ferns, trees, and shrubs. There are also woodland trails, a waterfall, a ravine, a sphagnum moss bog, and 40-acre Mamacoke Island to explore, well-loved by artists and hikers for its exceptional views.
In 1998, the main campus was included in the Arboretum, so there are carefully cultivated ornamental trees, shrubs, and flowers all around the campus, too. A walk around the arboretum spring through fall is a lovely way to get outside!
The Mural Walk
The largest concentrated mural walk in New England, Mural Walk is a fun way to explore and learn about the rich cultural influences present in New London. You can plot the tour out digitally, but really, the best way to get into it is to just get out and walk around downtown New London!
You'll see all the murals and art installations that have been commissioned by the city over the years, including the whale mural by Robert Wyland, famed American artist and conservationist, painted originally in 1993. The mural walk covers a six-block radius, making it easily walkable for a fun afternoon out and about the city!
Ocean Beach Park
Ocean Beach Park is one of the best beaches in the Nutmeg State and is known for its soft, white sand that extends out beyond the shore—not something you'll always find at Connecticut beaches—and coupled with the generally calm waters, makes this beach an ideal one for families with small children. There is also a cute boardwalk with an arcade, rides, mini-golf course, shops, and food options, as well as an Olympic-sized pool if you'd prefer to swim sans salt water for a bit!
Cross Sound Ferry Lighthouse Cruise
Hop aboard a Cross Sound Ferry Lighthouse Cruise to get a better look at the lighthouses of New London and beyond! The Classic Lighthouse Cruise features eight lighthouses and two Revolutionary War-era forts, and Lights and Sights incorporates more spots of historical and architectural interest, including those in Watch Hill, RI and Fishers Island, NY. Both cruises offer fabulous views and historical information about Long Island Sound; hard to beat that!
The United States Coast Guard Museum
The United States Coast Guard Museum is a 4,000-sq ft facility housing a robust collection of Coast Guard medals, uniforms, paintings, models, rescue equipment, and other Coast Guard artifacts. Some of its most popular attractions include a Fresnel lighthouse lens, and the original 1936 figurehead from the USCGC Eagle, hung on display as if it were still mounted on the bow of a ship.
Named the Best Military Museum in New England by Yankee Magazine Editors' Choice Awards in 2013, The USCG Museum is a sight to see for anyone interested in military history… plus, admission is free!
Block Island Express Ferry
New London is also home to the Block Island Express! Their fleet contains the fastest ferry between Block Island and the mainland, getting you from New London to Block Island fun in just a little over an hour. If you need to get there even quicker, hop on their high-speed passenger ferry, Sea Jet, that can make the crossing in an easy, breezy 40 minutes!
With the options Block Island Express Ferry offers, you can head over to Block Island in the morning for a full day of Block Island fun, and still be back in New London for dinnertime!
New London Historic Waterfront District
With a 26-block National Register Historic District that has been touched by names such as Nathan Hale, Eugene O'Neill, and even Benedict Arnold, there is a lot to see in the New London Historic Waterfront District! You'll find music and art venues, dining options, and shopping, as well as interesting architectural features like the Tiffany windows on display at St. James Church.
Head to City Pier to hop on the Mystic Whaler, a reproduction of 19th-century cargo schooner, and take a tour of the city by sea; check out their Lobster Dinner Sunset cruise!
Whether it's the great summer getaways, fantastic fall foliage, or quaint New England winter charm in Connecticut that calls to you, New London should absolutely be on your list of places to visit in the Nutmeg State!
---
You might also like:
---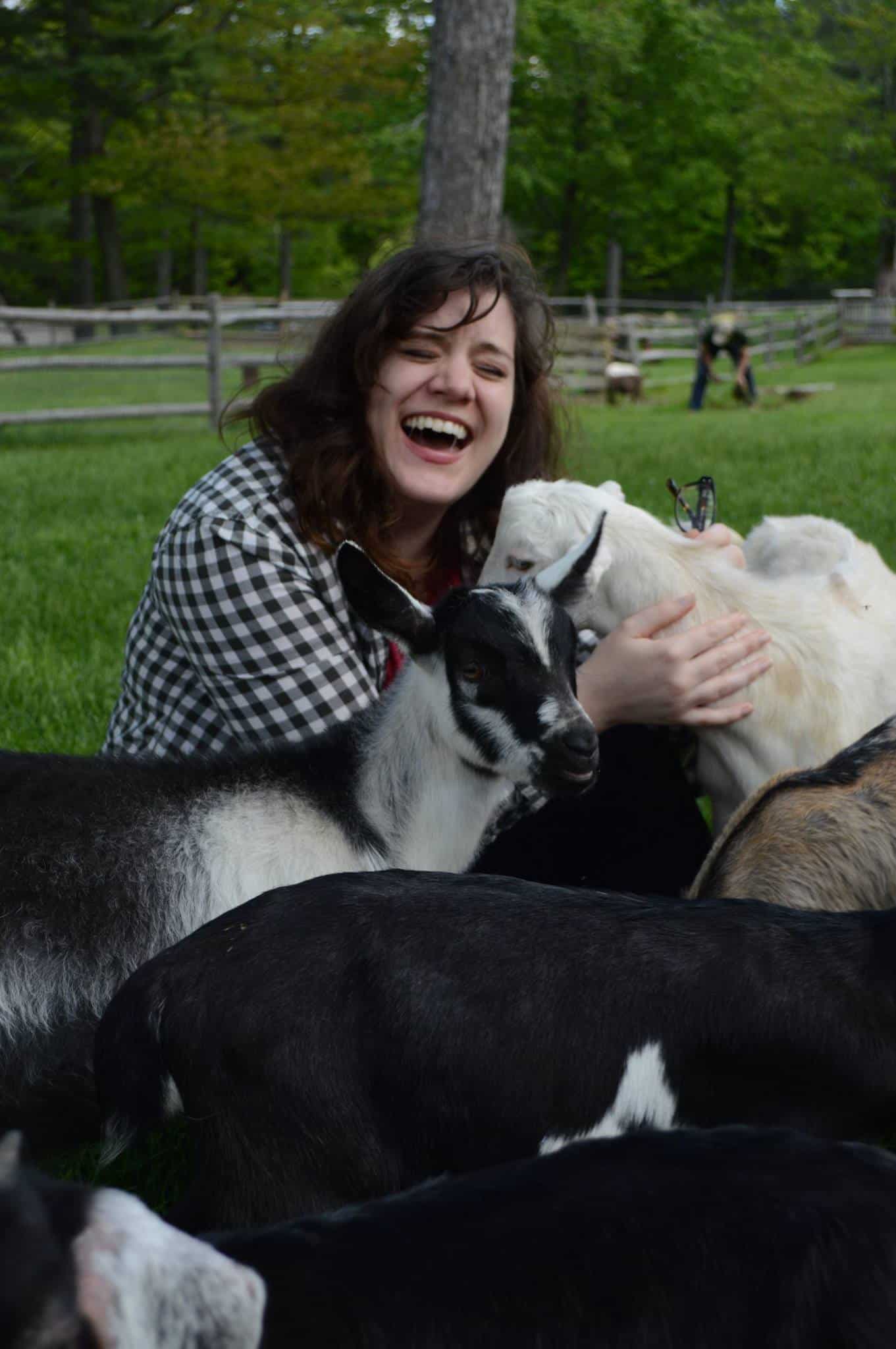 Amy Hartle is the founder and Editor-in-Chief of New England With Love, a comprehensive resource for travel in the New England region. Amy has been exploring New England since 2001. She lived in Vermont for many years and is a graduate of Plymouth State University in New Hampshire. On this site, Amy aims to share her love of New England and help you to have the best possible adventures!
Amy has been writing about travel for over a decade, and is a full time blogger, publishing both Two Drifters and Let's Adventure Baby. When not traveling the world or creating epic blog content, Amy can be found cuddling with her husband, son, and cats, & drinking a maple latte.