The Nutmeg State isn't very big, but it's full of terrific things to do and great places to visit; whether you're looking for fabulous fall foliage destinations or a unique vacation rental experience, you'll find it in Connecticut!
When it comes to enjoying the great outdoors, Connecticut knows how it's done: the third smallest state in the nation and yet still, it packs a huge state park punch!
With 139 state parks in Connecticut, there were plenty of contenders, but the following parks are some of the top-rated, most visited out of the bunch. Whether you're looking for gorgeous waterfalls, awesome hikes, or a relaxing visit to the beach, you'll find it here on this list of the 15 must-visit state parks in Connecticut.
State Parks in Connecticut
Lovers Leap State Park, New Milford
Situated along a particularly idyllic section of the mighty Housatonic River, Lovers Leap State Park is so named after a centuries-old legend of a pair of star-crossed lovers who perished together in the waters trying to reach one another. While this particular legend has since been thoroughly debunked, there's something about a tragic romance that just really draws you in, isn't there?
This 160-acre state park features beautiful hiking trails to meander through, historic ruins to explore, and incredible views of the river, especially over the beautifully restored (and fantastically photogenic!) truss iron bridge that was originally erected in 1895.
If you're in the New Milford area, take the leap to visit Lovers Leap State Park!
Kent Falls State Park, Kent
Kent Falls State Park is one of the shining gems of the lovely Litchfield Hills region; with a historic covered bridge, 250-feet of cascading waterfalls, and hikes that let you get so close to the falls that you'll feel the cool mist on your face, it's no wonder why this park remains one of the most popular state parks in the state.
Parking fills up fast spring through fall, so get there early; experiencing the waterfalls for yourself is well worth resisting the snooze button. The view from the bottom is great, but if you're able to make it up the steep (and often slippery!) terrain to the top, you'll be rewarded with an even better vantage point to take in the dramatic scenery. Considered one of the most charming towns in New England, the town of Kent is a draw in and of itself.
After your day at the falls, don't forget to swing through Kent to see Bull's Bridge, the delightfully rustic historic covered bridge that gets almost as much attention as the nearby falls!
A visit to Kent Falls State Park is a visit to quintessential Connecticut charm.
Devil's Hopyard State Park, East Haddam
It is said that Devil's Hopyard State Park got its name due to the round holes in the rocky falls being made from the devil stomping angrily after getting his tail wet in the rushing water; geologically speaking, we now know this isn't how the distinctive markings came to be, but it still remains an interesting myth from days gone by!
With multiple trails to choose from, be aware that several require some somewhat steep scrambling, often over rocky terrain, so be prepared! One trail leads to a gorgeous scenic overlook over the valley below; an autumn hike will pay off huge dividends when it comes to visual reward!
In addition to great hiking trails, Devil's Hopyard also has several campgrounds, three historic bridges (including a lovely wooden covered bridge that is especially photogenic!), and Chapman Falls, the part of the Eight Mile River that drops over 60-feet in three stunning drops, with the pool below being a popular swimming hole in the heat of the summer.
After a long day hiking through Devil's Hopyard, be sure to swing through East Haddam for a treat from Honeycone Craft Ice Cream, where everything from the small-batch ice cream to the cones, toppings, and sauces has been handcrafted for a sweet way to end your day!
Hammonasset Beach State Park, Madison
Connecticut's largest shoreline park, Hammonasset Beach State Park is an excellent destination if you're looking for some of those stellar Long Island Sound views. Lifeguards are on duty Memorial Day through Labor Day if you're looking to play in the water, and the sandy beach is perfect for sandcastle construction and seashell hunts! Hammonasset Beach is your CT go-to for a sunny, summer's beach day.
In addition to the two miles of sandy beach, Hammonasset also offers several camping sites, bicycle rentals, and Meigs Point Nature Center, the interactive educational facility that runs programs like nature walks, touch-tank programs, and craft workshops, with many opportunities to learn about the natural history and wildlife of coastal Connecticut.
Even when the water is too cold to splash around in, Hammonasset Beach State Park in Madison still offers plenty to see and do; make a point of staying until the sun sets out over the Sound. You won't regret it!
Dinosaur State Park, Rocky Hill
One of the most unique state parks in the entire country, Dinosaur State Park is an incredible opportunity to explore a 200-million-year-old fossil trackway for yourself! The dinosaur that is believed to have made the visible tracks is the Dilophosaurus, an early carnivore of the Jurassic period. These carefully preserved tracks are an amazing way to get a better understanding of the prehistoric creatures that roamed this area of Connecticut so many, many centuries ago.
Dinosaur State Park also has an arboretum, interactive exhibit center, picnic areas, and some great nature trails to hike on. Over 2-miles of trails showcase a wide variety of habitats, including swamps, forested areas, and a traprock ridge where you can see broken bits of basaltic rock that was once hot lava.
Interestingly, there are only 500 tracks that were specially preserved in the exhibit center, the other 1,500 that were uncovered in the 1960s were re-buried for natural preservation.
The Dinosaur State Park is a unique state park experience that can't be missed if you're anywhere in the Rocky Hill area!
Haystack Mountain State Park, Norfolk
With a hiking trail leading to a 34-foot-tall observation tower, Haystack Mountain State Park features absolutely incredible views of the surrounding hills. If you can visit during peak fall foliage, the vibrant views of the fiery colors of the trees below will take your breath away!
Plus, you can drive most of the way up and park in the parking lot that leads to the observation tower trail, just a short hike away. It is uphill and a little steep, but the view from the top of the observation tower is more than worth it!
Once you've spent some time taking in the spectacular Haystack Mountain views, head back down to explore the lovely little town of Norfolk, a picturesque example of small-town Connecticut charm. There's plenty to do in Norfolk, but don't leave town without checking out Infinity Music Hall & Bistro.
This historic entertainment venue was originally built in 1883 and has since been renovated, but whether you're there for dinner and a show or just grabbing drinks, you'll love seeing the intricate, original detail that can still be found around the building.
A visit to Haystack Mountain State Park in Norfolk is a visual delight, both from the observation tower and the town below!
Bigelow Hollow State Park, Union
Bigelow Hollow State Park (and adjoining Nipmuck State Forest) clocks in at a whopping 9,000+ acres, including an 18-acre fresh-water pond that is excellent for swimming, boating, fishing, scuba diving, and ice skating.
This area is densely forested, with miles and miles of hiking trails for you to explore! During the heat of a New England summer, it doesn't get much better than splashing around in the cool, clear waters at Bigelow Hollow.
As the winter rolls in, activities like ice skating and snowmobiling take over at Bigelow Hollow, but the best part about this beautiful state park is how much space there is to spread out! You can come out virtually any time of the year and find yourself a nice, secluded section to enjoy the natural beauty and serenity of the park.
Bigelow Hollow State Park is a sweet respite for anyone looking to get out and away from the hustle and bustle of the city to enjoy that clean Connecticut country air!
Silver Sands State Park, Milford
If you prefer a picturesque destination along the coast, Silver Sands State Park in Milford is the perfect place for you! Silver Sands has a beautiful seaside boardwalk, a gorgeous beach, and even grassland and marsh to check out.
To see the most that this CT state park has to offer, visiting from mid-September to April during low-tide will allow you to walk to Charles Island on a sandbar.
Silver Sands has scenic picnic areas that make for an amazing view to break for lunch! If you're able to stay later, you won't want to miss the incredible sunsets this park has to end your day!
Campbell Falls State Park Reserve, Norfolk
Another Norfolk state park gem, Campbell Falls State Park has lovely hiking through an undeveloped forest of tall trees that will take you just over the Connecticut/Massachusetts state line to a thundering waterfall that falls well over 50 feet.
Early spring is typically when these falls are at their most dramatic, but you'll find water flowing year-round as Massachusetts' Whiting River feeds it well throughout the year.
The hike isn't too strenuous for most, but it does get steep at points, so heads up there. The views of the gorgeous falls and the refreshing feeling of the cool mist as you get closer are well worth the hike to get to it. The trailhead begins in Connecticut, but the falls are technically in Massachusetts.
If you're looking to hear that roar of a well-fed waterfall, head out after a couple of days of rain, just be prepared to get a little muddy on the way out! Waterfalls are worth a little messy mud, right?
Harkness Memorial State Park, Waterford
Harkness Memorial State Park in Waterford is a beautiful and unique location to visit. The Harkness family's magnificent former estate offers incredible panoramic views of the Long Island Sound.
The large Roman Renaissance Classical Revival-style mansion has openings for tours, opportunities for shoreline fishing and picnicking, and you can enjoy a stroll through the grounds, featuring 230 acres of lawns and botanical gardens.
History buffs and those seeking a little bit different of an option for a state park will enjoy a stop at this Connecticut state park!
Gillette Castle State Park, East Haddam
If you like a bit of a medieval castle feel in your state park experience, then Gillette Castle State Park is the place for you!
Built in 1914 by William Hooker Gillette, the early 20th century actor best known for his role as Sherlock Holmes, as an ornate and unique home to retire in surrounded by 184-acres of gorgeous Connecticut woodlands. After his passing, his castle and adjoining acreage were sold to the State of Connecticut in 1943 and have been a beloved state park destination ever since!
This 24-room mansion features incredible interior touches like built-in couches, hand-carved doors and light switches, and so much more; tours of the castle are available year-round. Situated on top of a hill that overlooks the Connecticut River, the views are absolutely phenomenal!
The surrounding grounds are all beautifully landscaped, with walking paths, stone-arch bridges, a pond, and plenty more to explore at this unique state park.
Tour the castle, hike around the grounds and enjoy the spectacular views of the river below, and enjoy this great example of modern medieval architecture!
Chatfield Hollow State Park, Killingworth
Chatfield Hollow State Park in Killingworth is a scenic family-friendly option with plenty to see and do! You can enjoy challenging hikes, mountain biking, horseback riding, swimming, fishing, picnicking and skiing while taking in beautiful pine groves and beach views.
If you're looking for a state park with interesting geology and history, you'll be excited to explore the natural outcroppings and Native American caves that previous explorers have discovered many local artifacts in.
Chatfield Hollow is a great destination for those seeking a more traditional State Park experience.
Mount Tom State Park, Litchfield
Located in lovely Litchfield, Mount Tom State Park is one of the oldest parks in the Connecticut state park system. A local favorite for summertime swimming, boating, fishing, and scuba diving, warmer weather makes Mount Tom's freshwater lake the perfect spot for a summer picnic and day at the lake!
In addition to lake fun and frivolity, Mount Tom also has some great hiking trails, with the most popular leading to the stone tower lookout that gives you a great birds-eye view from the 1,325-feet above sea level summit.
The stone tower lookout is located less than a mile's hike in, so the payoff is pretty big for fairly small effort here. If you can time your visit for when Connecticut's fall colors are exploding into their vivid crimsons, blazing oranges, and ruddy yellows, you'll really get an eyeful!
While visiting Mount Tom State Park, plan to spend a little time exploring the lovely Litchfield Hills area; maybe grab a bite to eat at Arethusa al Tavolo, included in this must-do CT travel guide?
Rocky Neck State Park, East Lyme
How do soft sand beaches, the calm waters of the Sound, and 700+ acres of preserved and well-cared for trails and campgrounds sound?
Rocky Neck State Park has all this and more. Most come to walk the beautiful boardwalks and splash in the salty sea, but Rocky Neck has some other great features too, like the Ellie Mitchell Pavilion, the curved masonry pavilion that's a beautiful place to rest and enjoy the sights.
Swimming at Rocky Neck is especially popular because most of the shore here is completely rock-free, which is unusual for Connecticut beaches. If barefoot walks in the sand and dips in the clear saltwater are not your thing, then spend a little time hiking the great trails at Rocky Neck.
You might even stumble across Baker's Cave, the small cave that is rumored to have once housed a young man hiding from military service in the Revolutionary War. Stick around until the end of the day so you can watch the spectacular show of the sun setting over the Sound.
Sleeping Giant State Park, Hamden
Given its name for the two miles of mountaintop that somewhat resemble a "sleeping giant," Sleeping Giant State Park is one of the best places to go in Connecticut if Big Views are your goal!
There are many trails (and caves!) to discover and explore in the 1,465-acres of Sleeping Giant, but one of the most popular trails is the Tower Trail, the fairly easy 1 ½-mile trail that leads to the stone observation tower that brings many people from near and far to the park. Located at the peak of Mt. Carmel, this castle-like observation tower provides absolutely stunning views of Long Island Sound and the surrounding areas.
Trails throughout the park are of varying difficulty level, but if you're up for the challenge, gorgeous vistas can be found in several areas. There are also multiple caves to explore for the extra adventurous!
Sleeping Giant is popular throughout the year, but it is a major local leaf-peeping destination because of the many, many opportunities for expansive treetop views. Autumn or not, Sleeping Giant has enough in the way of scenic views to keep anyone and everyone happy!
Visits to many of the state parks on this list are free, but some charge parking fees on certain days, and for CT residents, oftentimes these are waived; check details here. Whether you have to pay or not, the reward received when experiencing the natural wonders of the area is always well worth it.
Connecticut state parks are well-preserved respites from the stress of the outside world. Anytime you're in need of a breath of fresh air, head outside to any one of the state parks on this list; you won't regret it. Have fun out there exploring the best state parks in Connecticut!
---
You might also like:
---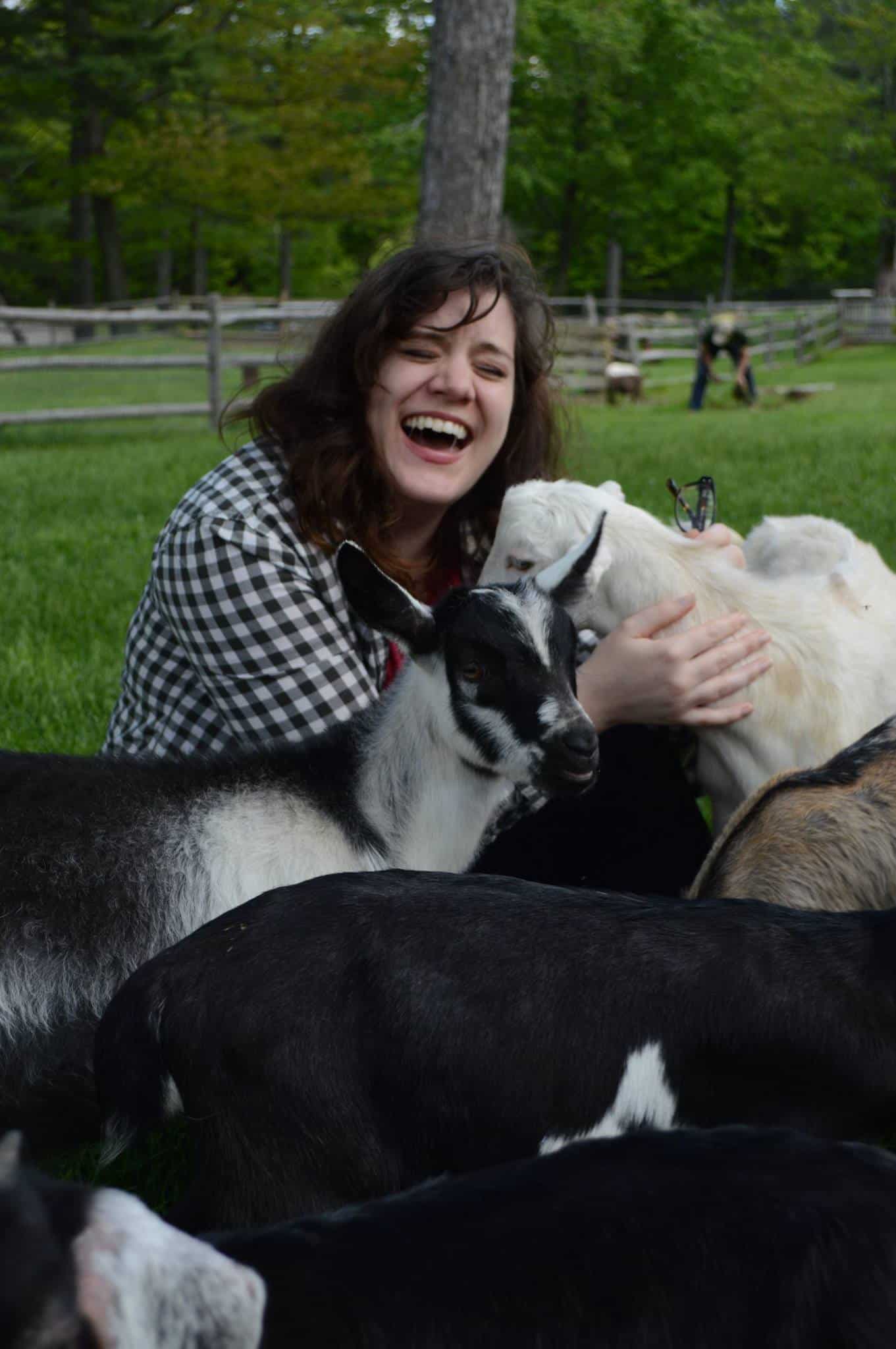 Amy Hartle is the founder and Editor-in-Chief of New England With Love, a comprehensive resource for travel in the New England region. Amy has been exploring New England since 2001. She lived in Vermont for many years and is a graduate of Plymouth State University in New Hampshire. On this site, Amy aims to share her love of New England and help you to have the best possible adventures!
Amy has been writing about travel for over a decade, and is a full time blogger, publishing both Two Drifters and Let's Adventure Baby. When not traveling the world or creating epic blog content, Amy can be found cuddling with her husband, son, and cats, & drinking a maple latte.